7 Best Pingdom Alternatives in 2023
Jan Tovarys
Updated on June 14, 2023
Pingdom has been around since 2005 and is still one of the most used uptime monitoring tools on the market. In many ways, however, Pingdom has failed to deliver to their users the functionality they need. Take, for example, Pingdom's status pages, which still to this day don't have SSL certificates and have a design that was probably not changed since 2010.
But it's not just the status pages that make many developers angry and hungry for an alternative. It's the expensive pricing as well as the cranky interphase that make many DevOps teams feel like Solarwinds don't really care at all.
Because of that, we have compiled this list of Pingdom (Solarwinds) alternatives to give you the information you need to make an informed switch to a better monitoring tool.
In our selection, we looked to include synthetic monitoring tools that might be a direct alternative as well as tools that might be suitable as an upgrade to a more advanced service.
This list is not exhaustive and if you don't find a suitable alternative for your needs, we recommend checking out the hayden james' 100+ monitoring tools list . Now let's have a look at our community picks:
1. Better Stack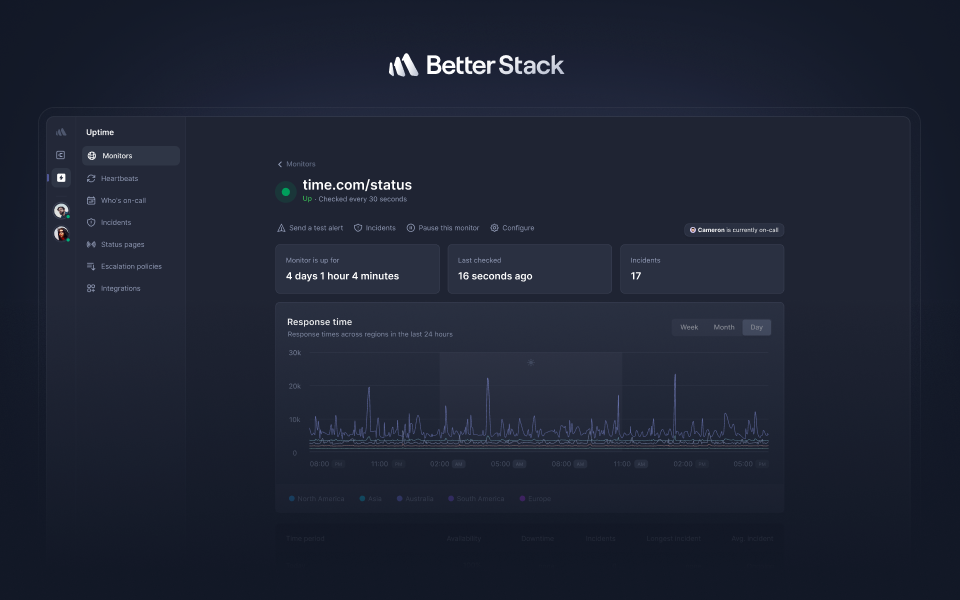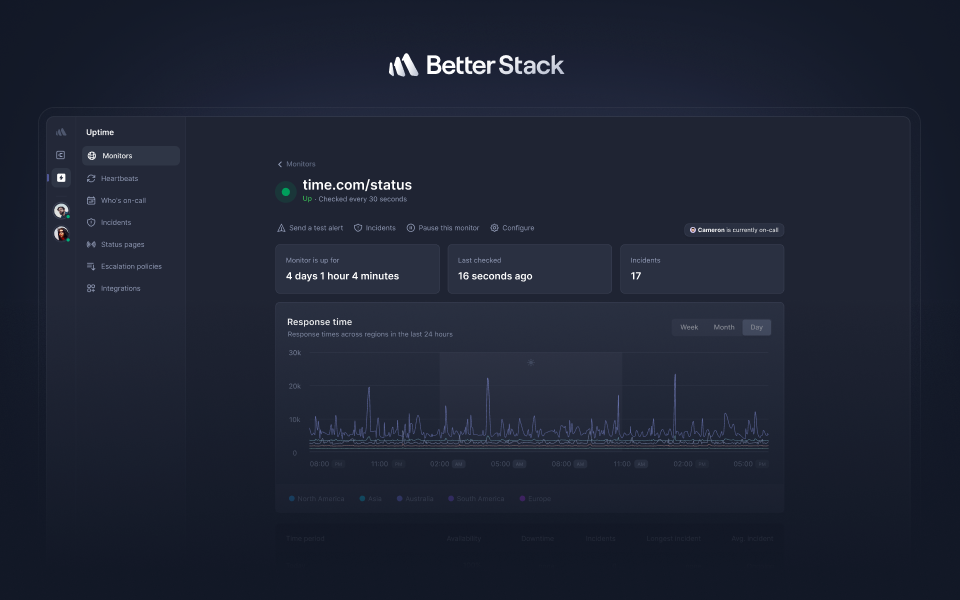 Better Stack combines incident management, uptime monitoring, and
status pages
into a single beautifully designed product.
On the free plan, they offer 3-minute checks and on paid plans 30 seconds once, compared to Pingdom's 1-minute checks. Better Uptime offers HTTP(s), ping, port, DNS, SSL, and cronjob (heartbeat) checks. Their Free plan offers 10 monitors, their Freelancer plan 50, and Team once over 100 monitors. Since Pingdom is priced per monitor, Better Uptime can provide significant savings when monitoring more websites.
When it comes to alerting, Better Stack offers unlimited phone call, SMS, e-mail, and push notification alerts. Slack and Microsoft Teams can also be very easily integrated, offering great alerting variability.
Status pages from Better Stack are very well designed and also free for all. A useful feature for any business is definitely the subscription option that they offer as well as the ability to protect it by a password.
The main benefit, however, is the built-in incident management and on-call scheduling. This is great news for any DevOps teams that want to simplify their stack and possibly manage everything from one place, without the need for Pagerduty or other on-call platforms.
Main benefits of Better Stack
Unlimited phone call alerts
HTTP(s), Ping, Port, DNS, SSL & TLD expiration, Cron jobs checks
Easy on-call scheduling & incident management
Screenshots & error logs of incidents
Slack, Teams, Heroku, AWS, and 100+ other integrations
2. Updown.io
Updown.io is a straightforward uptime monitoring tool. It has all the basic functionality you would expect from an uptime monitoring service, including HTTP and SSL checks. Downtime is also confirmed from several locations before triggering an alert.
Compared to other tools on this list, Updown.io doesn't offer a free plan. If you want to monitor only a single website, you will need to signup on to the paid plan.
On the other hand, the benefit of the paid plan is that you only pay for the requests updown.io makes to your websites. This means that you can save money on decreasing the frequency in which they check your website. For example, instead of having 1-minute checks going for 5 minutes once. For a hoppy project, this can be sufficient. However, if you have multiple websites and need more frequent checks, you will find yourself paying much more than you would with other alternatives on this list.
Updown also includes hosted status page, which comes with your plan. It is nicely designed and includes information about the current status, historical uptime, and Apdex.
When it comes to integrations, Updown offers API and webhooks. Their alerting integrations include SMS, Zapier, Statuspage, Telegram, and Slack. Those are fine, but for more demanding customers and larger teams, it is recommended to go with a more premium service.
Main benefits of Updown.io
All basic uptime monitoring capabilities
Pay for requests, not a fixed monthly fee
3. Dotcom-monitor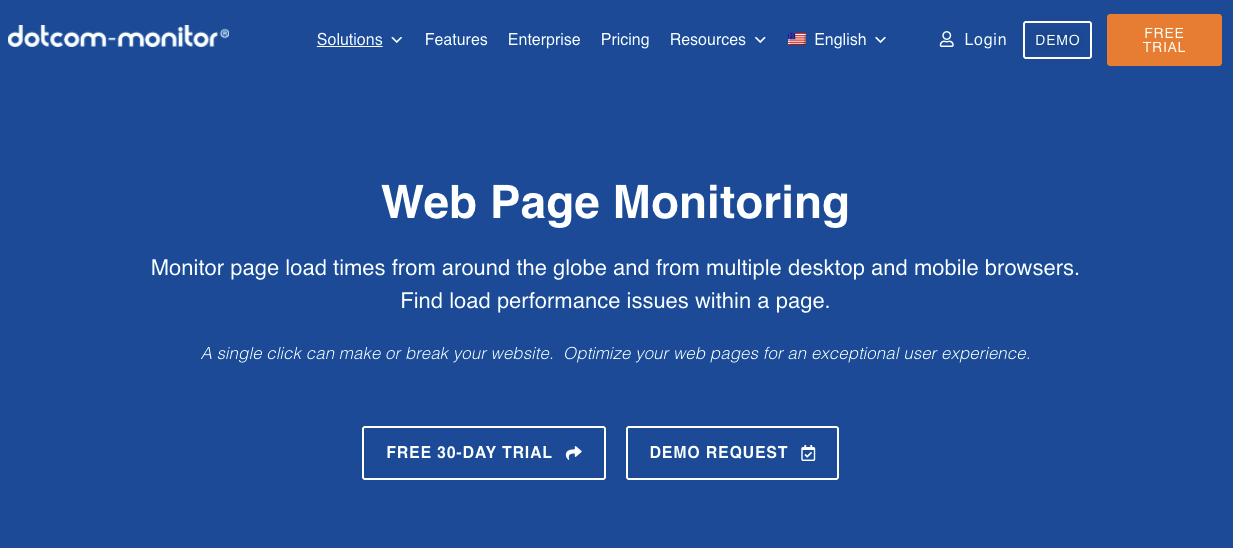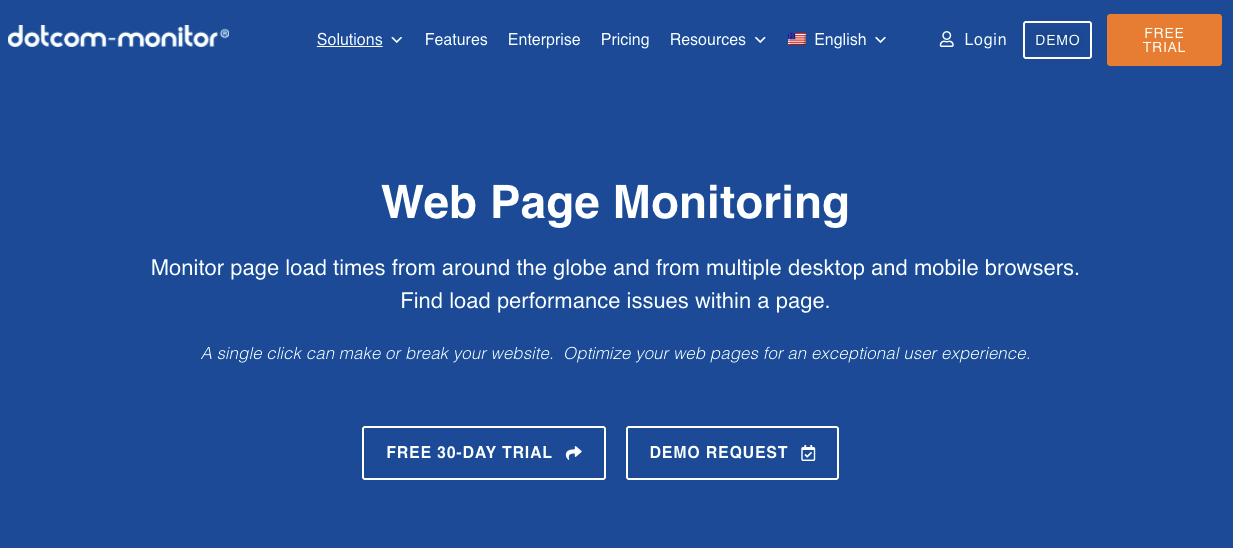 Dotcom-monitor is a monitoring platform that offers to monitor uptime and performance of web pages, applications, and servers. Dotcom-monitor has four different plans, which are not tiered, but capability/use-case based. Their Web services plan offers a solution for users looking for basic uptime, ping, and SSL monitoring. This plan starts at $20/month and offers 1-minute checks from 30 locations.
Their second plan is called Web pages and focuses on page load times and different clients' performance, be it a browser type or DNS connection. The Web pages plan starts at $30/month.
For e-commerce customers, dotcom-monitor offers a Web applications plan, which provides a web-based scripting tool together with content validation, playback video capture, and transaction waterfalls. This plan starts at $39/month.
The 4th plan is focused on servers and protocols and offers DNS, Traceroute, FTP, and other checks. The Internet infrastructure plan starts at $40/month.
As the plan pricing suggests, the dotcom-monitor is suitable for users that have specific features in mind they want to focus on and check. On the other hand, for users looking for a one plan fits all, this is not the best solution as subscribing to multiple plans will become expensive. No free plan is available for dotcom-monitor in time of writing.
Main benefits of Dotcom-monitor
Page load times, content validation, transaction waterfalls, Traceroute, DNS, and other performance, server, and protocols monitoring
4 different plans for different use cases
4. Webgazer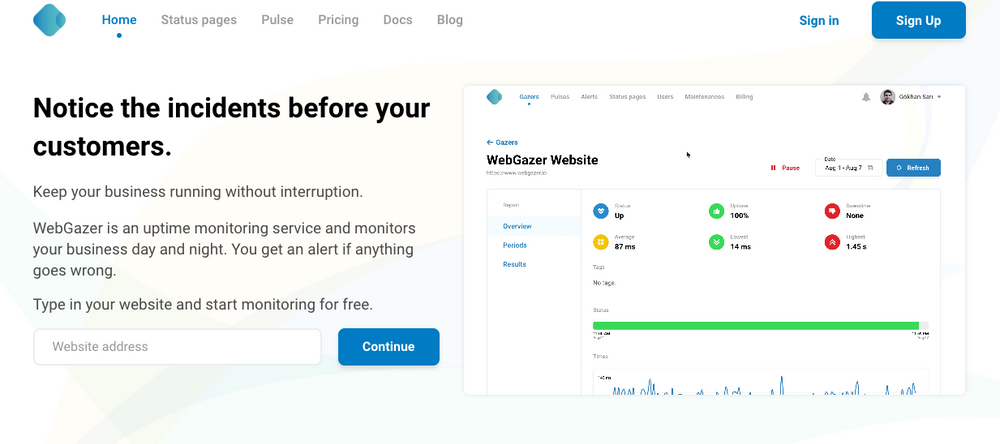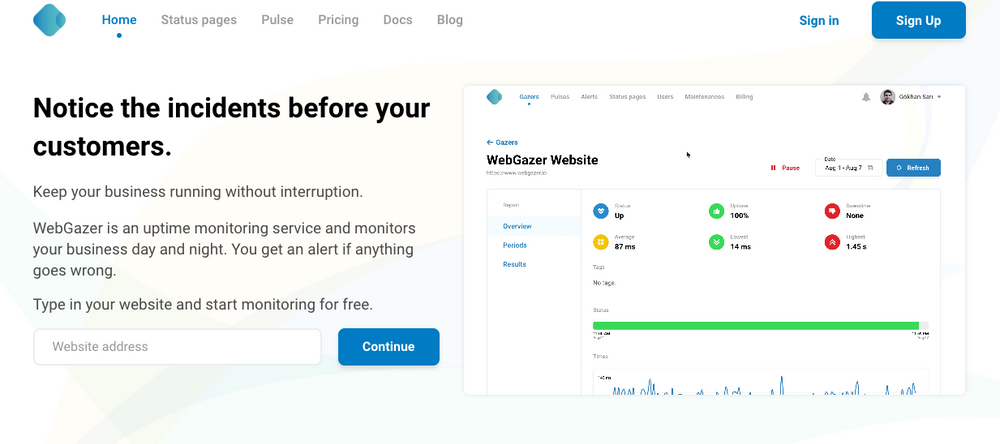 Webgazer offers reasonably good functionality with a higher price tag. Uptime monitoring and SSL monitoring are included in all paid plans. Their intervals for checks are 5 minutes for the free plan and 1 minute for all paid plans.
Webgazer provides SMS, phone call, e-mail, and slack alerting. Sadly those alerts are not unlimited, even for the paid plans. The SMS and phone call alerts are based on pre-purchased credits, ranging from 16 on the hobby plan up to 150 on the business plan. This significantly limits usability, especially for users looking to monitor more than a few sites.
Although their status pages are very nicely designed and provide plenty of information, they are only available from the Pro plan, which is $69/month. Because of this, Webgazer can be only recommended for users looking to go with the business plan as the other plans are severely limited by functionality.
Main benefits of Webgazer
Offers better designed status pages, but otherwise rather expensive Pingdom alternative
5. Upmon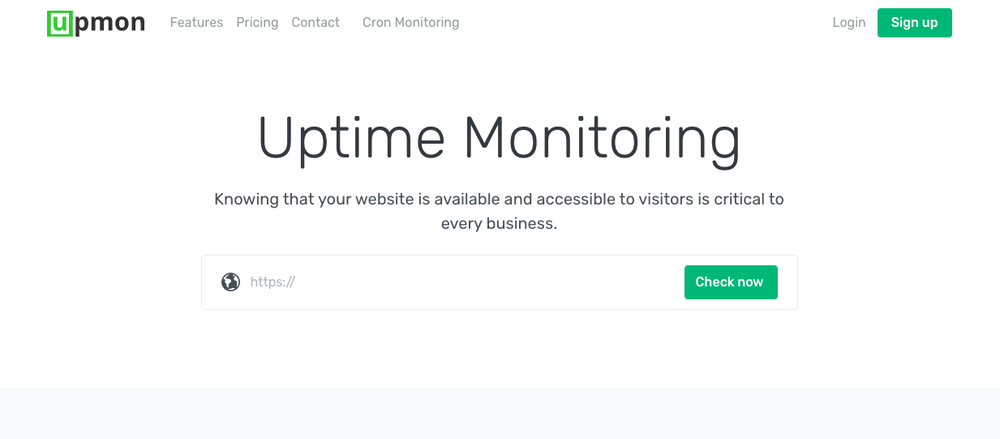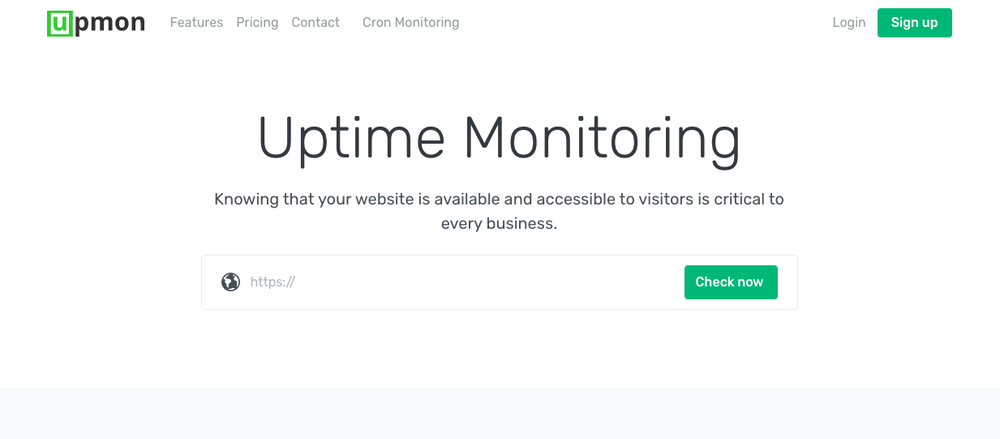 Upmon is a simple and easy-to-use tool for uptime monitoring. Upmon has a pricing of 1 monitor for $1/month, with a minimum spend of $5. For this, you get 5 monitors. 30 days free trial is also available.
When it comes to features, Upmon offers unlimited SMS and phone call alerts as well as unlimited status pages. Those are available for all users whether they have 5 or 50 active monitors.
Apart from the uptime checks, Upmon also includes cron job (heartbeat) monitoring, which comes really handy when checking if scheduled tasks run as they should. Be aware that the cron job monitors have separate pricing. A free plan with 5 cron job checks a month is available.
Overall Upmon is a great simplistic solution for a very specific use case. It can be recommended as an easy way to start monitoring a smaller number of websites when Pingdom would be too advanced. On the other hand, when having multiple websites the price is quite high compared to other uptime monitoring alternatives.
Main benefits of Upmon
Very easy to use
Pay for monitors, no pre-built plans
6. Uptime.com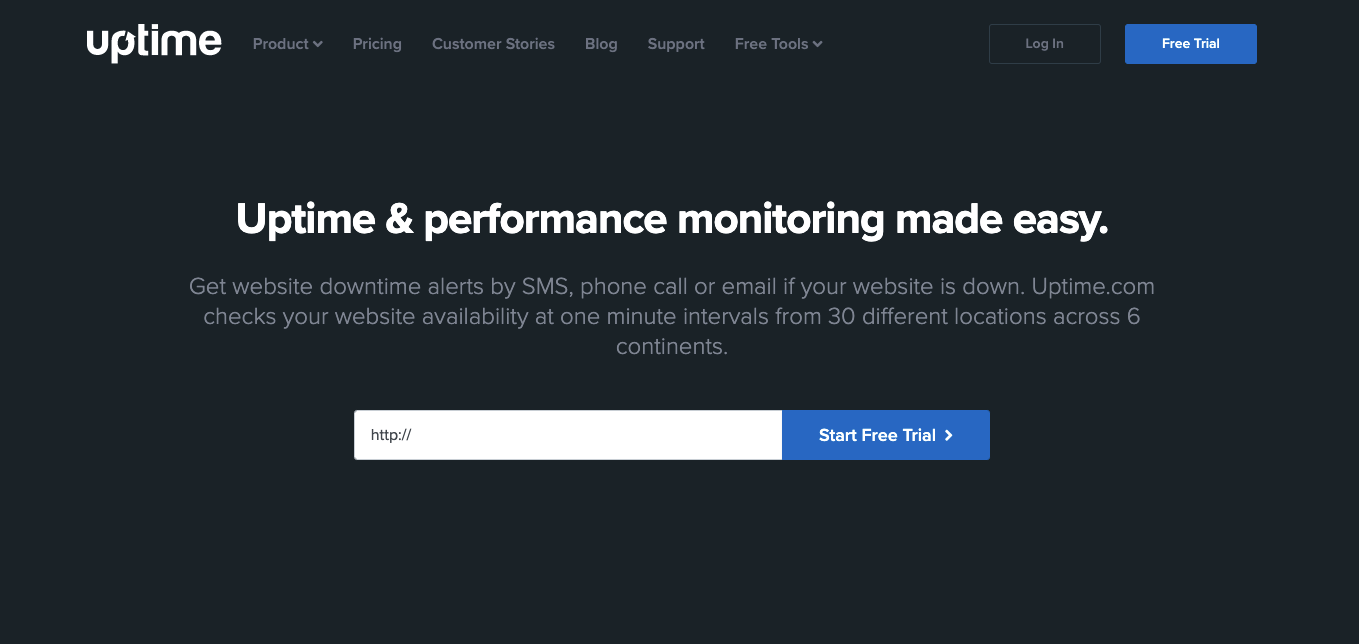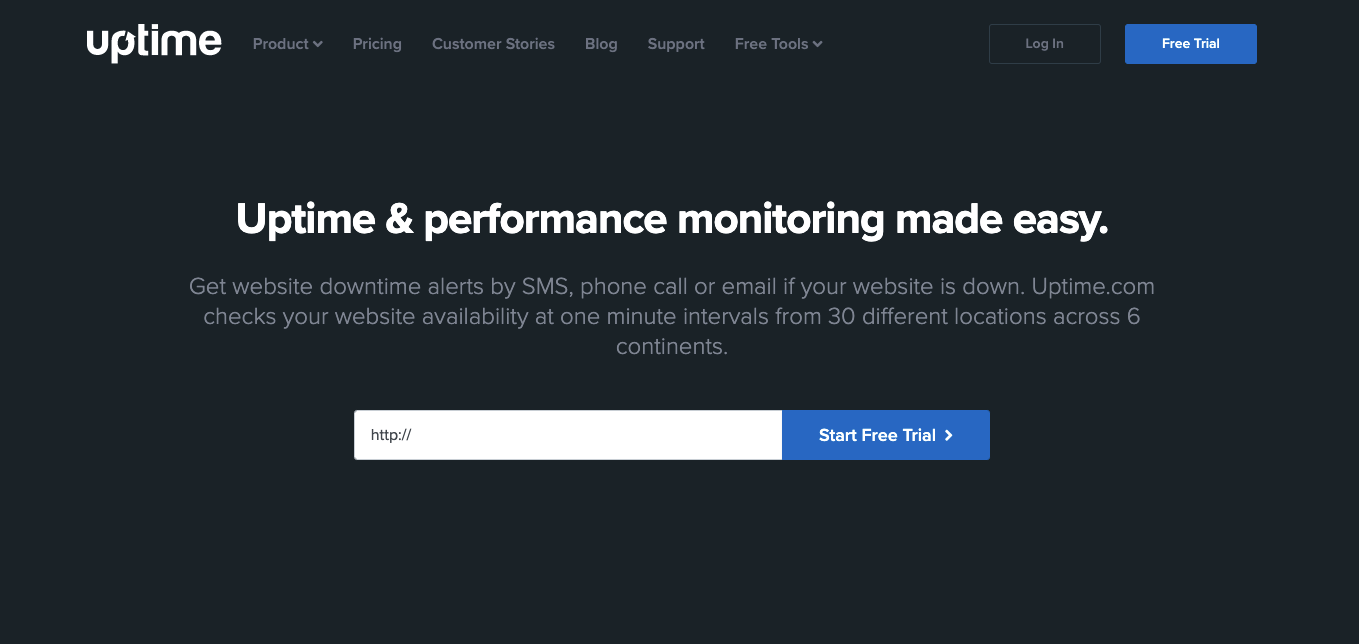 Uptime.com is quite an expensive but reliable Pingdom alternative. Uptime.com doesn't offer a free plan, and their cheapest plan starts at $19/month. This Basic plan includes 10 checks, which are performed only from the US. This plan also includes a single status page and 6 phone calls a month.
For any international companies looking for worldwide monitoring locations, the Business plan is the only possibility. This plan starts at $110/month and includes 40 phone call alerts a month and 2 status pages.
Looking at this, it is pretty obvious uptime.com is quite an expensive alternative to Pingdom, especially for people outside of the US or people with an international user base. On the other hand, uptime.com is an established company, and the pricing might reflect the reliability of their systems.
Lastly, it must be highlighted that uptime.com only offers 2 status pages and therefore is not suitable for agencies or freelancers looking to manage multiple websites and larger web companies with multiple products.
Main benefits of Uptime.com
An established company made mainly for the US market
7. HetrixTools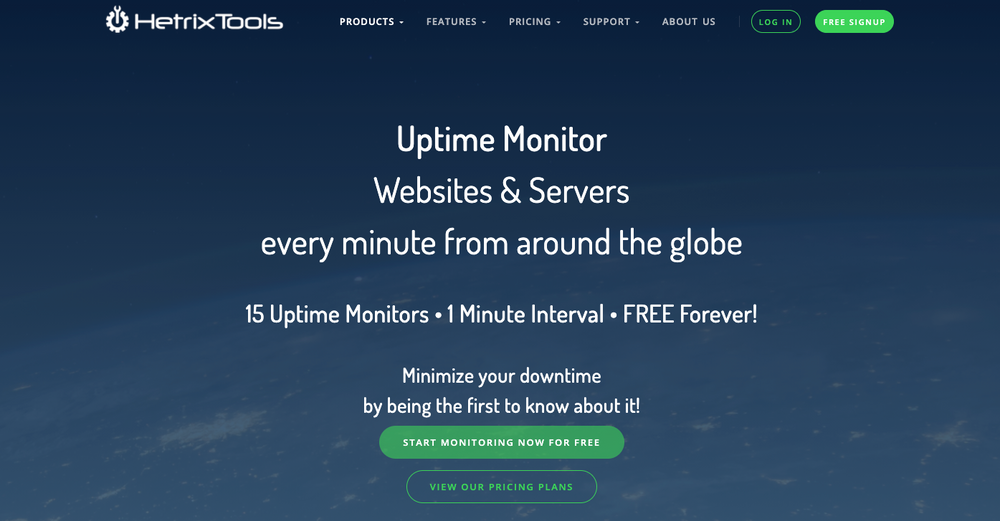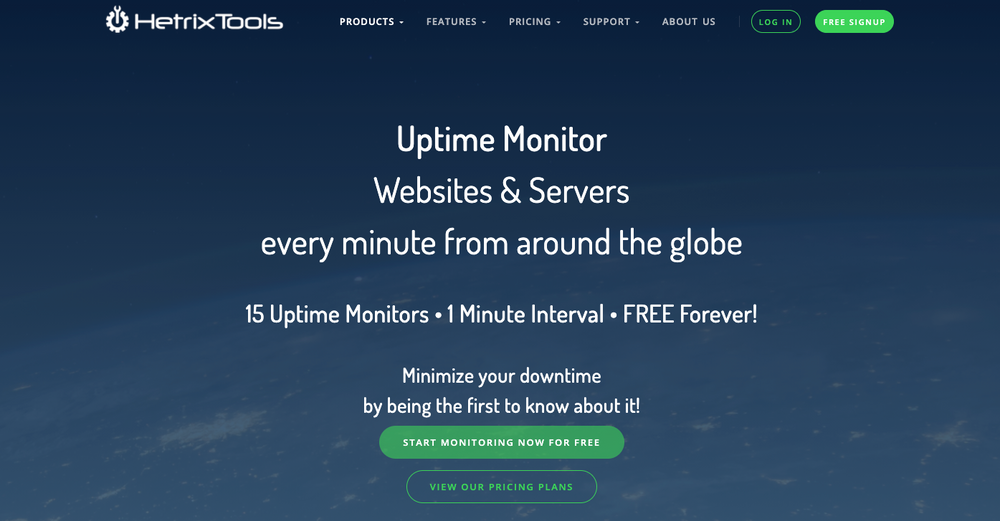 HetrixTools offers uptime monitoring and status pages as well as server monitoring. The server monitoring is available for their free plan making it the main benefit compared to Pingdom.
Overall, HetrixTools offer a very generous free plan. It includes 15 uptime and server monitors with a 1-minute check frequency, several alerting integrations, and elementary status pages.
The downside of HetrixTools is that the premium plans don't add much value. The check frequency is 1 minute for all plans, and even the enterprise plan doesn't offer faster checks. The paid plans don't offer phone calls, and the SMS alerts are not unlimited.
HetrixTools offer very basic status pages which are of great value to anyone on the free plan. When it comes to professionals and businesses, the status page you will get is not very good. It lacks some important features, such as email subscriptions. Their design is also not very modern or representative of a professional business website.
Main benefits of HetrixTools
Server monitoring available on the free plan
Want to explore more tools?
Looking for a tool to cater to a very specific use-case? Here are a few lists with monitoring tools to check out:
Make your mark
Join the writer's program
Are you a developer and love writing and sharing your knowledge with the world? Join our guest writing program and get paid for writing amazing technical guides. We'll get them to the right readers that will appreciate them.
Write for us
Writer of the month
Woo Jia Hao
Woo Jia Hao is a software developer from Singapore. He is an avid learner who...