Neglecting your SSL certificates' renewal can deal heavy damage to your reputation. And monitoring it is quite easy.
Before we dig deep into SSL monitoring tools, we need to understand what it is in the first place and why we need it. SSL or Secure Sockets Layer is a standardized technology keeping your internet connection secure and protects any data, especially sensitive data sent and received between two systems. This prevents anyone from reading or modifying any information transferred and disrupting the exchange of information. SSL protects your data by encrypting it, thus making it unreadable by anyone trying to intercept it. You might have heard of TLS or Transport Layer Security, which is just the new standard and is more secure. However, we still use the term SSL while speaking about security certificates since it is a more commonly used term. So, when you buy Security Certificate, yo get TLS certificates with multiple encryption types like ECC, RSA, or DSA. Certificates are normally bought with an expiration date for a year, two, or more.
You can always cross-check your Certification Authority (SSL Certificate issues), in multiple databases, such as Visa.
10 Best SSL Certificate Monitoring Tools and Software in 2023
Now that you understand how vital part security certificates play in the lifetime of your website let's take a look at the best SSL monitoring tools in 2023.
1. Better Stack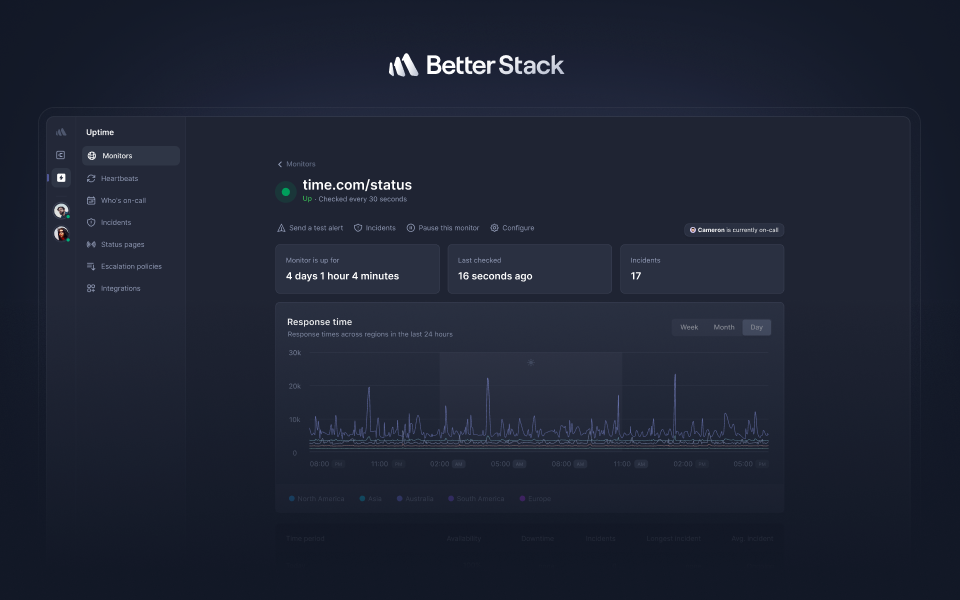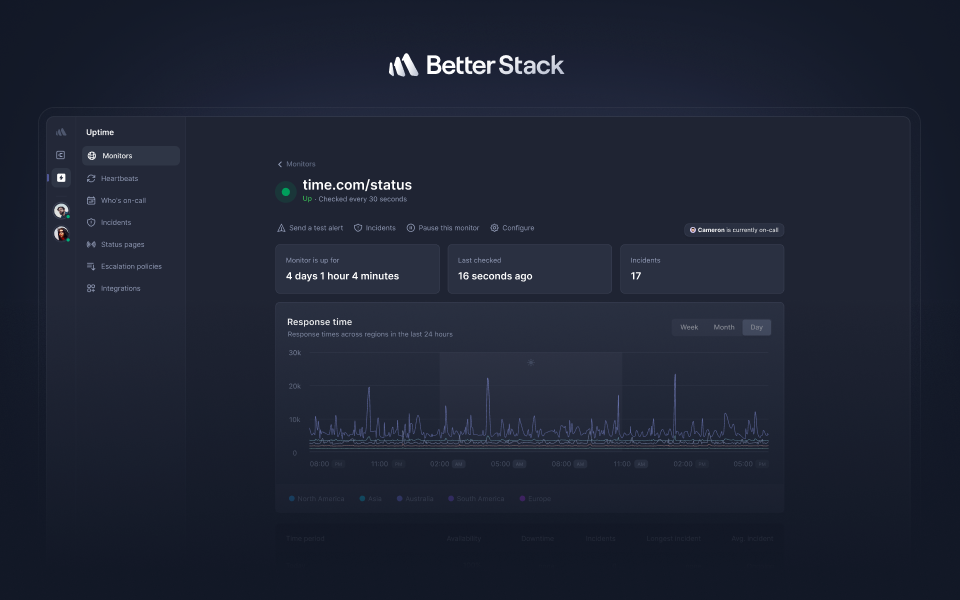 Better Stack offers a powerful Uptime monitoring solution with Incident management built-in. Better Stack offers both cron job and SSL certificate monitors, which often work hand in hand. On top of that, you get access to a powerful platform combining Synthetics Monitoring, Incident Management, and Status Pages manager.
In case of any incident, each error is documented with a screenshot and a second-by-second timeline. Better Stack checks on your website every 30 seconds from multiple locations. That means no more false alarms or location-related issues going unnoticed.
It supports many integrations, including Datadog, New Relic, Grafana, Prometheus, Splunk On-Call, Zabbix, AWS Cloudwatch, GCP, and Azure. Thanks to unlimited phone call alerts, SMS, email, Slack, MS Teams, and push notifications, you never miss an error.
BetterUptime offers SSL monitoring from Small Team bundle starting at $64 a month along with smart incident merging, post-mortems, and ping monitor. In higher subscriptions such as Business or Enterprise, you are looking at TLD expiration monitor, TCP/UDP port monitoring, POP3/IMAP/SMTP, and DNS server monitors.
Main Benefits of Better Stack:
A platform offering Incident Management, Status pages, and Uptime Monitoring solution
Possible to integrate with Logtail to enable log management and monitoring
Reasonable pricing model
2. UpDown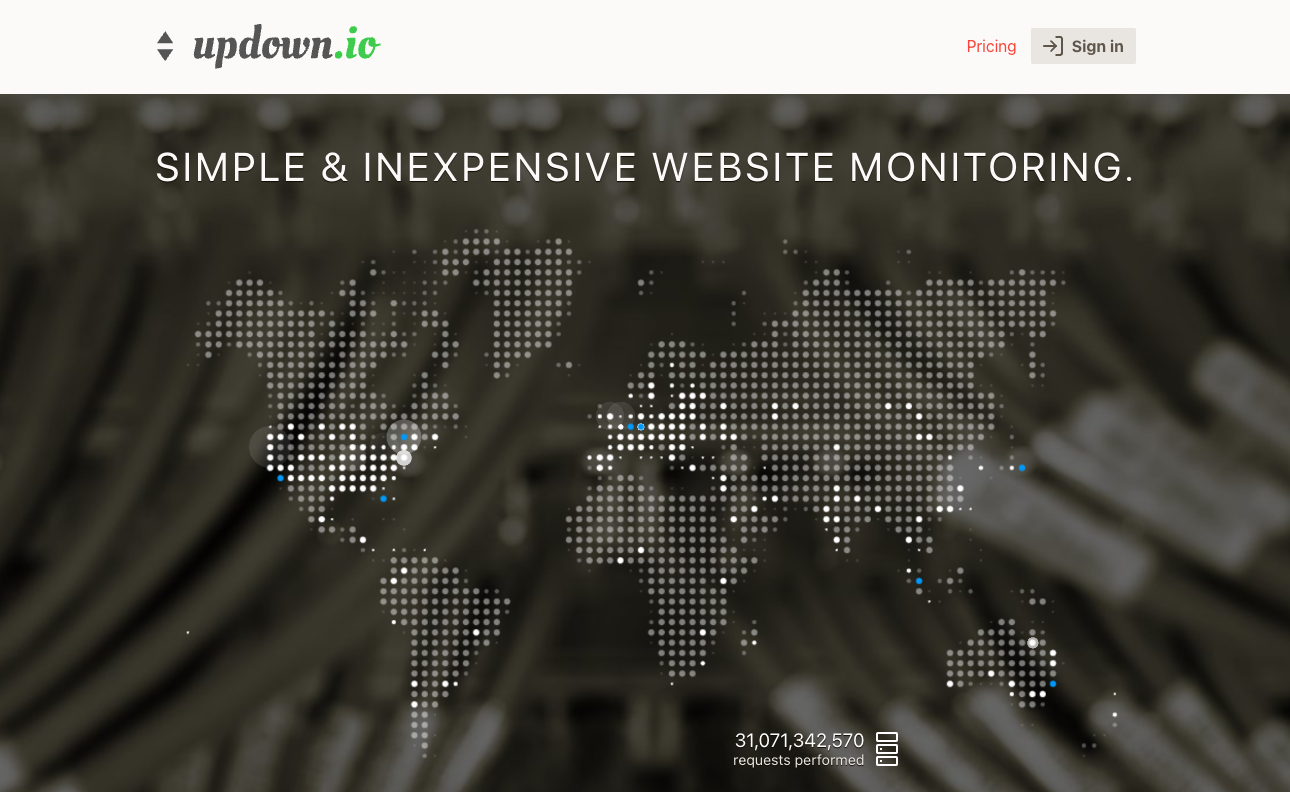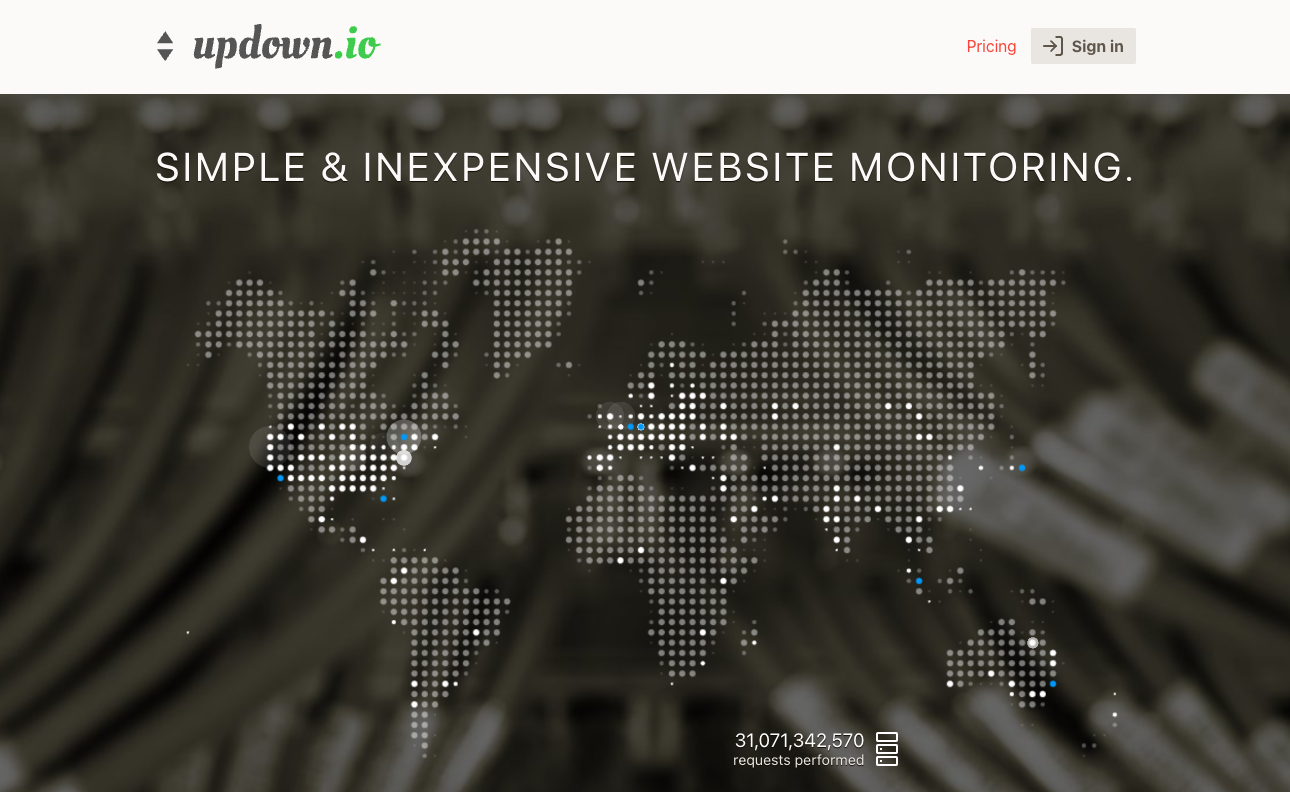 Updown offers solutions for monitoring, alerting, reporting, and status pages. In uptime monitoring, you receive data from bulk management, SSL monitoring, Content Matching, API calls, Virus & malware scanning, Synthetic scenarios, and ping. The checking interval is 60 seconds.
On top of that, Updown also offers a solution for Real User Monitoring and Reporting. All of the data collected is visualized in custom dashboards. You can assign a custom dashboard based on their role in the team. Automated reporting allows you to send uptime monitoring data via automated links or API on a frequency you decide.
Alerts are handled by multiple platforms, including SMS, phone calls, and third-party integrations. Thanks to Updown's status pages, you can adequately communicate your downtime. Status pages can be either public or private and are fully customizable.
You will learn everything you need to know from their simplistic landing page, and their pay-as-you-go pricing is really intuitive. Say, for example, you want to monitor 50 websites every 30 seconds - it would cost you about $69. Since there are no packages, you get basically the same service, whether you want to monitor one page every 5 minutes or 500 of them every 15 seconds. Updown.io includes Various integrations into basic alerting measures like SMS, Webhook, Zapier, Telegram, Statuspage or Slack, error double-checking, and of course, SSL testing alerting you in case of invalid or expiring security certificates.
Main Benefits of Updown:
Dual-stack monitoring (IPv4/v6)
Cryptocurrency Payments
Text Search matching the presence of a string instead of the regular HTTP status
Hosted Status Pages
3. Sucuri


Sucuri offers a complex securing solution for your website. They protect webpages via multiple countermeasures like virtual patching and hardening with adding security patches and server rules. Machine learning helps them correlate attack data across their network to better understand and prevent malicious behavior. Adding another layer of security, IP allows listing or signature verification alongside Bad Bot and Geo-blocking, making your website much safer.
SSL support and monitoring start at their Professional bundle starting at $299. In this bundle, you can automatically create SSL certificates through Let's Encrypt for your firewall serves, with support for custom SSL certificates and 24/7 support tickets.
Main benefits of Sucuri:
Malware and Hack protection
Zero-day Exploit prevention
DDoS Attack Mitigation
Brute Force Attacks Protection
4. Sematext
Sematext offers a full spectrum of monitoring solutions, and synthetics belongs among them. Using Sematext Synthetics, you can monitor your Uptime and API from multiple locations, from private networks, and behind firewalls. You can track network timings across all layers, including DNS, TCP, SSL, and HTTP. Using customized requests, you can monitor your APIs, and in case of any error, get notified on your favorite platform, including Slack, Email, Webhooks, and more.
SSL Certificate monitoring is a part of the Synthetics service and keeps your website reliable and accessible by avoiding website downtimes due to any SSL-related issues and continuous monitoring of the validity of your SSL certificates. Before any expiration, you get a notification with the option of tracking the error and all the certificates in the certificate chain.
Synthetics also lets you keep an eye on your website's performance. You can get metrics concerning page load performance, core web vitals, third-party software performance and check its reliability by verifying SLAs. All of the tests take place in real Google Chrome Browser.
Sematext synthetics pricing depends on the plan, monitor count and data retention, or the pay-as-you-go model. Starting at a minimum of $5 a month. Their Standard plan starts at $29 a month with 40 HTTP and 5 browser monitors. You also get advanced SSL Certificate monitoring, meaning that you will be receiving more complex and elaborate alerts and reports.
Main Benefits of Sematext:
Custom Metrics
Browser console error logs
Webhooks integrations
5. StatusCake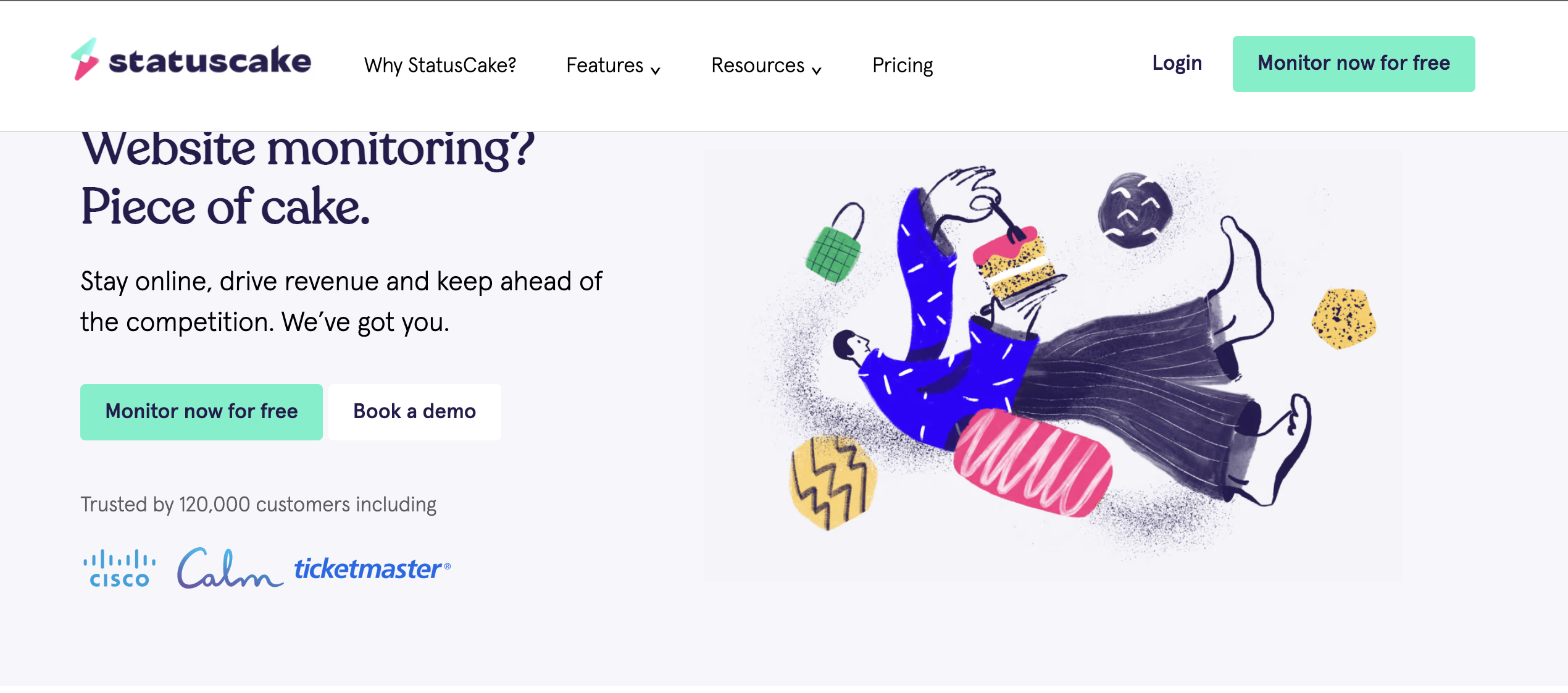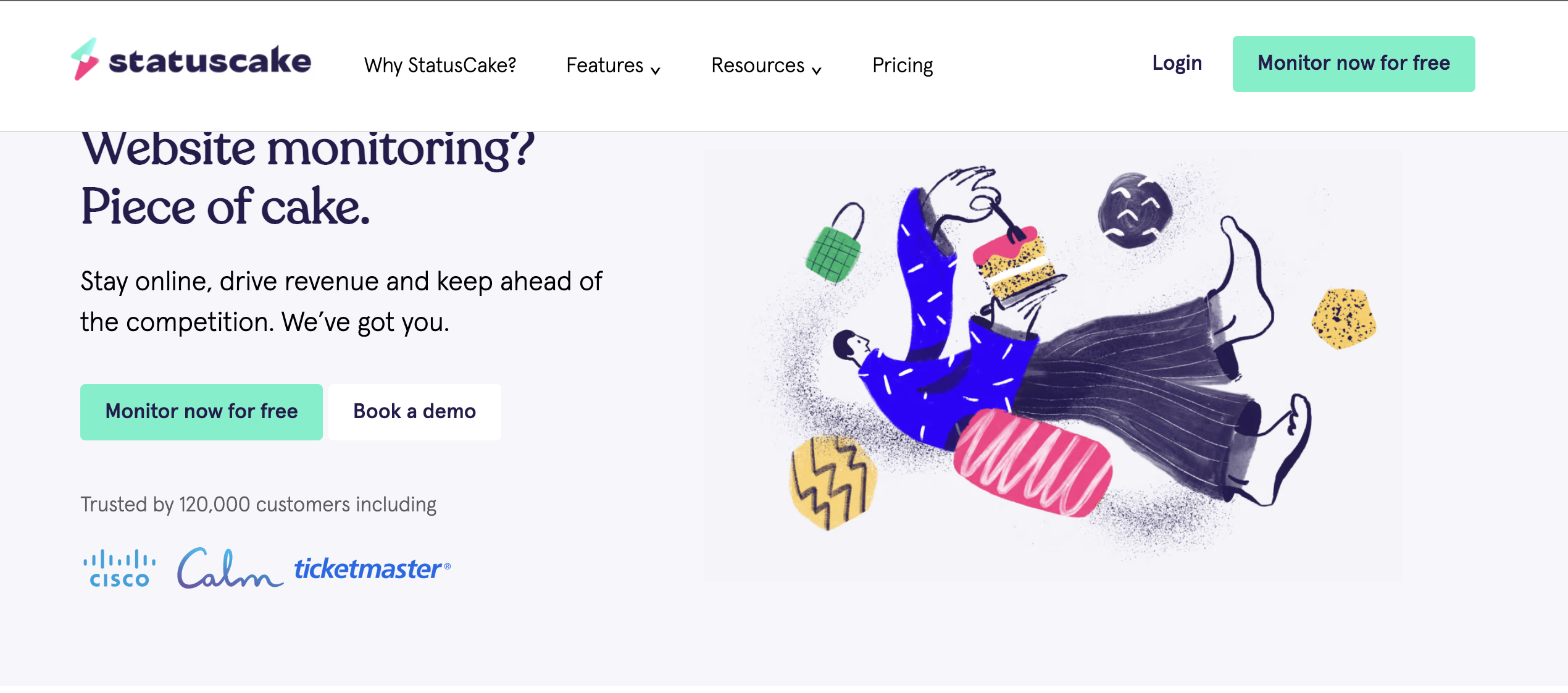 StatusCake checks your website from 43 locations in 30 different countries. Thanks to their historical website downtime reports, you can evaluate and analyze your previous outages, compare them to real-time metrics and understand what went wrong, or better yet, prevent any further failures.
StatusCake offers a complex SSL monitoring service alerting you up to three times before your certificate's expiration. For further evaluation, you can use their StatusCake SSL algorithm to see your SSL score and possibly address additional issues with your certificates.
SSL monitor is available in all the StatusCake bundles, ranging from Free all the way to Business. The free bundle offers you one monitor, one day testing period. Updating to Superior for $24.49 gets you 50 monitors and a 30 minutes testing period.
Main Benefits of StatusCake:
Page Speed Monitoring
Domain Monitoring
Server Monitoring
StatusCake Pages App
6. Site24x7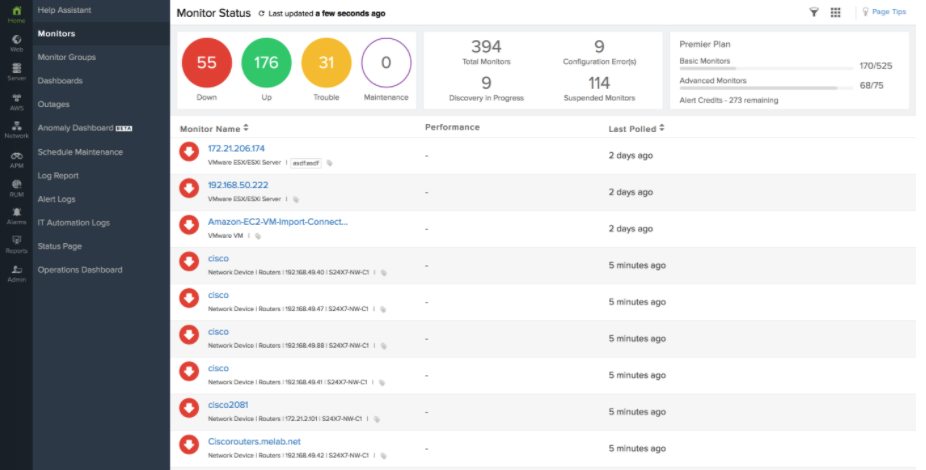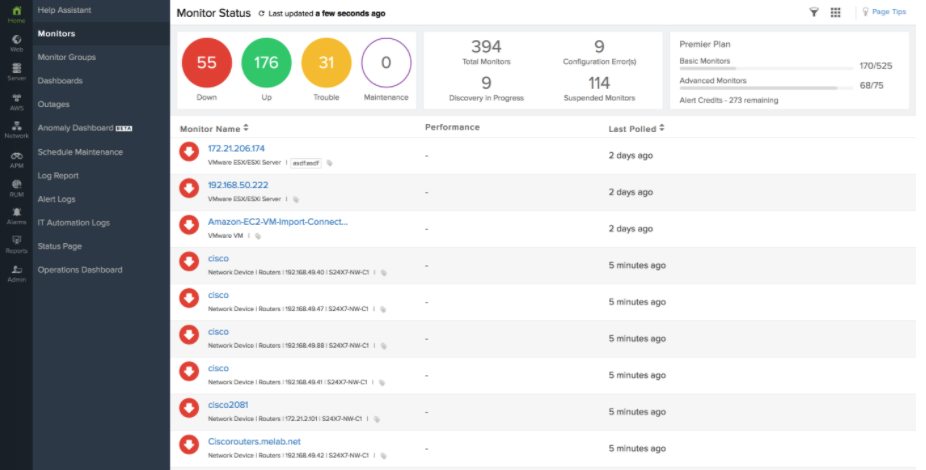 Site 24x7 offers out-of-the-box SSL/TLS Certificate monitoring from the cloud and triggers an alert before they expire. On top of that, you can monitor possible certificate revocation, or with an SHA-1 fingerprint check, you can bust any possible certificate tampering or blacklisted certifying authority. Site 24x7 monitors your certificates of important web services like HTTPS, SMTP, POP server, IMAP Server, and FTP server from more than 100 locations.
Site24x7's Synthetic monitoring helps you to test the availability, performance, and functionality for all critical components that help deliver your digital business to guarantee site reliability and user experience. With regular expression patterns or strings, you can check for the presence of a value in the returned response body, and you can also verify web server configuration by adding response headers. To detect and optimize any issues. You can record critical business transactions with their browser extension and check them from multiple locations by simulating traffic. You can either record typical user paths or import Selenium IDE test scripts and use them at regular intervals on a real browser like Chrome or Firefox.
SSL monitors are included in all featured plans, so you can get one in Starter at $9 a month. If you are looking for something more complex, you can always reach out for the PRO, Classic, or Enterprise bundles.
Main Benefits of Site24x7:
Port Monitoring
FTP Server Monitoring
Root Cause Analysis
Mail Delivery Monitoring
7. Pingdom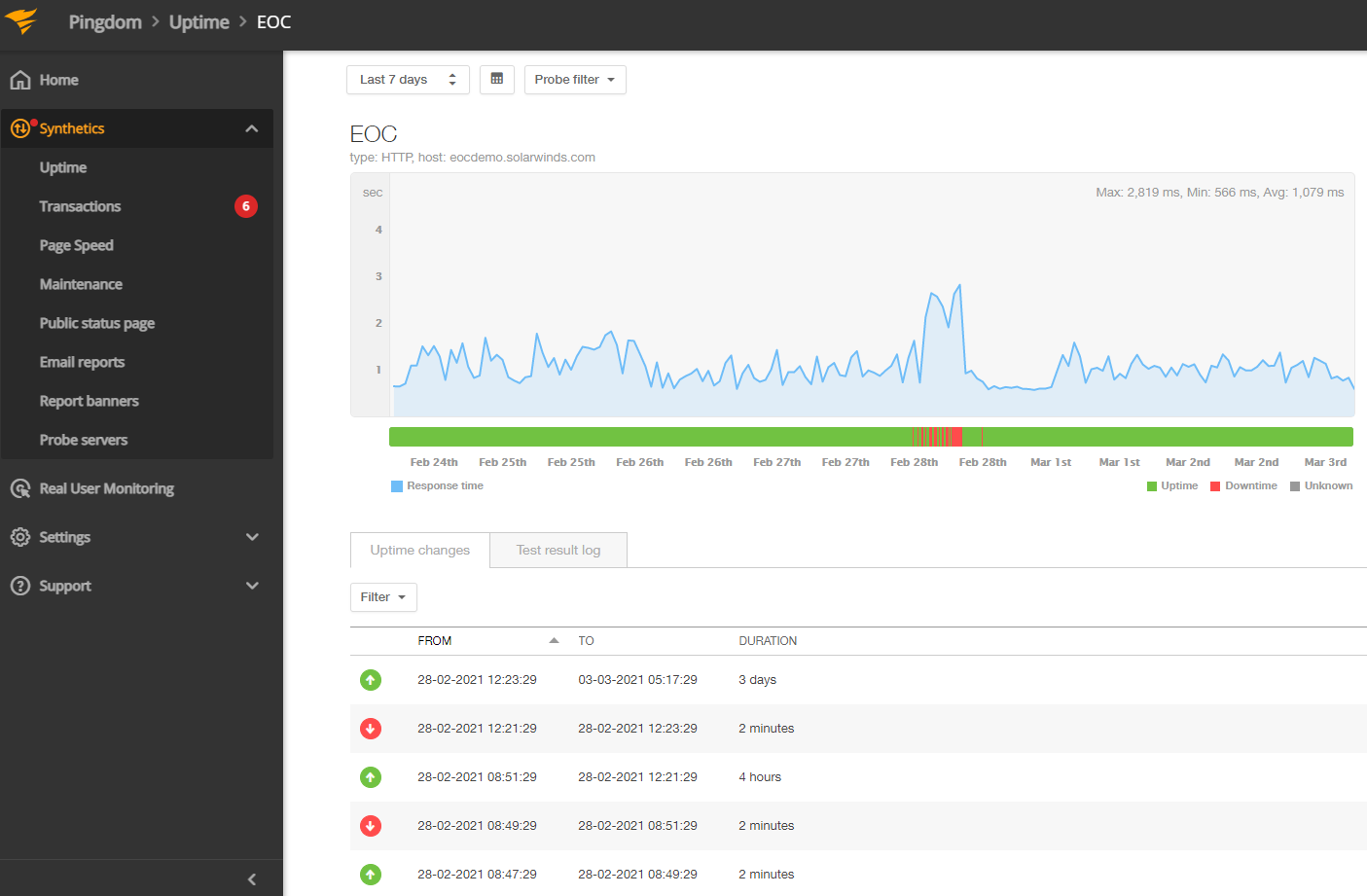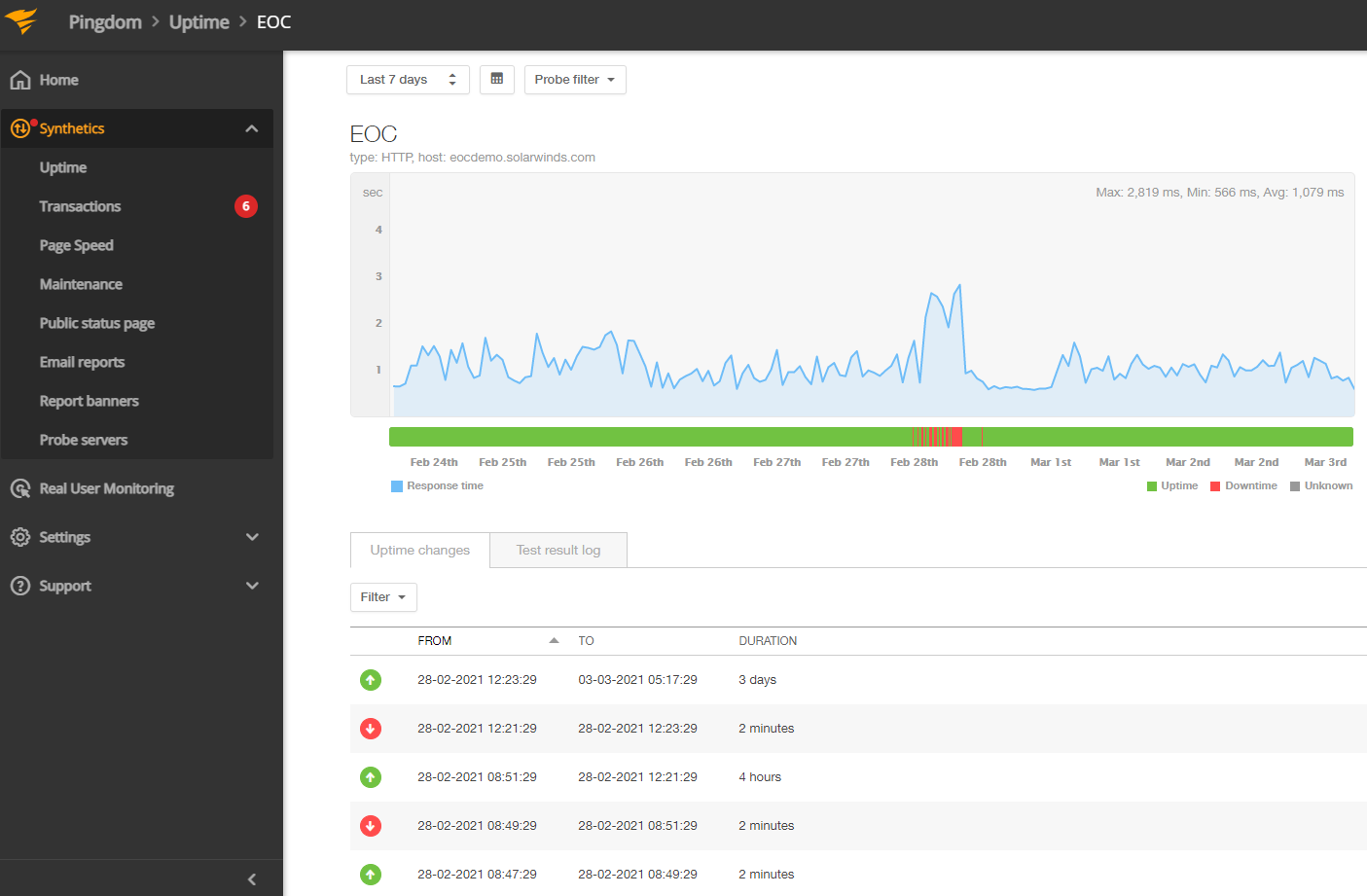 Pingdom offers SSL/TLS monitoring as a part of its uptime monitoring feature. You can select HTTPS when setting up an HTTP uptime check to monitor your website certificates. Once the check is enabled, Pingdom automatically monitors your certificates and warns you about any errors or approaching expiration dates.
Pingdom offers Synthetic and Real User Monitoring Solutions as two stand-alone bundles. Using Synthetic Monitoring, you can get Uptime, Page Speed, Transaction, and API monitoring. On top of that, you can create custom Pingdom status pages that offer a certain level of customizability. Pingdom monitors your website from over 100 locations around the globe and in case of any outages, you will get notified via SMS or email. Each potential error is double-checked to prevent any false alarms.
Pingdom lets you easily identify and fix issues related to loading times. Granular web page load test allows you to monitor the performance of every single element. You can also overview historical data and evaluate the performance of your page over time, which can help you to spot performance trends and issues. Broken multi-step transactions like login, search, or checkout are monitored using probe servers as often as every 5 minutes every day.
Uptime monitoring is a part of their Synthetic Monitoring bundle, starting at $10 a month. Transaction monitoring and Page speed monitoring are included in the same bundle.
Main Benefits of Pingdom:
Public status pages and reports
Multiple-locations check
8. TrackSSL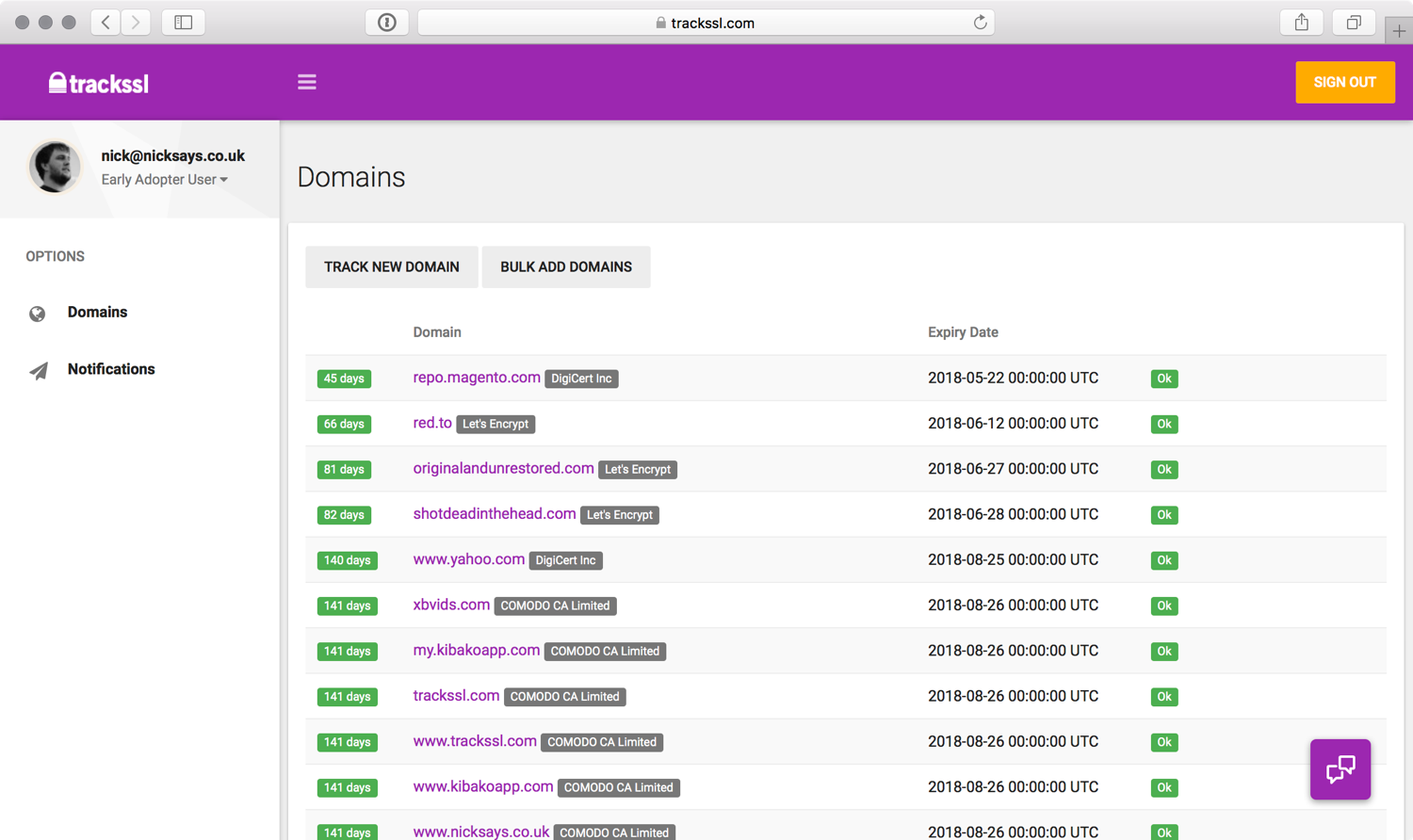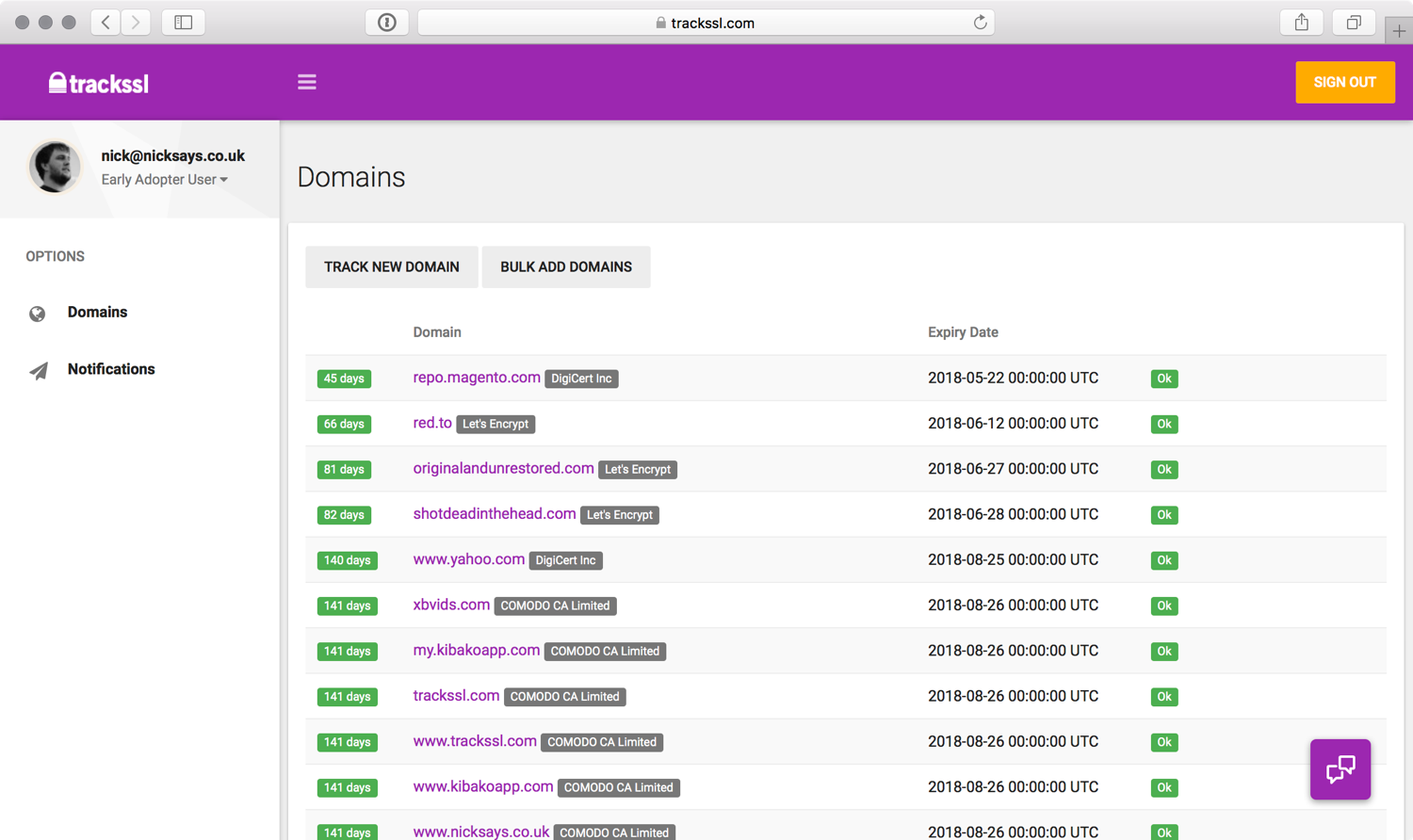 TrackSSL, well, keeps track of your SSL certificates. Trusted by both big and small companies, TrackSSl checks your SSL certificate on a regular basis and checks for common errors. Apart from expiration TrackSSL verifies also changes in infrastructure and notifies you when certificate information is updated.
TrackSSL offers 4 subscription bundles. In the Free Plan, you can track up to 2 domains. The lowest paying tier Small offers an SSL certificate check for up to 20 domains for $25 a year. This number can grow all the way to 200 domains for $99 a year.
Main Benefits of TrackSSL
Slack integration
Customizable notifications
9. Keychest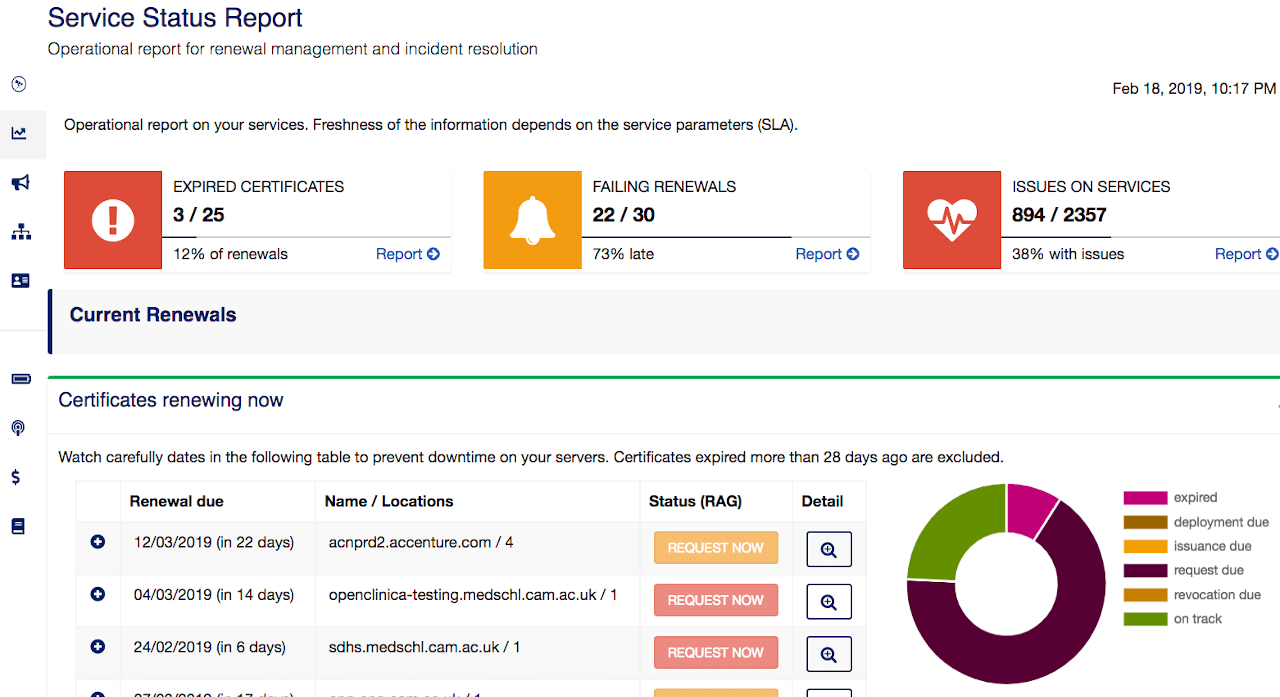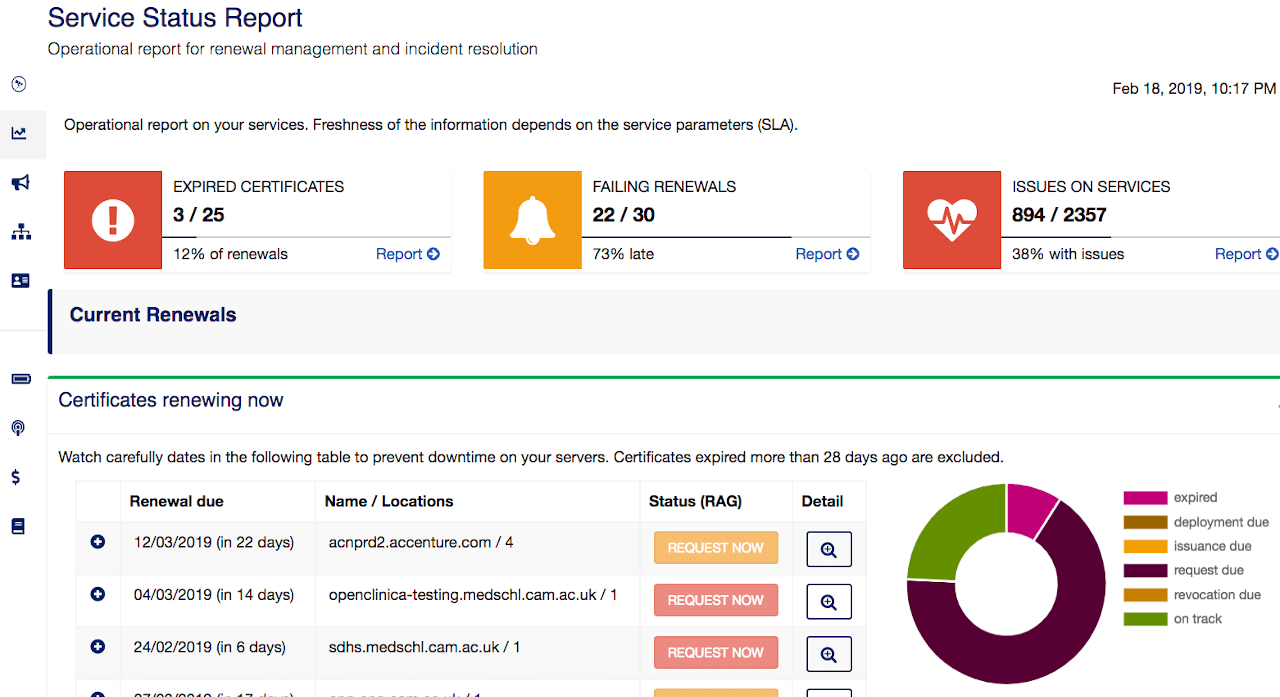 Keychest offers a complex SSL certificates monitoring and maintenance solution for both personal and enterprise needs. KeyChest not only monitors expiration dates and updates of your certificates but also helps you find them in the first place. To prevent downtimes, KeyChests renews certificates for you and is independent of certificate issuers. They offer simplified on-demand renewals, automation of deployment, detection of failures, and lightweight proxy for internal networks.
Their pricing depends on your needs. If you are looking for a personal SSL certificate monitor, you can grab their Personal plan for free. This plan includes HTTPS/TLS monitors for personal use, certificates discovery, end-points discovery, and expiration reports. On the other hand, their Enterprise plan offers multiple users, full reporting, internal certificate management service fully integrated with several certificate providers like SectiGo, Digicert, GeoTrust, thawte, RapidSSL, GoDaddy, or COMODO in an annual fixed-price license.
Main Benefits of Keychest:
Vulnerable endpoints monitor
Phishing threats monitor
Single-sign on: OKTA (Azure soon)
10. Robot.alp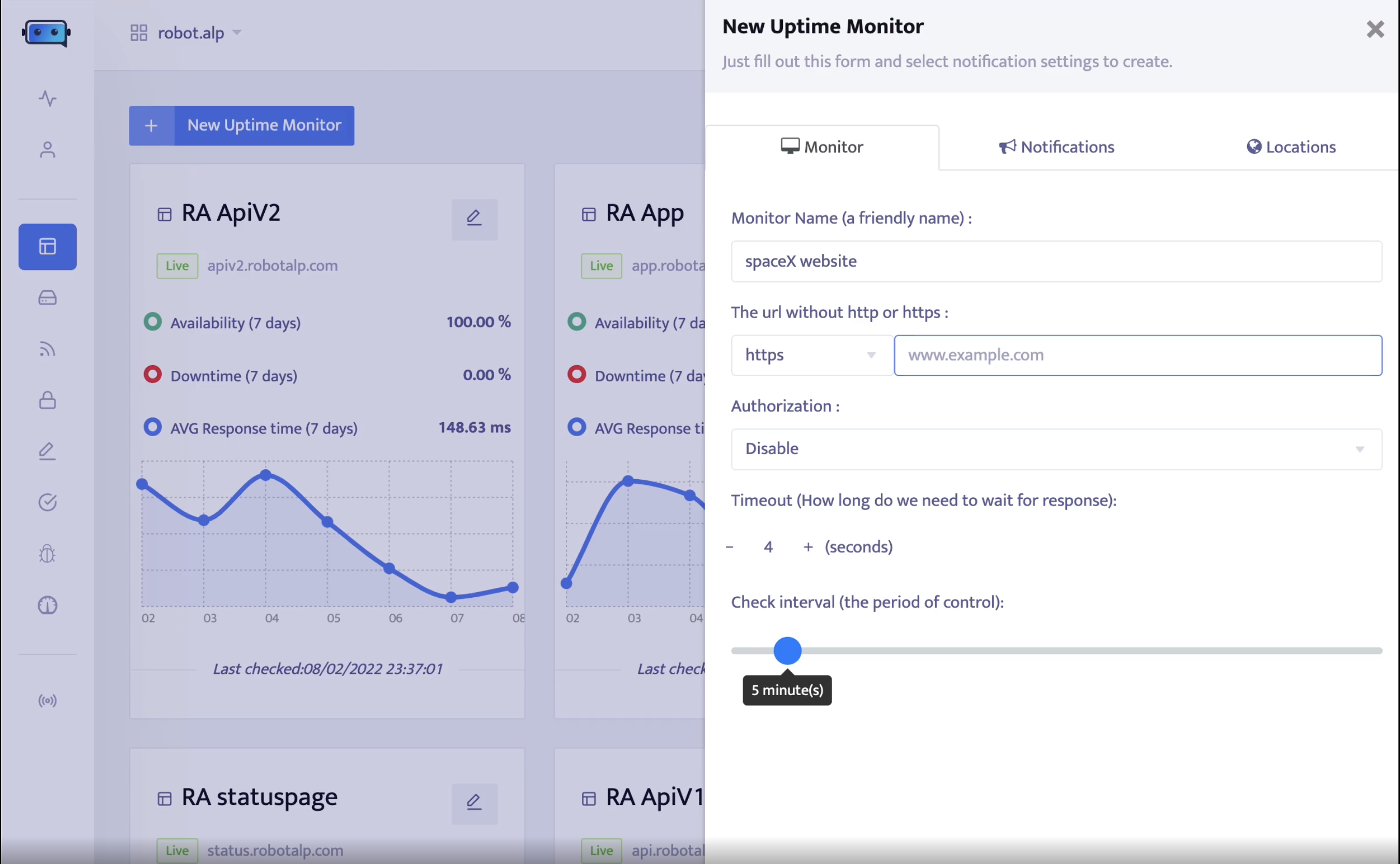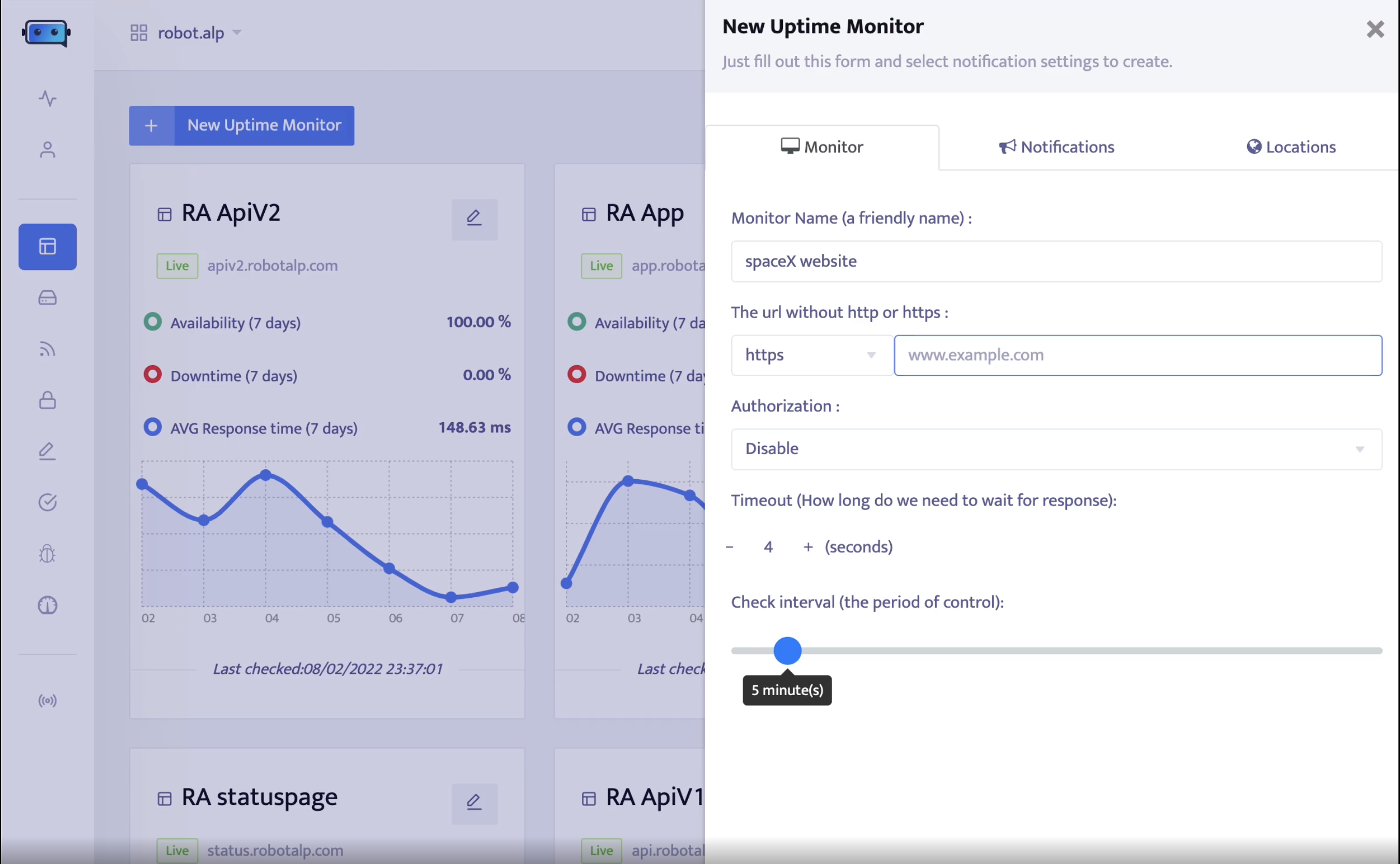 Robot.alp offers SSL monitoring as a part of their website monitoring solution. They monitor your SSL certificates on a regular basis to prevent any misconfiguration or expiration that could potentially mark your website as dangerous.
Their pricing is derived from the size of the monitoring, not individual features, so all eight monitors - Website, Port, JSON, SSL, Keyword, DNS, Safe Browsing, and Page Speed are included. Their plans start at $7.50 in the Starter Plan with 10 monitors, 500 Email and 100 SMS tokens. They also offer Premium, Pro, or Business plans.
Main Benefits of Robot.alp:
Unlimited Slack Alerts
Unlimited Telegram Alerts
Timezone Management
Log Storage
Honorable Mentions:
HTTPS Cop
HTTPS Cop is a not yet released project of a freelance software engineer Ashish Kumar. HTTPS cop provides a simple solution for most of the issues you can encounter with SSL certificates.
LetsMonitor
LetsMonitor is a Free service monitoring your website certificates to receive alerts before certificate expiration or any misconfiguration. In addition, they offer Performance and availability monitors, Threat and Fraud protection monitors, or Connectivity tests.
Conclusion
This article covered the essentials of SSL Monitoring. We've started with what SSL certificates are, why are they important and what are the consequences of neglecting their monitoring. Then we went through the list of The Best SSL Monitoring Tools and Software in 2023. Now, try to pick your favorites, further study their functionality and pick a solution that will suit your needs the most.
We call you when your
website goes down
Get notified with a radically better
infrastructure monitoring platform.
Check Uptime, Ping, Ports, SSL and more.
Get Slack, SMS and phone incident alerts.
Easy on-call duty scheduling.
Create free status page on your domain.
Explore more
This work is licensed under a Creative Commons Attribution-NonCommercial-ShareAlike 4.0 International License.