10 Best DNS Monitoring Tools in 2023
Jan Tovarys
Updated on April 6, 2023
How does DNS monitoring work?
DNS monitoring is essential for ensuring the security of communication between clients and web services. Monitoring itself is based upon consistent and periodic verification of DNS records for any extraordinary changes or localized outages.
This allows you to pinpoint and eliminate any potential issues that might impact your website's function and the security of both your and your client's data.
DNS is a possible way for attackers trying to penetrate your defense, and they try to do so by:
Cache Poisoning - inserting own false information into DNS cache. This usually reroutes users to a fraudulent copy of your website and steals their private and often sensitive data, such as credit card information.
DDoS and DoS - Distributed Denial of Service and Denial of Service depends on either single or multiple computers attempting to crash your website with an overload of requests.
Tunneling - DNS servers handle vast amounts of traffic, which prevents most security software from monitoring all the exchanged data packets. However, monitoring traffic on the server can help to detect chunks of traffic to a previously unknown server or a large number of long requests and responses, this is called tunneling, and DNS monitoring can help to stop it.
Impreva analyses even more approaches to DNS Hijacking , if you want to learm more about the threats your DNS faces, make sure to check it out.
What could happen if your DNS gets breached?
Every breach represents a problem that can range from a minor dysfunction to a catastrophic failure. The wrong configuration can prevent users from accessing your site and drive potential customers away from you.
DNS spoofing or cache poisoning can compromise users' data and destroy the reliability of your name, and DDoS, DoS, or tunneling can cause a possible leak of sensitive information and open your business to the vulnerability of potential blackmail or drive your customers into various hacking, or phishing schemes.
DNS breaches have serious implications - that's why you need to prevent them.
Benefits of DNS monitoring
Increased security of communication
Fast detection of any service outages or protocol failures
Boosted application, services, and server availability and effectivity
10 Best DNS Monitoring Tools in 2023
We've established that DNS monitoring is crucial, now let's look at the best DNS monitoring tools in 2023.
1. Better Stack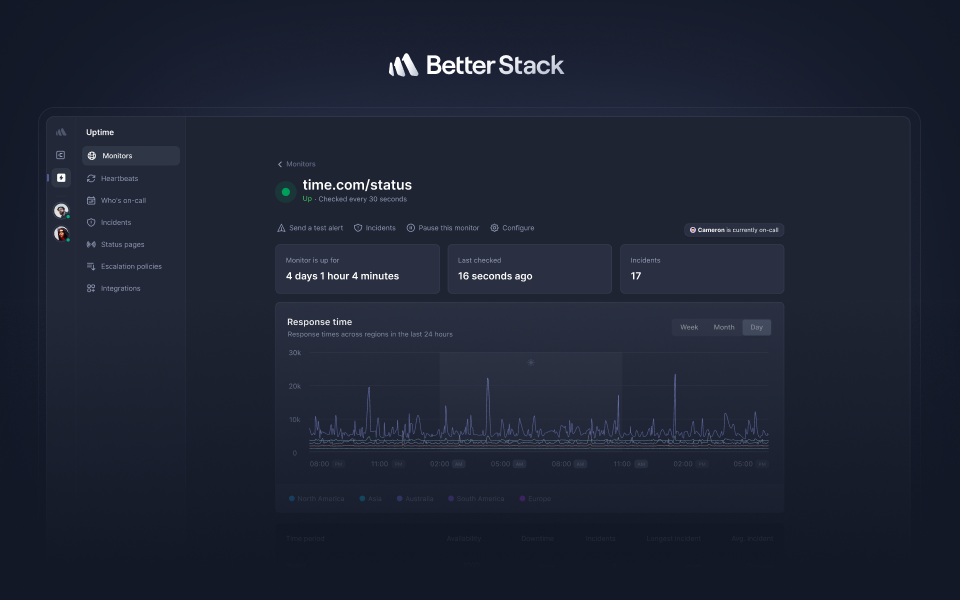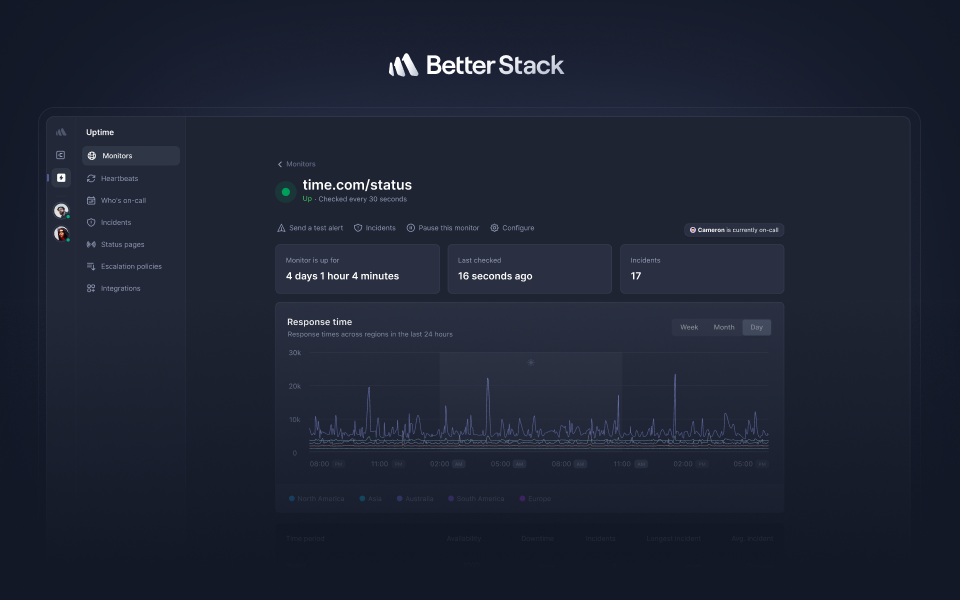 Better Stack offers a reimagined approach to uptime monitoring. Thanks to a combination of best practices in Uptime monitoring, Incident management, and downtime communication via Status pages, you can get your hands on a complex infrastructure monitoring solution. Better Uptime checks on your website every 30 seconds and from multiple locations, so no more false alarms or location-related issues going unnoticed.
Better Stack offers HTTP(s) keyword checks, multi-step verification, heartbeat, SSL, Ping, Port monitoring, and many more features. It supports multiple integrations, including Datadog, New Relic, Grafana, Prometheus, Splunk On-Call, Zabbix, AWS Cloudwatch, GCP, and Azure.
You can use its reporting and analytics capabilities to overview historical uptime, verify SLA, and better understand incidents in context using incident cause synthesis. In case of any accidents, your system will not be overwhelmed thanks to smart incident merging, and on-call calendar & scheduling will ensure an immediate response. Alerts are handled by Slack, MS Teams, Phone calls, SMS, Push notifications, Zapier, and Webhooks.
Better Stack usually is available for free; however, if you are looking for a solution including DNS server monitoring, you need to subscribe to the Business model for $120 per month/team. Alongside DNS monitoring, you can access TLD expiration monitoring, POP3/IMAP/SMTP monitoring, or a fully customizable status page.
Main Benefits of Better Stack:
Synthetic Monitoring platform with Incident-management built-in
Public Status pages manager
Better Stack Logs integration available, allowing you to monitor your infrastructure, networks and your logs at the same time
2. Nagios XI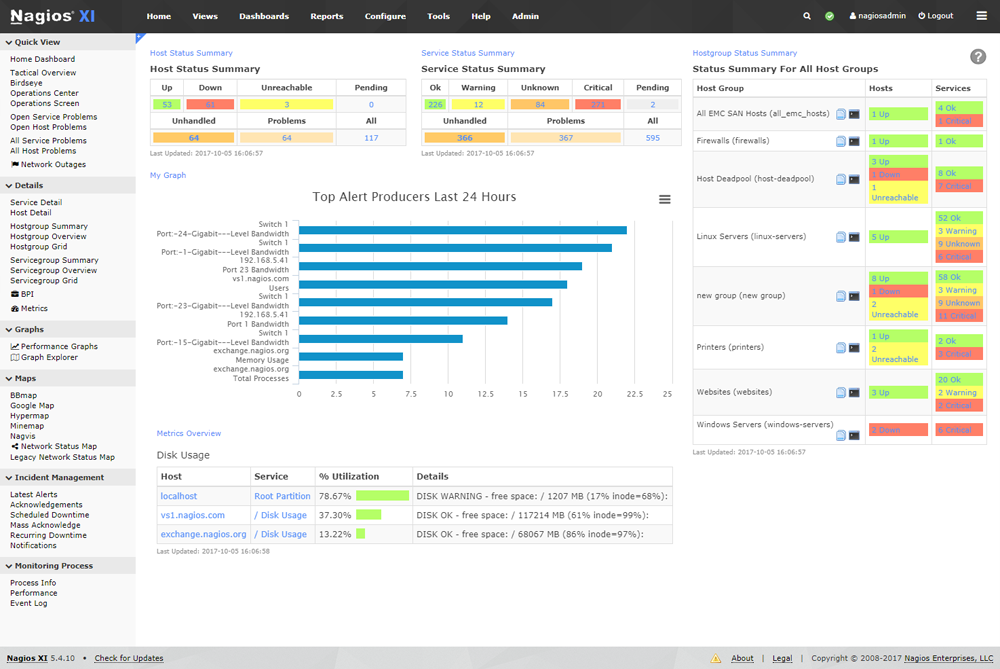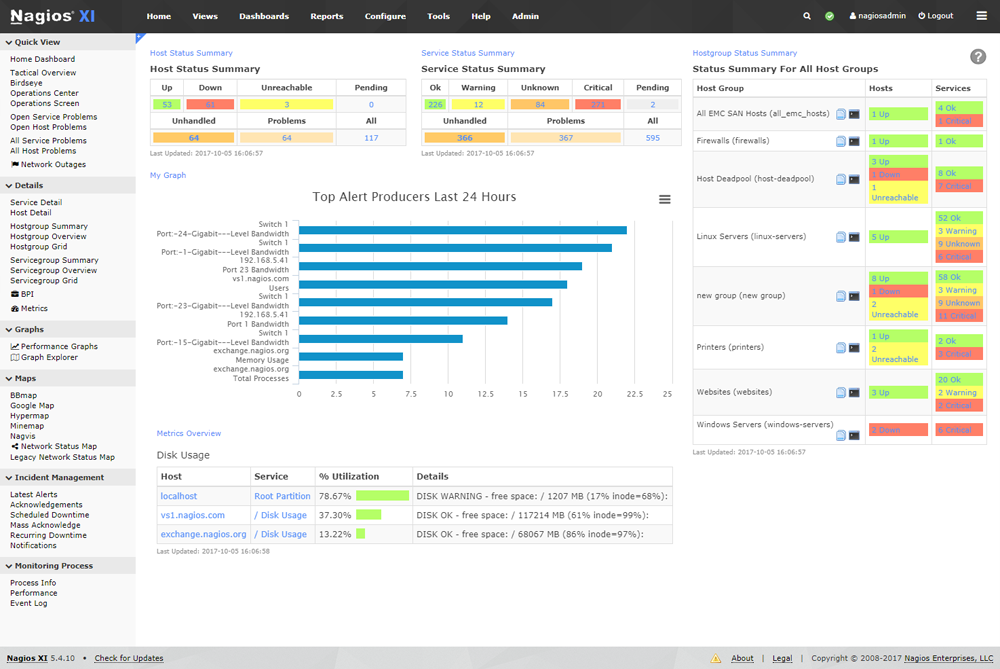 With Nagios XI, you can monitor all essential infrastructure components - apps, services, protocols, performance, and infrastructure. DNS monitoring is part of either of the Nagios XI or Nagios Core. You can monitor your DNS servers, protocols, and queries using both.
With Nagios XI, you also get a comprehensive IT infrastructure monitoring, performance monitor, and possibility of architecture extension, all dressed in customizable UI. Nagios XI is a force to reck reckoned with, but its price is. Pricing plans start at $1995 for the Standard Edition and $3495 for Enterprise Edition. These one-time license purchases require further maintenance and support subscriptions starting at $1780 a year.
Nagios is one of the most reliable and powerful tools on the market, and if you are not ready to spend tens of thousands of dollars a year, check out our other suggestions.
Main benefits of Nagios XI:
Infrastructure management
Configuration wizards
Advanced Graphs and Monitors
a Plethora of other solutions
3. Site24x7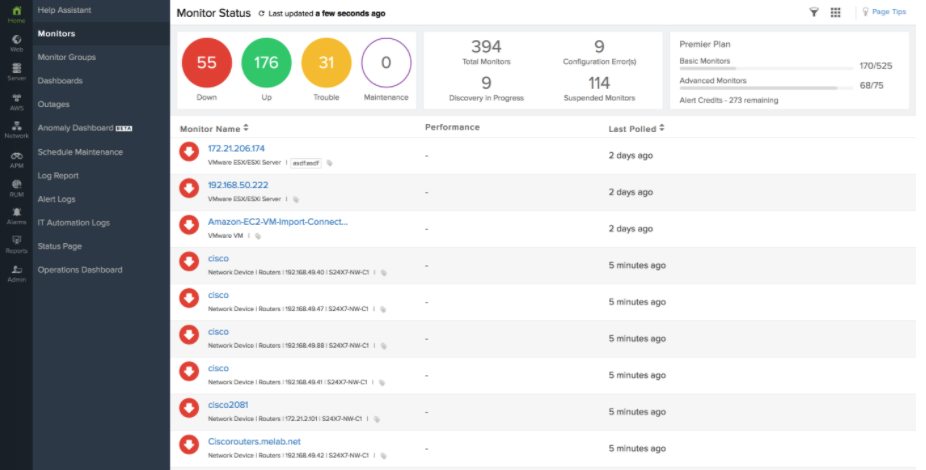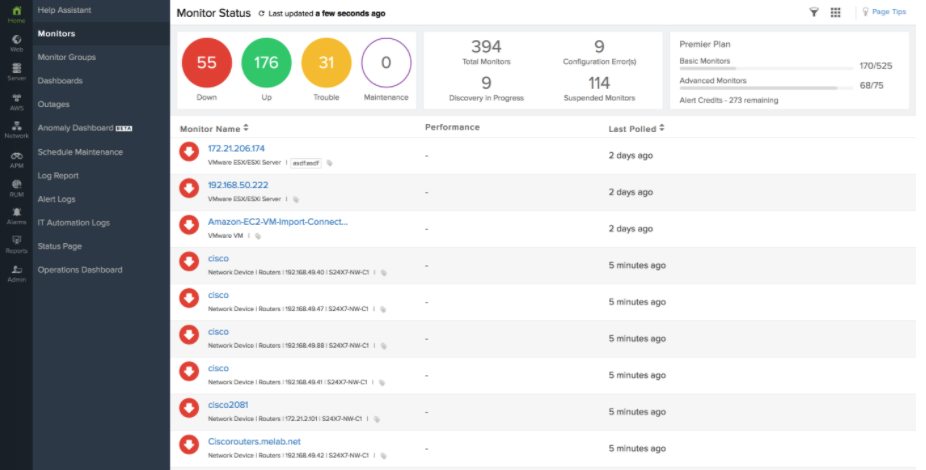 Site24x7's DNS monitoring monitors your DNS using critical metrics like DNS Response time which shows the response time of your DNS server and the average response time from each geographical monitoring location. Also, DNS record type, which displays whether the lookup type is available or not, and DNS record name and DNS search value, checks whether the resolved record name matches the configured search value.
Site24x7 offers an all-in-one monitoring solution for website, cloud, server, network, application, and Real User Monitoring. Monitoring gives you regular metrics about the Response time and Availability & Response Time by Location.
DNS monitoring is at Site24x7's pricing available across all plans, so now it comes to you and what exactly you are looking for. You can always go for the Website Monitoring Starter bundle for $9 a month. If you need more tailored solutions, you can check out their Infrastructure Starter or APM Bundles. And if you don't like surprises and want to be informed about everything, you can check out their All-in-one PRO plan for $35.
Main benefits of Site24x7:
Brand Reputation Check
110+ global locations
Cron monitoring
RUM and Synthetic monitoring
4. Dotcom-monitor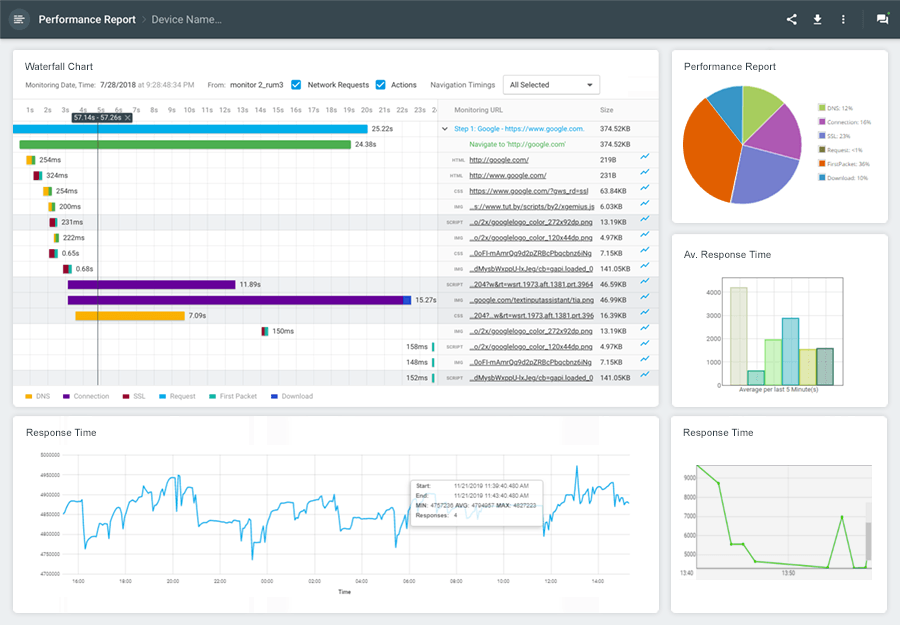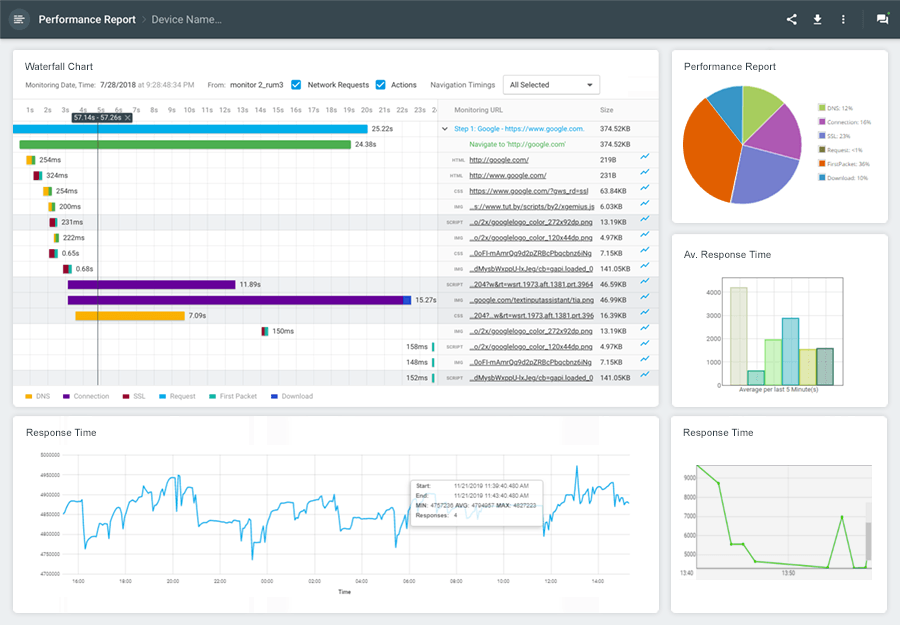 Dotcom-Monitor checks for performance and accuracy of DNS query resolutions from 30 locations worldwide. Their monitoring solution can look through the following record types: A, AAAA, CNAME, MX, NS, PTR, SOA, SPF, and TXT. If any issues are detected with resolving DNS names, an instant DNS trace is taken that shows the full path of propagation and an instant alert, showing the type of issue and extent of the error. Performance reports are generated showing global resolution speeds. Dotcom-monitor offers a minimal 60 seconds checking frequency.
Dotcom-monitor offers DNS monitoring and DNS blacklist in their Internet infrastructure subscription, which starts at $39.95 a month. In this subscription, you can also get a 1 to 180 minutes check frequency, Telnet/Port check, 36 months Data retention, and 30 Monitoring locations.
Main benefits of Dotcom-monitor:
Unlimited Public Dashboards
Configuration API
SSO integration
5. PRTG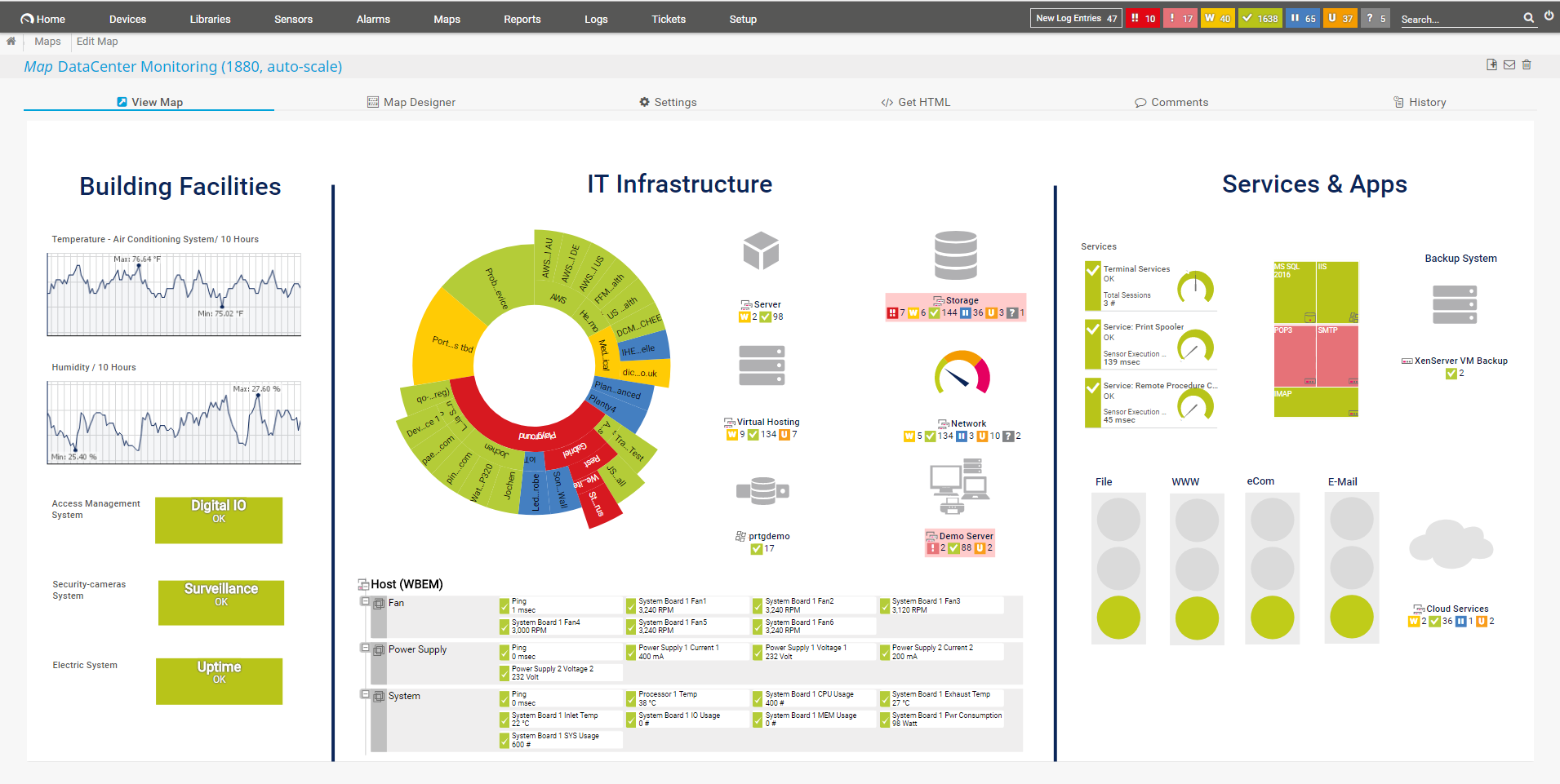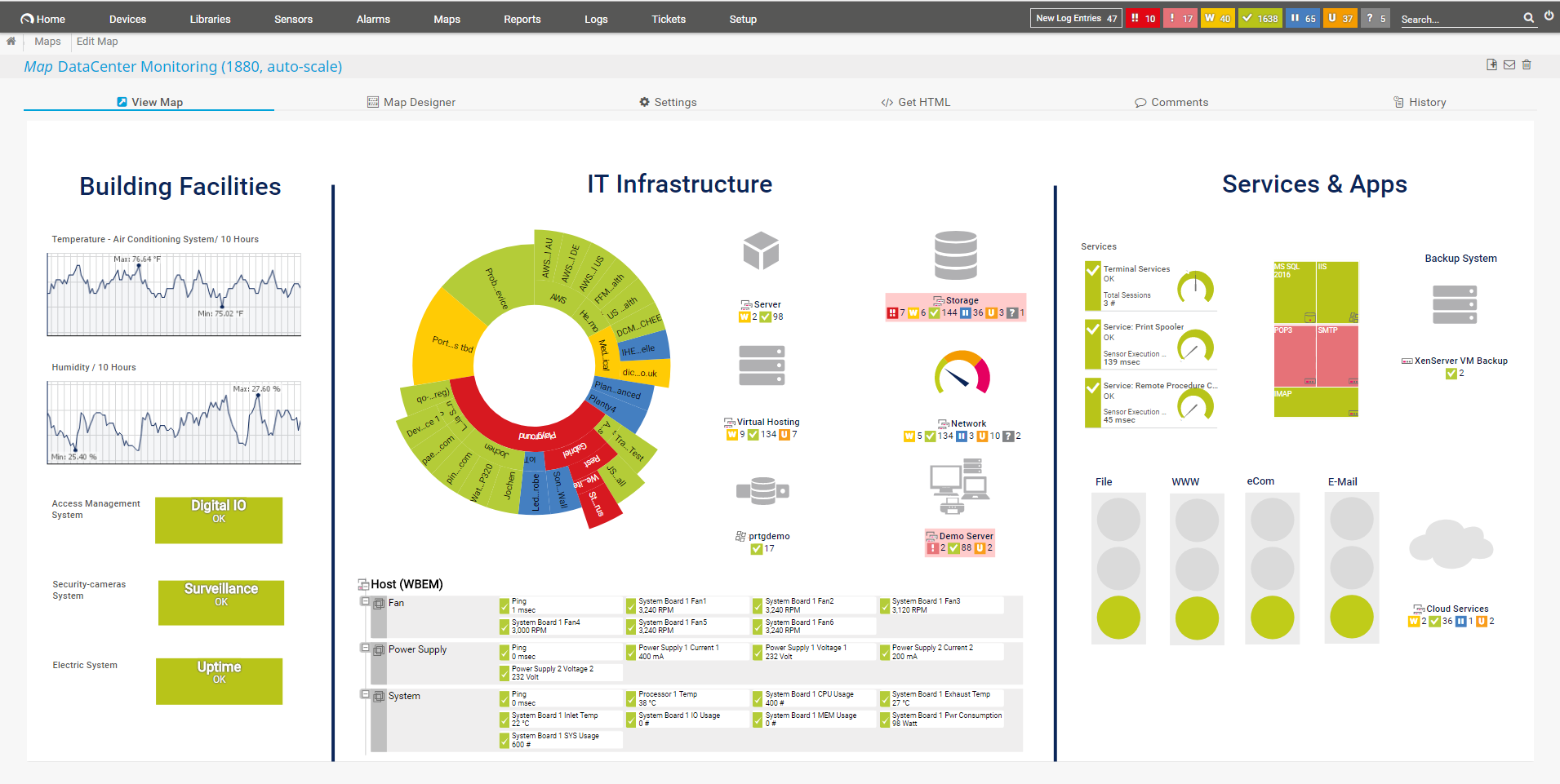 PRTG Network Monitor helps you monitor all your systems, devices, traffic, and applications in your IT infrastructure. It alerts you whenever it discovers an error or unusual metrics. DNS monitoring is covered by their DNS v2 Sensor, which has, according to their documentation, a medium impact on overall system performance.
PRTG comes in a perpetual licensing model, meaning that you pay only once for a license and then pay for maintenance plans to gain access to updates and technical support. Their plans depend on the number of devices monitored and start with PRTG 500 for $1750 per server license. Here you can monitor up to 500 aspects, or around 50 devices. Like Nagios XI, this is a full-fledged server solution with license and maintenance bundles.
Main benefits of PRTG:
Log monitoring
SharePoint monitoring
Application monitoring
6. CatchPoint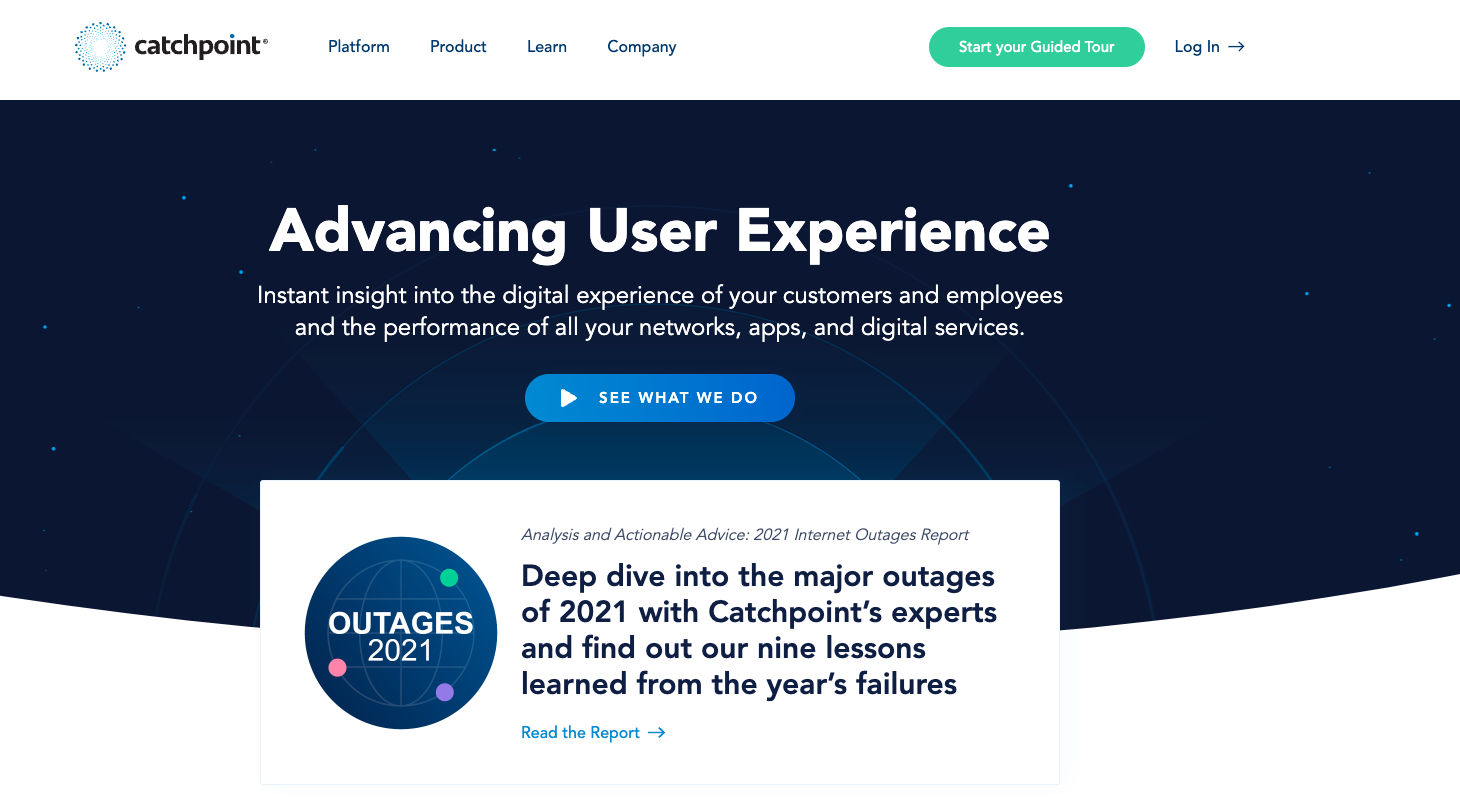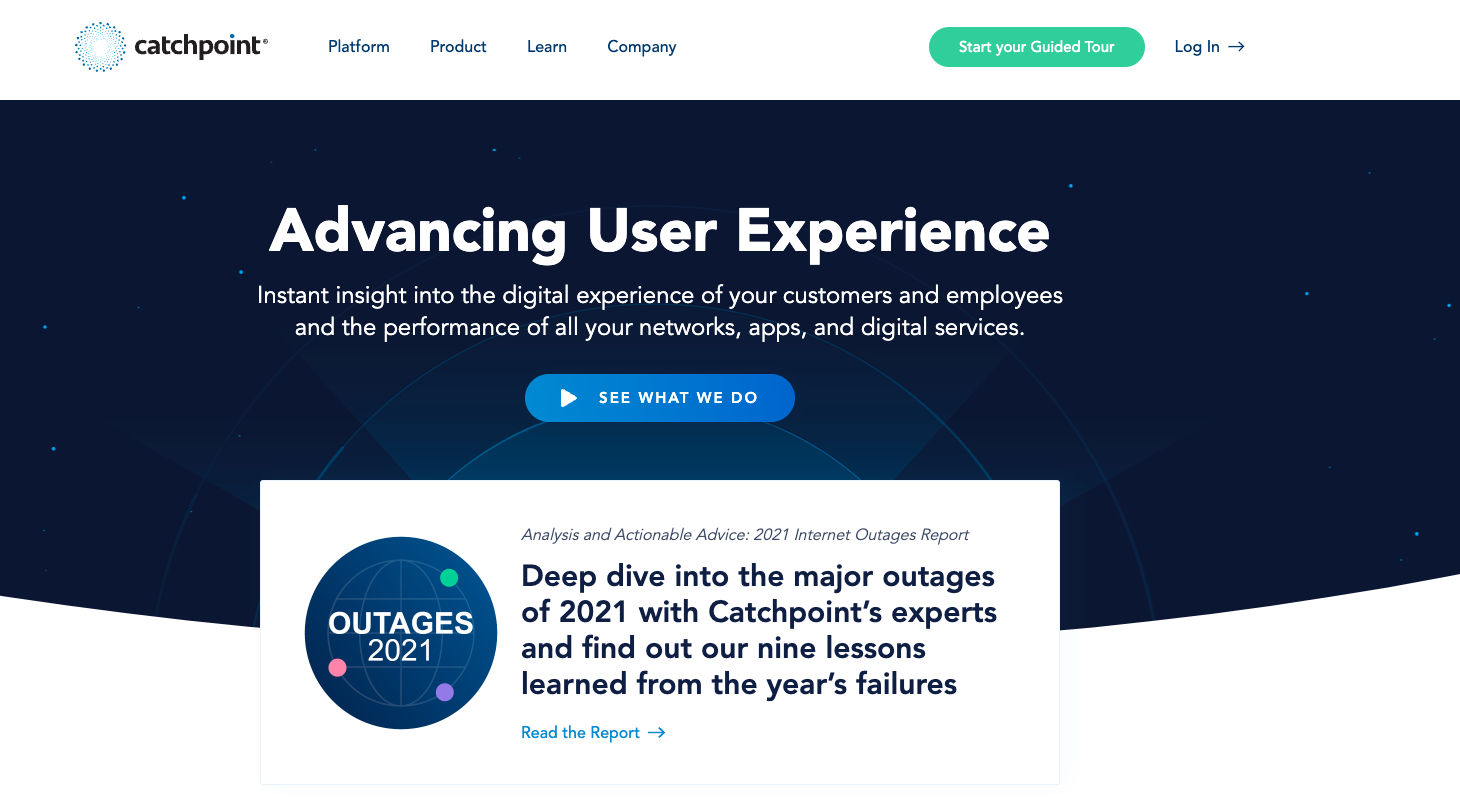 Catchpoint helps you to resolve DNS issues faster. Thanks to their monitoring, you can get a true picture of your DNS performance. With hundreds of geolocations available, you can test tour backbone, broadband, cloud, last mile, and wireless providers for an authentic image of the DNS speed, reachability, and availability. After identifying any issues, you can quickly resolve them and get an insight into your DNS resolution chain, to get an overall idea of the health of your software.
Catchpoint is trusted by the biggest DNS providers like Cloudflare, Google, or OpenDNS. However, their pricing starts from $8 per 10k test runs.
Main benefits of Catchpoint:
Performance analysis
Network Monitoring
RUM and Synthetic monitoring
7. Flowmon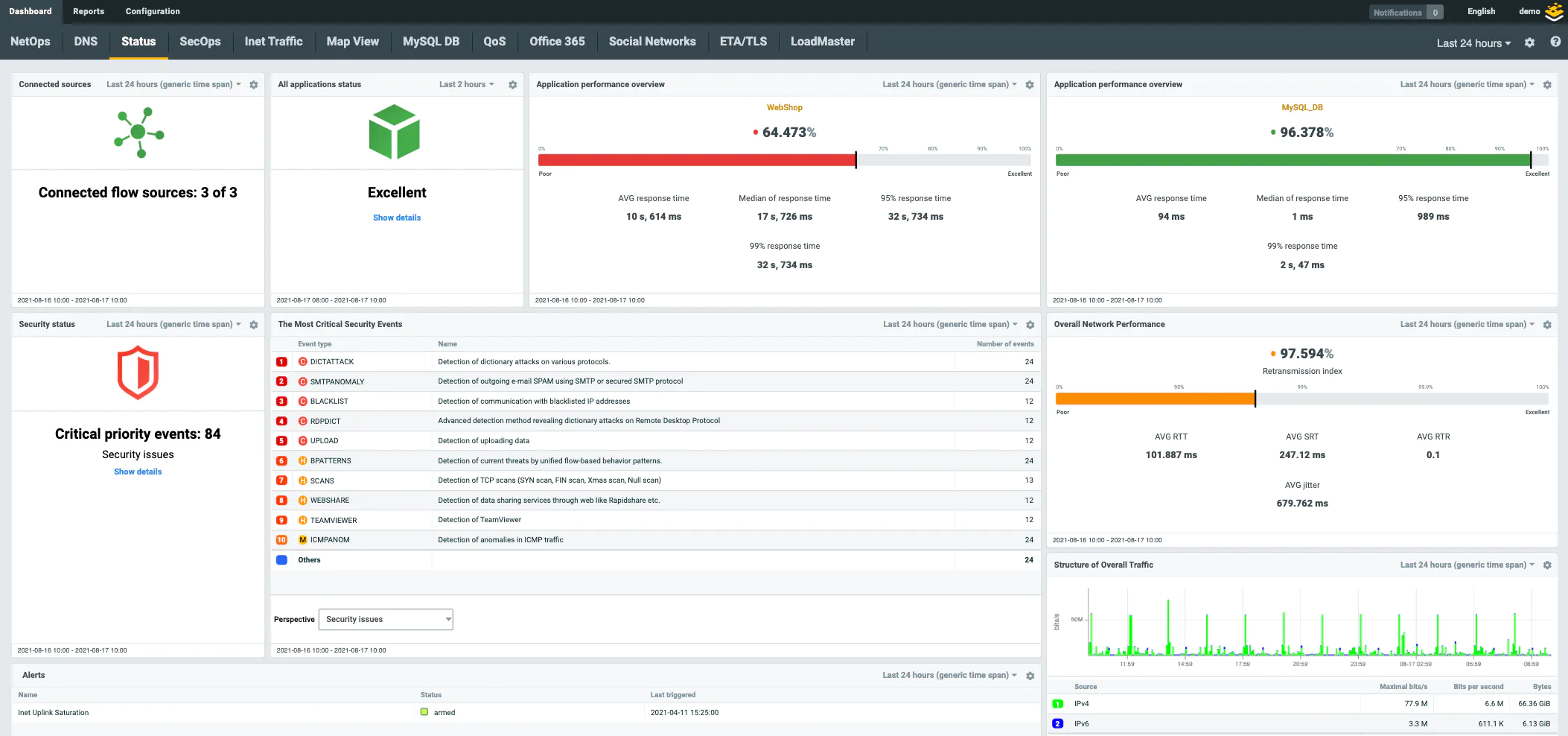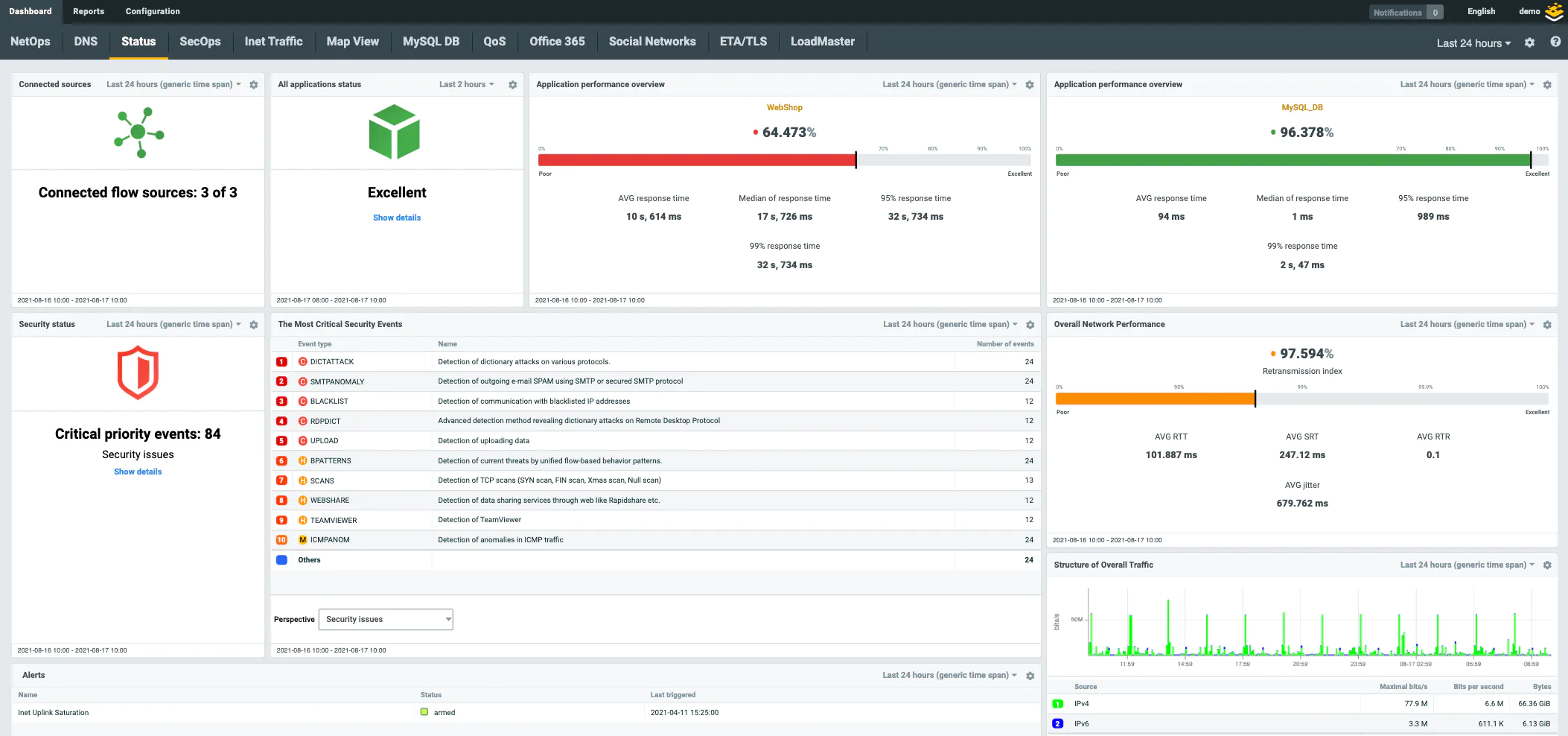 Flowmon Probe belongs among the most powerful tools for data exporters and inspection tools on the market. Flowmon's DNS monitoring depends heavily on the Probe because it monitors DNS traffic, inspects packets, and looks into DNS data. The Probe then enriches the flow record with DNS data and exports it to store and analyze the flows.
Flowmon is one of the most potent Network Monitoring and Security players on the market, and the prices correspond to this fact. Their Network Operations subscription starts at $10,000 a year and includes Network Performance monitoring, Encrypted traffic analysis, End-user experience monitoring, or Cloud infrastructure visibility. Flowmon also offers other Network-related bundles such as the Network and Security Operations and NetOps and DDoS protection bundle.
Main benefits of Flowmon:
Fast deployment
Easy and fast PoC
Google Cloud, Azure, VMWare, AWS integrations
8. Datadog
Datadog's network monitoring solution allows you to troubleshoot DNS server outages using performance and flow metrics. You can assess the performance of all DNS servers and managed services in one place. Quickly isolate servers with the highest response time or error rate to incoming requests and better understand DNS-related issues. Using Datadog you can find out if the issue occurs on the client or server-side. You can also use all of this data in correlation during your root-cause analysis of network issues.
Datadog gives you insight into your network using meaningful tags that can be used to filter traffic. Grouping tags help you to understand metrics in context. Datadog operates within one platform, which helps you optimize network traffic costs and performance simultaneously. By tracking inefficient and expensive traffic patterns with the live network map, you can do so. This also helps you to better understand dependencies within your network, visualize inefficiencies and quickly delegate responsibility across your teams.
You can start monitoring your network for $5 per host a month. Network Performance Monitoring subscription visualizes flows on the network map and analyzes system-wide DNS performance. You can deploy it side-by-side with Network Device Monitoring, which starts at $7 per device per month. Both have free trials available.
Main Benefits of Datadog:
Network traffic mapping
Full-stack visibility
9. Uptrends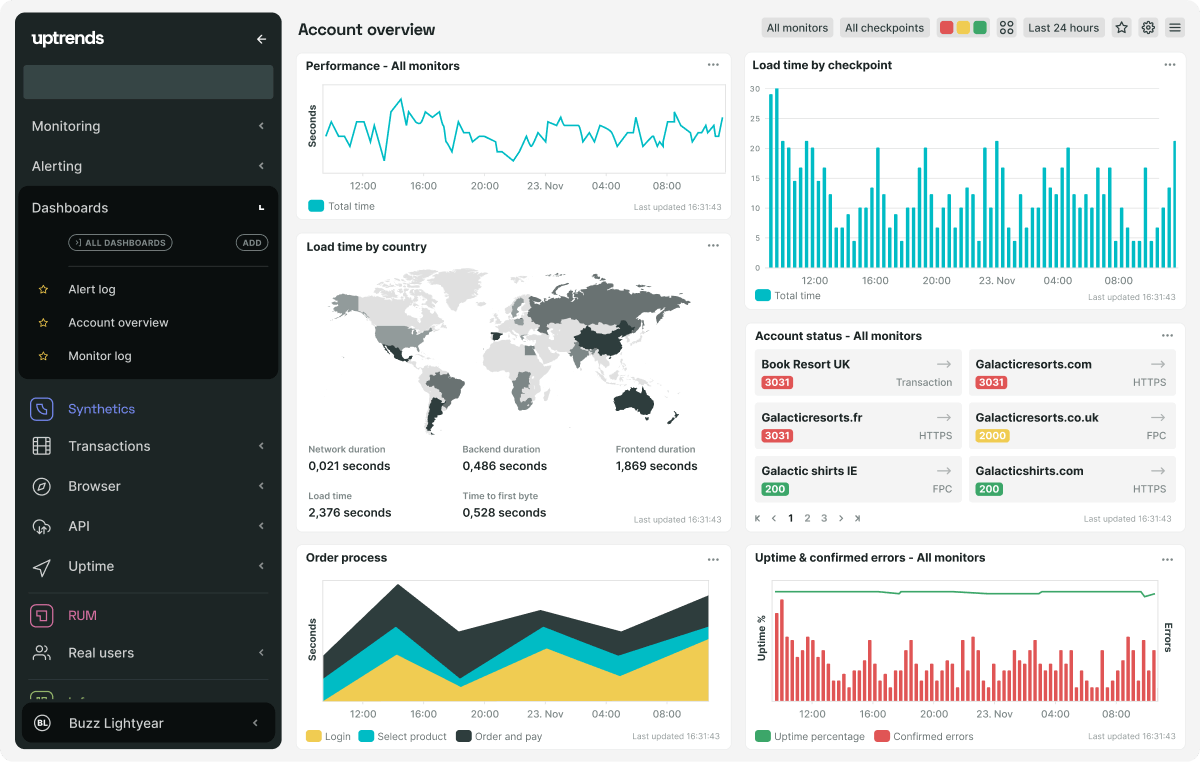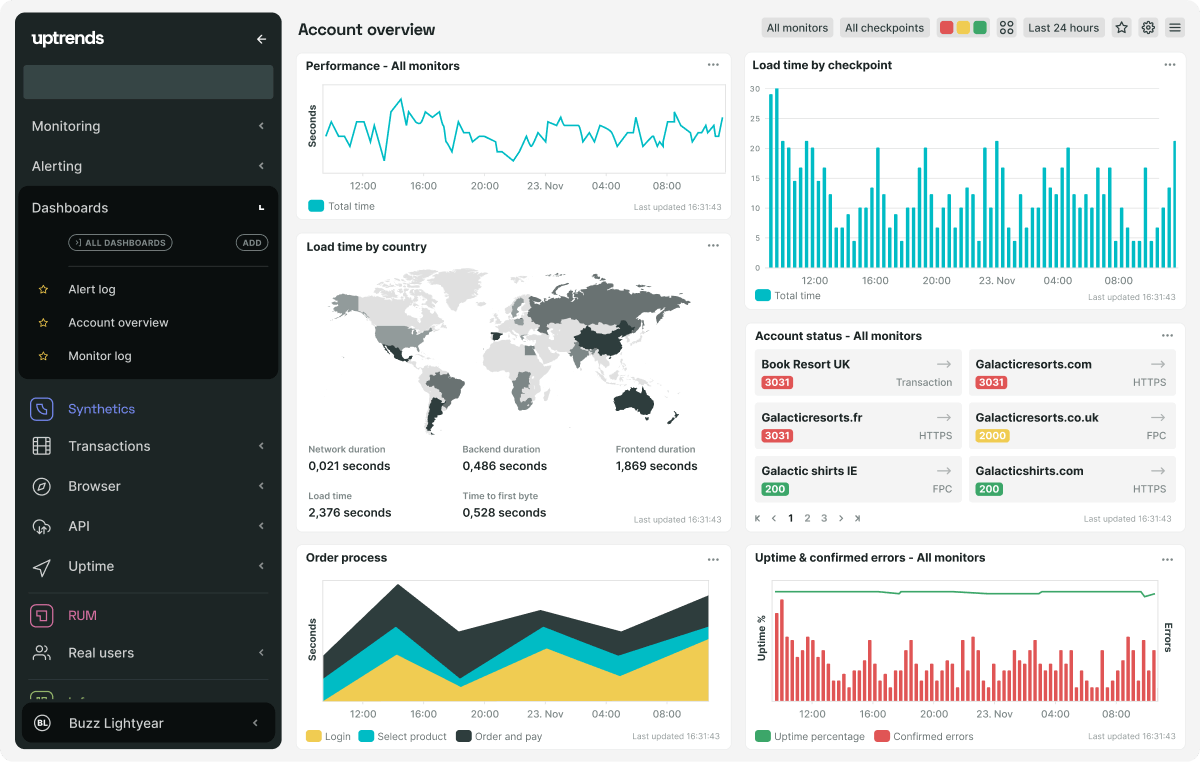 UpTrends offers a DNS lookup tool to monitor key records such as A, AAAA, SOA, TXT, and MX. Thanks to its 184 regional checkpoints, you will understand your network's performance on a global scale and easily recognize any region-related issues. UpTrend also monitors SOA serial numbers to monitor DNS entry changes, allowing even more precise monitoring.
UpTrends produces daily reports, evaluating the performance of your DNS service, helping you to overview it over time and possibly spot some performance-related issues. It is a web-based tool, so onboarding is relatively easy. Alerting is handled by multiple integrations, including messaging tools such as Slack.
You can try UpTrends for free in a 30-day trial. After that, the price is based on the number of uptime monitors you need. You can start at 10 uptime monitors, for $16.20 a month. Here you get access to 1 operator, pre-selected checkpoints, uptime monitoring, and more.
Main benefits of UpTrends:
Checkpoints dispersed across the globe
A complete uptime monitoring solution
10. ThousandEyes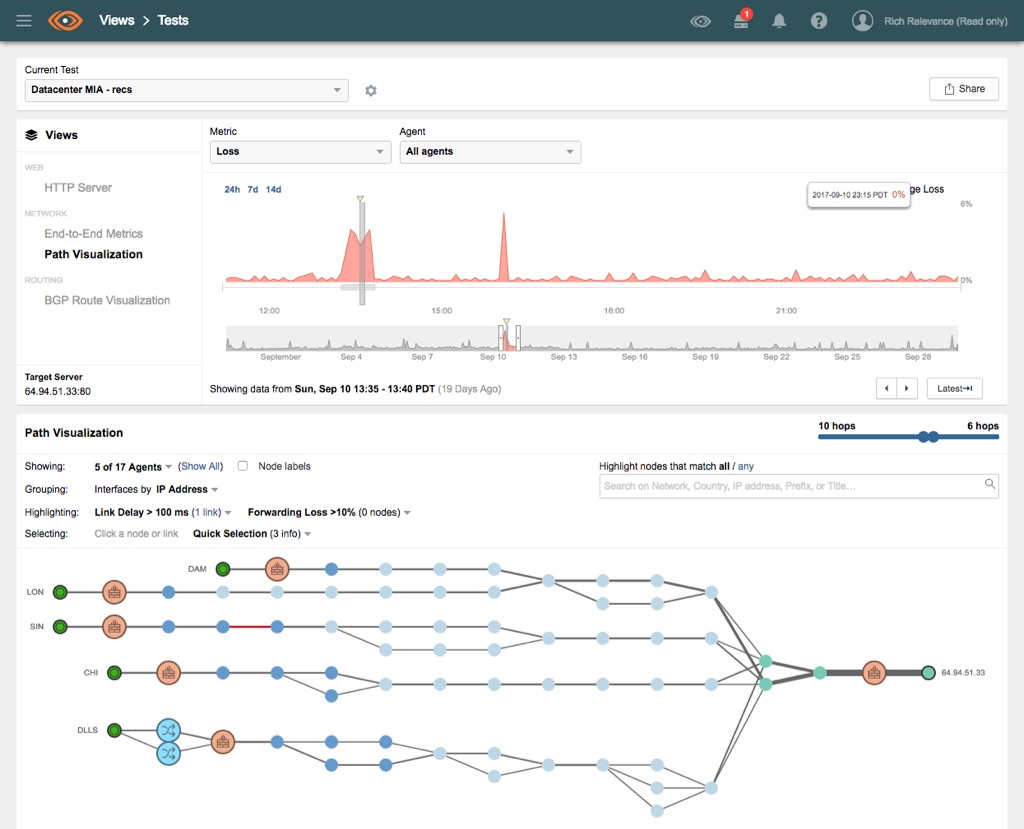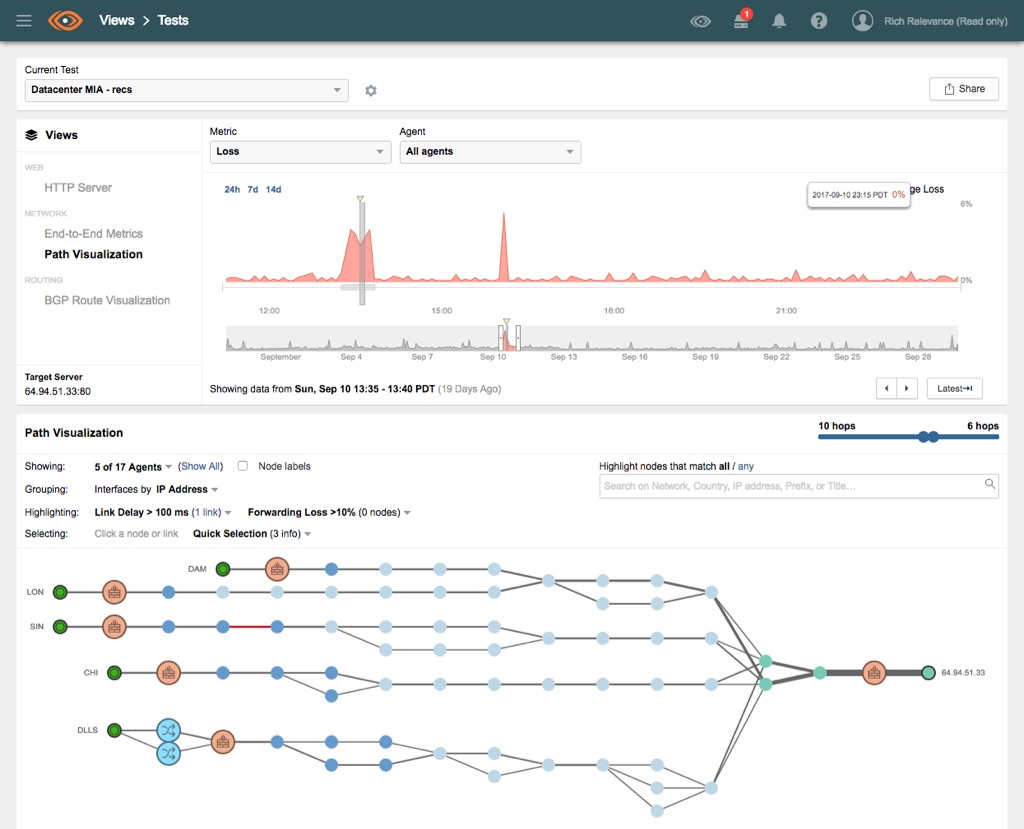 ThousandEyes monitors everything from DNS caching servers to external providers. You can use it to monitor the availability and resolution time of connected devices and analyze the overall performance of your network. ThousandEyes is really simple to deploy, thanks to its autodiscovery feature, which connects to your servers without any complex configuration.
ThousandEyes provides its own alert systems. Alerts are generated based on the availability of your DNS and are fully customizable. These alerts can also be exported and shared. However, ThousandEyes lacks some essential integrations, and the dashboard is rigid. However, to be fair, the rest of the interface is well designed and easy to navigate.
ThousandEyes is a part of Cisco, and its pricing is flexible, based on your consumption. DNS monitoring is available in both End User Monitoring and Network and App Synthetics, so it really comes down to you and your needs.
Main benefits of ThousandEyes:
Automated discovery features
Customizable alerts
Conclusion
In this article, we went through the basics of DNS. We explained what DNS is, how to monitor it and how serious are the implications of DNS-related issues. Then we went through the list of The Best DNS Monitoring Tools in 2023, their features, strengths, and benefits. Hopefully, you will pick the solution that suits your needs to most.
Make your mark
Join the writer's program
Are you a developer and love writing and sharing your knowledge with the world? Join our guest writing program and get paid for writing amazing technical guides. We'll get them to the right readers that will appreciate them.
Write for us
Writer of the month
Woo Jia Hao
Woo Jia Hao is a software developer from Singapore. He is an avid learner who...