Top 10 Uptime.com Alternatives in 2023
Jan Tovarys
Updated on March 15, 2023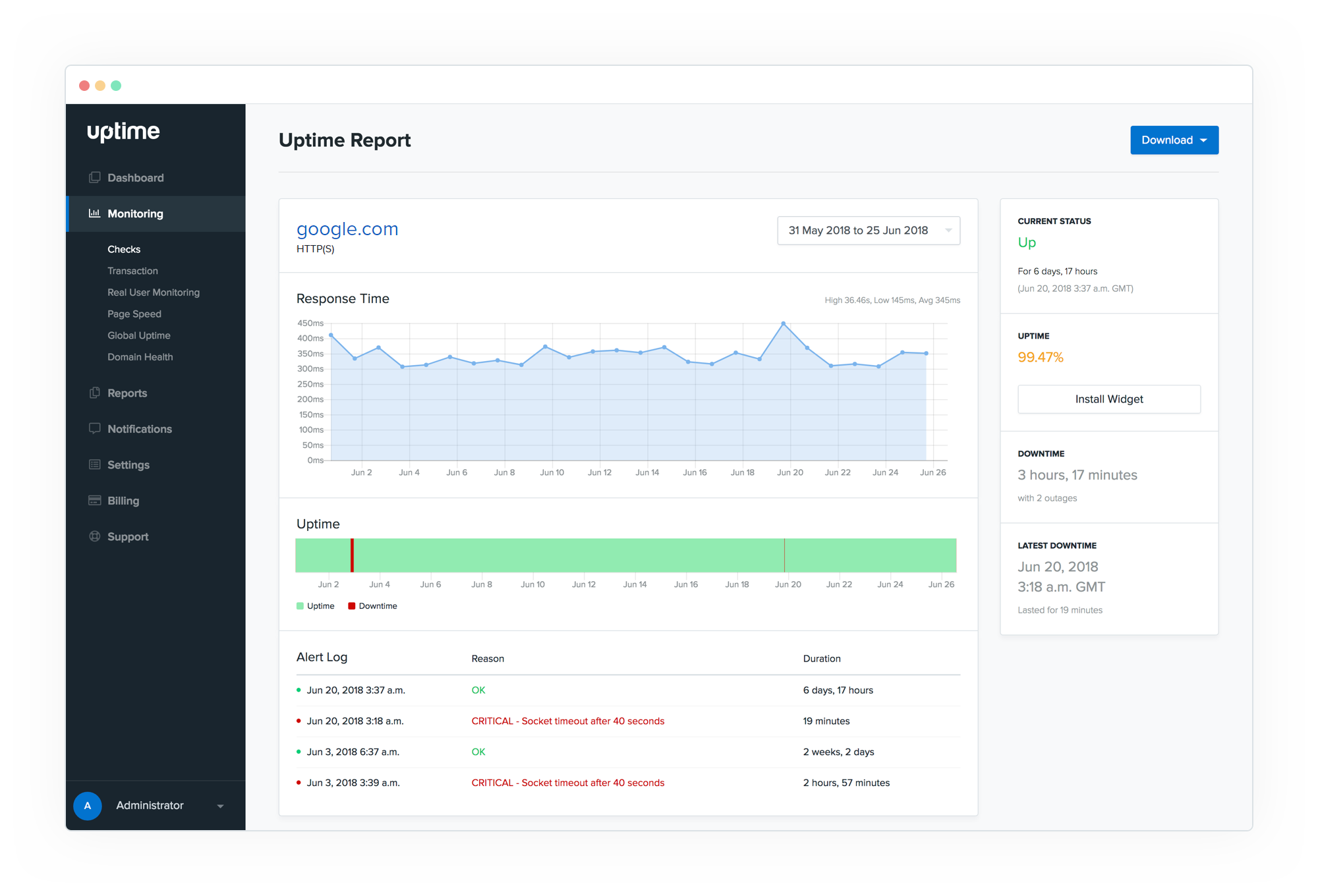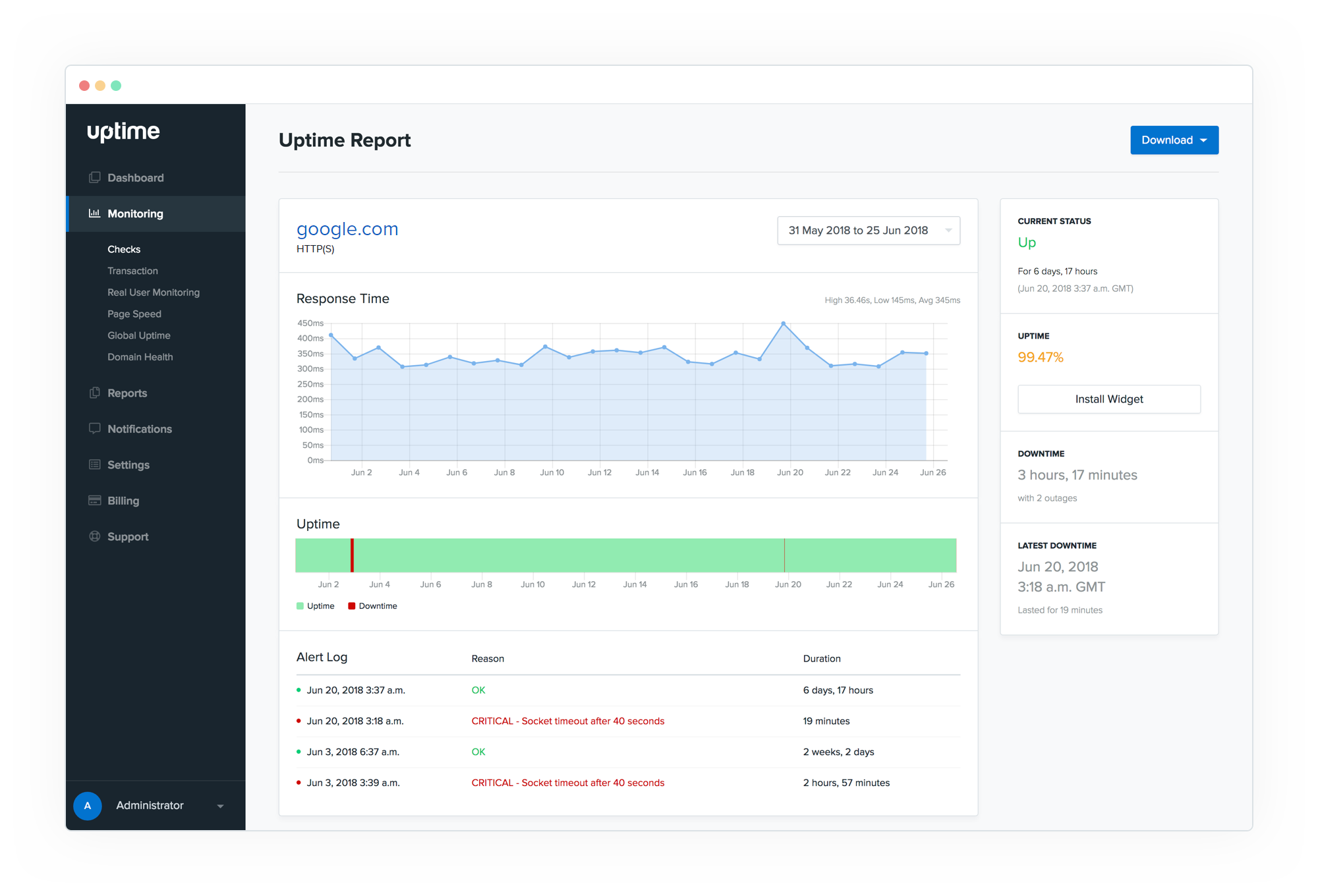 Uptime.com has offered an uptime monitoring solution since 2013 and has gained some serious momentum. However, this solution might not suit everyone.
Uptime offers a 60-second monitoring frequency from 30 locations across the globe. You can keep an eye on HTTP(s), Ping, Ports, Security Certificates, or APIs. You can also benefit from its Real Users Monitoring, or create custom checks. Using Uptime, you can also create Status Pages to communicate any outages for public and private use. Status Pages are customizable only in the higher tier.
It offers basic tools for Incident and Downtime management, covering SMS, Phone, and email, or integrations with popular third-party DevOps tools. However, some Incident Management Tools are not available even in their $500/month subscription package.
Pros:
Status Pages
About 9 years of experience
Cons:
Absent freemium subscription and starting plan is quite limited
Price
Lacks in incident management
The Best Uptime.com alternatives in 2023.
We've decided to compile a list of alternatives to Uptime that range from free, all the way to big business and enterprise-ready solutions.
1. Better Stack
Better Stack beats Uptime in monitoring frequency, built-in incident management platform, and also pricing model. Uptime offers quite rigid pricing plans and a 60-second monitoring frequency. On the other hand, Better Stack can monitor your website as often as every 30 seconds, from multiple locations and you can choose from 5 pricing plans, including one free forever plan.
Better Stack offers a radically better infrastructure monitoring platform combining the best practices from Uptime Monitoring, Incident Management, and Incident Communication via Status Pages. Thanks to an unparalleled 30-second checking frequency and multiple checking locations, Better Stack checks your website two times as often compared to Uptime.com. To prevent any false alarms, Better Stack checks your website from at least 3 locations across the globe.
In case of any incident, Better Stack has powerful incident management and alerting tools at its disposal. You get a second by second incident timeline, post mortems, and logically merged incidents every time. Alerts can be delivered via multiple channels such as email, Slack and MS Teams, Phone calls and SMS, Push notifications on iOS and Android, Zapier and Webhooks.
Better Stack offers a more transparent and friendly pricing model. Unlike Uptime.com, you can get Better Stack for free. Then you can pick from one of 5 premium subscriptions made to suit the needs of Freelancers, Small Teams, Teams in bigger Businesses, and even Enterprise clients.
Main Benefits of Better Stack:
30 seconds checks and multiple locations available across the globe
Reassuringly Expensive Pricing model offers a reliable Monitoring and Incident Management Solution
You can integrate it with Better Stack Logs, Better Stack's Log management solution.
2. Sematext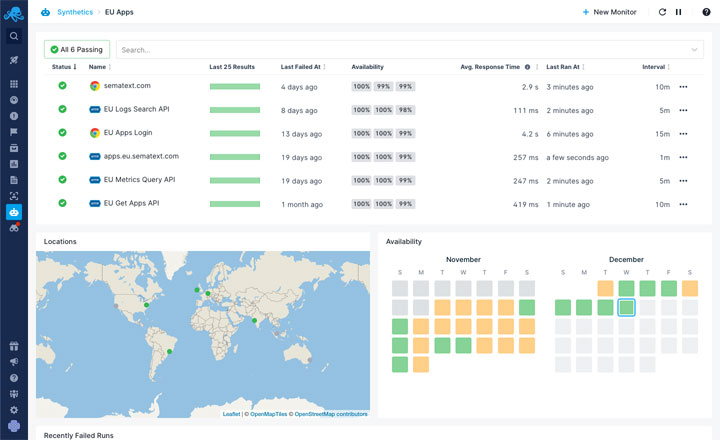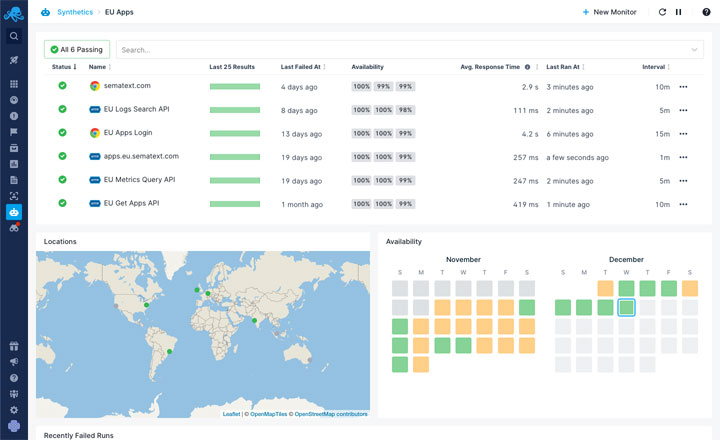 Sematex offers multiple services and synthetic monitoring in the Sematex Synthetics. It offers Uptime and API monitoring from multiple locations, private networks, and also behind firewalls.
Sematext Synthetics allows you to track network timings across all layers (DNS, TCP, SSL, and HTTP). Integration into multiple alerting channels is available. Synthetics also allows you to track web performance and collect metrics from page load, Core Web Vitals, or benchmarking.
Synthetics is available either as a pay-as-you-go subscription model or tier-based. While there is no free model available, you can try out any packages in a 14-days free trial mode.
Main Benefits of Sematext:
Multiple pricing options
A complex monitoring solution
3. Freshping
Freshping offers Monitoring features including HTTP/HTTPs URLs, Web Sockets, Ping, TCP, and UDP ports and DNS servers. You can monitor your website's uptime and response times from over 10 locations over the globe as often as every 60 seconds.
Freshping is a part of the Freshworks ecosystem, offering Tools such as Freshdesk for instant ticket creating or Freshservice for incident management and communication.
For Alerting, you can integrate Freshping with Slack, Twilio for SMS alerts or Zappier. Freshping also offers a possibility to create Freshping branded Status Pages (which are not really customizable) and Real-time Status Badges.
You can get Freshping for free and get access to 50 checks at a 1-minute checking interval. Their premium subscriptions start at around $16/month.
Main Benefits of Freshping:
Freshworks ecosystem
Free subscription available
4. Uptrends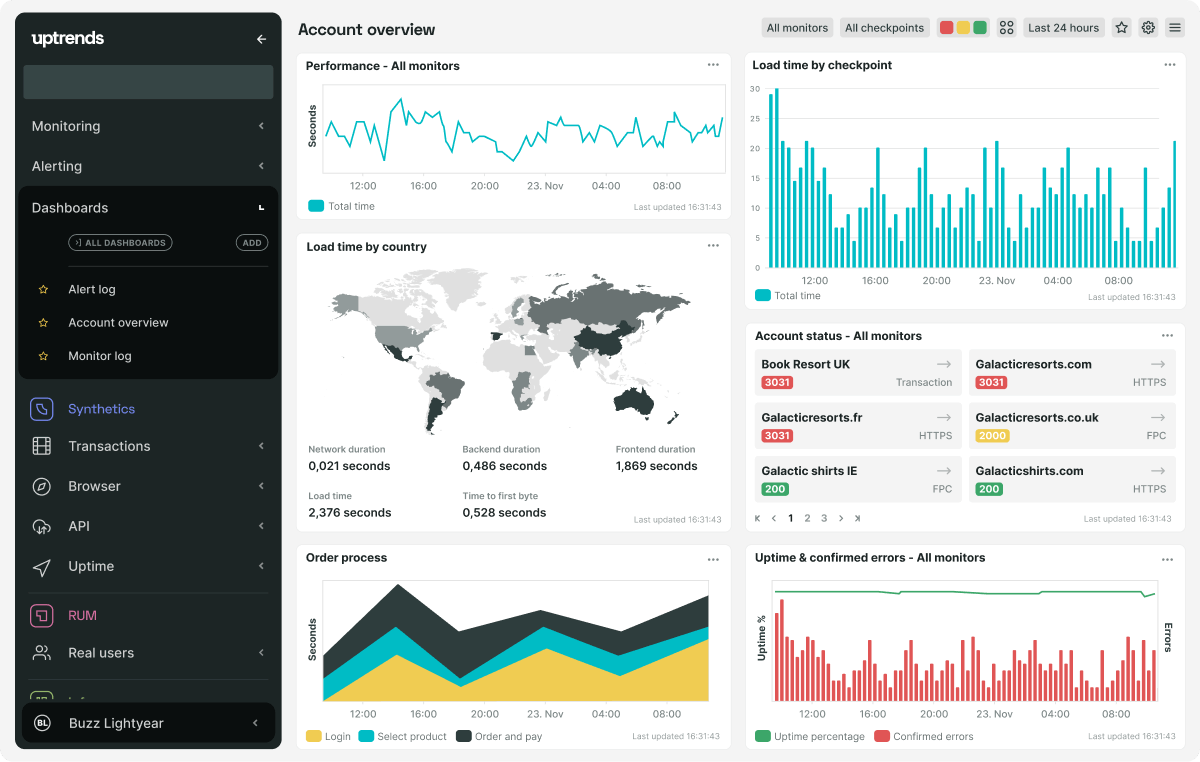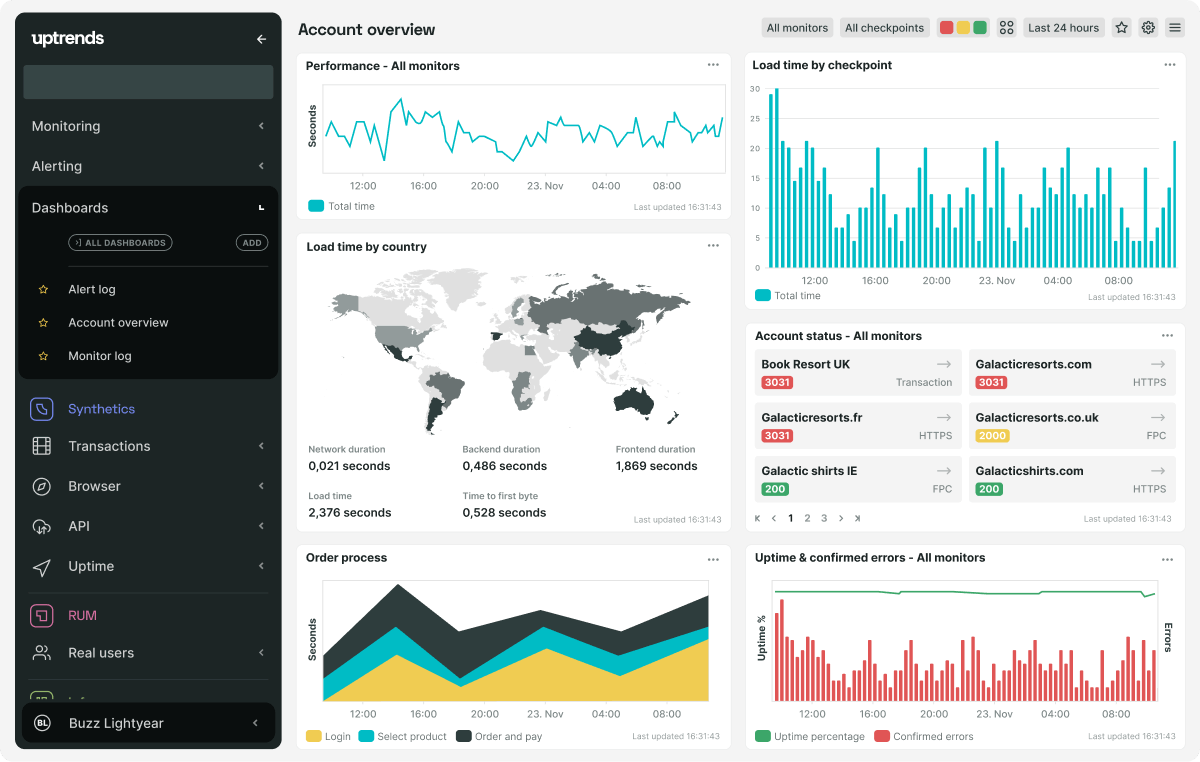 Uptrends is a part of the ITRS group and offers multiple solutions, including Synthetics and RUM. Their synthetics monitoring allows you to monitor your HTTP(s), web services such as SOAP and REST API, security certificates, DNS, and servers from 229 locations around the globe. Their website performance monitoring features allow you to monitor your website and identify a culprit in case of any speed-related issues. Web Application Monitoring ensures that multi-step transactions work as they are supposed to.
All of the data is visualized in interactive charts, where you can zoom in on specific details or filter by date and time to get a closer look at your data and potentially discover patterns in your performance from a time-related perspective.
Uptrends offers a plethora of free tools, including uptime check, website speed test, traceroute, DNS report, or CDN performance check.
You can try Uptrends for free for 30 days. After that, you have to pick from multiple premium bundles, starting with the Starter pack for $15.47 a month.
Main Benefits of Uptrends:
Both Synthetic and RUM solutions are available
More than 200+ checking locations around the globe
5. Pingdom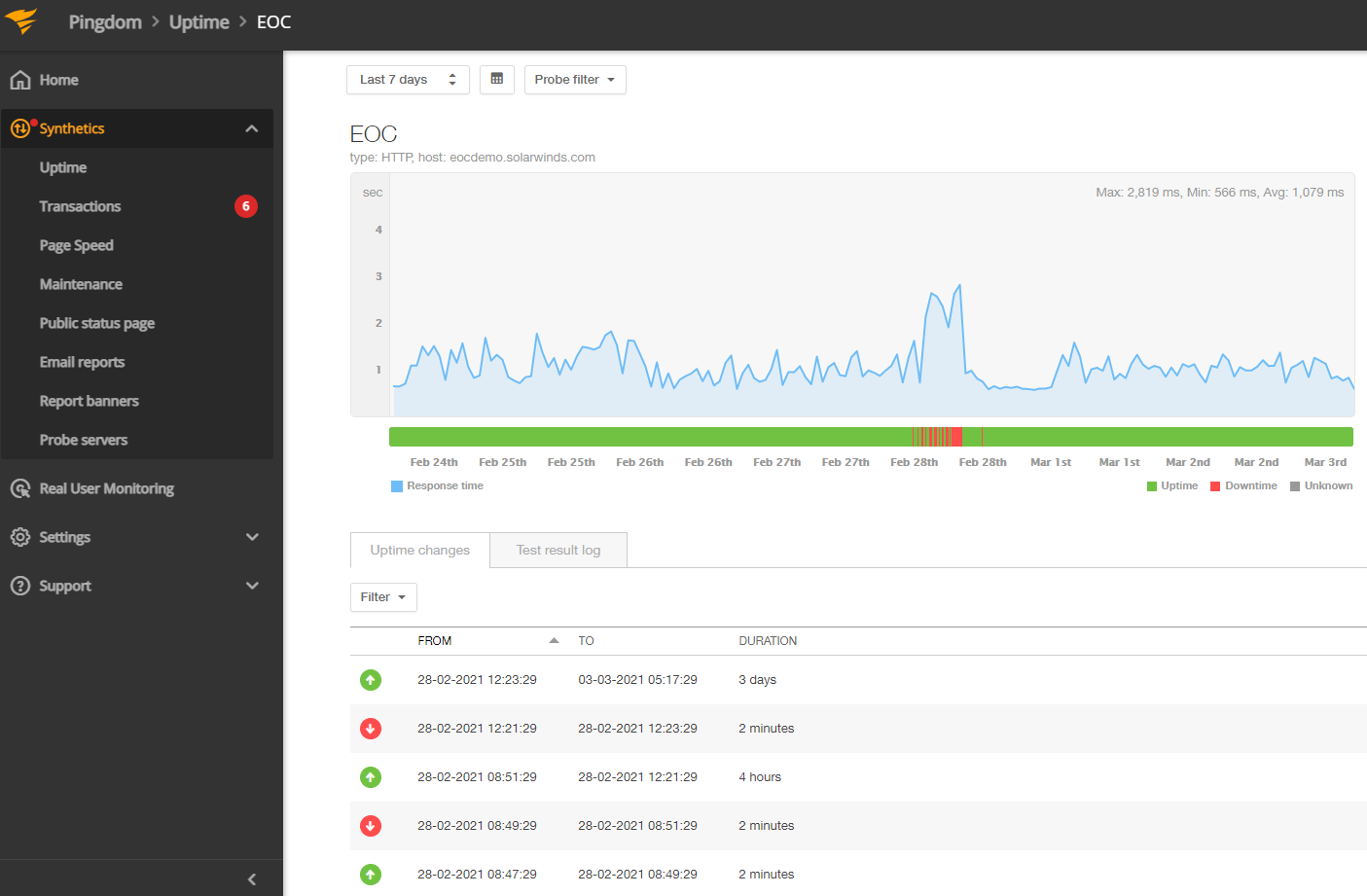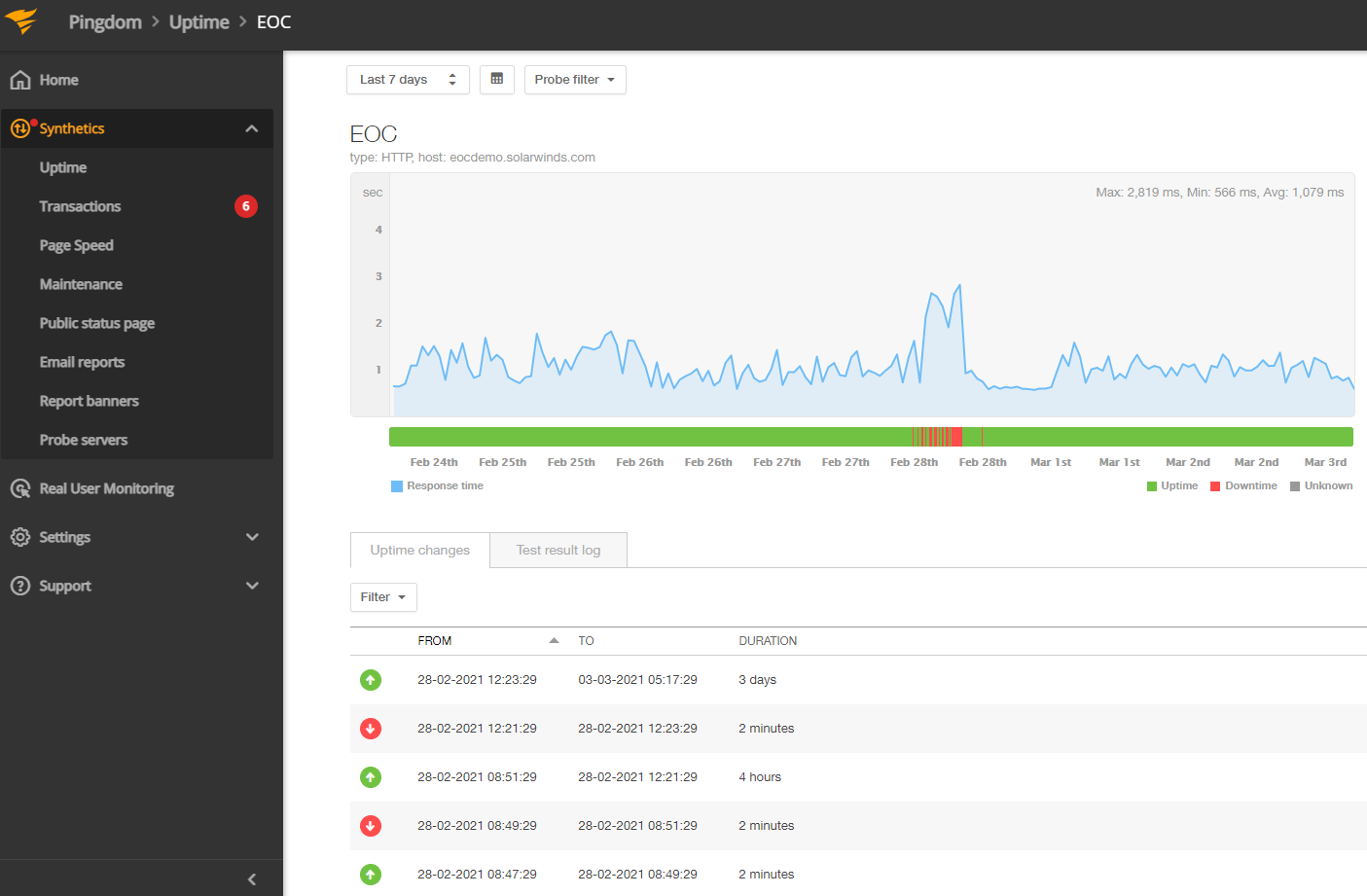 Pingdom operates in two monitoring modes - synthetic and real-time user monitoring. This provides a complex overview of simulated situations and real user - Web interactions. It offers all the features you would expect from an uptime monitoring solution, such as transaction, page speed, and uptime monitoring. Email and SMS alerting and Status Pages are also available.
Pingdom integrates third-party services like Webhooks, Slack, VictorOps, and more. Pingdom also offers an HTTP-based API for automating and further customization.
Pingdom's pricing depends on the number of uptime, "advanced" monitors, and SMS alerts. RUM monitoring's pricing depends on the number of page views. A free subscription is not available. However, you can try Pingdom for free in a trial.
Main Benefits of Pingdom:
Sharable reports
Server uptime monitoring and Website uptime history
SolarWinds backing
6. Site24x7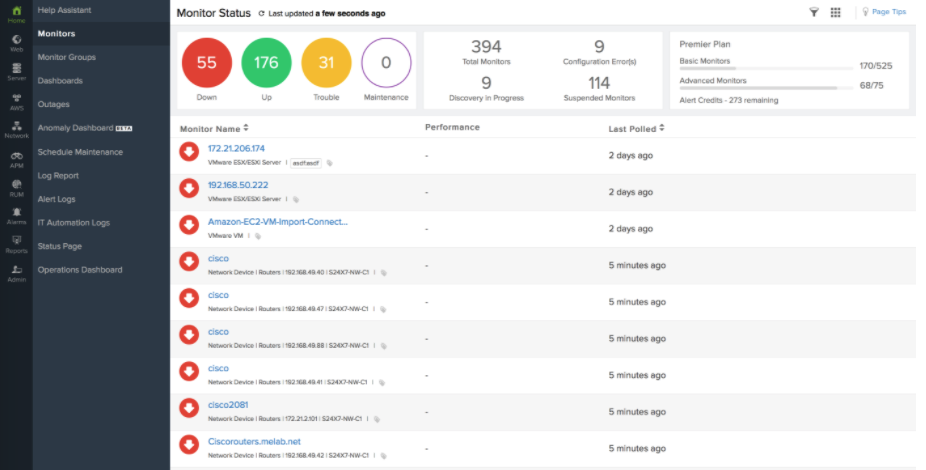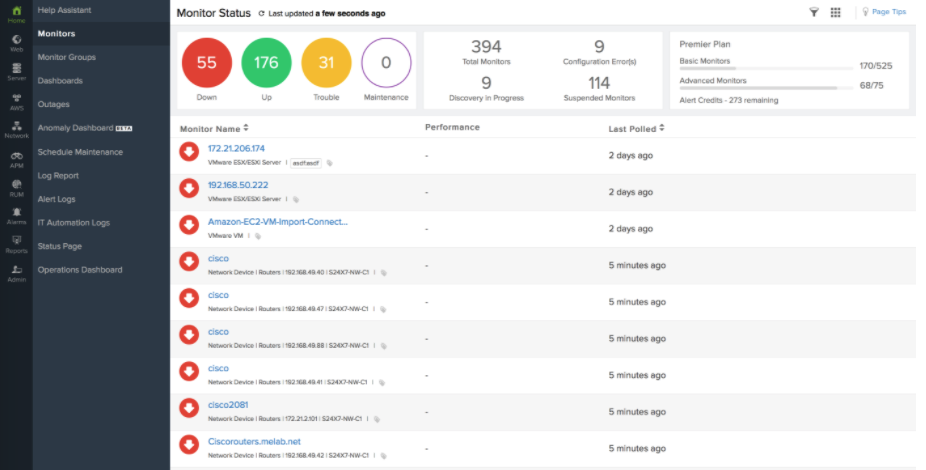 Site24x7 is another tool offering website monitoring as a part of the full-stack monitoring solution. Website monitor checks your website from 110 locations worldwide, tests its speed, integrity, SSL/TLS certificates, domain, and more. You can also monitor your APIs and web applications. By analyzing historical data, you can easily identify performance trends occurring over time.
Site24x7 allows you to monitor up to 500 websites simultaneously, alongside your cloud and server architecture, applications, and network. Ping and port monitoring or mobile networks testing for better optimization for weaker connections. Site24x7 supports Ruby, Java, PHP, .Net, Node.js, and mobile platforms. It can also monitor Windows, Linux, Docker, VMware, FreeBSD, GCP, and Azure. You can record critical business transactions with their browser extension and check them from multiple locations by simulating traffic. You can either record typical user paths or import Selenium IDE test scripts and use them at regular intervals on a real browser like Chrome or Firefox.
Site24x7 does not offer a free subscription, however, you can try it out in a 30-day free trial. Their subscription packages are tier-based, each offering more and more monitors and features.
Main Benefits of Site24x7:
AI-powered anomaly detection
SLA reports
7. Dynatrace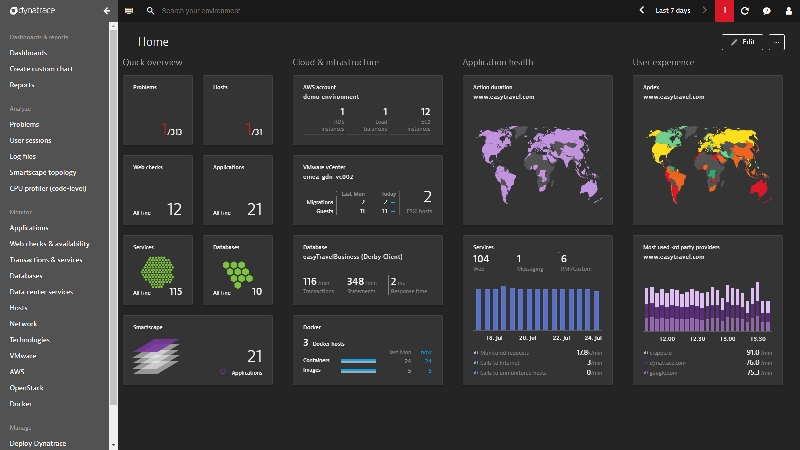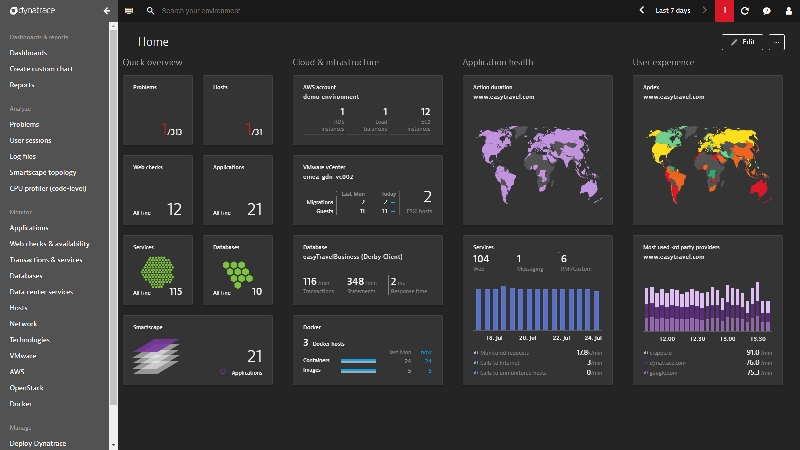 Dynatrace offers a full-observability, AI-powered platform. Its synthetic monitoring covers single-URL browser monitors, browser click paths, and HTTP monitors. Their web-based recorder allows you to record and then evaluate business-critical transactions. Their benchmarking allows you to better understand your site's performance under stress and in specific conditions. Data output from these benchmarks can be used to optimize performance, compare your performance with the competition, or just understand where you stand performance-wise.
Dynatrace's synthetic monitoring allows you to manage CDN and third-party performance, ensuring that you can keep your word to your users and that your partners will keep theirs. With proactive problem analysis, you can automate testing and dependencies analysis in seconds. You can rank problems by their importance and impact on your business. Finally, you can integrate Dynatrace with multiple communication platforms such as Slack, On-Call, Opsgenie, Pagerduty, ServiceNow, and more.
Dynatrace offers either a Full-stack monitoring bundle for $69 a month per 8GB per Host or a bunch of individual subscriptions, each with a specific focus. Synthetic monitoring can be found in the Digital experience monitoring for $11.
Main Benefits of Dynatrace:
One-click integration with web analytics like Google
Session replaying
Other AI-boosted solutions within one platform
8. StatusCake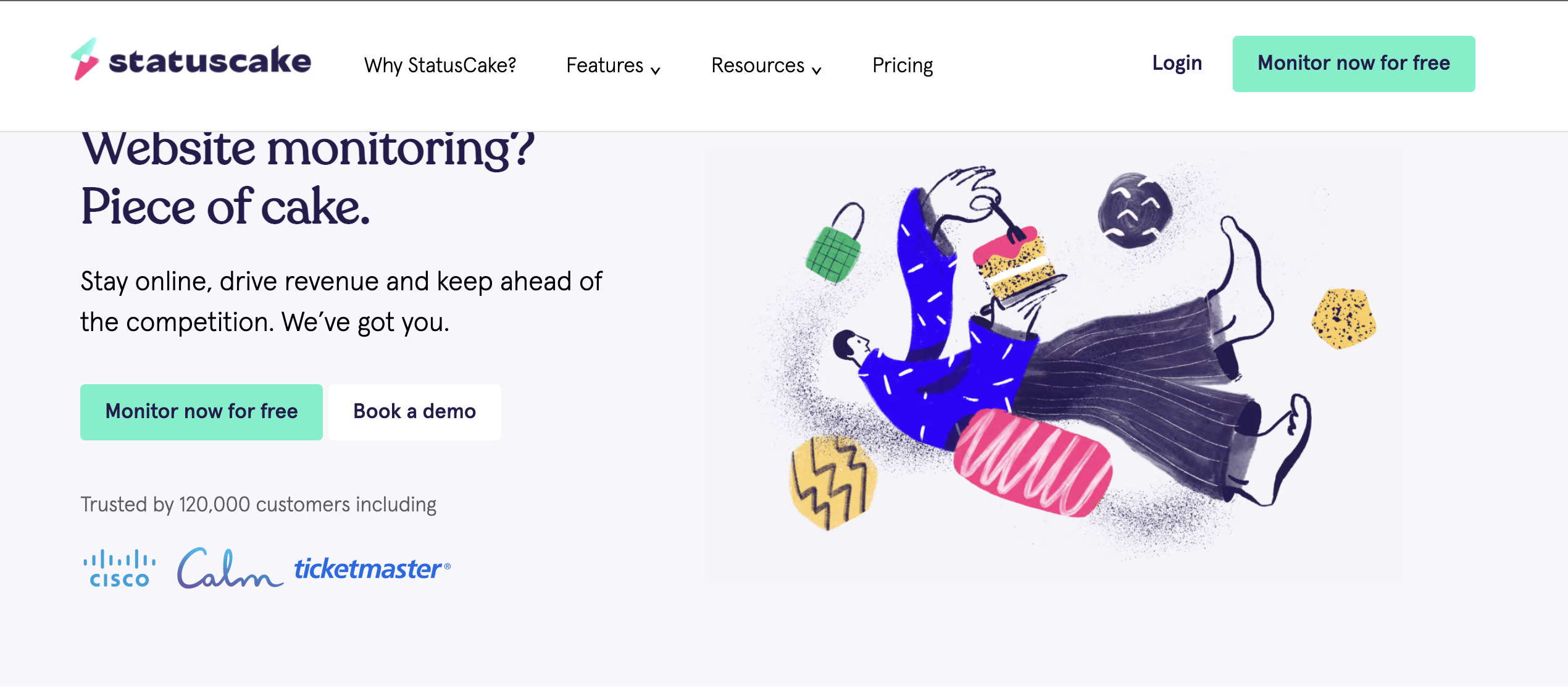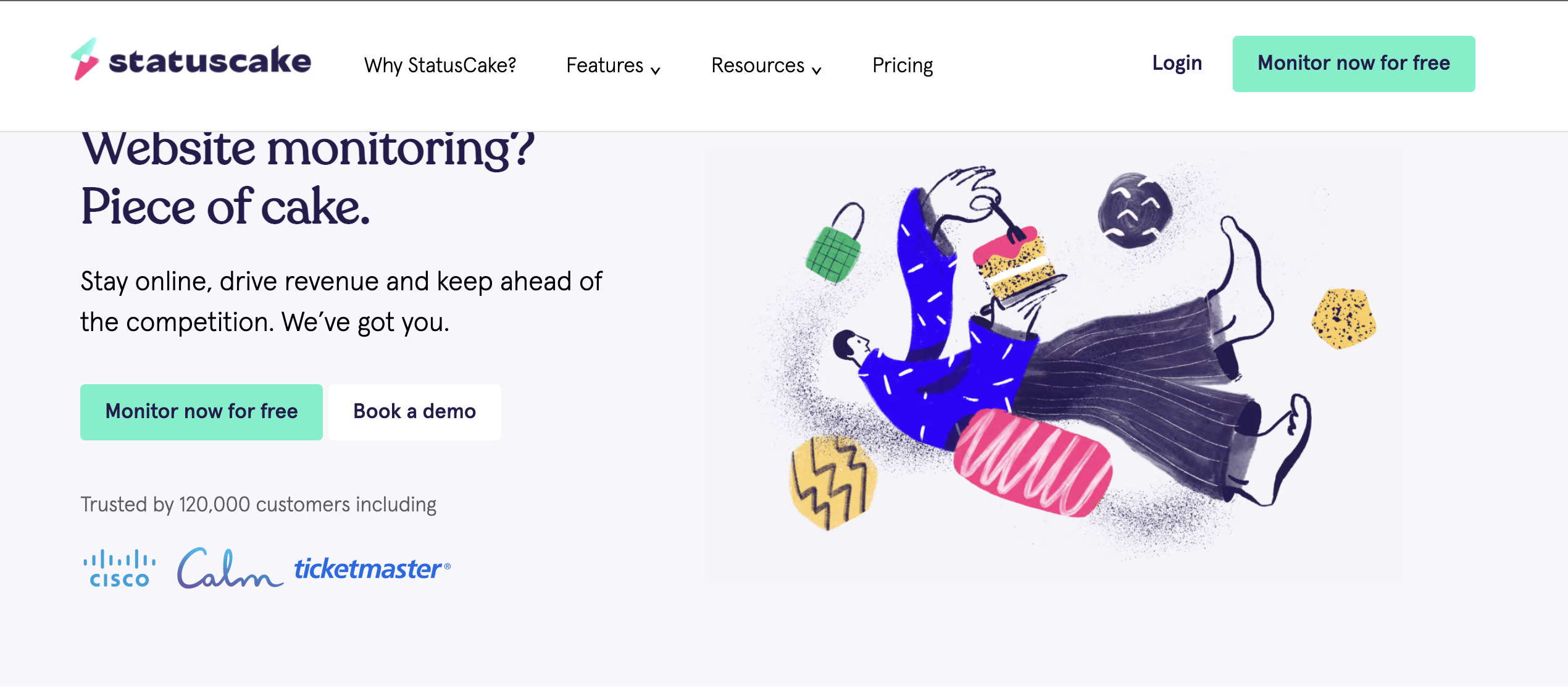 StatusCake offers an uptime monitoring platform and public status pages. You can automatically test your website's uptime from 30 countries worldwide every 5 minutes in their free subscription. StatusCake monitors HTTP, HEAD, TCP, DNS, SMTP, SSH, PING, and PUSH. On top of that, you can keep an eye on your Page Speed, Domain, Servers, and SSL certificates.
StatusCake offers an uptime monitoring platform and public status pages. You can automatically test your website's uptime from 30 countries worldwide every 5 minutes in their free subscription. StatusCake monitors HTTP, HEAD, TCP, DNS, SMTP, SSH, PING, and PUSH. On top of that, you can keep an eye on your Page Speed, Domain, Servers, and SSL certificates.
StatusCake offers a free subscription package, with 10 monitors and 5 minutes monitoring frequency. Page speed is measured once in 24 hours and your domain once a week. You can always upgrade to higher tiers that offer 1 minute or 30 seconds monitoring frequency from custom locations. Statuscake offers three subscription models - Free, Superior, and Business.,
Main Benefits of StatusCake
30 seconds monitoring frequency in the most expensive package
Page speed monitoring
Historical Uptime Data
9. UPTIMIA
Uptimia allows you to monitor the uptime of HTTP(s), DNS, UDP, TCP, email, and more as often as every 30 seconds from more than 171 checkpoints. You can also monitor multiple-step transactions such as login and checkout forms. It also offers a Real User Monitoring option gathering data from visitors, monitoring traffic, website performance, and JavaScript-related errors.
You can assign team members to specific tasks or alerts. Alerting is handled by multiple third-party integrations. You can also prepare scheduled reports that arrive in the inboxes of stakeholders or users on a specified frequency.
Uptimia offers a 30-day free trial. After it, you can continue on a free plan or subscribe to one of their premium packages, starting at $9/month.
Main Benefits of Uptimia:
Real User Monitoring
Branded Reports
30 seconds monitoring frequency in higher tiers
10. Updown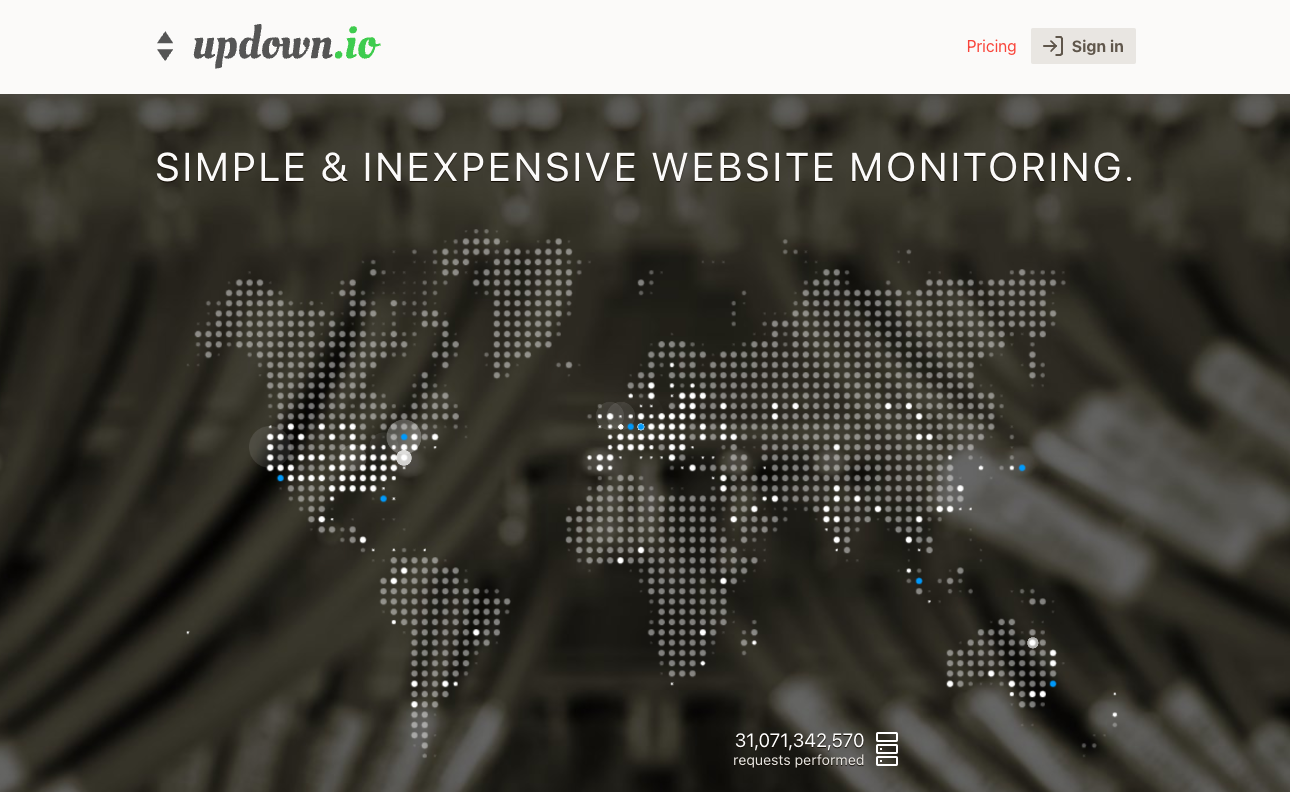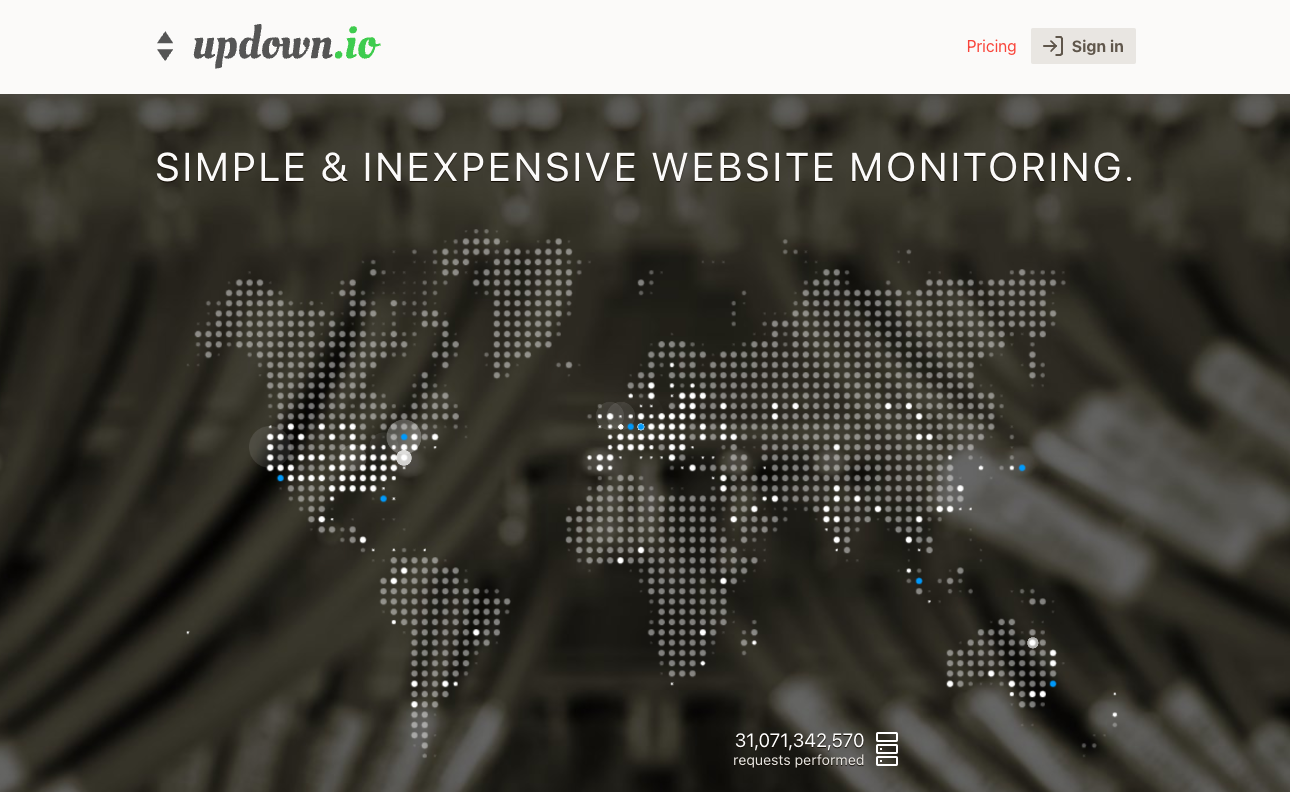 Updown offers a great solution for those who start out or smaller teams. It has a very flexible subscription and more frequent checks. You can monitor your website from 8 monitoring nodes, which are located in North America, Europe, East Asia, and Australia. You can monitor your website as often as every 15 seconds. You can also monitor your SSL certificates, integrate Updown with REST and WebHook APIs and monitor the presence of a string instead of the regular HTTP status.
Every error is double-checked. In case of any issue, Updown can alert you on multiple channels, including SMS, Webhook, Zapier, Telegram, Statuspage, and Slack. You can also get a hosted Status Page providing single or multi-site availability and performance reports.
Updown is trying to keep it simple while providing you with professional service. It operates in a pay-as-you-go model, and the pricing can be calculated directly on its landing page, which means that you get a comprehensive test of 5 websites every 1 minute for approximately $3/month. Reducing the checking period to 15 seconds would cost you an additional $8.
Main Benefits of Updown.io:
dual-stack monitoring (IPv4/6) for the same price
Possibility of paying in cryptocurrencies
Text search matching the presence of as string, instead of the HTTP status
Conclusion
In this article, we took a look at Uptime.com, its features, benefits, and weaknesses. We also proposed an extensive list of website monitoring alternatives suitable for different use cases. The next logical step would be to pick your favorites, compare them more closely and pick the best solution for your project.
Make your mark
Join the writer's program
Are you a developer and love writing and sharing your knowledge with the world? Join our guest writing program and get paid for writing amazing technical guides. We'll get them to the right readers that will appreciate them.
Write for us
Writer of the month
Woo Jia Hao
Woo Jia Hao is a software developer from Singapore. He is an avid learner who...