What is port monitoring?
Port is a point in a network where connection both starts, and ends. They are not physically hardwired (like the ethernet port) and are managed by the OS. Ports allow you to filter connections and easily recognize various sorts of traffic. Port monitoring enables you to make sure that your ports as they are supposed to and that there are not any losses of data, or connections refused.
What are the main benefits of Port Monitoring?
Service reliability. You have one less thing to worry about with a port monitoring solution.
Early detection of the root cause. Your service can crash for dozens of reasons. Having a monitoring solution for most of them will reduce the amount of time you need to discover the root cause.
It's a simple, money-efficient, accurate, and yet powerful monitoring tool. A Port monitor is a periodic trigger, which sends a specific request to a given port yet can discover major flaws in the lifecycle of your software.
Best practices for Port Monitoring:
Pick a suitable monitoring frequency. A long-trigger period can increase the downtime since it will take much longer to discover an issue. Too frequent checks could possibly waste resources. Try to stay within a range of minutes.
Don't forget about the DNS. DNS is often called the Death Star exhaust port equivalent, and it is not far from the truth. Many people ignore the necessity of DNS monitoring because it is mainly provided by their hosting provider. Even if you don't have access to administration, you should monitor it because you can find the root cause more quickly and hold your partners accountable for any outages. You can read more about DNS attacks over at CyberNews.
Go worldwide monitor your ports from various geographical locations. While monitoring behind the firewall is safe and efficient, it will not discover geography-related outages.
Don't try to DIY if you don't have to. There are many open-source, free, or affordable monitoring solutions for port monitoring, or those that include it. Trying to re-invent the wheel will cost you time and money.
1. Better Stack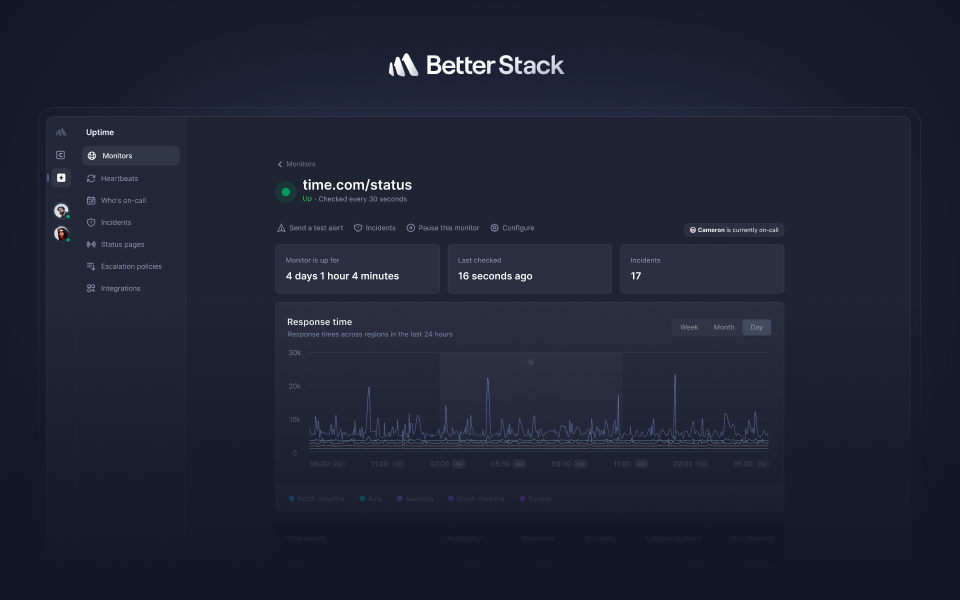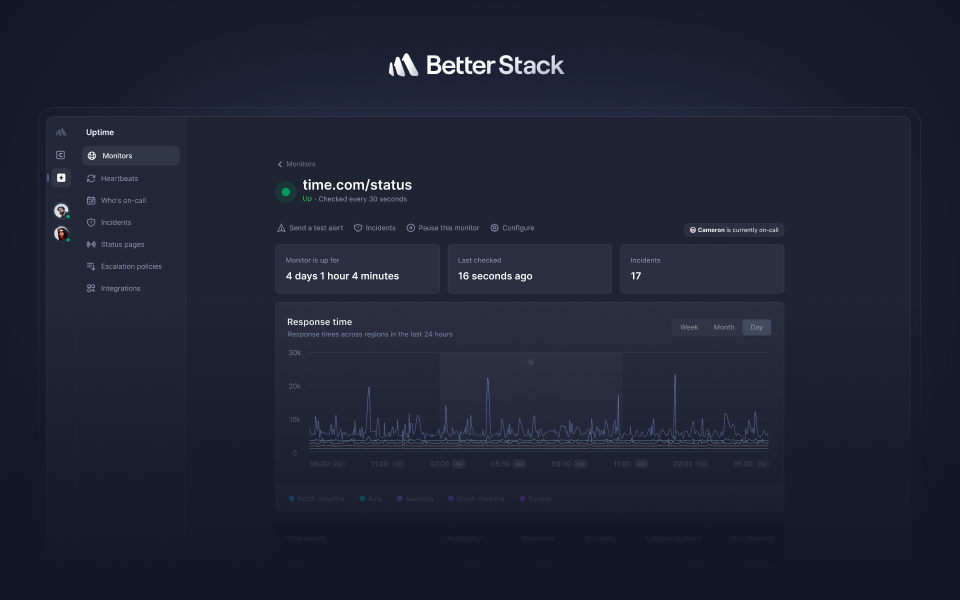 Better Stack offers a creative approach to infrastructure monitoring, combining the essential aspects of incident management, uptime monitoring, intelligent alerting, and status pages.
Port monitoring covers TCP/UDP monitoring, POP3/IMAP/SMTP, and DNS. Every error is documented by a screenshot and a second-by-second incident timeline. Better Uptime checks on your website as often as every 30 seconds from multiple locations across the globe. That means no more false alarms or location-related issues will go unnoticed.
The rest of Better Stack's Monitoring solution covers HTTP(s) keyword checks, multi-step verification, heartbeat, SSL, Ping, and many more features. It supports many integrations, including Datadog, New Relic, Grafana, Prometheus, Splunk On-Call, Zabbix, AWS Cloudwatch, GCP, and Azure.
Main benefits of Better Stack:
A complex solution covering Synthetic monitoring, Status Pages and Incident management
30 seconds multi-location checks
2. Statuscake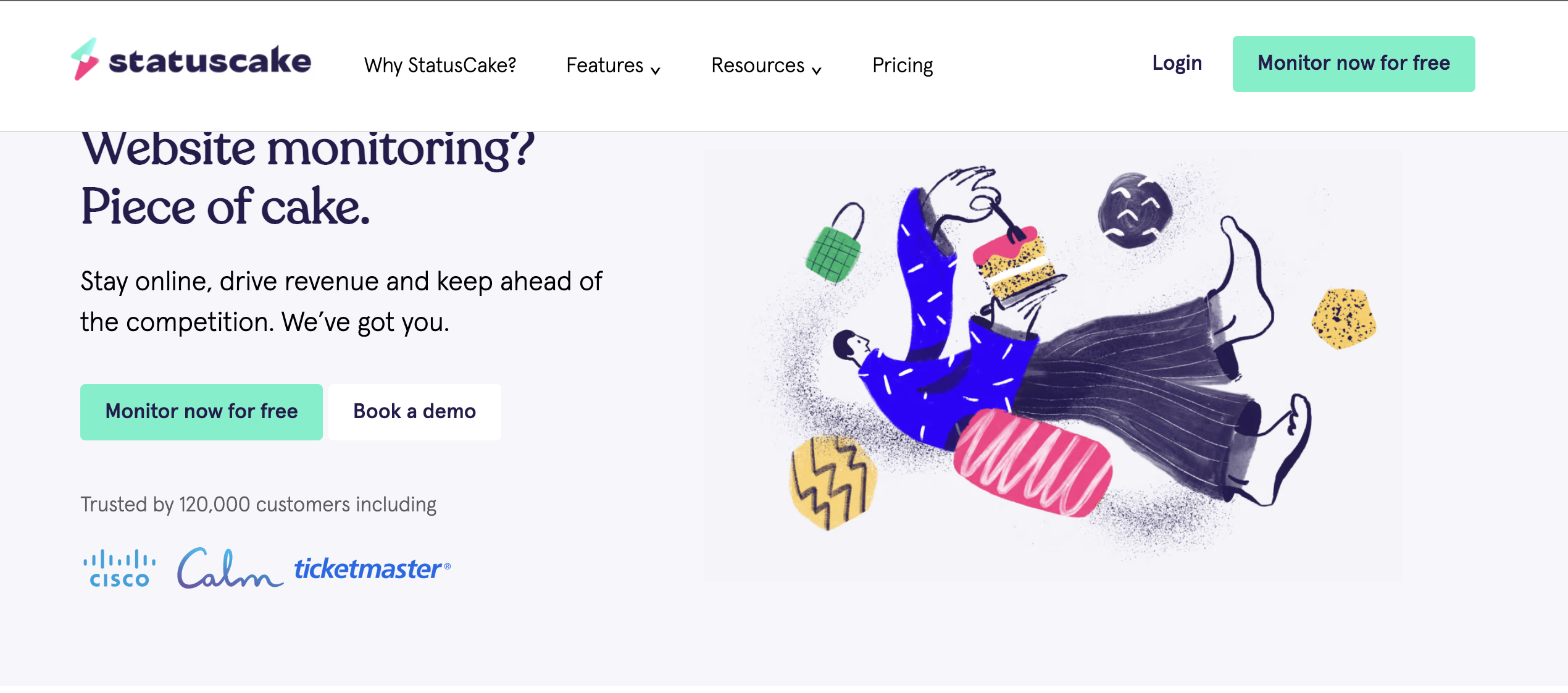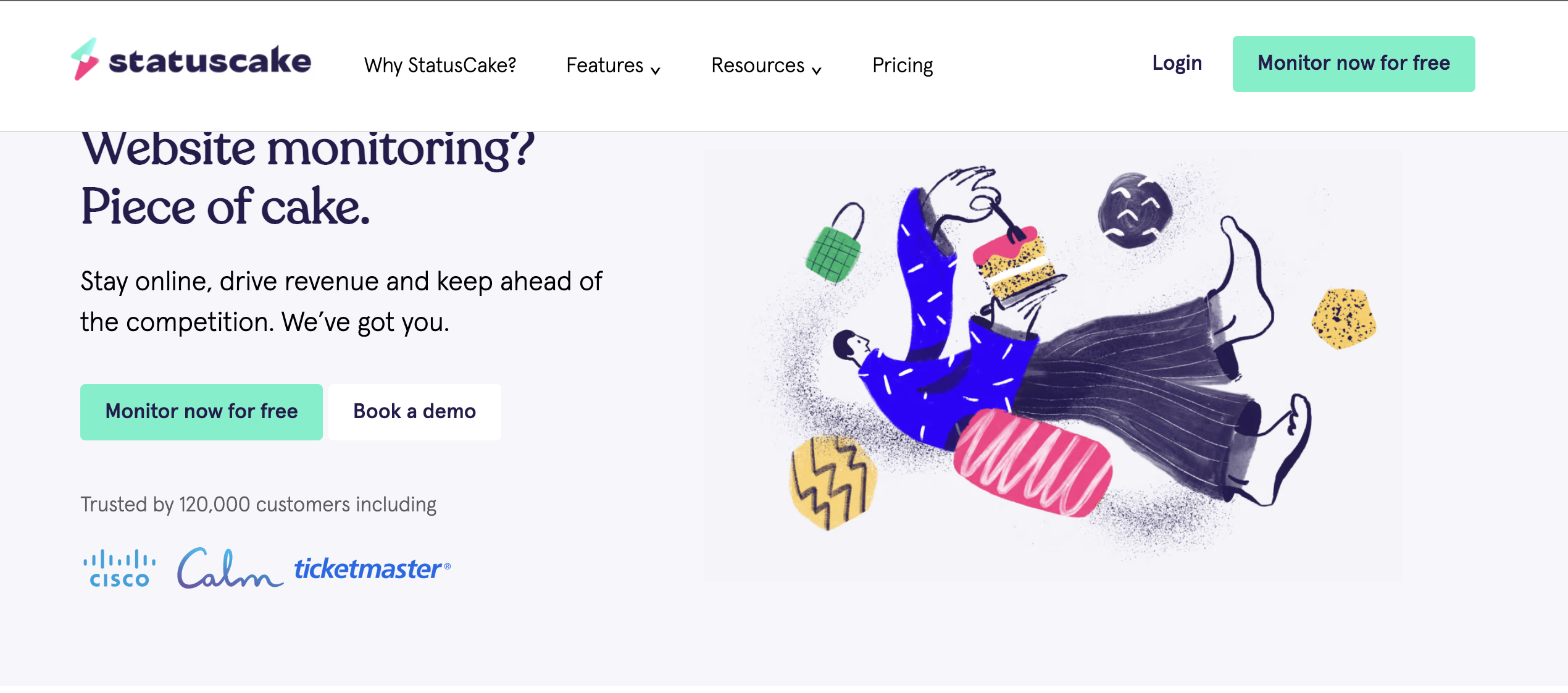 Statuscake offers a monitoring solution covering Uptime, Page Speed, Domain, Servers, SSL certificates, and Status Pages. Uptime monitoring covers checks of the TCP, DNS, SMTP, SSH, PING, and PUSH. Statuscake monitors the availability of your services from multiple, custom locations in either 300, 60, or 30-second intervals.
Statuscake offers historical uptime monitoring reports up to a month old, allowing you to compare your website's uptime results and performance. In case of any issue, you can use one of their 14 integrations, including Datadog, Discord, OpsGenie, Pushover, Slack, and more, to get notified immediately.
Statuscake offers a free-of-charge subscription, including 10 monitors, 5 minutes test intervals, 1 SSL monitor, email alerts, and integrations. Premium packages start at around $21/month and offer Server Monitors, White Label Reporting, and SMS alerts.
Main Benefits of Statuscake:
Custom template alert emails
Domain expiration alerts
Record monitoring
3. Dotcom-monitor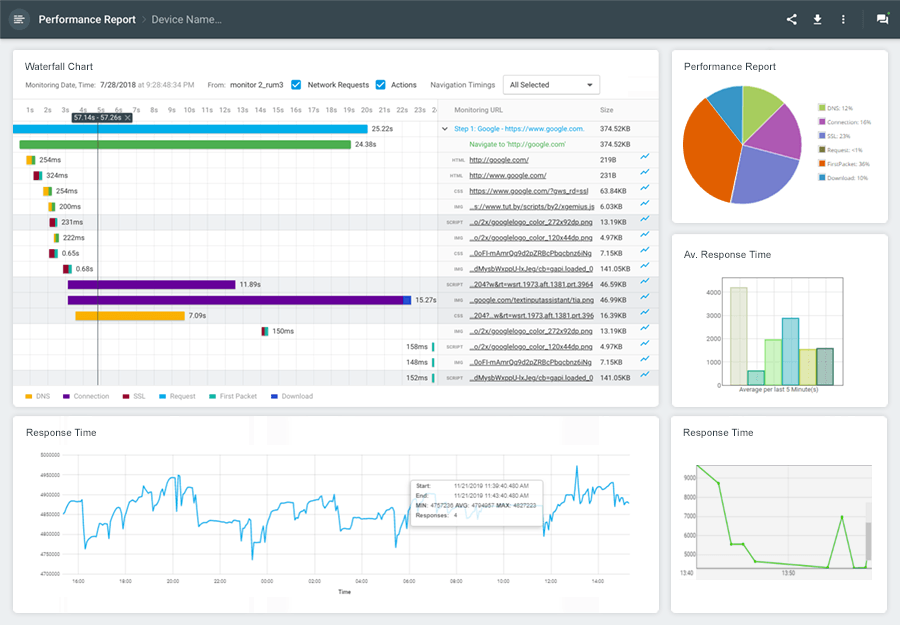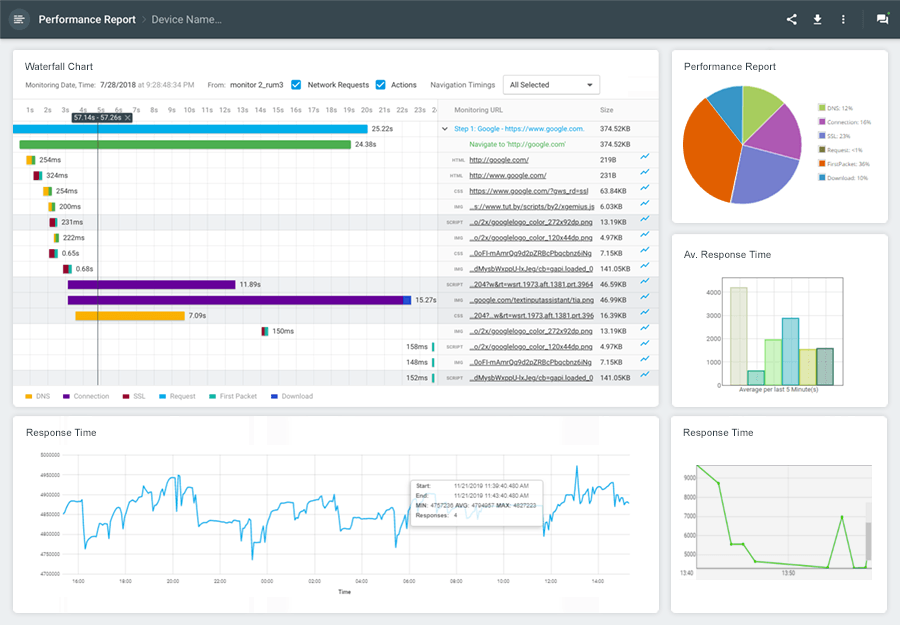 Dotcom-monitor's infrastructure monitoring offers end-to-end monitoring into IT infrastructure covering multiple internet services. You can monitor Streaming Media, VoIP, FTP Servers, DNS, Exchange, SMTP, POP3/IMAP4 email servers, and DNS blacklist. You can also monitor network protocols and ports' availability and response times, including Ping, UDP, Traceroute, and TCP. You can also use dotcom-monitor's Private Agents to monitor internal servers. Dotcom-monitor offers 1-180 minutes check frequency.
You can set customizable alerts based on specific metrics and alert teams responsible for resolution. Each alert is sent along with the data they need.
Internet Infrastructure package starts at $39.95/month and is available for free in the 30-day trial period. This package offers 5 monitoring tasks and 15 minutes check frequency. Price will change accordingly to the number of monitoring tasks and checking frequency. You can upgrade up to 300 tasks performed every 60 seconds for $1439.99/month.
Main Benefits of dotcom-monitor:
Custom scripting
Email DNS Blacklist
Email services monitoring
4. UptimeRobot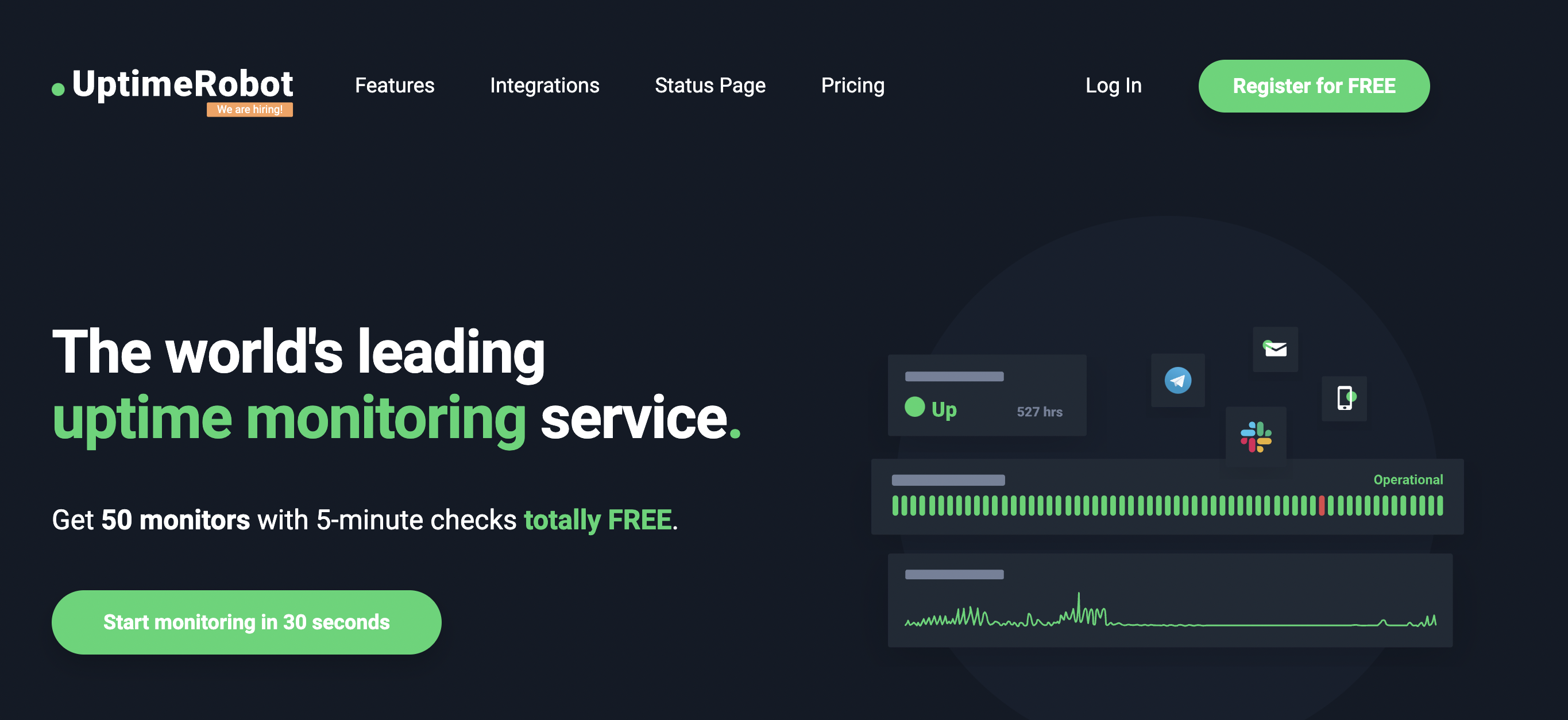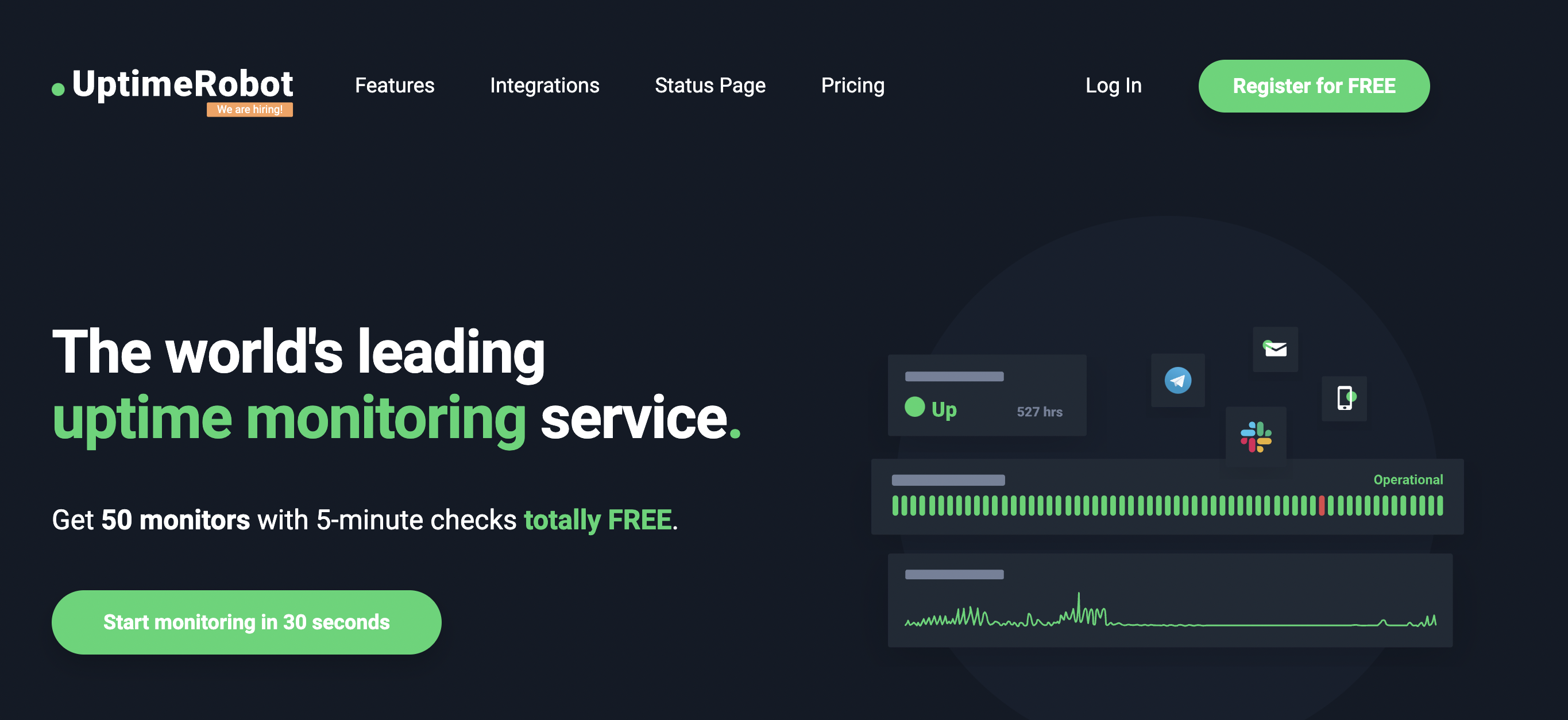 UptimeRobot offers an uptime monitoring solution combining website, SSL, Ping and Port, Cron job, and Keyword Monitoring in one place.
Advanced features include Incident Updates sent by email to Status page subscribers, Semi-Customizable Status Pages, Response times monitor, Maintenance Windows, and Custom HTTP requests.
UptimeRobot allows you to monitor your endpoints from multiple locations as often as every 60 seconds in premium plans and 5 minutes in the free subscription.
Uptime robot offers a free plan with 5 minutes checking interval for 50 monitors, however with no SMS or voice call alerts. HTTP monitor covers all the basic features, excluding the SSL monitoring. PRO plan is the first paid subscription model offering 20 SMS or voice call alerts, SSL certificate expiration, heartbeat monitoring, and more.
Main Benefits of Uptime Robot:
Maintenance windows
Unlimited no. of Status pages available
5. PRTG Network Monitoring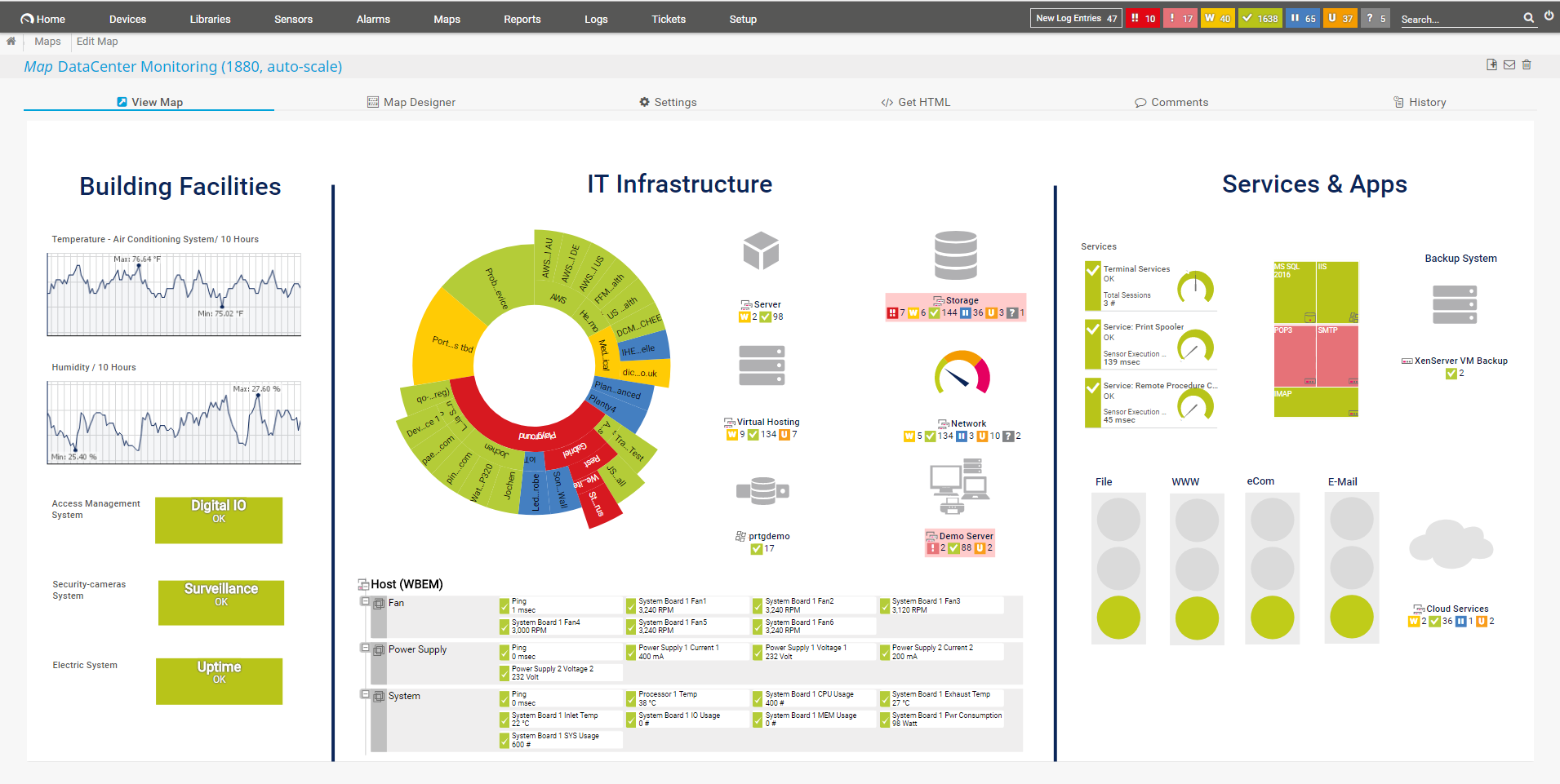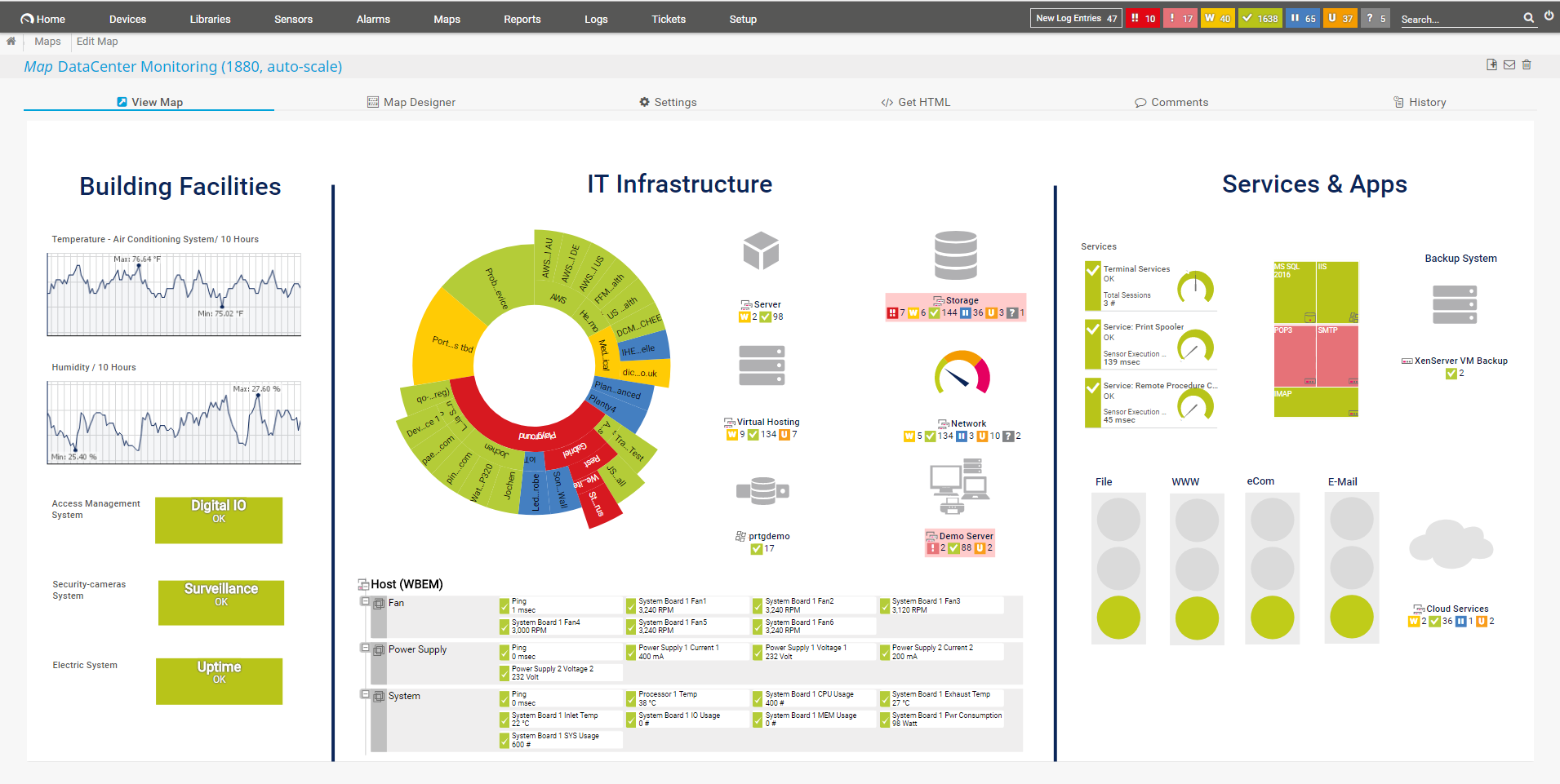 PRTG's Network Monitoring software allows you to monitor open and closed ports, bandwidth & traffic, connections using both UDP and TCP. PRTG also includes NP, NetFlow, and packet sniffing.
Their solution offers an all-in-one monitoring that is very well documented. It allows you to monitor Bandwidth, Databases, Applications, Cloud, Servers, LAN, SNMP, and many more.
PRTG has adopted a license-based pricing model, starting at around $1480 per server. This Price can grow all the way to more than $14000 per server, allowing you to monitor about 10 thousand aspects in your network.
Main Benefits of PRTG:
Complex Port-Monitoring scheme, covering most of the enterprise-grade needs
All-in-one Network Monitoring solution
6. ThousandEyes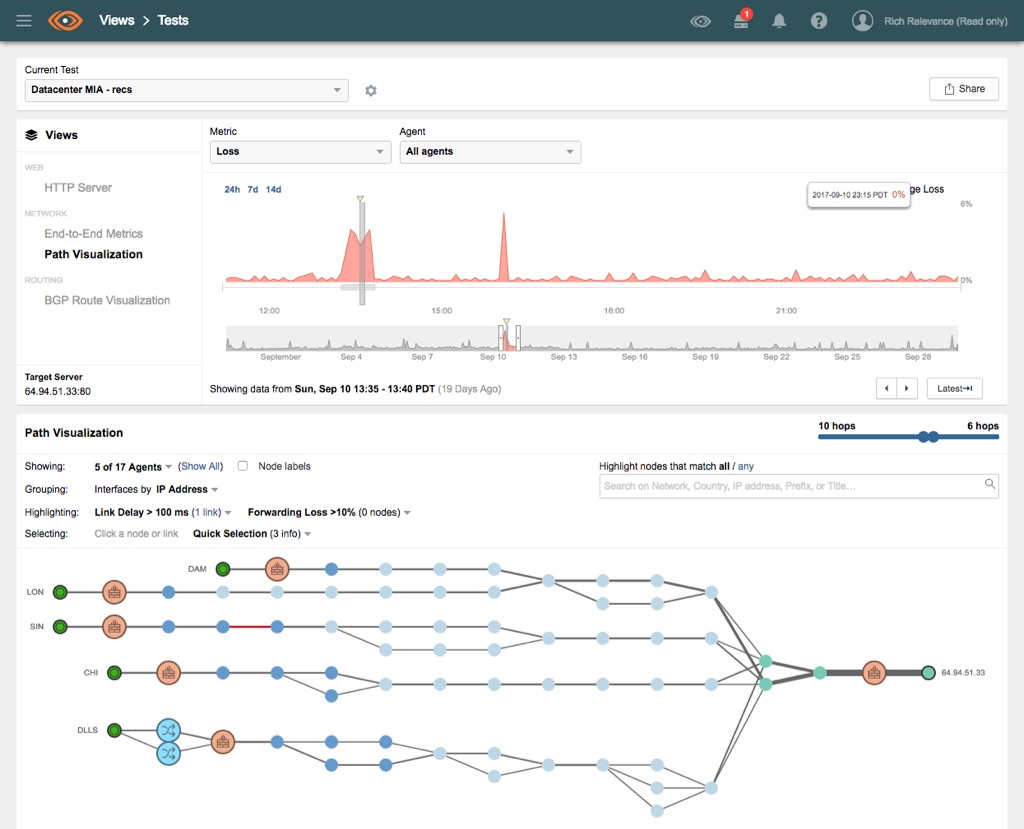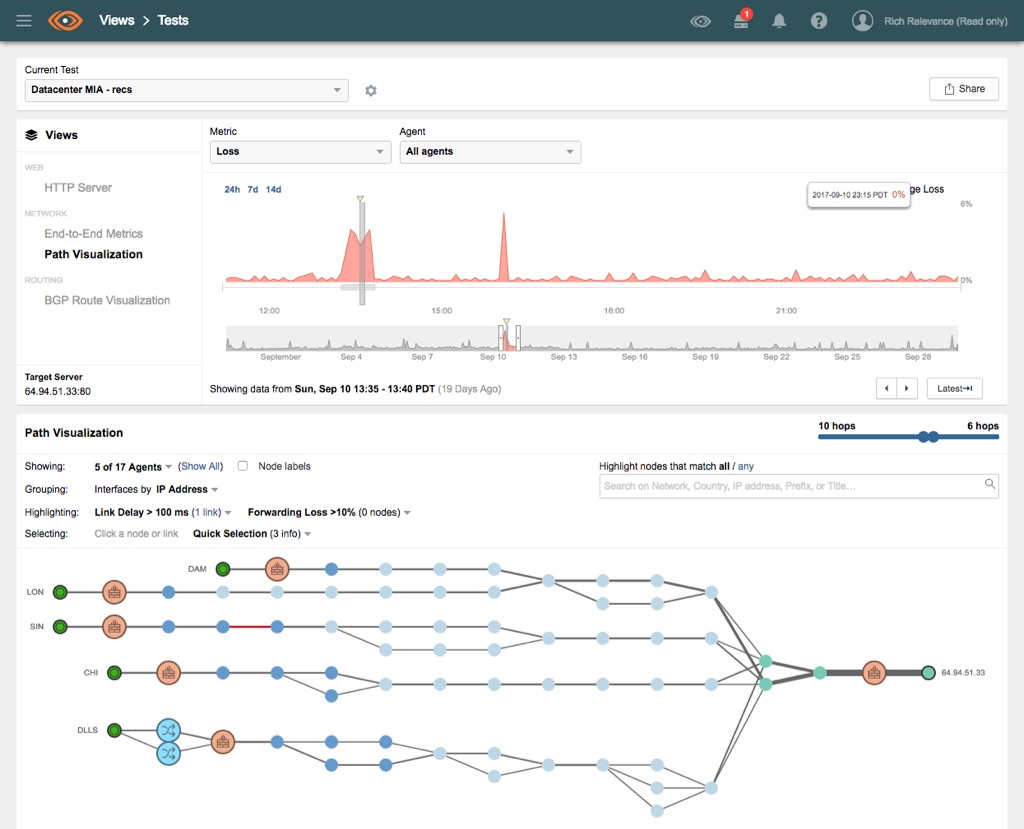 ThousandEyes allows you to verify the availability and performance of network-based services. Using multi-protocol tests, you can measure the availability and response times of HTTP, FTP DNS, SIP, RTP, and more. Their
ThousandEyes is a Network Monitoring Software from Cisco, allowing you to monitor multiple network-related aspects in a Corporate Network Perimeter. These Include Application experience, CDN providers, End-user experience, VPN performance, BGP routes, Cloud, DNS, and many more. This makes ThousandEyes an ideal solution for enterprises.
ThousandEyes has a custom pricing model that is calculated by test units. To get a price for their Network & App Synthetics product, you must contact their sales team for a custom quote.
Main benefits of ThousandEyes:
Enterprise-ready complex Network Monitoring Solution
Part of Cisco
7. Dynatrace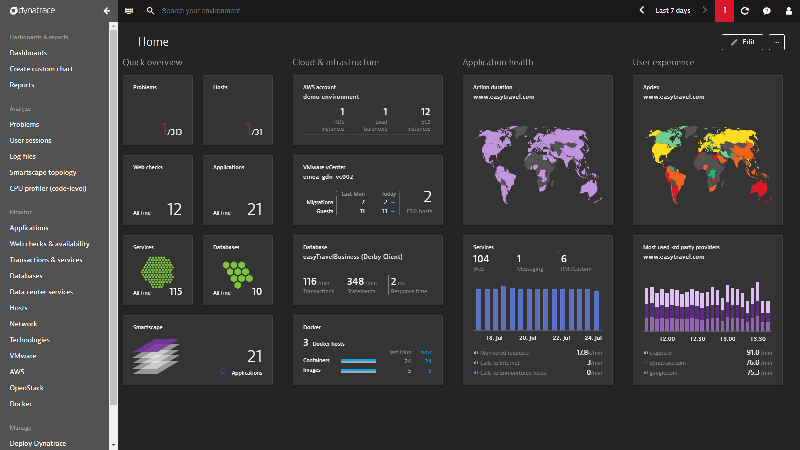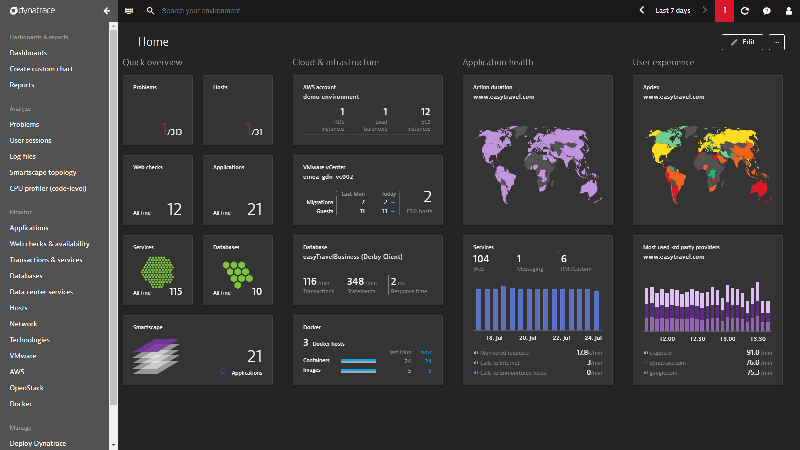 Dynatrace offers a full-observability, AI-powered platform. Its synthetic monitoring covers single-URL browser monitors, browser click paths, and HTTP monitors. Their web-based recorder allows you to record and then evaluate business-critical transactions.
You can monitor ports using Synthetic Basic HTTP monitors, or you can try to write your own plugin for it.
Dynatrace offers either a Full-stack monitoring bundle for $69 a month per 8GB per Host or a bunch of individual subscriptions, each with a specific focus. Synthetic monitoring can be found in the Digital experience monitoring for $11.
Main benefits of Dynatrace:
AI-boosted solutions within one platform
8. Pingdom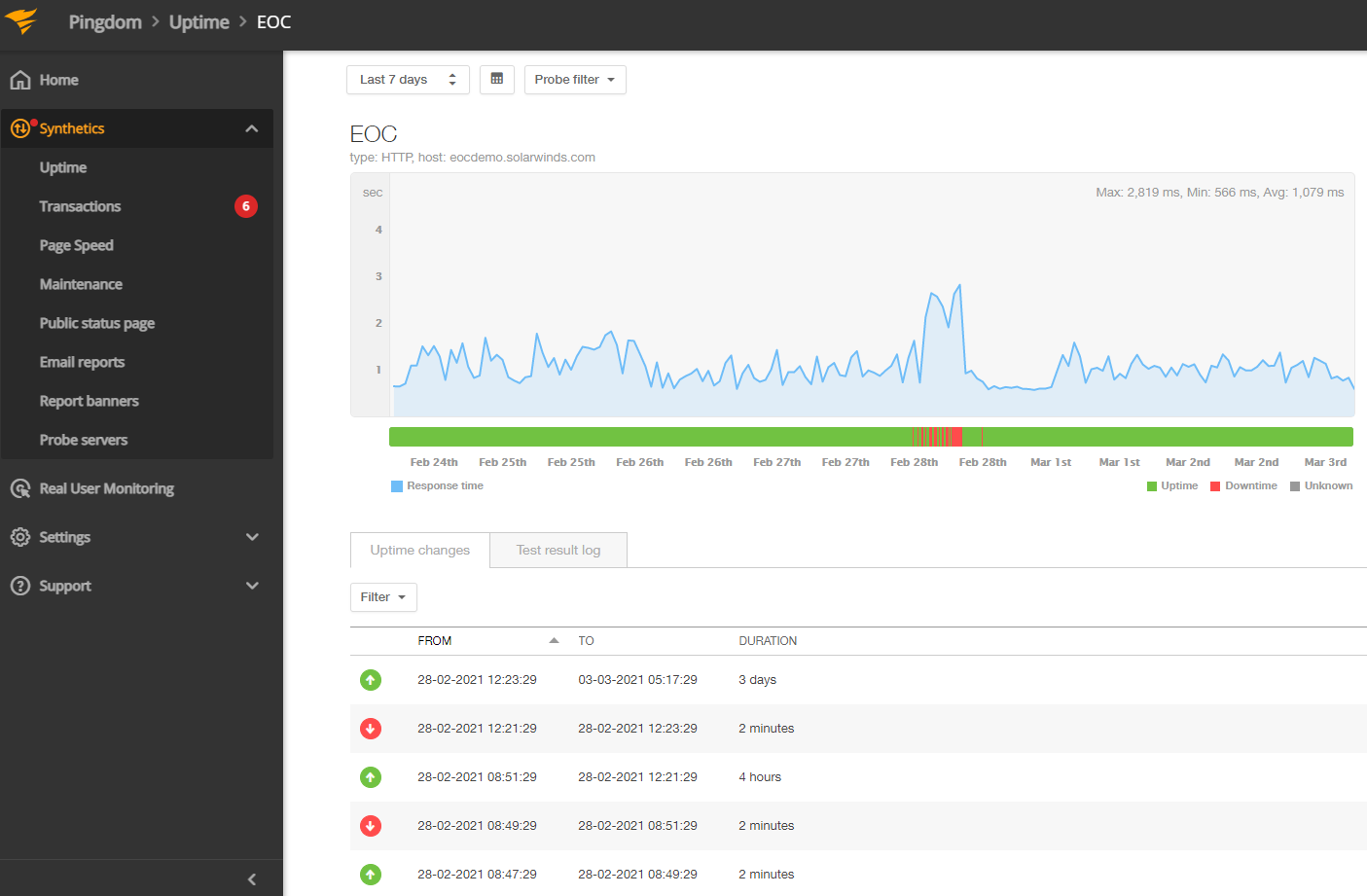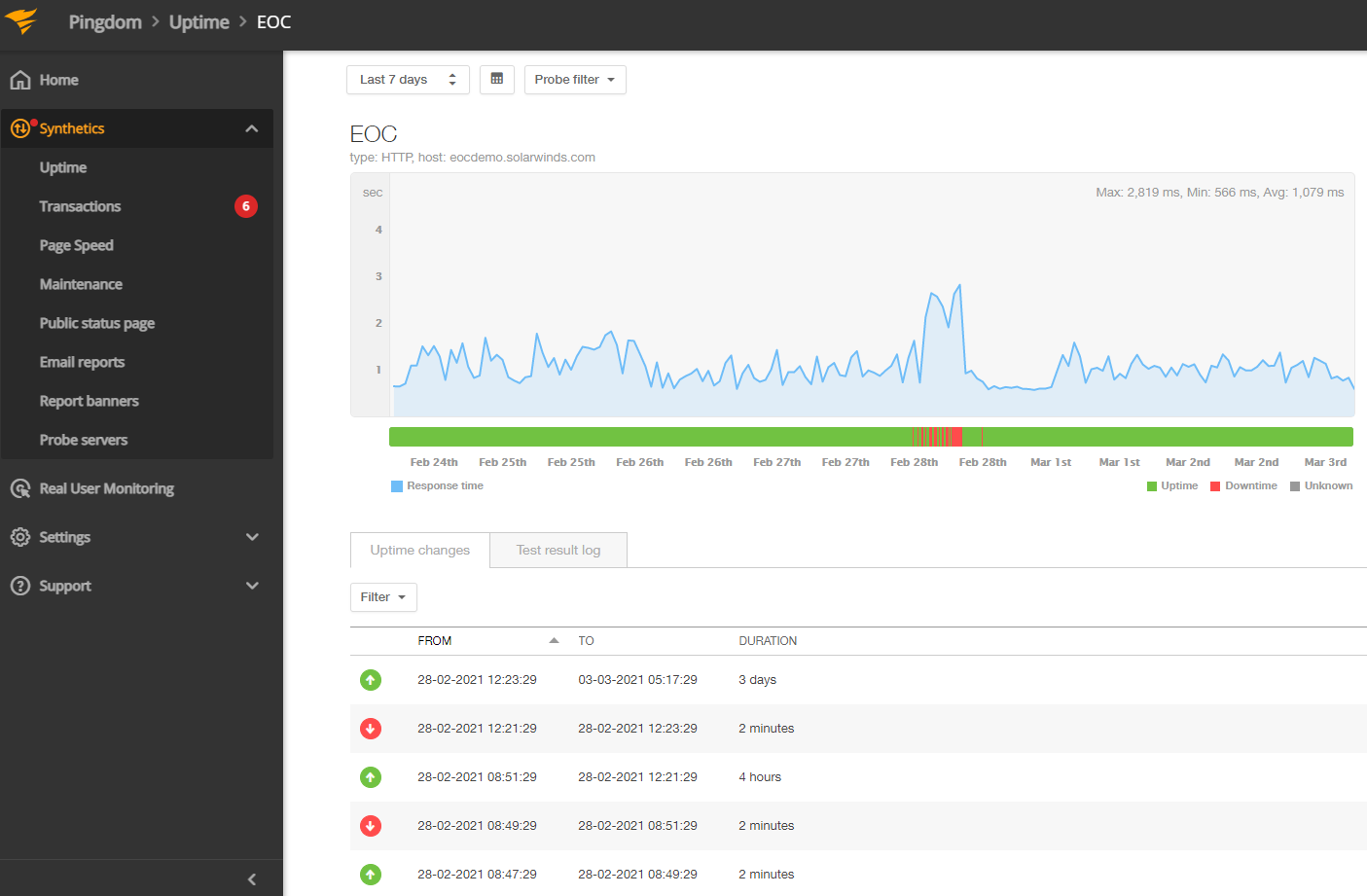 Pingdom by SolarWinds offers a solution for End-user Experience Monitoring in two different solutions - Synthetic and Real User Monitoring. Pingdom checks once a minute on your Ping, TCP, UDP, and DNS. SMTP, POP3s, and IMAPs are also covered.
Using Synthetic Monitoring, you can get Uptime, Page Speed, Transaction, and API monitoring. Pingdom monitors your website from over 100 locations around the globe and in case of any outages, you will get notified via SMS or email. Each potential error is double-checked to prevent any false alarms.
You can get Pingdom Synthetic Monitoring for $10 a month with 10 Uptime monitors, 1 Advanced monitor, Transaction monitoring, Page speed monitoring, and Uptime monitoring. You can edit your bundle with the number of monitors all the way to 30 000 Uptime monitors, for $18 000 a month.
Main benefits of Pingdom:
Real User Monitoring
Infrastructure and Application Monitoring
Log Management and Analytics
9. Zabbix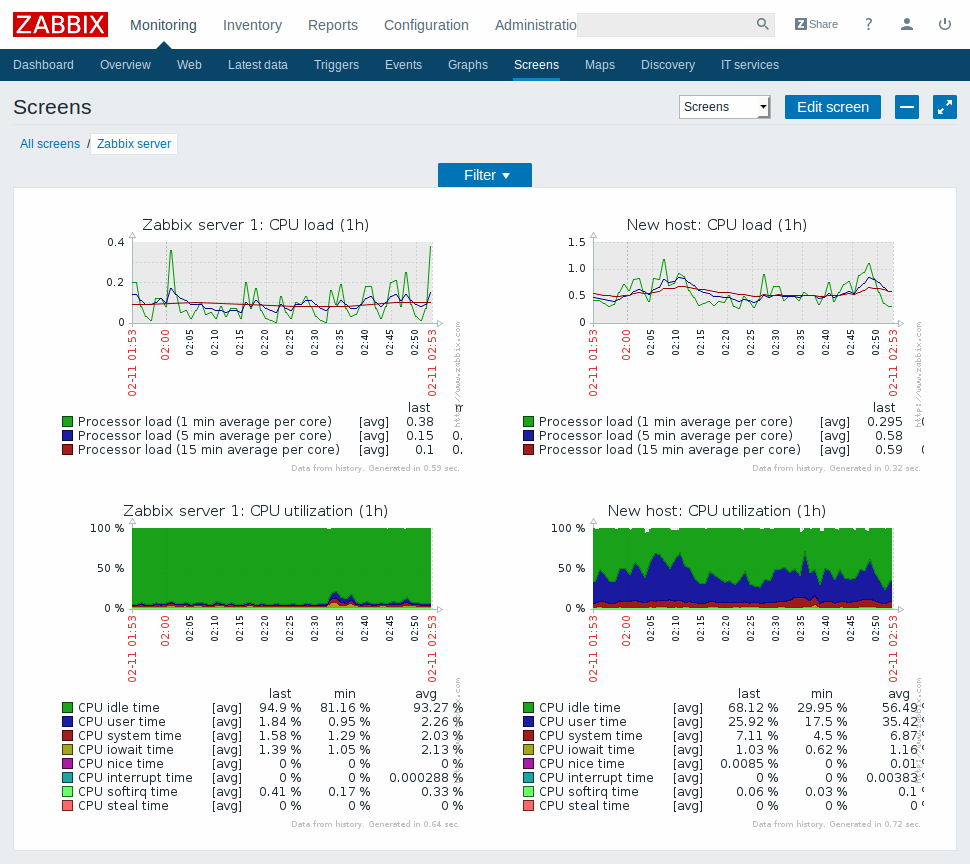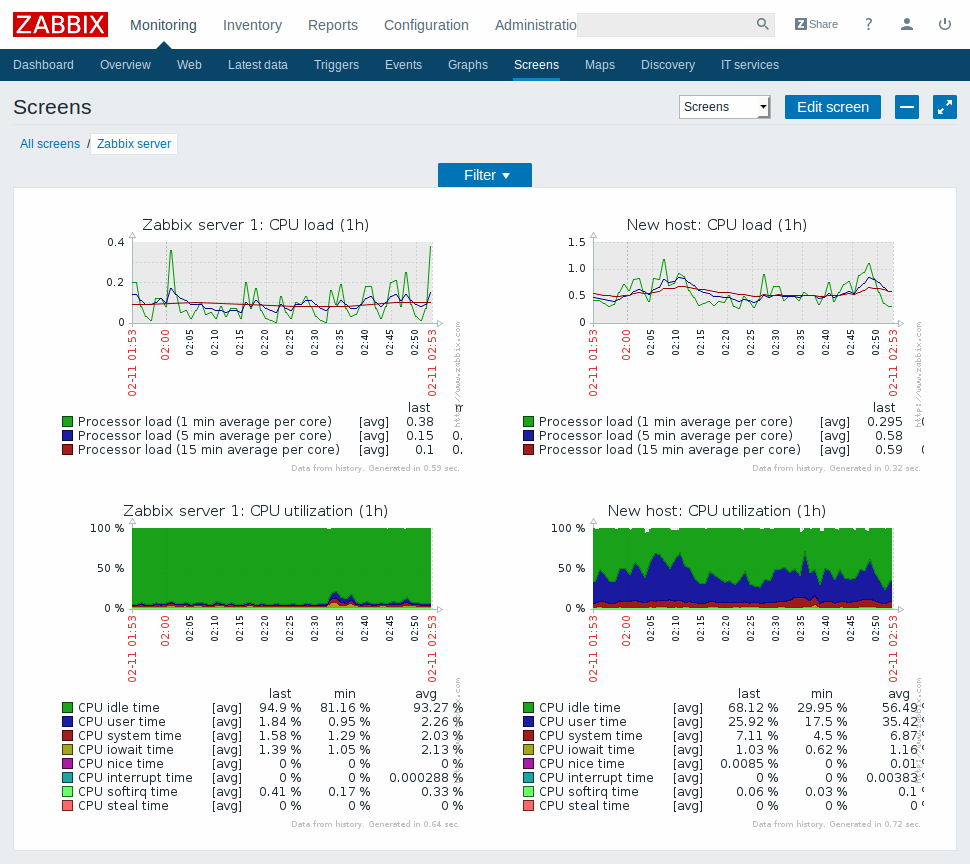 Zabbix is a full-stack, Enterprise ready open source monitoring tool licensed under the GNU GPL2 license. It allows you to monitor everything from Network, via Server and Cloud, to Applications and services. Zabbix can run either on-premise or one of the many supported cloud platforms. Zabbix offers unlimited scalability for any infrastructure, flexible monitoring and visualization tools, and seamless deployment that will take no more than 10 minutes. The collected data is handled by widget-based dashboards, which can be customized with a drag and drop.
Zabbix allows you to collect metrics from Network devices, Cloud, containers and virtual machines, Databases, Applications, HTTP(s) endpoints, and many more. Alerting is handled by multiple platforms, including On-Call, Opsgenie, Pagerduty, Slack, MS Teams, Telegram, or Webhooks.
Zabbix offers a complete set of education courses and materials with recognized certificates, confirming a certain level of expertise in Zabbix's function. Zabbix is really lightweight but supports all the most popular infrastructure aspects.
Zabbix is open-source, so there are no subscription packages. However, you can enroll in one of their courses or purchase advice in the form of technical support or consulting.
Main Benefits of Zabbix:
International, complex service covering a lot of solutions
Open-source (but paid training is needed in most cases)
User-friendly
10. Flowmon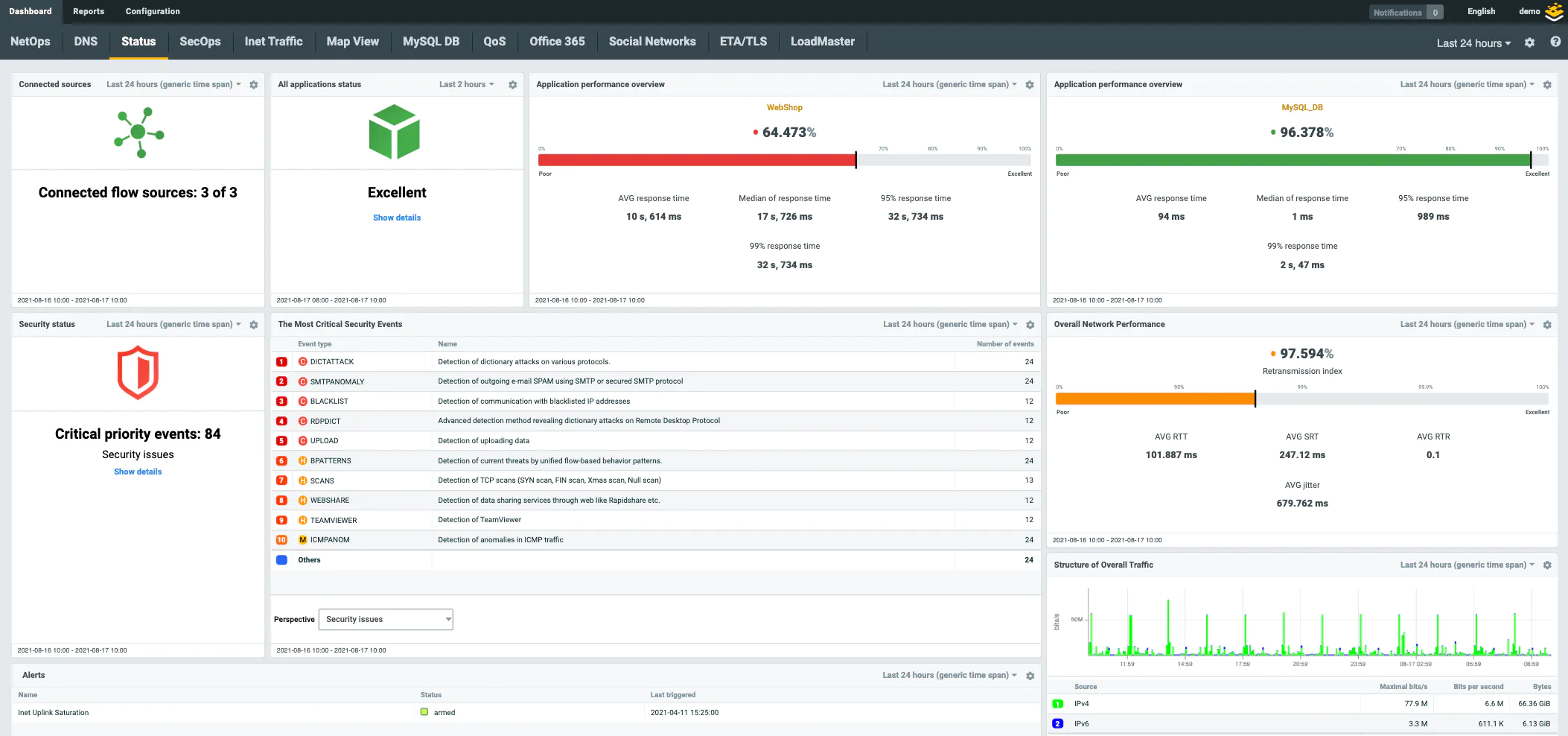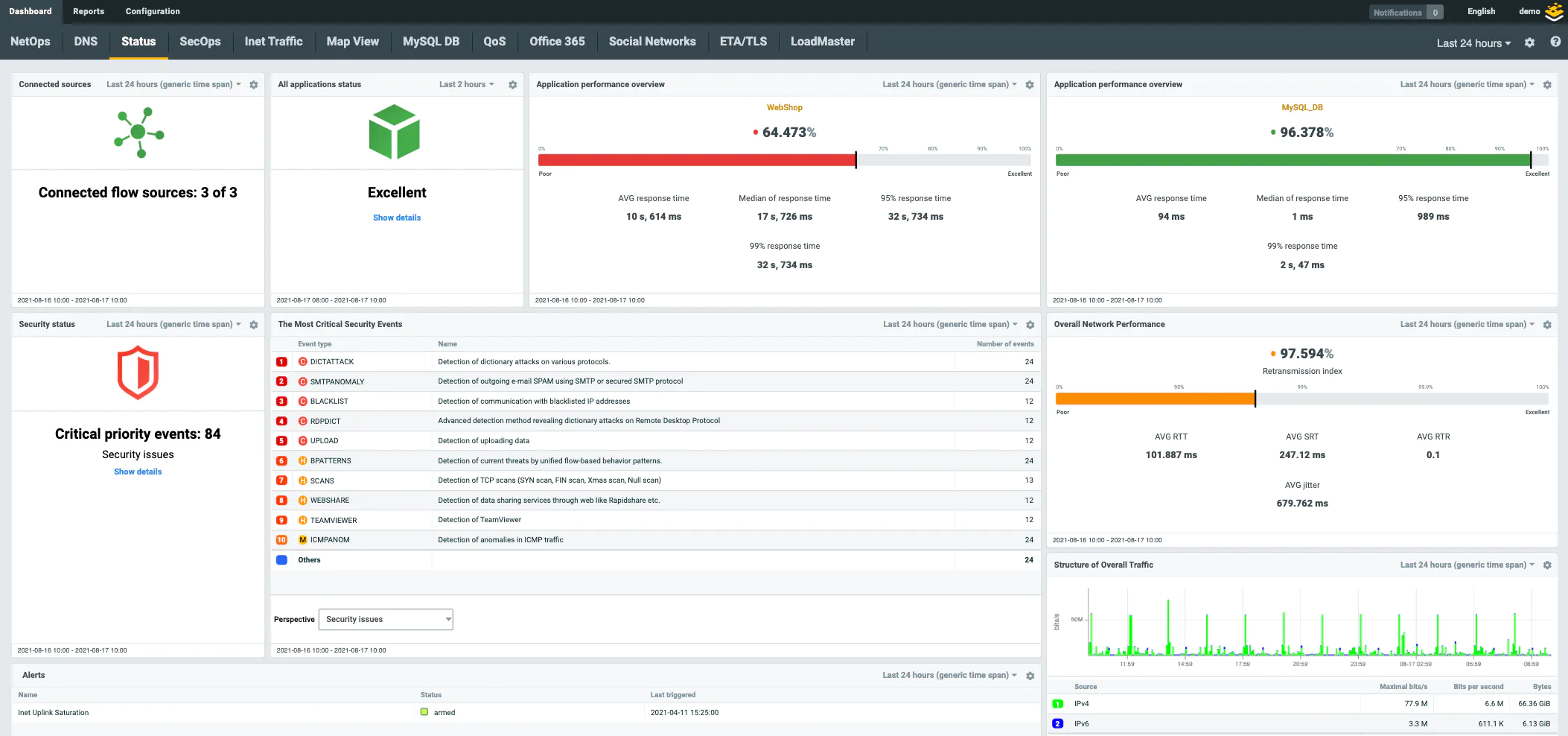 Flowmon offers a complete Network Monitoring solution split into modules. Network Traffic Monitoring uses flow data statistics generated by routers, switches, or hardware probes and gives data about TCP/IP communication in the third and fourth network layer. On top of that, Flowmon can enrich flow data with user identity when using Flowmon Probes.
With Flowmon, you get a simple GUI that is easy to navigate, an instant view of the network traffic, and the ability to drill down to any particular traffic.
Flowmon is a very well-made and complex solution for both Network and Security Operations. That's why their pricing fluctuates around $10k/year for a complex network operation. Flowmon is enterprise-ready; however, it is not suitable for smaller projects or teams due to its pricing and complexity.
Main Benefits of Flowmon:
Complex Network Monitoring Solution Ensuring Full Visibility and Security
A lot of fully-automated features
Conclusion
In this article, we went through the essentials of Port monitoring. We summarized the function of ports in network communication, the types of ports, and the implications of port monitoring. Then we proposed a list of the best Port monitoring solutions in 2023 that should cover the demand across the market. We hope that this list will help you better understand the importance of port monitoring and find a solution that will suit your project the most.
We call you when your
website goes down
Get notified with a radically better
infrastructure monitoring platform.
Check Uptime, Ping, Ports, SSL and more.
Get Slack, SMS and phone incident alerts.
Easy on-call duty scheduling.
Create free status page on your domain.
Explore more
This work is licensed under a Creative Commons Attribution-NonCommercial-ShareAlike 4.0 International License.