Ping monitoring is one of the essential practices in any network-related field. Ping monitors work just like the ping command. It verifies connectivity to another device by sending an ICMP echo request. The receipt of the messages is displayed, along with round-trip times. It is an essential tool when it comes to troubleshooting connectivity-related issues.
Apart from monitoring whether a specific device is online and functional, ping monitoring can discover any anomalies or deviations that can help users to troubleshoot any network-related issues in the architecture. All this data helps you better understand the overall health of your system. You can observe data like latency, packet loss, a packet received, or network hops.
And while pinging seems as simple as typing ping 8.8.8.8 (the adress of Google's DNS) to the command line, we will show you that you can use the received data in a much better fashion. It's better to have these tests automated, ideally as a part of a bigger monitoring solution.
Ping monitoring is closely tied to the entire monitoring universe, especially to port monitoring. Most of the tools in our list offer a complete network or even uptime monitoring solution. Bearing in mind the different needs of developers around the internet, we've compiled this list of the Best Ping Monitoring Tools in 2023. Tools range from open-source and free, all the way to enterprise-ready solutions.
1. Better Stack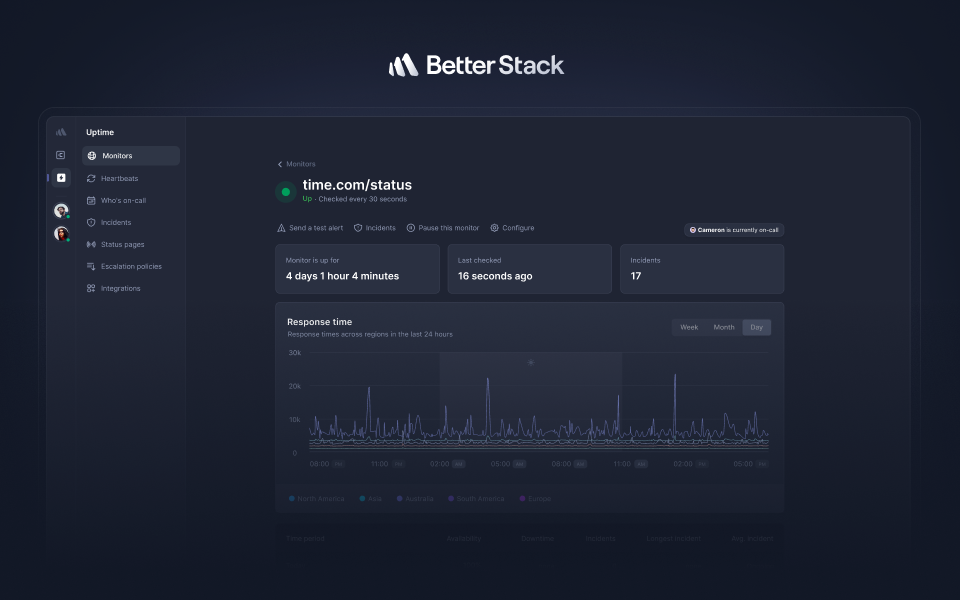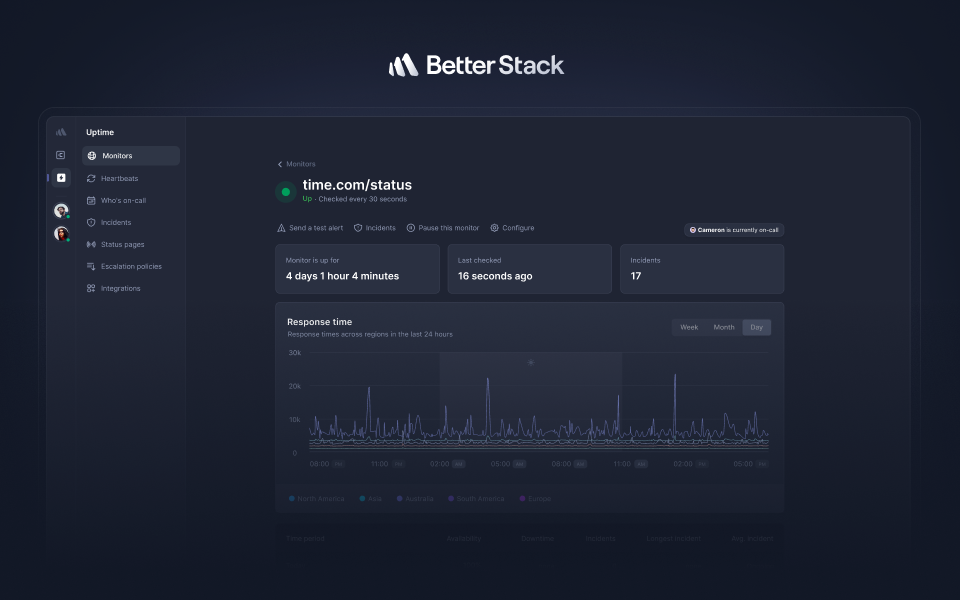 Better Stack offers a radically better monitoring platform, thanks to a combination of capabilities in Uptime monitoring, Incident management, and downtime communication with Status pages.
Better Stack offers HTTP(s) keyword checks, multi-step verification, heartbeat, SSL, Ping, and Port monitoring, and many more features. It supports plenty of integrations, including Datadog, New Relic, Grafana, Prometheus, Splunk On-Call, Zabbix, AWS CloudWatch, GCP, and Azure. Better Stack checks on your website every 30 seconds and from multiple locations, so no more false alarms or location-related issues going unnoticed.
In case of an incident, each error is documented with a screenshot and a second-by-second timeline. You can use its reporting and analytics capabilities to overview historical uptime, verify SLA, and better understand incidents in context using incident cause synthesis. In case of any accidents, your system will not be overwhelmed thanks to smart incident merging, and on-call calendar & scheduling will ensure an immediate response. Alerts are handled by Slack, MS Teams, Phone calls, SMS, Push notifications, Zapier, and Webhooks.
Better Stack offers a free solution with e-mail, Slack, and MS Teams alerts, second by second incident timeline, 3-minute checking interval, and a basic Status Page manager. You can also benefit from its historical uptime and SLA analysis.
Main Benefits of Better Stack:
2. Dotcom-monitor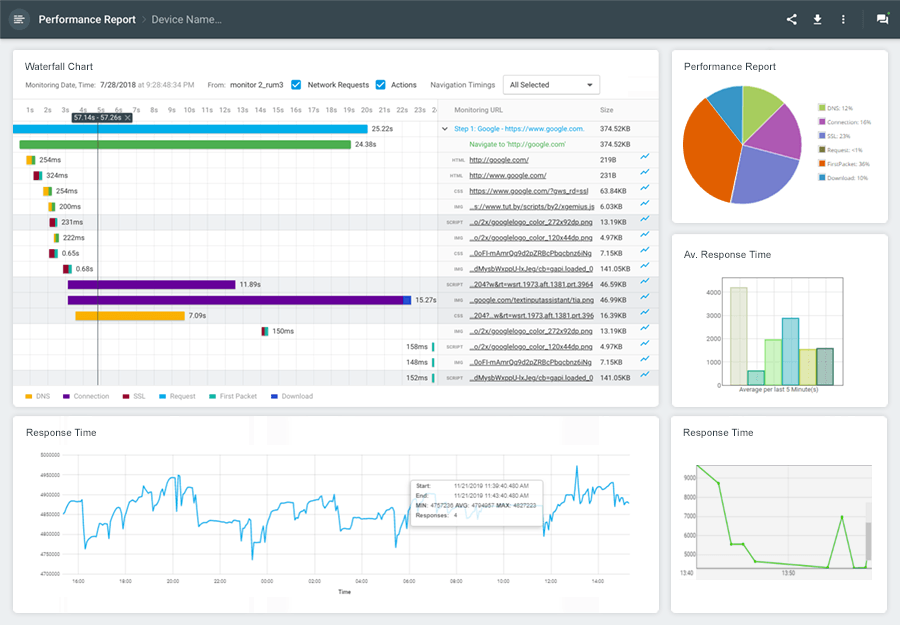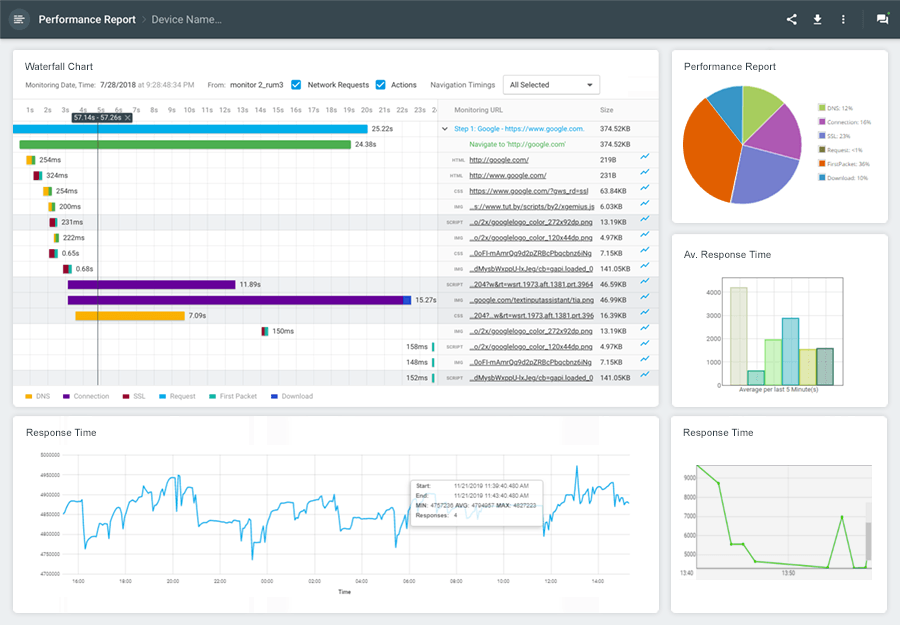 Dotcom-monitor handles Ping monitoring in the infrastructure monitoring package. Alongside Ping, Network monitoring covers UDP, Traceroute, and TCP Port/Telnet monitoring. Any issues raise an alert notification. On top of that, thanks to logs, you can perform a root-cause analysis faster. Dotcom-monitor offers historical reporting, so you can quickly analyze your network's performance in time and discover deeper performance-related problems in your network.
Dotcom-monitor offers a minimal 60 seconds checking frequency and 30 different monitoring locations. Since its solutions are divided into packages, you don't get the same thing in every single one of them. ICMP/ping monitoring solution is also part of the Web Services bundle that covers Web Server, Web API, WebSocket, SSL, Response Validation, and more.
Every single bundle also offers unlimited public dashboards, Multi-User Support, Configuration API, Real-Time XML Data Feed, SSO Integration, and Third-Party Integrations.
Main benefits of Dotcom-monitor:
Different solutions within one ecosystem
Unlimited public dashboards
3. Site24x7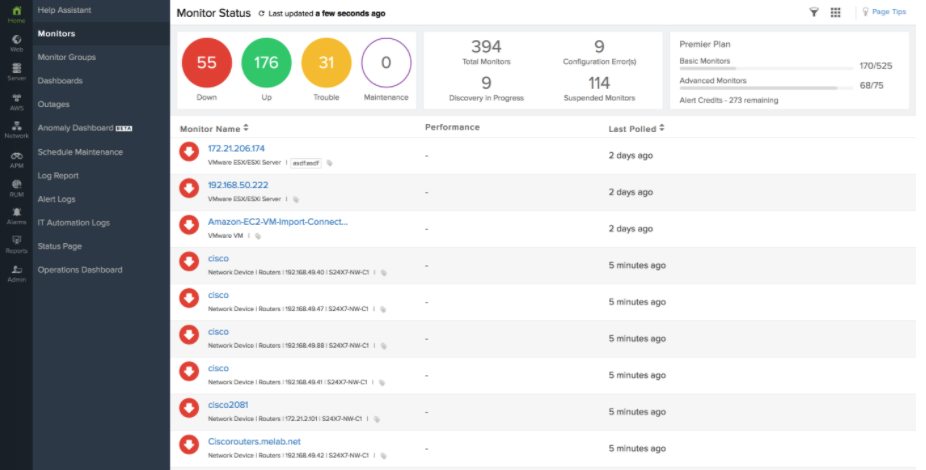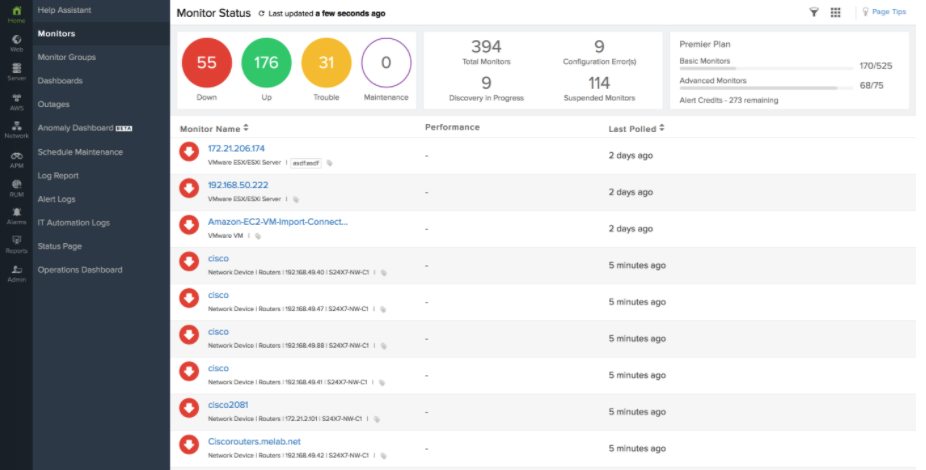 Site24x7 offers an all-in-one monitoring solution for website, cloud, server, network, application, and Real User Monitoring. Monitoring gives you regular metrics about the Response time and Availability & Response Time by Location. In Site 24x7, ping monitor belongs among the basic monitors alongside HTTP/HTTPS, WebSocket, DNS and FTP, NTP or SMTP servers.
The Network Monitor integrates a Ping monitor, searches for all the devices connected, and creates a network inventory. Devices and their attributes are then used to render a network topology map. Thanks to periodic check-ups, the network map is always updated.
In case of any error detected, the Network Monitor will alert you via an SMS, email, voice call, and a message in your favorite integration. Dashboards are accessible from a web application and can be customized via simple drag-and-drop moves. The minimal frequency for a Ping is 60 seconds. It also allows you to send a Ping request on-demand. This will poll a range of addresses for a response.
Main benefits of Site24x7:
Web Transaction Monitoring
DNS server monitoring
TCP/IP, POP, IMAP, and SMTP server monitoring
Status Pages
4. Statuscake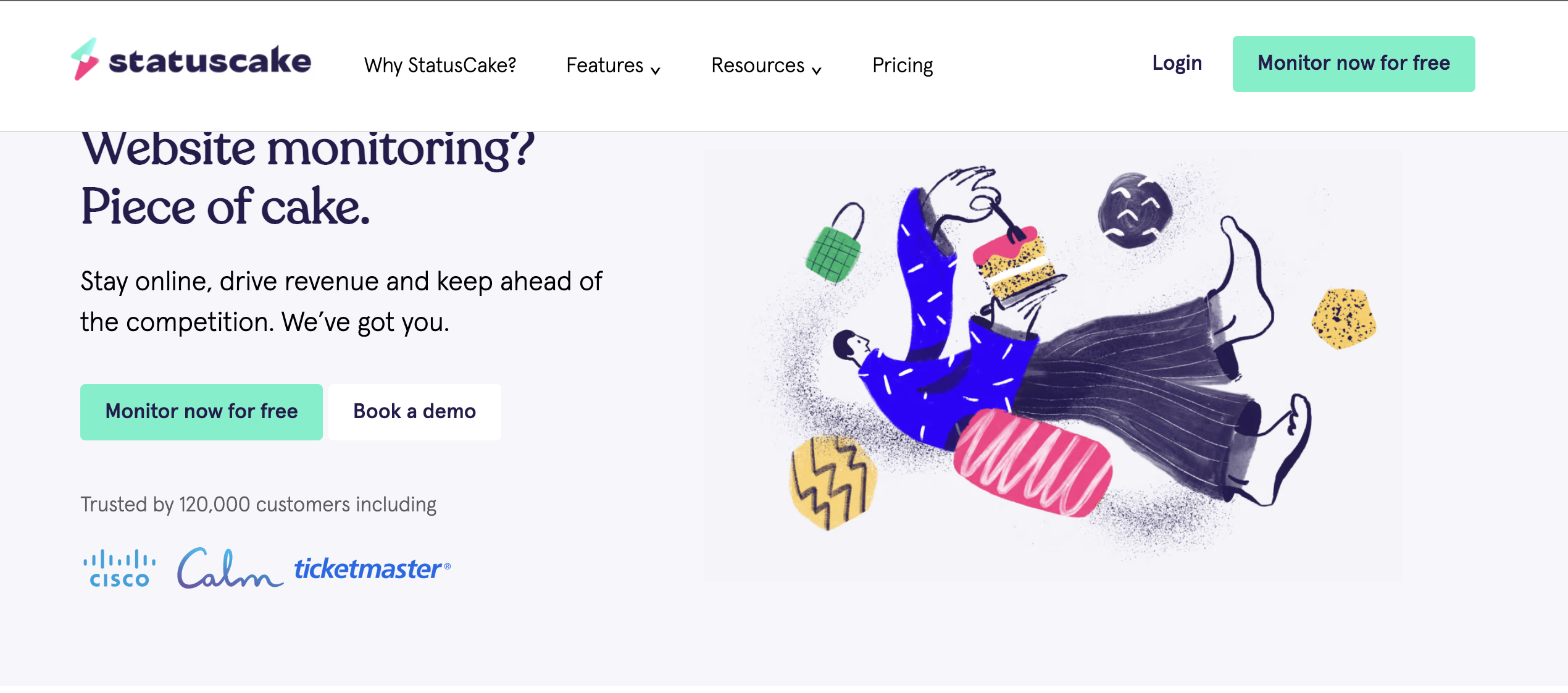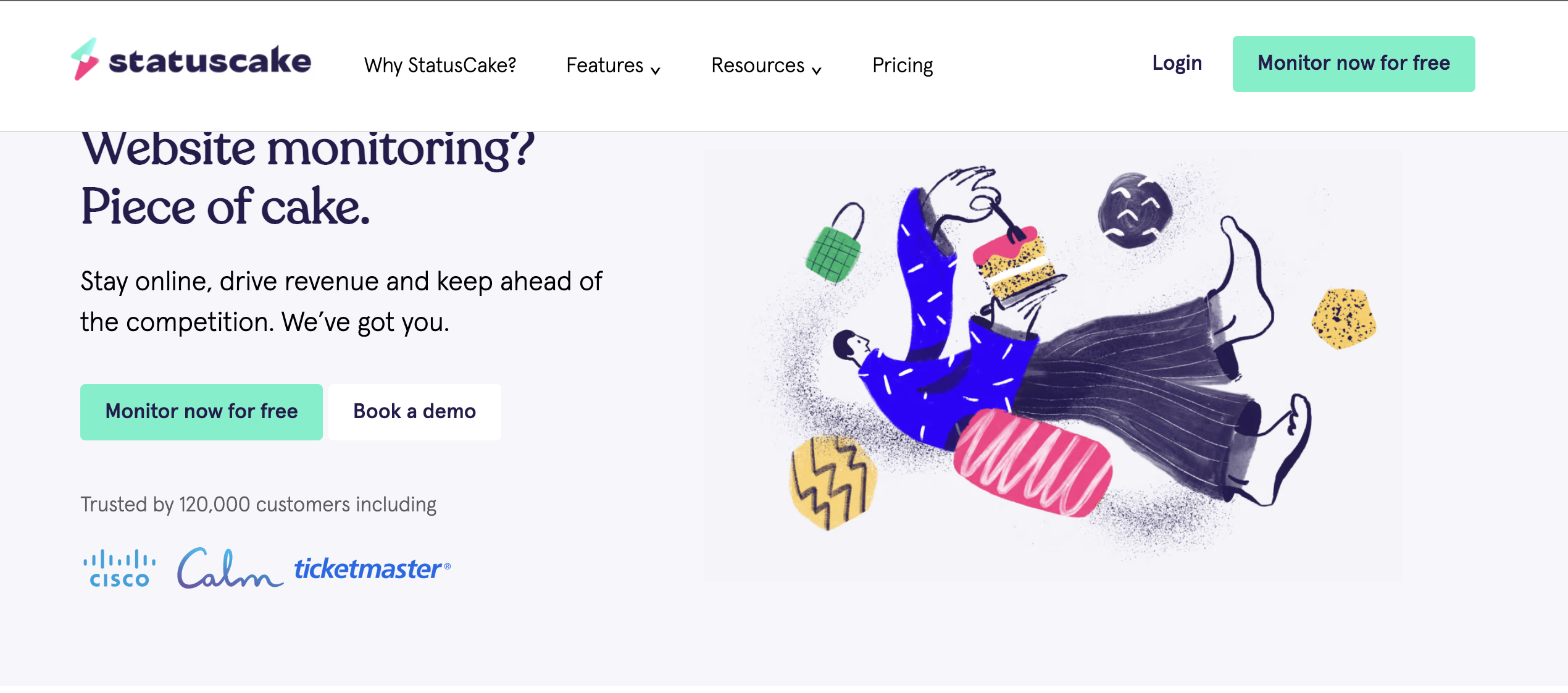 Statuscake offers a complete Uptime monitoring solution covering status pages, Uptime, Page Speed, Domain, SSL, and Server monitoring. Statuscake allows you to monitor your website every 30 seconds from multiple locations around the globe, ensuring that there are no missed downtimes or false positives.
All of the monitoring data is stored, so you can analyze your uptime over time, correlate data and potentially discover performance trends. Alerts are handled by 14 different platforms such as DataDog, Discord, OpsGenie, Pushover, Slack, Telegram, and more.
Statuscake offers a basic, free subscription model with 5 minute testing period and 10 uptime monitors. The rest of the aforementioned features start at $24.49 a month. They also take great pride in their dedicated technical support.
Main benefits of Statuscake:
SSL Certificate monitoring
15+ third-party alerting integrations
Team Tools such as audit log and multi-user access
5. SolarWinds Engineers Toolset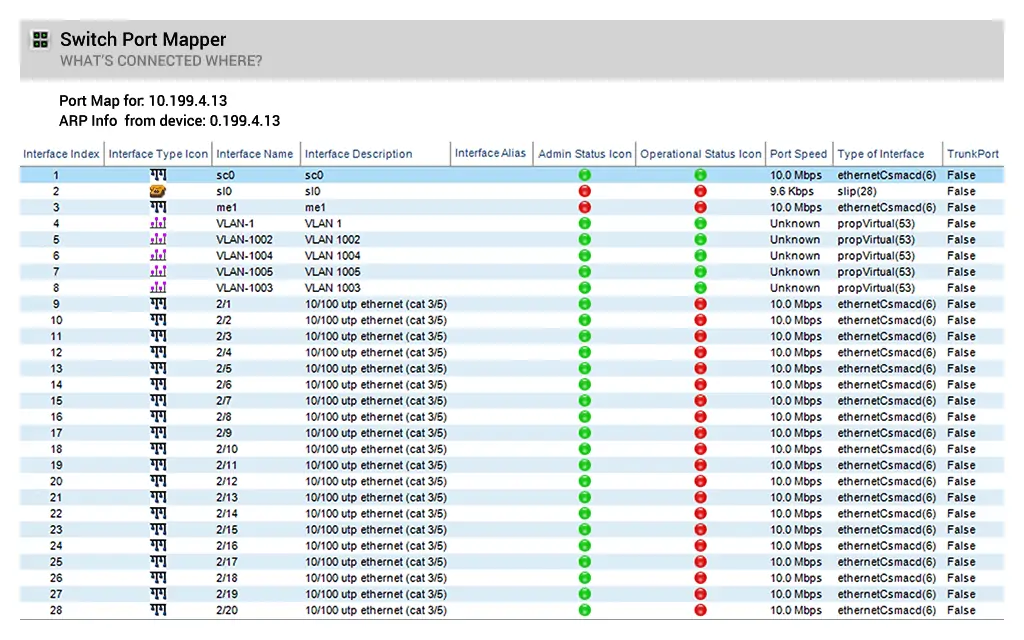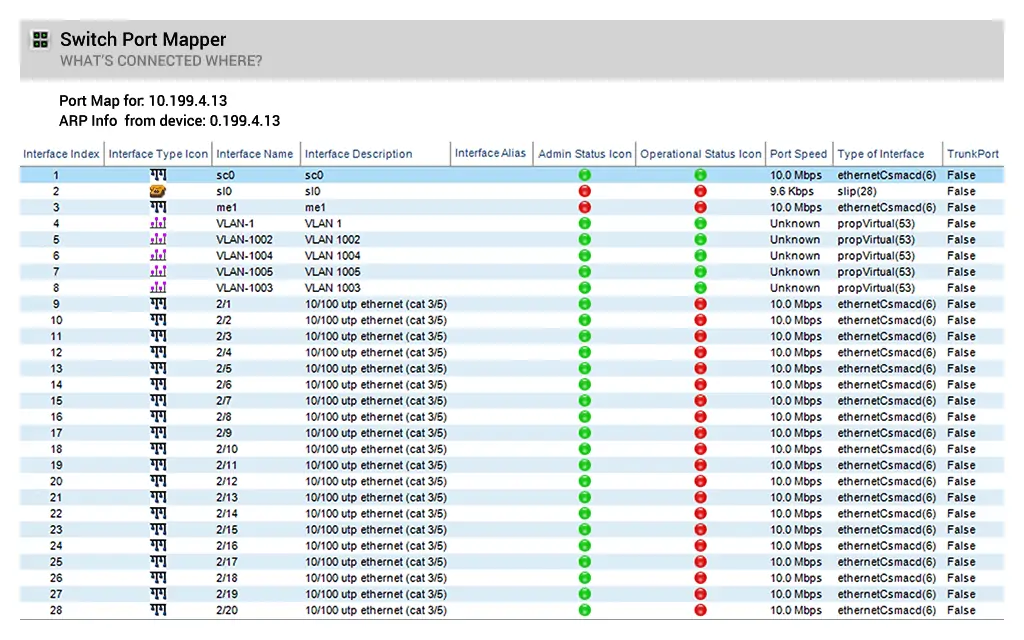 You can find this feature in the Engineers Toolset. What makes this toolset unique is definitely the presence of graphing or logging. You get a comprehensive overview of your network activity over time to and from your devices. You also can work through data of these events in case of any system failures, which comes in handy during the root cause analysis during an event post mortem.
Alerts are automated, and you get an alert in real-time when a device goes offline. The default checking interval for ping monitoring is 60 seconds. Engineer's toolset offers either a simple ping monitoring tool that sends ICMP packets to target IP address to measure the response time and packet loss or an Enhanced Ping tool, providing deeper insights and visual data representation for better issues resolution. Apart from a ping tool, you can also benefit from tools such as network discovery tools, Ping Sweeping, Port Scanners, Switch Port Mappers, SNMP Sweeping, IP Network Browsing, and more.
Main benefits of SolarWinds Engineers Toolset:
A Fully-functional 14 days trial
Dozens of other tools included in each package
Logging and graphing
6. Datadog
Datadog allows you to monitor the global performance of any endpoint in your network with ICMP and TCP port tests. You can use it to validate each layer of your system from DNS, via IP, TCP, and SSL, to HTTP. Datadog also offers multiple testing locations.
With Datadog's proactive testing, you can chain HTTP requests and execute API calls sequentially with Multistep API to test actions that require verification. You can also break down network timing and use it in root cause analysis.
You can use Datadog on any scale thanks to integrations with Docker and Kubernetes or create a testing location in case you need to focus on a specific area.
Main benefits of Datadog:
Full-Stack Visibility
Security monitoring solutions
7. Pingdom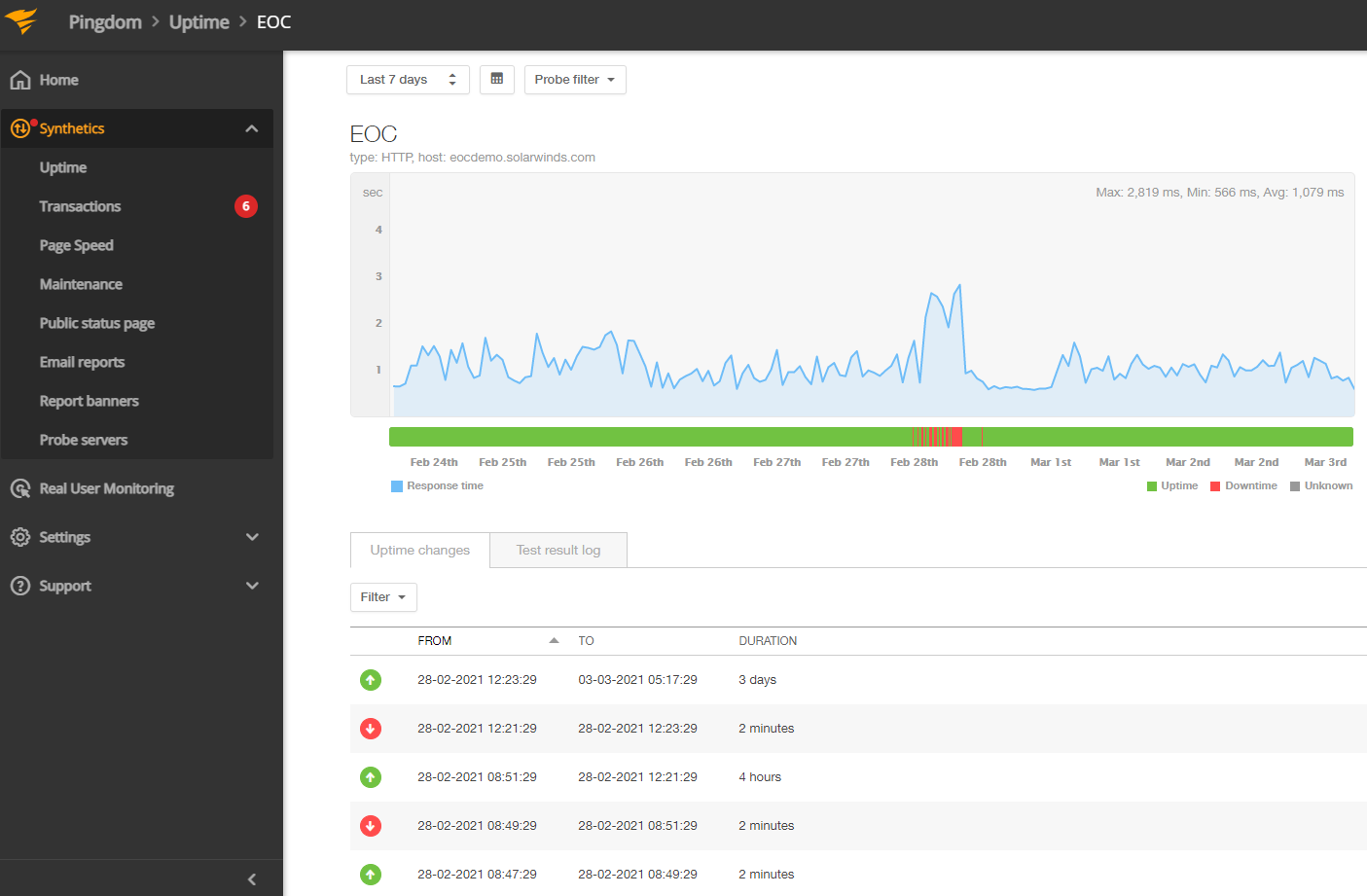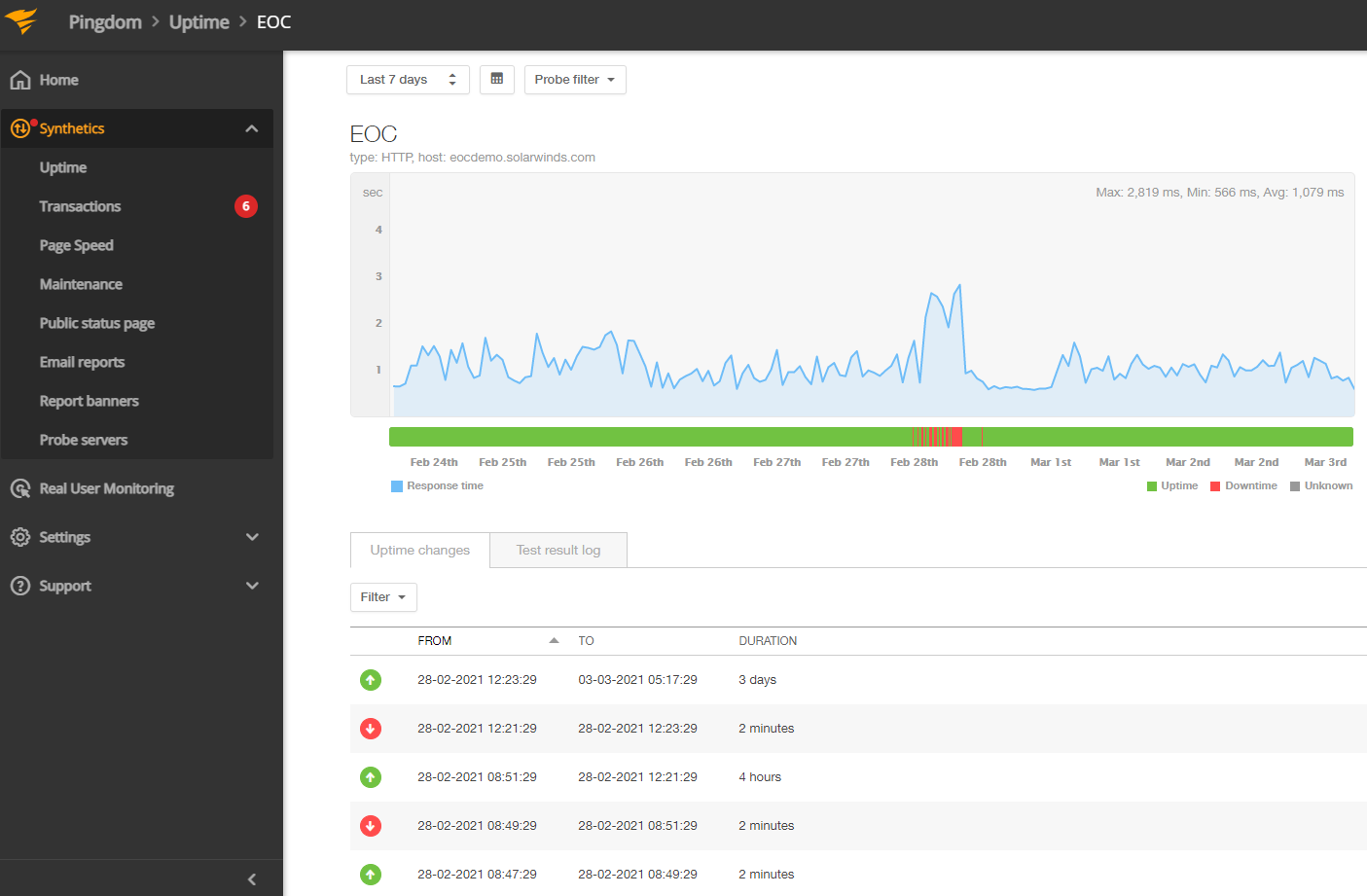 Pingdom is an uptime monitoring solution that covers Automated Ping Testing. Testing from more than 100 geographical locations, you get an update on the network basics of your website every 60 seconds. Thanks to this dispersion, you acquire accurate data on your website's behavior around the globe.
You can also detect if the issues occurring are caused at the main website or at one of your satellite content delivery network data centers. With every alert, you get an instant SMS and Email notification. Pingdom sends you a notification also in case of other website-related issues such as error messages, HTTP status, content changes, or more.
Since the ping monitor is a part of Pingdom, it records every monitored ping, along with other tests and monitors, and the built-in reporting engine can help you to identify performance issues and trends over time and their respective root causes. Alerting is handled by the most popular third-party integrations such as Slack, Webhooks, or OpsGenie.
Main benefits of Pingdom:
Huge backing from SolarWinds
Real User Experience monitoring options
8. Ping monitoring (Emco Software)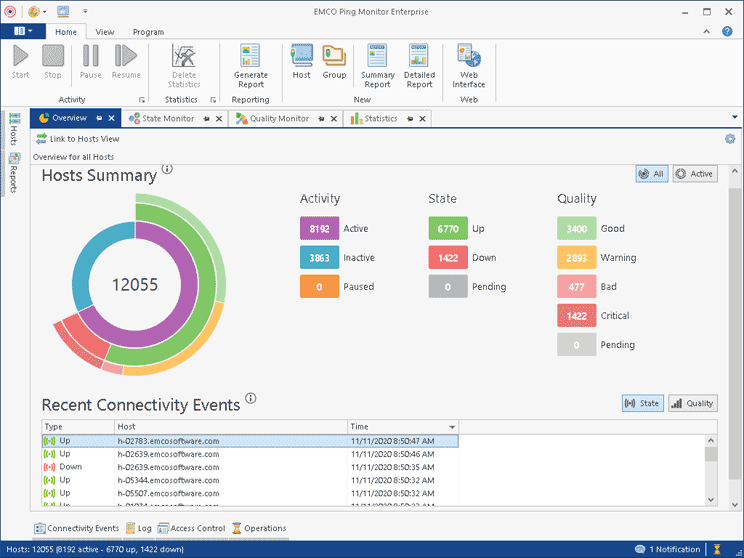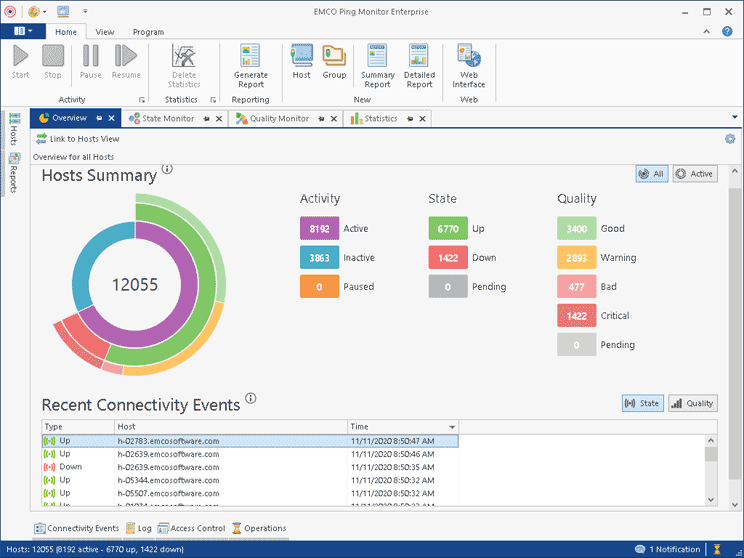 Emco's ping monitoring is a dedicated tool for ping monitoring. It checks your connection stability and quality using ICMP pings to detect whether an end device is up or down. Responses and information about every test are stored and used to calculate statistics of uptime, list of outages, average latency, latency deviations, and more.
Ping monitoring comes with built-in tools for data analysis. The collected data is aggregated and visualized in charts. Summary information analyzing the collected data is available for every monitored host on your network, allowing you to get a better idea of the health of your network. It covers information such as host status, uptime, ping response stats, and current outages.
Reports and alerts are integrated into the application, which means that you will be notified about any outages right away.
Main Benefits of Emco:
Different pricing model
Complex Network Monitoring Solution
9. Nagios XI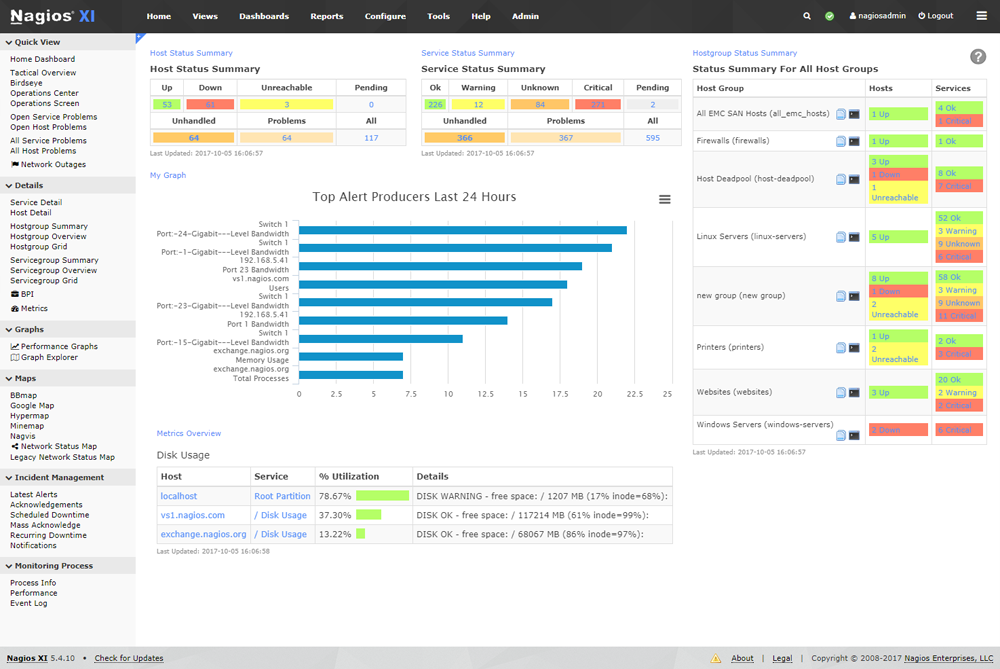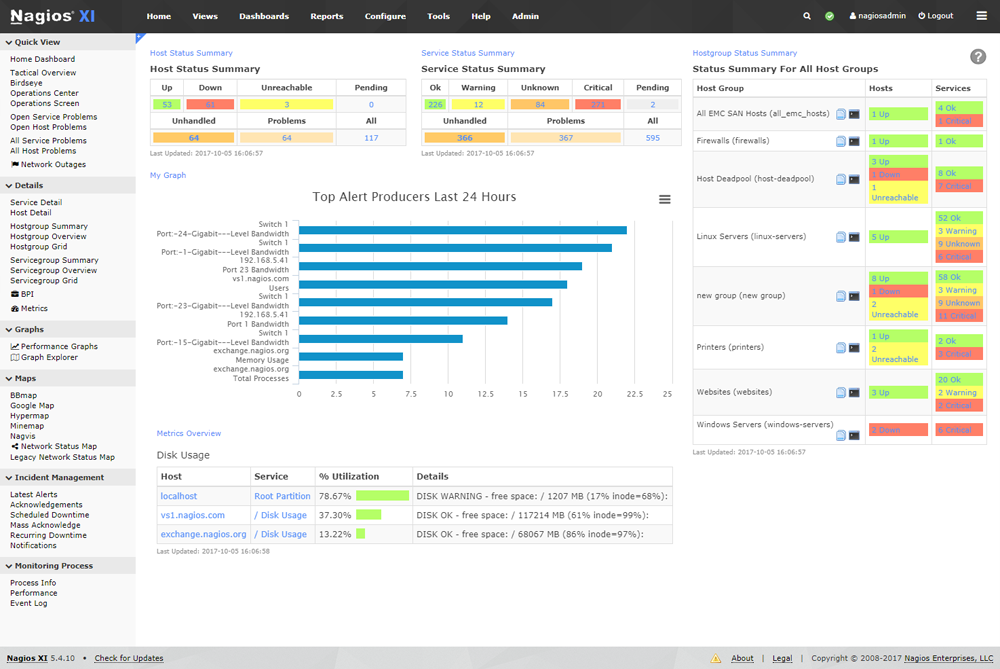 As a part of the Nagios monitoring solution, you can access Ping and Network Monitoring service. You can get an update on reachability data and packet loss information for all devices connected to your network. Nagios helps you improve your network's performance and offers solid outages and protocol failures detection mechanisms.
Nagios is complemented by a wide array of plugins that can help you to tailor it exactly to your needs. Plugins such as SmokePing can help you to obtain more precise and case-specific details.
Nagios is an elaborate and quite complex monitoring solution, meaning that there is a significant learning curve. This monitoring swiss-knife can easily make your life easier, but if you are not looking for an enterprise-ready solution, the pricing and also operation can get quite stressful.
Nagios also offers a less robust, free, open-source solution.
Main benefits of Nagios:
A complete Network, Server, Services, and Application monitoring solution
Massive library of plugins
10. PRTG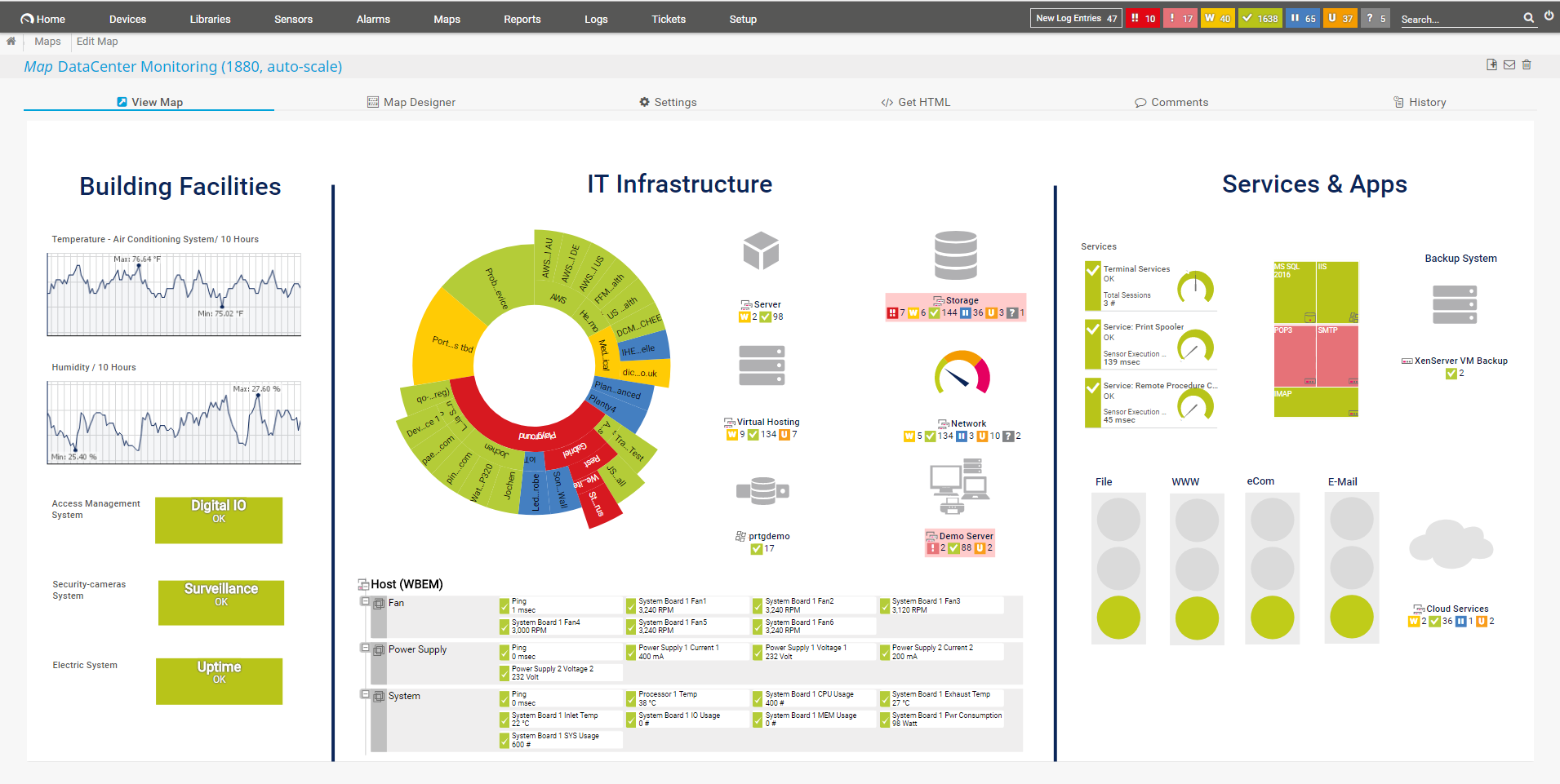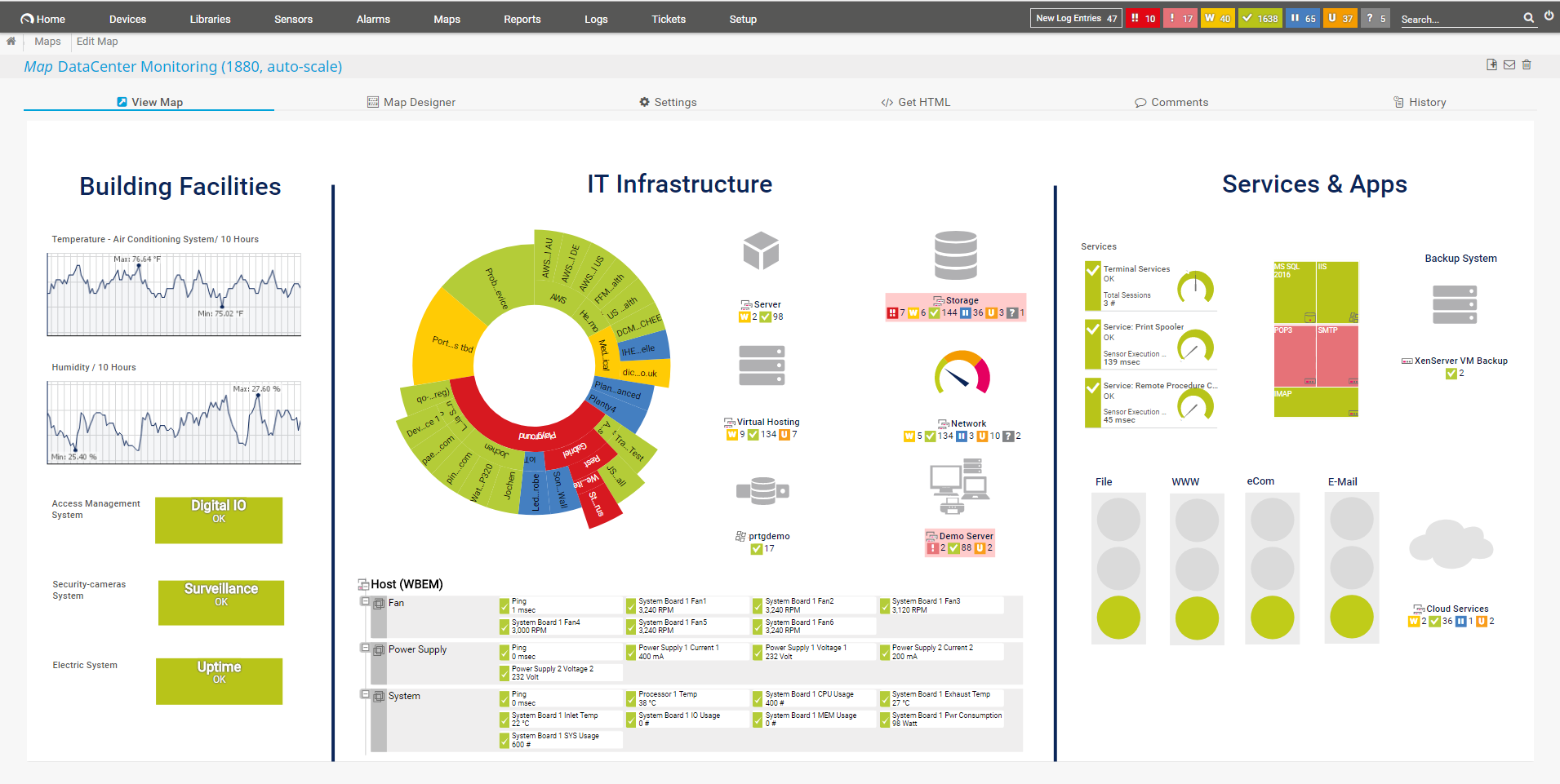 Most of the PRTG monitoring sensors are based on ping, meaning that if any device goes offline, you immediately receive an alert. The Ping sensor gives you real-time data about the health of your network and represents them in a dashboard, stating the last measured Value, Minimum and Maximum value.
Using all this, you can perform a root-cause analysis faster since you can find out faster which aspect of your network experiences downtime. Ping Jitter sensor goes beyond the binary reachable/unreachable view and helps you understand network-related performance issues. Understanding what causes the latency can help you fix any ping-related issue faster.
Paessler's PRTG can also help you to monitor Bandwith, Database, Applications, Cloud, Server, Lan, SNMP, and more.
Main benefits of PRTG:
A complete and complex network monitoring solution
Comprehensive Ping Jitter sensor
Conclusion
In this article, we explained the basics of what Ping is, how it's monitored, and why it is important to keep an eye on your network using Ping Monitoring. Then we went through a list of the best Ping monitoring tools and software in 2023, their main benefits, and functionality. Now the choice is yours. If we may suggest, try to pick your favorites, further compare them and pick a solution that will suit your needs the most.
We call you when your
website goes down
Get notified with a radically better
infrastructure monitoring platform.
Check Uptime, Ping, Ports, SSL and more.
Get Slack, SMS and phone incident alerts.
Easy on-call duty scheduling.
Create free status page on your domain.
Explore more
This work is licensed under a Creative Commons Attribution-NonCommercial-ShareAlike 4.0 International License.