10 Site24x7 Alternatives in 2023
Jan Tovarys
Updated on June 14, 2023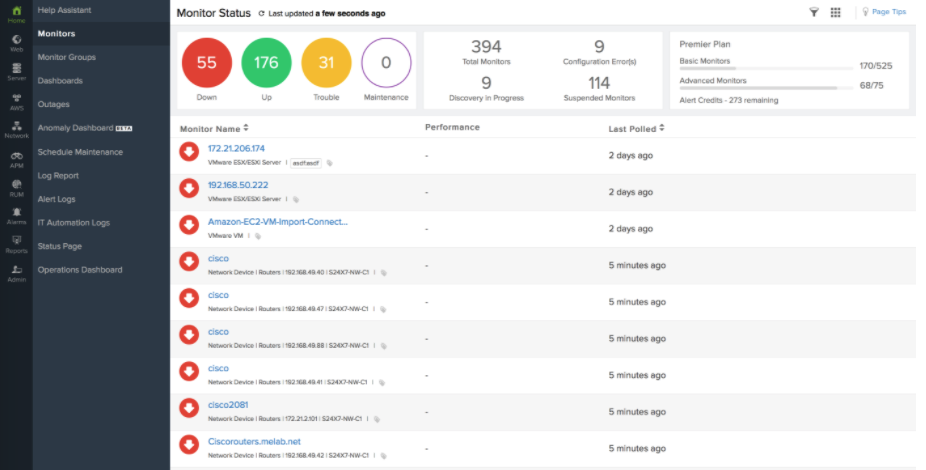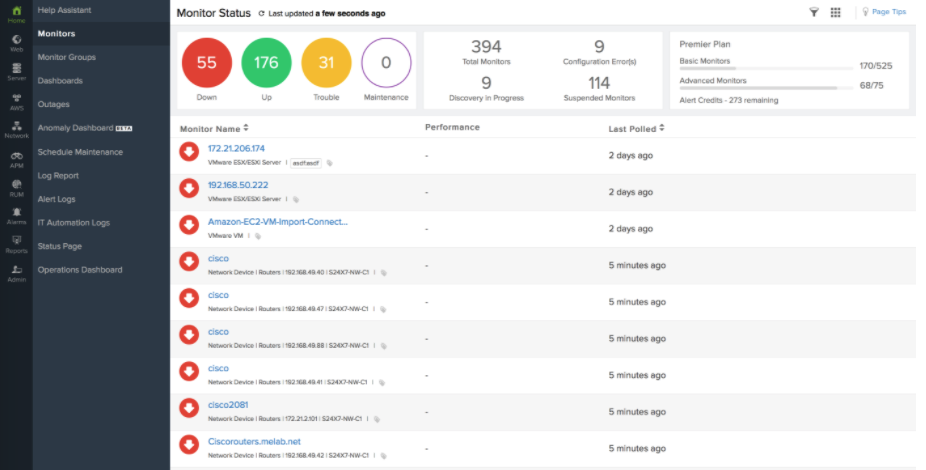 Site24x7 offers an All-in-One Monitoring Solution covering the monitoring of Websites, Server, Cloud, Networks, Applications, and Real Users.
With Site24x7 you can keep an eye on the performance of internet services such as HTTPS, DNS server, FTP server, SSL/TLS, POP, URLs, REST APIs, and SOAP Web services from more than 110+ locations across the globe. You can also monitor Windows, Linux, FreeBSD, VMware, Nutanix, Docker, and Kubernetes.
Synthetic web transactions, application performance, and Real User Monitoring are also available. Site24x7 also allows you to manage cloud costs, public status pages, manage Logs from the cloud, and more.
Site24x7 offers a free forever plan, with 50URL/Server monitors and Email notifications. Their premium plans start at around $10/month and offer a 60-second monitoring frequency and 10 monitors. You can customize each plan with add-ons.
Pros:
All-in-one platform
Free forever plan
Cons:
Pricing
Compatibility issues
The Best Site24x7 Alternatives in 2023
Site24x7 offers a good solution, but not the best. There are many tools that top its functions or pricing. Let's take a look at the best alternatives in 2023.
1. Better Stack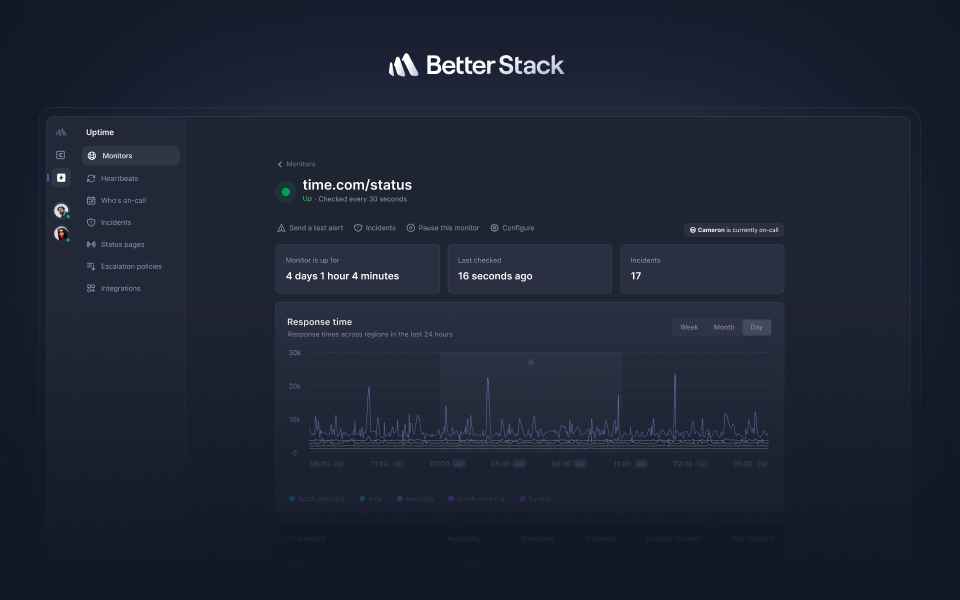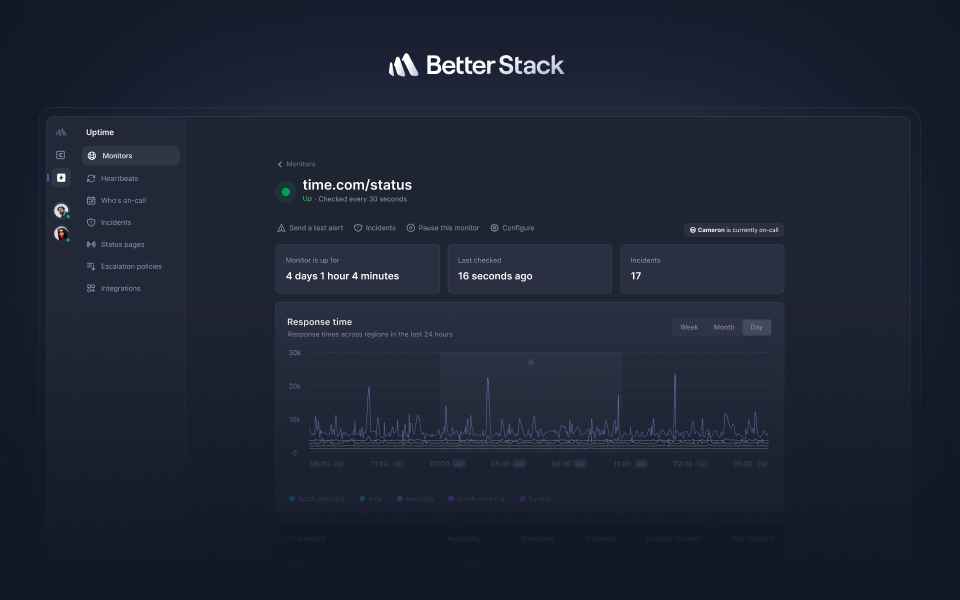 Better Stack
is an Uptime Monitoring solution with incident management built-in from Better Stack. It offers a better alternative to Site24x7 with better pricing, reliable incident management and also monitoring frequency. Better Uptime can monitor your website as often as every 30 seconds, while Site24x7 just every one minute. Better Stack also offers unlimited phone call, SMS, email, slack, teams and Push notification alerts, whereas Site24x7 ties you down with credits.
It offers HTTP(s) keyword checks, multi-step verification, heartbeat, SSL, Ping, and Port monitoring, and many more features. Better Stack checks on your website every 30 seconds and from multiple locations, so no more false alarms or location-related issues going unnoticed. It supports plenty of integrations, including Datadog, New Relic, Grafana, Prometheus, Splunk On-Call, Zabbix, AWS Cloudwatch, GCP, and Azure.
Each error is documented with a screenshot and a second-by-second timeline.You can use its reporting and analytics capabilities to overview historical uptime, verify SLA, and better understand incidents in context using incident cause synthesis. In case of any accidents, your system will not be overwhelmed thanks to smart incident merging, and on-call calendar & scheduling will ensure an immediate response. Alerts are handled by Slack, MS Teams, Phone calls, SMS, Push notifications, Zapier, and Webhooks.
You can get Better Stack for free with Slack, MS Teams and E-Mail alerts, Incident timelines, and 3-minute check intervals. Your options grow bigger with the subsequent Freelance bundle for $24 with more alerting possibilities, more elaborate Incident management, 30 seconds monitoring period, or Heroku integration. However, if you need more, make sure to check Small Team, Business, or Enterprise bundles.
Main Benefits of Better Stack:
A platform combining Uptime Monitoring, Incident Management, and Status Pages
Possible Integration with Logtail for even broader monitoring capabilities
Competitive pricing and a generous free subscription
Unlimited basic alerts
2. StatusCake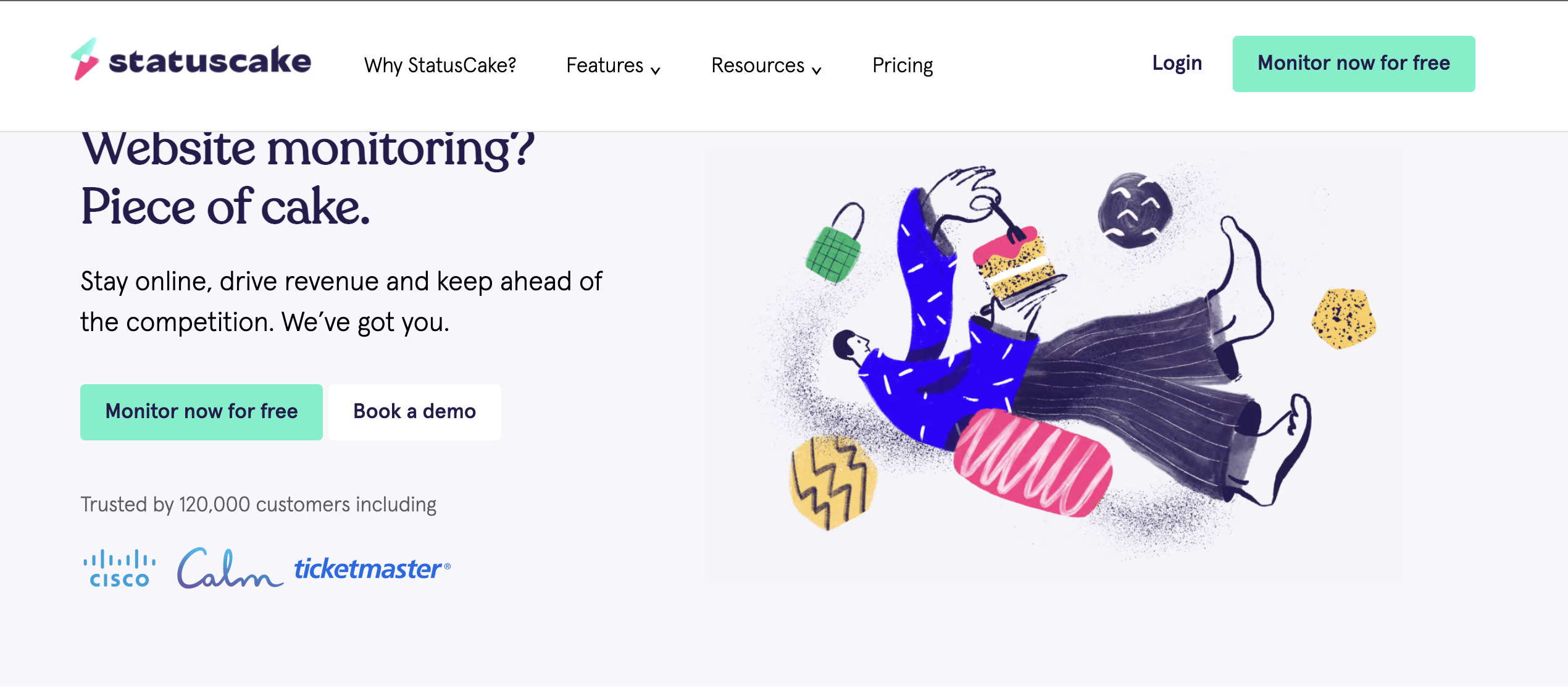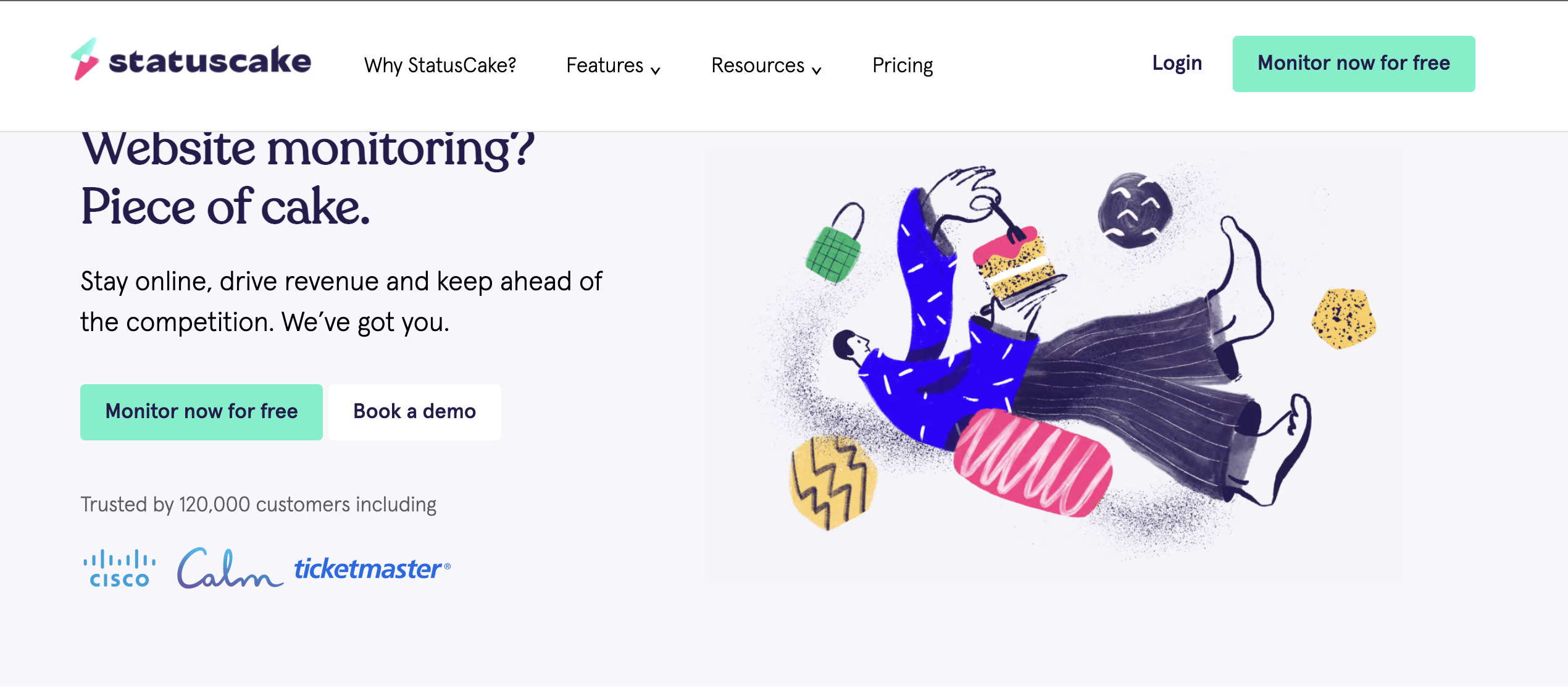 StatusCake offers an
uptime monitoring
platform and public status pages. You can automatically test your website's uptime from 30 countries worldwide every 5 minutes in their free subscription. StatusCake monitors HTTP, HEAD, TCP, DNS, SMTP, SSH, PING, and PUSH. On top of that, you can keep an eye on your Page Speed, Domain, Servers, and SSL certificates.
StatusCake offers historical uptime monitoring reports up to a month old, allowing you to compare your website's uptime results and performance. In case of any issue, you can use one of their 14 integrations, including Datadog, Discord, OpsGenie, Pushover, Slack, and more, to get notified immediately.
StatusCake offers a free subscription package, with 10 monitors and 5 minutes monitoring frequency. Page speed is measured once in 24 hours and your domain once a week. You can always upgrade to higher tiers that offer 1 minute or 30 seconds monitoring frequency from custom locations. Statuscake offers three subscription models - Free, Superior, and Business.,
Main Benefits of StatusCake
30 seconds monitoring frequency in the most expensive package
Page speed monitoring
Historical Uptime Data
3. UptimeRobot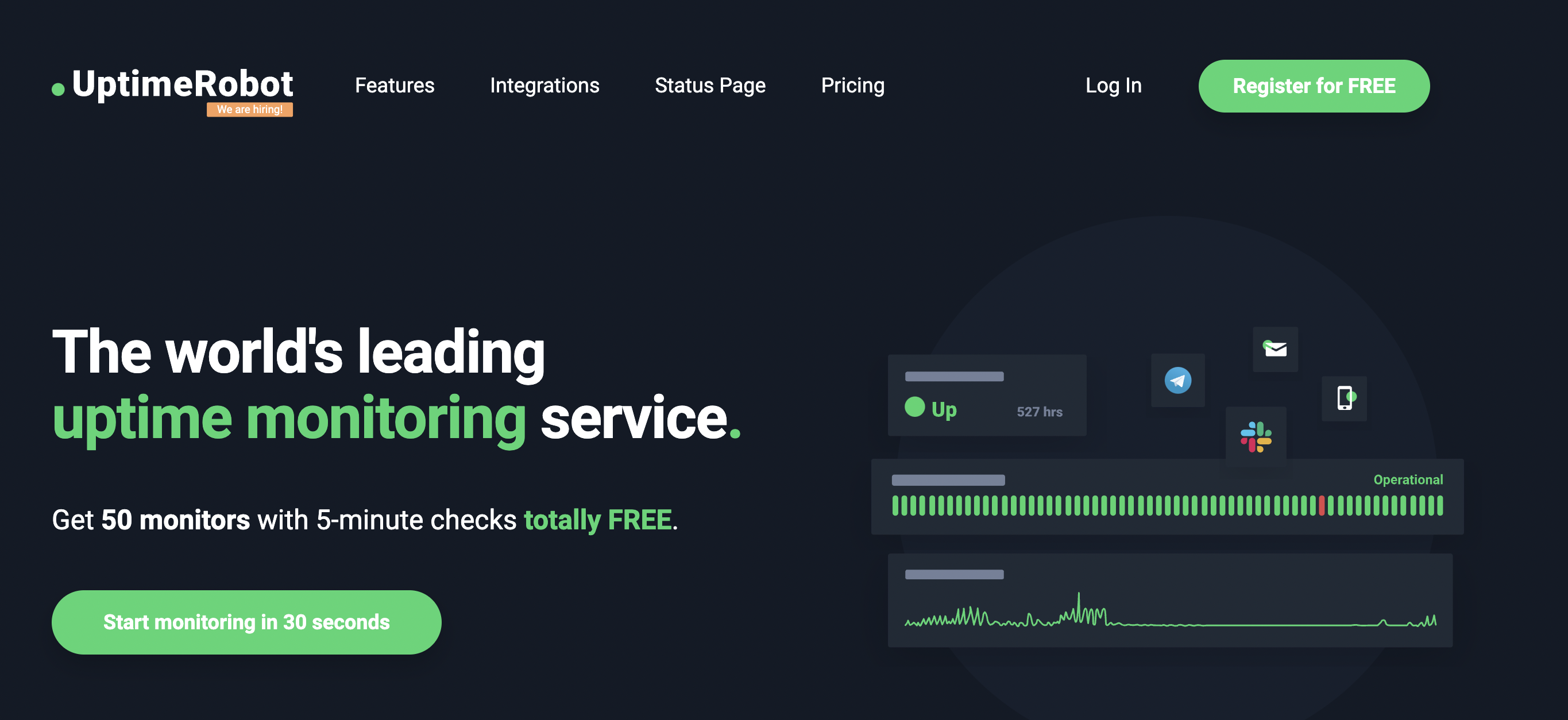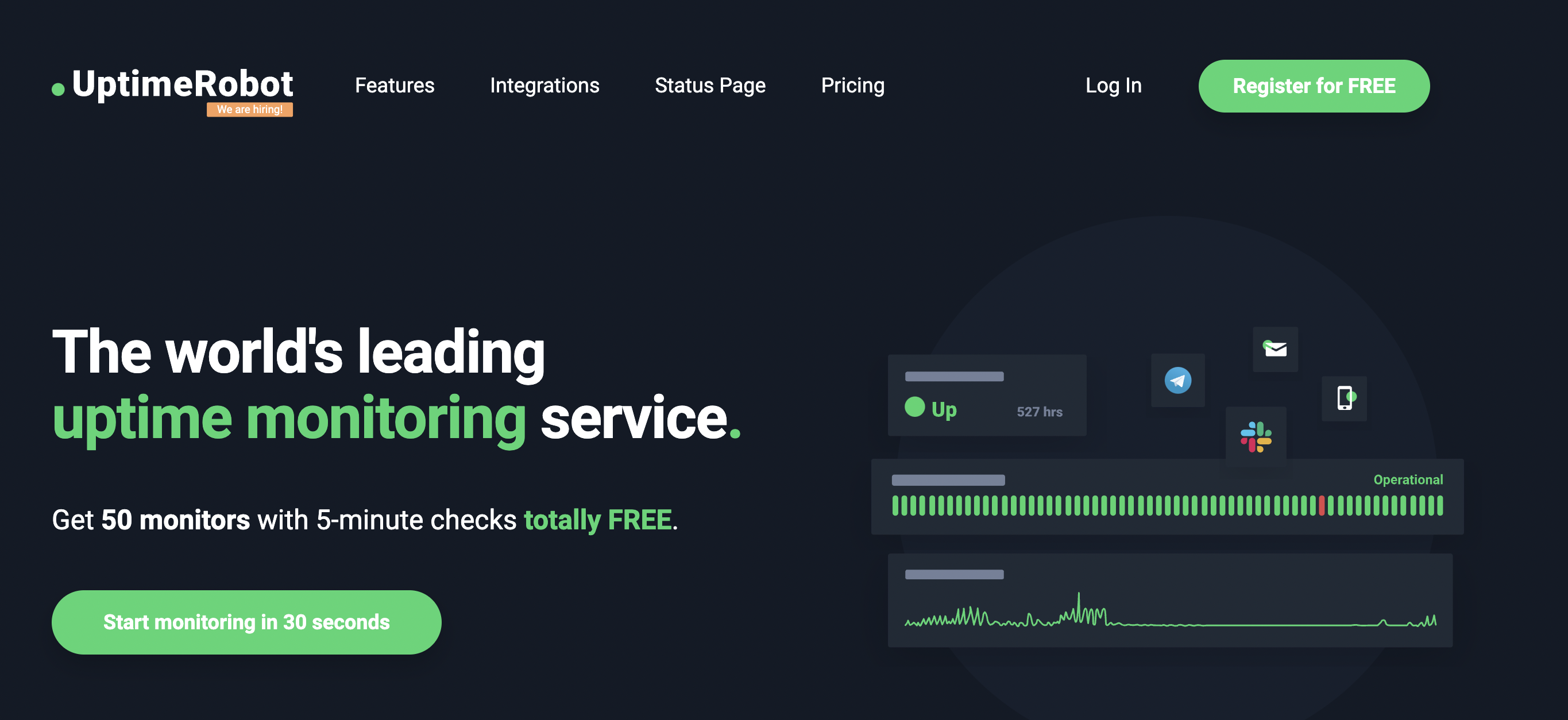 UptimeRobot offers an uptime monitoring solution combining website, SSL, Ping and Port, Cron job, and Keyword Monitoring in one place.
Advanced features include Incident Updates sent by email to Status page subscribers, Semi-Customizable Status Pages, Response times monitor, Maintenance Windows, and Custom HTTP requests.
UptimeRobot allows you to monitor your endpoints from multiple locations as often as every 60 seconds in premium plans and 5 minutes in the free subscription.
UptimeRobot is available for free. However, without SMS or Voice call alerts and only 1 status page monitor, and 3 months log retention. Their PRO plan offers a complex service starting at $8 for 50 monitors; you get 20 SMS or call alerts, SSL certification errors, and background job monitoring. Enterprise plan is requested via a custom quote.
Main Benefits of UptimeRobot:
Keyword monitoring
Maintenance windows
Advanced notification settings
4. Uptrends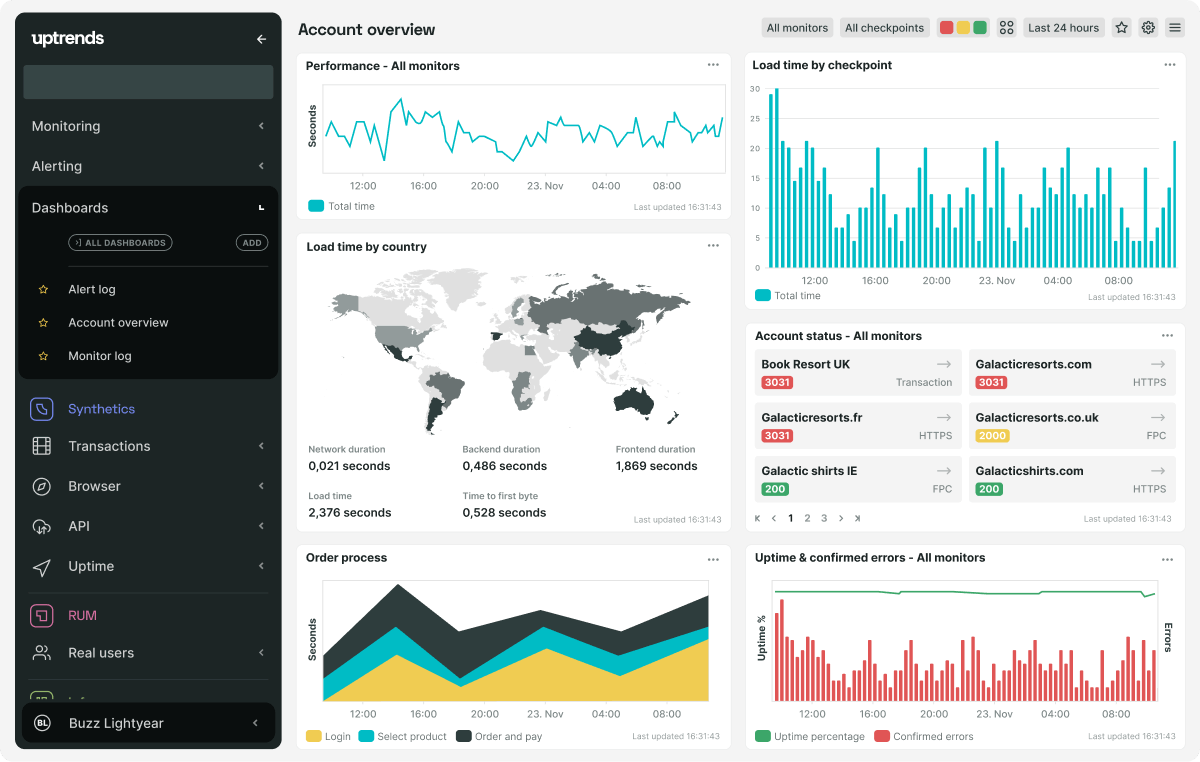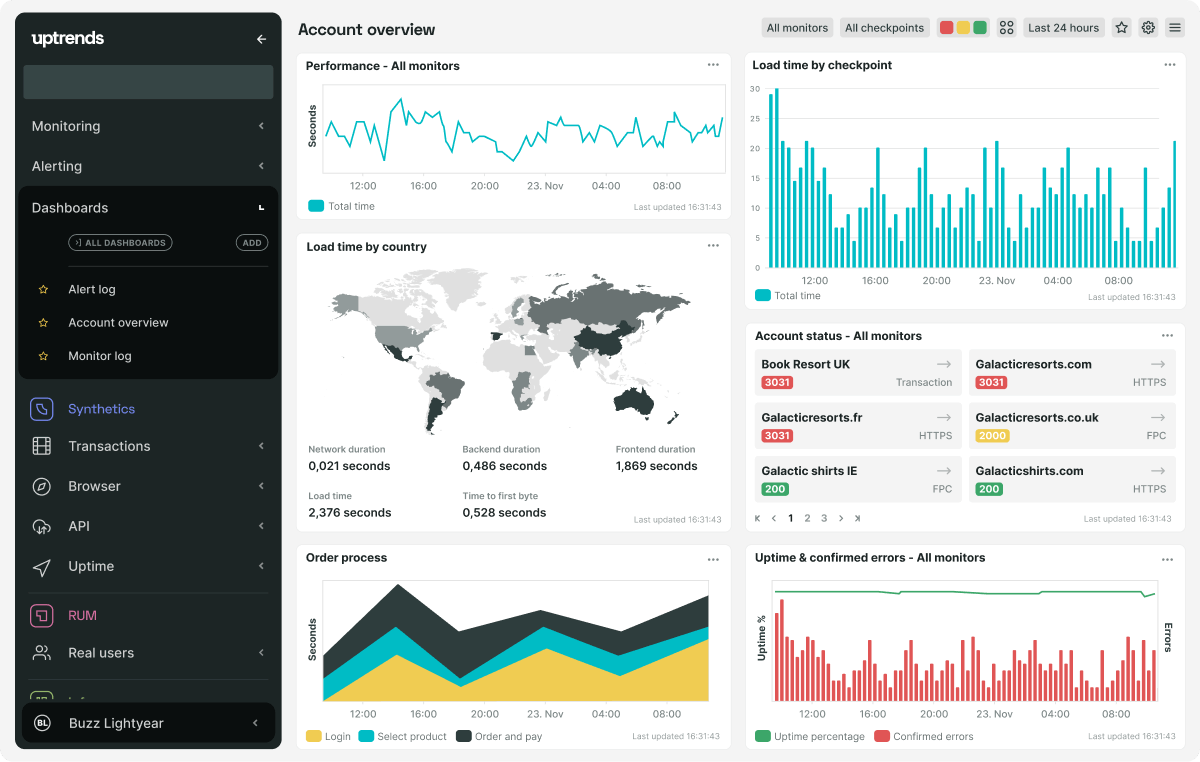 Uptrends is a Synthetics and RUM solution. Their synthetics monitoring allows you to monitor your HTTP(s), web services such as SOAP and REST API, security certificates, DNS, and servers from 229 locations around the globe. Their website performance monitoring features allow you to monitor your website and identify a culprit in case of any speed-related issues. Web Application Monitoring ensures that multi-step transactions work as they are supposed to.
All of the data is visualized in interactive charts, where you can zoom in on specific details or filter by date and time to get a closer look at your data and potentially discover patterns in your performance from a time-related perspective.
Uptrends offers a plethora of free tools, including uptime check, website speed test, traceroute, DNS report, or CDN performance check.
You can try Uptrends for free for 30 days. After that, you have to pick from multiple premium bundles, starting with the Starter pack for $15.47 a month.
Main benefits of Uptrends:
Both Synthetic and RUM solutions are available
More than 200+ checking locations around the globe
5. Uptime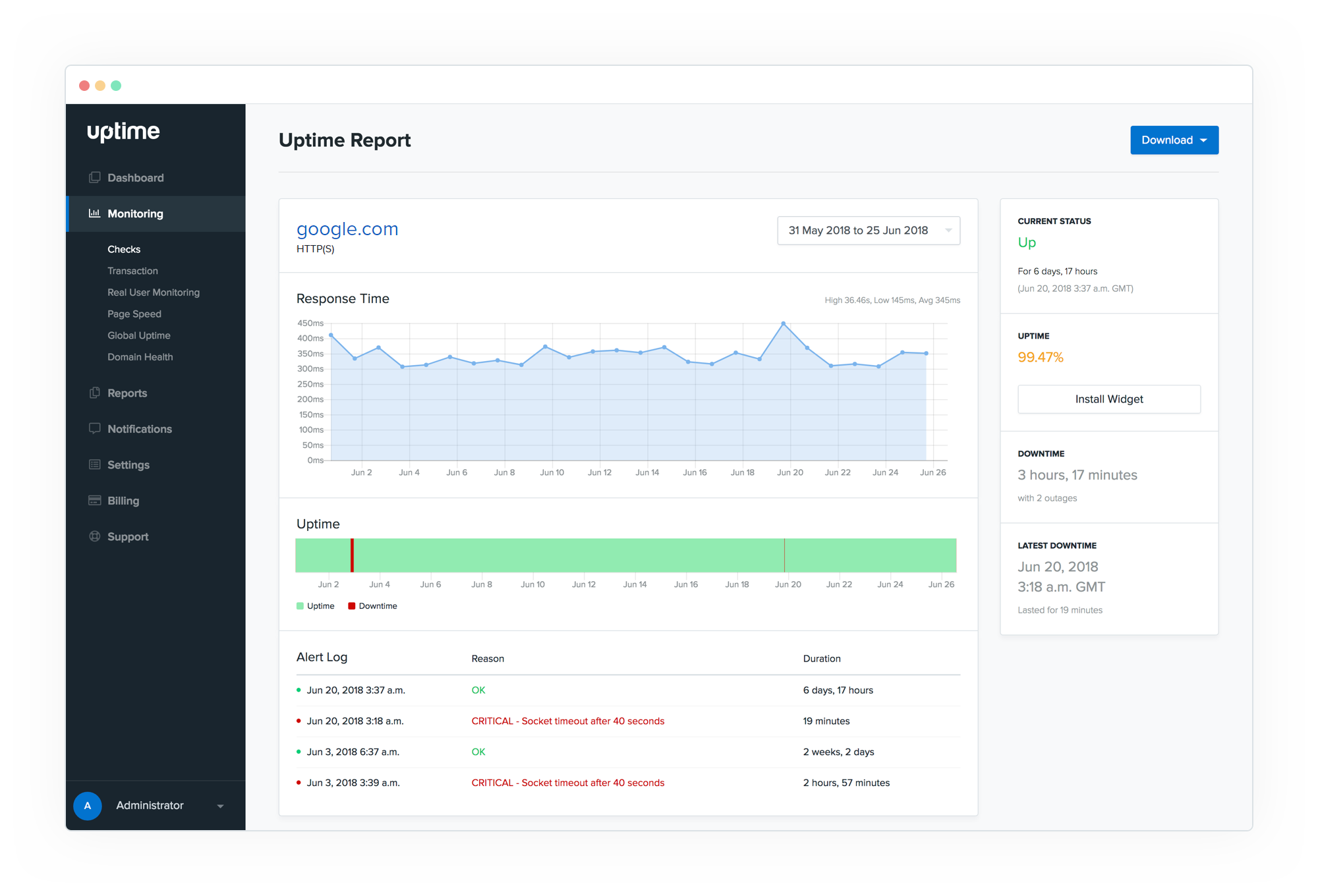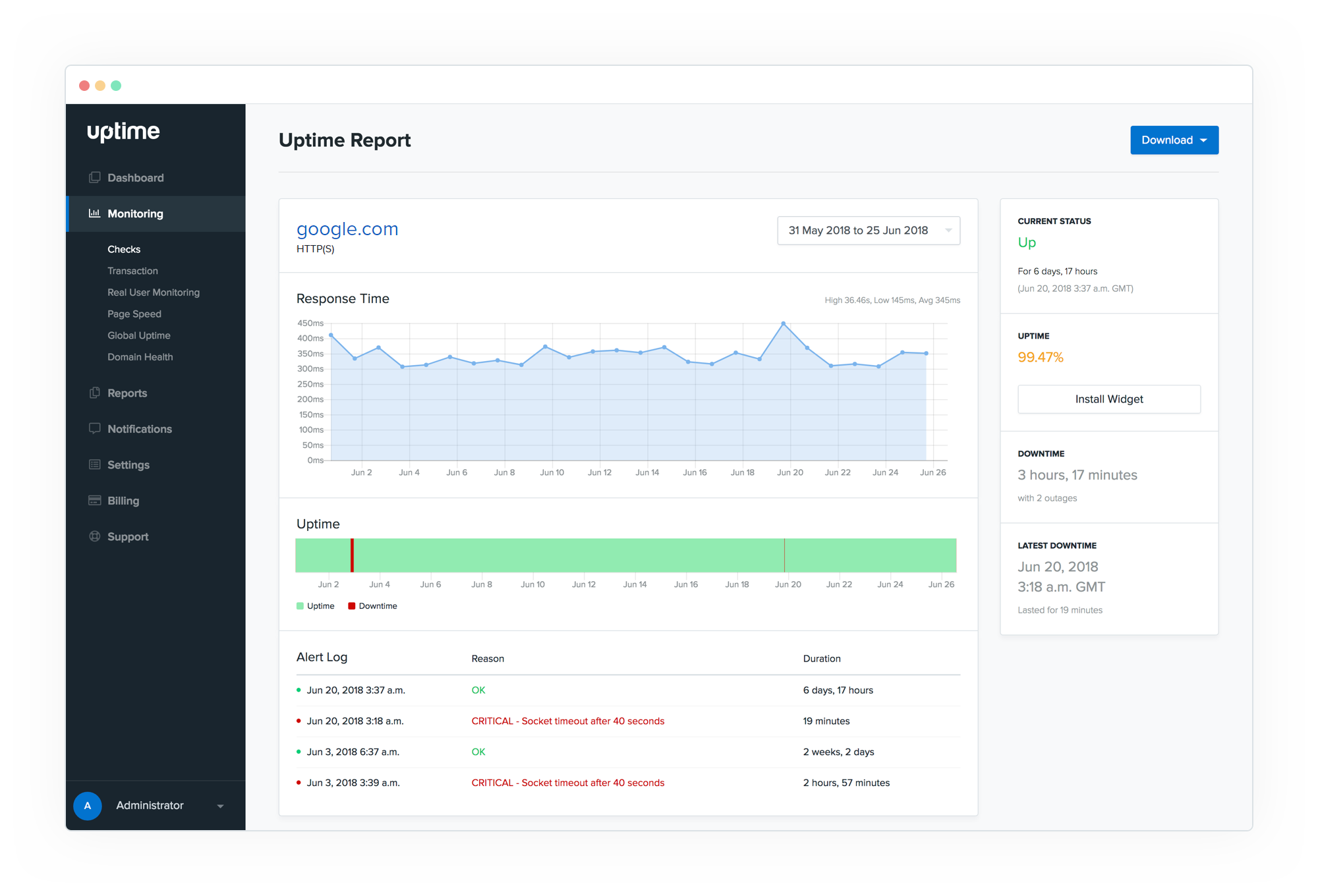 Uptime offers another alternative to Site24x7's solutions for monitoring, alerting, reporting, and status pages. In uptime monitoring, you receive data from bulk management, SSL monitoring, Content Matching, API calls, Virus & malware scanning, Synthetics, and Ping. The checking interval is 60 seconds.
On top of that, Uptime also offers a solution for Real User Monitoring and Reporting. All of the data collected is visualized in custom dashboards. You can assign a custom dashboard based on their role in the team. Automated reporting allows you to send uptime monitoring data via automated links or API on a frequency you decide.
Alerts are handled by multiple platforms, including SMS, phone calls, and third-party integrations. Thanks to uptime's status pages, you can properly communicate your downtime. Status pages can be either public or private and are fully customizable.
Uptime offers reliable monitoring and reasonable pricing. Starting with the Basic subscription at $16 with 10 total checks, 1 transaction check limit, 1 RUM limit, 2 API checks, and Custom checks, all monitored from the US. If you are looking for more, you can always take a look at their Superior, Business, or Enterprise subscriptions.
Main benefits of Uptime:
Real User Monitoring
A lot of integrations are available
Status pages
6. LogicMonitor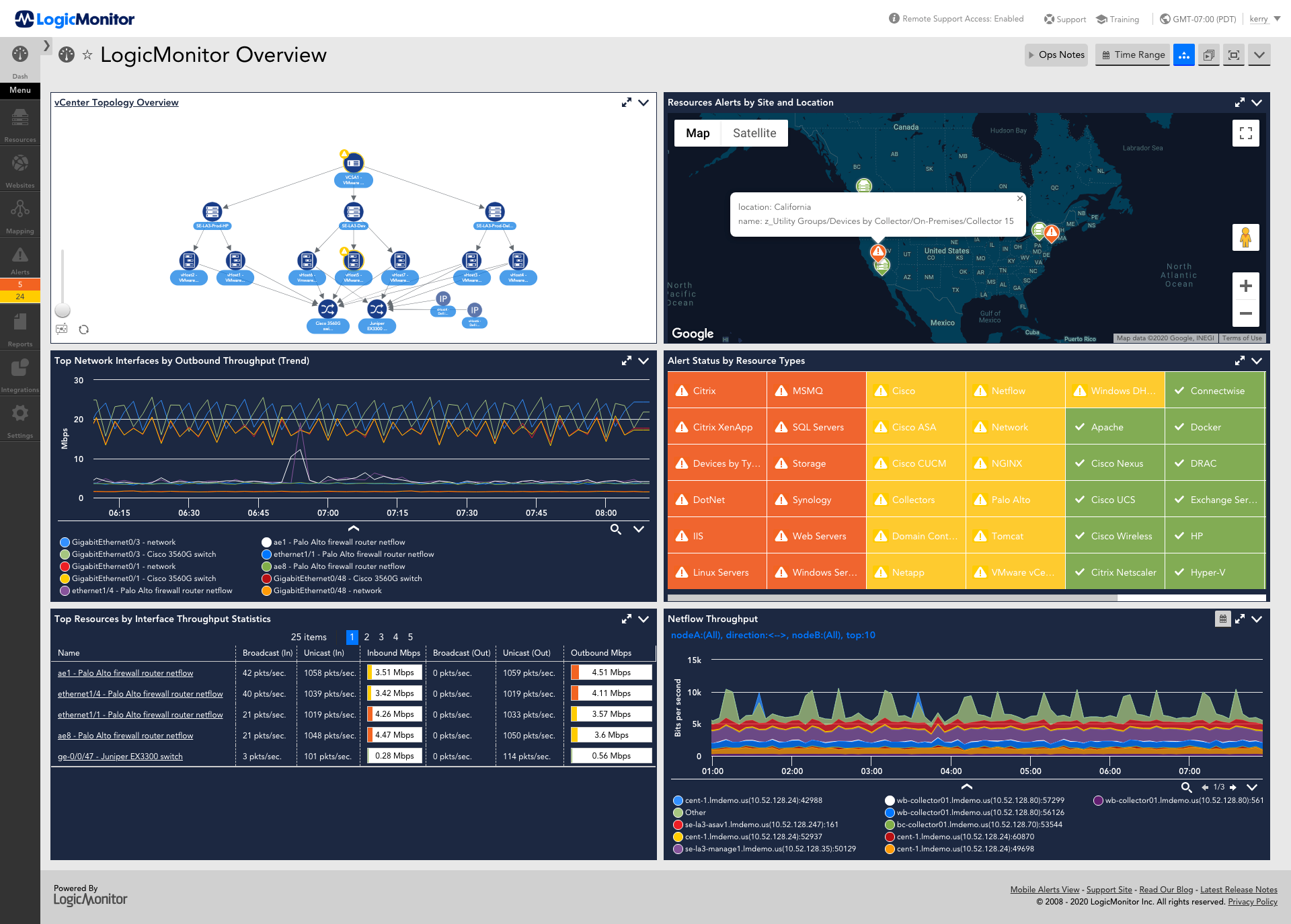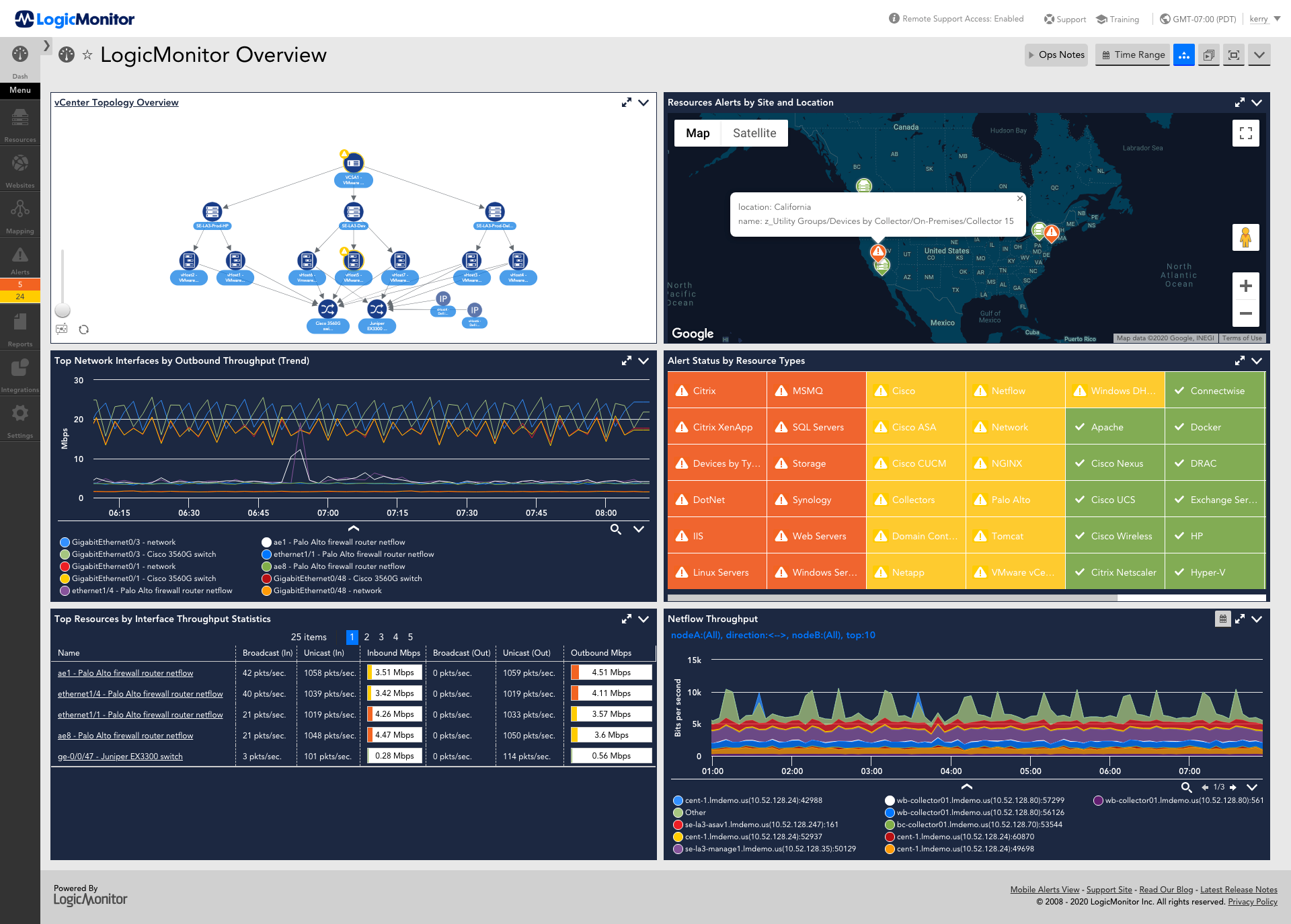 LogicMonitor offers an alternative to Site24x7's log, cloud, and server monitoring capabilities. LogicMonitor offers log intelligence at scale for hybrid and multi-cloud environments. Your data are centralized, correlated, and contextualized, with an emphasis on data hygiene and internal compliance. LogicMonitor allows you to centralize your monitoring, correlate relevant logs with metrics in a single platform.
It supports more than 2000 integrations, modules, and pre-built templates for on-premises and cloud infrastructures. LogicMonitor is truly user-friendly since it offers query options for all experience levels. It also allows you to access raw data up to 12 months old. Metrics, logs, and log anomalies are all associated with their corresponding devices, cloud instances, and containers.
LogicMonitor manipulates your data with machine learning tools, which decreases troubleshooting times and allows better workflow by sparing your engineers of unproductive tasks. Anomalies are automatically detected and contextualized for easier root cause analysis. LogicMonitor offers Full IT operations lifecycle support via integrations like ServiceNow, CMDB, and Ansible.
One of the biggest disadvantages is the need to communicate your subscription with a sales team. You need to get a custom quote.
Main Benefits of LogicMonitor
Heavy usage of automation and machine learning methods
Suitable of all experience
7. Checkly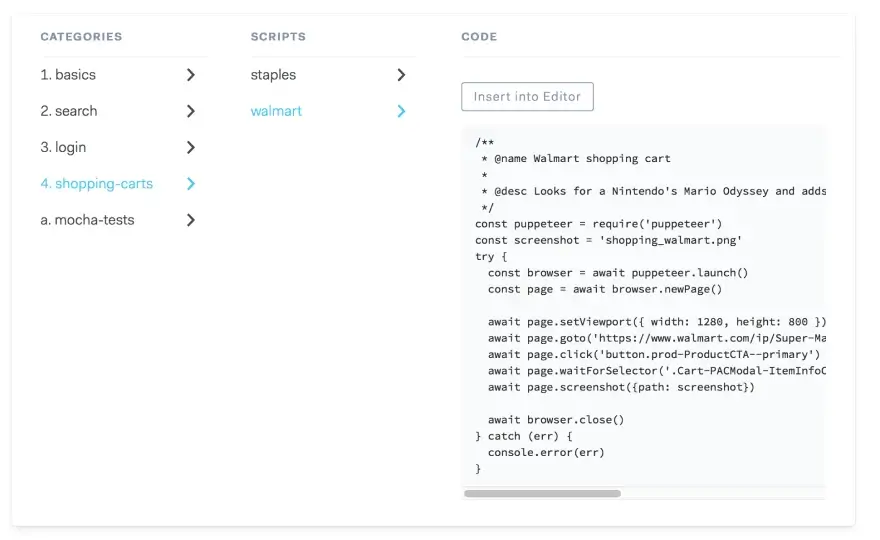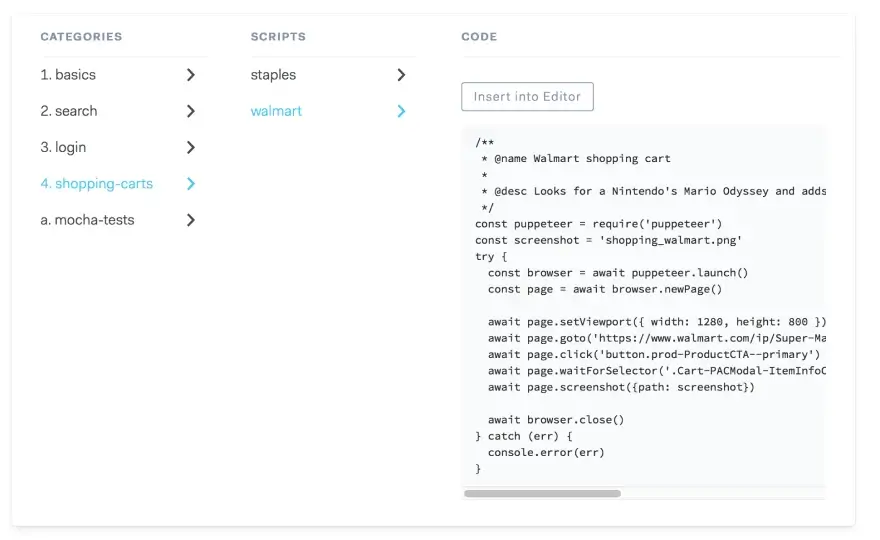 Checkly is an end-to-end and API monitoring platform. Checkly uses Puppeteer & Playwright frameworks to accurately simulate interactions with a Chrome browser. Checkly's browser checks help you validate and measure the performance of your web app and provide you with valuable data useful for either debugging or optimization.
All of their checks run in real Chrome browsers, within a sealed-off sandbox, which ensures extra security. You can run custom Javascript before and after each API check. Using Checkly's cUrl and Swagger API importers you can create API checks with just a couple of clicks. Your web is monitored every 60 seconds, and with CI/CD integration and optional coding, you can tailor your Checkly Browser monitoring to your needs.
In case of any error, checkly alerts you via multiple platforms, including e-mail, SMS, Webhooks, Slack, MS Teams, Discord, Pagerduty, and more.
You can get Checkly for free, with 50k API check runs per month, 5k browser check runs, and basic features. Paid subscription operates in the Pay as you go mode, with $1.20 per 10K API check runs and $3.60 for 1k browser check runs.
Main benefits of Checkly:
Pricing
Open Source tools such as Headless Recorder
8. Sematext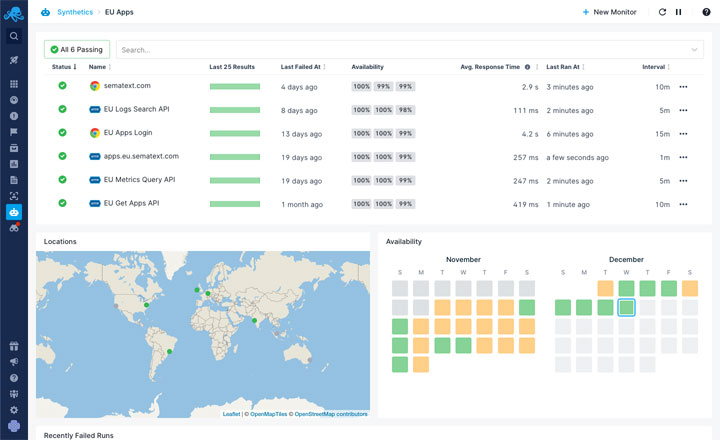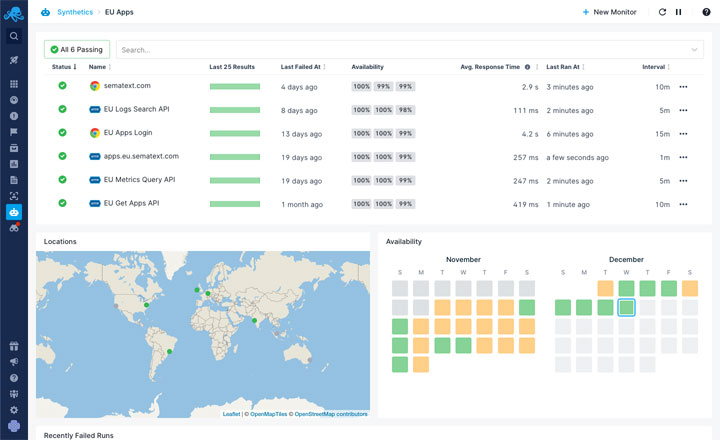 Sematext offers a full-stack monitoring alternative to Site24x7. Using Sematext Synthetics, you can monitor your Uptime and API from multiple locations, from private networks, and behind firewalls. You can track network timings across all layers, including DNS, TCP, SSL, and HTTP. Using customized requests, you can monitor your APIs, and in case of any error, get notified on your favorite platform, including Slack, Email, Webhooks, and more.
Synthetics also lets you keep an eye on your website's performance. You can get metrics concerning page load performance, core web vitals, third-party software performance and check its reliability by verifying SLAs. All of the tests take place in real Google Chrome Browser.
Sematext Synthetics operates in two modes. Firstly, the Pay-As-You-Go model with $2 per HTTP monitor and $7 per Browser monitor with a minimum of $5 subscription. Or you can decide to go for a classic bundle, starting at $29 a month with Starter. Starter includes 40 HTTP and 5 Browser monitors maximum and 30 days data retention. However, you can always rank up with the Pro subscription for $99 a month.
Main Benefits of Sematext:
Core Web Vitals monitoring
Page speed monitoring
9. Pingdom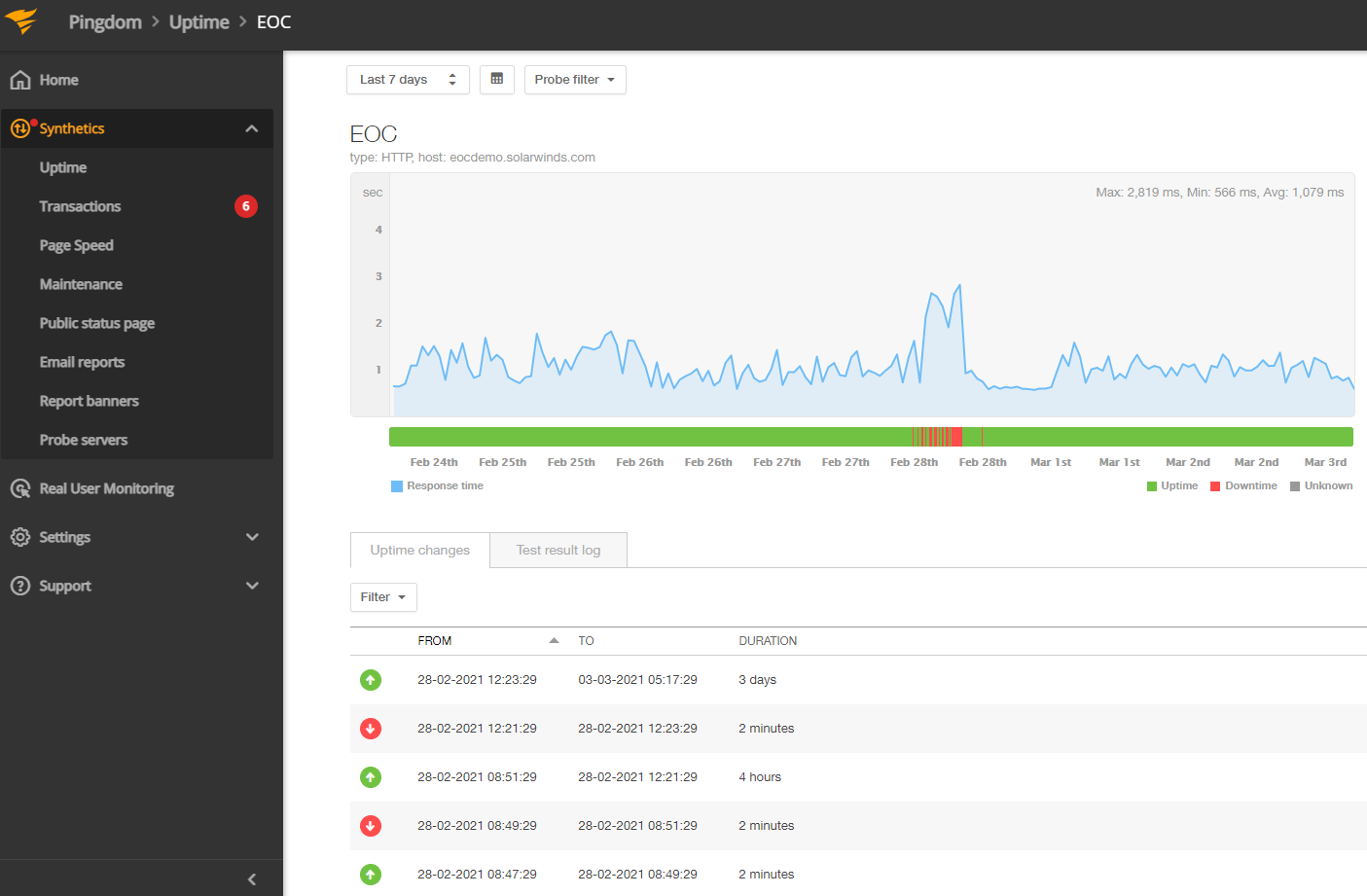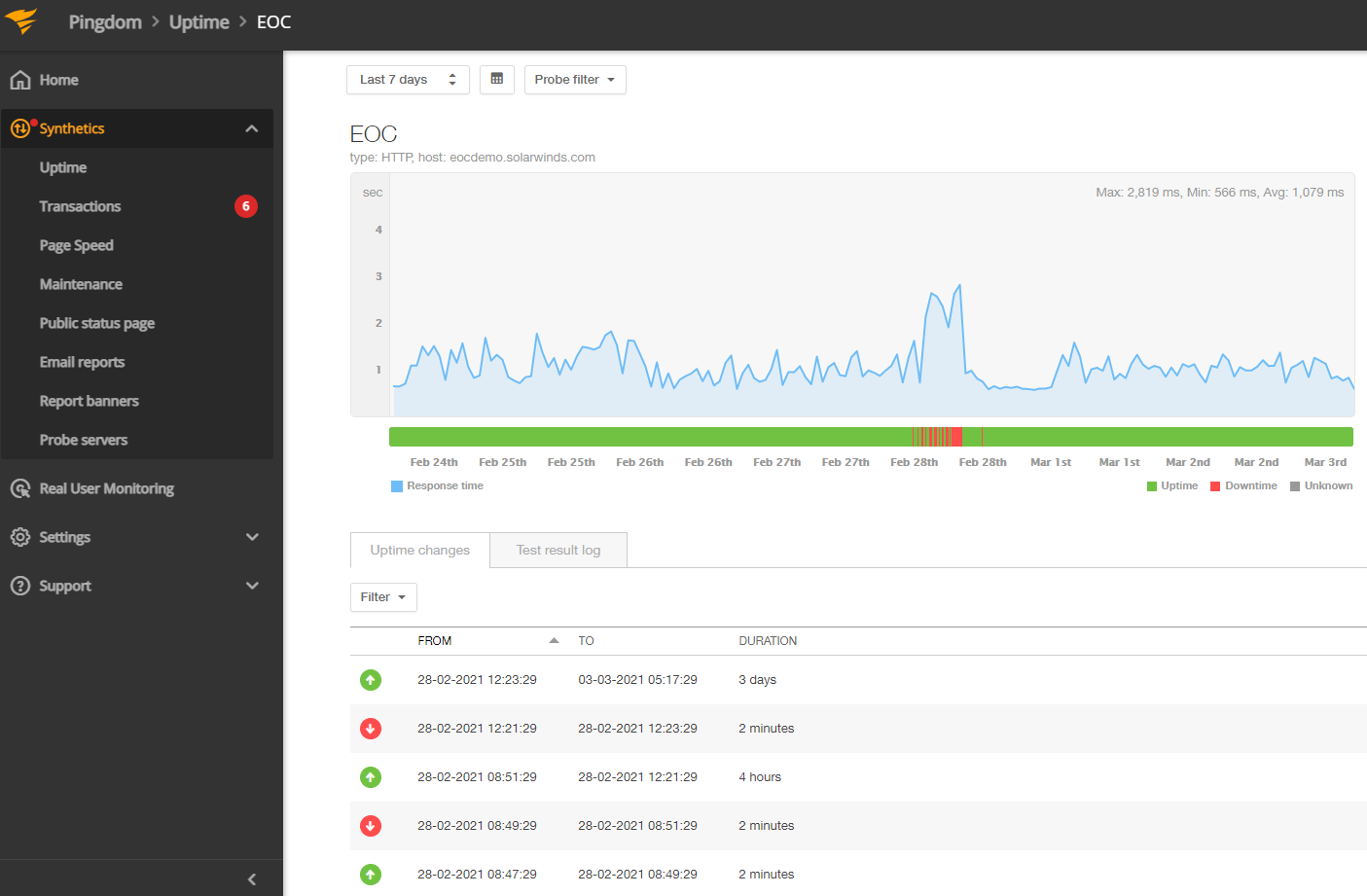 Pingdom is a Site24x7 alternative coming from Solarwinds. It offers Synthetic and Real User Monitoring Solutions as two stand-alone bundles. Using Synthetic Monitoring, you can monitor Uptime, Page Speed, Transaction, and APs. On top of that, you can create custom Pingdom status pages that offer a certain level of customizability.
Pingdom monitors your website from over 100 locations around the globe, and in case of any outages, you will get notified via SMS or email. Each potential error is double-checked to prevent any false alarms.
Pingdom lets you easily identify and fix issues related to loading times. Granular web page load test allows you to monitor the performance of every single element. You can also overview historical data and evaluate the performance of your page over time, which can help you to spot performance trends and issues. Broken multi-step transactions like login, search, or checkout are monitored using probe servers as often as every 5 minutes every day.
You can get Pingdom Synthetic Monitoring for $10 a month with 10 Uptime monitors, 1 Advanced monitor, Transaction monitoring, Page speed monitoring, and Uptime monitoring. You can edit your bundle with the number of monitors all the way to 30 000 Uptime monitors, for $18 000 a month.
Main Benefits of Pingdom:
Real User Monitoring
Infrastructure and Application Monitoring
Log Management and Analytics
10. Updown.io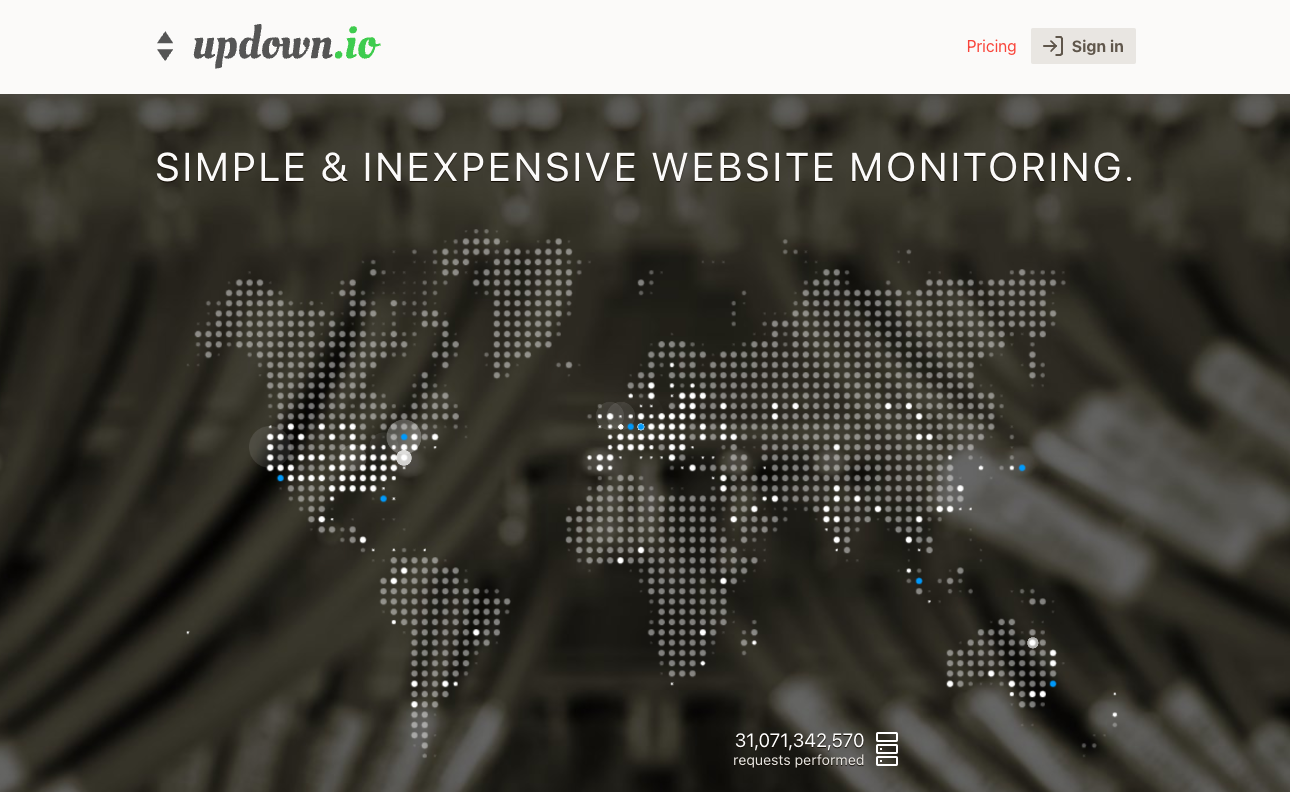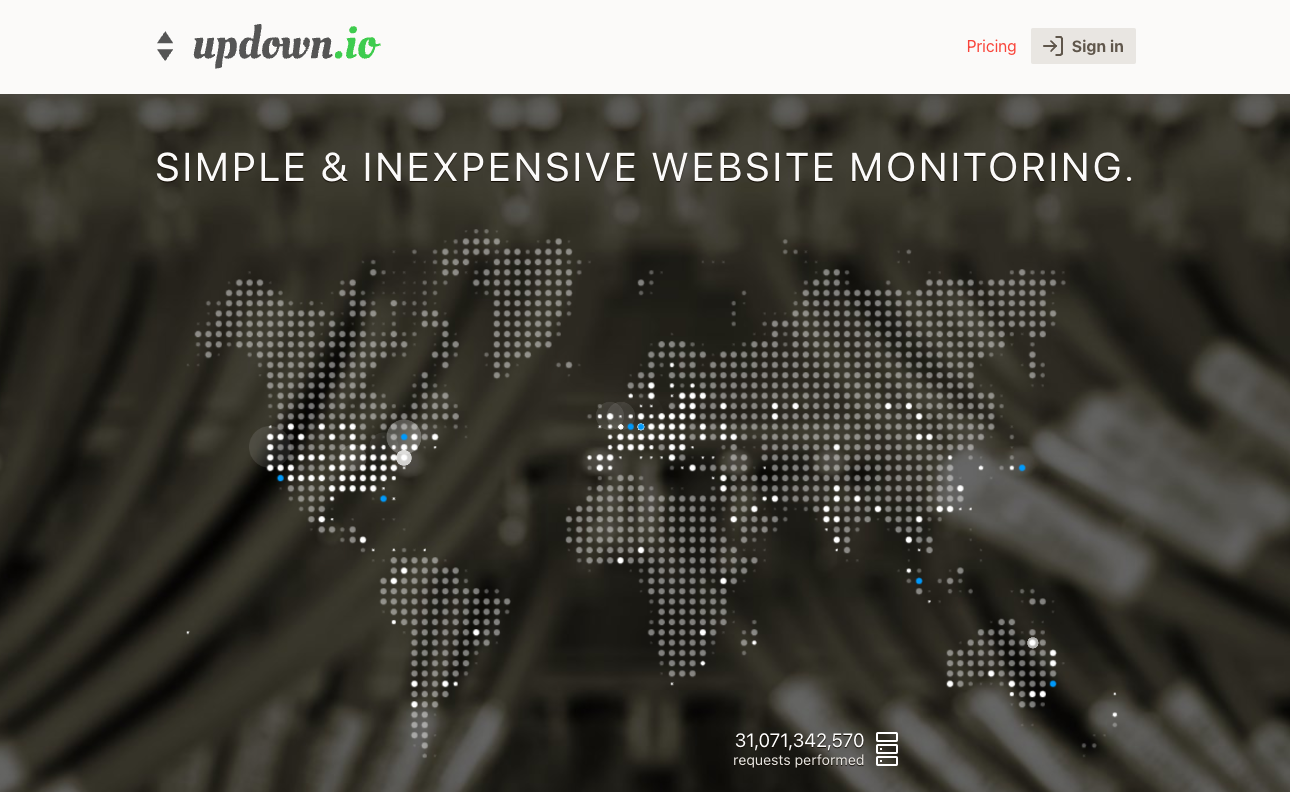 Updown is a project of a french coder, offering a simple yet efficient alternative to Site24x7 website monitoring. You can monitor your website from 8 monitoring nodes, which are located in North America, Europe, East Asia, and Australia. You can monitor your website as often as every 15 seconds. You can also monitor your SSL certificates, integrate Updown with REST and WebHook APIs and monitor the presence of a string instead of the regular HTTP status.
Every error is double-checked. In case of any issue, Updown can alert you on multiple channels, including SMS, Webhook, Zapier, Telegram, Statuspage, and Slack. You can also get a hosted Status Page providing single or multi-site availability and performance reports.
Updown is trying to keep it simple while providing you with professional service. It operates in a pay-as-you-go model, and the pricing can be calculated directly on its landing page. Meaning that you get a comprehensive test of 5 websites every 1 minute for approximately $3/month. Reducing the checking period to 15 seconds would cost you an additional $8.
Main Benefits of Updown.io:
dual-stack monitoring (IPv4/6) for the same price
Possibility of paying in cryptocurrencies
Text search matching the presence of as string, instead of the HTTP status
Conclusion
In this article, we introduced Site24x7, its basic functions strengths, and weaknesses. Then we tried to bring you a list of alternatives on the market in 2023. By now, it is certain that having a good Monitoring solution is a must, so the question is not when should you start, but which tool should you use.
Want to explore more tools?
Looking for a tool to cater to a very specific use-case? Here are a few lists with monitoring tools to check out:
Make your mark
Join the writer's program
Are you a developer and love writing and sharing your knowledge with the world? Join our guest writing program and get paid for writing amazing technical guides. We'll get them to the right readers that will appreciate them.
Write for us
Writer of the month
Woo Jia Hao
Woo Jia Hao is a software developer from Singapore. He is an avid learner who...