Guides
7 Great Status Page Examples to Learn From
7 Great Status Page Examples to Learn From
Having a status page is now a must for any online business.
With so many status pages out there it's always good to explore how others are solving the downtime communication question so you don't have to reinvent the wheel.
Since a status page has plenty of small details that can make a huge difference for its users we will have a look at 7 different status pages that are doing something different. Let's have a look at the selection.
🏄‍♂️ Want to get status.yourdomain.com?
Go to Better Uptime and get a custom domain status page for free in 2 minutes.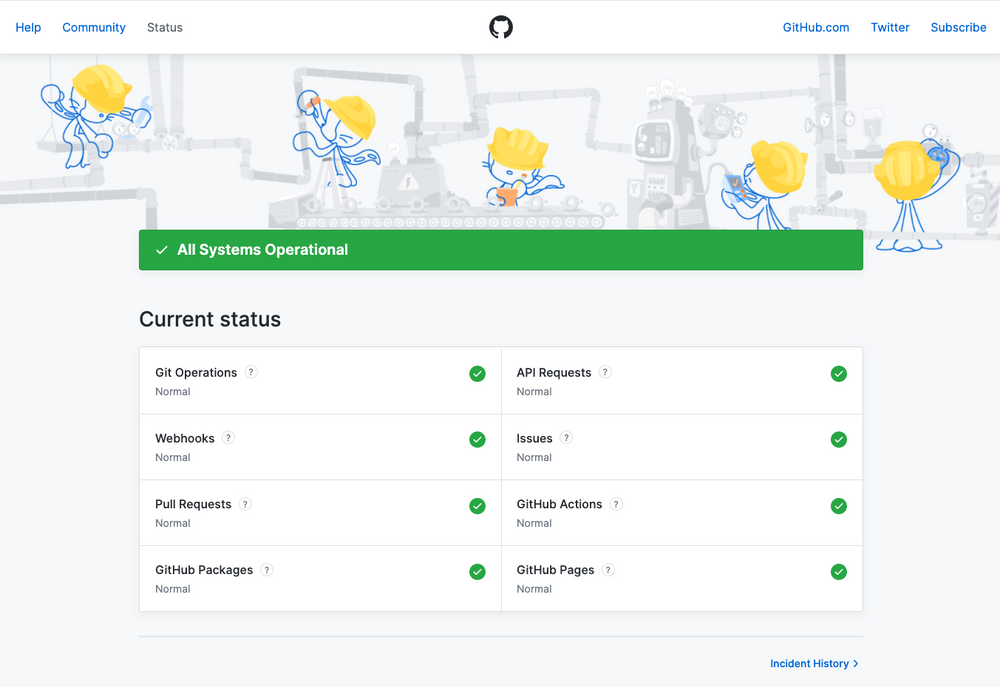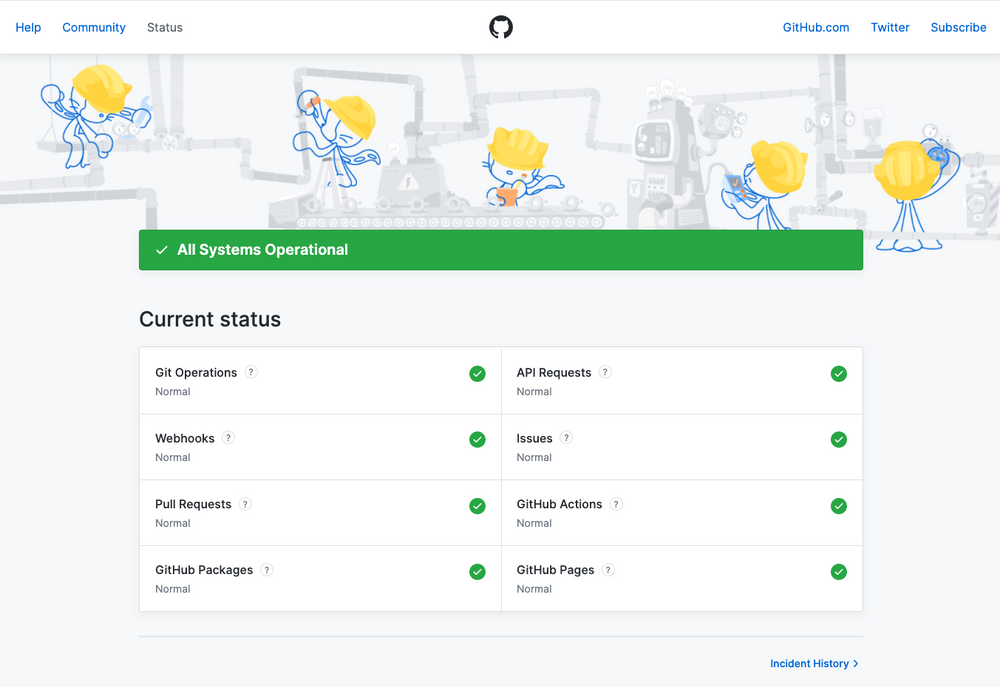 What's great about it: GitHub's status page embraces minimalistic design, while also showing all of the systems in one and easy-to-understand dashboard. The one thing that distinguishes this page from others is the playful illustration of Octocats.
It's true that status pages are made to communicate vital incident updates and someone might suggest that playful illustrations have nothing to do with it. However, since the page is easy no navigate the illustrations don't pose any UX obstacle.
It's great to see that even big companies like GitHub still show that they can be playful and pleasantly surprise their users. The only downside of this status page is the incident history. It's very limited when it comes to browsing historical records since it doesn't show any charts or easy-to-navigate timeframe selections.
Main takeaway from GitHub's status page: Status pages can be well designed and fun, while fulfilling all of their technical duties.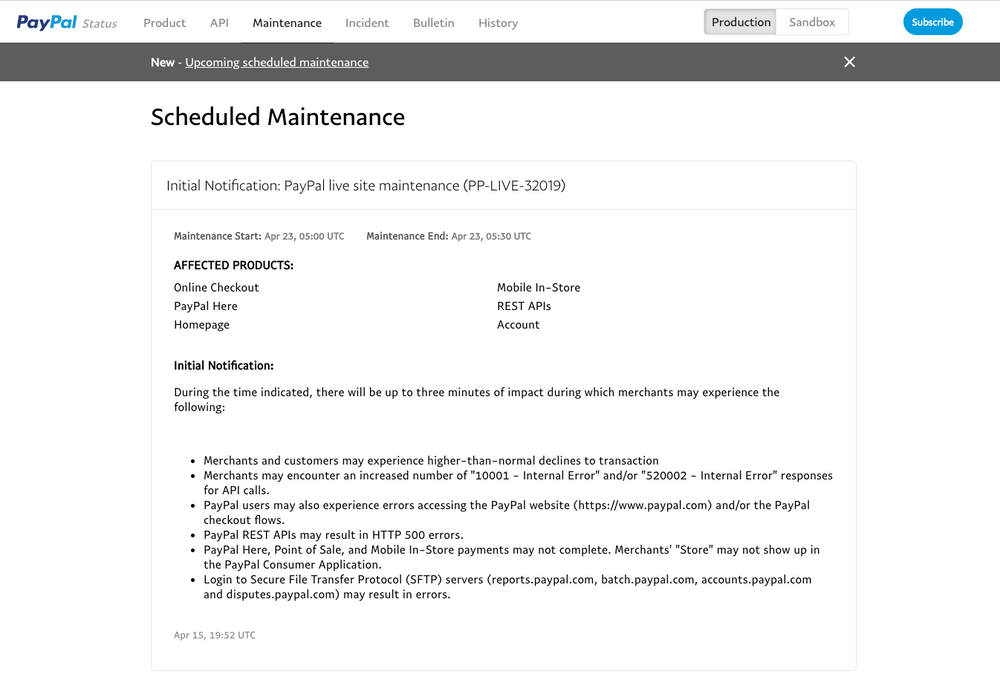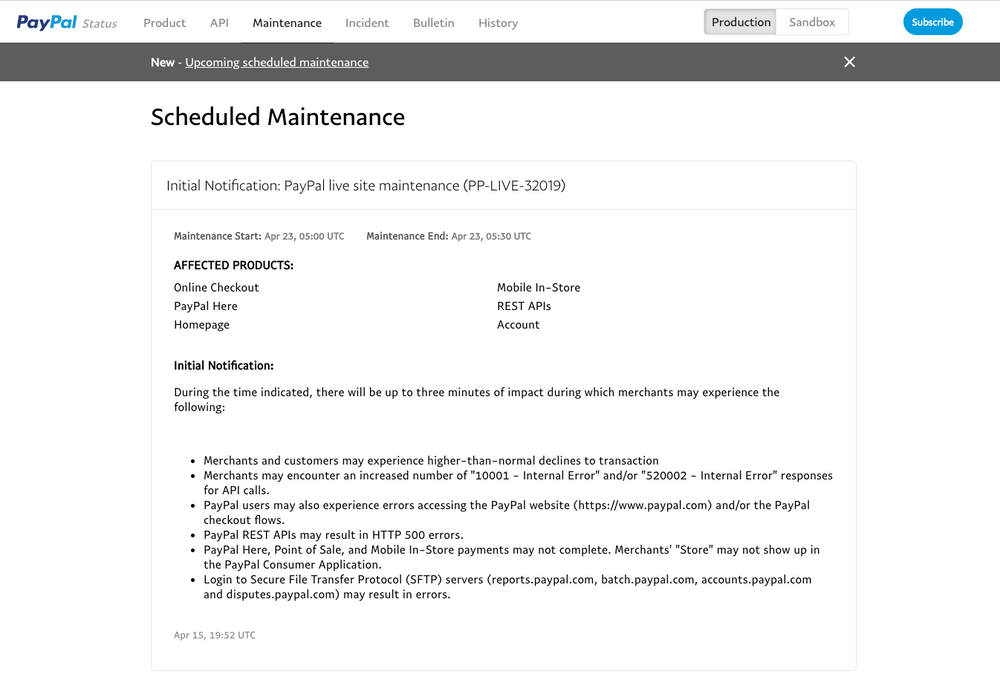 What's great about it: Paypal has several interesting features that the majority of other status pages don't employ. Number one is a guided page tour. This is a controversial feature. It can be useful to show all of the functionality to users visiting for the first time, but it can also be an annoying obstacle to anyone who wants's to quickly figure out what is going on with the PayPal service. Because of the importance of PayPal's service to many businesses and individuals, anything that prevents users to get to the vital information about the system status is hard to justify.
The second thing that PayPal's status page has is a detailed scheduled maintenance report. This is great because it gives a specific explanation of what users can expect during maintenance.
The third feature that is very uncommon among other comparable status pages is the option to switch between production and sandbox status page. This can simplify the process for PayPal's developers and serve as a showcase of transparency to the public as well.
Main takeaway from PayPal's status page: Detailed scheduled maintenance reports can prevent flood of support tickets.
What's great about it: Heroku's status page is extremely simple to navigate. It is stripped of any non-vital parts and has only the most important features. It might be a missed opportunity for Heroku to communicate with their users in a fun and enchanting way like the previously mentioned GitHub does.
Heroku shows that minimalism can be a way and that simple design can deliver all the necessary functionality of a status page, without the need for illustrations, tables, or charts.
Main takeaway from Heroku's status page: Minimalism can be the way.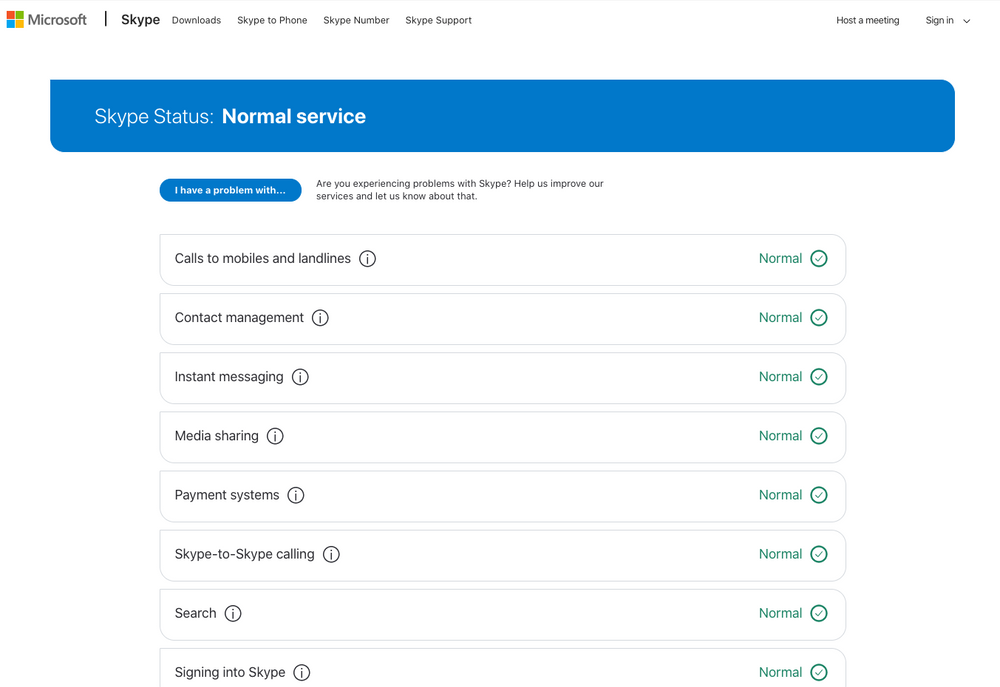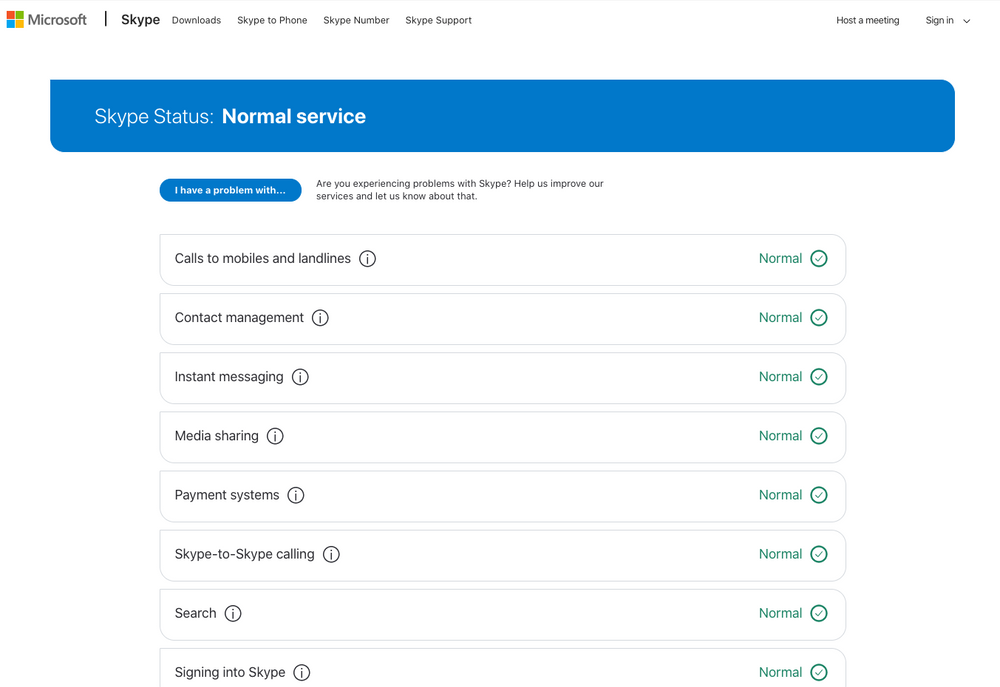 What's great about it: It's obvious from the first look that Skype's status page is quite an ordinary one. But compared to other status pages of major companies it has something that is rather uncommon: a direct feedback button.
The I have a problem with submission form is a very simple way of getting valuable information from users. It may even lead to finding out performance issues, that might have been missed by the monitoring service.
When an appropriate logic and most importantly feedback threshold is created on the backend of this form a nice way of user-submitted alerting can be employed to support any monitoring already in place.
Of course in other aspects, this status page is rather simplistic and could benefit from added functionality like historical incidents or subscription options.
Main takeaway from Skypes's status page: Embrace user feedback as much as possible.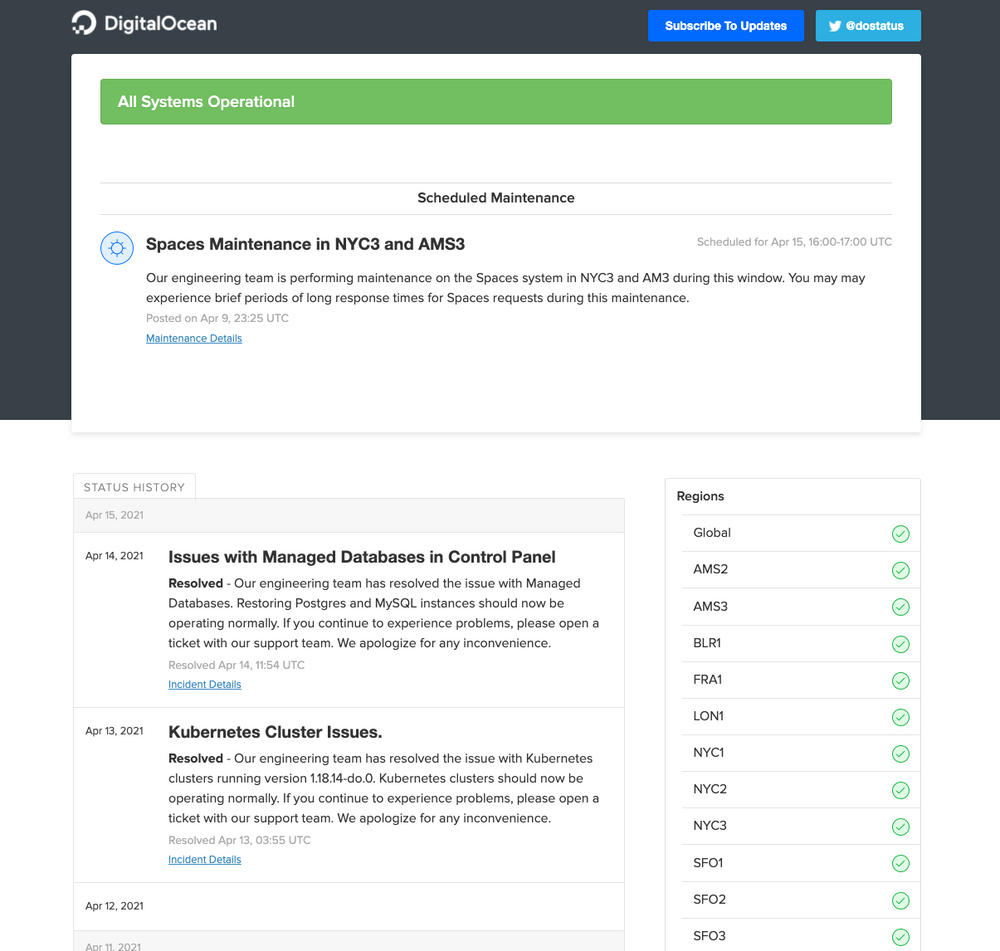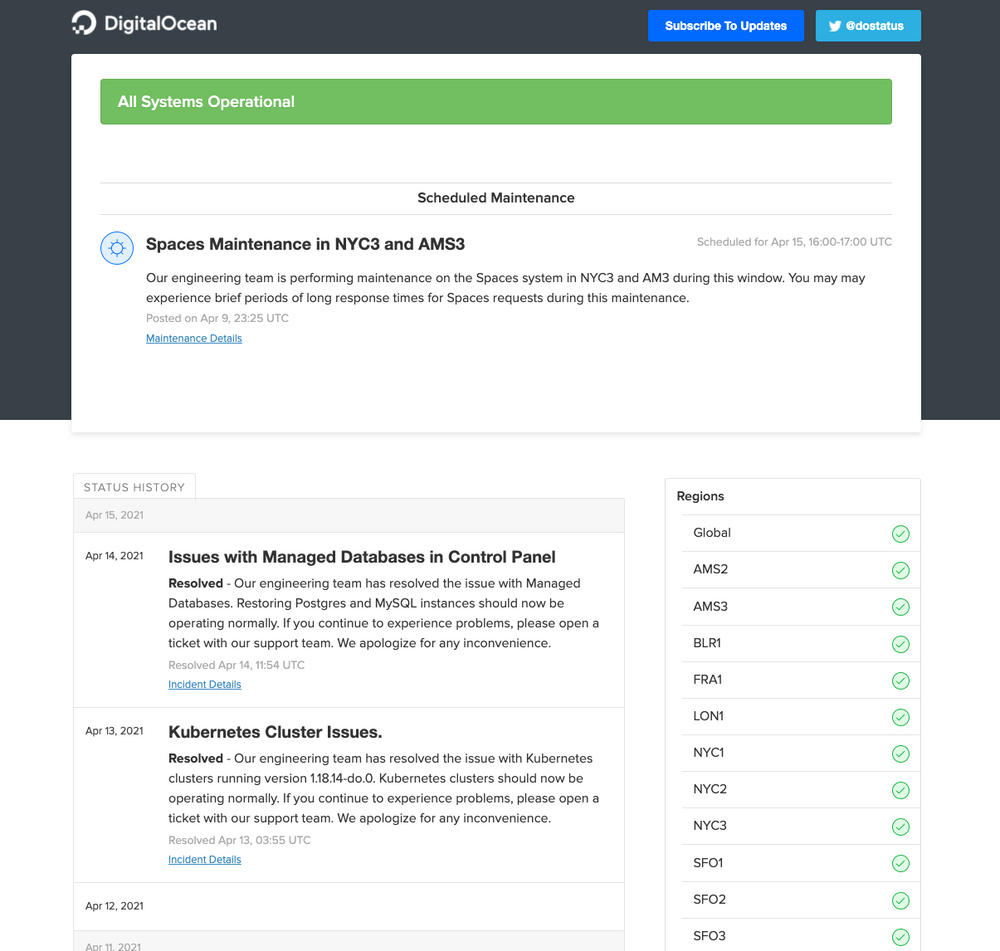 What's great about it: Digital Ocean is a cloud computing platform provider that offers servers across multiple locations. Many of their users looking at this status page are looking for a status of a specific region only. To accommodate for this, Digital Ocean has a nice overview of system availability across multiple regions.
Apart from different regions, they also offer a wide variety of services, that go beyond the traditional homepage, dashboard and API. Similar to regions, those services are again neatly shown in an easy-to-understand table.
An interesting choice is also the fact that historical uptime of different regions and services is not easily available. It's probably hidden to prevent any downtime charts, which could deter potential customers, for which uptime guarantee is one of the main things they look at when choosing a hosting provider.
Main takeaway from Digital ocean's status page: Customize for your specific use case.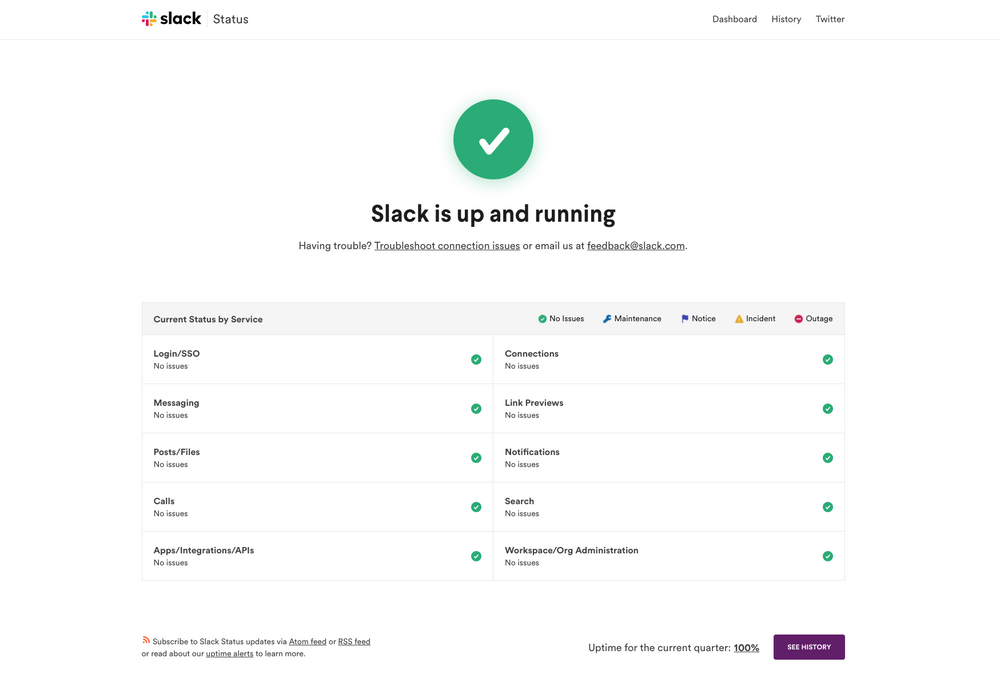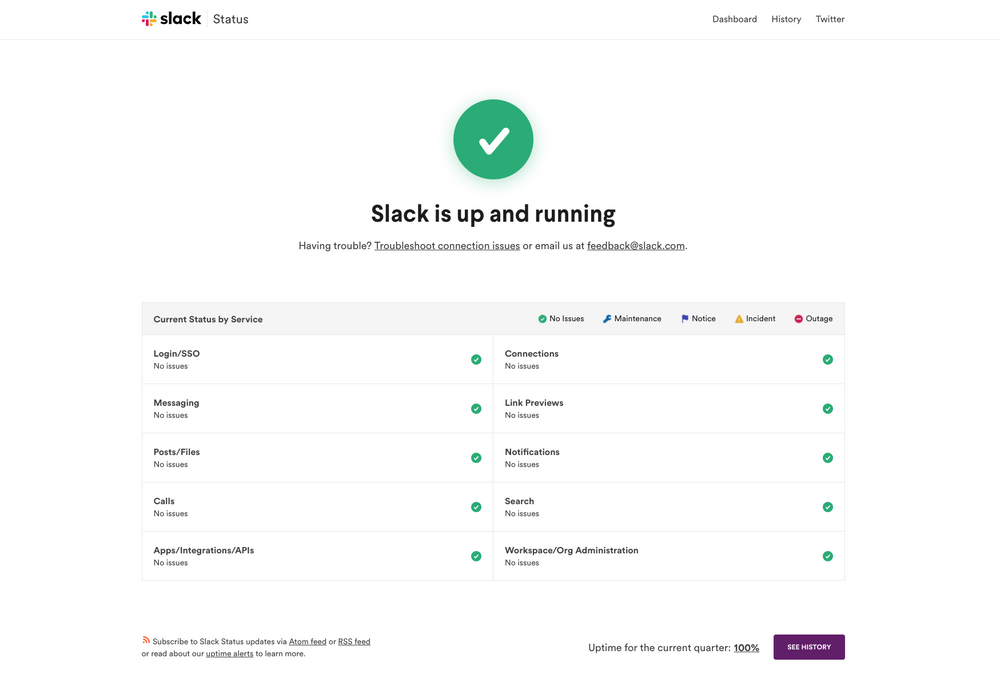 What's great about it: When looking at Slack's status page there is an obvious difference compared to the previous pages right away. It's the prominent place of the knowledge base/FAQ page link and the feedback email address.
For Slack, this makes sense because it is used by everyone across the organization, from support teams to marketing and development. This means that compared to the other status pages, which are mainly for developers, this one will be often viewed by less technical users. Considering this the placement of the troubleshooting and direct communication link is actually very clever.
It's important to note that since Slack is often the main medium of communication for teams. Any downtime causes everyone outside the office to be left to phone or email. Because of that, putting links to troubleshoot problems is actually very sensible.
Main takeaway from Slack's status page: The status page should reflect the technical skills of your users.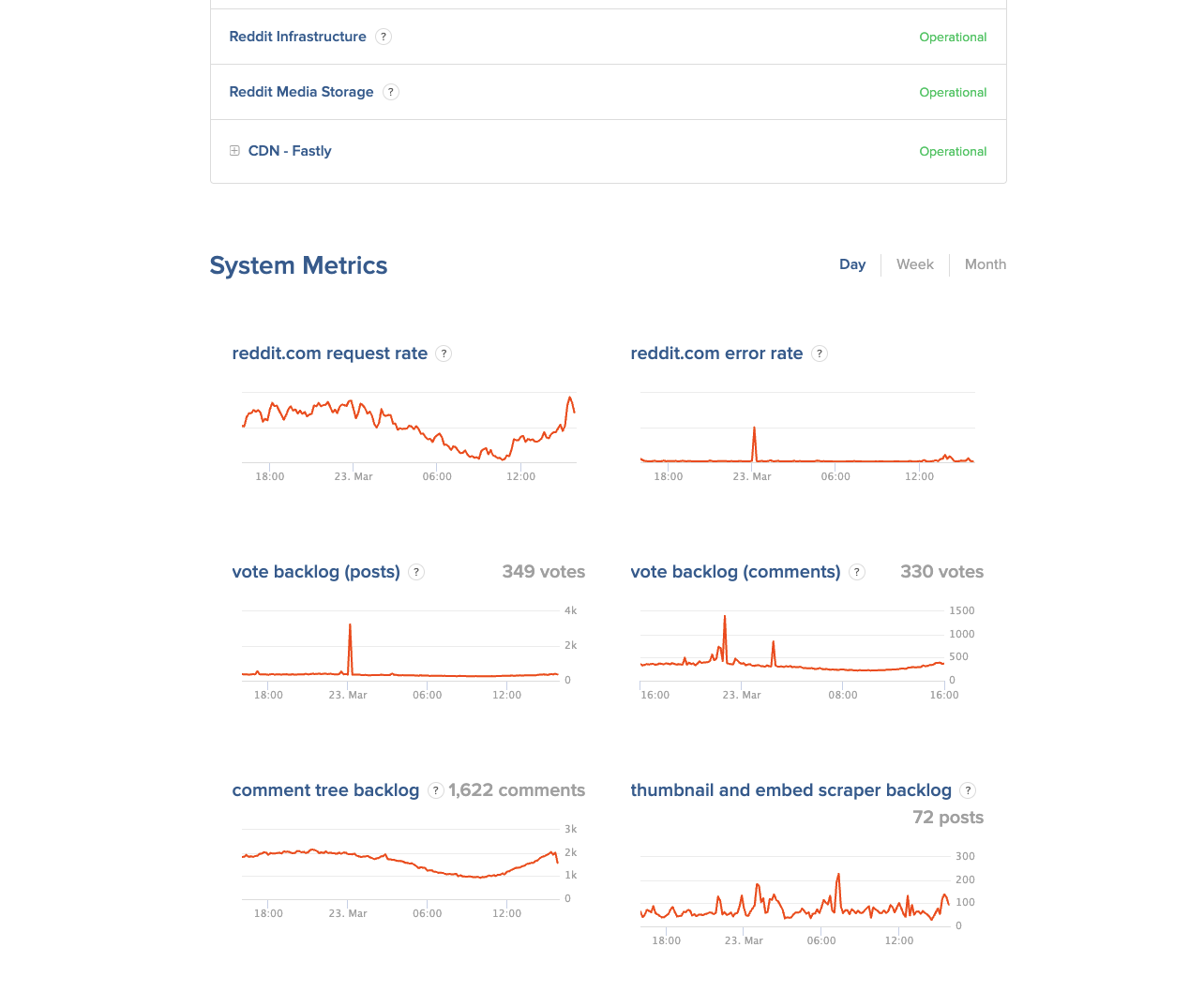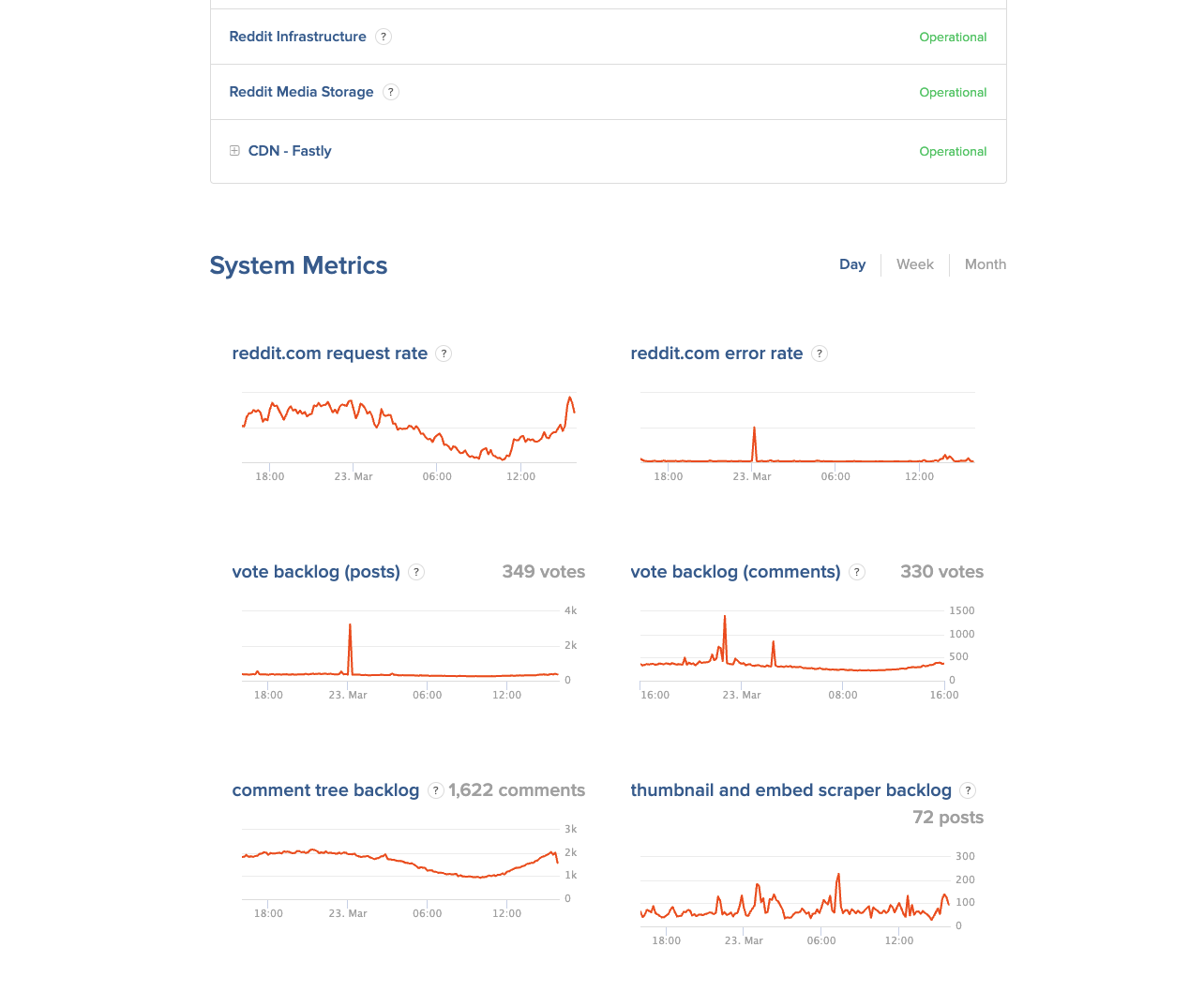 What's great about it: Reddit's status page has one very interesting feature - the system metrics. These charts are great because they clearly show any trends that are going on and with the easy timeframe filtering they can provide a nice historical overview.
Including charts about post and comment backlog is generally a piece of interesting information; not just a data point for site reliability engineers to keep an eye on. Tech-savvy Redditors who will be checking this page will surely find this interesting, possibly even share it with others.
This relatively small decision helps Reddit to amaze their users even when they are least expecting it and possibly even decrease the anxiety from incidents.
Main takeaway from Reddits's status page: Knowing one's users is the best insight to have for any brand communication - even on a status page.
More status page examples
Want to see more status page examples? Check out the awesome status page on GitHub and explore more status pages of popular tech companies.
Looking for the best tool to create a status page? Explore Better Uptime status pages or our list of hosted status page tools or their open source alternatives.
🏄‍♂️ Want to get status.yourdomain.com?
Go to Better Uptime and get a custom domain status page for free in 2 minutes.
What are the benefits of having a status page?
There are two main benefits of having a status page: Lower support cost and higher customer trust.
The lower support costs will come as a result of users and customers checking your status page and reading your system announcements instead of just directly going on your support page and submitting a ticket.
In order to achieve this you will firstly need to have a reachable and easily rememberable URL for your page. The best practise is to go for status.yourdomain.com format. Since it's used by major companies many people often try to check this URL by default.
For less tech-savvy people it's recommended to also include a link to your status page on your website or in your product to make sure they can easily reach it. Of course, in case of downtime, this won't be an option and because of that, it's recommended to have a subscription option for your status page users.
What status page subscription does is that it allows everyone to receive a notification (usually an email) whenever your website goes down.
Once a status page is setup and its existence communicated to users, one can start building trust by being transparent about incidents and communicating them before they are even noticed by users. When this becomes a standard, users will know that if something goes wrong you will be the first one to let them know, which marks a first step towards building trust with your users.
We call you when your
website goes down
Get notified with a radically better
infrastructure monitoring platform.
Check Uptime, Ping, Ports, SSL and more.
Get Slack, SMS and phone incident alerts.
Easy on-call duty scheduling.
Create free status page on your domain.
Next article
Explained: All Meanings of MTTR and Other Incident Metrics
Learn what is MTTR and how to calculate it. Explore other commonly used incident metrics and what they are used for.
→
Explore more
This work is licensed under a Creative Commons Attribution-NonCommercial-ShareAlike 4.0 International License.