10 Best Server Monitoring Tools for 2023
Better Stack Team
Updated on January 4, 2023
Sometimes, it is okay to be a control freak, especially when it comes to your architecture. The term itself - server monitoring, is really broad and complex, thanks to a wide array of different types of servers that exist. A server can be a physical device operating on your premises or a virtual machine shared by dozens of others, running their operations independently.
Monitoring and tracking various metrics on all of these different kinds of servers require a specific approach, and while the term software monitoring covers them all, most solutions do not.
Why do I need Server Monitoring?
Software are an essential part of any IT infrastructure. Understanding their outages, uptime, and overall performance helps you better understand and evaluate the performance. Any outages can scare away your new or existing clients, an internal file server malfunction can corrupt important files such as accounts or customer records.
Using a set of specific monitoring tools, you can collect a substantial amount of data that can help your team to understand your project and see it in a bigger picture, with its strong and weak aspects. Normally, you want to monitor the accessibility of your server and how long does it take to reach it (response times). At the same time, you want to keep an eye on any errors or alerts (corrupt files, security breaches, and other issues).
Software Monitoring does not only help in damage control but also prevention - Disk capacity running low? Is your memory or CPU on the verge of collapse during rush hours? Now, you will know about what is happening and what will happen. However, server monitoring is not only about the future and the present but also the past. Thanks to analyzing previously collected data, you can understand your server's performance in time and evaluate it, and discover other anomalies or performance trends.
Server monitoring is a complex process, however you can do it on your own. There are many examples, such as ubuntu's server documentation, that will show you how. However, an open-source, self-hosted solution will not be free. Using a dedicated solution will save you a lot of hassle and can help you deliver a much more reliable service. More importantly, you dedicate your time on things that matter.
What is being monitored?
CPU - Understanding the usage of your server's CPU is essential. If its usage peaks way too often and for longer periods, you are looking for trouble
RAM - If the server monitor discovers that your server is reaching the memory limit, it is a good time to look for an upgrade or add more RAM
Disk Storage - Your system needs enough space; if you run out of space, your system will certainly crash
Network - Your server's network performance influences your services' performance greatly.
And many more deployment-specific metrics.
Top 10 Server Monitoring Tools and Software in 2023.
By now, it should be evident that server monitoring is crucial, the question remains who provides the best solutions. Scroll down for the best Server Monitoring Tools in 2023, or scroll even lower for more information about Server Monitoring itself.
1. Logtail
Logtail allows you to query your logs the same way you'd query your database with SQL-compatible structured log management. By offering integrations into stacks like Kubernetes, Heroku, Logstash, Rails, Docker, or AWS, and more, you get a broad array of options for monitoring. Thanks to custom-built technology based on ClickHouse, you can work with your logs more efficiently and save funds.
Logtail effortlessly searches through petabytes of logs within moments and is prepared to sound an alarm if any anomaly, presence, or absence is registered. Thanks to multiple integrations with multiple DevOps tools, Logtail offers a reliable log monitoring solution.
The collected data are visualized by Grafana what ensures even more efficient intel management. Tighter security is one of the main benefits of log monitoring, and Logtail itself is one of the most secure tools available. Using industry-standard best practices and cooperating only with data centers compliant with DIN ISO/IEC27001 certifications, your data is safe during both transit and storage.
You can get Logtail for free, with 1 GB per month of data capacity and 72 hours of data retention. Paid solutions start at $24/month with the Freelancer bundle, including 30 GB monthly volume and 15-day data retention. With preset bundles, you can reach all the way to the Business model for $120/month, which offers 150 GB data volume and the option to buy more storage for just $0.25/GB. However, if you are looking for a custom quote, Logtail is enterprise-ready.
Main Benefits of Logtail:
Logtail uses ClickHouse, which allows it to work with more efficiently and thus save funds
Well-designed, easy to grasp Dark Mode AI
Advanced Collaboration Features
2. Datadog
Datadog's server monitoring solution allows you to collect, correlate, and monitor servers alongside data from the rest of your stack. Thanks to their full-stack monitoring tool, you can unify your server monitoring with correlated metrics, traces, and logs, allowing you to investigate server issues down to the individual host level, identify hidden sources of latency and visualize server metrics.
Datadog offers more than 450 key integrations, including AWS, Docker, or Azure what proves it to be a really versatile partner when it comes to server monitoring.
You can get Datadog for free. Their premium bundles start at around $18/month, and you get unlimited alerts, custom metrics, outlier detection, and 15 months of data retention. Following Enterprise bundle for $23/ month offers machine learning-based alerts and premium support.
Main Benefits of Datadog:
Anomaly Detection
Forecast Monitoring
IoT Device Monitoring
3. Server and Application Monitor - SAM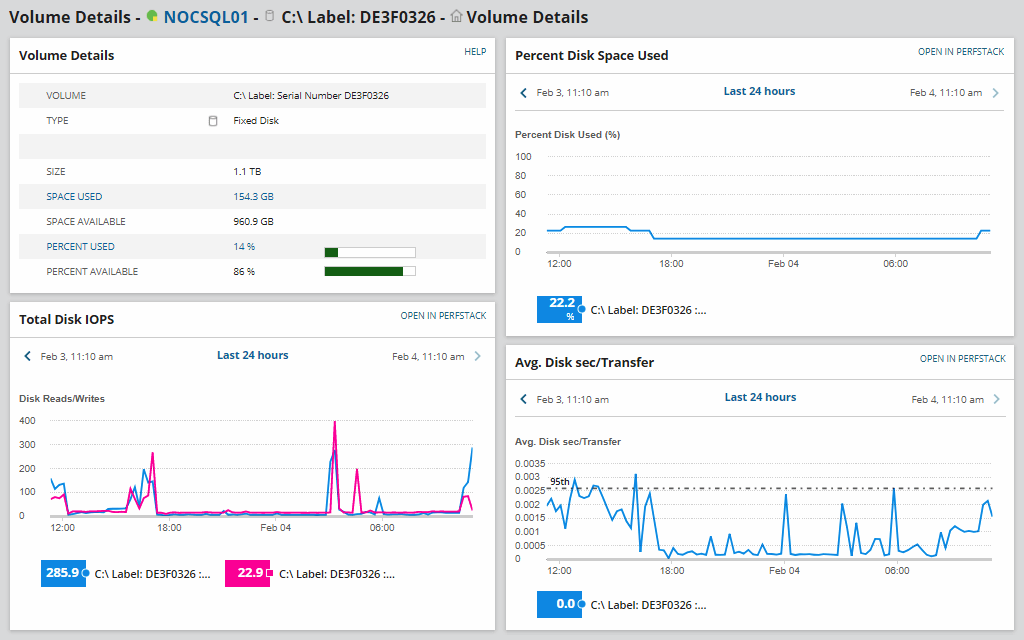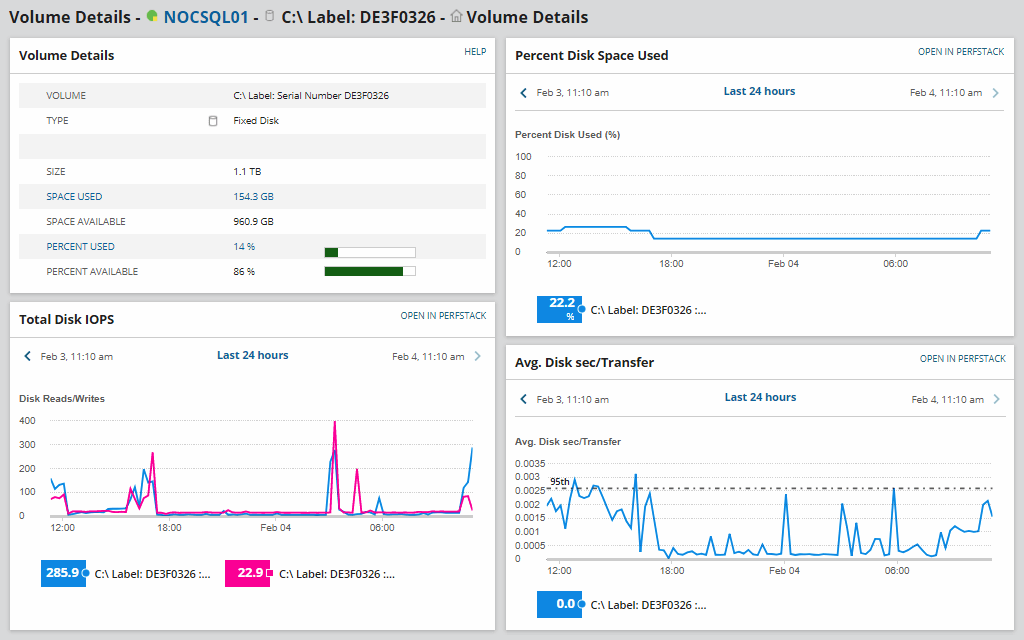 SolarWinds is one of the biggest players in the monitoring market, and their 1200+ integrations for performance monitoring only prove that to be true. Server and Application Monitor (SAM) is designed to unify multiple monitoring solutions under one roof.
SAM includes hundreds of out-of-the-box templates to monitor server and application performance and the ability to display both real-time and historical trends, helping you to better understand how your server performs in time.
SAM's price starts at 1500, with the offer of a subscription and perpetual licensing options. However, SAM makes every penny worth, with 68 use cases available, including Agentless server, CentOS Server Management, and Monitoring Tool, or IMAP Server Monitoring Tool, there is not a lot of things that SAM can not do. However, if spending thousands of dollars on infrastructure monitoring is not what you are looking for, keep scrolling.
Main Benefits of SAM:
Server Capacity Planning
Custom App Monitoring
Application Dependency Mapping
4. PRTG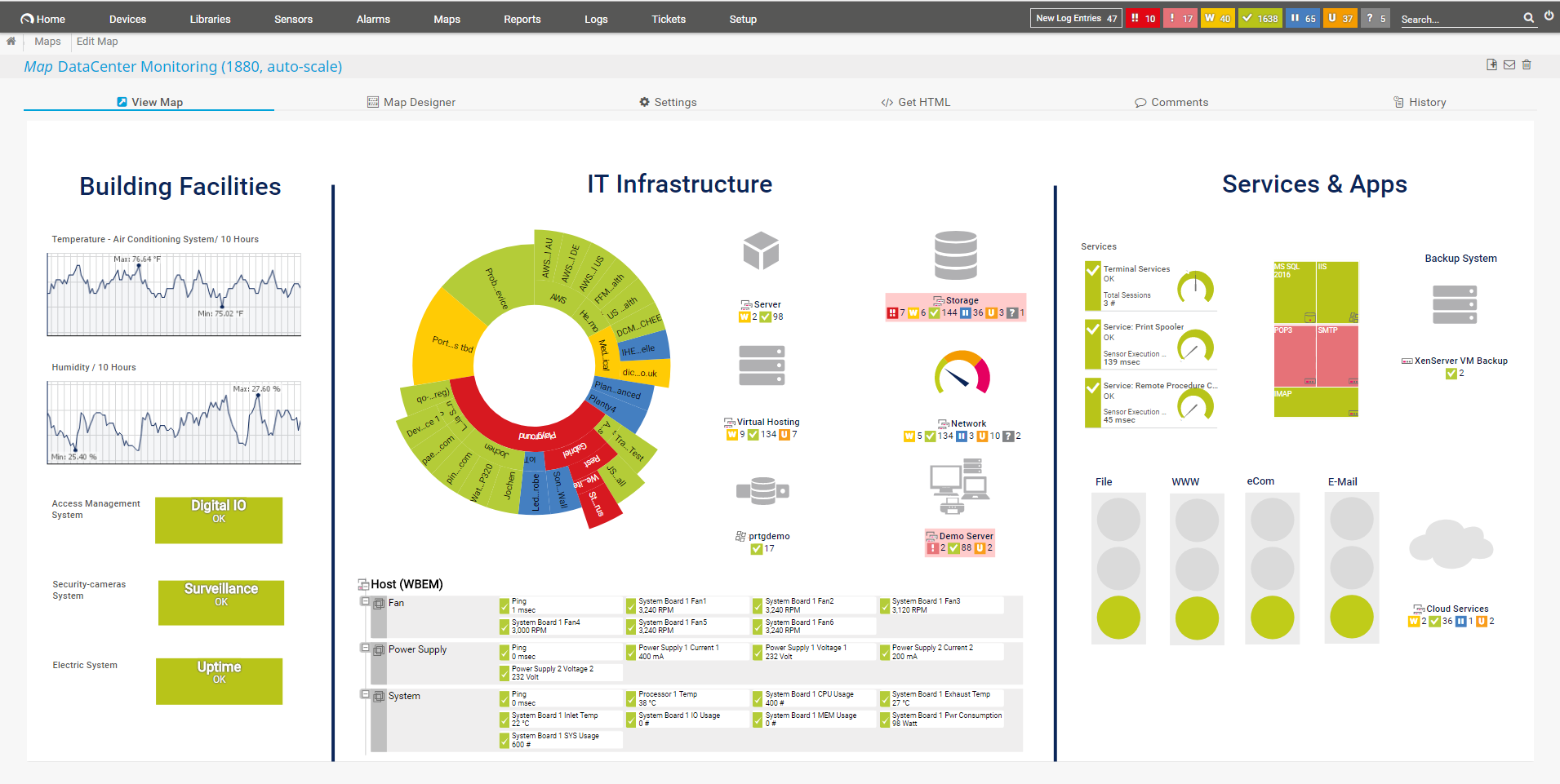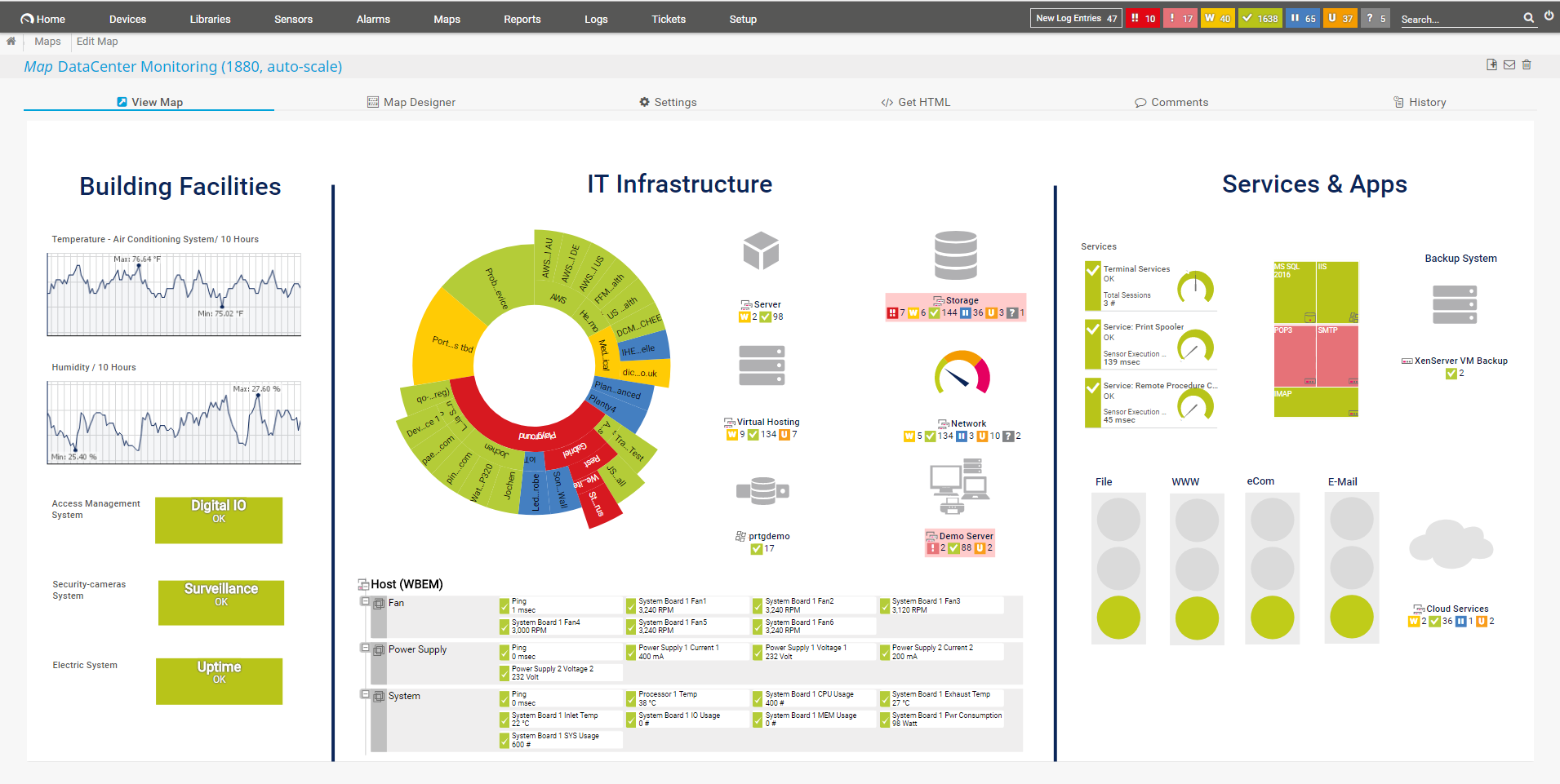 Paessler's PRTG offers a solution to Mail, Web, Database, and Virtual servers in one tool. PRTG's sensors measure given values and inform you in real-time about any anomalies, dangers, or failures with precision. PRTG offers a central monitoring tool for servers and the entire network, allowing you to overview your whole infrastructure via one app, resulting in good funds management.
You can try PRTG for free in a trial, then pick one of the multiple PRTG subscriptions. Their lowest tier - PRTG 500 starts at $1750/ server license and monitors up to 500 values, usually resulting in monitoring about 50 devices. Each higher tier derives its price from the number of values or aspects being monitored - 1000 for $3200, 2500 for $6500, etc. PRTG is expensive but offers a vast array of solutions and perpetual licensing.
Main Benefits of PRTG
Database monitoring
Bandwidth monitoring
5. Zabbix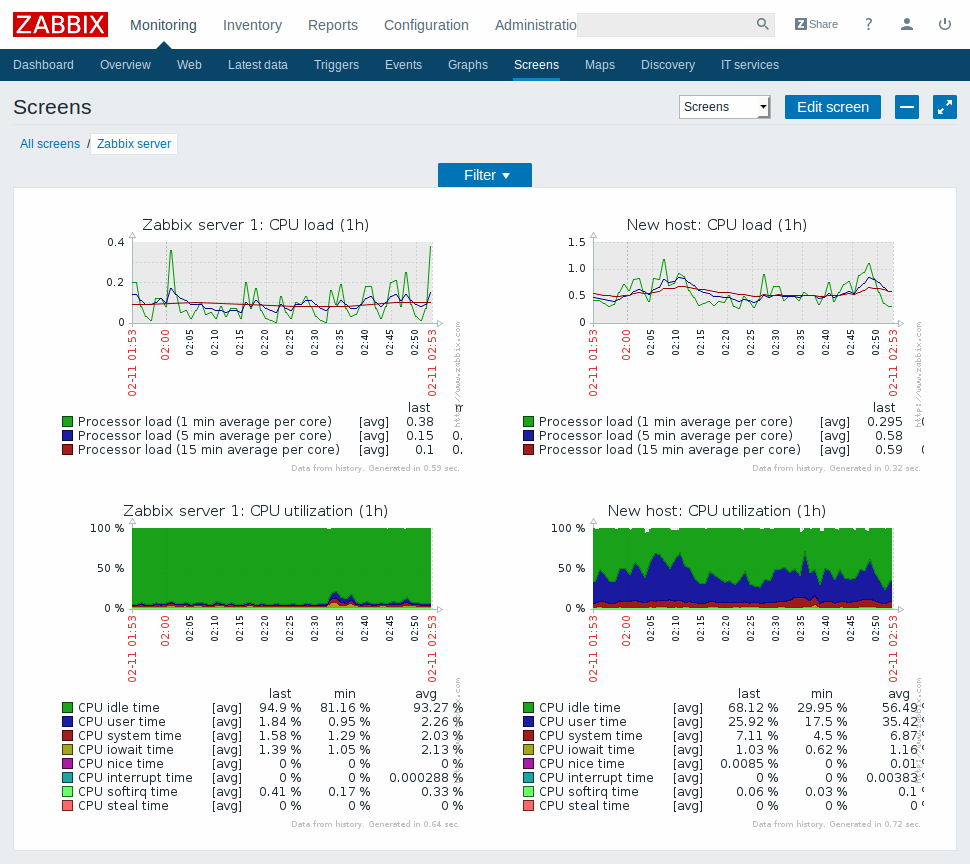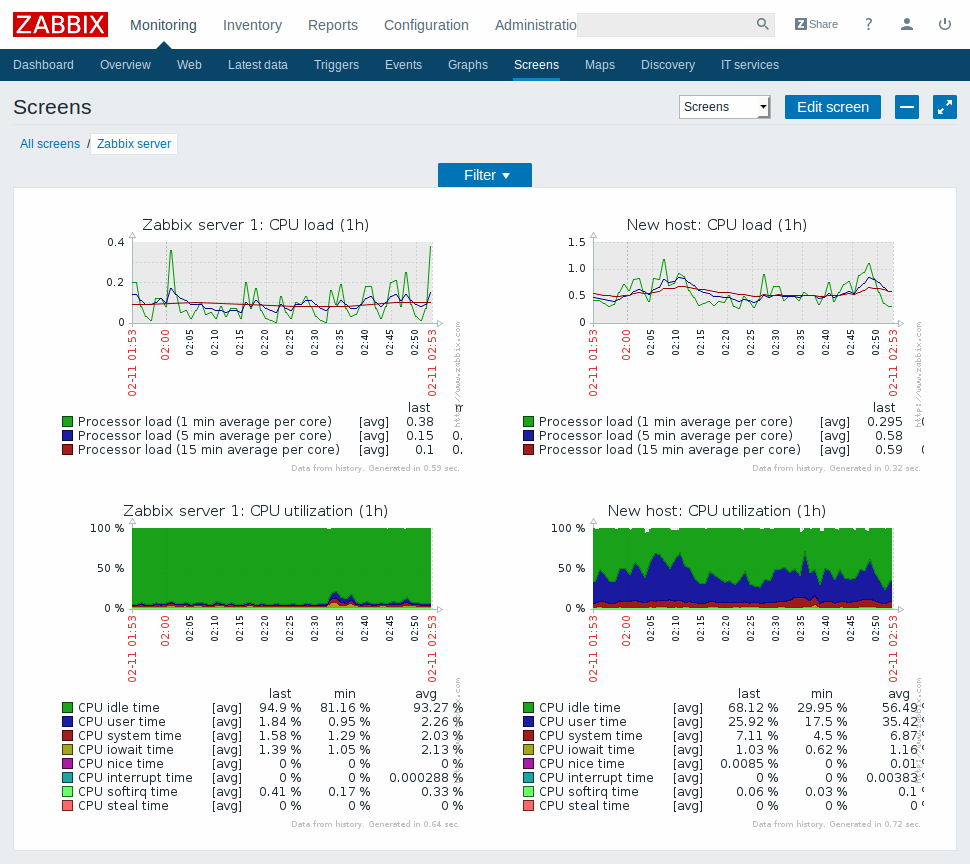 Zabbix has a rich set of features to enable users to monitor more than just hosts and offers great flexibility to admins. Zabbix allows you to control many possible metrics and incidents when it comes to servers like High CPU or memory usage, Packet Loss Rate, or Disk Space. Zabbix's out-of-the-box templates allow you to monitor all popular servers and OS.
Zabbix allows you to collect metrics from Network devices, Cloud, containers and virtual machines, Databases, Applications, HTTP(s) endpoints, and many more. Alerting is handled by multiple platforms, including On-Call, Opsgenie, Pagerduty, Slack, MS Teams, Telegram, or Webhooks.
Zabbix offers a full set of education courses and materials with recognized certificates, confirming a certain level of expertise in Zabbix's function. Zabbix is really lightweight but offers support for almost every aspect of infrastructure aspects.
Zabbix is open-source, so there are no subscription packages. However, you can enroll in one of their courses or purchase advice in the form of technical support or consulting.
Main Benefits of Zabbix:
Flexible notifications
Remote command execution
6. Dynatrace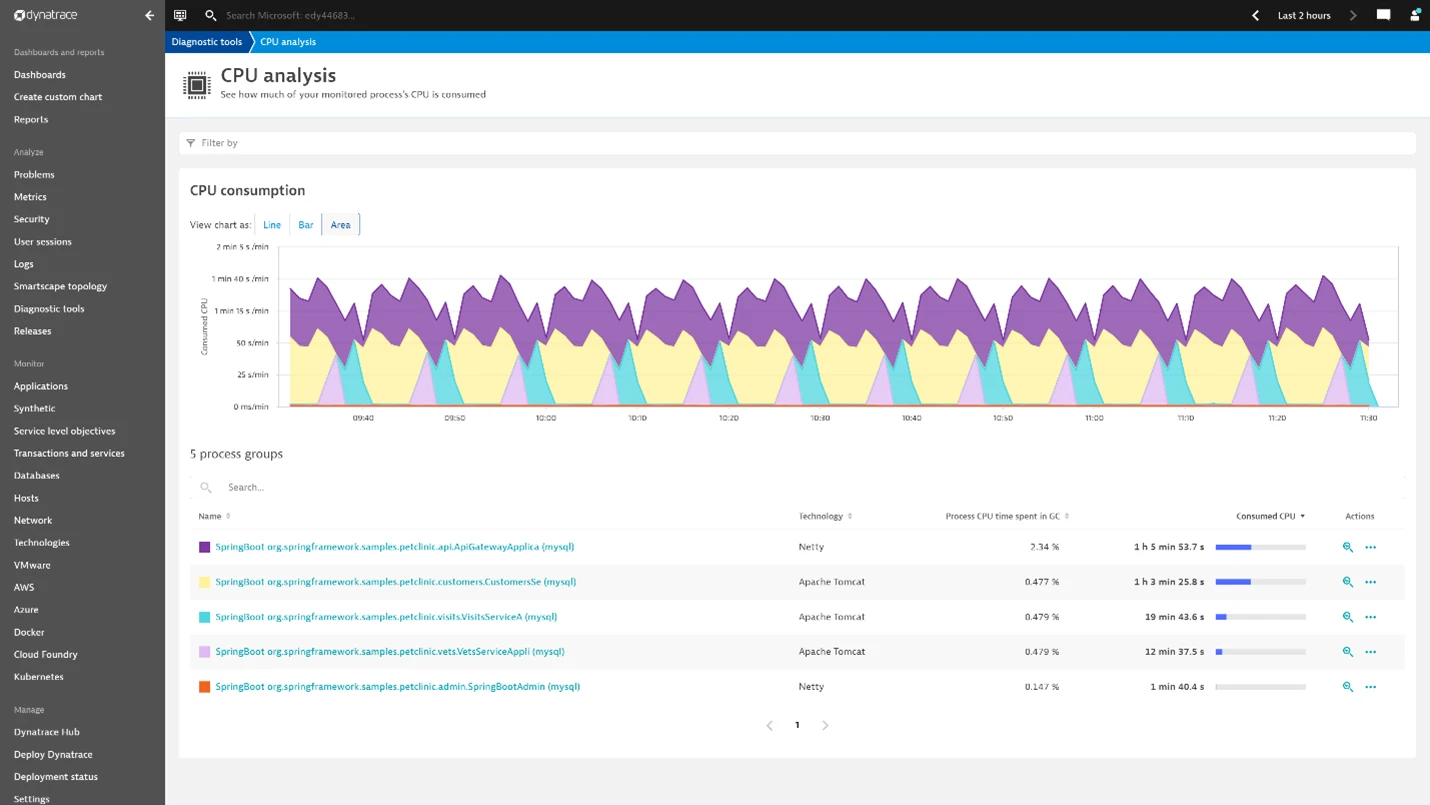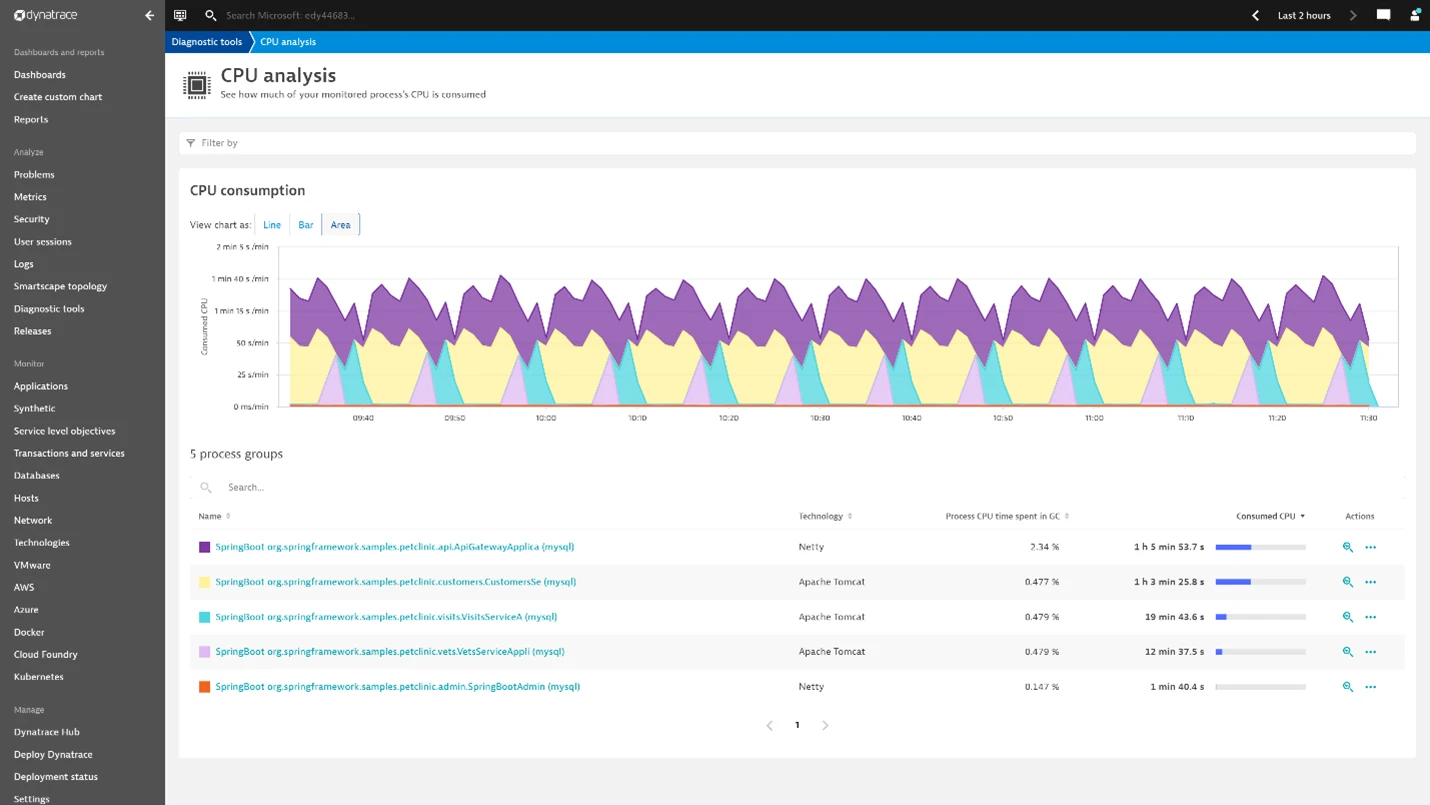 Dynatrace is a monitoring tool able to monitor metrics suitable for most of the server monitoring demands. Dynatrace offers an all-in-one platform for full-stack monitoring and out-of-the-box insights into your infrastructure. Advanced observability is available at scale for all infrastructure and is fully automatic. Dynatrace collects data from the cloud, hybrid, containers, VMs, network, servers, storage, and many more.
Thanks to advanced observability across PaaS and container technologies like AWS, Azure, Kubernetes, or Cloud Foundry, you gain access to process detection and resource utilization, network usage, and performance, log monitoring. Or you can use it to hold your partners accountable and verify their SLAs by third-party data and event monitoring integration. However, bear in mind that Dynatrace's complexity comes with a price, and fully plunging into how it works takes time.
Dynatrace's pricing depends on the monitoring solution. Their Full-stack monitoring starts at $69/month for 8 GB per host. Infrastructure monitoring offering observability for cloud, containers, and data center technologies, including AlOps, starts at $21/month.
Main Benefits of Dynatrace:
Unlimited AI-Assistance with anomaly detection and root-cause determination
More than 560 integrations
Unlimited ad-hoc analysis of log entries
7. New Relic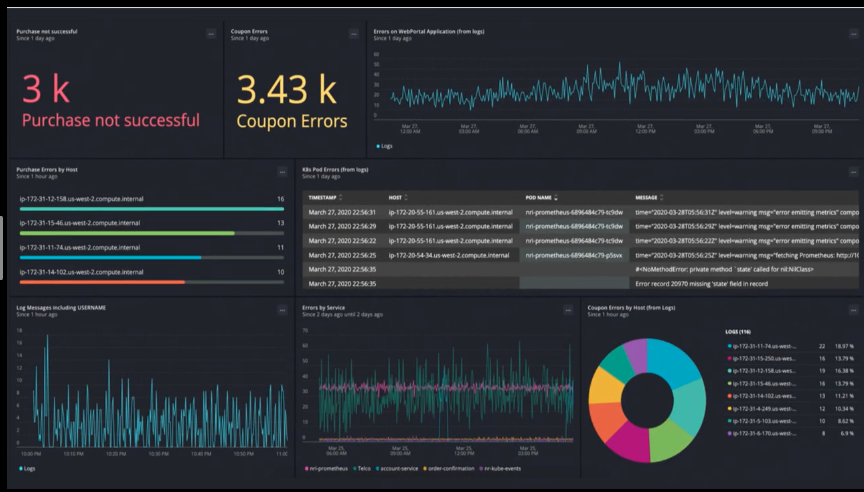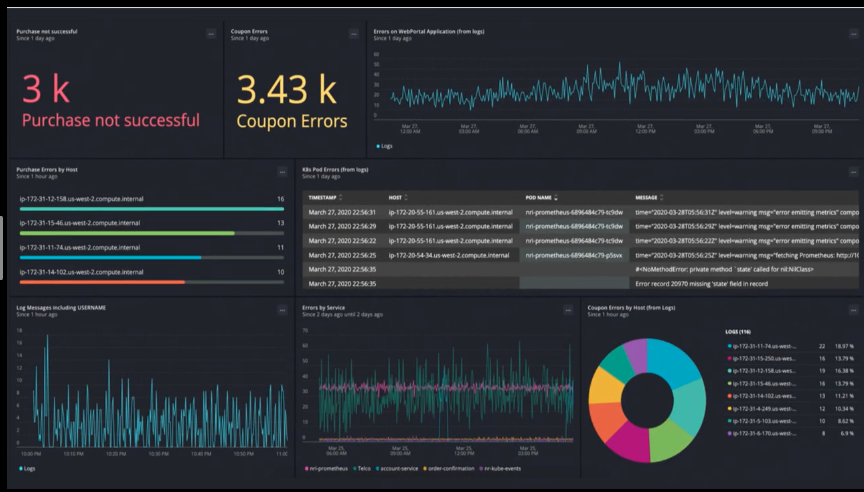 New Relic's infrastructure monitoring solution offers you to observe your whole architecture from one place. Part of their new products emphasizes efficiency achieved by cloud, on-premises, virtual machines, or containers managed by Kubernetes. Using infrastructure monitoring, you can monitor most of the server monitoring metrics, events, and logs and get a headstart in case of any problem. Their partnership with Pixie is also worth mentioning since it significantly improves its capacity to monitor Kubernetes applications.
You can get New Relic for free, for 1 full user, 100GB of data, unlimited querying, and Free Proactive Anomaly Detection. New Relics pricing is simple, you pay for what you use. You will pay $0.25 for every extra GB beyond the free starter 100 GB and $0.50 per incident event beyond your first 1,000 events per month.
Main Benefits of New Relic:
Full Stack monitoring option
AI-assisted incident response
Unlimited querying
8. AppDynamics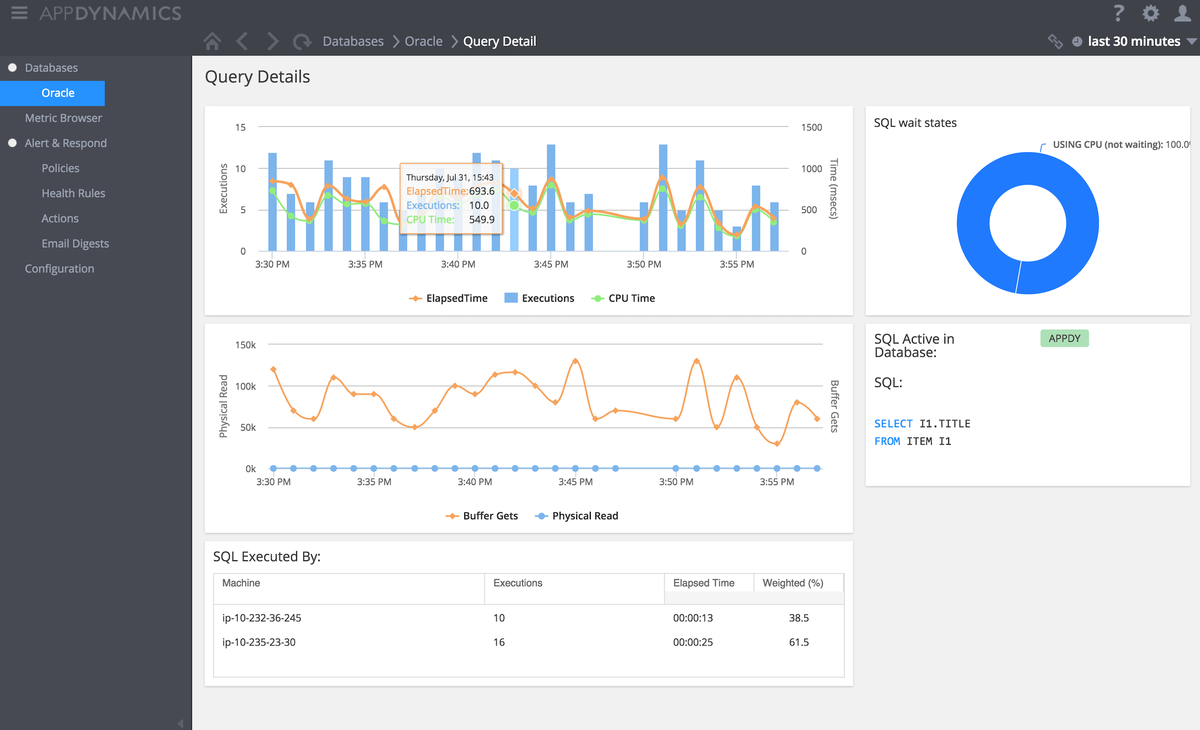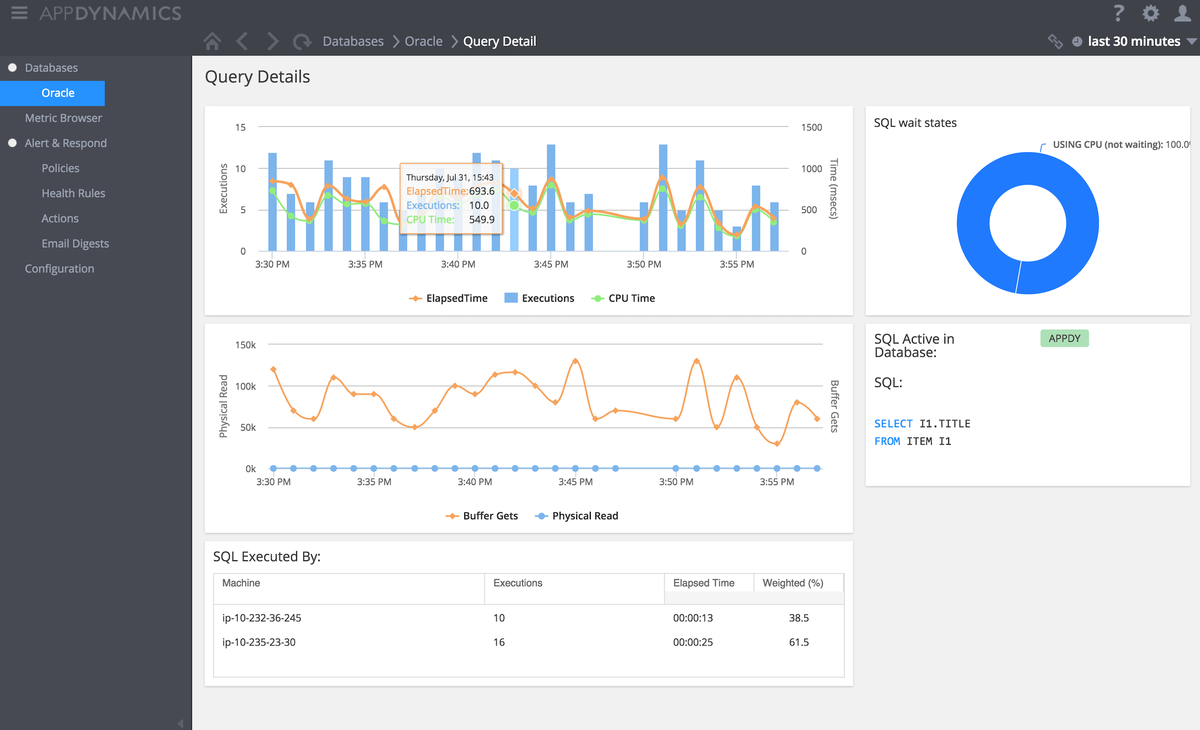 Appdynamics offers Server Visibility and Monitoring as a part of their complete monitoring solution. Their Server monitoring is "application-centric," meaning that you are able to drill down to relevant metrics and optimize your server ecosystem bottom-up.
Their dashboard is organized into a logical, enhanced, and hierarchical overview with a summary of CPU, memory, disk, and networks usage and trends for all servers.
Appdynamics's pricing for the US offers multiple monitoring models in increasing tiers. Their Infrastructure Monitoring starts at $6/CPU Core. Their Premium edition starting at $60/CPU Core, offers complete back-end monitoring, including the Infrastructure monitoring, APM, and. Database Monitoring. They also offer an Enterprise solution for $90/month, a Real User Monitoring solution on the side for $0.6/month, or a custom quote option.
Main Benefits of AppDynamics:
Business Performance Monitoring
Infrastructure Monitoring
Database Monitoring
9. Checkmk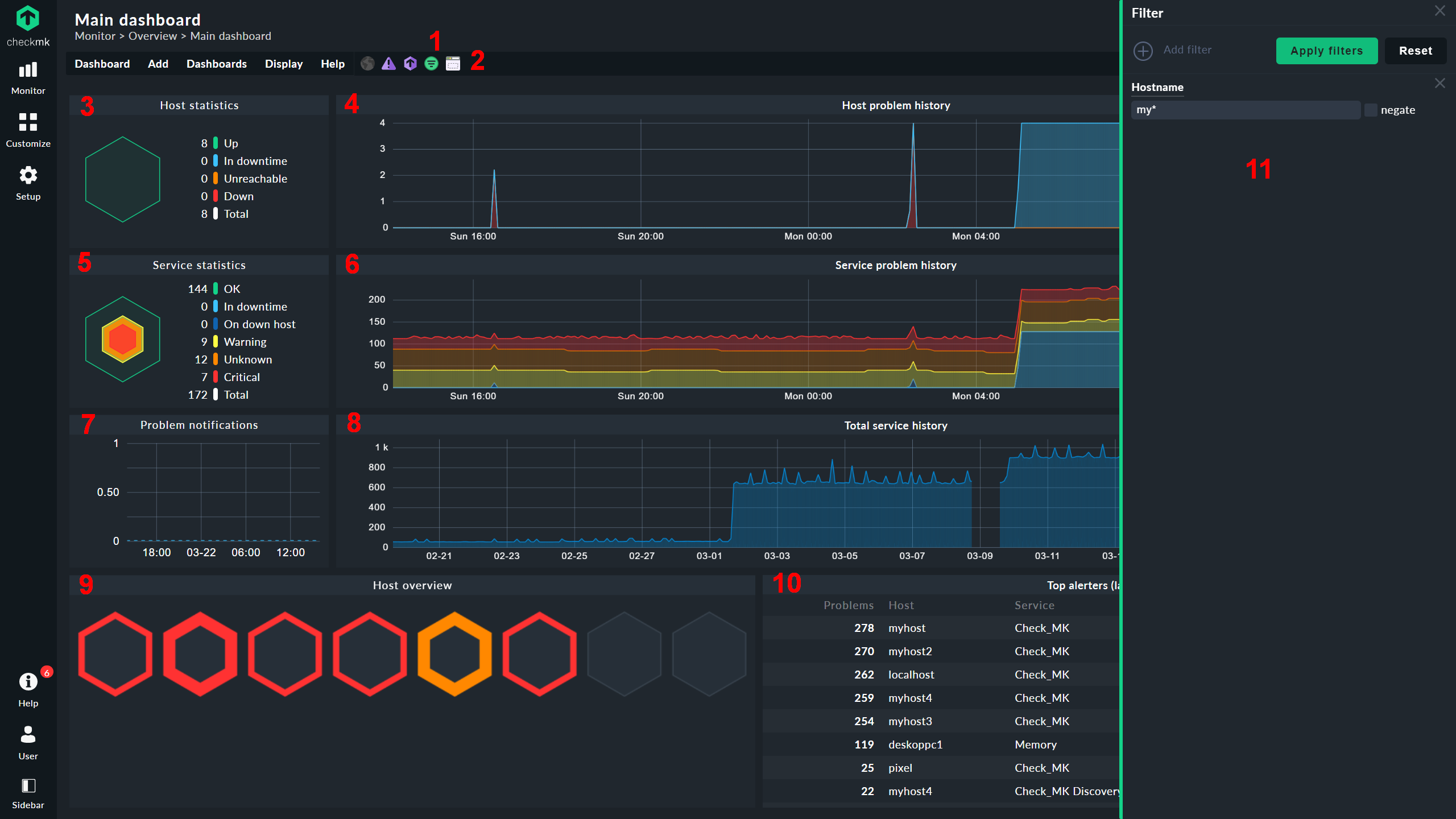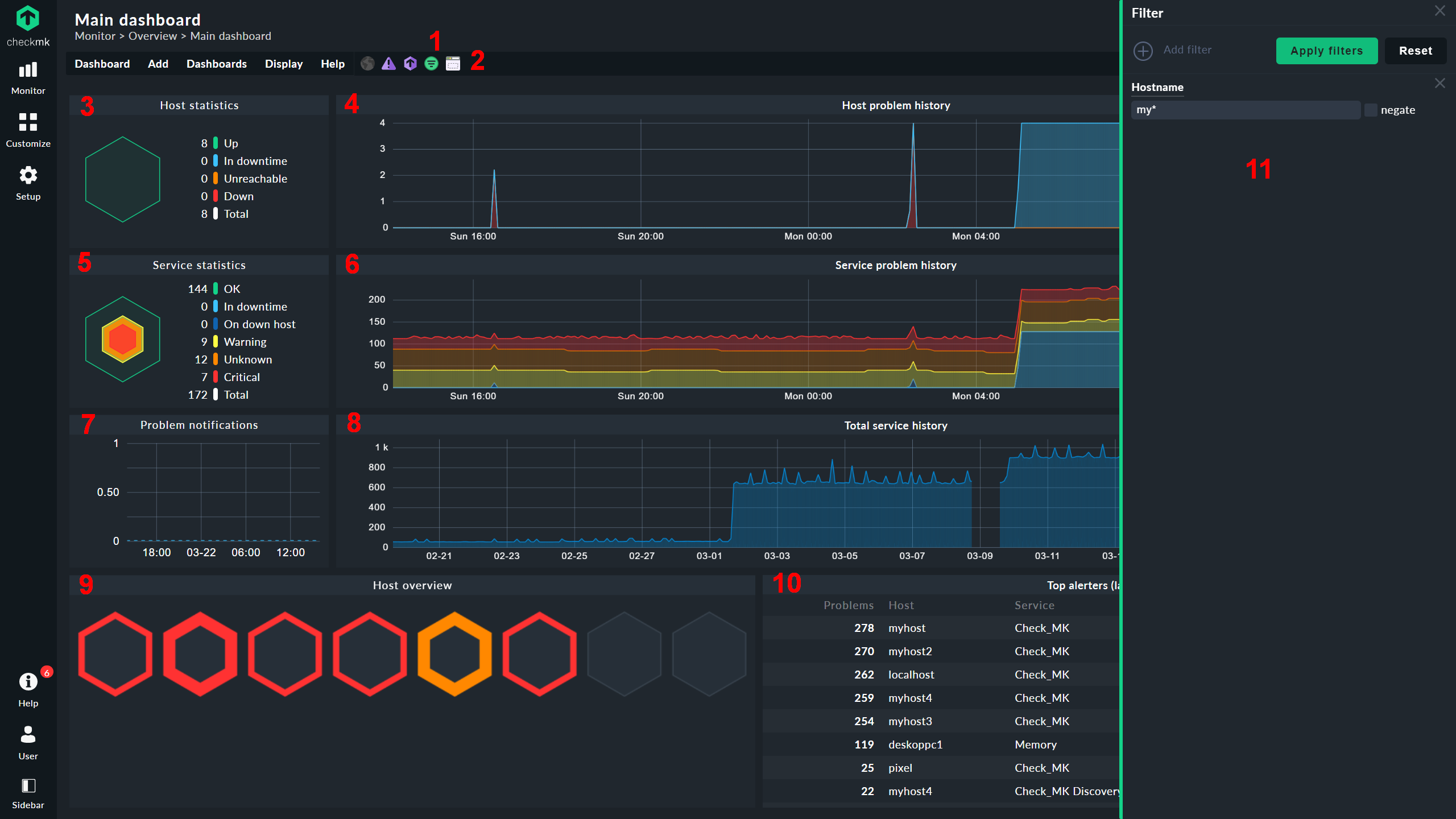 With checkmk, you can monitor your entire hybrid IT infrastructure. That includes Servers, Networks, Apps, Databases, Cloud, Containers, Storage, and IoT. Checkmk provides more than 1800 integrations into databases, Cloud services, Operating Systems or Hardware
You can deploy checkmk within minutes from a single integrated package, available for many platforms and also as a docker container. Checkmk uses auto-discovery to help you pick the most relevant metrics for you and your project. You can monitor your infrastructure using powerful agent-based monitoring, but also agentless monitoring via HTTP/SNMP, or via a direct API connection.
Checkmk does not offer preset subscription models. You can calculate your own solution on their pricing page. Price will depend on the Edition you chose, the number of services you want to add on. The Default setting starts at $600/month without tax.
Main Benefits of checkmk:
Log and event monitoring
Infrastructure monitoring
Dynamic dashboards
10. Sematext Monitoring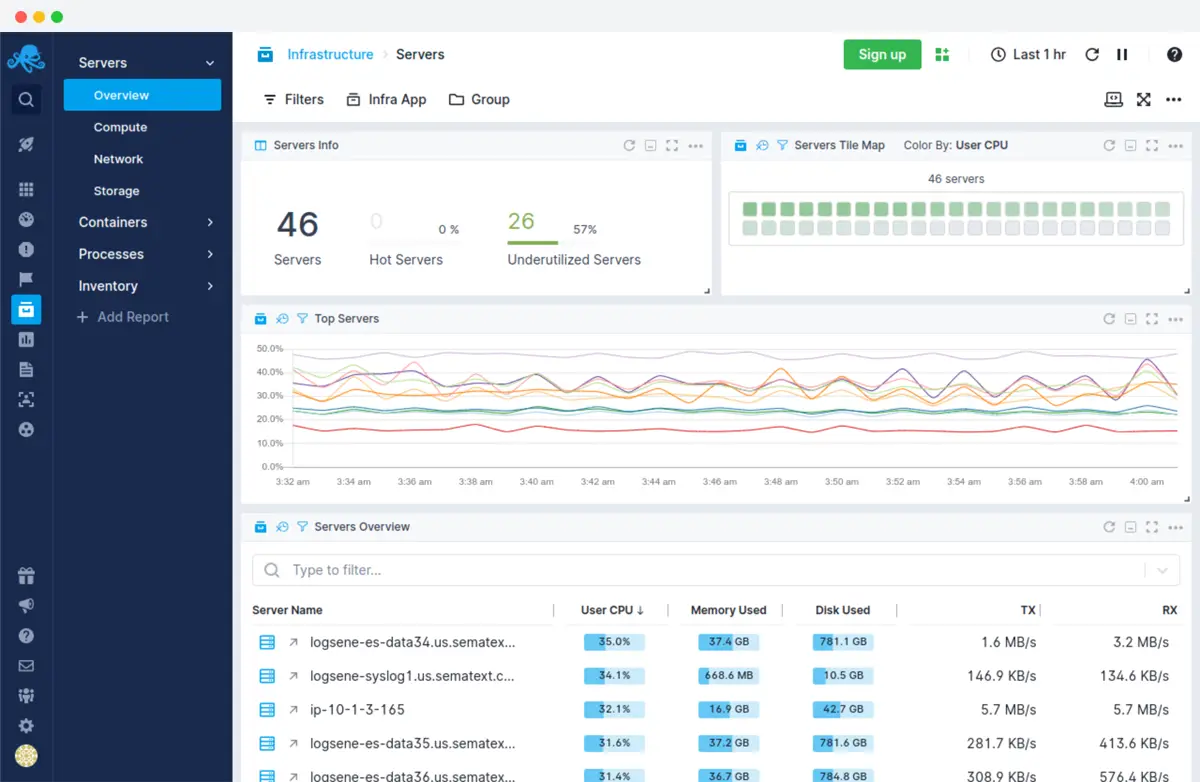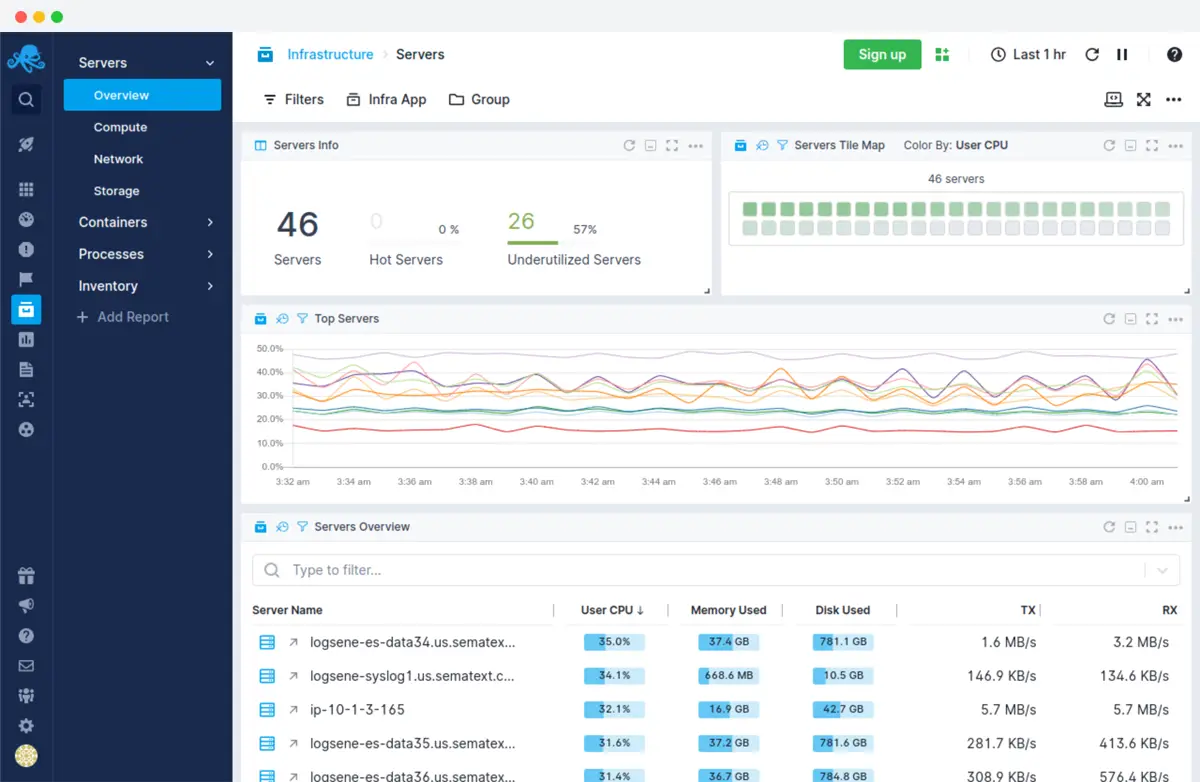 Sematext allows you to monitor servers and applications in a unified monitoring solution. Metrics are collected and visualized in comprehensive dashboards, allowing you to observe the overall state of your infrastructure. Sematext also keeps an eye on server processes, system packages, and more.
Sematext offers a complete ecosystem of monitoring tools in one place, allowing you to troubleshoot your system, correlate data, detect anomalies and improve performance. Sematext aggregates all of the server-related metrics you might need, including CPU usage, memory, disk, IO, network, etc.
You can try Sematext Infrastructure Monitoring in a 14-day free trial. From there, you can choose one of their premium pricing tiers, including one free for up to three hosts, or Standard and Pro, starting at around $0.007/per container host per hour.
Main Benefits of Sematext:
Automated Discovery and Sematext Agent
100+ integrations for the most popular stacks.
Conclusion
In this article, we went through the basics of Server monitoring, how it works and why it plays an important role in the success of your business. Then we went through the introduction into the best server monitoring tools and software in 2023, their strengths, and advantages.
We call you when your
website goes down
Get notified with a radically better
infrastructure monitoring platform.
Check Uptime, Ping, Ports, SSL and more.
Get Slack, SMS and phone incident alerts.
Easy on-call duty scheduling.
Create free status page on your domain.
Explore more
This work is licensed under a Creative Commons Attribution-NonCommercial-ShareAlike 4.0 International License.