Website monitoring can give you a serious advantage against competition. By spotting performance-related issues, dysfunctional aspects of your website, location-based errors, or simply getting notified in case of any downtime, you minimize the risk of losing clients, the trust of your stakeholders, and, therefore, revenue.
Website monitoring is still quite a broad term and covers multiple approaches and practices to monitoring. You can collect data by simulating your users' behavior or trace the steps of real human interaction with your website and evaluate it.
The Benefits of using an Open-Source Solution
A lot of tools have a broad community of developers, meaning that it is quite possible that you will be able to find additional features in various repos.
It's free, at least most of the time. Sometimes you need to pay for infrastructure or some sort of an onboarding course.
They can serve as an addition to your existing monitoring solution.
Getting a good and reliable monitoring solution requires you to really think about what you actually expect from the tool, do some research, and finally test them on your infrastructure. Some tools might miss essential features, and others might have an unfriendly learning curve. In this article, we will bring an overview of the best Open-Source Website Monitoring solutions and add a few Freemium solutions.
The Best Open-Source Website Monitoring Tools in 2023
Let's take a look at the best open-source solutions in 2023. If you want to learn more about open-source, take a look at the various licenses available.
1. Upptime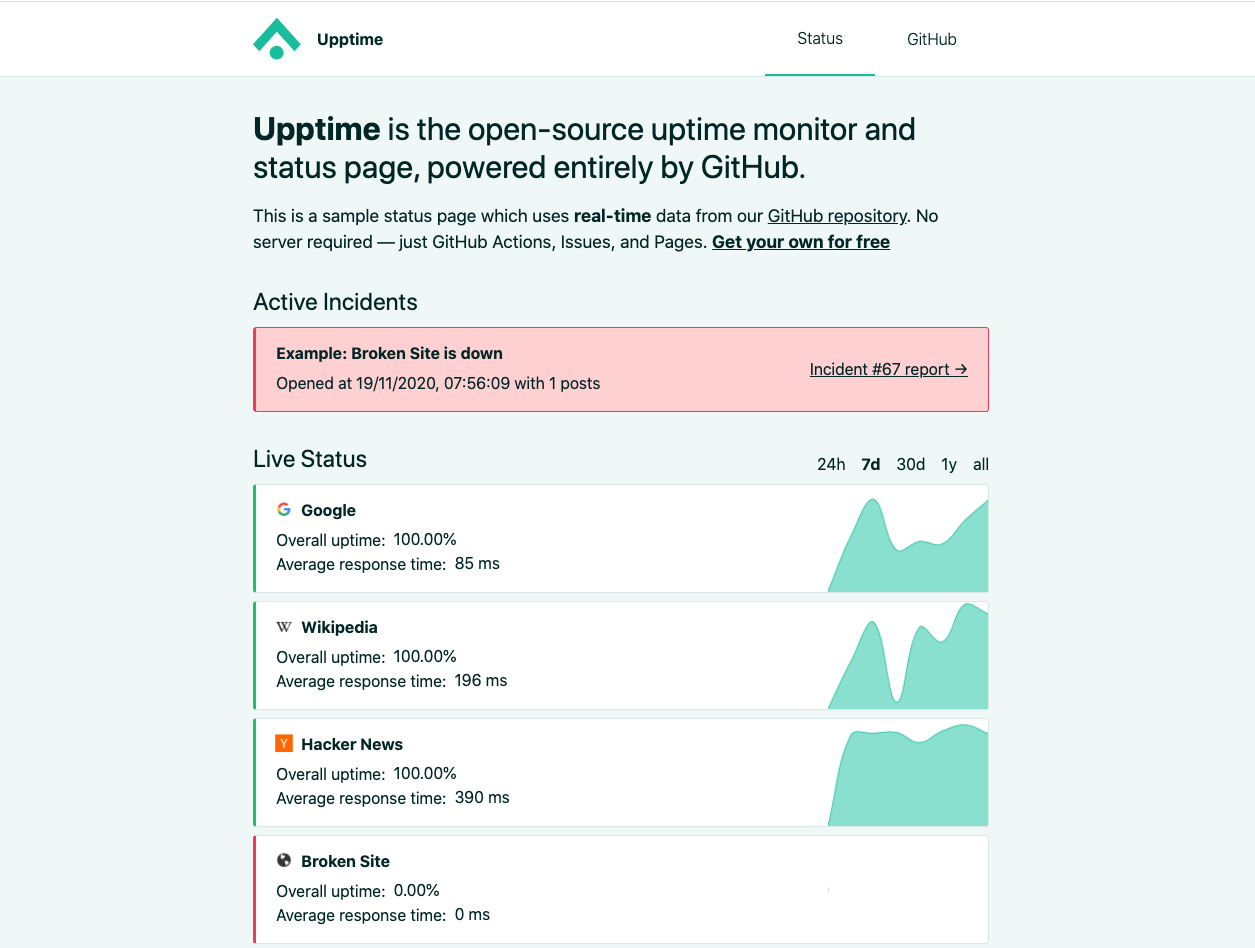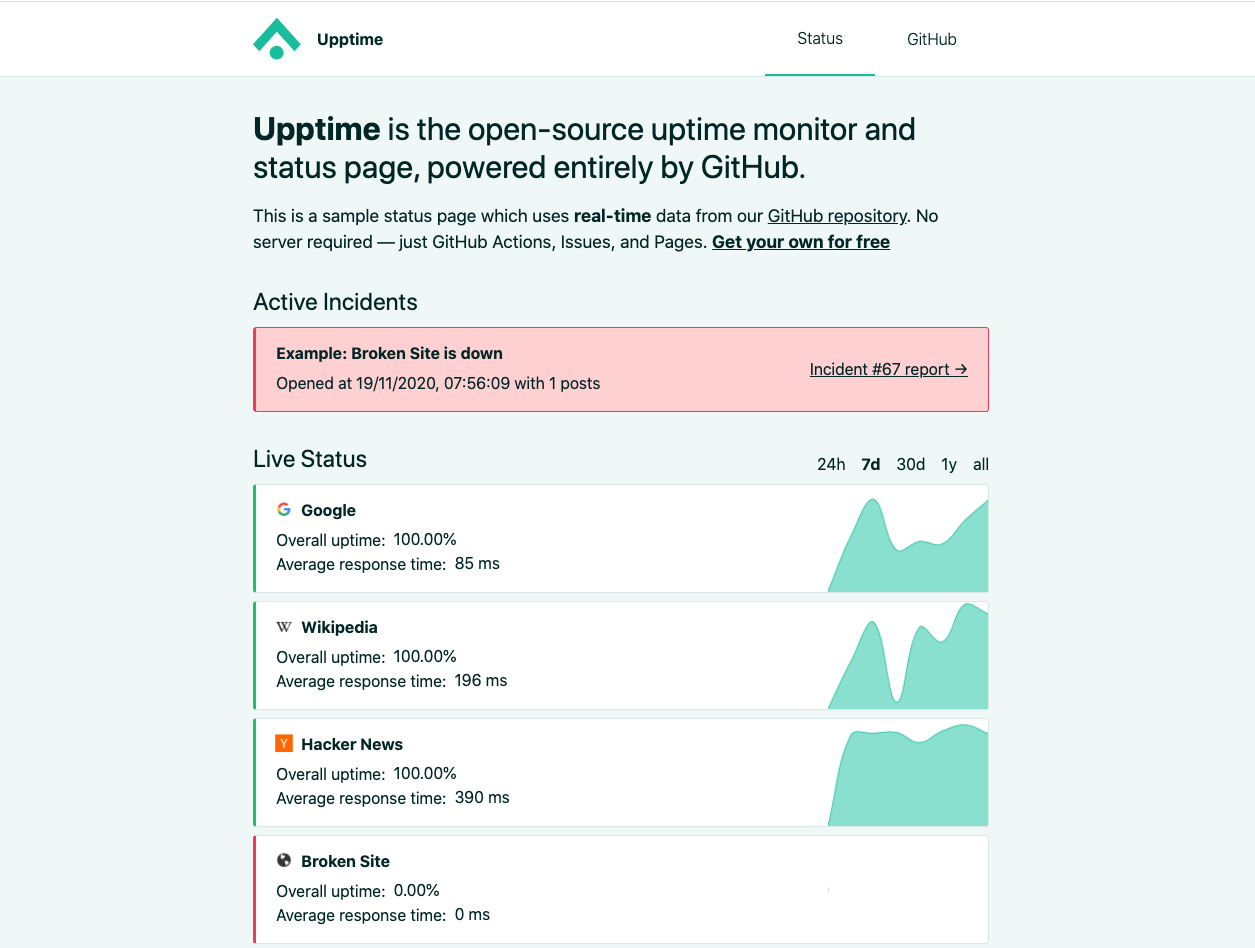 Upptime is a GitHub-powered open-source uptime monitor and status pages manager. Upptime uses GitHub actions, which allows a minimum interval of 5 minutes, which explains its monitoring frequency. Apart from uptime, it also measures the response time and commits it to git history. Using all this data, Upptime can generate graphs and long-term performance overviews of your website and publish them on a status page. In case of any downtime, Upptime automatically opens a new issue in your GitHub repo. You can edit this repo and add additional information about the outage, including the root-cause analysis. You can also set up notifications using integrations with services like Slack, or Telegram. Status websites are powered by GitHub Pages. It shows your live status, incident history, and response time graphs. Your Status Page shows data in real-time since it uses GitHub API to fetch data. Status pages offer customizability, such as custom logos, text, and more. Upptime is available on GitHub under the MIT License. It has more than 9.2k stars.
2. Uptime Kuma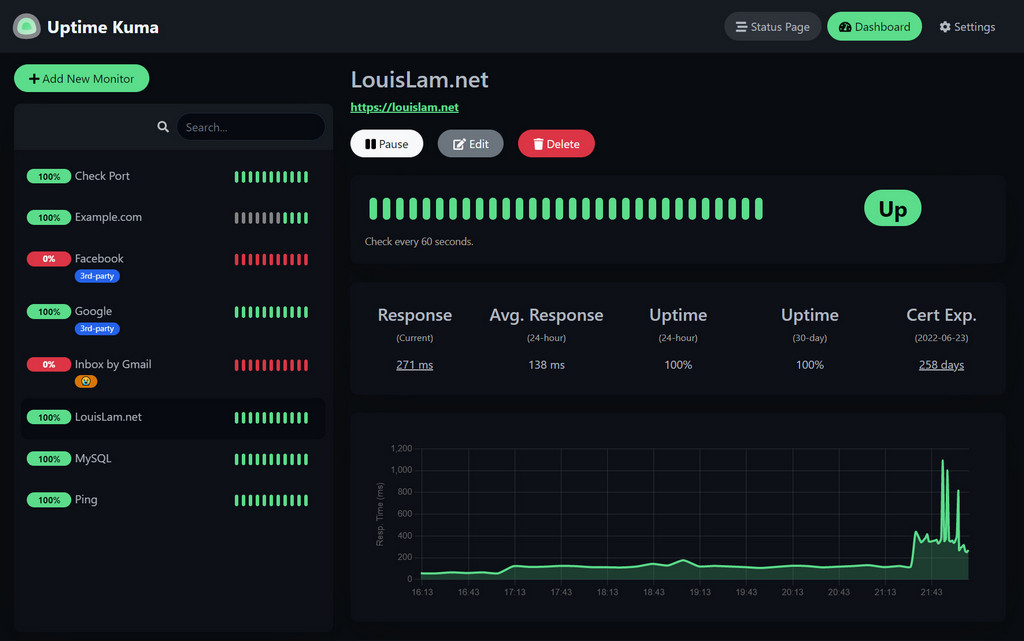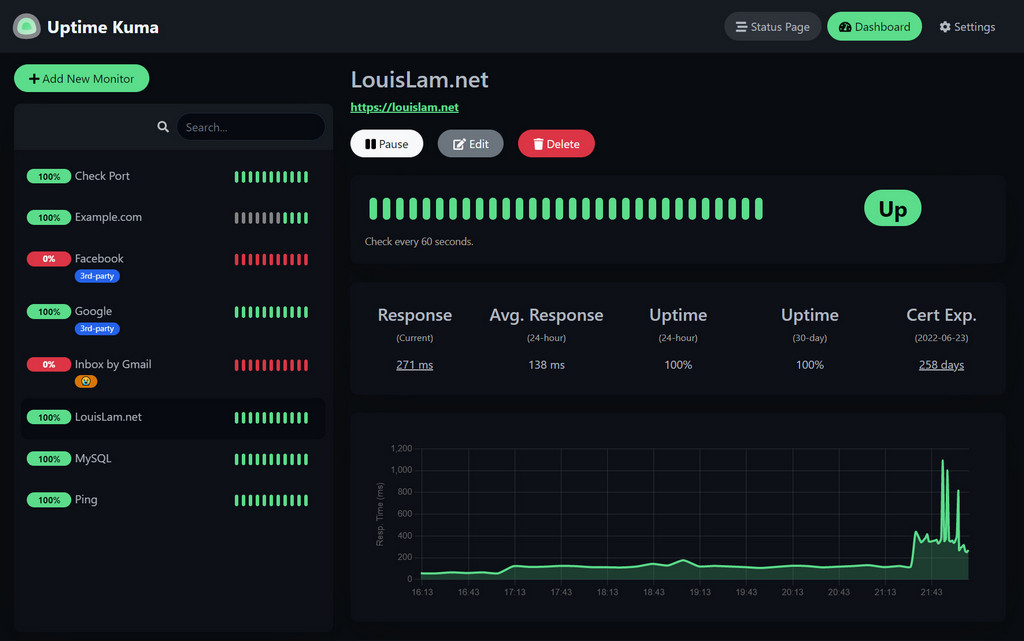 Uptime Kuma is a self-hosted monitoring tool with a UI that feels a lot like Uptime Robot. Using Uptime Kuma, you can monitor uptime for HTTP(s) and HTTP(s) keywords, TCP, Ping, DNS Record, Push, and Steam Game Server. It offers integration with more than 70 notification services, including Telegram, Discord, Slack, Email, and more. Uptime Kuma does not have a website. However, everything you need can be found on Github. Its developer LouisLam still works on the project and updates it. You can also try a limited, 10-minutes long demo hosted on a Japanese server Uptime Kuma is available on GitHub, it has more than 12 thousand stars, and it has an MIT License.
3. Cabot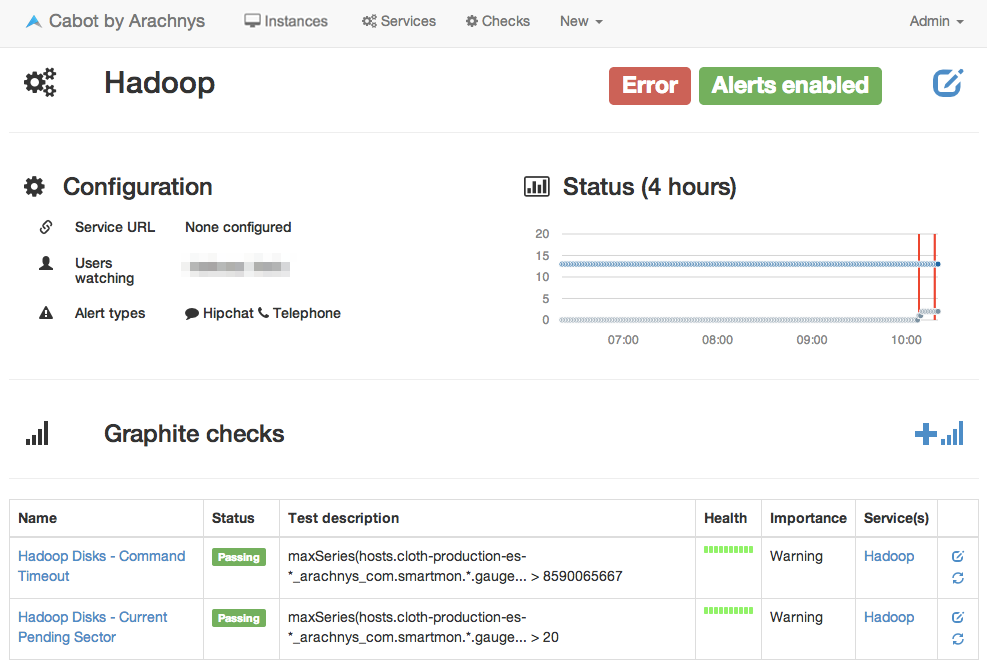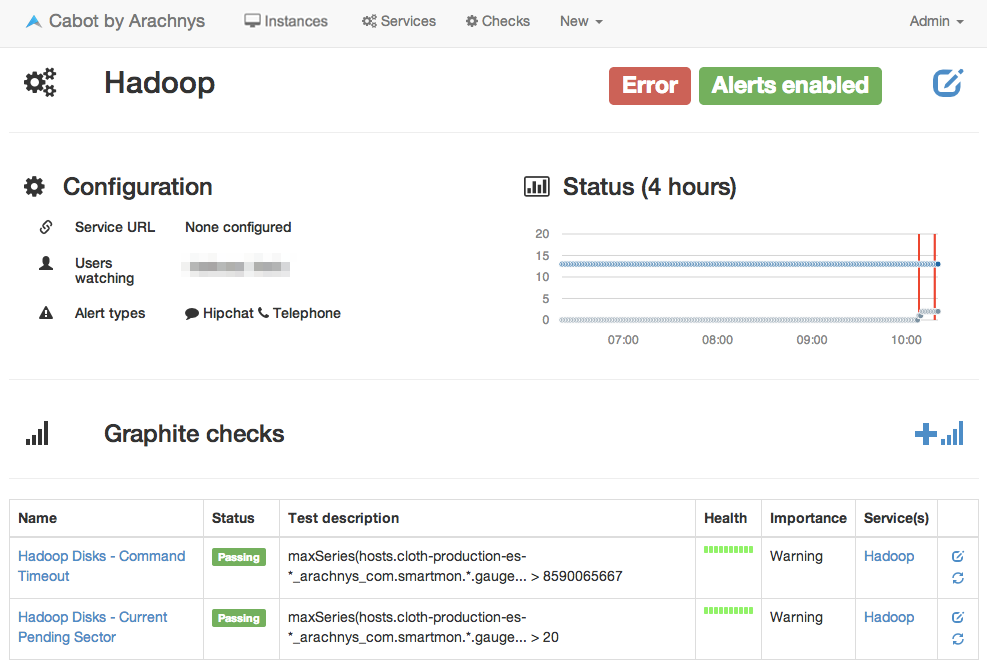 Cabot is a self-hosted monitoring solution for your website and infrastructure. You can use it to monitor graphite metrics, Jenkins jobs, and web endpoints. Cabot also offers basic alerting features. You can use trigger alerts via phone, SMS, Hipchat, or email. Bear in mind that in order to use phone calls, you need to either opt for another solution. Cabot offers well-written documentation that will help you to start monitoring within minutes. Cabot is available on Github under MIT License.
4. Zabbix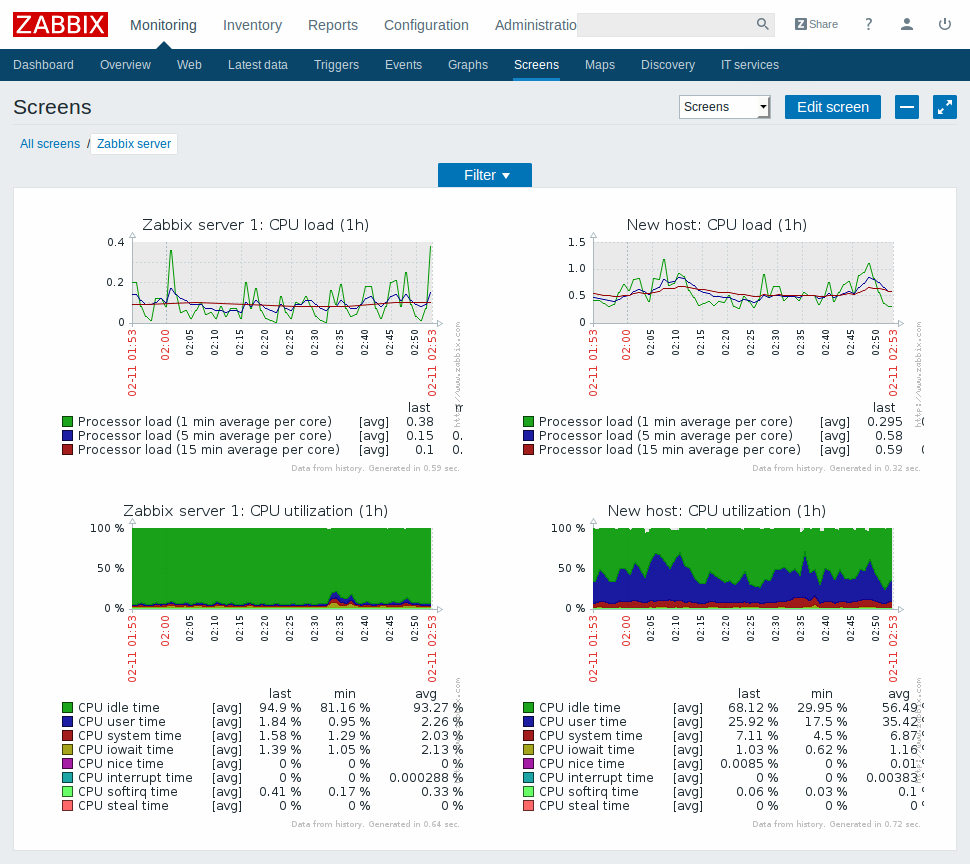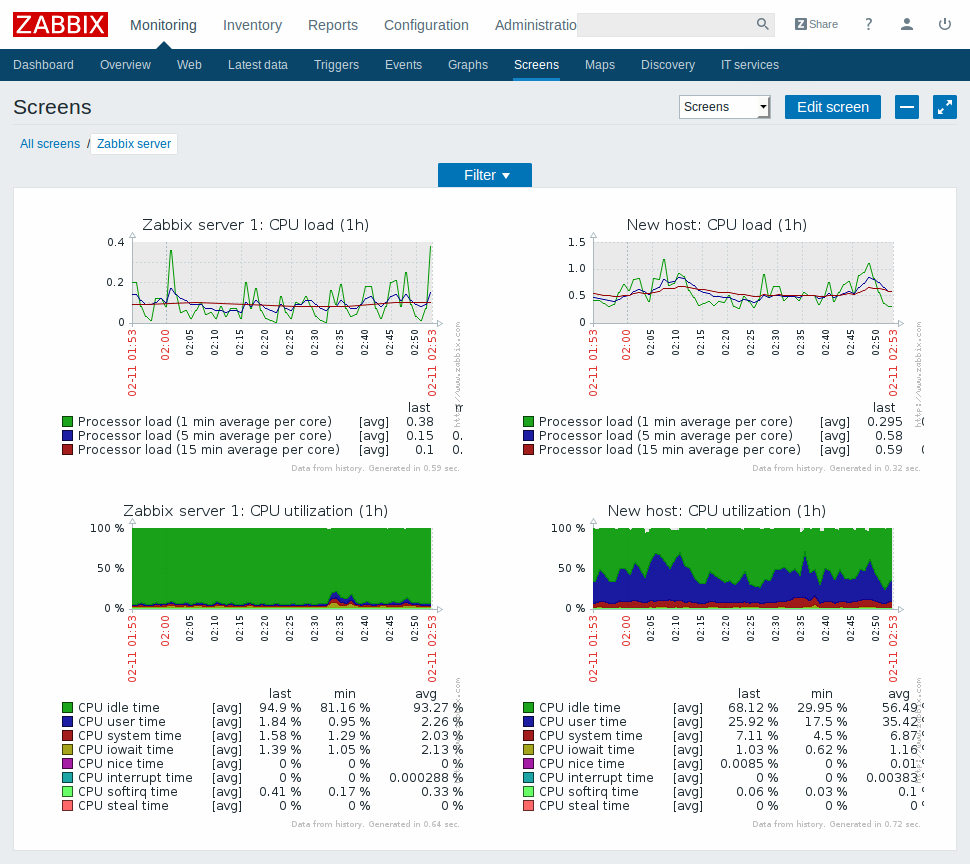 Zabbix is an enterprise-ready open-source monitoring solution allowing you to monitor Networks, Servers, Cloud, OS, Log Files, Databases, Apps, Websites, and much more. Using Zabbix, you can monitor average download speed per second, error messages, response times, response code, and other features of your web using custom web scenarios. Zabbix offers a widget-based multi-page web UI with dashboards. You can create and customize widgets using drag and drop functions, create custom refresh rates, set them as either public or private, visualize data using graphs, and much more. You can find everything you need on Zabbix's website. Zabbix is one of the tools that require a lot of learning. They offer multiple training programs and certifications ranging from $50 all the way to thousands of dollars.
5. Sensu
Sensu is Sumo Logic's Website Monitoring Project available in both Commercial and Open-Source versions. Sensu OSS version is distributed under MIT-licensed code and enables you to monitor Servers, Containers, Real-Time Inventory, perform
Health Checks
and monitor custom metrics. You can also benefit from its automated remediation features and more than 200 community plugins. OSS version does not offer a lot of dashboarding, but you can work with a Grafana UI Datasource. You can also use custom plugins/script language support for the most popular language platforms. You also have basic user management available.
6. Nagios Core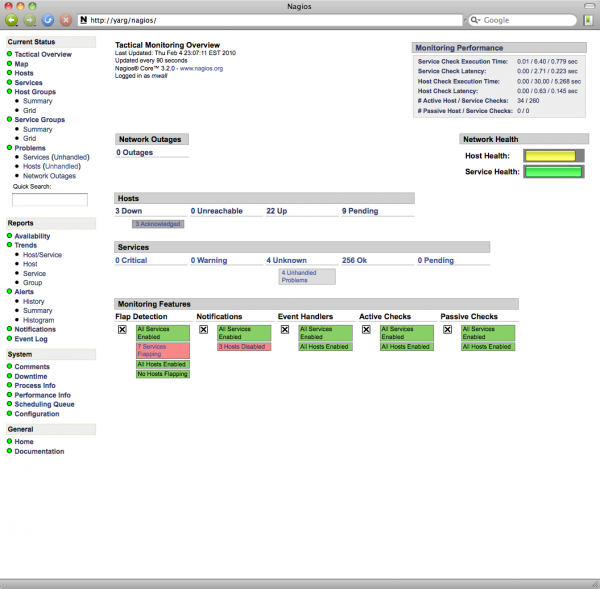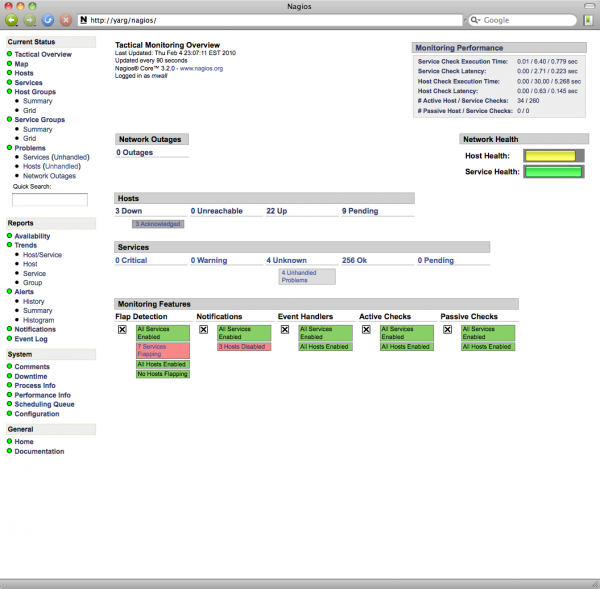 Nagios Core offers a complete URL monitoring solution for HTTP and HTTPS servers, protocols, and URL transactions. It offers complete IT infrastructure monitoring, visibility via a web interface, alerts delivered through email and SMS, event handlers for problem remediation, proactive planning features, basic reporting, user management, and API integrations. Advanced features, such as Website monitoring wizard, are available only for Nagios XI.
The Best Freemium Website Monitoring Solutions in 2023
Many solutions offer either free tools or completely free-forever subscription plans. Free solutions could offer better security since the code is not available on the internet. Also, you can count on onboarding aid and well-written documentation, what allows you to save time and focus on what's important for you.
1. Better Stack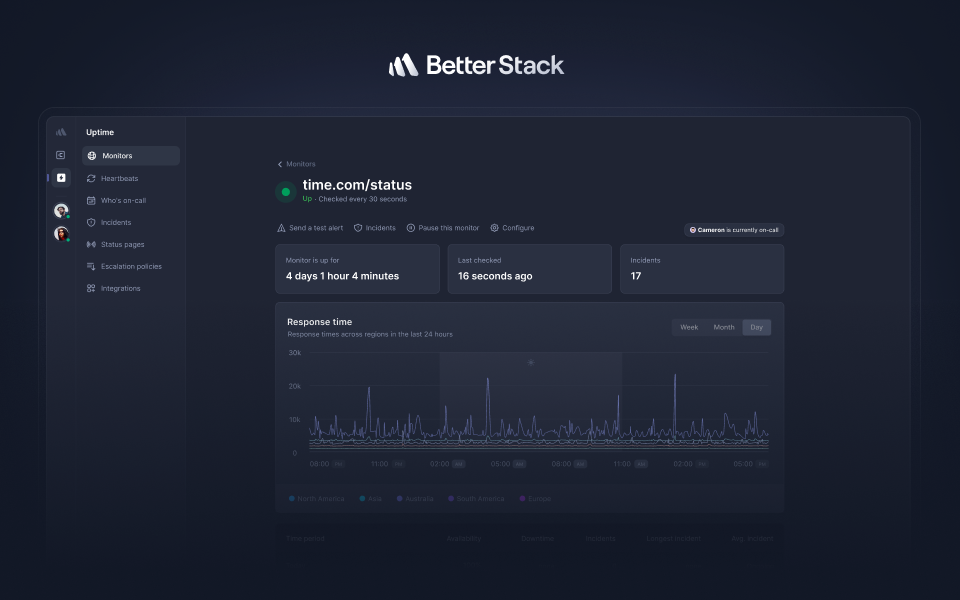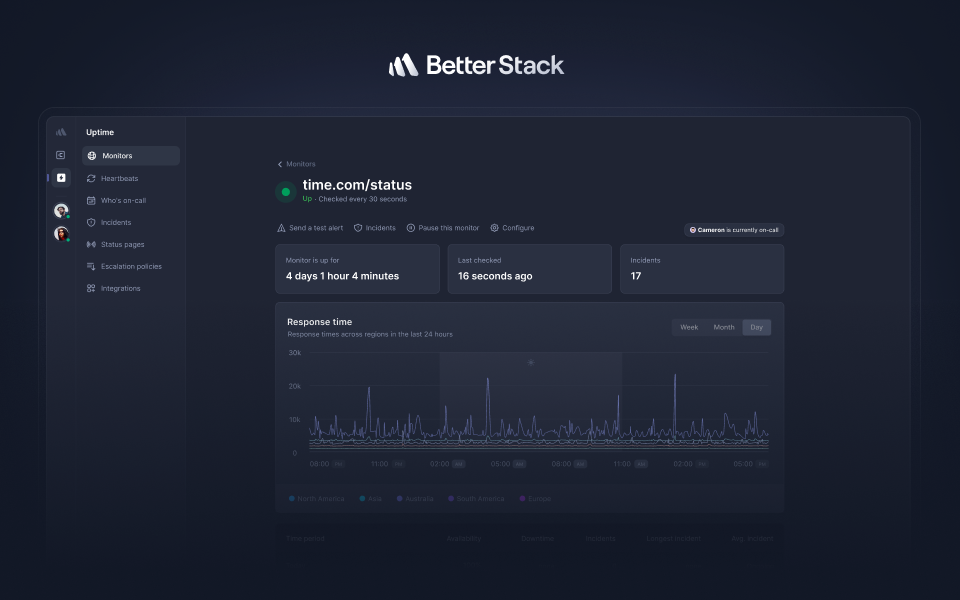 Better Stack offers a radically better monitoring platform, thanks to a combination of best practices in Uptime monitoring, Incident management, and downtime communication with Status pages.
Better Stack offers HTTP(s) keyword checks, multi-step verification, heartbeat, SSL, Ping, and Port monitoring, and many more features. It supports plenty of integrations, including Datadog, New Relic, Grafana, Prometheus, Splunk On-Call, Zabbix, AWS CloudWatch, GCP, and Azure. Better Stack checks on your website every 30 seconds and from multiple locations, so no more false alarms or location-related issues going unnoticed.
In case of an incident, each error is documented with a screenshot and a second-by-second timeline. You can use its reporting and analytics capabilities to overview historical uptime, verify SLA, and better understand incidents in context using incident cause synthesis. In case of any accidents, your system will not be overwhelmed thanks to smart incident merging, and on-call calendar & scheduling will ensure an immediate response. Alerts are handled by Slack, MS Teams, Phone calls, SMS, Push notifications, Zapier, and Webhooks.
Better Stack offers a free solution with e-mail, Slack, and MS Teams alerts, second by second incident timeline, 3-minute checking interval, and a basic Status Page manager. You can also benefit from its historical uptime and SLA analysis.
Main Benefits of Better Stack:
30 second monitoring frequency available
Incident management built-in
Status pages management
Possible to integrate with Logtail, a log management solution from Better Stack
2. UptimeRobot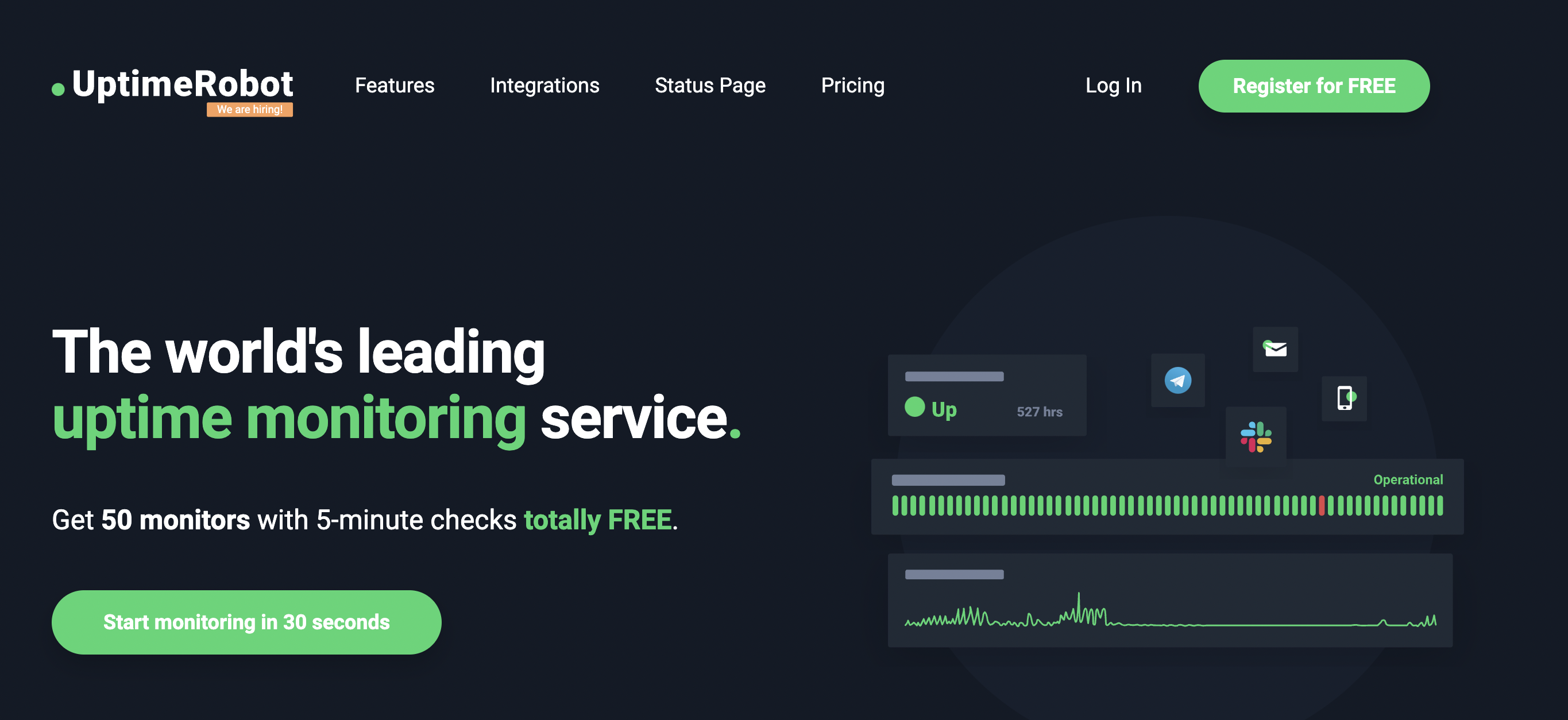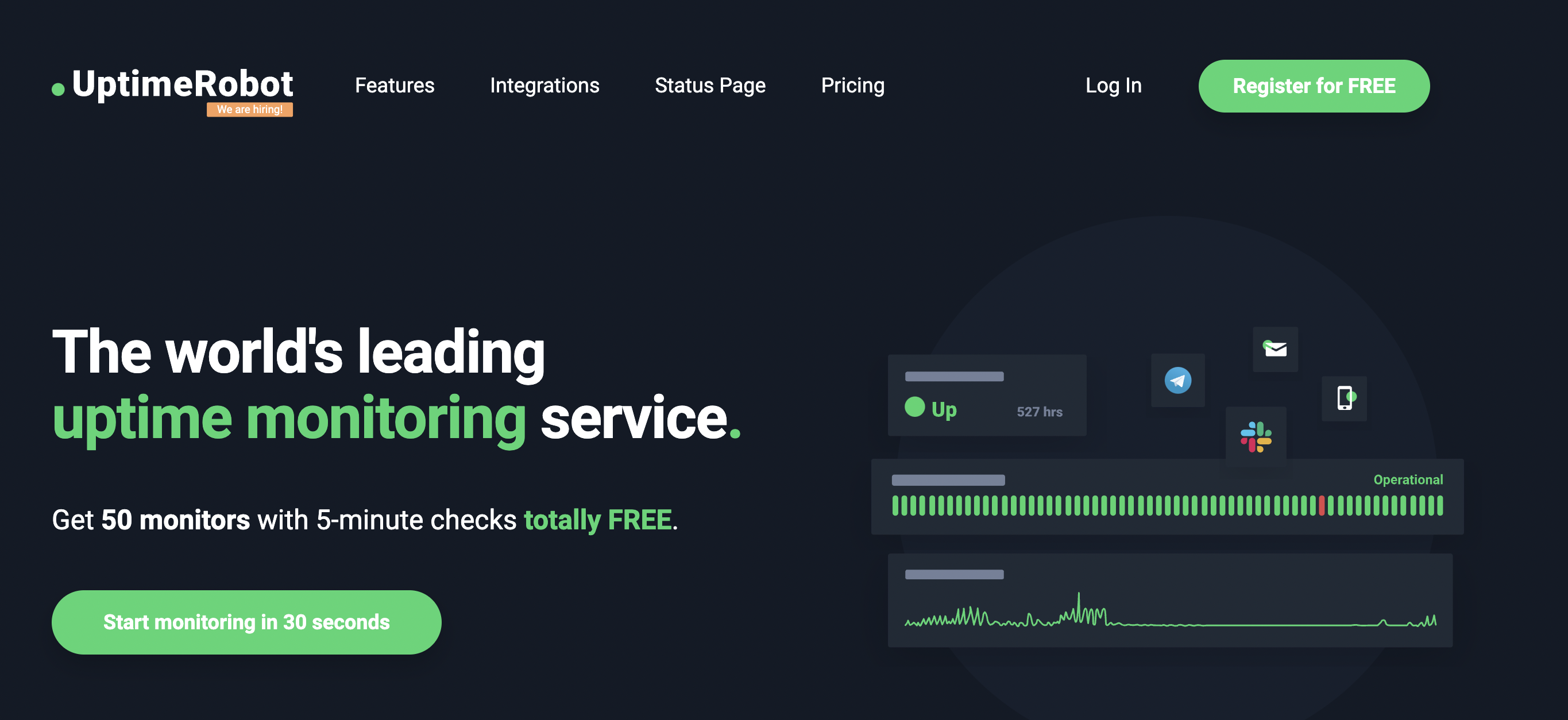 UptimeRobot offers an uptime monitoring solution combining website, SSL, Ping and Port, Cron job, and Keyword Monitoring in one place.
Advanced features include Incident Updates sent by email to Status page subscribers, Semi-Customizable Status Pages, Response times monitor, Maintenance Windows, and Custom HTTP requests.
UptimeRobot allows you to monitor your endpoints from multiple locations as often as every 60 seconds in premium plans and 5 minutes in the free subscription.
UptimeRobot is available for free. However, without SMS or Voice call alerts and only 1 status page, and 3 months log retention.
Main Benefits of UptimeRobot:
Keyword monitoring
Maintenance windows
Advanced notification settings
3. StatusCake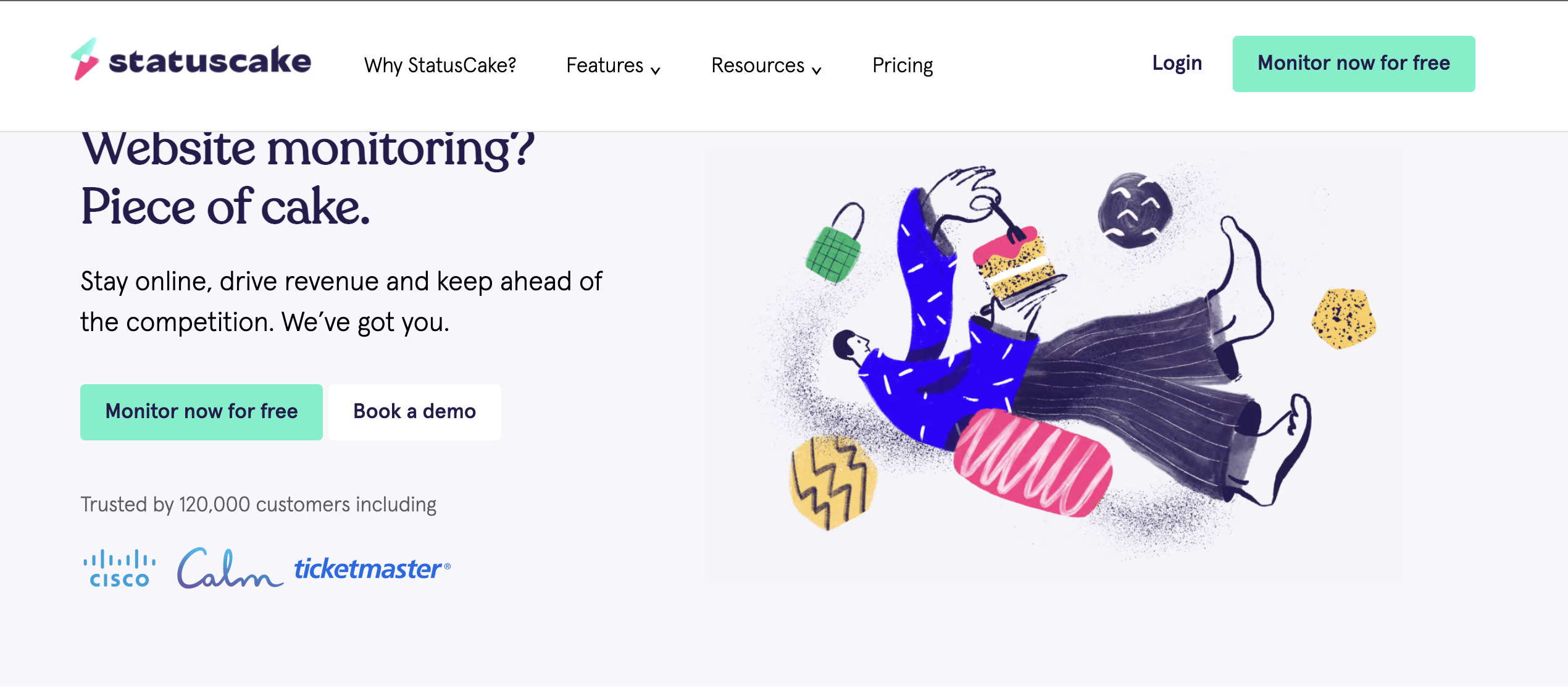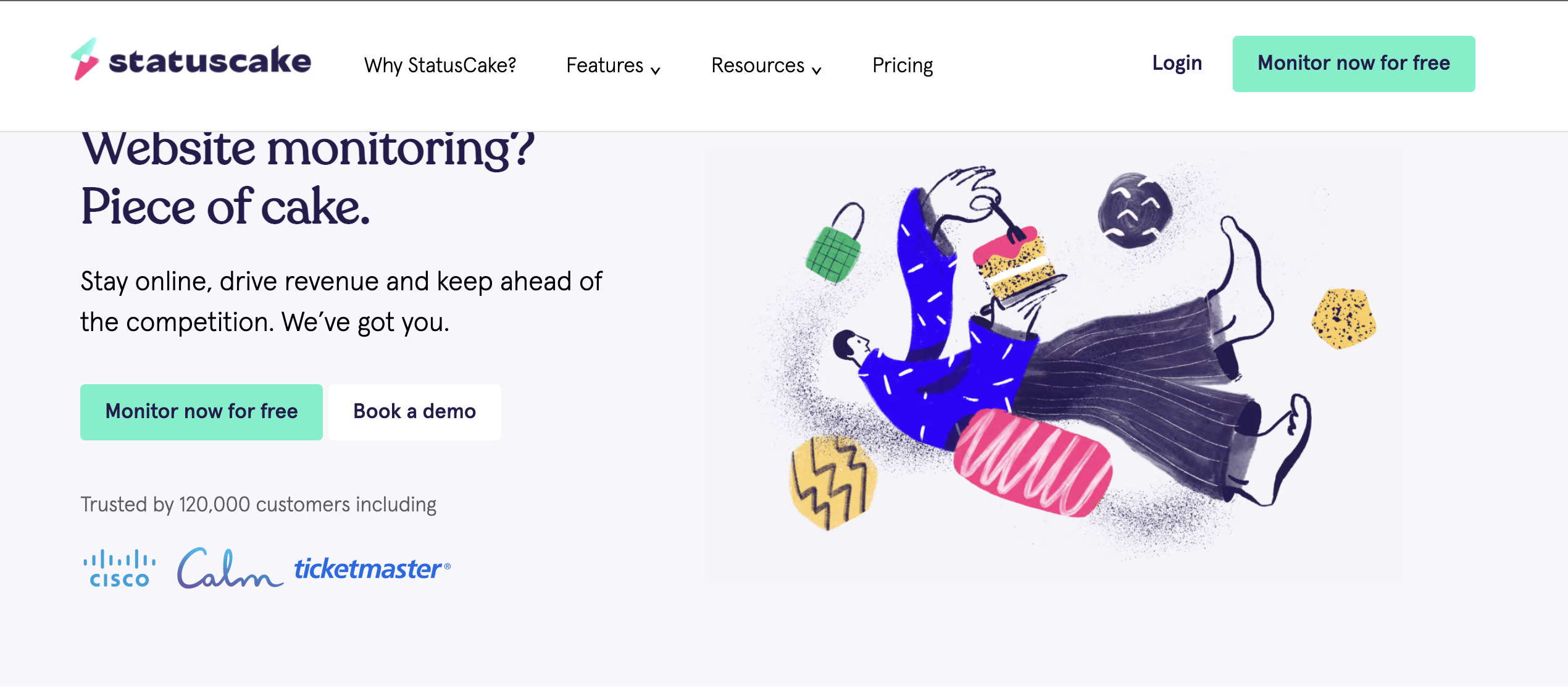 StatusCake offers an uptime monitoring platform and public status pages. You can automatically test your website's uptime from 30 countries worldwide every 5 minutes in their free subscription. StatusCake monitors HTTP, HEAD, TCP, DNS, SMTP, SSH, PING, and PUSH. On top of that, you can keep an eye on your Page Speed, Domain, Servers, and SSL certificates.
StatusCake offers historical uptime monitoring reports up to a month old, allowing you to compare your website's uptime results and performance. In case of any issue, you can use one of their 14 integrations, including Datadog, Discord, OpsGenie, Pushover, Slack, and more, to get notified immediately.
StatusCake offers a free subscription package, with 10 monitors and 5 minutes monitoring frequency. Page speed is measured once in 24 hours and your domain once a week. You can always upgrade to higher tiers that offer 1 minute or 30 seconds monitoring frequency from custom locations. Statuscake offers three subscription models - Free, Superior, and Business.,
Main Benefits of StatusCake
30 seconds monitoring frequency in the most expensive package
Page speed monitoring
Historical Uptime Data
4. Freshping
Freshping is a website monitoring solution from Freshworks. It offers essential monitoring features such as HTTP(s) URLs, Web Sockets, ICMP Ping, TCP, UDP, and DNS monitors. They have 10 global locations available, and check on your website every 60 seconds.
You can get Freshping for free in their SPROUT plan with 50 checks 5 public status pages, 10 users, and 5 integrations. Their premium plans start at $11/month and offer advanced features such as advanced alerting.
5. Checkly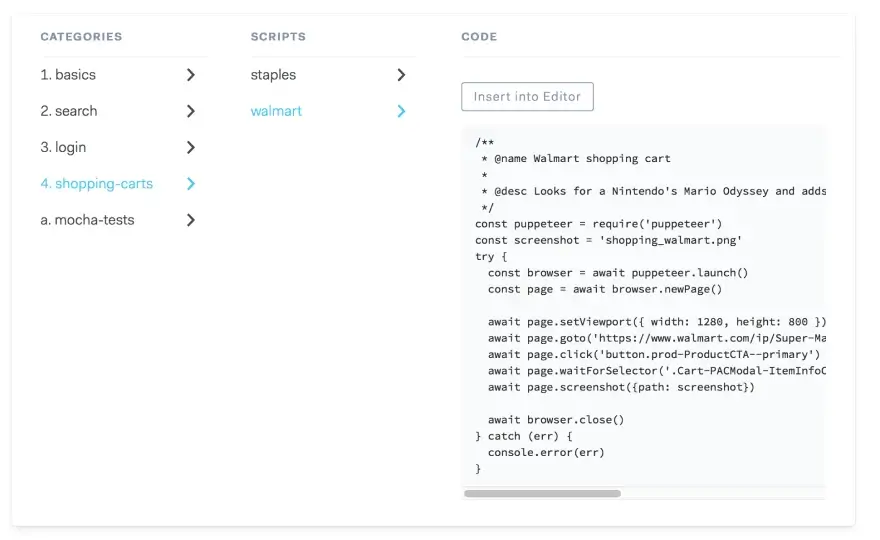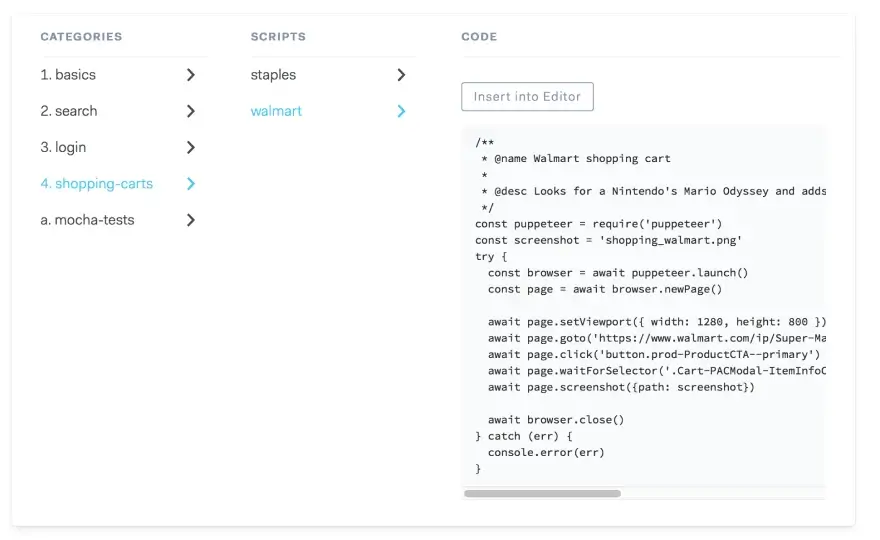 Checkly is an end-to-end and API monitoring platform, which allows you to get rid of broken signup forms and flaky shopping carts. Checkly uses Puppeteer & Playwright frameworks to accurately simulate interactions with a Chrome browser. Checkly's browser checks help you validate and measure the performance of your web app and provide you with valuable data useful for either debugging or optimization.
All of their checks run in real Chrome browsers, within a sealed-off sandbox, which ensures extra security. You can run custom Javascript before and after each API check. Using Checkly's cUrl and Swagger API importers you can create API checks with just a couple of clicks. Your web is monitored every 60 seconds, and with CI/CD integration and optional coding, you can tailor your Checkly Browser monitoring to your needs.
In case of any error, checkly alerts you via multiple platforms, including e-mail, SMS, Webhooks, Slack, MS Teams, Discord, Pagerduty, and more.
You can get Checkly for free, with 50k API check runs per month, 5k browser check runs, and basic features. Paid subscription operates in the Pay as you go mode, with $1.20 per 10K API check runs and $3.60 for 1k browser check runs.
Main benefits of Checkly:
Pricing
Open Source tools such as Headless Recorder
6. New Relic
New Relic offers a free monitoring solution for basic full-stack monitoring, plus a comprehensive
AWS integration
. You can ingest up to 10GBs of data each month and keep your data for up to 8 days.
The free plan also offers Custom Charts and Dashboards, Unlimited Queries, Data integrations, APIs and agents, and alerting capabilities.
Conclusion
In this article, we went over the fundamentals of open-source website monitoring and tools. Then we took a look at freemium alternatives for website monitoring. Website monitoring is always worth the money, but if you encounter certain budget limitations, or like to DIY your solutions, open-source are the ones for you. If you are just dipping your feet in the monitoring waters, you might wanna try the freemium solutions. While they are a bit more limited, they offer a lot of features and can be upgraded to premium solutions.
Want to explore more tools?
Looking for a tool to cater to a very specific use-case? Here are a few lists with monitoring tools to check out:
We call you when your
website goes down
Get notified with a radically better
infrastructure monitoring platform.
Check Uptime, Ping, Ports, SSL and more.
Get Slack, SMS and phone incident alerts.
Easy on-call duty scheduling.
Create free status page on your domain.
Explore more
This work is licensed under a Creative Commons Attribution-NonCommercial-ShareAlike 4.0 International License.