5 Best Pagerduty Alternatives in 2023
Jan Tovarys
Updated on March 15, 2023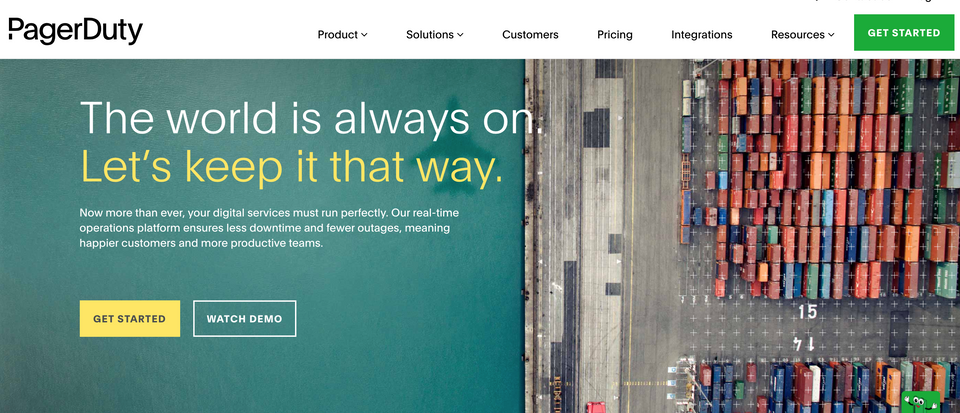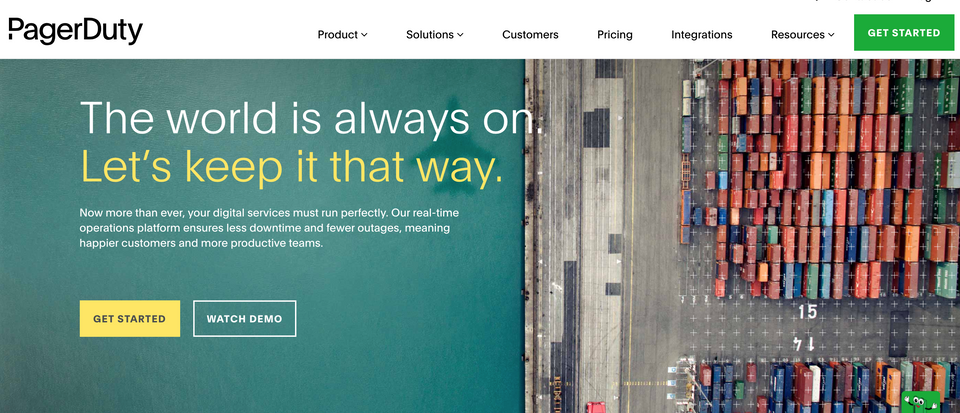 Pagerduty has been around since 2009 and is still one of the most widely used incident management tools on the market. In many ways, however, Pagerduty has failed to deliver to their users the functionality they need.
There is no doubt Pagerduty can be a useful tool, but for many teams, there are much better alternatives that provide better functionality at a more affordable price point.
Because of that, we have compiled this list of Pagerduty alternatives to give you the information you need to make an informed switch to a better incident and on-call management tool.
We have compiled this list of alternatives looking specifically at two things: features and pricing. Let's have a look at what are the best tools for DevOps teams to look at when they have had it with Pagerduty.
1. Better Stack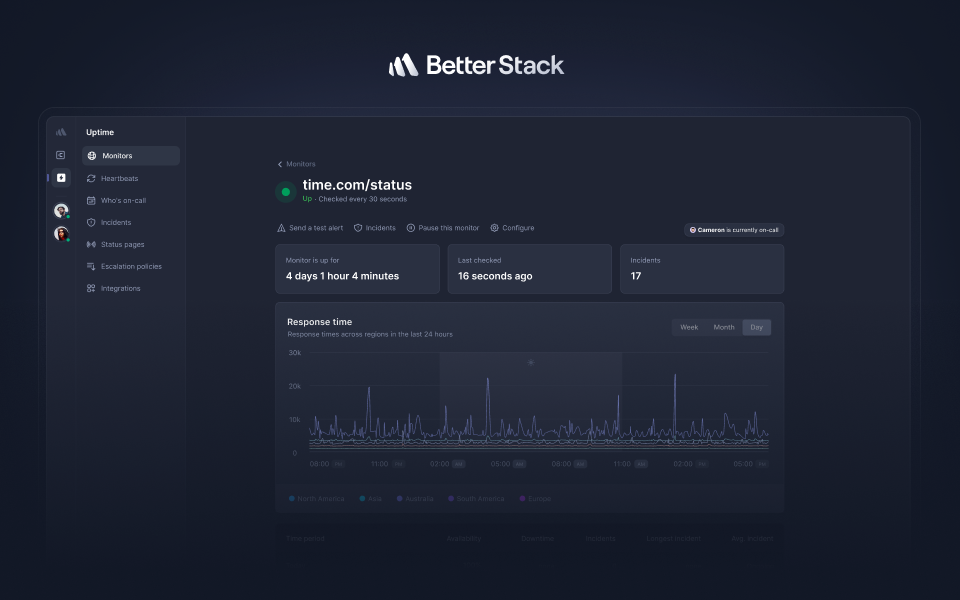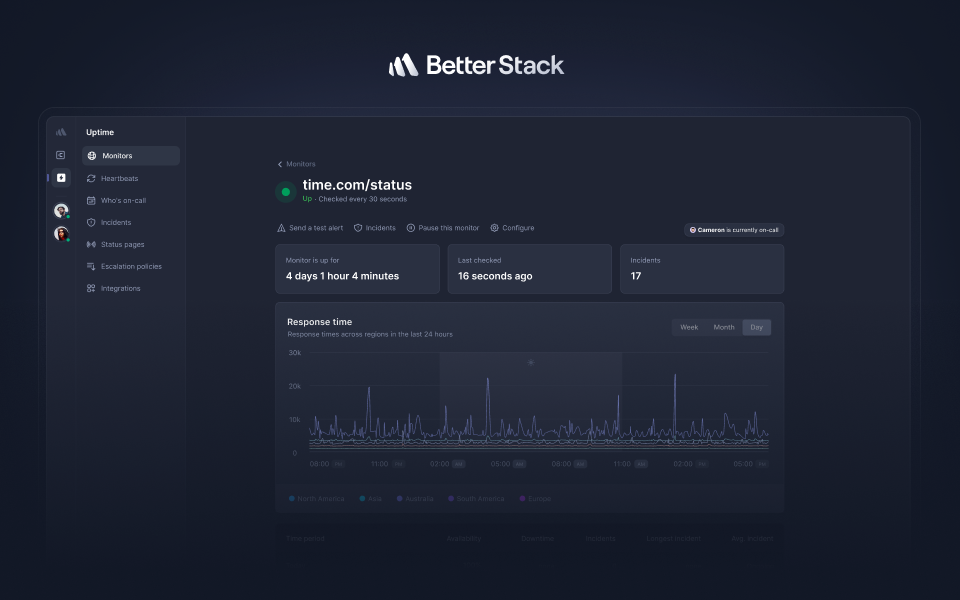 Better Stack combines
incident management
,
uptime monitoring
, and
status pages
into a single beautifully designed product.
Their incident management offers easy-to-use on-call calendar scheduling, which can be done in-app or easily integrated with google calendar. Similar to Pagerduty, there are advanced team management and access features.
When it comes to alerting, Better Stack offers unlimited phone call and SMS alerts on all paid plans. There are also Slack and Microsoft Teams integrations available. Embedding incident screenshots and debug information directly in alerts is very useful as well.
The main benefit of Better Stack is that it has built-in uptime monitoring. They offer HTTP(s), ping, SSL&TLD expiration, cron job, and port monitoring. Those monitors can be integrated with the on-call alerting without the need to integrate any third-party monitoring tools like Pingdom or Uptime Robot.
When it comes to integrations, Better Stack offers a wide range of monitoring as well as analytical integrations that are ideal for more demanding users. The most interesting ones are probably Heroku, New Relic, Datadog, AWS, and Grafana.
A cherry on the top of Better Stack is their free status page. They have a beautifully designed status page, which is connected with all the existing monitors and can be edited in seconds. Their status pages can be fully customized and published on a custom domain. Paid plans also allow users to set up password-protected pages as well as e-mail and API status subscriptions.
Main benefits of Better Stack:
Easy on-call scheduling
Unlimited phone calls
Uptime monitoring built-in
Beautiful status pages
Slack, Teams, Heroku, AWS, and 100+ other integrations
2. xMatters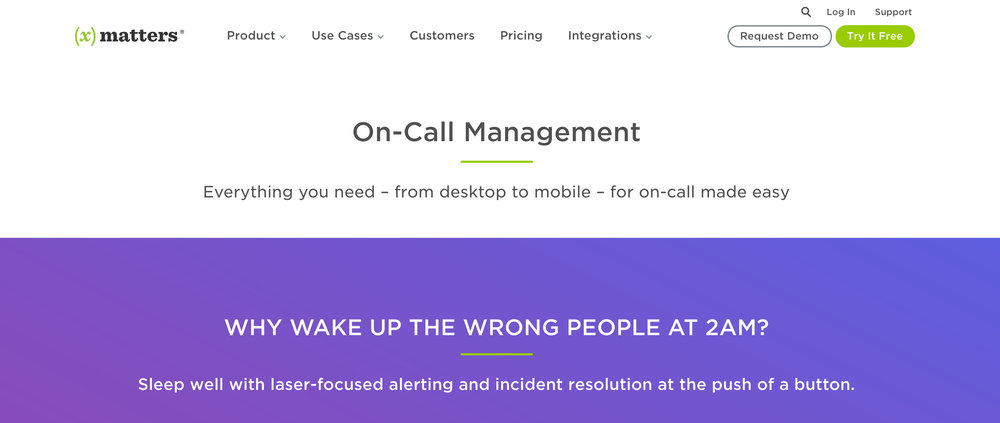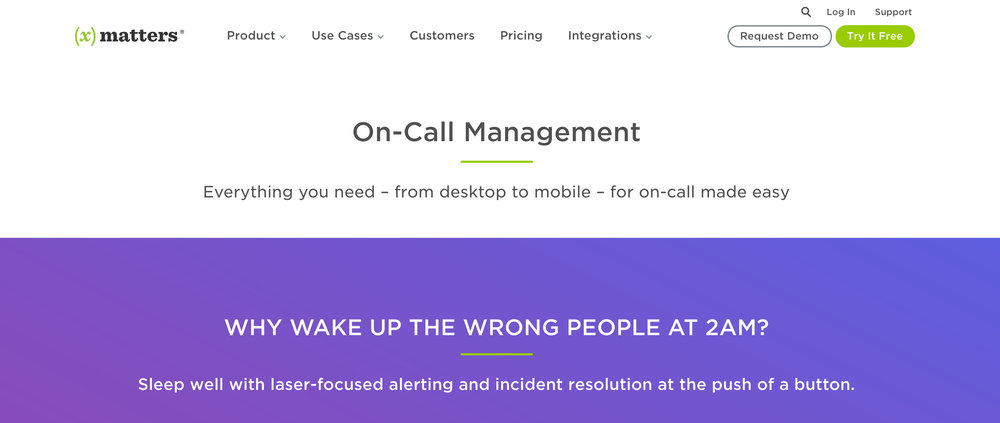 xMatters is another tool to consider when looking for incident management software. xMatters offers the basic functionality you need as a DevOps team to manage your on-calls.
They have easy-to-use on-call scheduling, team management, and incident timelines. They also have advanced team management tools like permission management.
The reason why xMatters is included is that they have a very reasonable free plan, which is suitable for any small team that is just starting and wants to save money while also having basic on-call functionality available. The main difference with the paid plans is that they offer better analytics, data retention, and dedicated support. Furthermore, XMatter offers over 200 pre-built integrations, so plugging in your stack shouldn't be a problem.
The main downside to consider with xMatters is that their phone call notifications are only available on the paid plans and are also limited depending on your tier. To get unlimited phone calls, you would need to switch to their custom pricing available, which obviously comes with a very high price tag as well as accounting work.
However, for smaller teams, the free tier is a great way to start implementing on-call management in your team.
Main benefits of xMatters
Free plan with loads of features
3. Alertops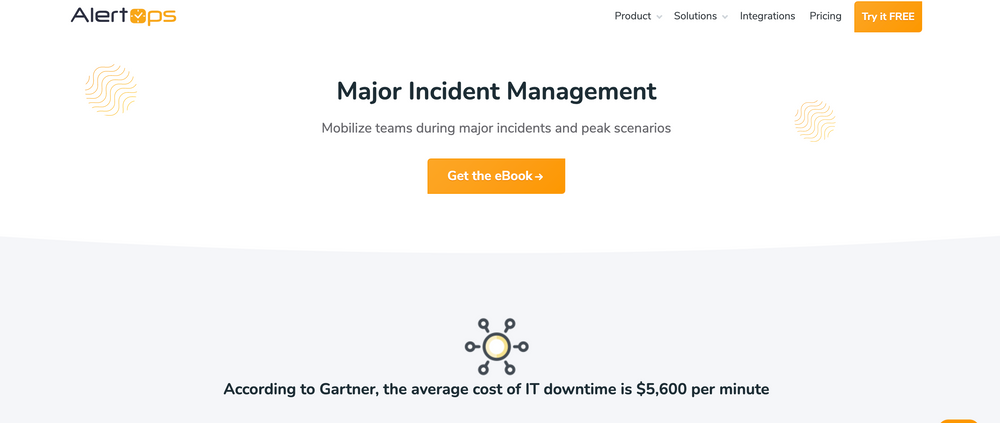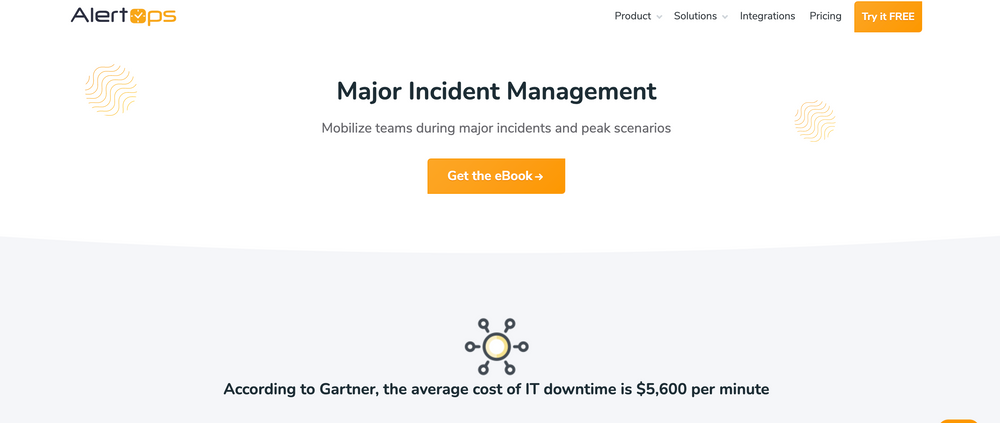 Alertops is a tool for incident management and IT service management.
It has all the major features that Pagerduty offers. Probably the major difference is that Alertops now offers heartbeat (cron job) monitoring as part of their higher-tier plans. This is certainly useful for anyone looking to monitor database backups or other scheduled tasks. Regular uptime monitoring or RUM (real user monitoring) is not available.
The downside of Alertops is that they lack a free plan. Also, not all plans include unlimited phone and SMS alerts. For the unlimited option, one needs to go for the higher-tiers.
Their first paid tier, the Standard package, is overall offering much fewer features than others on this list. For example, data retention for the lowest paid plan is only 3 months, and other quite important escalations and alerting features are severely limited as well.
Lastly, Alertops is not entirely self serve. One needs to schedule a demo to be able to start scheduling on-call and integrating monitoring and alerting tools.
Overall Alertops is on the more expensive side of Pagerduty alternatives and can be recommended for teams looking to get a partner for a long lasting commitment.
Main benefits of Alertops
Cron job (heartbeat) monitoring included
4. Opsgenie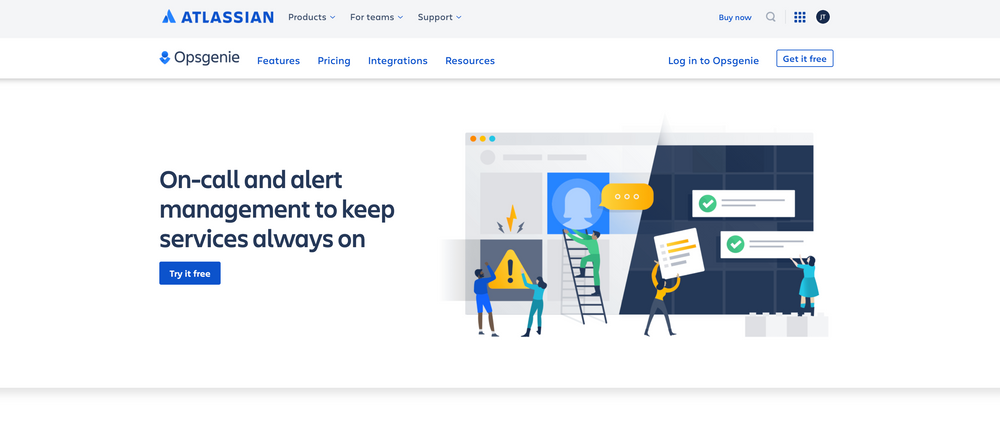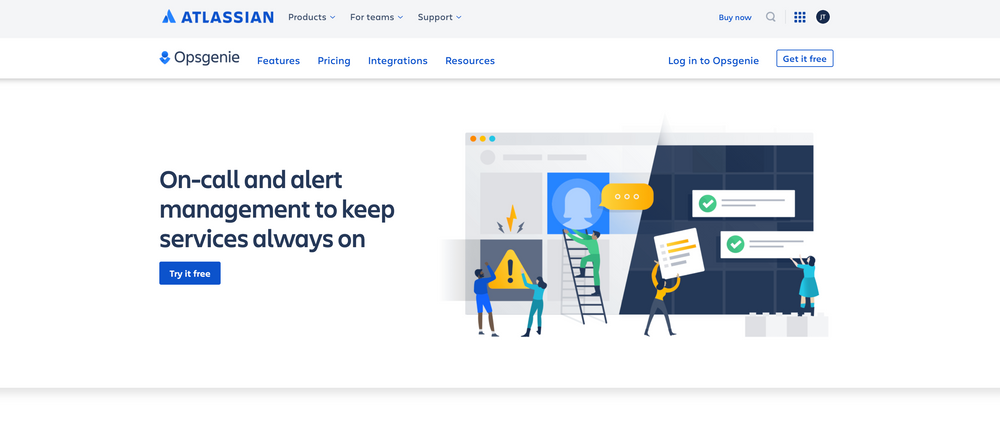 Opsgenie made by Atlassian surely has a spot on the alternatives list. Opsgenie is a slightly more modern on-call platform with similar functionality but is easier to use and has a better user experience.
When it comes to on-call scheduling, Opsgenie has an easy-to-use calendar and works well, even for larger teams. Similar to Pagerduty, there are plenty of advanced alerting workflows that can be utilized to cover even corner case scenarios. Those include enriched alerts, custom actions, or smart incident merging.
The main benefit of Opsgenie is that they offer a nice incident investigation tool, which helps teams to correlate the latest deployments with incidents. This can be of great help when solving downtime in many cases.
Opsgenie's free plan is quite generous as it offers unlimited SMS alerts and up to 5 team members. Even though this plan has only a few features compared to paid once, it is a great start for smaller companies. The pricing of other plans is very reasonable and offers many enterprise-ready features.
The main downside of Opsgenie is that even with its modern design, the product can be hard to navigate for those new in incident management.
Main benefits of Opsgenie
5. Splunk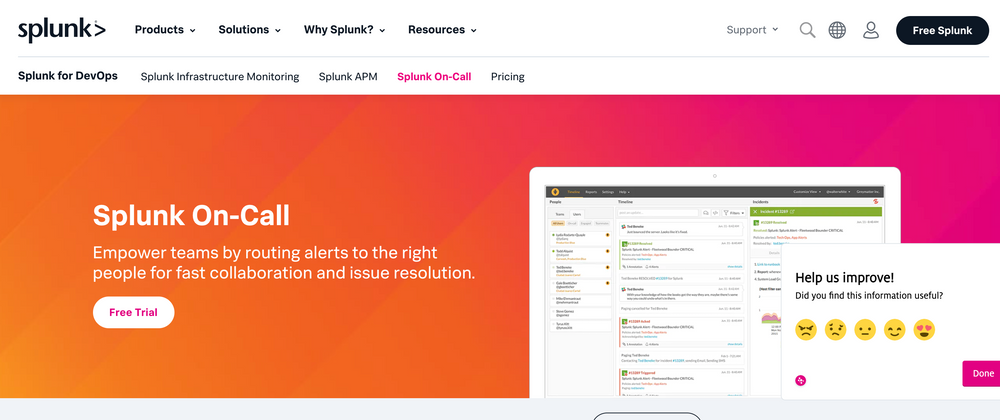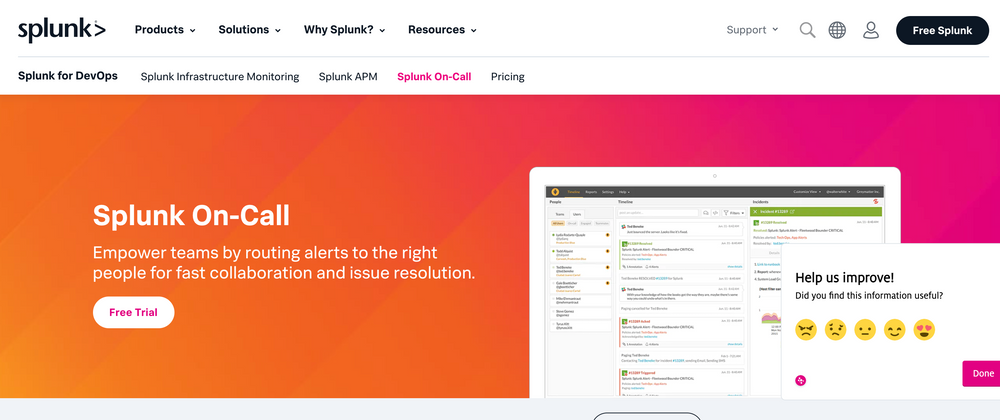 Previously known as VictorOps, Splunk on-call is an incident management tool from the Splunk product family. At the core, Splunk on-call is very similar to Pagerduty as both are enterprise-focused companies. What this means is that similar to Pagerduty Splunk on-call is quite hard to operate especially in the beginning.
Since Splunk is built for enterprise, it has all the necessary features needed by the big teams but lacks things that would be appreciated by smaller teams, like, for example, a free plan. Another major limitation is that the paid plans have limitations on e-mail and push notification alerts. This essentially means that to be able to operate, teams need to go for the high-tier plans just to be able to get the basic functionality.
Furthermore, some advanced features like incident merging are again only available for high-tier plans. What this means that Splunk is indeed a great tool, but only if you have the resources to go immediately on the enterprise plan.
Main benefits of Splunk
Suitable for enterprise
Can be combined with related enterprise products
Want to explore more tools?
Looking for a tool to cater to a very specific use-case? Here are a few lists with incident management and monitoring tools to check out:
Make your mark
Join the writer's program
Are you a developer and love writing and sharing your knowledge with the world? Join our guest writing program and get paid for writing amazing technical guides. We'll get them to the right readers that will appreciate them.
Write for us
Writer of the month
Woo Jia Hao
Woo Jia Hao is a software developer from Singapore. He is an avid learner who...