10 Best Splunk On-Call (VictorOps) Alternatives
Jan Tovarys
Updated on June 14, 2023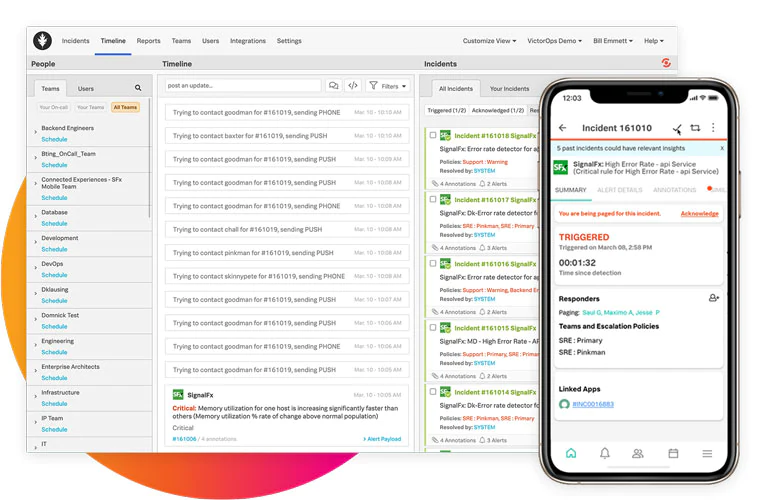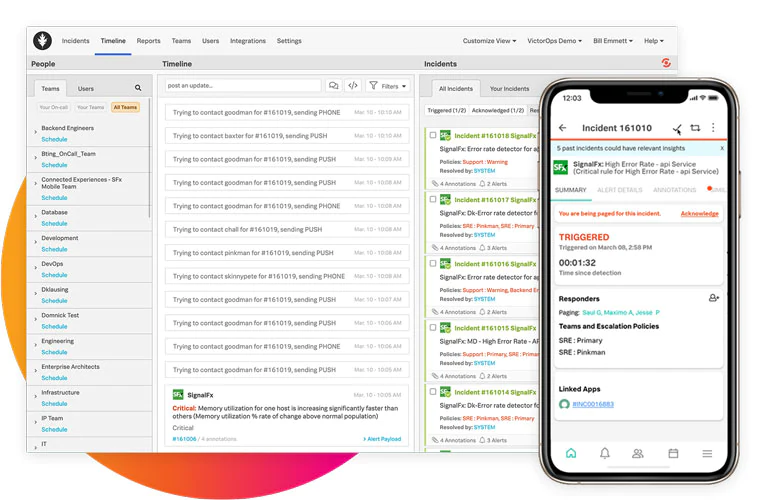 VictorOps is dead - long live Splunk On-Call. Splunk acquired VictorOps in 2018 and has developed it ever since. VictorOps changed, got a new name, new features, and became On-Call.
On-Call is a comprehensive, innovative, and feature-rich incident management solution. Splunk is a significant player in the market and offers solutions for a wide range of functions. However, all this comes for a price.
Splunk's enterprise focus takes a toll on free or lower-tier plans that lack essential functions, which means that even for the basics, you need to subscribe to a higher-tier plan. It's, for example, the limitation on e-mail and push notifications alerts even in paid plans or the absence of smart incident merging.
Top Splunk On-Call Alternatives in 2023
Considering that incident management is essential from the start, we've decided to compile this list of top 10 Splunk On-Call alternatives.
1. Better Stack
Better Stack is a modern and innovative Incident Management platform. It's an Uptime monitoring solution with Incident management built-in and a status pages manager.
Thanks to second-by-second incident timelines with screenshots, smart incident merging, and postmortems, you can significantly reduce MTTRs. On-call calendar & scheduling, advanced incident escalation rules, and manually triggered incidents ensure that you will be the first one to know if anything goes south.
Better Stack covers the monitoring of critical aspects such as heartbeat, SSL certificates, or Ping and Ports. Thanks to the integration with Better Stack Logs, a log management and analysis tool also made by Better Stack, you can get your hands on a powerful incident management and monitoring solution for a fraction of the price.
Basic Better Stack package is available for free, with 90 seconds checking period, 10 monitors, free e-mail alerts, and integration into Slack and MS Teams. Paid subscriptions start with the Freelancer package for $24/month, offering Push notifications for iOS and Android, Postmortems, Uptime monitoring tools, and a 30-second check frequency. The Small Team solution, starting at $64/month, includes 100 monitors, on-call scheduling, and more than 200+ integrations, alongside enhanced uptime monitoring and incident management tools. If you are looking for a solution for multiple teams, reach out for the Business package or book a demo with one of the engineers and ask for a custom quote.
Main benefits of Better Stack:
Incident management and uptime monitoring all-in-one platform with Public Status Pages manager built-in
30 seconds checking interval
advanced incident management features available in the higher tiers
Possible to integrate with Better Stack Logs for logs-related incident management
2. New Relic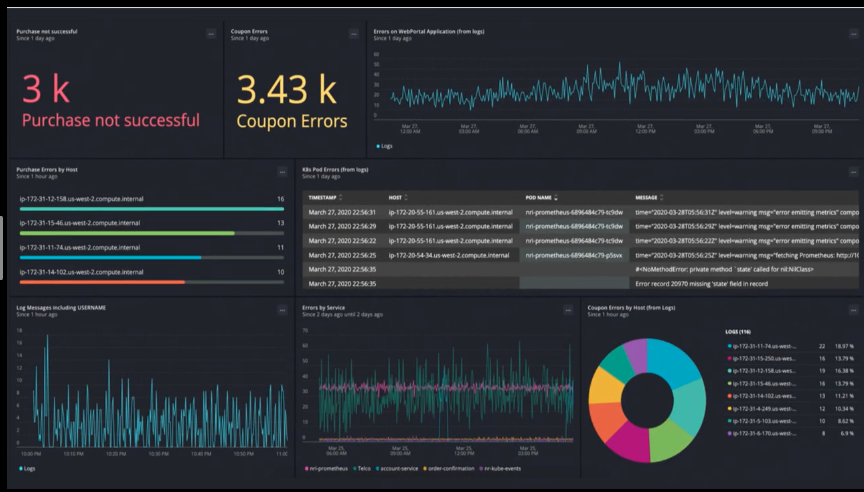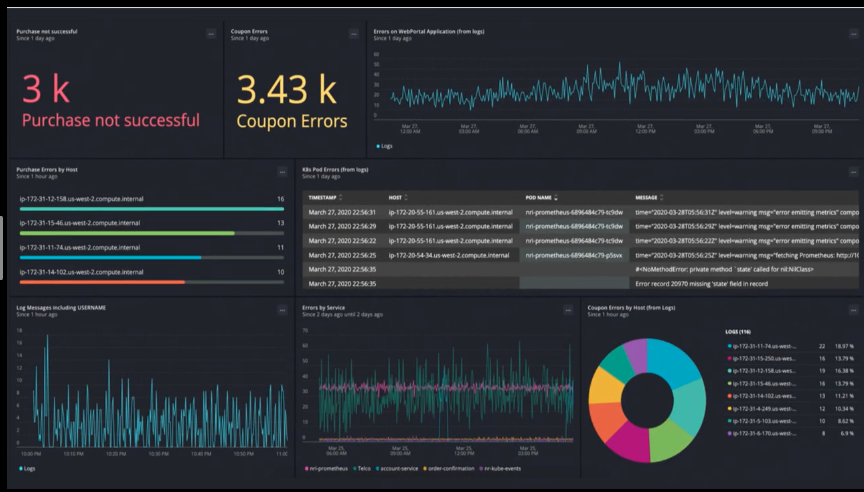 New Relic offers a solution to Incident Management and faster incident response. It uses AI in many of its processes, and it gets smarter over time. That ensures an effective Alert Noise Reduction. With every incident occurring, applied intelligence evaluates if the incidents should be correlated with other incidents.
New Relic gives you access to visualized insights of various metrics, such as total incidents and correlated issues, and helps you understand what they have in common. That allows group-related alerts. Instead of dozens of notifications, you get one singular report with context, including automatic root cause analysis.
But their progressive and intelligent architecture comes with a price, and most of the communication side, such as on-call scheduling and alerting, are handled externally by platforms such as Opsgenie or Pagerduty.
You can get New Relic for free. Then you pay for what you use, meaning that everything that exceeds the limit of a free subscription comes for a certain fee, depending on your subscription model.
Main benefits of New Relic:
Full-stack observability in one place
A plethora of integrations
3. Opsgenie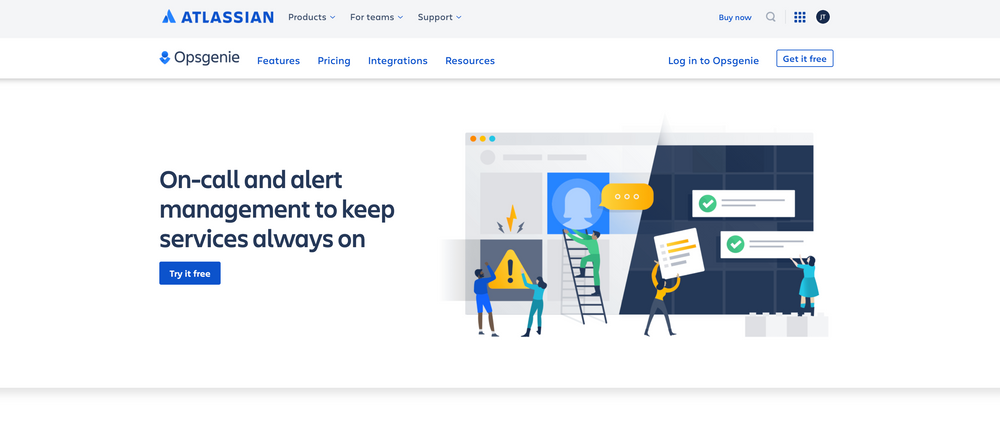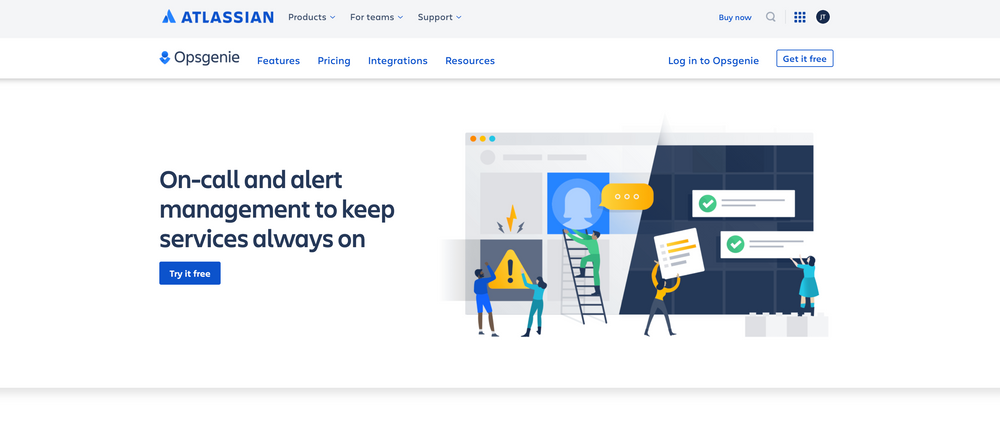 Opsgenie comes from Atlassian and offers a strong alternative to On-Call. Thanks to its modern architecture and functionality, it is easy to use and provides a good user experience.
When it comes to on-call scheduling, Opsgenie has an easy-to-use calendar and works well, even for larger teams. There are plenty of advanced alerting workflows that can be utilized to cover even corner case scenarios. Those include enriched alerts, custom actions, or smart incident merging.
The main benefit of Opsgenie is that they offer a nice incident investigation tool, which helps teams to correlate the latest deployments with incidents. This can be of great help when solving downtime in many cases.
Opsgenie is available for free and offers a solution for Basic Alerting and On-Call Management for smaller teams. Pricing then depends on the number of users and the scale of your project.
Main benefits of Opsgenie
Modern dashboards
Opsgenie for BlackBerry Dynamics
4. OnPage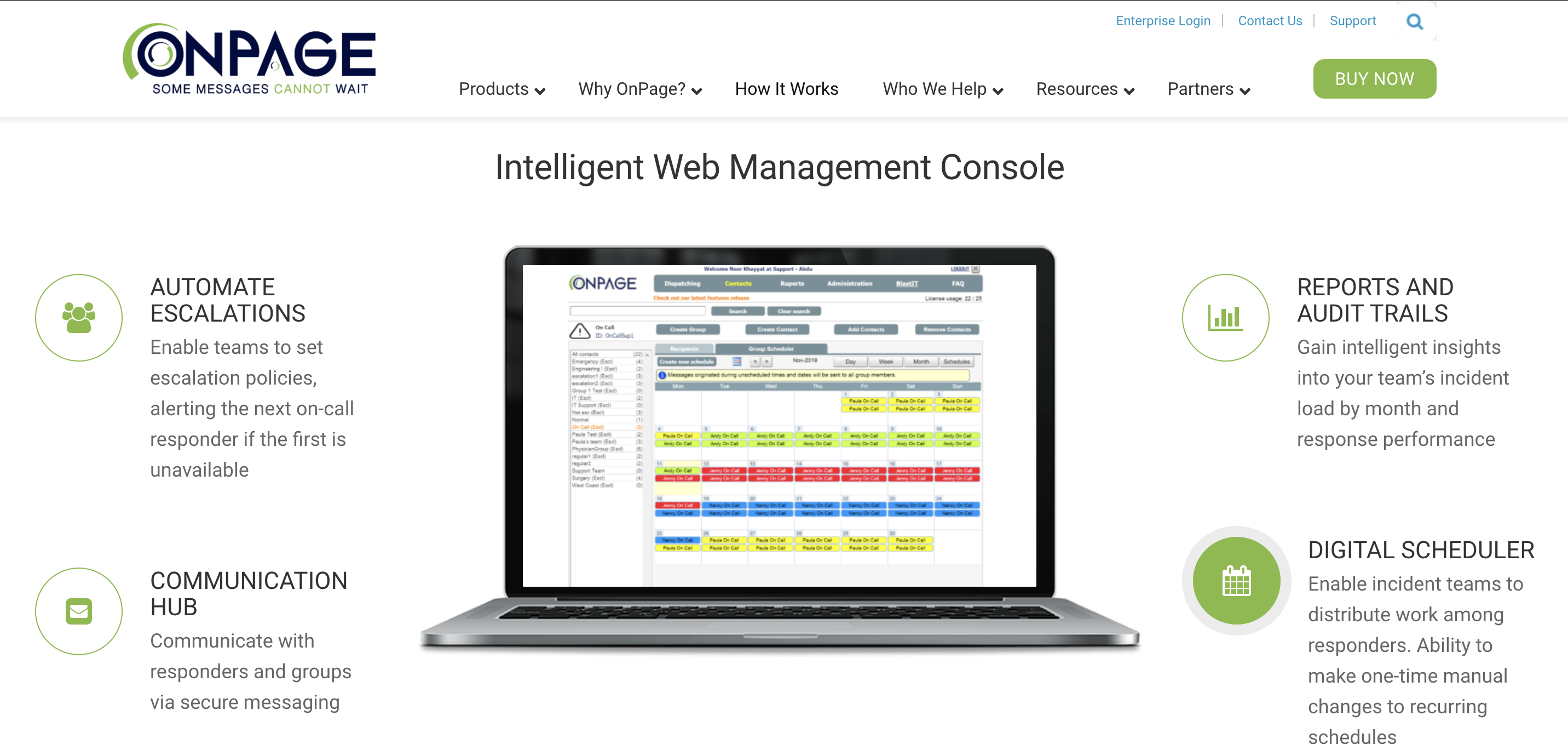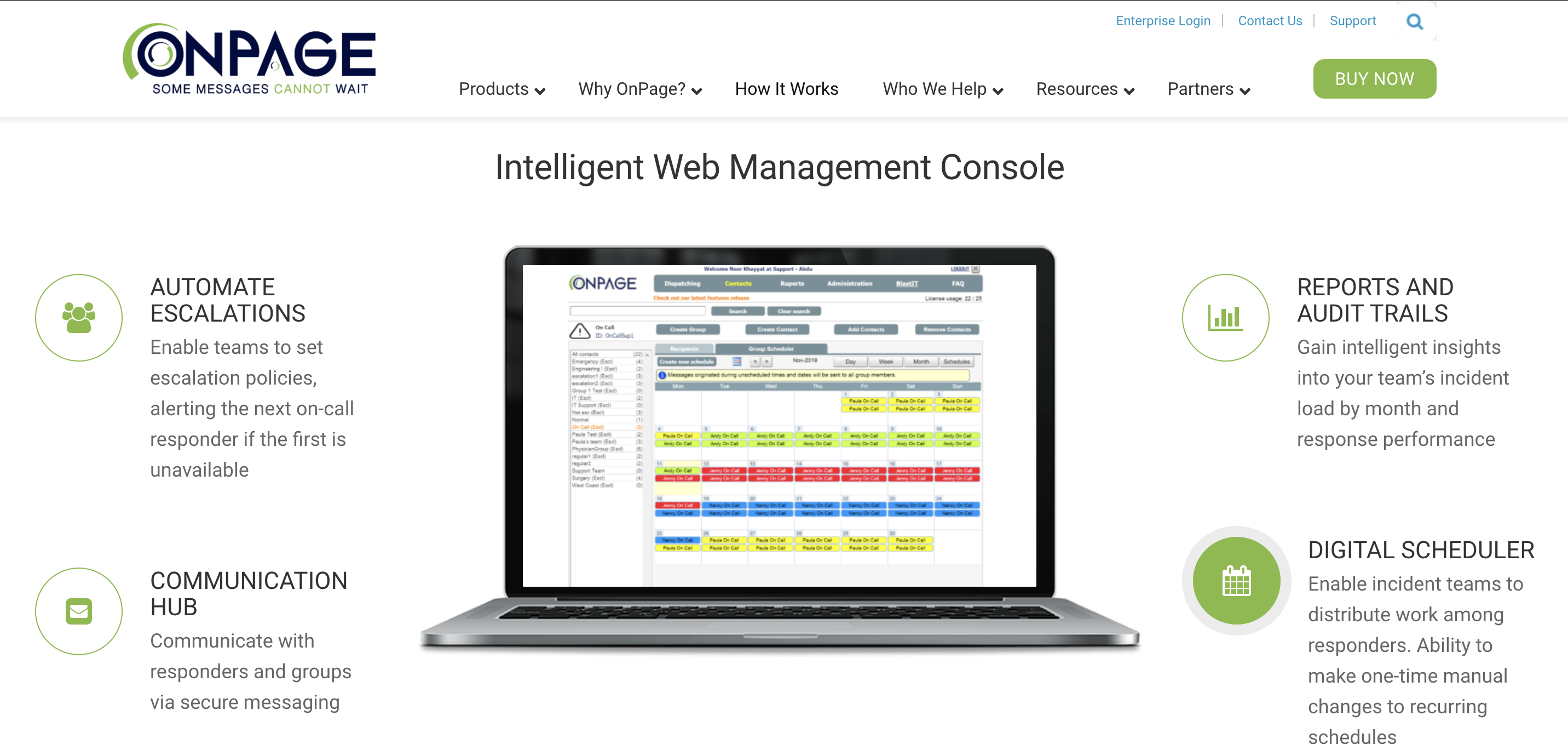 OnPage is a SaaS incident alert management system hosted in SSAE-16-compliant hosting facilities across the US. OnPage allows you to get a complete solution for web management, receive mobile alerts, get instant visibility and feedback on incident status. OnPage also makes it easy to escalate alerts and stresses the importance of IT automation. It offers more than 200 integrations, making it suitable for almost any existing infrastructure.
OnPage allows real-time, cross-team collaboration for faster incident resolution, with insights into your team's work. You can use this data to improve your incident management strategies and your team's performance.
OnPage offers solutions for IT, Healthcare, the MSP sector, Business Continuity Planning (BCP), and others.
Main Benefits of Onpage:
Elaborate Alerting system, including persistent notifications and Alert-Until-Read-Notifications
Standard SLA
5. AlertOps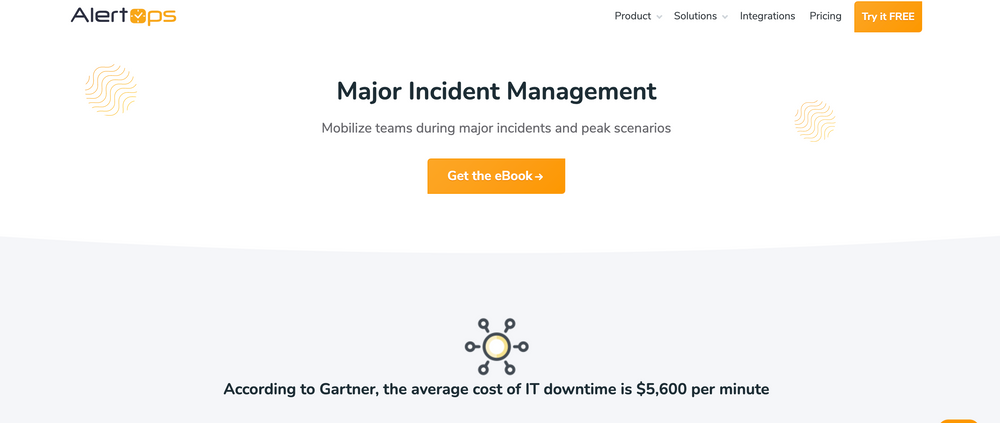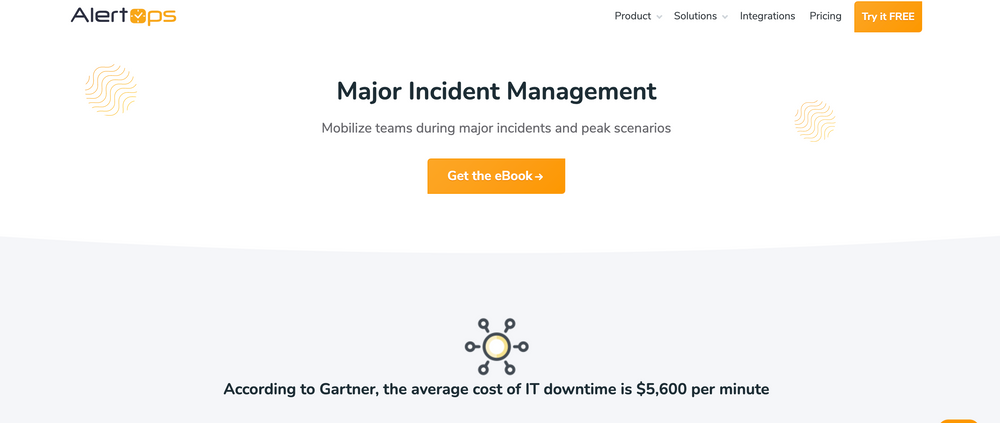 AlertOps is an incident and IT service management tool, offering all of the most frequently used features comparable to tools such as Opsgenie or Splunk On-call. However, Alertops goes over the top and provides a heartbeat monitoring solution in their higher-tier plans. This comes in handy for anyone looking for a simple solution to monitor scheduled tasks (e.g., database backup, invoice generator, etc.)
Regular Uptime or RUM features are not available, but AlertOps wants to "go beyond managing incidents" with IT automation. This automation for AlertOps offers dynamic alert routing depending on the time of the day, problem type, or a specific case scenario.
AlertOps offers a free Starter Pack for up to 5 users suitable for easy on-call scheduling, API monitoring, and alerting. The rest of the pricing depends on the chosen subscription package and the number of team members.
Main Benefits of AlertOps:
White-Glove Onboarding
End-to-End Automation
6. FireHydrant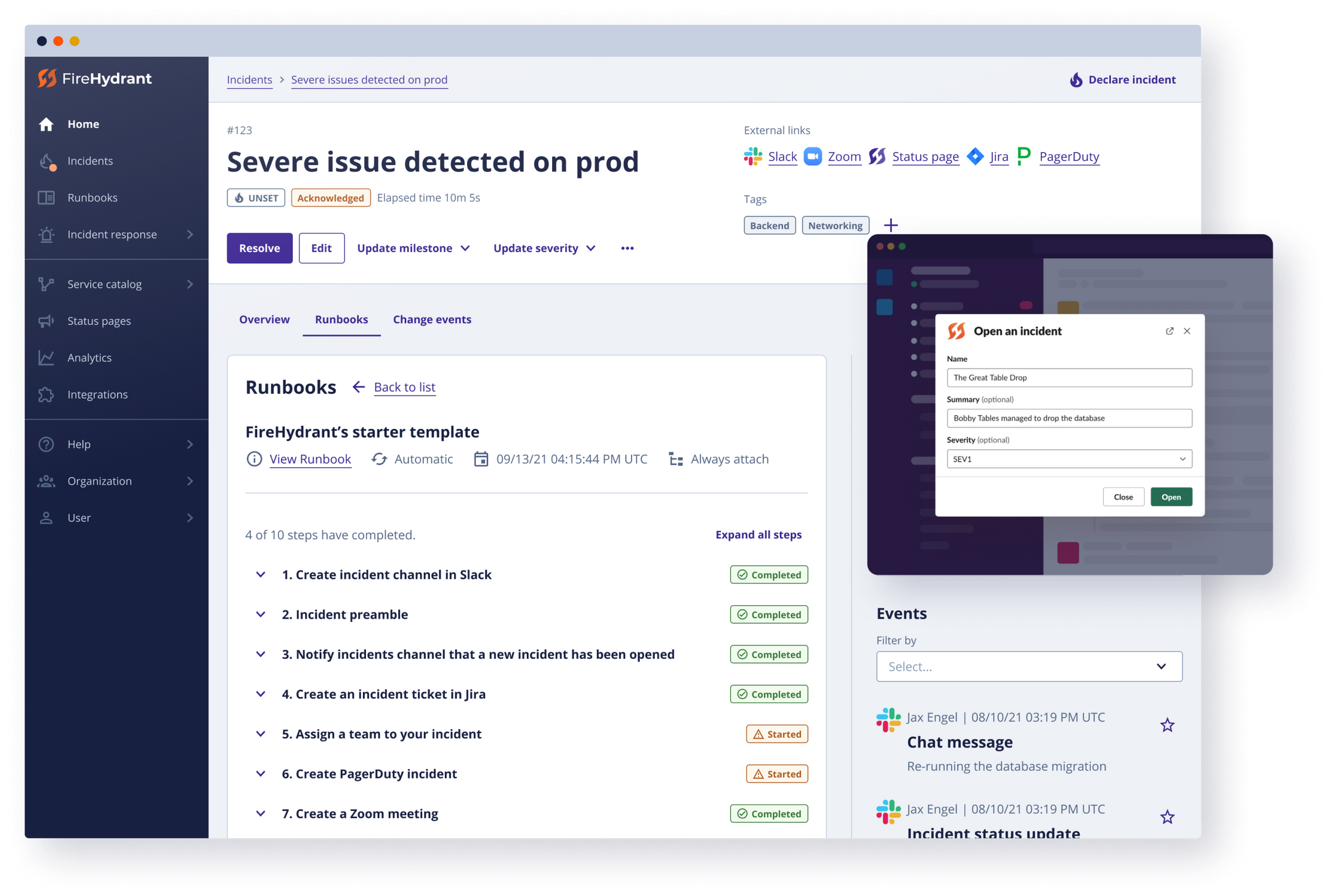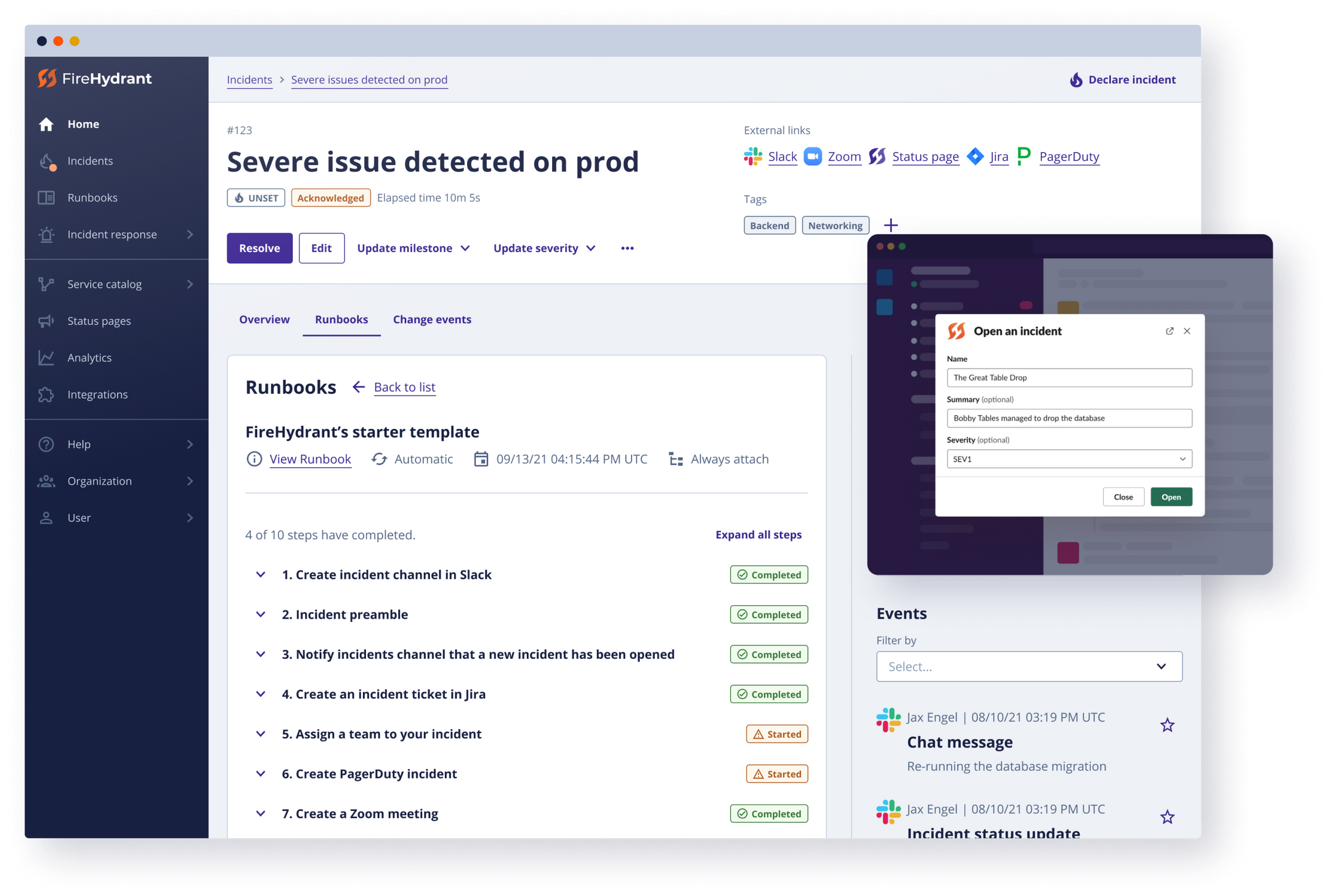 FireHydrant is a reliable platform focusing on Incident Management and Analytics from the moment an incident occurs to its resolution.
FireHydrant functions like most of the players on the market - it offers incident management, automation, analytics, and key integrations. What stands out is the service catalog allows you to understand the roles of your team members in a documentation-ish way. FireHydrant also tracks deployments, creating a timeline of every change made and how it affected your system.
Fully automatized and customizable, either public or authenticated status pages keep stakeholders and users in the loop.
Maybe the biggest downside is the pricing model, which offers quite limited features to the low-level tiers.
Main Benefits of FireHydrant
an innovative approach to incident management
Status pages
7. PagerDuty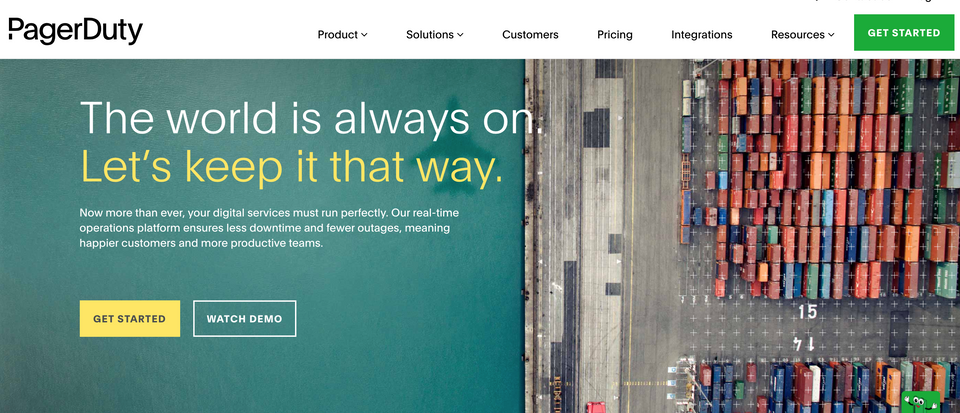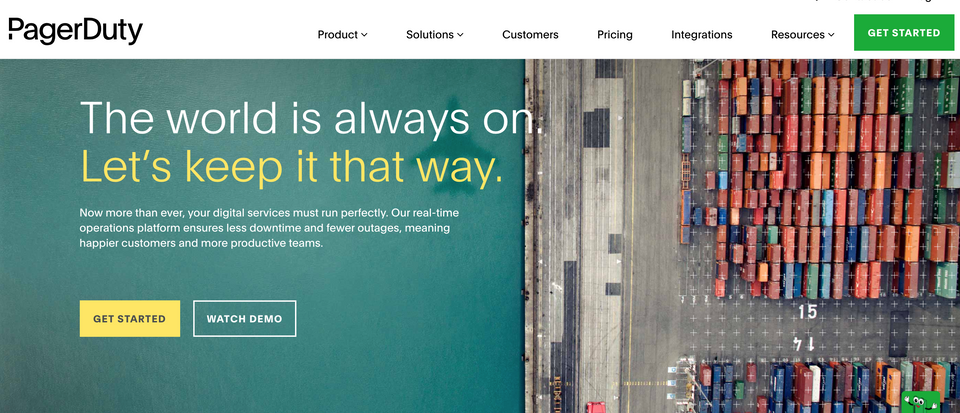 PagerDuty offers on-call management capabilities such as live call routing or automated escalation policies. These features allow you to distribute responsibility evenly and benefit even more from your incident management.
Using adaptive learning, PagerDuty learns how to treat incidents automatically. Runbooks use machine learning to decide which incidents need a response, correlate data, and identify similar incidents to inform those responsible for resolutions.
Using pre-built queries, you can overview incident activity and its impact on your business. The analytics dashboard provides you with information about team and service performance and health.
By using best practices, PagerDuty can help you to reduce noise and prevent alert fatigue. PagerDuty is great at what it does, but it lacks essential features, and any extras cost a lot of money, meaning that getting a solution covering all your project's needs can easily lead to overspending your budget.
Main Benefits of PagerDuty:
Analytics Dashboard
Noise and alert fatigue prevention
8. Resolver
Resolver focuses on the security and reliability of big corporate players such as Toyota, Starbucks, or T-Mobile. Their incident management software offers a complete roadmap to a sustainable incident management solution.
Using Resolver's hotlines and incident portal, you can avoid incidents from going unreported by creating easy-to-use and accessible incident-reporting channels. AI-Enabled Intelligent Triage automatically tags your incident to speed up the process, improve reporting consistency and identify correlations and trends across incidents.
Resolver emphasizes the need to understand your team's workflow and adapt to it. Its features and customizability allow for custom-tailoring the product according to your needs. You can also build your own analytics and reports to deliver essential information, including the root cause analysis, data warehouse, analytics, reporting, and more.
However, Resolver is best suitable for big enterprise players, and the scale of "incidents" handled by this tool is far beyond the need of an ordinary client.
Main benefits of Resolver:
Emphasis on security and reliability
A portfolio of successful clients
9. Datadog Incident Management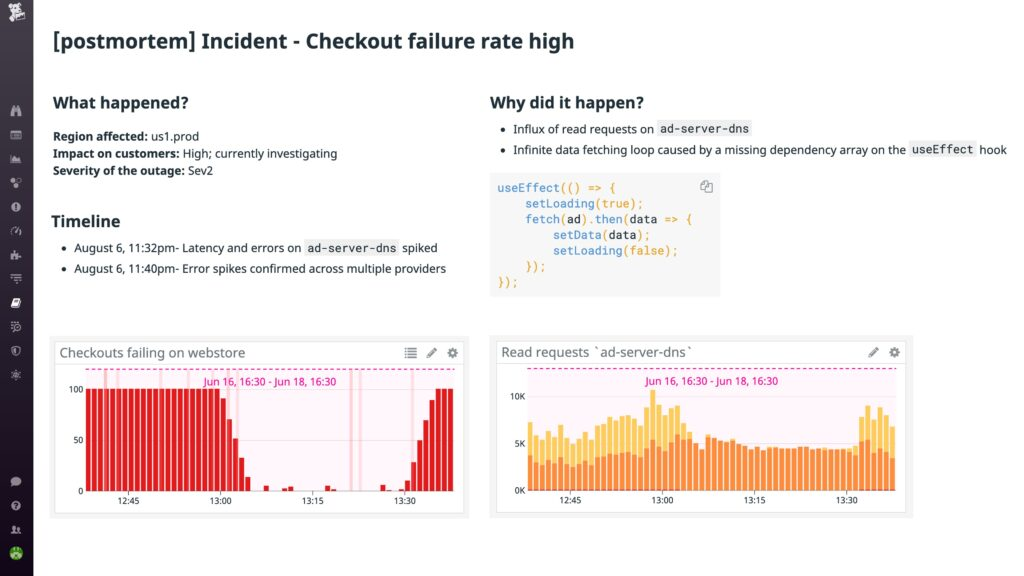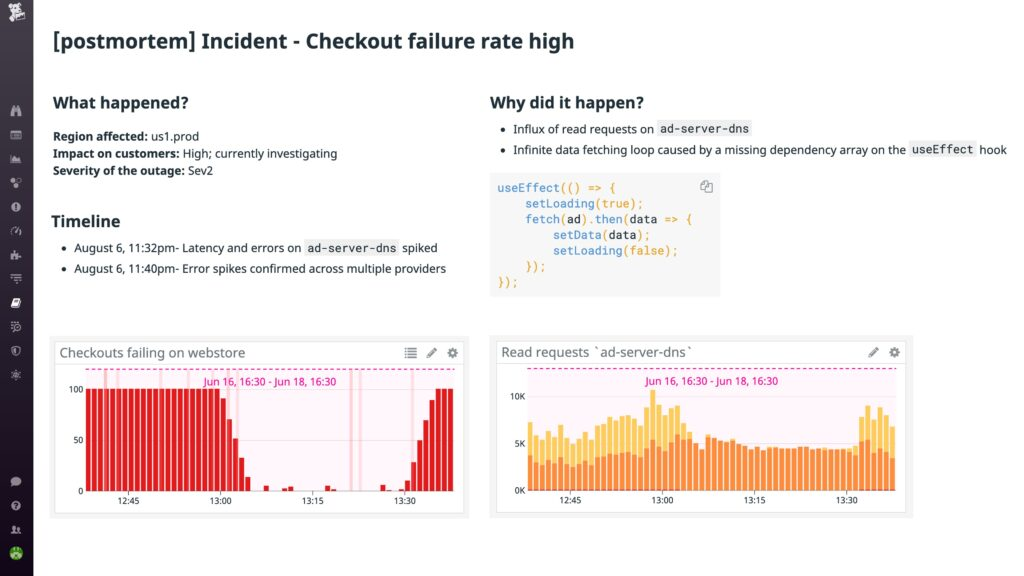 Datadog's incident response tool was deployed in 2020. It offers an end-to-end, automated incident management solution fully integrated into the Datadog ecosystem.
It allows you to manage incidents from the moment of detection using Datadog's web and mobile applications. Datadog Post Mortem Notebooks automatically generate postmortem with data about an incident or export said data into a tool of your choice.
Datadog offers you hundreds of built-in integrations, which gives it an upper hand over PagerDuty by removing a lot of intermediaries. But Slack integration is still in the beta phase.
Datadog's incident UI allows you to view all active and resolved incidents and filter them by key metadata. Each selected incident brings up a timeline with a chronological list of updates, which can be edited by your team members and help for better information flow across your project.
Datadog Incident Response also covers post-incident reviews. Datadog Notebooks enable synchronized collaborative editing, so your team can work on the analysis and resolution.
Main benefits of Datadog's Incident Response:
Integration into the Datadog ecosystem
Collaborative Datadog notebooks
Incident UI
10. xMatters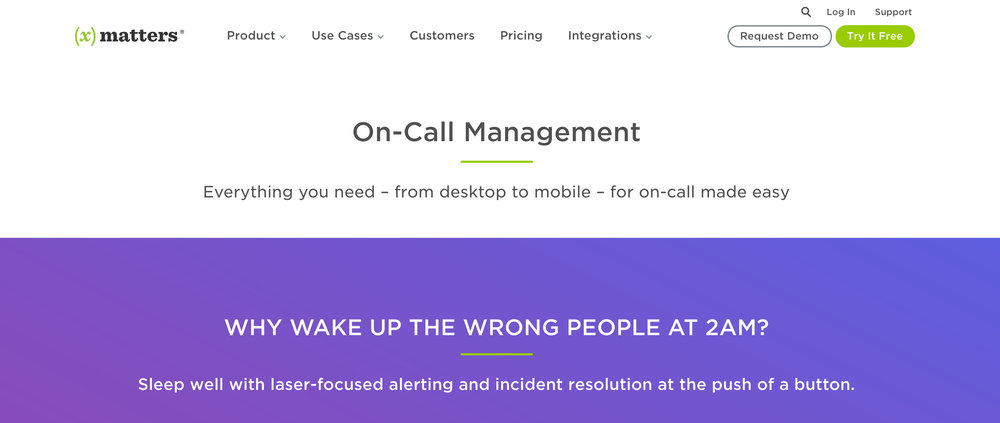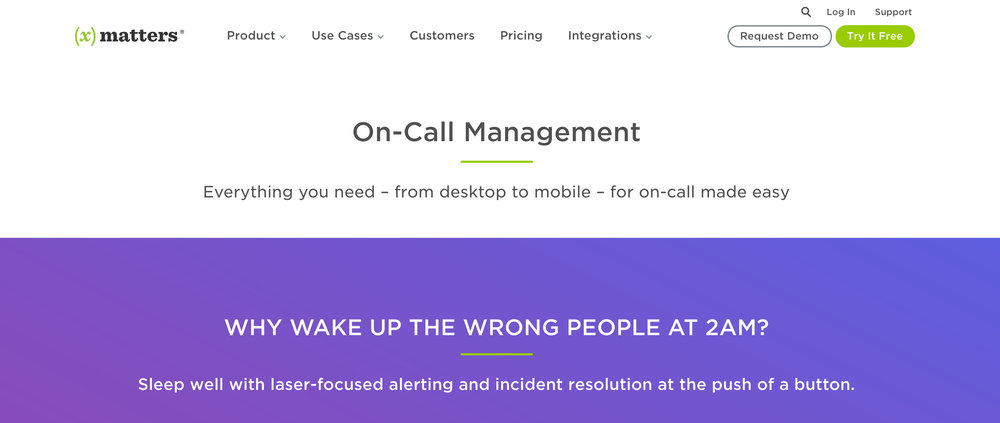 xMatters helps you deliver faster and reliable services without interruptions and with minimal bottlenecks. With xMatters, you get access to a powerful DevOps and SRE platform. With easy-to-use on-call scheduling, team management, and incident timelines, xMatters offers a reliable incident management tool. Advanced team management tools such as permission management are also covered.
The main reason xMatters made this list is their generous free plan, offering a solution for any freelancer or a small team that is just starting out but is willing to invest in damage control and prevention.
The main difference with the paid plans is that they offer better analytics, data retention, and dedicated support. Furthermore, xMatters offers over 200 pre-built integrations, so plugging in your stack shouldn't be a problem.
The main downside to consider with xMatters is that their phone call notifications are only available on the paid plans and are limited depending on your tier. To get unlimited phone calls, you need to switch to their custom pricing, which obviously comes with a very high price tag.
However, the free tier is a great way for smaller teams to start implementing on-call management in your team.
Main benefits of xMatters:
Free plan with loads of different features
Conclusion
In this article, we evaluated Splunk's On-Call role on the market, its advantages, and mainly, disadvantages. We also went through a list of the ten best alternatives, each compensating for something else. If you'd like to dig deeper into incident management's do's and don'ts, consider consulting our knowledge base.
Make your mark
Join the writer's program
Are you a developer and love writing and sharing your knowledge with the world? Join our guest writing program and get paid for writing amazing technical guides. We'll get them to the right readers that will appreciate them.
Write for us
Writer of the month
Woo Jia Hao
Woo Jia Hao is a software developer from Singapore. He is an avid learner who...