10 Best Logz.io Alternatives in 2023
Jan Tovarys
Updated on June 16, 2023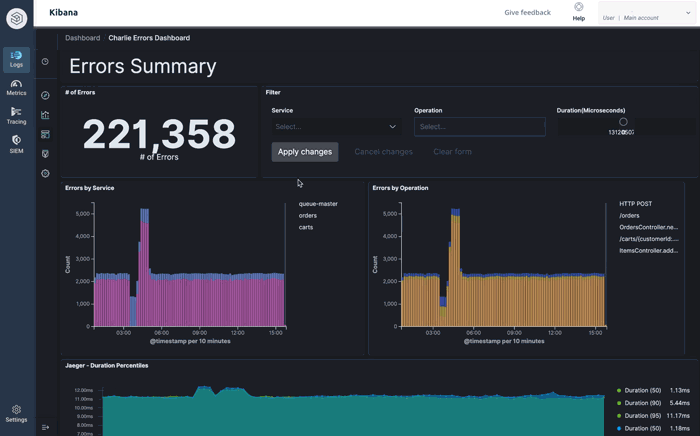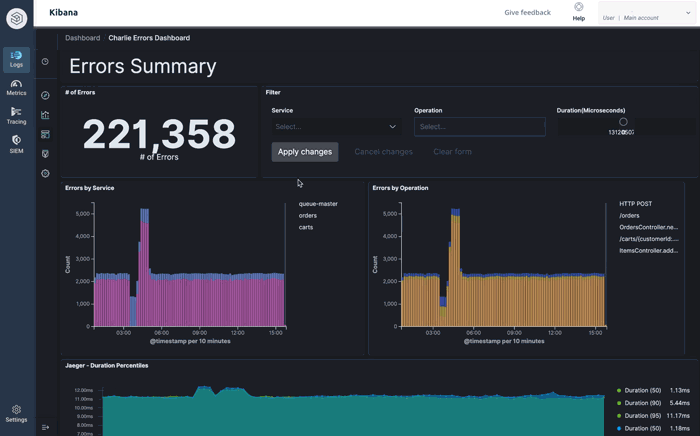 Logz.io is an end-to-end cloud monitoring solution allowing you to unify logs, metrics, and trace analytics.
Using Logz.io, you can centralize your monitoring data, visualize your data using customizable dashboards, analyze issues using AI or Machne Learning-powered tools, and set up alerts using integrations with the most popular Alerting Tools.
Logz.io offers a free plan, the Community with 1 day of log retention, 1 GB log limit, 10 alerts, and ML-powered analytics. Their pricing depends on two variables. Firstly, you need to opt for either the PRO or Enterprise plan, and then pick the retention period ranging from 3 all the way to 45 days.
Pros:
Open-source base
AI and ML-powered features
Cons:
Scaling the ELK-stack-based Logz.io gets quite expensive
Difficult onboarding
The Best Logz.io Alternatives in 2023
1. Better Stack
Better Stack
offers a less expensive and at the same time more powerful alternative to Logz.io from the start. Better Stack beats Logz.io at price per GB and also data retention period. It can do so, thanks to custom-built pipelines and ClickHouse used as an engine for log management, which allows it to top the Elastic stack-based Logz.io, in terms of speed, efficiency, and cost.
Better Stack allows you to query your logs the same way you'd query your database using SQL-compatible structured log management. By offering integrations into stacks like Kubernetes, Heroku, Logstash, Rails, Docker, or AWS, and more, you get a broad array of options for monitoring.
Better Stack effortlessly searches through petabytes of logs within moments and is prepared to sound an alarm if any anomaly, presence, or absence is registered. Thanks to multiple integrations with multiple DevOps tools, Better Stack offers a reliable log monitoring solution.
The collected data are visualized by Grafana which ensures even more efficient intel management. Advanced collaboration features allow you to archive important logs, or comment and share information with your coworkers.
Tight security is one of the main benefits of log monitoring, and Better Stack itself is one of the most secure tools available. Using industry-standard best practices and cooperating only with data centers compliant with DIN ISO/IEC27001 certifications, your data is safe during both transit and storage.
Main Benefits of Better Stack:
A one-click filter of logs in a structured format
Better Stack Uptime integration for a full-stack monitoring solution
Super-fast log querying using SQL, thanks to ClickHouse

Grafana visualization
2. Sematext Logs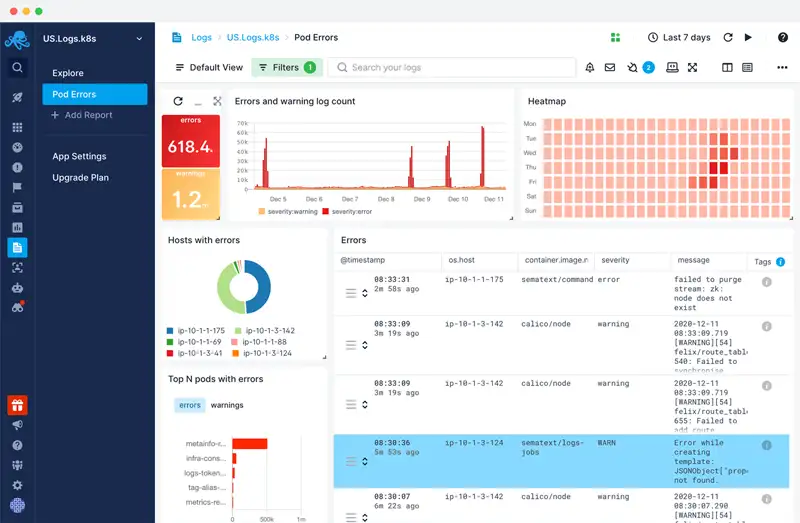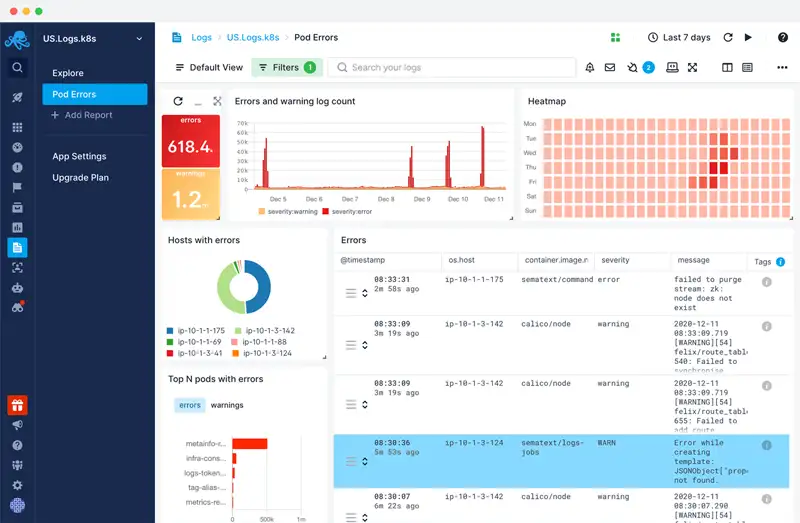 Sematext is a monitoring and logging service. It uses a method of centralized logging and provides you with a way to aggregate and store logs from any data source in one location. You can collect data from servers, applications, databases, containers, systems, and more. Sematext allows you to use live time viewing of your logs as they arrive into the cloud from multiple data sources.
It uses Elasticsearch, Logstash, and Kibana for collecting and transforming data, searching, filtering and analyzing, and finally, data managing and visualization. You can troubleshoot faster using real-time alerting on both metrics and logs. Log analyzing and looking for anomalies make the whole process quicker. You can integrate it with email, PagerDuty, Slack, HipChat, BigPanda, OpsGenie, VictorOps, WebHooks, Nagios, Zapier, and more.
Sematext runs on AWS, an infrastructure that follows strict IT security best practices. Your logs are encrypted via HTTPS and sent through TLS/SLL channels. You can also restrict specific permissions to some members of your team.
Main Benefits of Sematext:
It brings infrastructure and application performance monitoring together with log management
Easy to use with good pre-configured dashboards and reports thus also quick to start
No need for a lengthy configuration
3. LogicMonitor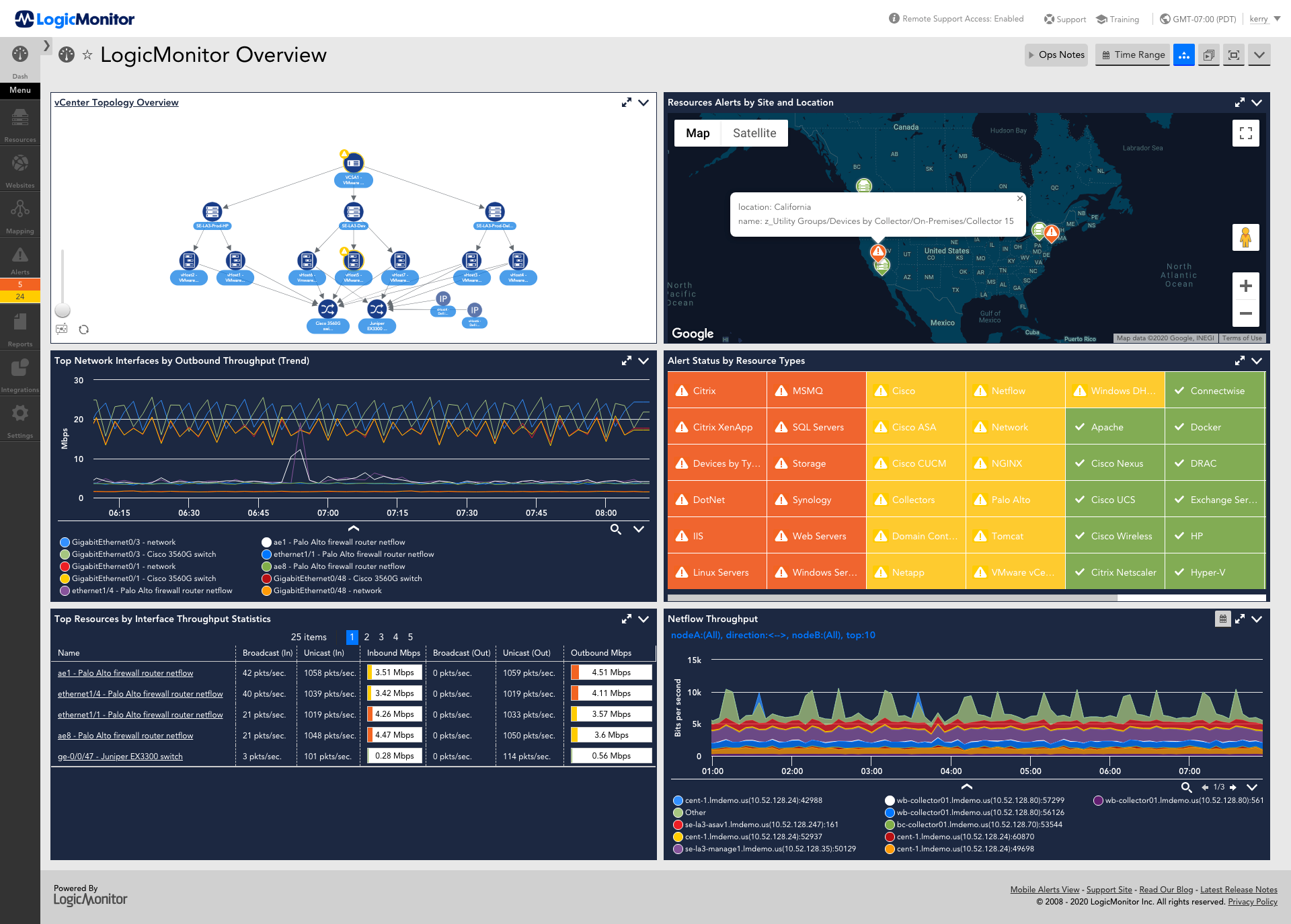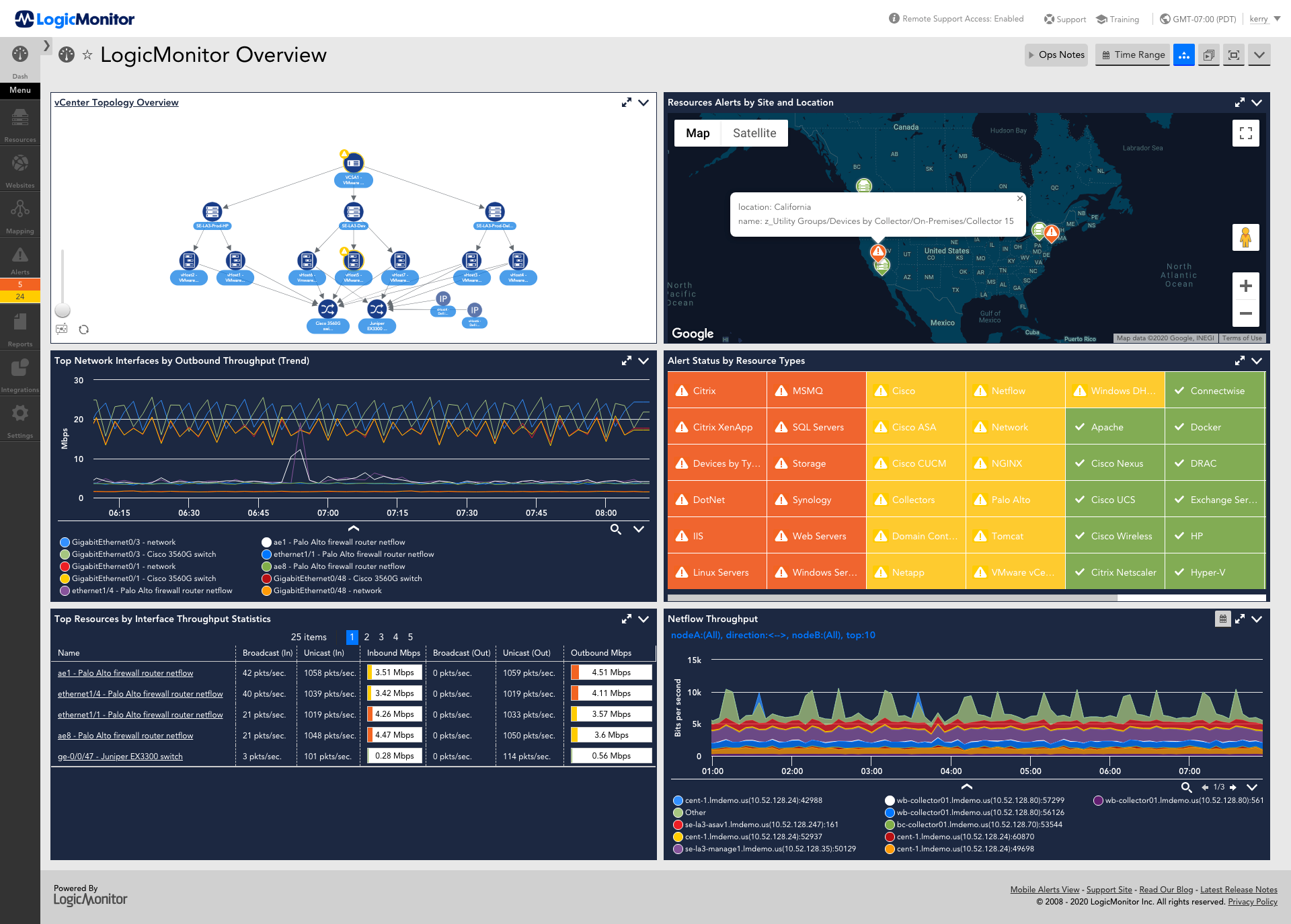 LogicMonitor offers log intelligence at scale for hybrid and multi-cloud environments. Your data are centralized, correlated, and contextualized, with an emphasis on data hygiene and internal compliance. LogicMonitor allows you to centralize your monitoring, correlate relevant logs with metrics in a single platform.
It supports more than 2000 integrations, modules, and pre-built templates for on-premises and cloud infrastructures. LogicMonitor is truly user-friendly since it offers query options for all experience levels. It also allows you to access raw data up to 12 months old. Metrics, logs, and log anomalies are all associated with their corresponding devices, cloud instances, and containers.
LogicMonitor manipulates your data with machine learning tools, which decreases troubleshooting times and allows better workflow by sparing your engineers of unproductive tasks. Anomalies are automatically detected and contextualized for easier root cause analysis. LogicMonitor offers Full IT operations lifecycle support via integrations like ServiceNow, CMDB, and Ansible.
One of the biggest disadvantages is the need to communicate your subscription with a sales team. You need to get a custom quote.
Main Benefits of LogicMonitor:
Heavy usage of automation and machine learning methods
Suitable of all experience levels without compromising functions
4. New Relic
New Relic's infrastructure monitoring offers faster visibility and troubleshooting. New Relic offers an all-in-one data observation tool capable of correlation or drill-down from Kubernetes to specific log tracing in only a few steps.
New Relic is highly adjustable, so it does not matter if you run from one or multiple clouds on-premise; you will have access to specific, accurate, and custom metrics in real-time and on a limitless scale. New Relic is an open and flexible integration network supporting all the most popular integrations like AWS, Azure, GCP, MYSQL, NGINX, Kafka, and more. If you find an integration that is not supported, you can build it from scratch with NewRelic's Flex integration builder.
New Relic offers a good solution thanks to its seamless integration features. The UI is much better looking, and the learning curve is not as drastic when it comes to New Relic.
You can get New Relic for free and access the basic logs management and analyzing features. The rest of the packages are priced depending on your usage, where you pay for everything you over-used over the free plan.
Main Benefits of New Relic:
Kubernetes monitoring Pixie
Multiple by use case solutions
5. Dynatrace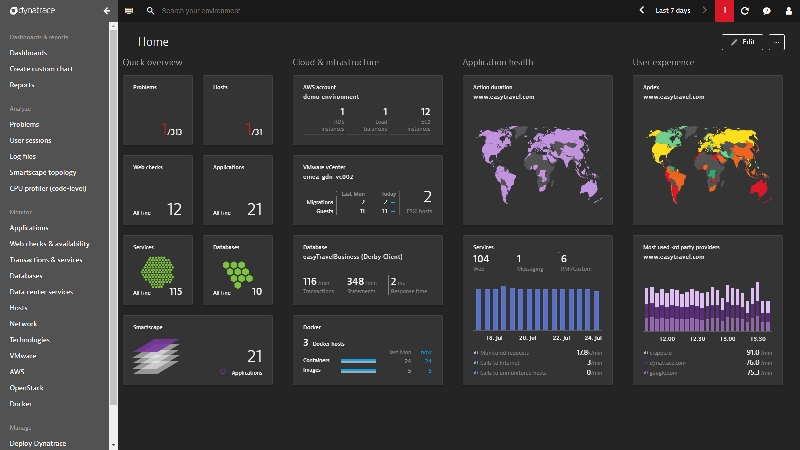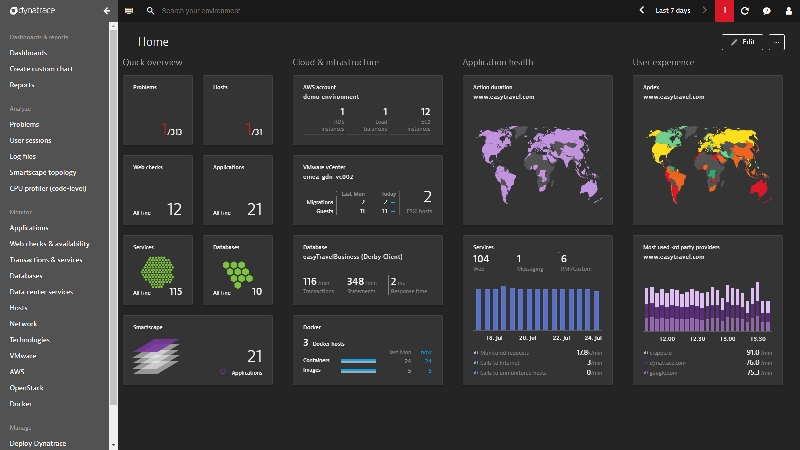 Log Monitoring from Dynatrace's portfolio allows you to access and monitor logs of all your mission-critical processes. Creating custom log metrics is easy and will enable you to oversight and comprehend log data in the context of the rest of your infrastructure in real-time.
Logs can be filtered based on keywords or timeframe and processed using AI, which correlates log messages with problems and uses this correlation in root-cause analysis. You can use Log Monitoring v1 or Log Monitoring v2 if you use Dynatrace as SaaS. Dynatrace's documentation covers all the nuances. However, Dynatrace is not easy to jump into and requires more learning. Dynatrace offers either a full-stack monitoring solution or multiple individual plans.
Main benefits of Dynatrace:
The AI-assisted full-stack monitoring solution
More than 560 supported technologies
Solutions also cover security, Digital Experience or even Business Analytics
6. Sumo Logic
Sumo Logic offers a complete set of log management tools for the entire stack, whether it's cloud, on-premises, or hybrid. Centralized data visualization allows you to spot developing trends and disarm any errors before they occur or during damage control, finding the root cause faster. Thanks to anomaly detection, outlier detection, and predictive analytics, you get deep and comprehensive insights into your architecture's performance. Sumo logic offers real-time visibility into AWS, Azure, and GCP cloud applications and infrastructure. Alongside that, you get access to over 150 apps and native integrations to get full out-of-the-box visibility into third-party technologies.
Sumo Logic provides you with two dashboards - a live dashboard and an interactive one. The live dashboard offers numerous real-time data in the order as they come. However, it doesn't provide an option to look back at the older data. That's when the interactive dashboard comes in. In the interactive dashboard, you can view a complete overview of events and trends, focus on the graphs and identify rare events. You can filter for the specific errors and exceptions to be able to focus on them in the future.
Main Benefits of Sumo Logic:
A free limited version is provided to you to test out the service
It allows you to ingest the logs from your network directly and in real-time
The application also offers extensive REST API
GUI is easy to grasp, thus making it quicker to start
7. Logstash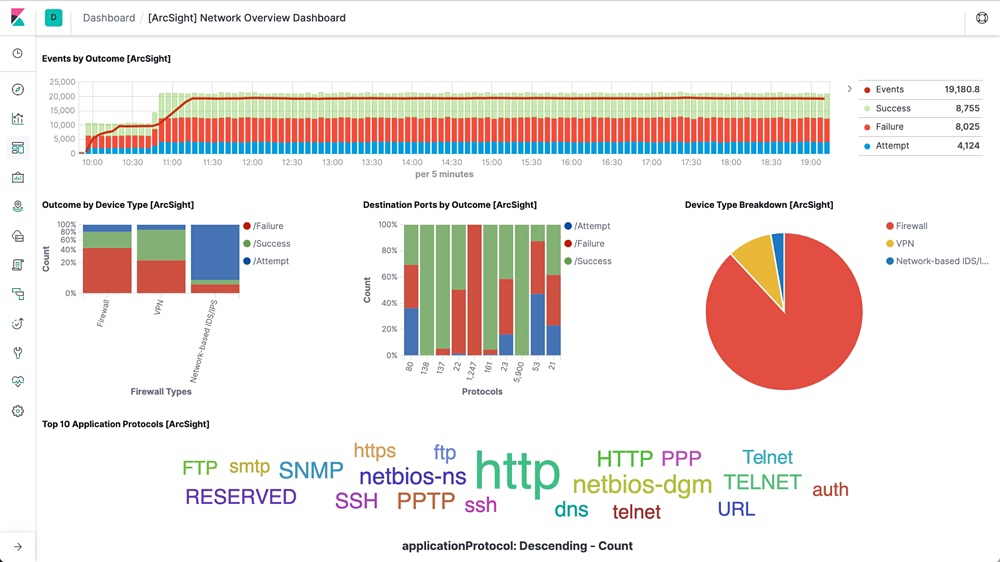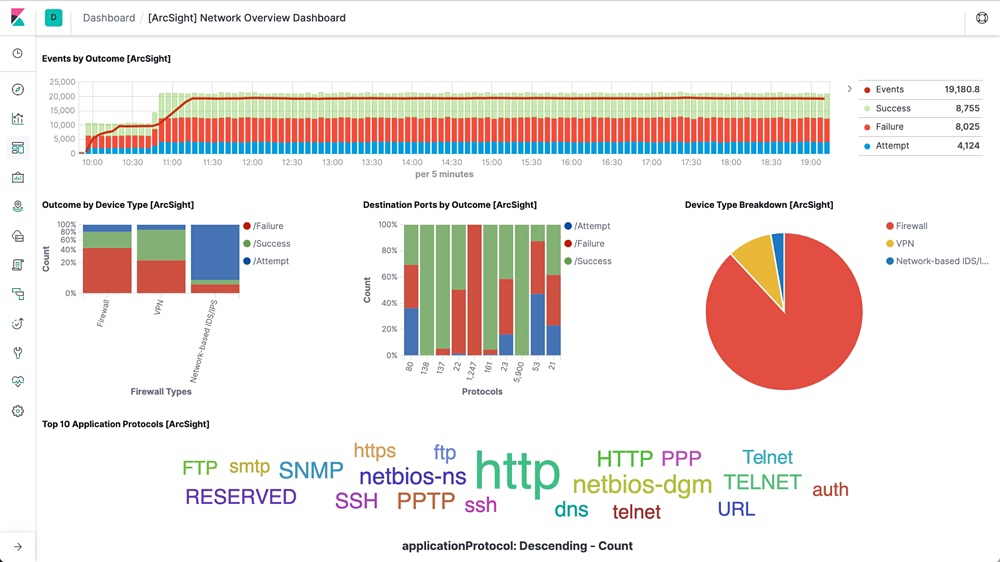 The "L" in ELK stack, Logstash, offers a free and open server-side data processing tool for data ingestion from multiple sources, transformation, and transport into a "stash" of your choice. Since Logstash is open-source, you have to deploy it on your own machine. Logstash is often used as a part of the ELK stack with Elasticsearch and Kibana. However, a wide array of different options is available, like Graphite, Librato, or Datadog, for example. ELK stack is a powerful solution as a whole, so Logstash does not really offer a plethora of features on its own.
Logstash supports a variety of outputs that allows you to route your data with flexibility and according to your needs. Thanks to more than 200 plugins, Logstash is quite customizable, and if you don't find what you're looking for, you can always use their API for plugin development.
Main Benefits of Logstash:
The direct part of the ELK stack ecosystem
Elastic Maps Server
Advanced alerting tools
8. Graylog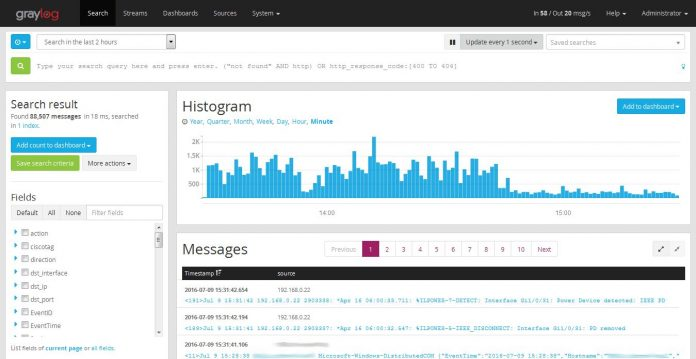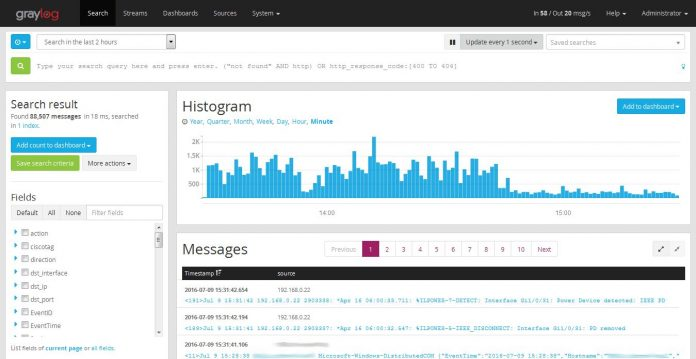 Graylog operates under multiple models. You can choose from either Graylog open - their open-source solution, Graylog Small Business, or Enterprise. The last option is Graylog cloud, offering the same experience as Graylog Enterprise, however, hosted on the cloud, saving you the funds needed for your own infrastructure.
Graylog gets the job done when parsing logs from any data source, data visualization, or analysis. It is based on Elasticsearch and MongoDB. The Dashboard comprises widgets, each providing you with different information coming from different datatypes. You can see counts, charts, graphs, views, and more.
Thanks to Graylog's multiple deployment options, you can run and manage it on your own, or have it hosted, which gives you more flexibility and control. The UI is definitely much better looking. However, Graylog's websites are not definitely a designer's paradise.
Main Benefits of Graylog:
Even the free edition provides multiple functions
Ability to search for different criteria without having to filter out the data manually
Open-source option available
9. Solarwinds Papertrail
Coming from the SolarWinds toolshed, Papertrail allows you to collate text log files from multiple sources and visualize them in one place. Papertrail's dashboard organizes and visualizes application logs, text log data, and syslog.
Papertrail, while we ignore its web, customer support, and website issues, remains one of the most powerful tools to extract, parse, and query logs. It supports many languages and platforms such as Android, C#, .NET, Docker, Java, JavaScript, MySQL, Node, and many more. Papertrail also supports real-time log collection and visualization.
Papertrail stores logs in the .tsv format, which helps with the compression, and it can show duplicate or similar messages, download archives through API key, or retrieve multiple archives on one requirement.
Papertrail offers either a custom plan builder or multiple pre-set bundles, which depend on the archive period, data search availability, and the amount of data ingested each month. You can also pick Papertrail's free subscription, however, this offers only one time 16GB of data package followed by a 50MB/month cap.
Main Benefits of Papertrail:
Configurable alerts
Custom Plan Builder
10. Coralogix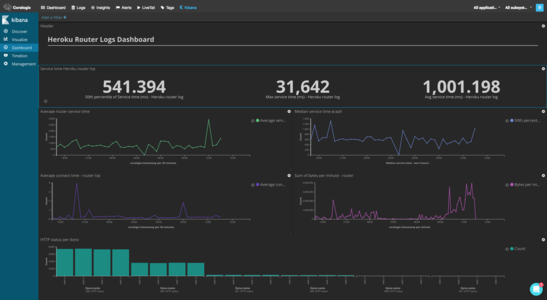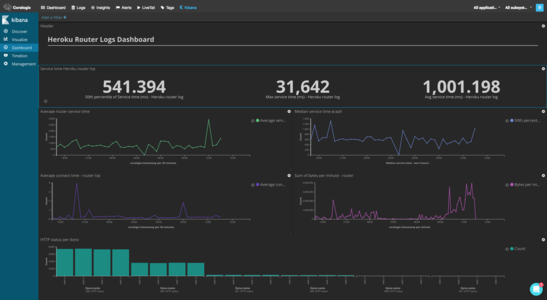 Coralogix enables you to centralize logs, metrics, and security data from all over your stack. After ingestion, data are analyzed and Coralogix provides you with common trends and patterns that make a further prediction or issues analysis easier. Coralogix automatically parses your logs and enriches the data using their parsing wizard an automatic parsing for JSON logs. You can enrich logs using a pre-defined, custom data source and add important business, operation, or security information.
Coralogix benefits from Machine Learning and Anomaly Detection. ML algorithms help discover any abnormalities without the need for pre-setting thresholds or other rules. Visualization is made easier thanks to their UI, Kibana, Grafana, SQL clients, Tableau or CLI, and APIs. Coralogix also offers support for multiple syntaxes, including ELK syntax.
Coralogix is an enterprise-ready solution thanks to GDPR, SOC2, PCI, and HIPAA certifications.
Coralogix's pricing is based on a per GB price and starts at $0.60 for Monitoring Data, $1.80/GB of Frequently Searched Data, and $0.22/GB for compliance data.
Main Benefits of Using Coralogix:
ML anomaly detection
Integrations, user-friendly CLI, and syntax support
Conclusion
In this article, we took a closer look at Logz.io, its strong and weak aspects. Then we proposed a list of the best Logz.io alternatives in 2023. The rest is up to you, try to take a closer look at the solutions, compare them and pick one, that will help your project the most.
Want to explore more tools?
Looking for a tool to cater to a very specific use-case? Here are a few lists with logging tools to check out:
Make your mark
Join the writer's program
Are you a developer and love writing and sharing your knowledge with the world? Join our guest writing program and get paid for writing amazing technical guides. We'll get them to the right readers that will appreciate them.
Write for us
Writer of the month
Woo Jia Hao
Woo Jia Hao is a software developer from Singapore. He is an avid learner who...