10 Best SolarWinds Papertrail Alternatives in 2023
Better Stack Team
Updated on January 4, 2023
Solarwinds Papertrail is undoubtedly a powerful tool that aggregates and analyses logs from multiple sources, coming in various types such as syslogs, txt log files, Apache, MySQL, Ruby, Heroku, and more. Papertrail centralizes, stores, analyzes, and compares logs to detect anomalies, performance trends and produces real-time visualization and summaries. While all that's great, some developers started to voice their disappointment with features that either underperform or lack.
Community criticized that the learning curve is not really new-user friendly and documentation lacks both depth and broadness. The UI is not as intuitive, and their pricing is not at all competitive. There were also many issues reported concerning the SolarWinds websites. However, we are not here to throw shade at Papertrail but to provide a synthesis of information emerging from our community and for our community.
1. Logtail
Logtail
is one of the newest log management solutions and serves as a great alternative to Papertrail. The main advantage is that while Papertrail is built on an old data management technology, Logtail is built with proprietary technology explicitly built for log management and analysis. This is why Logtail offers a significantly lower price per GB of logs than the competition.
Its structured log storage and SQL log querying feel more like simple database management than complex logging tools. Searching logs is thus very user-friendly and requires no learning of specific log querying language.
The collected data are visualized by Grafana, which ensures even more efficient intel management. Tighter security is one of the main benefits of log monitoring, and Logtail itself is one of the most secure tools available. Using industry-standard best practices and cooperating only with data centers compliant with DIN ISO/IEC27001 certifications, your data is safe during both transit and storage. With Slack and other DevOps alerting integrations available, anomaly alerting setup is easy and reliable.
Main Benefits of Logtail
Storing logs in structured form
Super-fast log querying with SQL
Hosted Grafana built-in
Competitive pricing thanks to ClickHouse-based storage, starting at $0.25/GB
2. Sumo Logic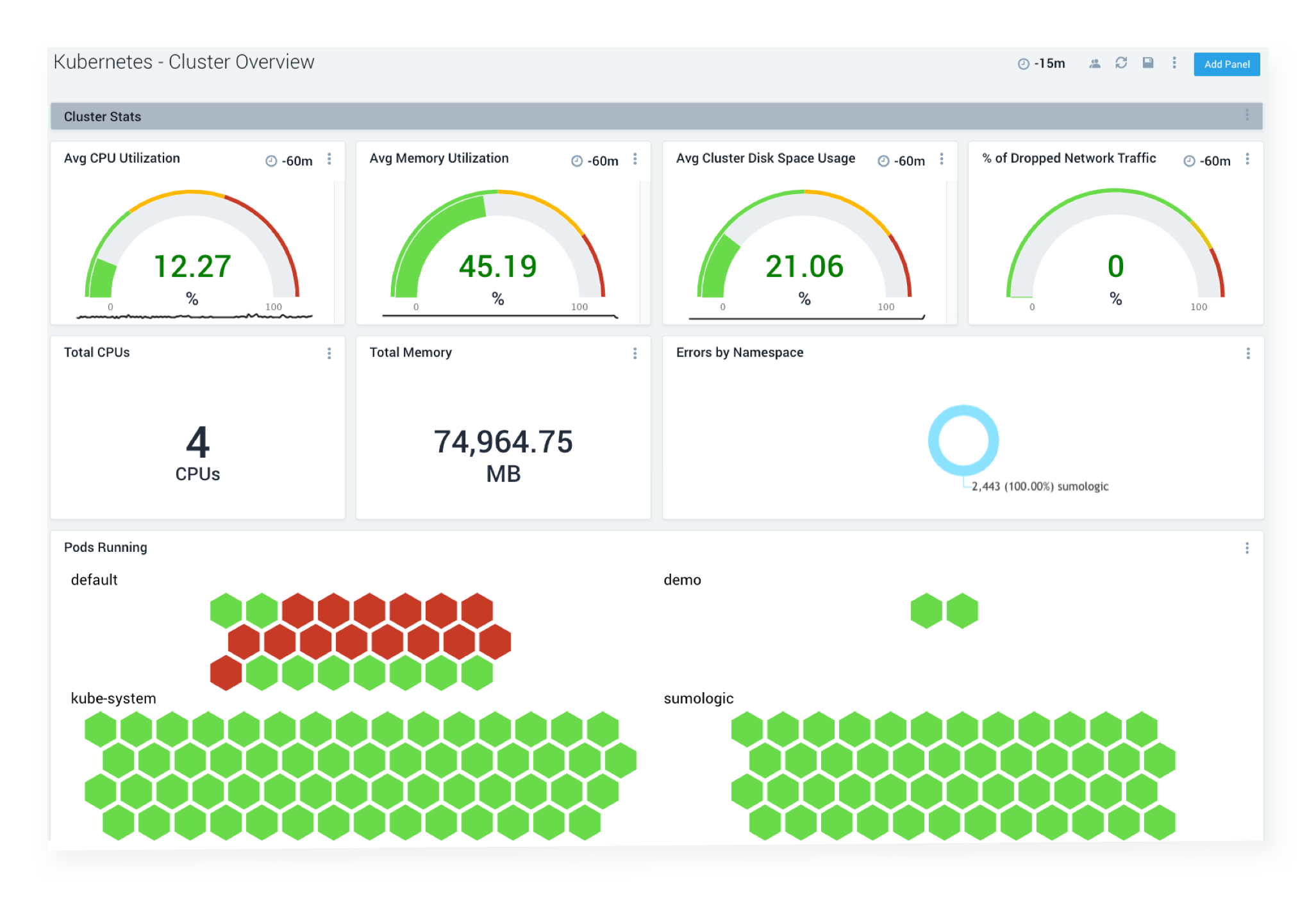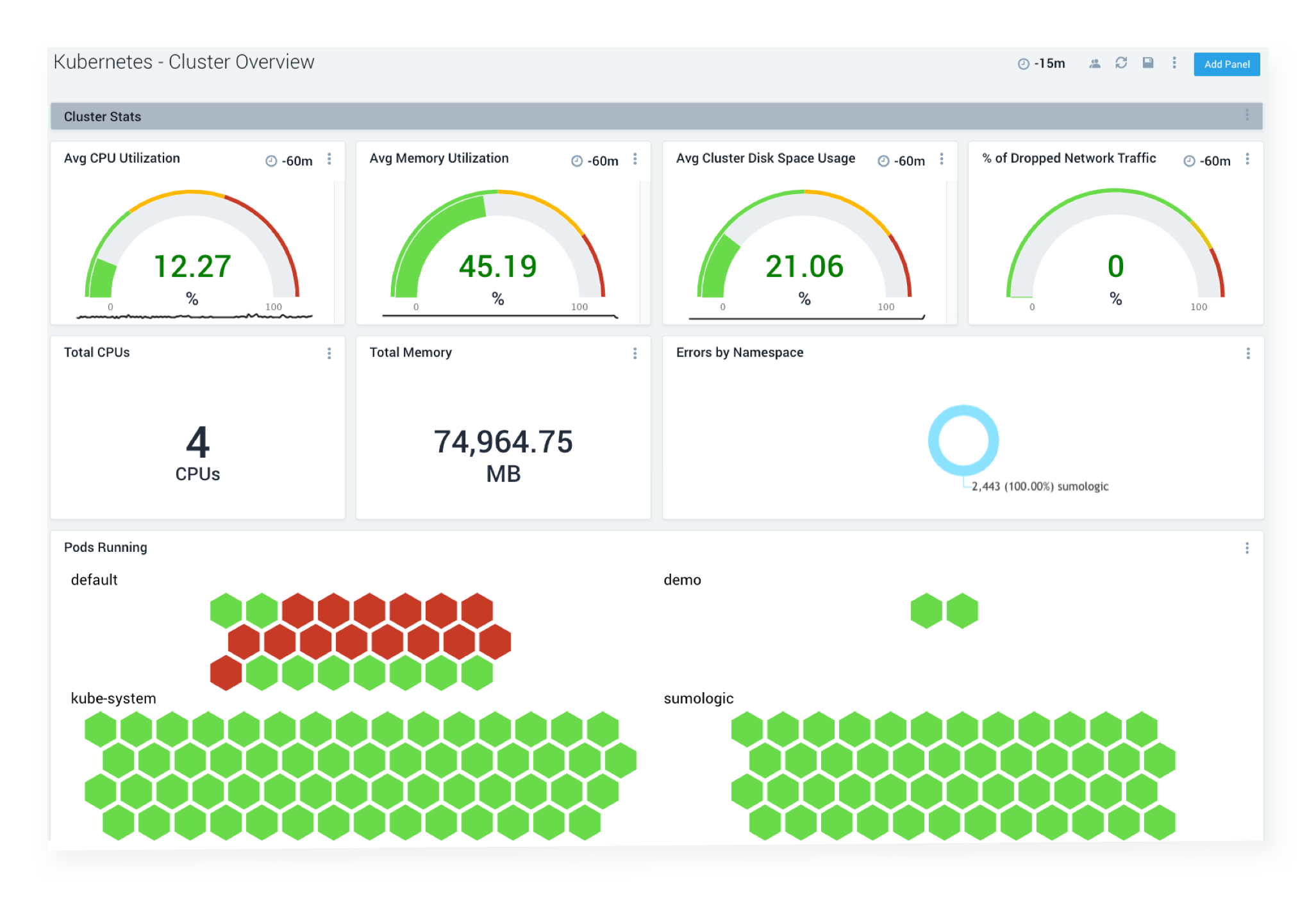 Sumo Logic offers a complete set of log management tools for the entire stack, whether it's cloud, on-premises, or hybrid. Centralized data visualization allows you to spot developing trends and prevent errors before they occur.
Thanks to anomaly detection, outlier detection, and predictive analytics, you get deep and comprehensive insights into your architecture's performance. Sumo logic offers real-time visibility into AWS, Azure, and GCP cloud applications and infrastructure. However it's plans come at quite a significant cost compared to Papertrail.
Alongside that, you get access to over 150 apps and native integrations to get full out-of-the-box visibility into third-party technologies. Sumo Logic provides you with two dashboards - a live dashboard and an interactive one. The live dashboard offers numerous real-time data in the order as they come. However, it doesn't provide an option to look back at the older data. That's when the interactive dashboard comes in. In the interactive dashboard, you can view a complete overview of events and trends, focus on the graphs and identify rare events. You can filter for the specific errors and exceptions to be able to focus on them in the future.
Main Benefits of Sumo Logic
A free limited version is provided to you to test out the service
It allows you to ingest the logs from your network directly and in real-time
The application also offers extensive REST API
GUI is easy to grasp, thus making it quicker to start
3. LogDNA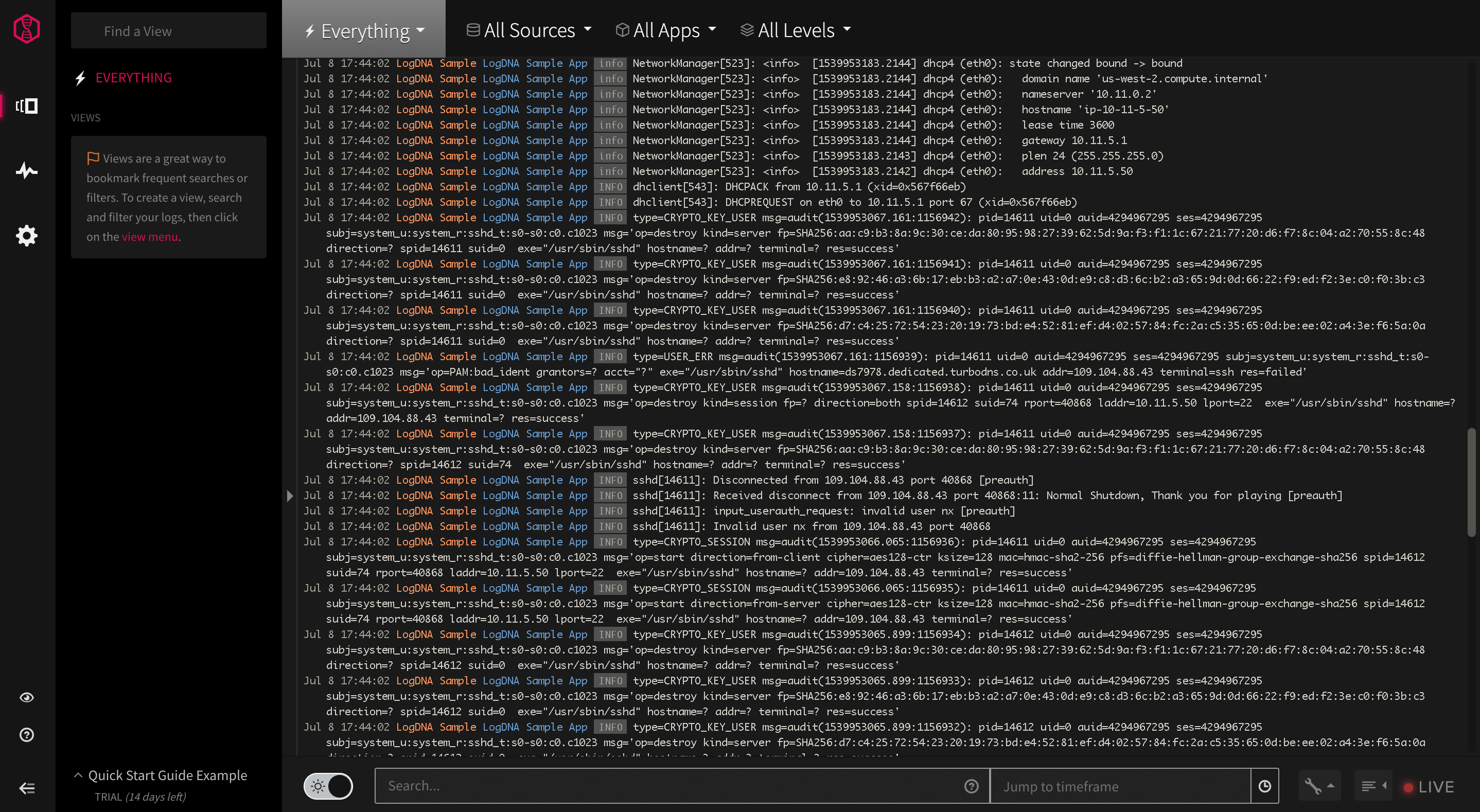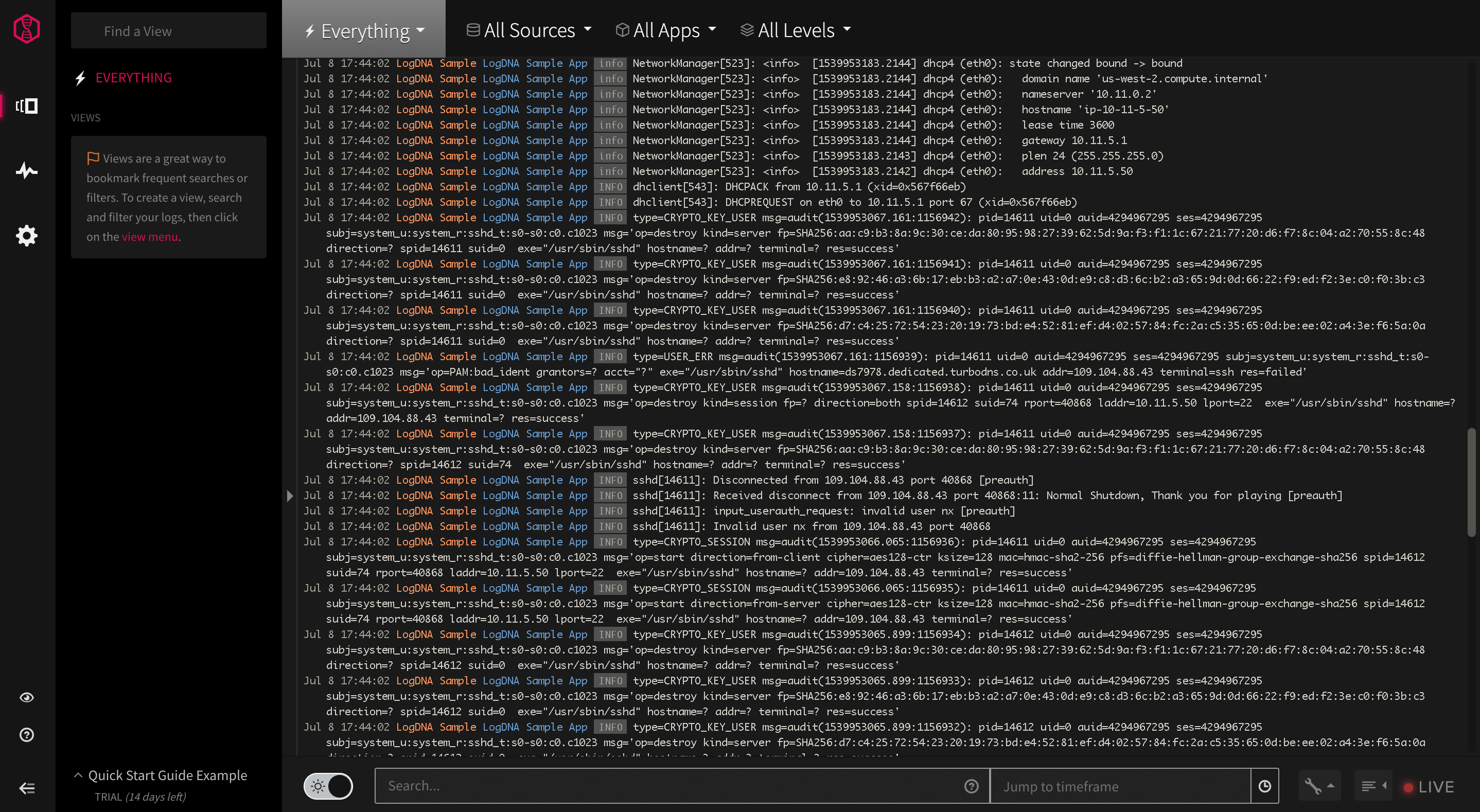 LogDNA allows you to ingest, process, route, analyze and store all of your log data in one place. LogDNA runs on an Elastic-based stack and allows you to search and filter your data, visualize critical log events and identify trends over time. Alerts, as usually are either Presence or Absence based and are set conditionally. Integration into multiple notification channels is possible, including Slack, PagerDuty, Webhook, Ops-genie, Datadog, AppOptics, VictorOps(Splunk On-Call), and Sysdig.
A fully-featured web UI provides an interface for live tail, queries, visualization, or alerting. LogDNA allows you to filter logs by key fields or group them by source. You are also able to create custom dashboards or user-specific logs. It also provides an option for agentless log collection via Syslog and HTTP(S) with full-text search and visualizations. Their "secret sauce" architecture, as they call it, uses a microservice-based architecture to split tasks into two roles - log ingestion and log retrieval.
Main Benefits of LogDNA
Powerful, but expensive ELK stack
Progressive approach and well-written documentation
4. Logz.io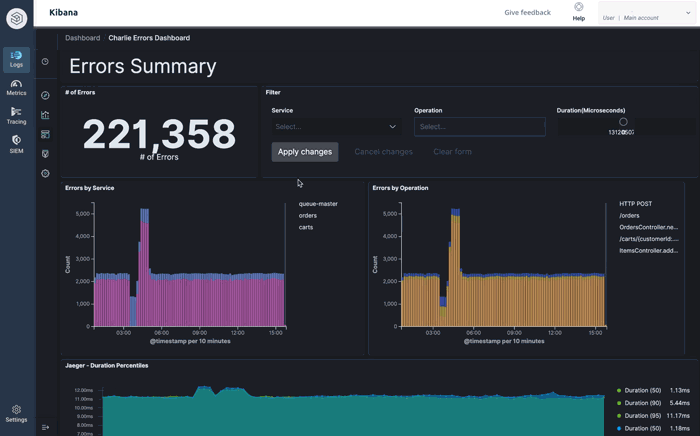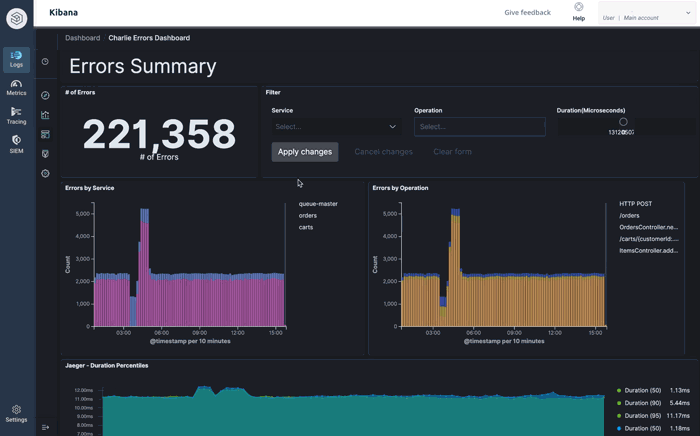 Logz.io offers an end-to-end cloud monitoring built, allowing you to unify logs, metrics, and trace analytics on any scale on one platform. All the centralized data are visualized in intuitive and easy-to-use monitoring dashboards, and your logs are monitored with the aid of artificial intelligence and machine learning. In case of any anomalies, you will be alerted in your favorite alerting channels, such as Slack, PagerDuty, or Gmail. Logz.io is based on monitoring technologies that are easily integrated into cloud environments such as AWS, Azure, Google Cloud, Kubernetes, Docker, Kafka, and more.
Using query language, you can create custom and flexible alerts to be the first one to know about any bugs, threats, or anomalies. Kibana's query language provides you with multiple more features such as identifying specific events, customizing alert formats, or grouping options by fields.
Logz.io provides a safe way to store your in-transit data with its support for SSL encryption and robust AES 256-bit encryption.
Main benefits of Logz.io
It's based on open source
ELK-stack provides a wide array of tools
Reasonable pricing model
5. Sematext Logs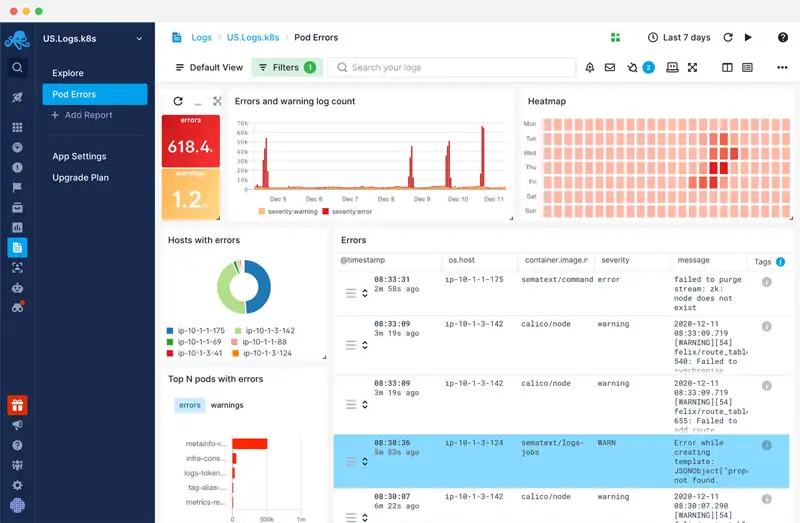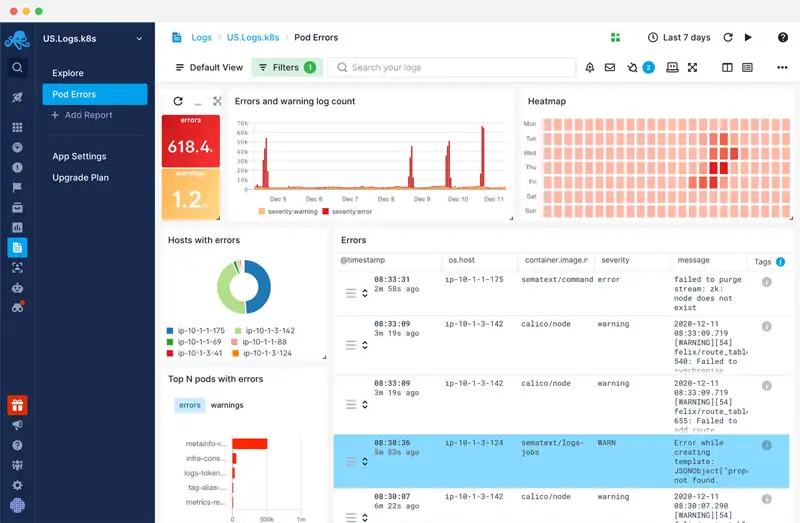 Sematext Logs is a Log Management-as-a-service which allows you to collect logs from any part of your software stack, IoT, network hardware, etc. It supports sending logs from infrastructure, containers, AWS, applications, custom events via an Elasticsearch API or via Syslog. Custom dashboards with real-time data summarize top values and searching logs is quite intuitive, thanks to google-ish query syntax. Searches can also pose as real-time alerts and trigger notifications via E-mail, Slack, PagerDuty, and other popular third-party solutions.
Sematext is ELK-stack based, meaning that you benefit from all the Elasticsearch, Logstash, and Kibana for collecting and transforming data, searching, filtering, analyzing, and visualizing your data. Troubleshooting is made easier with real-time log visualization and alerting.
Sematext runs on AWS, which ensures above-average security measures, using the best industry-standard practices. Your logs are encrypted using HTTPS and sent via TLS/SSL channels. Better data protection is ensured by the ability of role-access to specific data.
Main Benefits of Sematext Logs
It brings infrastructure and application performance monitoring together with log management
Easy to use with good pre-configured dashboards and reports thus also quick to start
No need to lengthly configure; it works fine out of the box
6. Datadog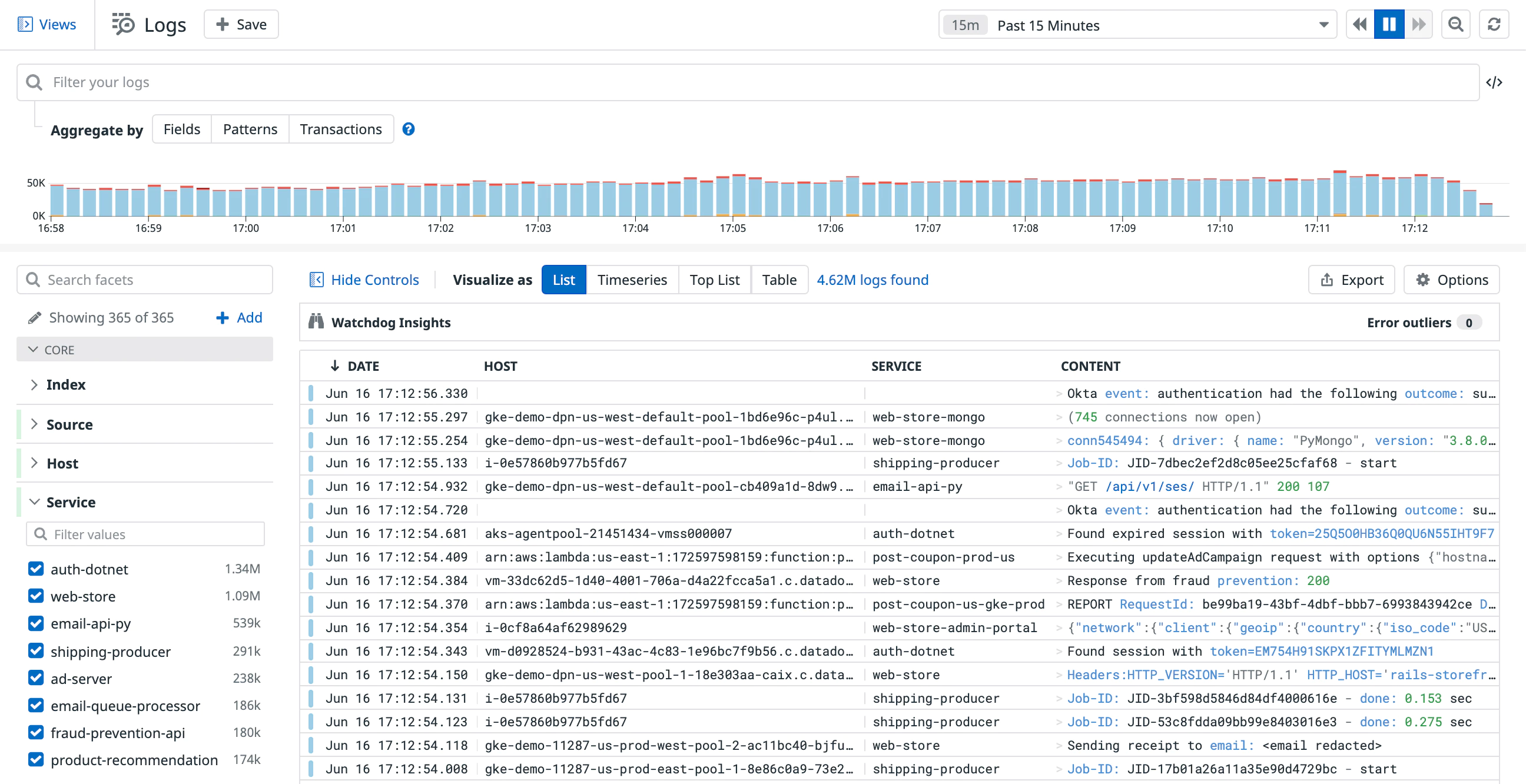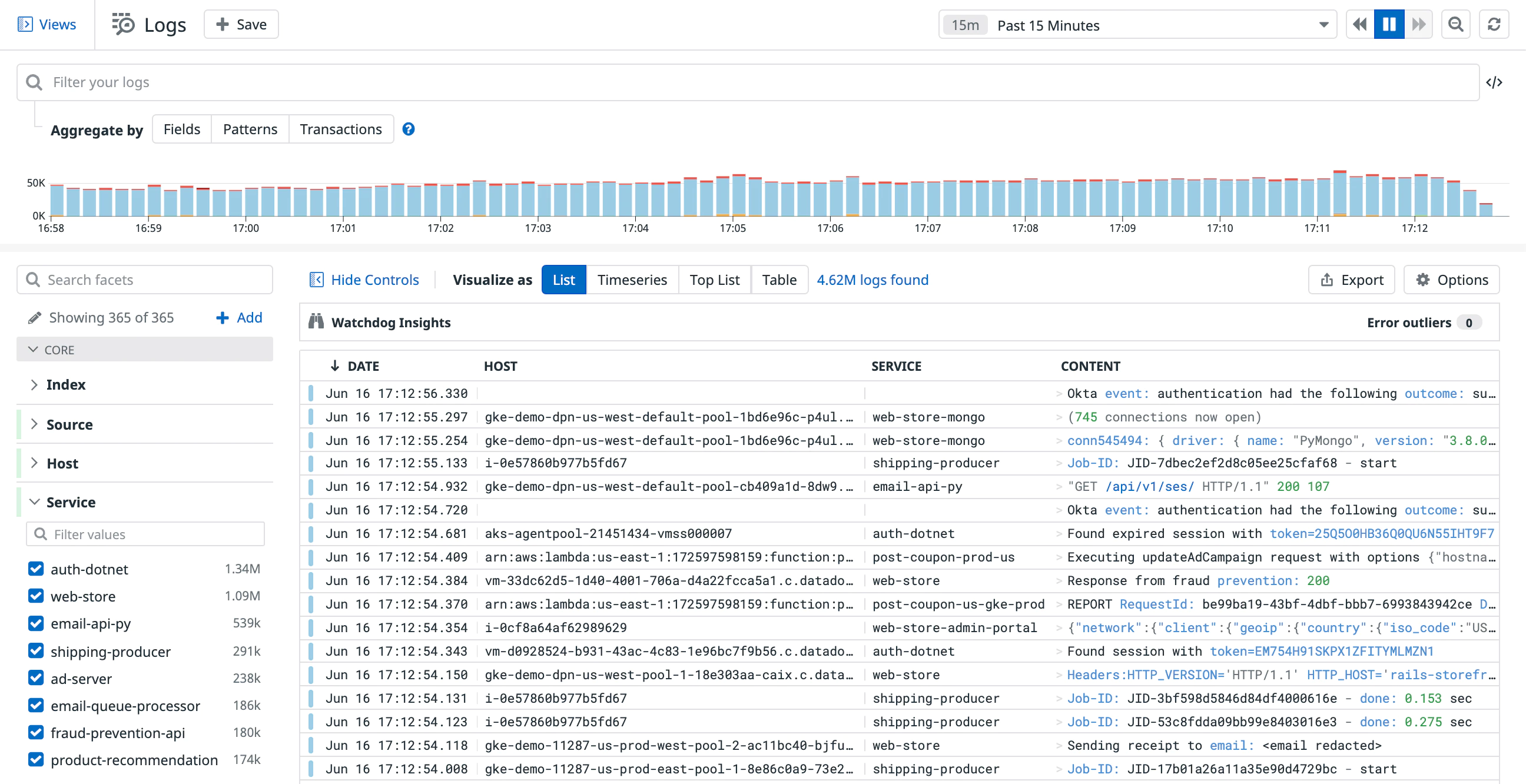 Datadog helps you to filter and assess which logs to archive and which will just waste storage without compromising data integrity, creating information gaps, or accidentally removing essential data. Log management, also called logs, decouples log ingestion and log indexing to collect, process, archive, explore, and monitor logs without limits. This is covered by their trademarked Logging without Limits, which also powers Security Monitoring.
Datadog automatically parses JSON logs and lets users choose how to parse records from different formats via the Grok Parser. You can use MySQL, JSON, Windows Event Logs, W3C Log Formats, and other various log formats throughout the board. It also provides a view of all IIS log files, which can help you discover multiple patterns and trends. You can search them by date, IP address, and more, eliminating the need to search through many different files. Datadog lets you analyze IIS log data, graph it, and more.
This solution can also provide you with real-time data and detect the number of events per second or a sampling rate. It gives users the option to customize vast parts of their GUI.
Main Benefits of Datadog
Quick to start
Team collaboration tools
Full API access
Alert notifications
7. Logic Monitor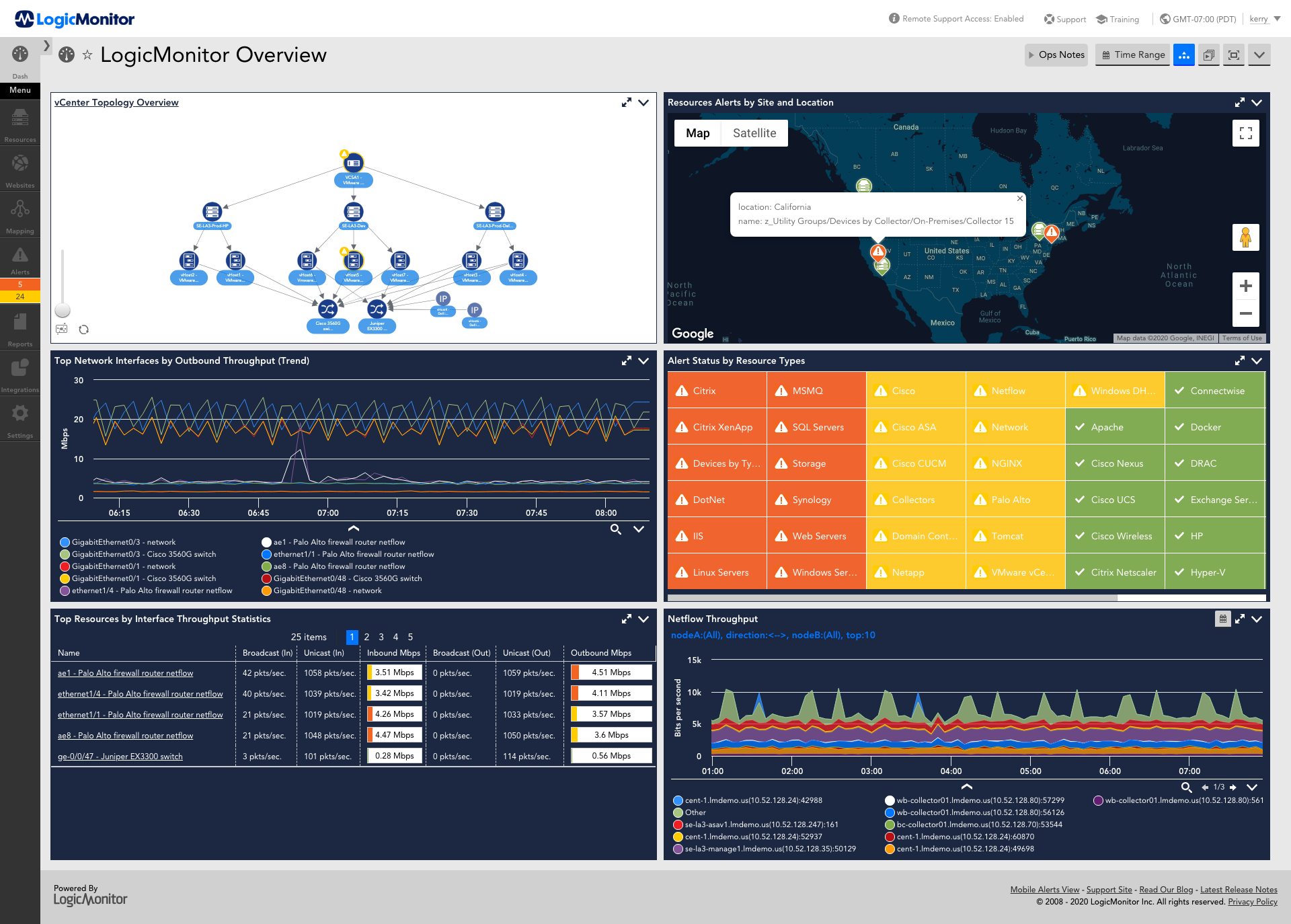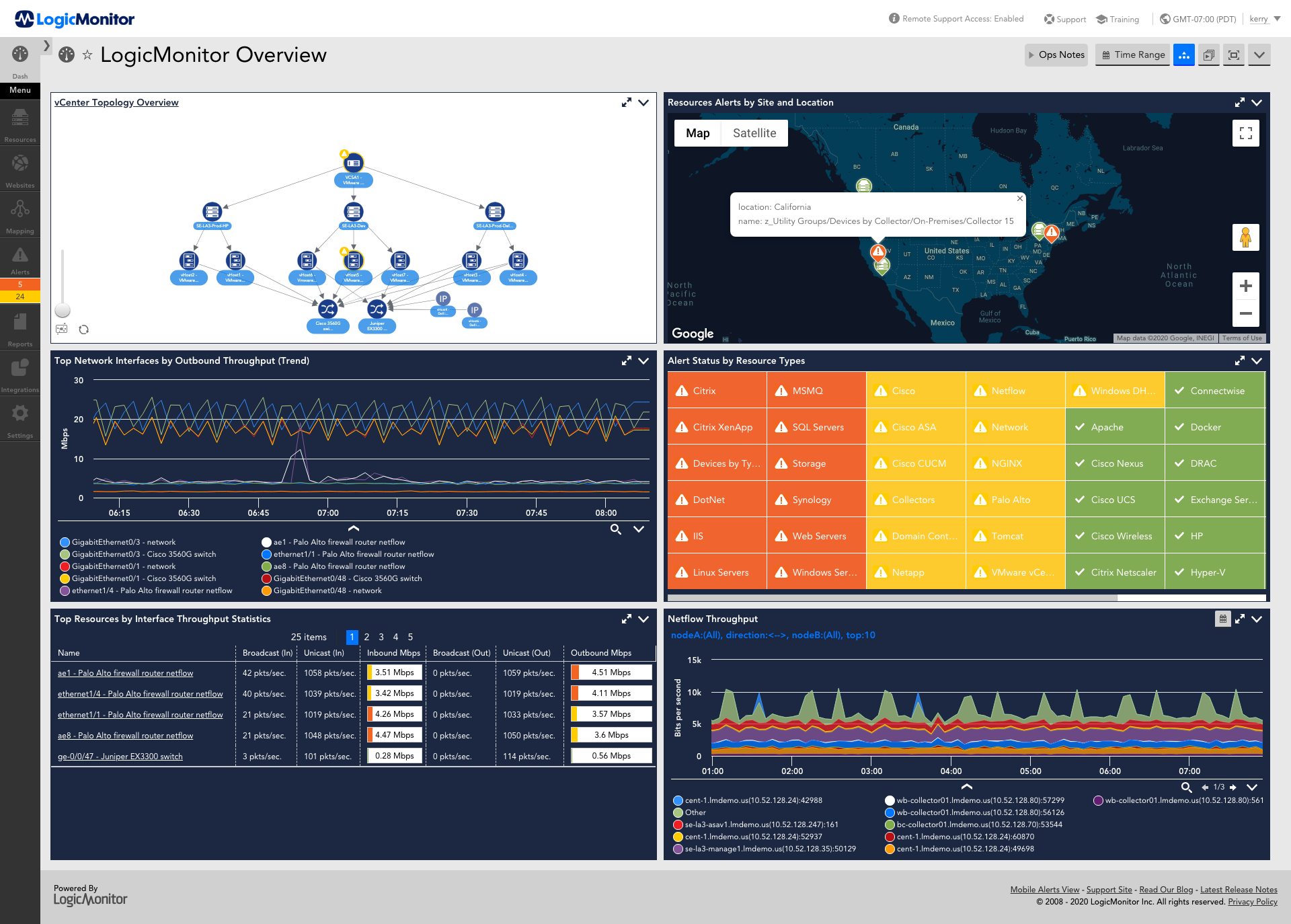 LogicMonitor offers log intelligence at scale for hybrid and multi-cloud environments. Your data are centralized, correlated, and contextualized, with an emphasis on data hygiene and internal compliance. LogicMonitor allows you to centralize your monitoring correlate relevant logs with metrics in a single platform.
It supports more than 2000 integrations, modules, and pre-built templates for on-premises and cloud infrastructures. LogicMonitor is truly user-friendly since it offers query options for all experience levels. It also allows you to access raw data up to 12 months old. Metrics, logs, and log anomalies are all associated with their corresponding devices, cloud instances, and containers.
LogicMonitor manipulates your data with machine learning tools, which decreases troubleshooting times and allows better workflow by sparing your engineers of unproductive tasks. Anomalies are automatically detected and contextualized for easier root cause analysis. LogicMonitor offers Full IT operations lifecycle support via integrations like ServiceNow, CMDB, and Ansible.
One of the biggest disadvantages is the need to communicate your subscription with a sales team. You need to get a custom quote.
Main Benefits of LogicMonitor
Heavy usage of automation and machine learning methods
Suitable of all experience levels without compromising functions
8. Dynatrace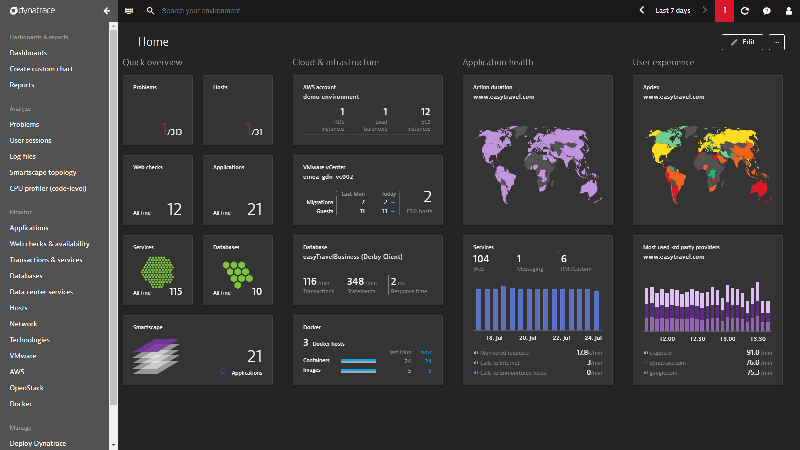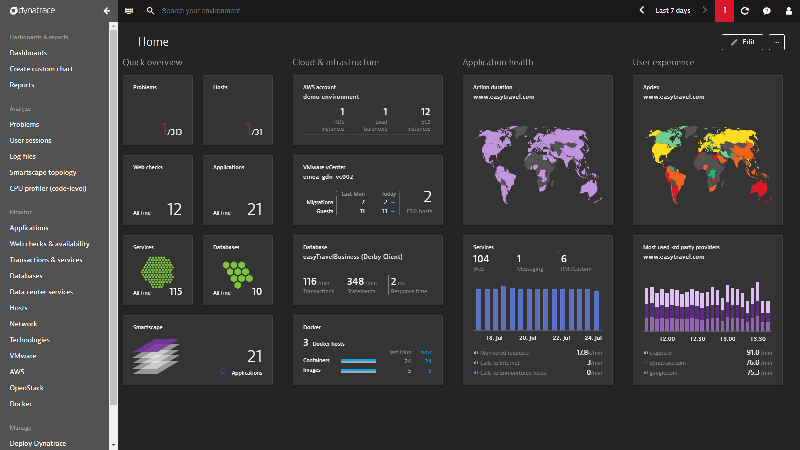 Log Monitoring from Dynatrace enables you to access and monitor logs of all your mission-critical processes. Creating custom log metrics is easy and allows you to oversight and comprehend log data in the context of the rest of your infrastructure in real-time.
Logs can be filtered based on keywords or timeframe and are also processed using AI, which correlates log messages with problems and uses this correlation in root-cause analysis. You can use Log Monitoring v1 or Log Monitoring v2 if you use Dynatrace as SaaS. Dynatrace's documentation covers all the nuances. However, Dynatrace is not easy to jump into and requires more learning.
Dynatrace offers either a full-stack monitoring solution or multiple individual plans.
Main benefits of Dynatrace
AI-assisted full-stack monitoring solution
More than 560 supported technologies
Solutions also cover security, Digital Experience or even Business Analytics
9. New Relic One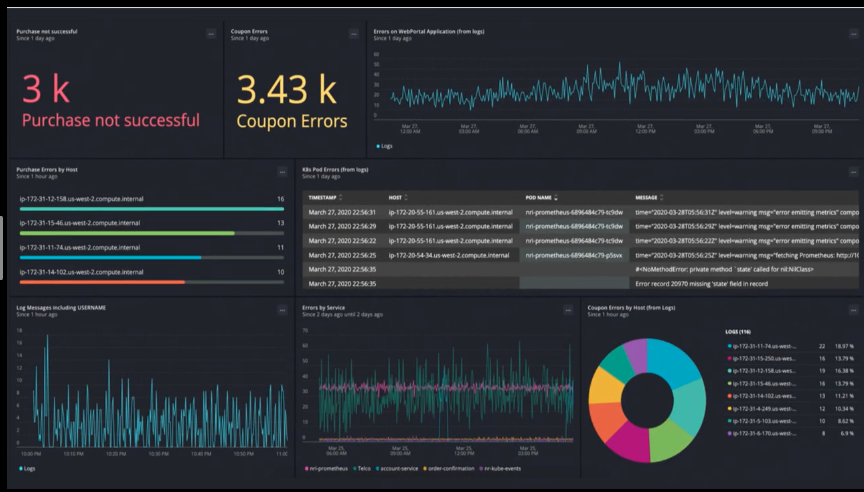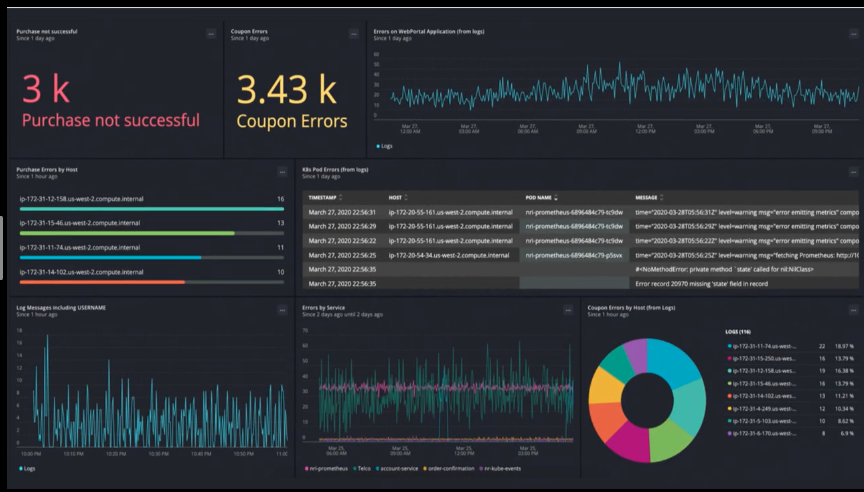 New Relic's Log Management allows you to instantly search through logs, visualize them, use logging data to create custom charts, dashboards, and alerts, and troubleshoot any emerging issues within one platform. Log collection uses its infrastructure monitoring agent.
If you prefer to go agentless, you can forward Syslog data to a TCP endpoint. New Relic supports both on-premise and cloud data. New Relics benefits from machine learning to detect performance patterns, mark those logs, and create clusters based on correlations that are easy to query, visualize, analyze or use for alerting.
Visualization is handled by the Logs UI, allowing you to spot patterns that could benefit you in software tweaking or observing logs in context. Logs can be explored and manipulated using filters and parsing rules. Data is split into partitions to optimize query performance. Alerting options are available and help prevent any unwanted events.
Main benefits of New Relic One
All-in-one infrastructure monitoring tool
Open Source projects available
Pay-as-you-go pricing model
10. Logstash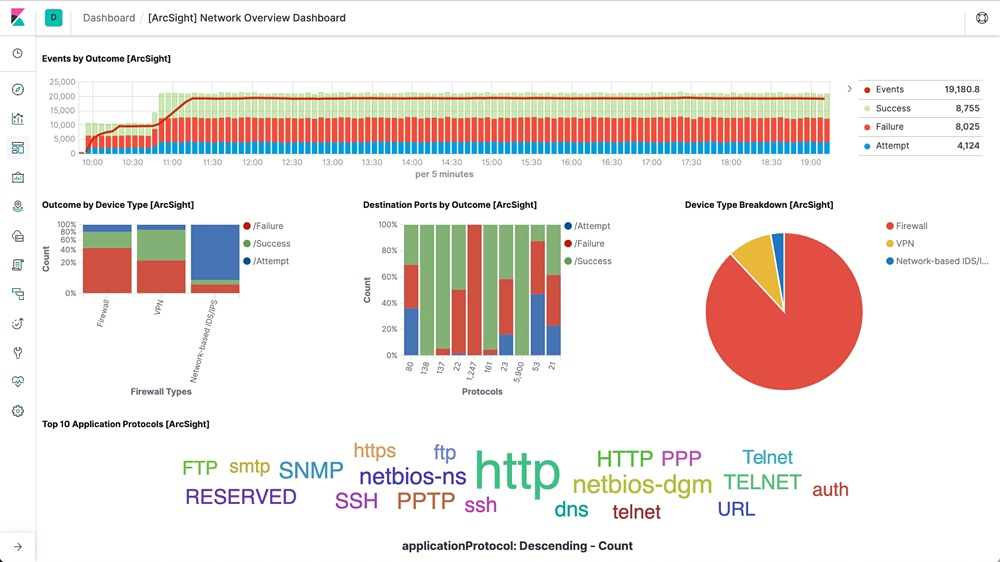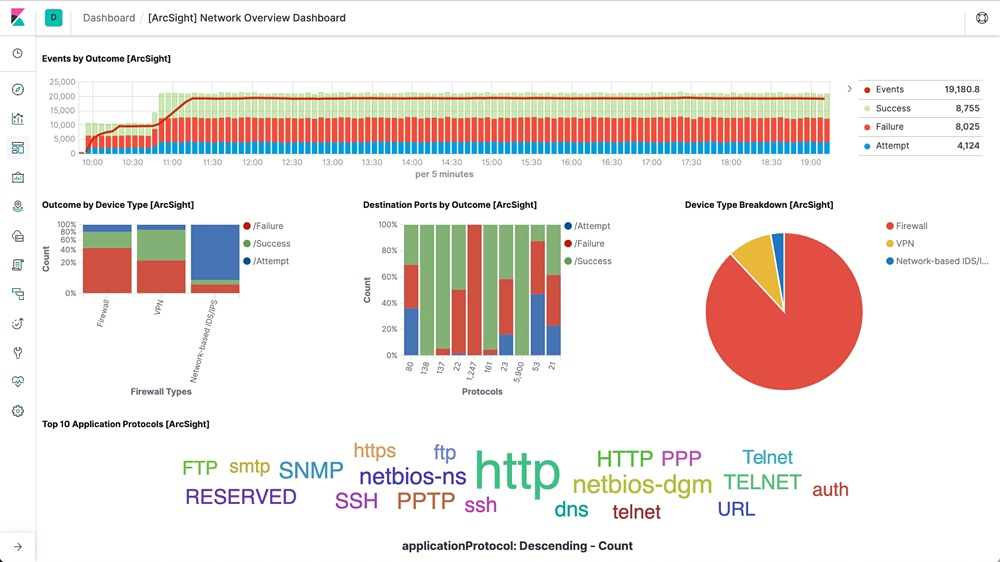 The "L" in ELK stack, Logstash, offers a free and open server-side data processing tool for data ingestion from multiple sources, transformation, and transport into a "stash" of your choice. Since Logstash is open-source, you have to deploy it on your own machine. Logstash is often used as a part of the ELK stack with Elasticsearch and Kibana. However, a wide array of different options is available, like Graphite, Librato, or Datadog, for example. ELK stack is a powerful solution as a whole, so Logstash does not really offer a plethora of features on its own.
Logstash supports a variety of outputs that allows you to route your data with flexibility and according to your needs. Thanks to more than 200 plugins, Logstash is quite customizable, and if you don't find what you're looking for, you can always use their API for plugin development.
Main benefits of Logstash
The direct part of the ELK stack ecosystem
Elastic Maps Server
Advanced alerting tools
Centralize all your logs into one place.
Analyze, correlate and filter logs with SQL.
Create actionable
dashboards.
Share and comment with built-in collaboration.
Explore more
This work is licensed under a Creative Commons Attribution-NonCommercial-ShareAlike 4.0 International License.