Cloud is an ecosystem of servers scattered in data centers all over the world. Many decided to move their operations to the cloud to save costs, increase effectiveness, and have one less thing to worry about. However, having your operation deployed on the cloud does not mean that issues magically disappear. It is still a human-made project, and problems will occur.
What is cloud monitoring?
Cloud monitoring covers monitoring and managing all the aspects of cloud workflow, using either AI and/or manual monitoring practices ton verify if the cloud is operational. Additionally, you measure if its performance matches certain criteria. That means you can collect various metrics according to your needs to make sure that:
Your cloud is secure - From auditing monitoring security standards to detecting breaches by monitoring network flow, logs, files, and users, you can lower the possibility of being breached closer to 0.
Your cloud works as it should - You can't create a flawless machine, but you can spot the flaws before your clients or investors do. Monitoring overall system health, individual software and hardware aspects, and performance trends over time can help you to deliver a better service.
Your cloud is flexible and agile - If you want to grow, you need to be ready to withstand expansions overloads and deliver consistent service all over the globe. Monitoring websites and applications give you metrics about speed or uptime that are valuable for further planning. If you want to dig deeper into the topic, check out introduction to cloud monitoring.
Private, public, or hybrid
Each type of cloud architecture was made to perform different tasks and requires a specific approach.
Private clouds - Easy access does not guarantee you smooth performance, and you need to pay special attention to workload, network performance, and availability to give your cloud engineers insights into how to develop your cloud further. The main difference between public and private cloud is that you do not share the hardware with others.
Public clouds - Public clouds are cheaper and easier to set up but provide less visibility, so some sort of monitoring solution is essential, mainly because you need to know if you get your money's worth and if your partners keep up with the SLAs.
Hybrid architectures - Not putting all your eggs in one basket seems like a bright idea, but when having data scattered across multiple architectures, you need to look for security and integrity issues. In this case, monitoring can help you to keep consistency or help decide if you want to transfer your data on either public or private clouds.
Learn more about different types of cloud architectures in Azure's guide to Cloud.
Benefits of Cloud Monitoring
Security
Significant damage control costs reduction
Evidence-based planning for future development
Perpetual awareness of the infrastructure's overall health
Easier future scaling of business
The Best Cloud Monitoring Tools in 2023
We've settled the basics. Now it's time to take a look at the best cloud monitoring tools and software in 2023.
1. Better Stack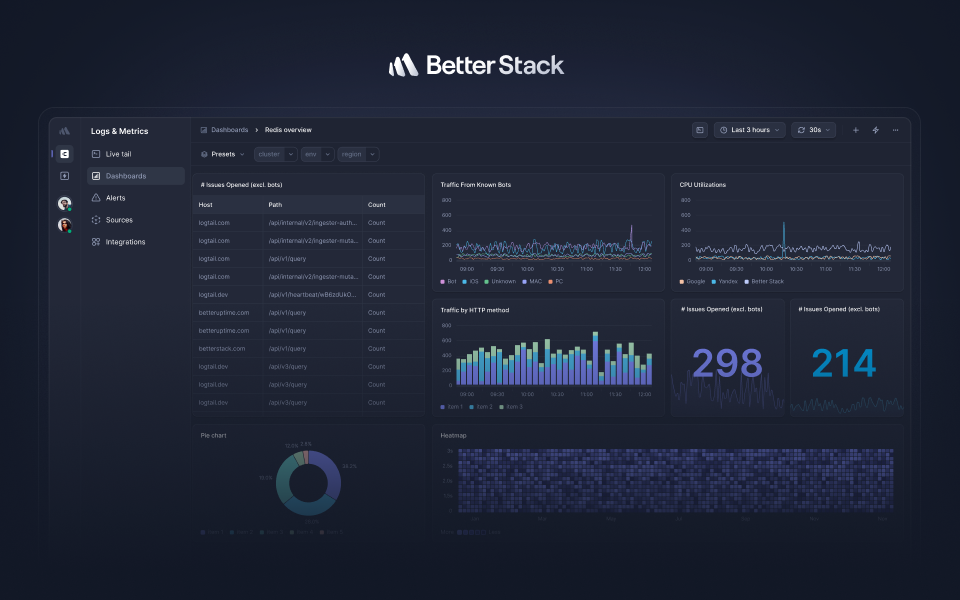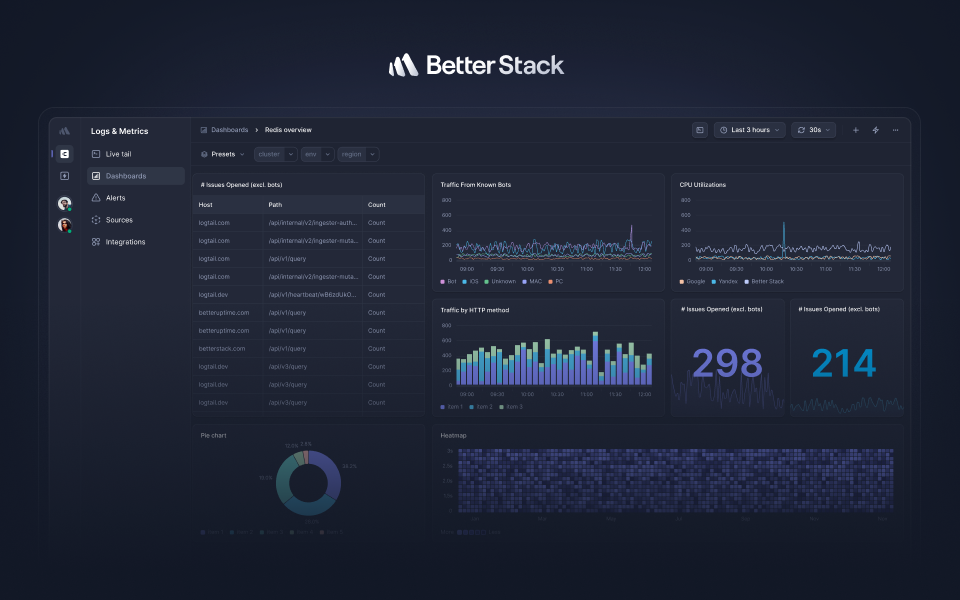 Better Stack redefines the standard approach to log management. Using a custom-built technology and a ClickHouse based storage, Better Stack provides a significantly more efficient working space that is at the same time less expensive than the conventional ELK Stack. Seamless integration with any platform allows you to start monitoring and increase your performance and reliability within minutes. Creating a cloud integration is a matter of a few commands, and thanks to complex yet straightforward documentation, you will receive any guidance necessary.
Even in the free package, Better Stack offers real-time Live Tail, automated parsing, and visual query builder. You can also benefit from automated data enrichment and log collection. Better Stack offers unlimited search duration, built-in Grafana, and interactive dashboards. When it comes to collaboration, Better Stack offers Google Docs-ish collaboration and comments with tagging available. You can also create team-based notifications and archive log fragments. Better Stack offers support for Docker, Dokku, Heroku, K8s, Ubuntu/Debian, Vercel, and many more.
You can get a rather generous Better Stack Logs package for free; advanced features are available in the higher tiers, starting at $24/month.
Main Benefits of Better Stack:
Data encryption and storage in ISO/IEC 27001 certified data centers
SQL-like log queries
Advanced Collaboration Features
2. Datadog
With more than 450 vendor-backed integrations, you can collect metrics from your cloud services, serverless functions, databases, and more. All the collected data is analyzed and visualized in one place, using drag-and-drop customizable dashboards. Datadog helps you enhance App reliability, diagnose root causes faster and see any anomalies across all your systems by correlating query metrics with database and infrastructure collected data. You can also expand your team without compromising complete database access to every user and keep sensitive data secure. Datadog also allows you to isolate query performance issues and eliminate hold-ups at the DBA level by managing multiple databases at once. Datadog's deployment is easy and quick and does not require any extensive training.
Datadog's free plan offers Unlimited User Accounts, 1-day full-resolution data retention but it does not provide alerting or container monitoring. Datadog's first paid Infrastructure monitoring solution starts at $15/month per host.
Main Benefits of Datadog:
IoT add-ons
Custom Metrics in Higher tiers
Full-stack observability and monitoring achievable
3. New Relic
New Relic's infrastructure monitoring offers faster visibility and troubleshooting. It offers an all-in-one data observation tool capable of correlation or drill-down to specific log tracing in only a few steps. New Relic is highly adjustable, so it does not matter if you run from one or multiple clouds on-premise, you will have access to specific, accurate, and custom metrics in real-time. It is an open and flexible integration network supporting all the most popular integrations like AWS, Azure, GCP, MYSQL, NGINX, Kafka, and more. If you find an integration that is not supported, you can build it from scratch with New Relic's Flex integration builder.
You can get New Relic for free and access the basic logs management and analyzing features. The rest of the packages are priced depending on your usage, where you pay for everything you use on top of the free plan.
Main Benefits of New Relic:
Kubernetes monitoring Pixie
Multiple by use case solutions
4. Dynatrace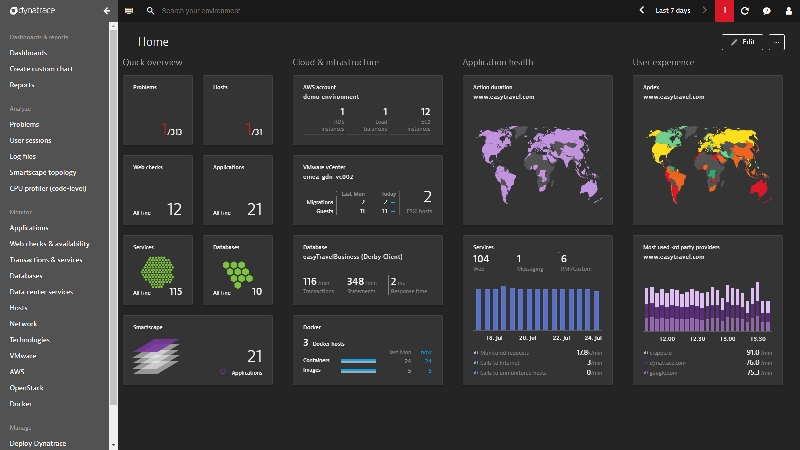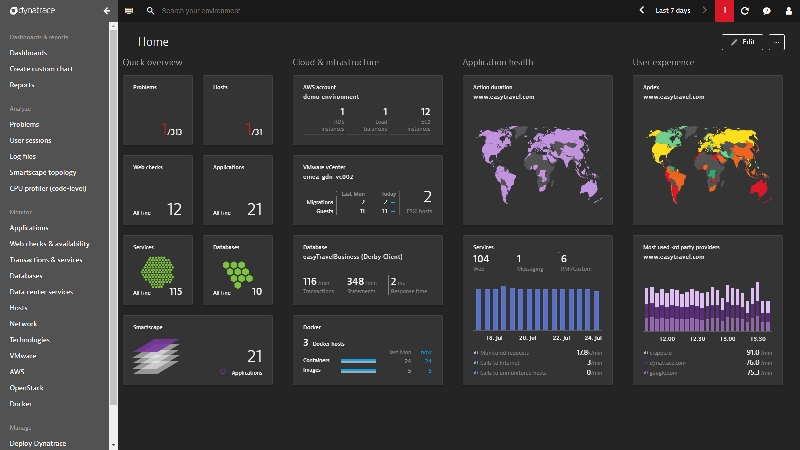 Dynatrace provides full observability across all cloud and on-premise servers. Its integration is easy, basically a Plug-n-play, since Dynatrace auto-detects and monitors individual cloud components and scans for any changes in dynamic environments. For better oversight, Dynatrace offers you a real-time map of dependencies between apps, services, processes, and cloud components. Dynatrace provides integration into the most popular cloud and container environments like AWS, DC/OS, Docker, Heroku, Google Cloud, Netflix OSS, Oracle Cloud, and more.
Dynatrace's pricing is calculated per month for 8 GB per Host. Dynatrace offers cloud monitoring either in their Full-Stack observability package starting at $69/month. Or you can reach for the Infrastructure monitoring package starting at $21/month.
Main Benefits of Dynatrace:
Cloud migration assistance
Cloud security monitoring solution
5. Netdata Cloud
Netdata allows you to monitor the health of your entire IT infrastructure from any browser. You can monitor metrics in per-second frequency for every system and app in real-time. Netdata is free yet delivers a powerful cloud monitoring solution that is heavily scalable.
Netdata Cloud is a free, closed source SaaS solution that brings metadata from all tour endpoints running the Netdata Agent - their own free, open-source software licensed under GPL v3.0. It's perfect for single-node monitoring, lightweight and performant. In the future, the developers plan to deploy a paid plan for enterprise users.
Main Benefits of Netdata:
6. Sematext Cloud
Sematext cloud and Sematext Enterprise compose full-stack cloud monitoring solutions offering in-depth visibility into your IT infrastructure. Sematext's auto-discovery feature allows you to start monitoring your services from the UI automatically. Customizable dashboards offer insights into crucial cloud applications and infrastructure metrics. Alerting and anomaly detection along with scheduling make sure you won't miss anything out of the ordinary. Both the reactive and proactive monitoring features make sure you always deliver a 20/20 service.
You can get Sematext for free. Sematext Cloud's Basic offers a 30 minutes data retention, 1 Alert Rule, and a maximum of 15 containers. For paid packages, your subscription will be calculated based on the package you pick and the integrations you'll need.
Main Benefits of Sematext Cloud:
Auto-discovery of services enabling hands-off auto-monitoring
Log management solution
7. Sumo Logic
Sumo Logic offers a complex cloud monitoring solution at scale. With support for more than 150 applications and integrations, you can collect and centralize all the necessary data. With real-time analytics, you can rapidly identify and resolve potential cyber-attacks or breaches. With customizable dashboards, you gain full-stack visibility and reliable monitoring results. Machine-learning-based algorithms run around the clock to test and alert you in case of any anomalies or errors.
Sumo Logic offers complete solutions to AWS, GCP, and Azure, promising full infrastructure visibility in each. You can use Sumo Logic as a custom-tailored solution in multiple fields, such as education, gaming, retail, fintech, and even the public sector.
Sumo Logic offers an Infrastructure Monitoring solution, starting at around $0.50/1000 DPM daily average, which would sum up to around $14/month per host. You can try Sumo Logic in a free trial period, combine it with other solutions or ask for a custom quote.
Main Benefits of Sumo Logic:
CrowdStrike threat intelligence
Security analytics app framework
8. Logz.io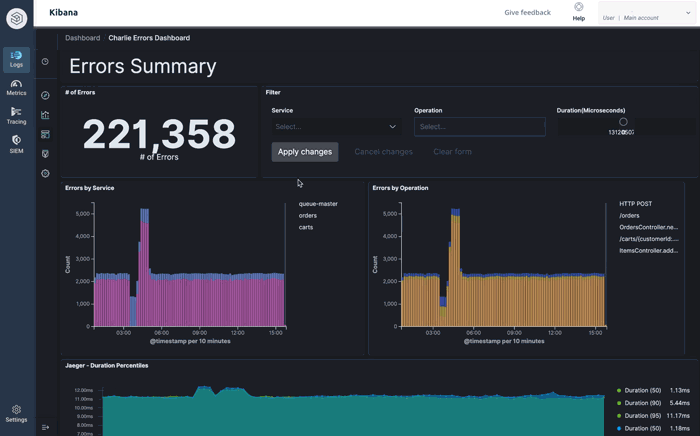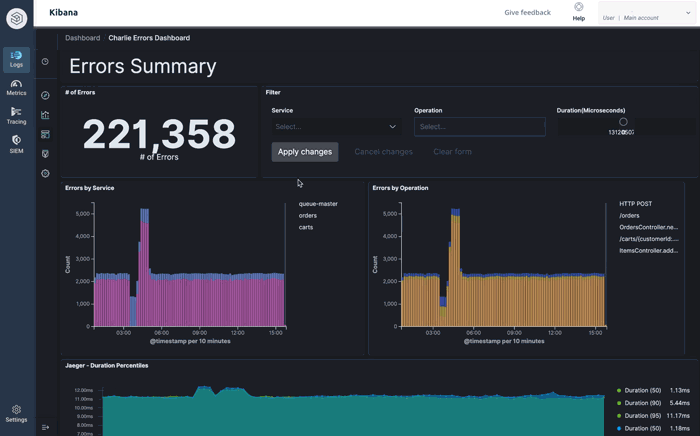 Logz.io is based on open source tools and heavily emphasizes the necessity of "giving back to the community", maybe that's why their free subscription plan is called Community. Logz.io is ELK-stack based, which promises performance and reliability, at a certain price. Its crowdsourcing and machine learning features can help you discover otherwise invisible events. It also provides a live tail feature to observe data in real-time, providing you with an option to monitor and analyze data from multiple sources at once.
Using query language, you can create custom and flexible alerts to be the first one to know about any bugs, threats, or anomalies. Kibana's query language provides you with multiple more features such as identifying specific events, customizing alert formats, or grouping options by fields.
Logz.io provides a safe way to store your in-transit data with its support for SSL encryption and robust AES 256-bit encryption.
Main benefits of Logz.io:
It's based on open source
ELK-stack provides a wide array of tools
Reasonable pricing model
9. SolarWinds Server and Application Monitor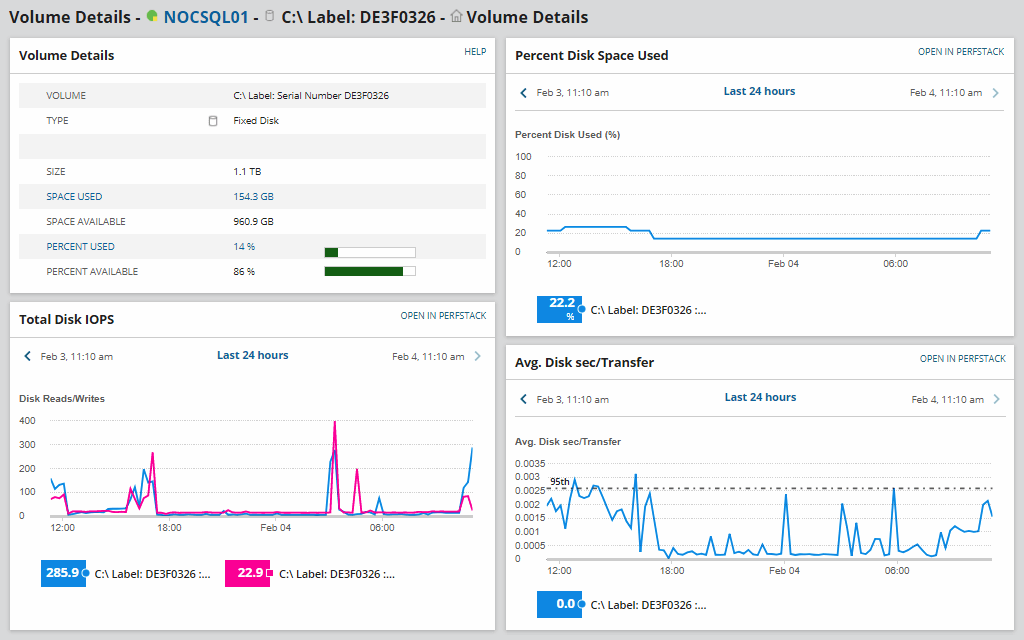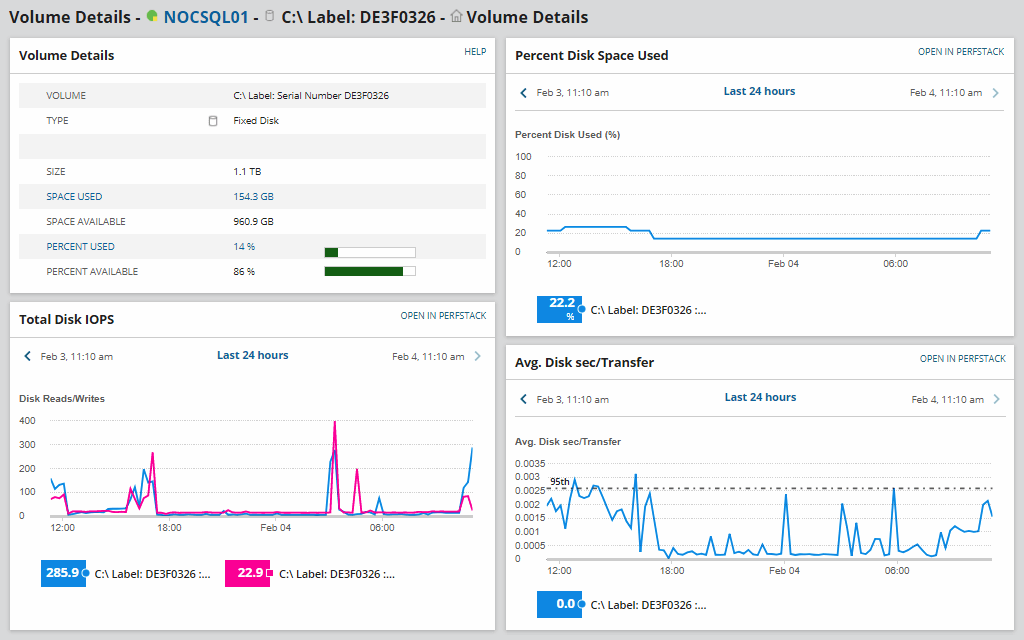 SolarWinds is one of the biggest players in the monitoring market, and their 1200+ integrations for performance monitoring only prove that to be true. Server and Application Monitor (SAM) is designed to unify multiple monitoring solutions under one roof.
SAM includes hundreds of out-of-the-box templates to monitor server and application performance and the ability to display both real-time and historical trends, helping you to better understand how your server performs in time.
SAM's price starts at $1500, with the offer of a subscription and perpetual licensing options. However, SAM makes every penny worth, with 68 use cases available, including Agentless server, CentOS Server Management, and Monitoring Tool, or IMAP Server Monitoring Tool, there is not a lot of things that SAM can not do. However, if spending thousands of dollars on infrastructure monitoring is not what you are looking for, keep scrolling.
Main Benefits of SAM:
Server Capacity Planning
Custom App Monitoring
Application Dependency Mapping
10. Zabbix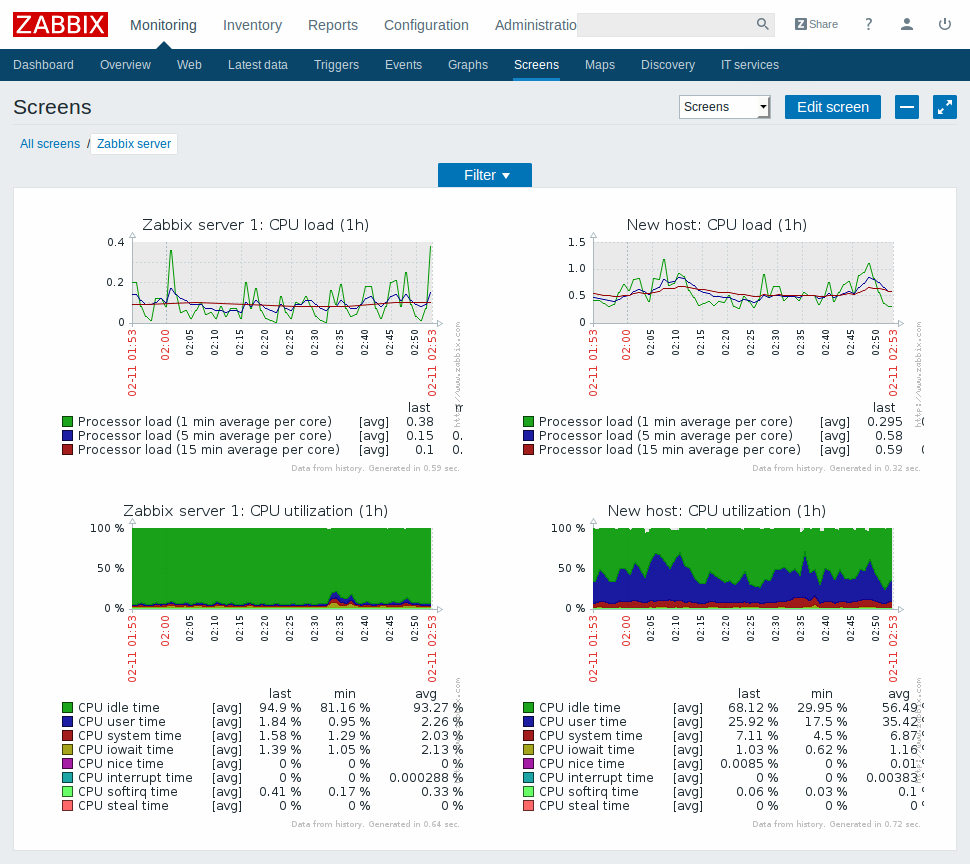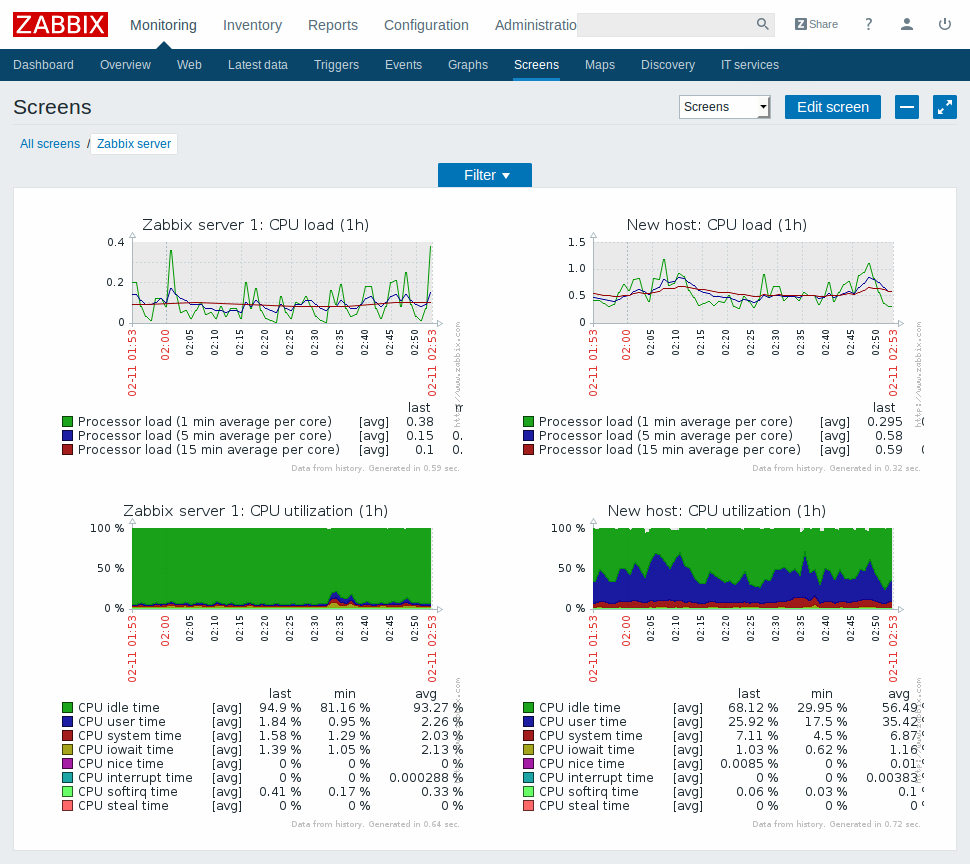 Zabbix has a rich set of features to enable users to monitor more than just hosts and offers great flexibility to admins. Zabbix allows you to control many possible metrics and incidents when it comes to servers like High CPU or memory usage, Packet Loss Rate, or Disk Space. Zabbix's out-of-the-box templates allow you to monitor all popular servers and OS.
Zabbix allows you to collect metrics from Network devices, Cloud, containers and virtual machines, Databases, Applications, HTTP(s) endpoints, and many more. Alerting is handled by multiple platforms, including On-Call, Opsgenie, Pagerduty, Slack, MS Teams, Telegram, or Webhooks.
Zabbix offers a full set of education courses and materials with recognized certificates, confirming a certain level of expertise in Zabbix's function. Zabbix is really lightweight but offers support for almost every aspect of infrastructure aspects.
Zabbix is open-source, so there are no subscription packages. You can enroll in one of their courses or purchase advice in the form of technical support or consulting.
Main Benefits of Zabbix:
Flexible notifications
Remote command execution
Conclusion
In this article, we went through the essentials of cloud, cloud monitoring, and the benefits of getting a good cloud monitoring solution. Then we proposed a set of the best tools for Cloud Monitoring in 2023 and their main benefits.
Centralize all your logs into one place.
Analyze, correlate and filter logs with SQL.
Create actionable
dashboards.
Share and comment with built-in collaboration.
Explore more
This work is licensed under a Creative Commons Attribution-NonCommercial-ShareAlike 4.0 International License.