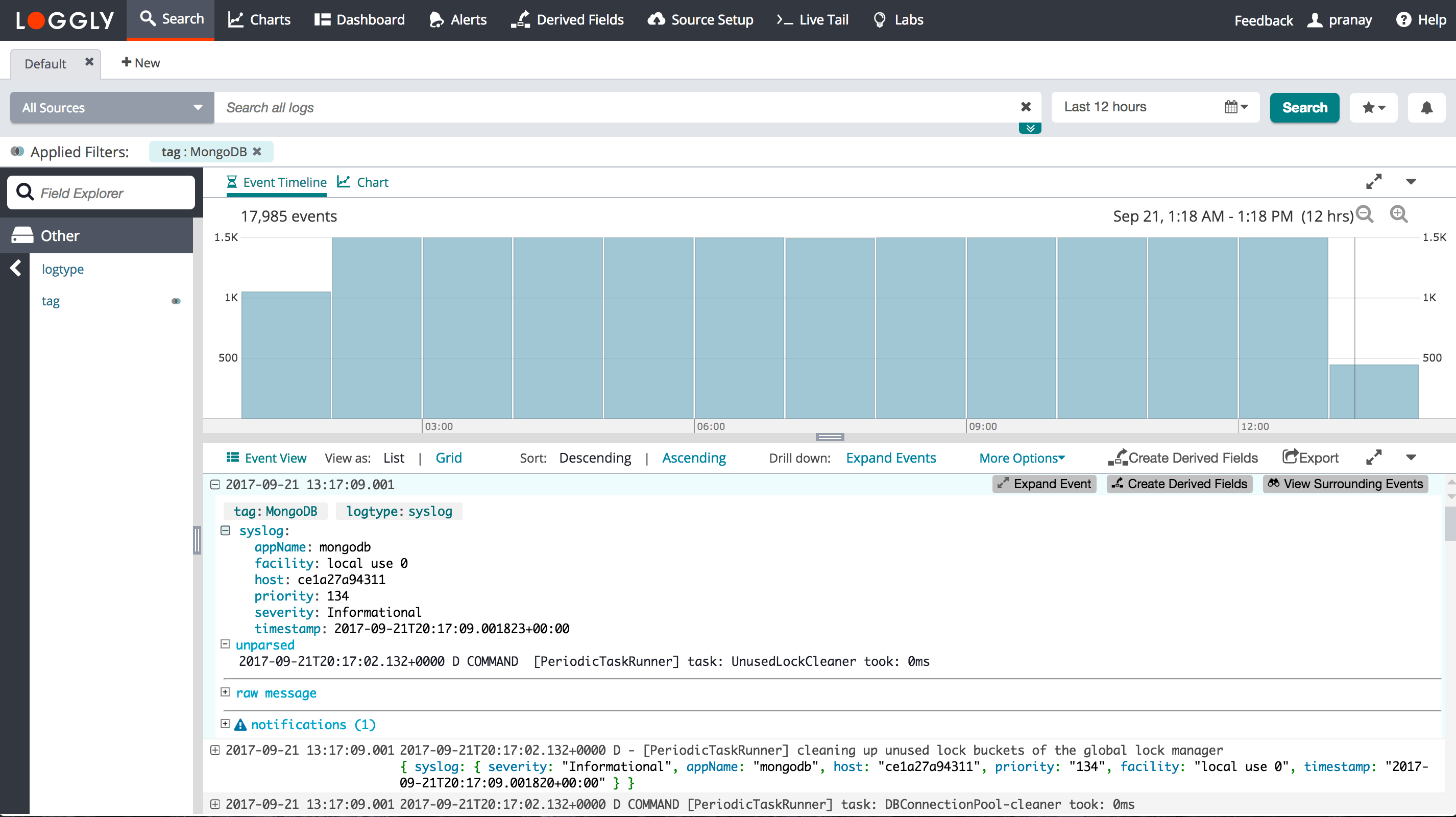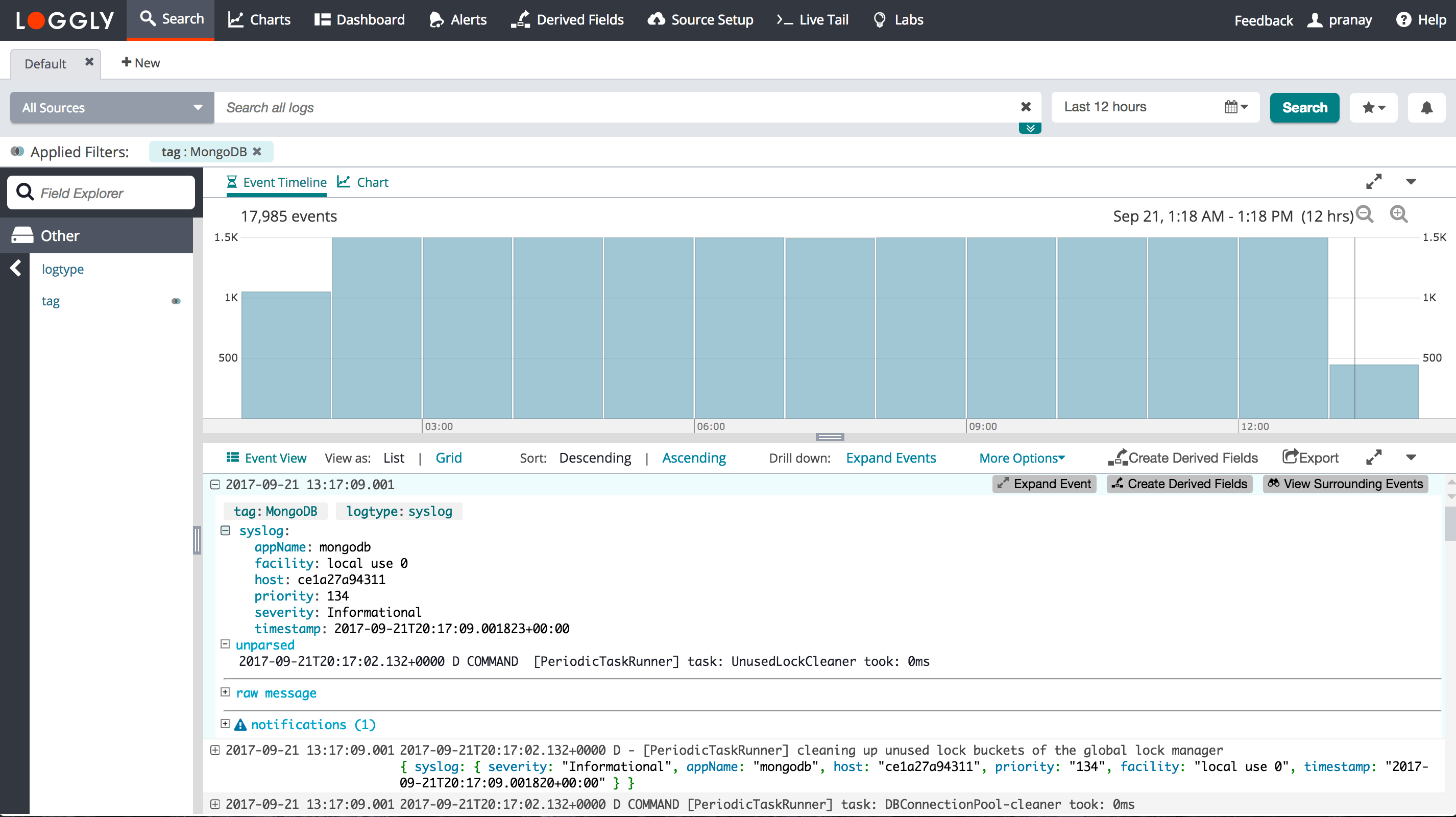 Loggly can be a valuable tool to help you monitor and investigate your logs. It is currently one of the most commonly used solutions on the market. However, it is not a secret that Loggly often fails to deliver, especially when it comes to speed and user-friendliness.
Loggly is an agentless log analyzer gathering data directly from application servers. Using a token, or the standard Syslog with HTTP(s), Loggly can retrieve data from pre-existing software. It can work with txt based logs from any source and offers support for multiple languages and platforms. We can find support for Ruby, Java, Python JavaScript, PHP, Apache HTTP Server, Tomcat, MySQL, Syslog-ng, rsyslog, and many more. Loggly's main focus is on solving and fixing operational problems. Customizable dashboards, documentation, and a really wide array of useful tools make Loggly a powerful log analysis and log aggregation tool.
However, Loggly is not the friendliest when it comes to new users, or users in general, and the community also voiced disappointment when it comes to speed. That's why we've decided to put together a list of alternatives. This list tries to cover solutions compensating all of Loggly's handicaps while being faster, smarter, or cheaper. Hopefully, you will find one, that will suit you the most.
1. Better Stack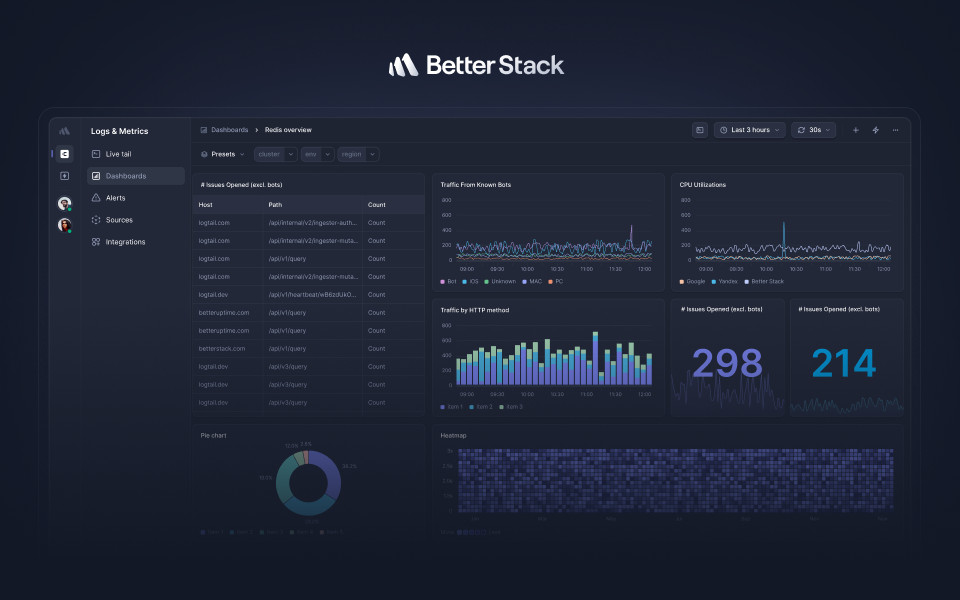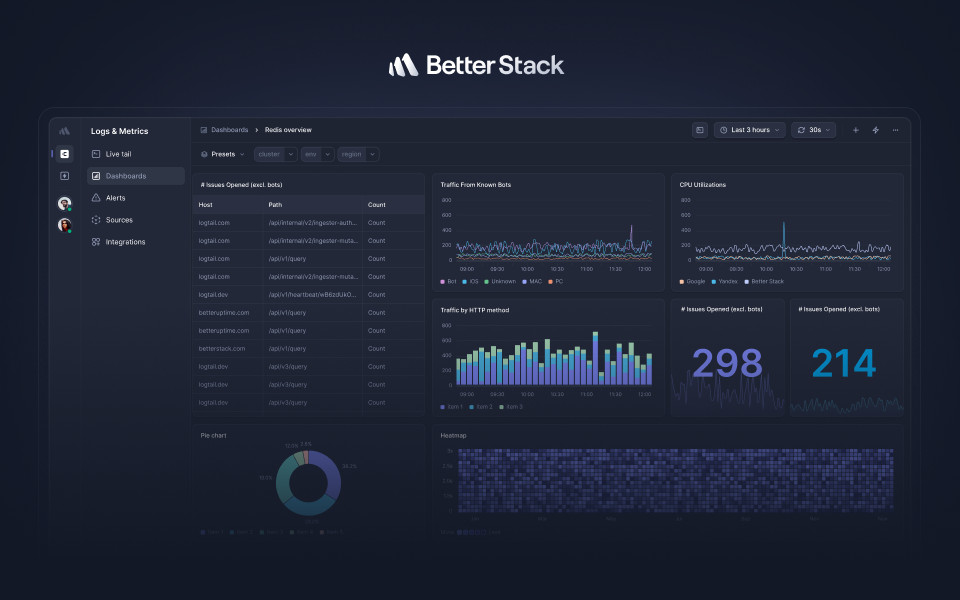 Better Stack is one of the newest log management solutions and serves as a great alternative to Loggly. The main difference of Better Stack is that compared to Loggly, which is built on old data management technology or other tools like Logz.io that are based on the ELK stack; Better Stack is build with proprietary technology build specifically for log management and analysis and uses ClickHouse.
This is probably the reason that Better Stack offers significantly cheaper price per GB of logs than Loggly or any other tool on this list for that matter.
Their structured log storage and SQL log querying feels more like simple database management than complex logging tool. Searching logs is thus very user-friendly and requires no learning of specific log querying language.
Finally, Better Stack has built-in Grafana, which is easy to navigate and offers the necessary capabilities to build dashboards and analyse historical data and trends. With Slack and other DevOps alerting integrations available, anomaly alerting setup is easy and reliable.
Main Benefits of Better Stack
Storing logs in structured form
Super-fast log querying with SQL
Hosted Grafana built-in
2. Sumo Logic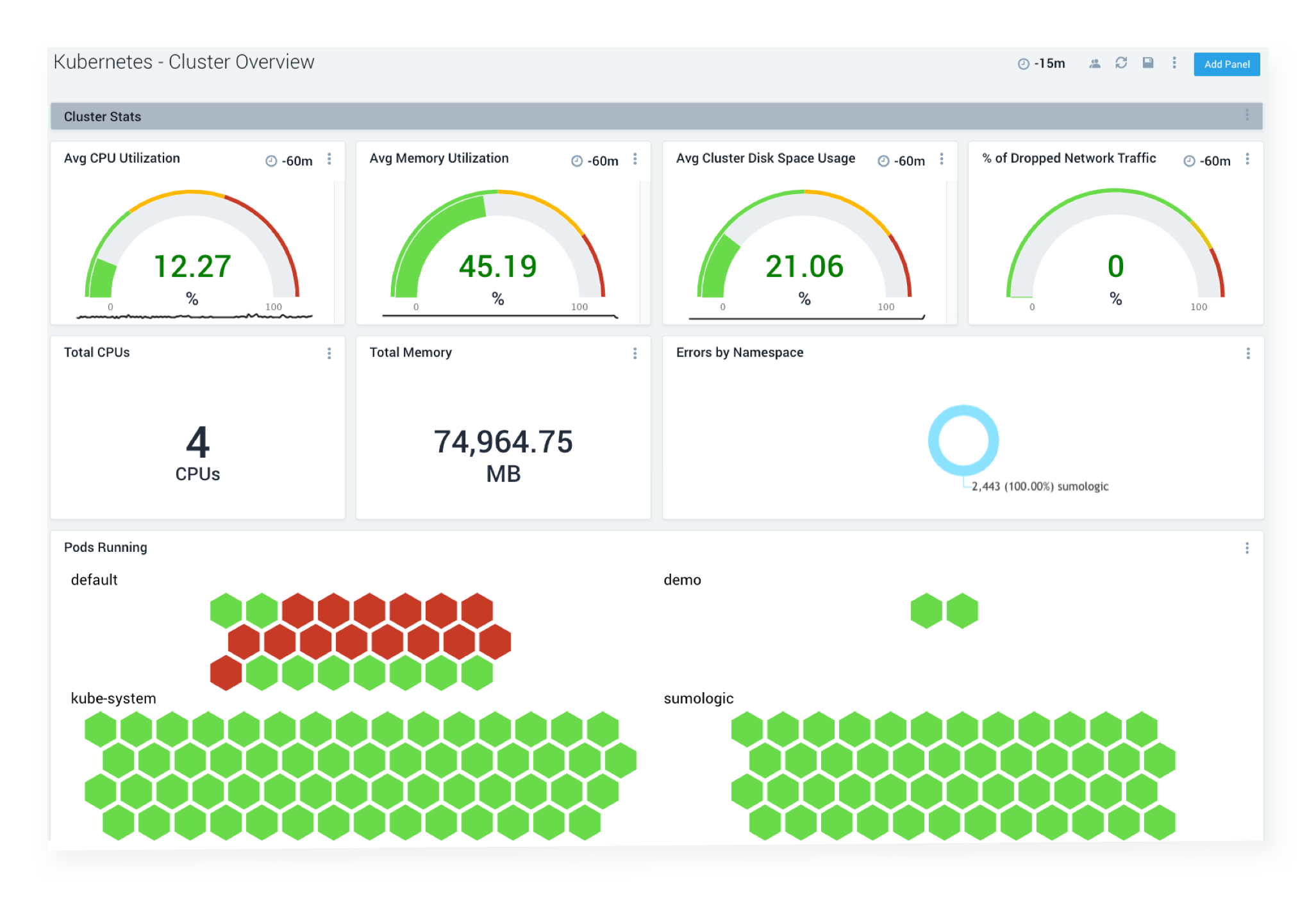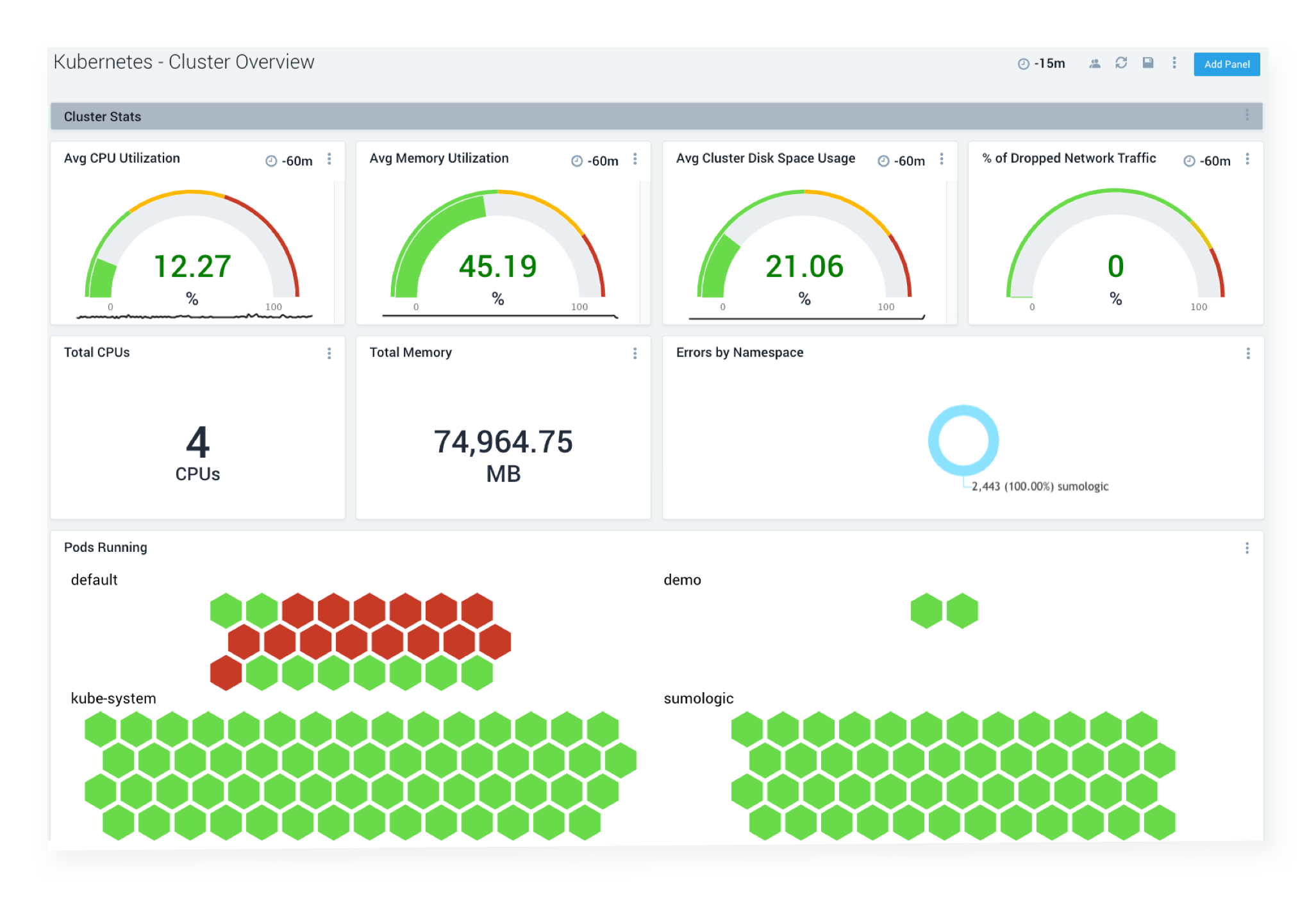 Sumo Logic provides enterprise-focused and cloud-based tools for searching, analyzing, and log management of your logs. It can reduce and group your records by various patterns and help you with identifying anomalies.
Sumo Logic provides you with two dashboards - a live dashboard and an interactive one. The live dashboard offers numerous real-time data in the order as they come. However, it doesn't provide an option to look back at the older data. That's when the interactive dashboard comes in. In the interactive dashboard, you can view a complete overview of events and trends, focus on the graphs and identify rare events. You can filter for the specific errors and exceptions to be able to focus on them in the future.
Sumo Logic provides an integration with Azure, AWS, and GCP cloud in real-time. However it's plans come at quite a significant cost compared to Loggly.
The main difference between Sumo Logic and Loggly is that Loggly is a dedicated log management tool. On the other hand, Sumo can be described as a cloud-based machine data analytics platform to identify trends, threats, and issues.
Main Benefits of Sumo Logic
GUI is easy to grasp, thus making it quicker to start
3. Graylog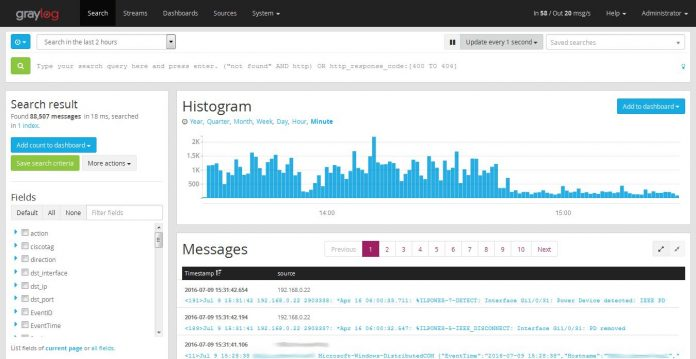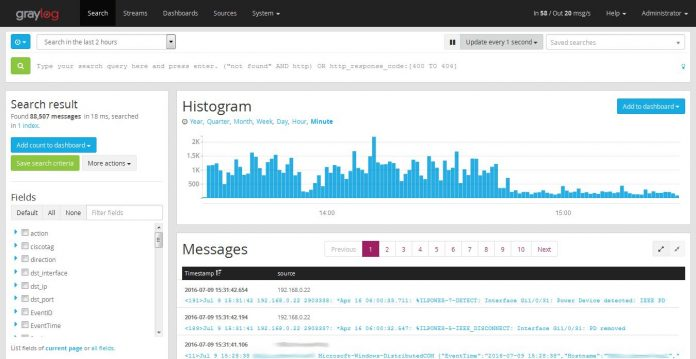 Graylog is, unlike most of the tools in this article, an open-source log analyzer. It gives a choice to parse your logs from any data source and view it easily. It is based on Elasticsearch and MongoDB.
Graylog's dashboard is wholly made out of widgets, each providing you with numerous data types from counts, charts, graphs, views, and more. Graylog also provides a way to search through to the point where you can find specific errors and exceptions.
Graylog is an open-source log management system designed to be run and managed by the client. Graylog certainly gives more flexibility and control, and arguably it has a better interface. This comes at the cost of having to deploy, host, and manage it independently. Considering the large amounts of log data many applications produce this can be a challenge, however for smaller projects this can be a significant money saving solution.
Main Benefits of Graylog
Even the free edition provides multiple functions
Ability to search for different criteria without having to filter out the data manually
Designed to be hosted and run by the client, making its configuration very flexible
Open-source
4. Scalyr
Scalyr is capable of providing fast data and searching capabilities. With its real-time functions, it works well even on large amounts of data. Scalyr is commonly preferred by users with limited knowledge and experience with search query language because it comes with built-in parsers and enables users to create various custom dashboards. Scalyr integrates well with several types data sources like Heroku, AWS, and Fluentd. It also offers integrations with alerting tools like Opsgenie.
Scalyr is designed for the Kubernetes environment, and it also provides built-in data for these types. It can send or get various log data directly from the server, supporting a vast number of APIs.
While Loggly has more features like proactive monitoring and better tracing with sharable GUI, Scalyr, on the other hand, provides a lighter solution for the problem. With its fast log searching and filtering, easier integration into the whole workflow, and relatively simple usage, it might just be your choice.
Main Benefits of Scalyr
Logs from different servers can be managed from the single place
Excellent speed of queries and log search
Relatively simple usage
Lightweight and easily integrated
5. Splunk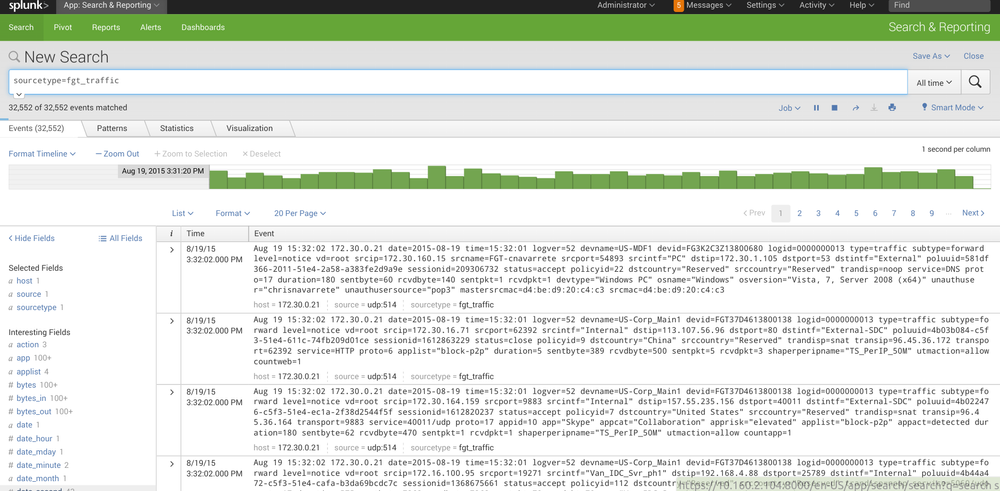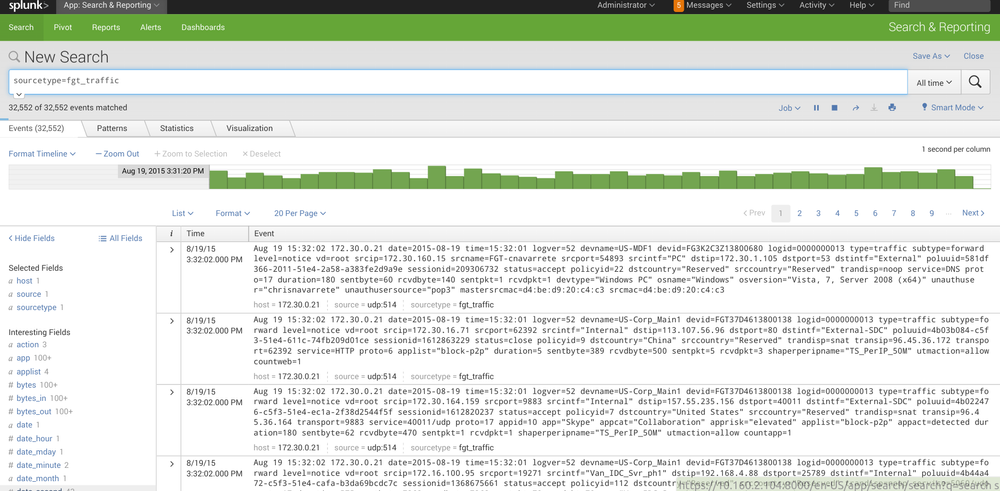 Splunk is a relatively new and modern log management and monitoring solution. You can also use it on mobile, and it provides support for augmented reality.
Apart from log management, Splunk provides you with searching, filtering, diagnosing, indexing, and reporting features. It also offers intuitive and user-friendly dashboards which can be divided into multiple relevant sections. Splunk uses distributed tracing, a method to monitor events, failures, or performance issues.
Splunk is faster than Loggly when searching for short-time data. However, it lacks behind when getting data from the broader period or in identifying trends. Both tools are okay; however, they differ in some crucial aspects, and one or the other is not suitable for everyone. While Loggly provides a robust log management tool, Splunk provides multiple additional features on the other hand. These include live logging, S3 backup, Heroku support, Github integration, JIRA integration, and more.
Main Benefits of Splunk
Support for various features like S3 backup, live, logging, Heroku, Github, and more
Flexible GUI, support for a query language
Complex, suitable for an enterprise solution
6. LogDNA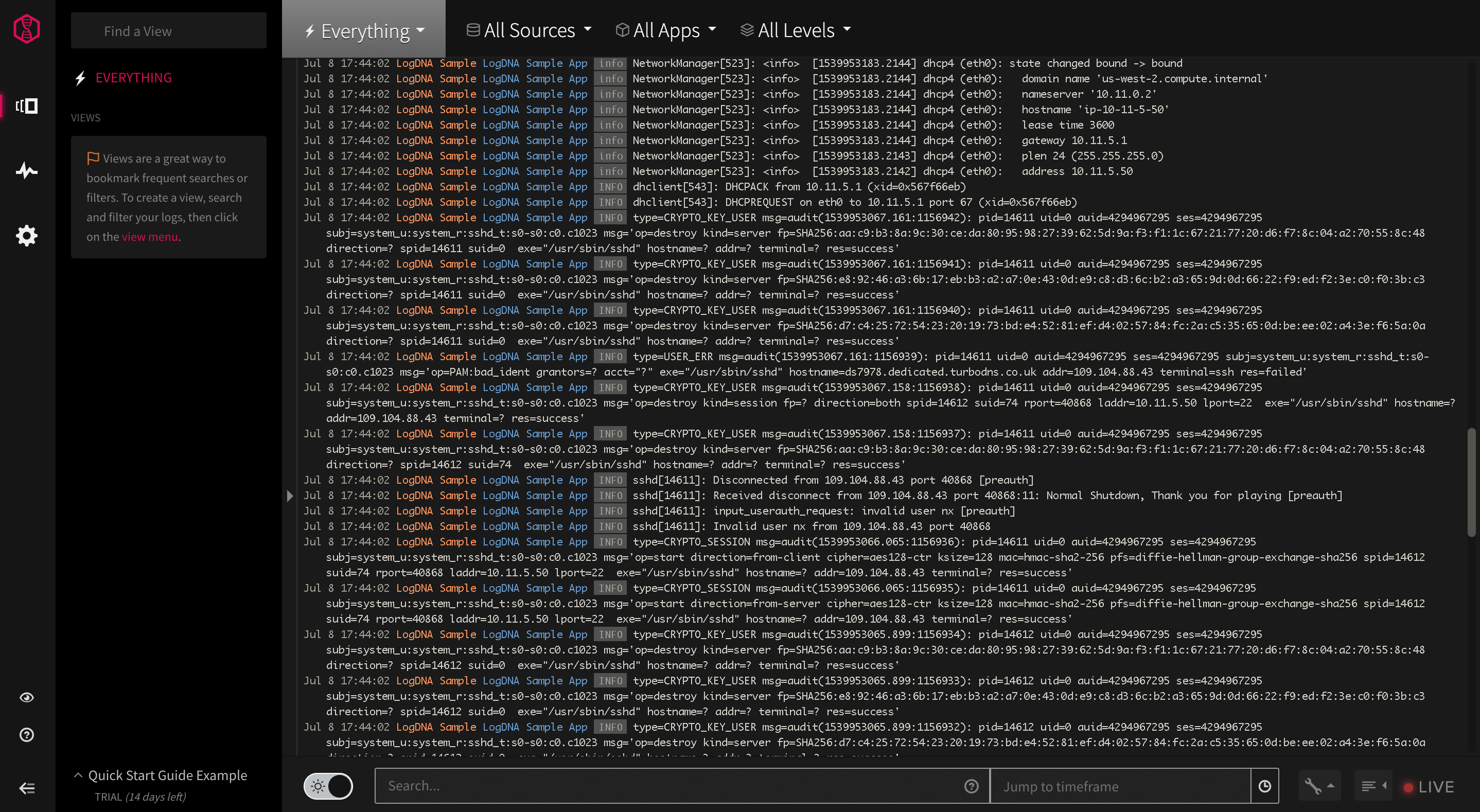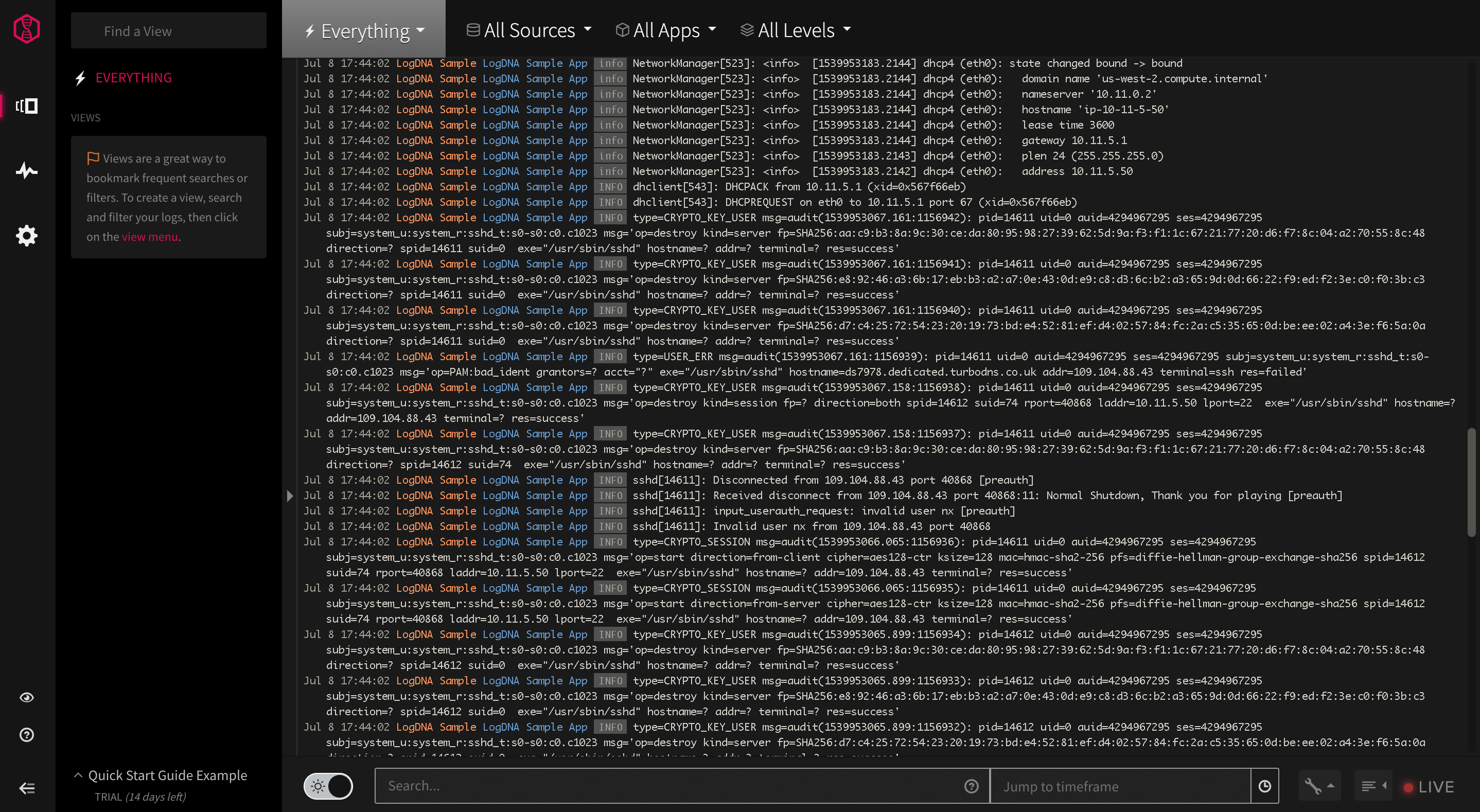 LogDNA is one of the newer players in the log management space. It is a cloud-based, available as a private or hybrid cloud solution that offers a reasonable degree of flexibility. You can collect logs using installed agents or send your records directly from applications like AWS, Kubernetes, Heroku, Docker, and more.
LogDNA is built on Elasticsearch, which can provide you with reasonably quick indexing and filtering. The GUI is web-based and allows for filtering by key fields or grouping logs by source. You are also able to create custom dashboards or user-specific logs. It also provides an option for agentless log collection via Syslog and HTTP(S) with full-text search and visualizations.
Pricing is related to the usage itself, so it does not have any data caps, and you pay for what you use as you go.
Main Benefits of LogDNA
Option to embed views and share logs outside the organization
Automatically parses standard log formats
Simple UI, easy to understand
7. Logz.io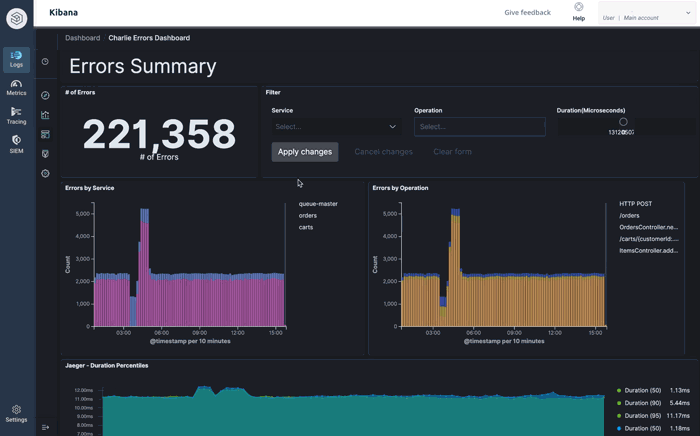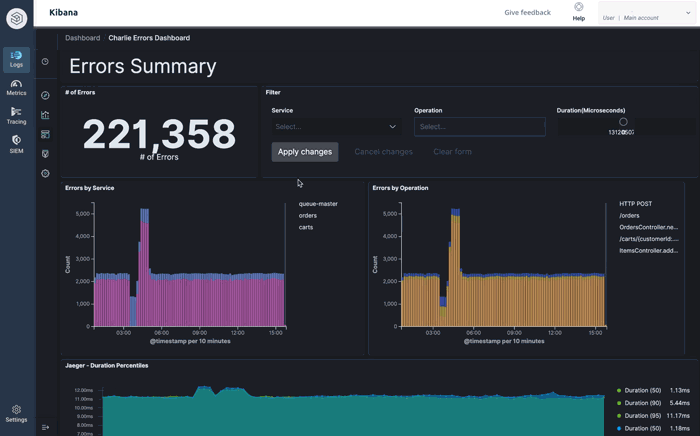 Logz.io is yet another open-source log management platform. It is based on Elasticsearch, Kibana, and Logstash, which will significantly help you monitor and troubleshoot. It has machine learning and crowdsourcing features that can help you discover otherwise invisible events. It has a part to view data in real-time, giving you a way to map a live feed of streamed data from multiple sources.
It also provides you a way to customize your alerts based on query language, making them very flexible and configurable. It can help you notice bugs, threats, or other irregular behavior such as unusual resource usage. Kibana's query language provides you multiple more features such as identifying specific events, customizing alert formats, or grouping options by fields.
Logz.io provides a safe way to store your in-transit data with its support for SSL encryption and robust AES 256-bit encryption.
Main Benefits of Logz.io
Open-source
Easily modifiable
Reasonable price
Flexible and customizable dashboards
8. Sematext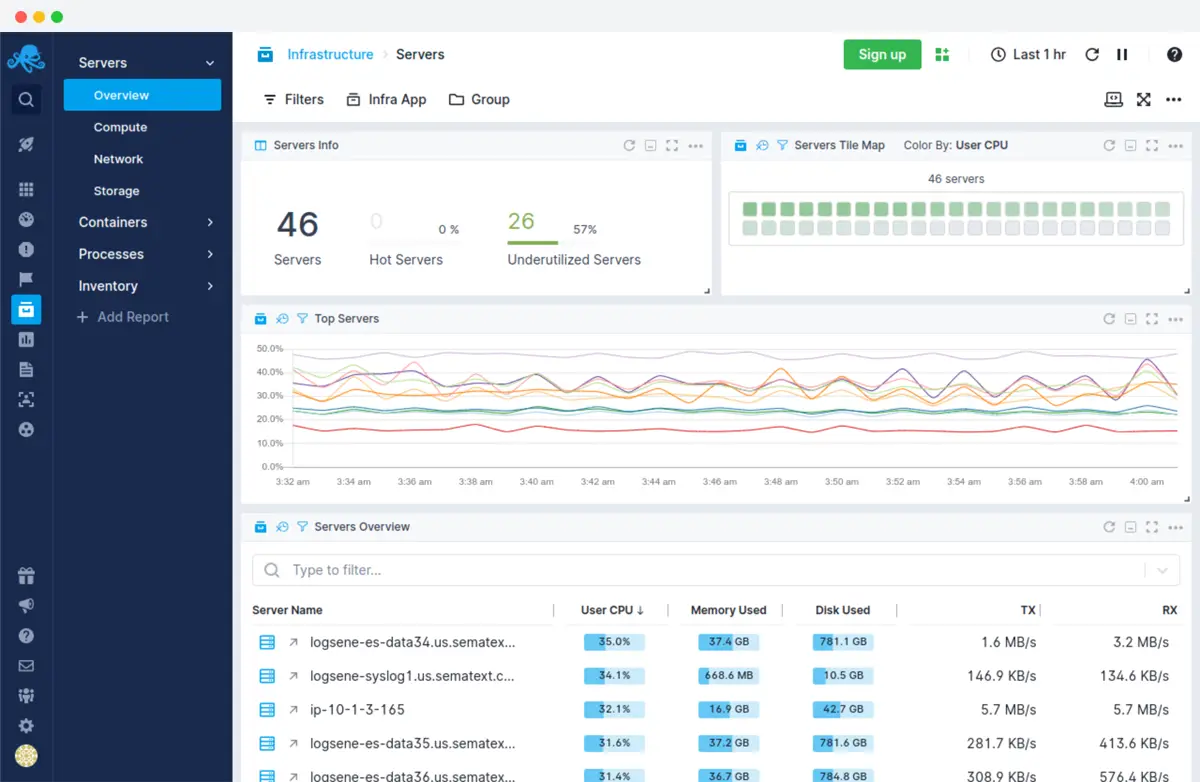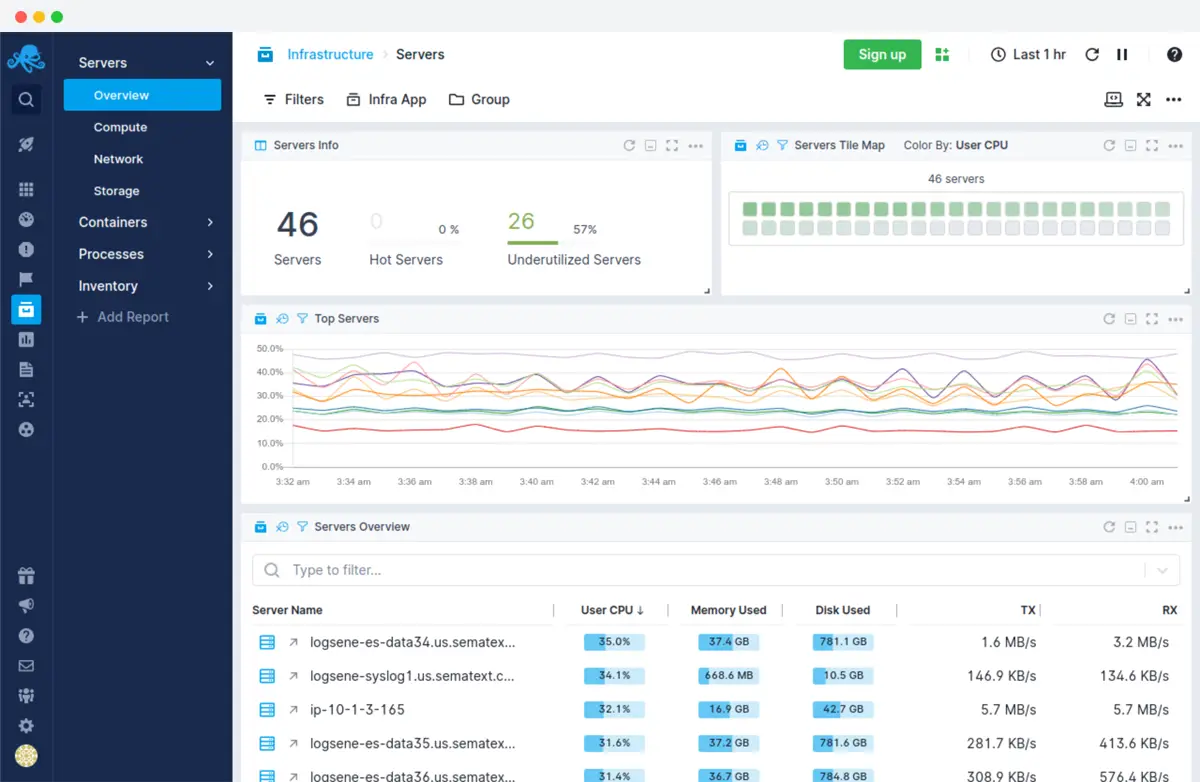 Sematext is a monitoring and logging service. Sematext uses a method of centralized logging and provides you a way to aggregate and store logs from any data source in a central location. Servers, applications, databases, containers, systems, and more. You can also use live time viewing of your logs as they arrive into the cloud from multiple data sources.
It uses Elasticsearch, Logstash, and Kibana for collecting and transforming data, searching, filtering and analyzing, and finally, data managing and visualization. You can troubleshoot faster with real-time alerting on both metrics and logs. Log analyzing and looking for anomalies are used to make the whole process more quick. You can integrate it with email, PagerDuty, Slack, HipChat, BigPanda, OpsGenie, VictorOps, WebHooks, Nagios, Zapier, and more.
Sematext runs on AWS, whose infrastructure follows strict IT security best practices. Your logs are encrypted via HTTPS and sent through TLS/SLL channels. You can restrict specific permissions to some members of your team.
Main Benefits of Sematext
It brings infrastructure and application performance monitoring together with log management
Easy to use with good pre-configured dashboards and reports thus also quick to start
No need to lengthly configure; it works fine out of the box
9. Datadog
Datadog provides a way for users to see their logs across multiple apps, systems, or services. It offers hundreds of built-in integrations. It gives the customer tools to track performance with auto-generated service views and a comfortable GUI.
Datadog automatically parses JSON logs and lets users choose how to parse records from different formats via the Grok Parser. You can use MySQL, JSON, Windows Event Logs, W3C Log Formats, and other various log formats throughout the board. It also provides a view of all IIS log files, which can help you discover multiple patterns and trends. You can search them by date, IP address, and more, eliminating the need to search through many different files.
For price focused buyers it might be better to consider the other alternatives first.
Main Benefits of Datadog
Quick to start
Team collaboration tools
Full API access
Alert notifications
10. Papertrail
Papertrail is a log management tool that includes fast search, team access, and long-term archiving options. It is easy to set up, and the GUI is smooth and intuitive mainly because it contains various charts, analytics. It can aggregate the app logs, text logs, and Syslogs in one place, so you do not need to search for one thing in multiple files. Papertrail can also help you with troubleshooting.
While Loggly provides only a limited log archiving, Papertrail can offer you a much longer-lasting and more detailed view of the archives. It saves them into the .tsv format, which helps with their compression. Papertrail can show duplicate or similar messages, download archives through API key, or retrieve multiple archives on one requirement.
Papertrail is easy and fast to set up and gives you a more expanded perspective on the app, text, and Syslogs, all concentrated in one location. Papertrail will also help you to detect trends and search through your logs in the lighting fashion.
Papertrail also offers a free log monitoring plan. Log monitoring is made so much easier with its features like remote Syslog, search and tail, notifications, and HTTP webhooks.
Main Benefits of Papertrail
Free starting plan
Configurable alerts
Intuitive and easy to use
Fast search speed
Conclusion
In this article, we took a closer look at Loggly, its strong and weak aspects. Then we proposed a list of the best LogDNA alternatives in 2023. The rest is up to you, try to take a closer look at the solutions, compare them and pick one, that will help your project the most.
Want to explore more tools?
Looking for a tool to cater to a very specific use-case? Here are a few lists with logging tools to check out:
Centralize all your logs into one place.
Analyze, correlate and filter logs with SQL.
Create actionable
dashboards.
Share and comment with built-in collaboration.
Explore more
This work is licensed under a Creative Commons Attribution-NonCommercial-ShareAlike 4.0 International License.