10 Best Datadog Alternatives to Consider in 2023
Eric Hu
Updated on March 3, 2023
Introduction
Datadog is a monitoring and analytics tool capable of gathering key performance metrics from servers, databases, applications, and other IT infrastructures. The raw data can be processed and filtered create charts, graphs, and report that are easier to read and analyze. Datadog also offers customizable dashboards that gives you an overview of your entire infrastructure.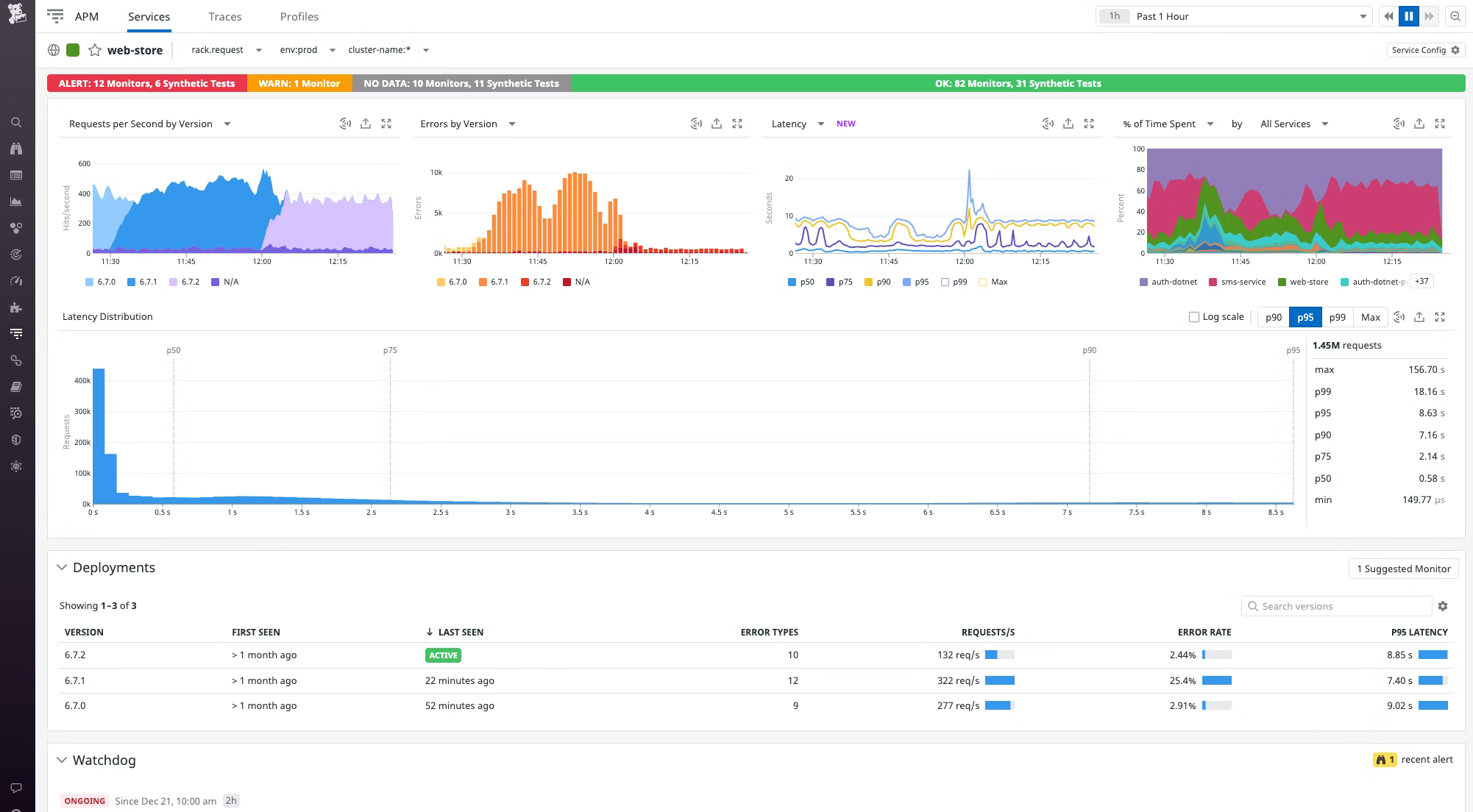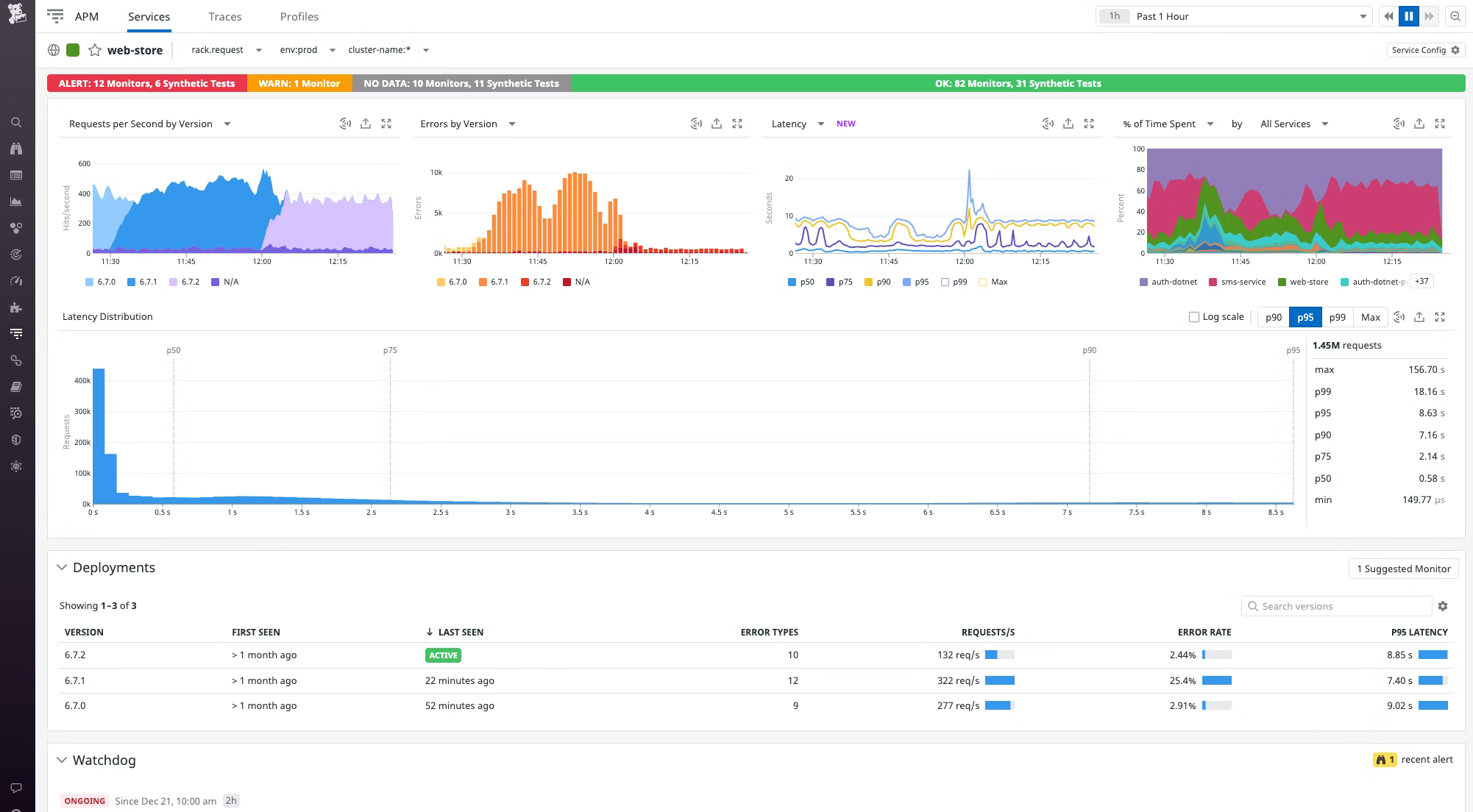 Besides data visualization, It can also process logs produced by your applications. The log records are collected in real-time without having to be indexed first. You can then explore, search, archive, and monitor all of your logs seamlessly without limitations.
Datadog also enables you to set up alerts based on metrics threshold, log level, and other criteria. If an incident happens, it will push the alerts over Slack, emails, and other channels through webhooks.
Overall, Datadog is a robust platform for infrastructure monitoring. However, it is not without its flaws. For example, the setup process is rather complex, and its pricing can get out of hand quickly especially for small and medium-sized companies.
The monitoring and observability space is quite competitive, so we will discuss 10 of the best Datadog alternatives and compare their pros and cons to determine which is better suited for your needs.
1. Better Stack
Better Stack is an observability platform with two different products: Logtail for log management, and Better Uptime for monitoring and incident management.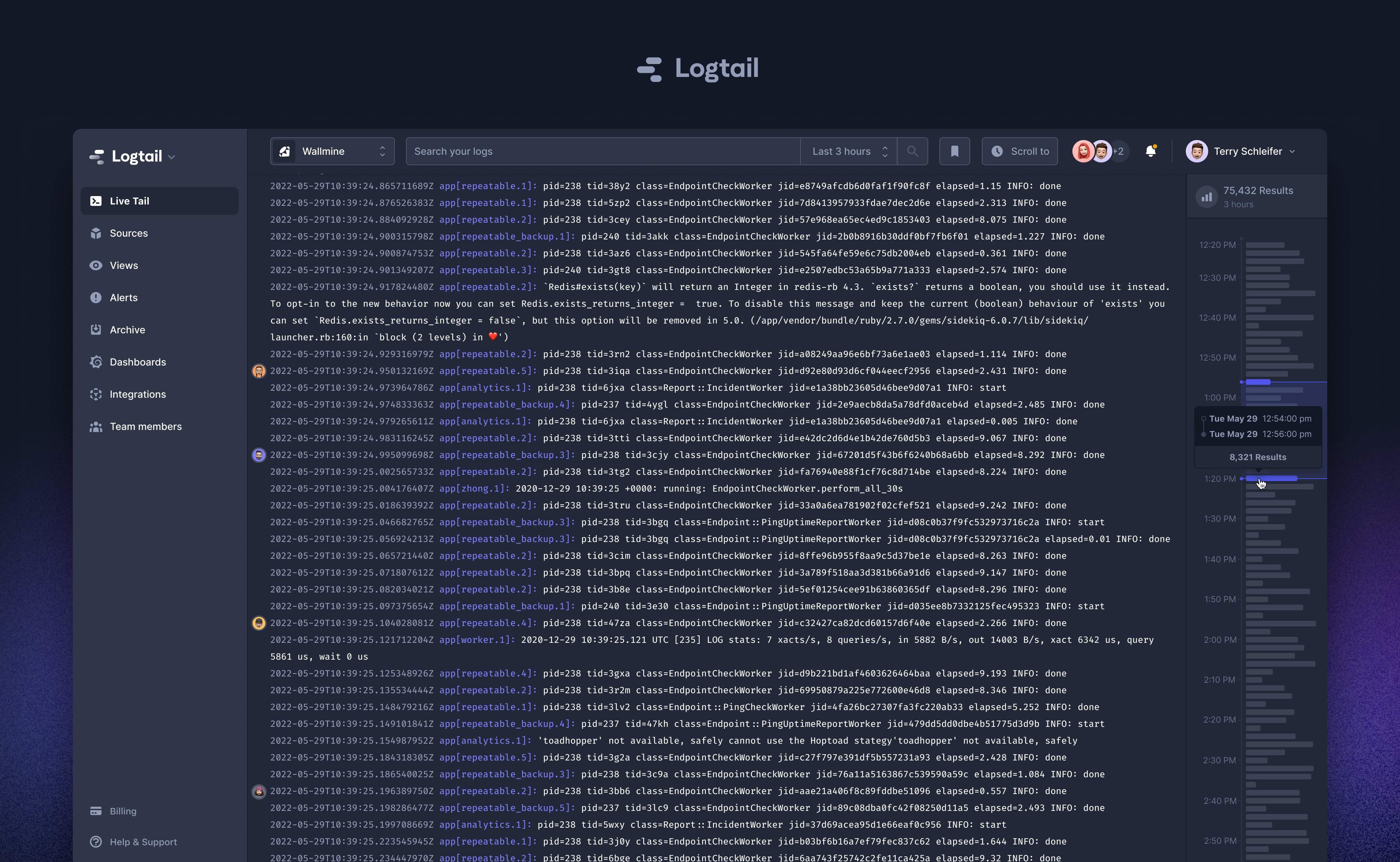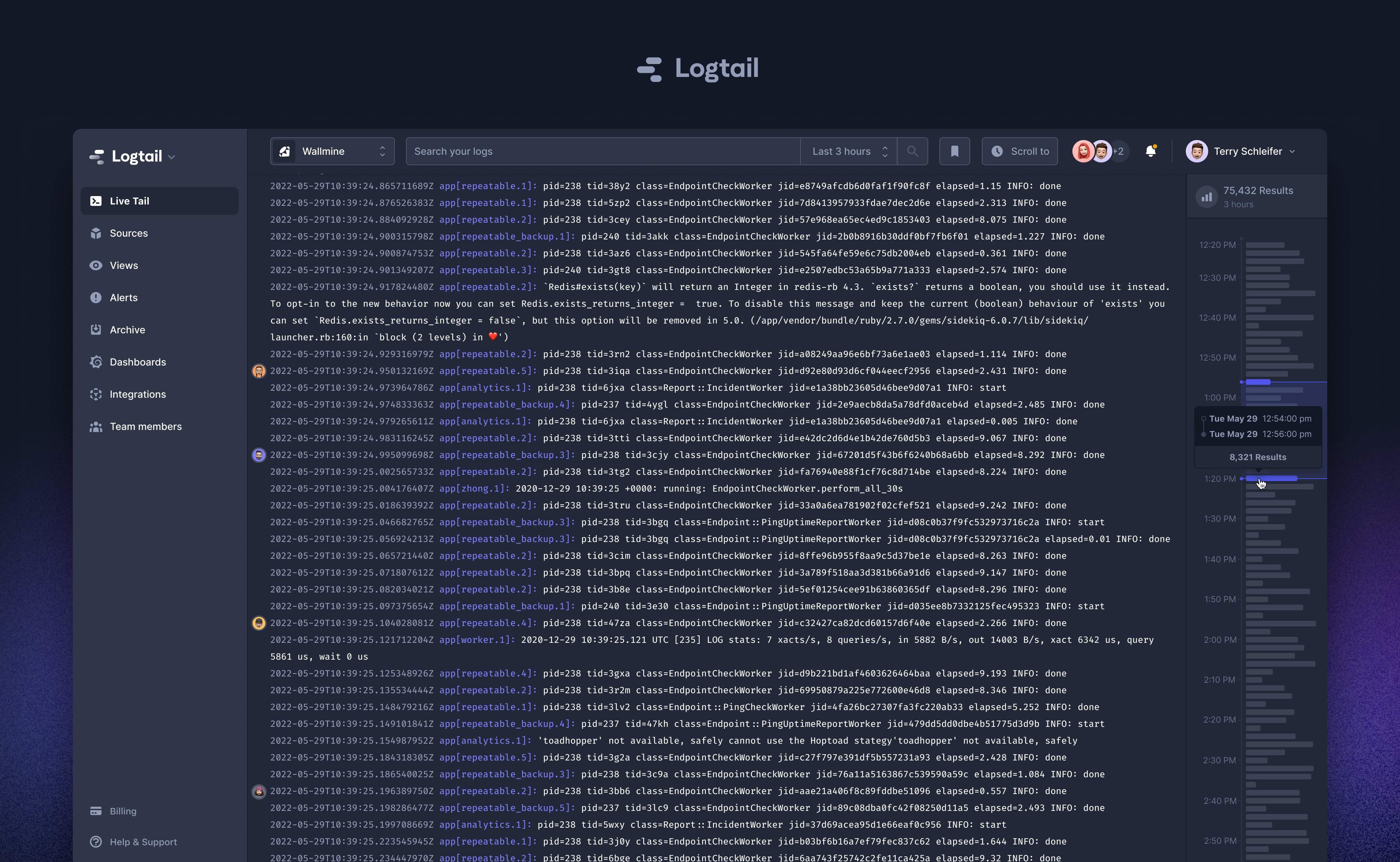 Logtail is a log management product that can collect logs from servers, databases, applications, and many other sources in real time. The collected log records will automatically appear in the Live tail, which you can then filter and save as a custom view.
Logtail is also SQL compatible, which means you can create custom reports by writing custom SQL queries. You can then save the reports as a dashboard, giving you and your team an overview of your entire stack.
Lastly, Logtail allows you to create alerts based on the number of logs collected in a particular view. You can configure who will be notified when Logtail receives too many or insufficient log records.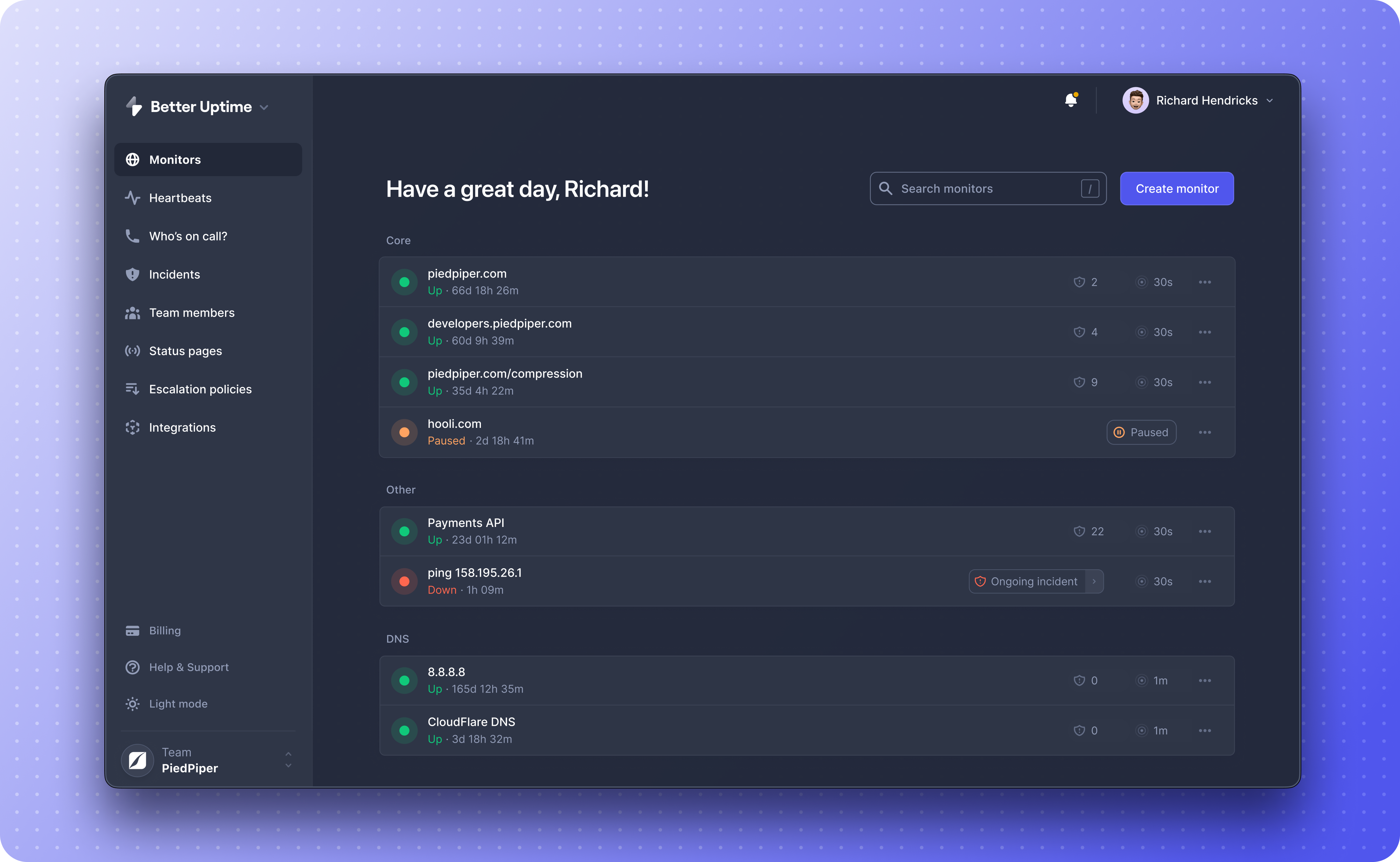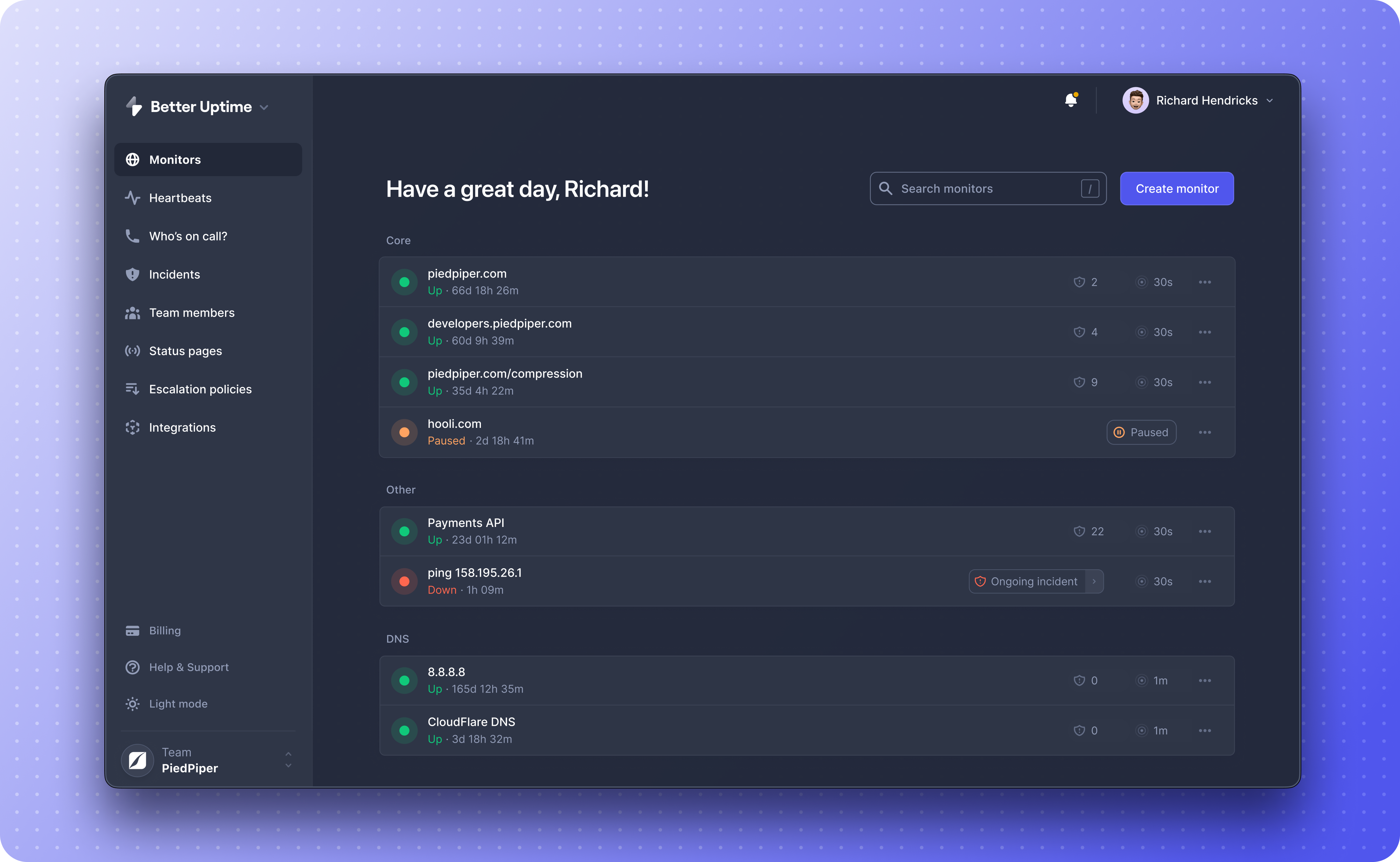 Better Uptime is a monitoring tool capable of monitoring the status of your applications, services, and scheduled tasks. It will notify you through email, SMS, phone call, Slack, or the mobile app when an incident occurs.
You can also create an on-call calendar for your team, assigning different team members to receive alerts at different times. This feature is also integrated with Google Calendar, allowing you to schedule on-call duties straight from your favorite calendar app.
The customizable escalation policy feature is available in Better Uptime as well. This feature allows you to define what happens when an incident occurs and the current on-call person fails to acknowledge it.
Both these products offer competitive prices, and they both provide a free tier, allowing you to test the platforms before paying. The paid plans start at $24 per month, and all payment plans come with a 60-day money-back guarantee.
Pros:
Beautifully designed user interface.
Competitive pricing. Offers different plans for teams of different sizes.
Comes with on-call calendar and team management functionalities suitable for companies and organizations.
Better Uptime comes with a status page.
Cons:
Not a complete replacement for Datadog. Some features are not present in Better Stack.
2. New Relic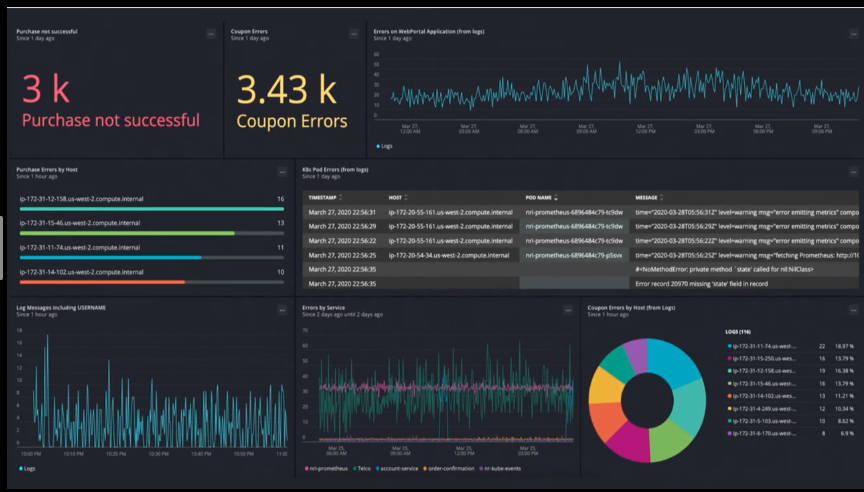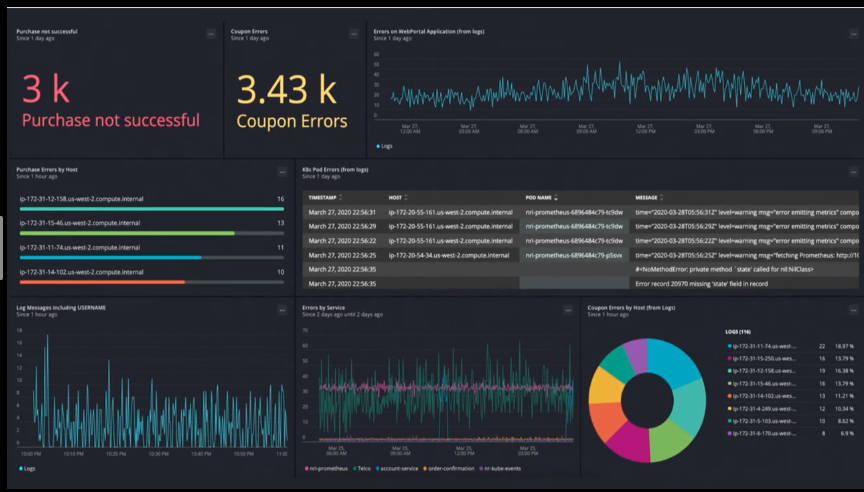 New Relic is another observability platform, and it is Datadog's closest full replacement. It has almost the same functionalities, such as application monitoring, infrastructure monitoring, charting and dashboarding, alerting, and log management. It is also well integrated with hundreds of different technologies, which means you can transfer data from almost any source you want.
The key features of New Relic include:
Full-stack monitoring: New Relic allows you to pull data from various sources and access them from one user interface.
Data security: New Relic will use TLS protocol to encrypt your data to be safe and secure.
Applied intelligence: New Relic uses a machine learning engine to detect errors and anomalies so that you may respond to incidents faster.
The standard plan of New Relic starts at $0/month with 100GB/month of data included. Additional data will be charged at $0.30/GB if you go over the limit. Adding multiple users to your team will also cost you: each full platform user would be $99/month, and each core user would be $49/month.
Pros:
Better user interface.
A full replacement of Datadog in terms of functionality.
Better documentation and support.
Cons:
More expensive than Datadog.
3. Dynatrace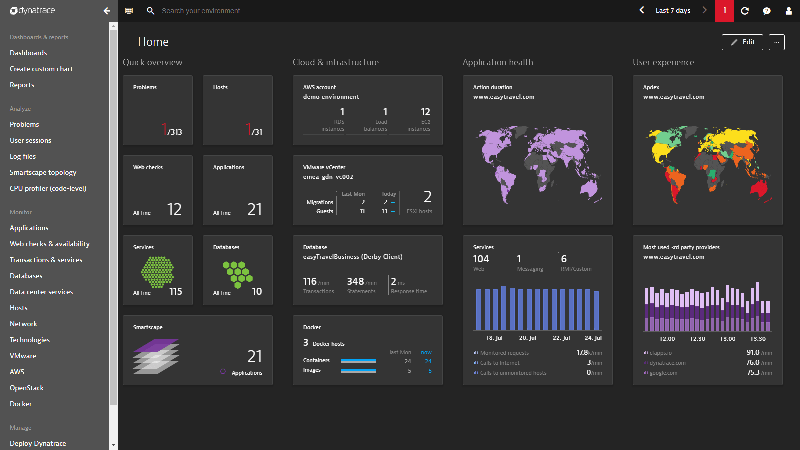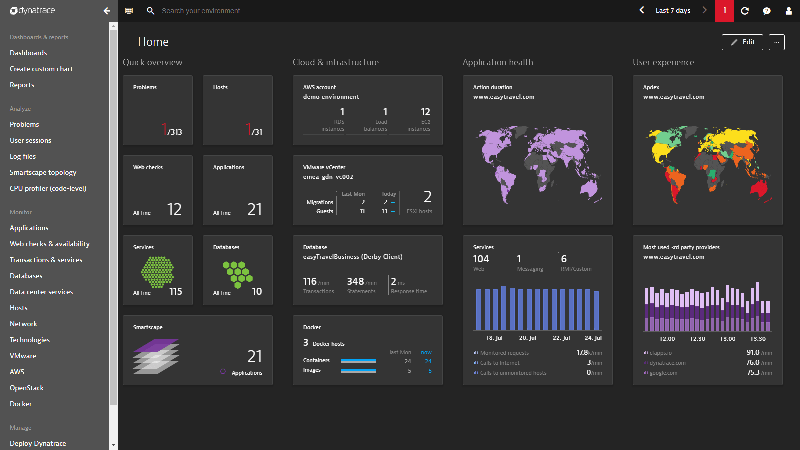 Dynatrace is a popular software monitoring solution. Unlike other monitoring platforms, it keeps track of your application performance metrics and monitors your entire ecosystems, including infrastructure, application security, real-time user behavior, and even business metrics.
Dynatrace is also designed with automation at the core. Automation is achieved with its OneAgent technology. Once OneAgent is installed, Dynatrace can discover and collect data from any sources in your IT environment. After collecting the data, an interactive topology map, Smartscape, will be generated. The map visualizes the relationship among all components of your stack.
Lastly, Dynatrace uses AI technology (Davis AI engine) to process and analyze data. The AI engine can tell if there is a problem with your stack, predict the impact of the problem, and suggest possible solutions for you.
Pros:
Dynatrace has more features when it comes to monitoring.
Easier setup and configuration.
Uses AI engine to identify problems and provide solutions.
Cons:
Documentation is not very well structured.
More expensive than Datadog.
4. Splunk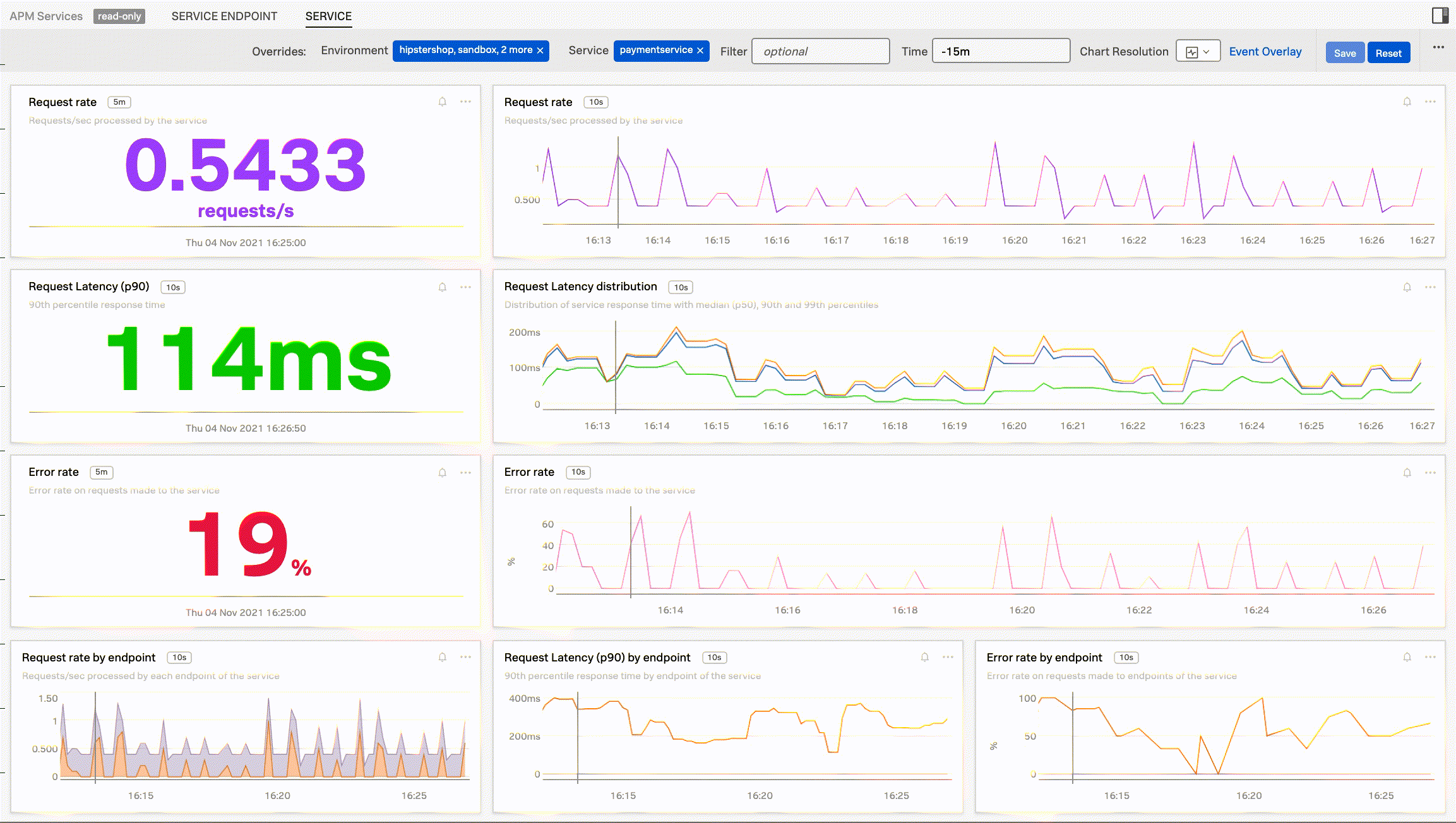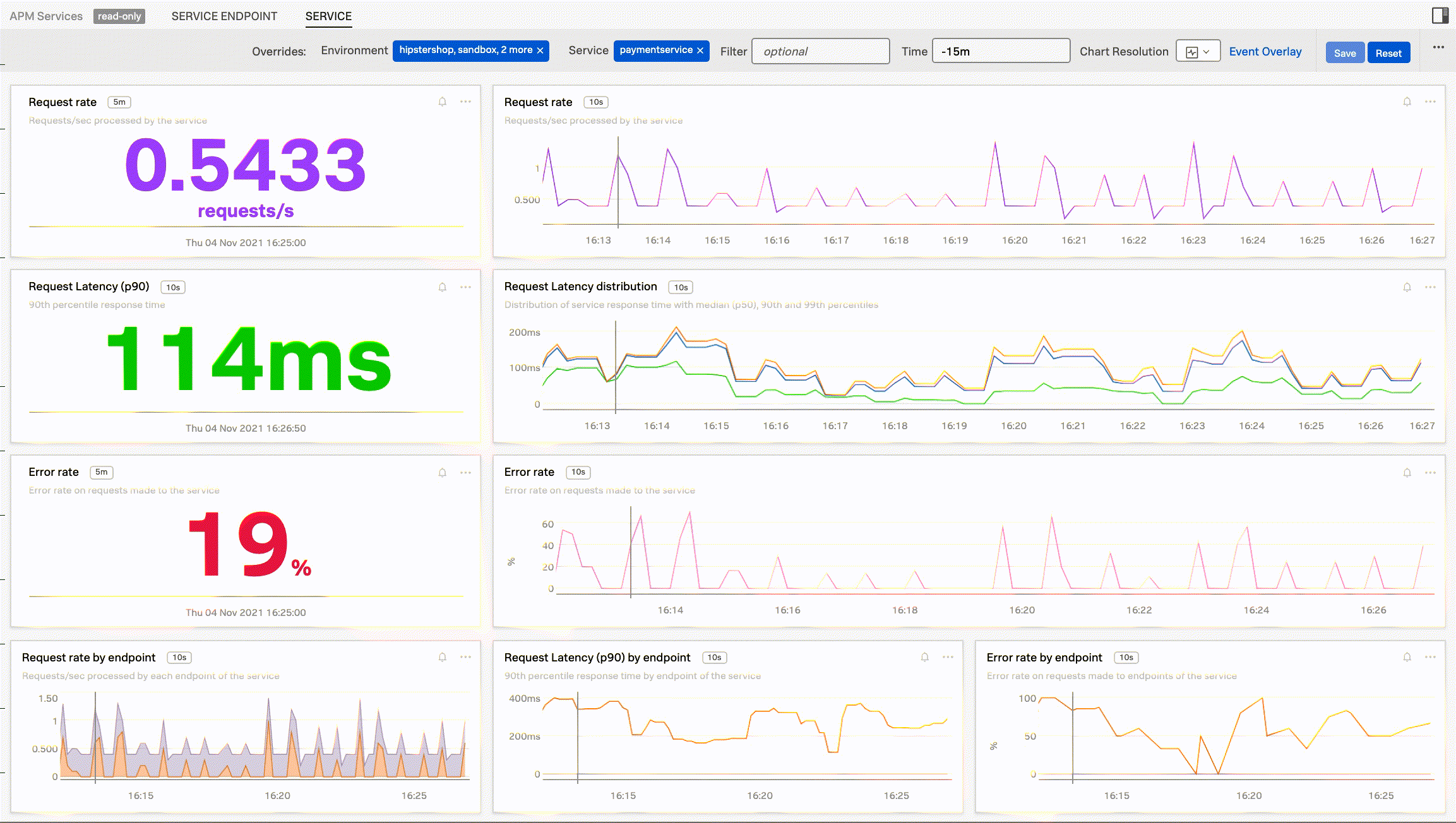 Splunk is a data management platform that can search, monitor, and analyze machine-generated data. You can then visualize the gathered data by creating graphs, reports, maps, and dashboards.
Splunk is very similar to Datadog in many ways. They offer services such as infrastructure monitoring, application performance monitoring, alerting, etc. However, they differ in terms of scope. Splunk presents itself as a complete solution for SIEM (Security Information & Event Management) and ITOM (IT operations management).
Datadog focuses on monitoring cloud services, which is better for people who need to monitor infrastructures provided by multiple cloud providers. On the other hand, Splunk is best for monitoring enterprise systems, which usually generate tons of data and log files.
Pros:
More enterprise-level features compare to Datadog.
Designed as an all-in-one security and monitoring solution for enterprises.
Cons:
Not a low-cost option.
Not easy to set up.
5. AppDynamics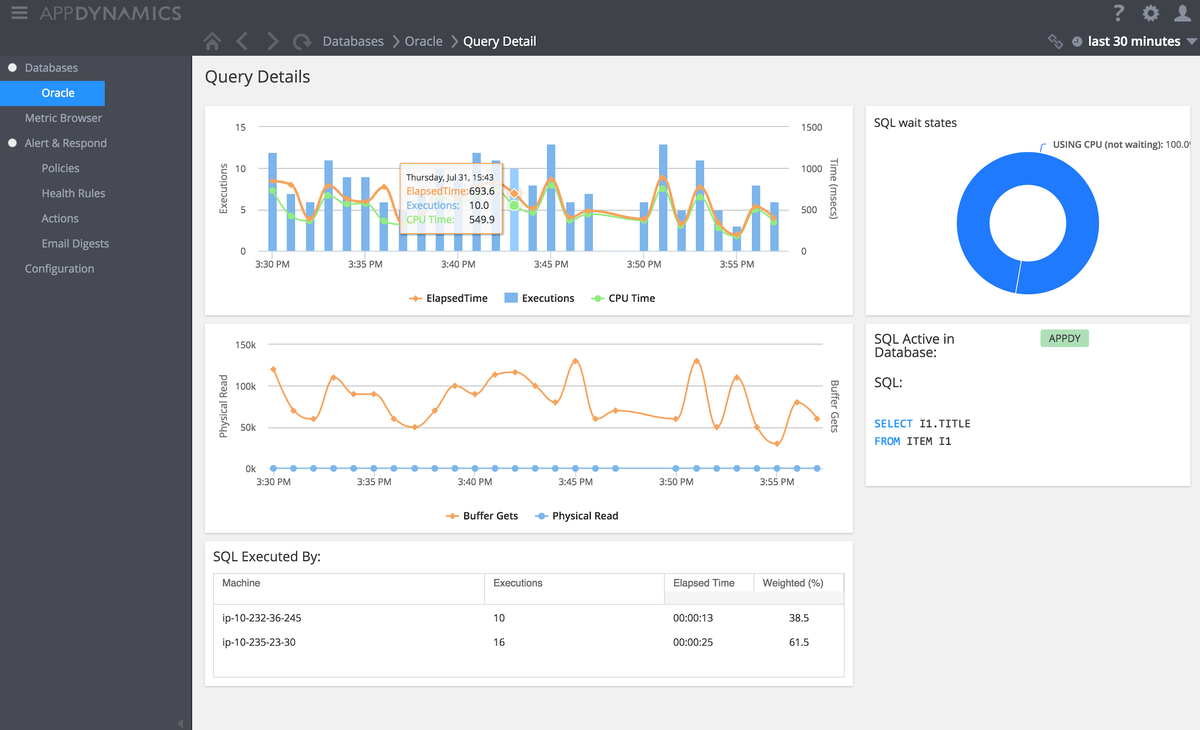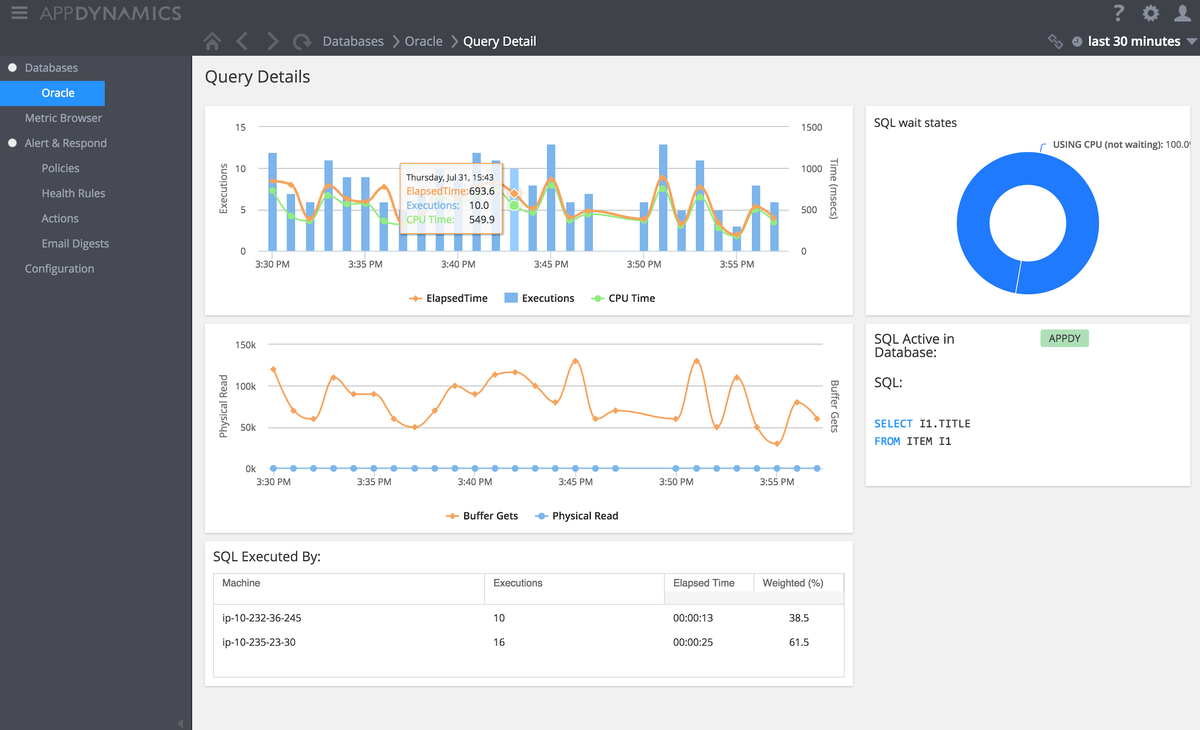 AppDynamics is a cloud-based monitoring and analytics platform created by Cisco. It offers real-time data collection and analytics across your entire stack.
With its full-stack observability offerings, AppDynamics allows you to correlate data across different sources, and identify issues that could potentially impact your business. AppDynamics also enables you and your team to prioritize your work based on the business impact.
AppDynamics offers a flexible payment plan. The enterprise edition starts at $90/month per CPU Core.
Pros:
Full-stack observability.
Real-time data collection.
Estimate business impact of incidents.
Cons:
More expensive than Datadog.
6. Zabbix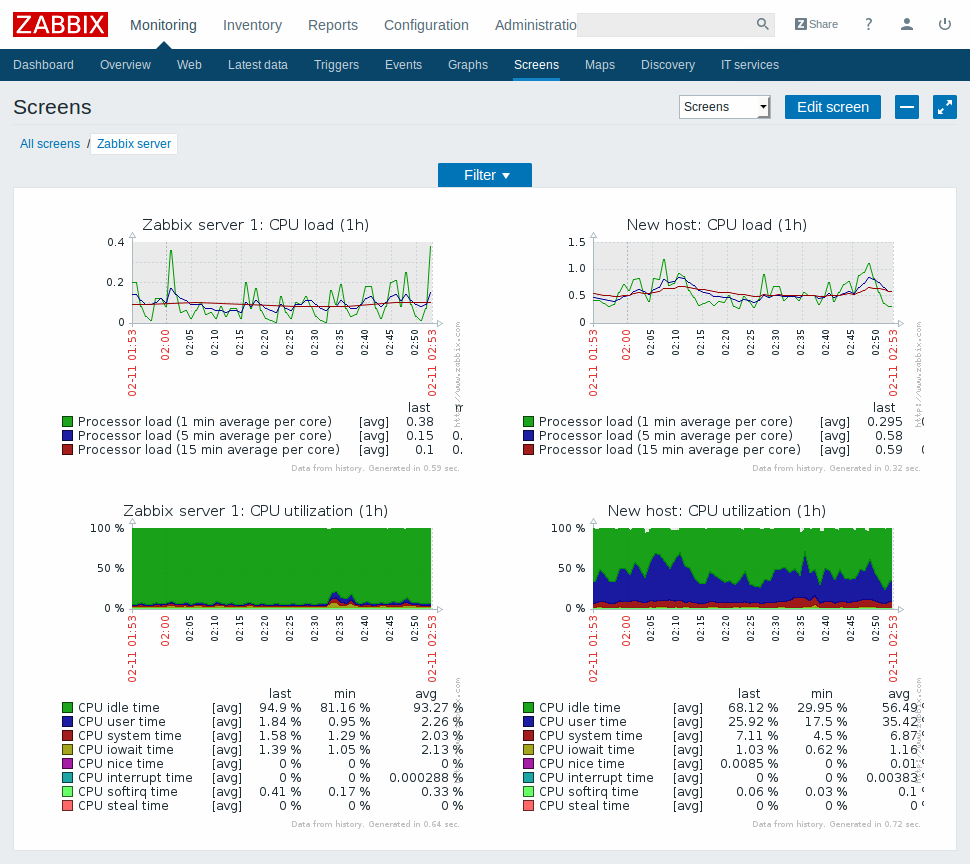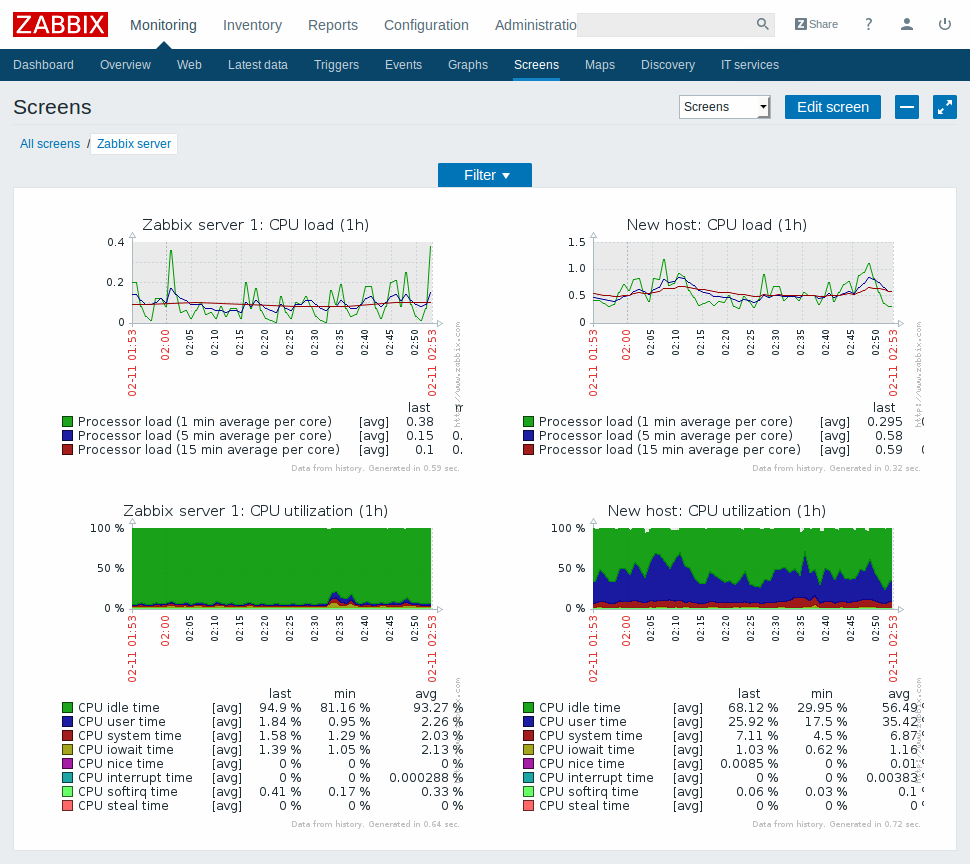 Zabbix is an open-source IT infrastructure monitoring tool. It has a distributed host/agent architecture with excellent scalability. The host can only be installed on UNIX-like operating systems, but the agent can collect data from Linux, macOS, and Windows.
Even though Zabbix is an open-source product that you can use for free, it does not lack features. On the contrary, it comes with enterprise-ready functionalities such as full-stack monitoring, data visualization (charts, graphs, maps, etc.), dashboard customization, alerting, and team management.
This product is free to install and use. However, if you wish to receive technical support from the Zabbix team, you'll need to purchase a plan.
Pros:
Zabbix is an open-source project.
Free to use.
Detailed and well-structured doc.
Cons:
Difficult to install and set up.
You need to pay for technical support
7. Sentry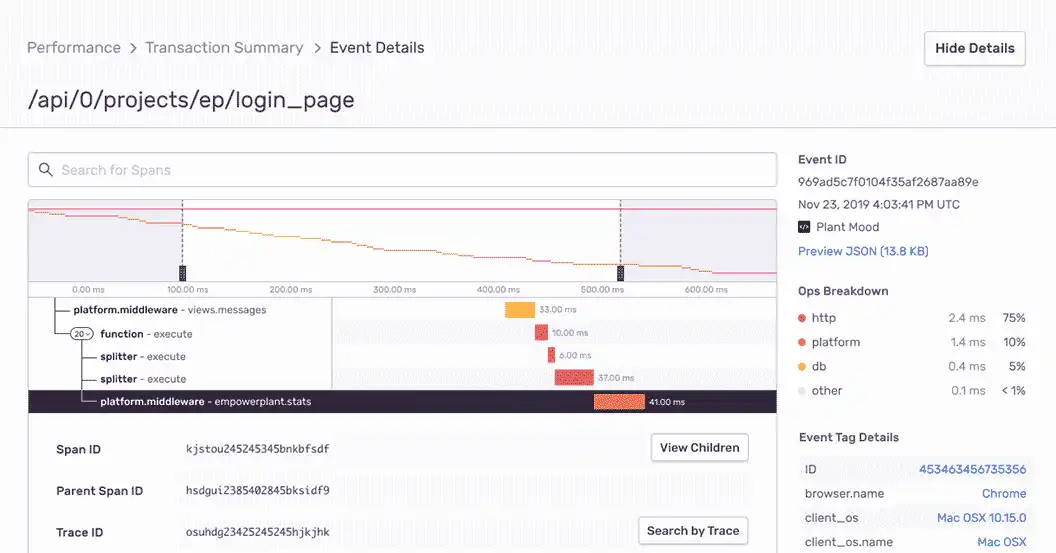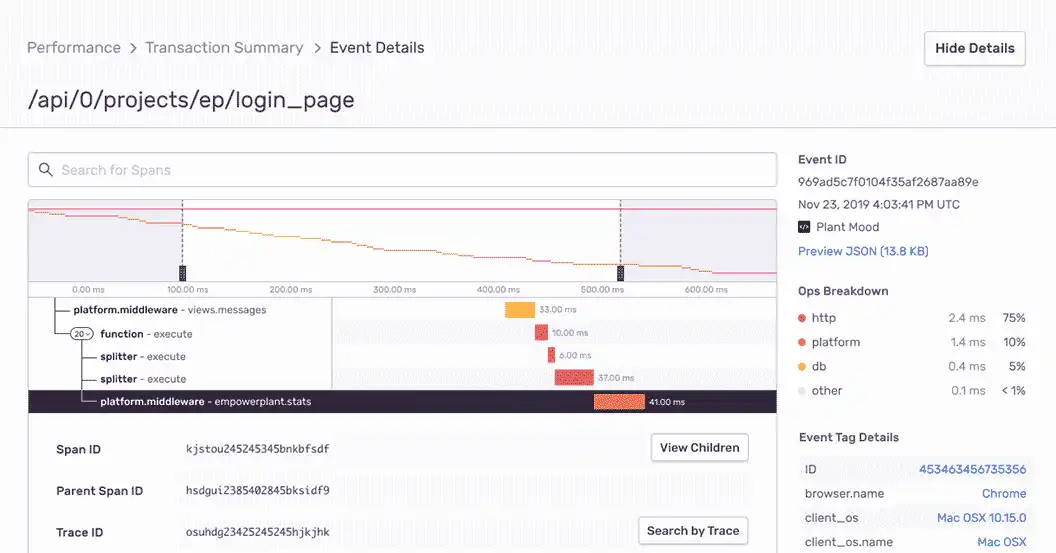 Sentry is an open-source error tracking and application performance monitoring platform. Compared to Datadog, it is easier to install and set up. And it can detect code-level errors in real-time so that the engineers can fix them before the user encounters them.
The main features of Sentry include performance monitoring, alerting, event tracing, dashboard customization, and so on. Sentry offers a free plan for developers with limited error and performance monitoring capabilities. Unfortunately, the paid plans are a bit more expensive than Datadog, starting at $26/month.
Pros:
Sentry is an open-source project.
Detailed documentation and big community.
Cons:
Slightly more expensive than Datadog.
Less supported platforms.
8. SolarWinds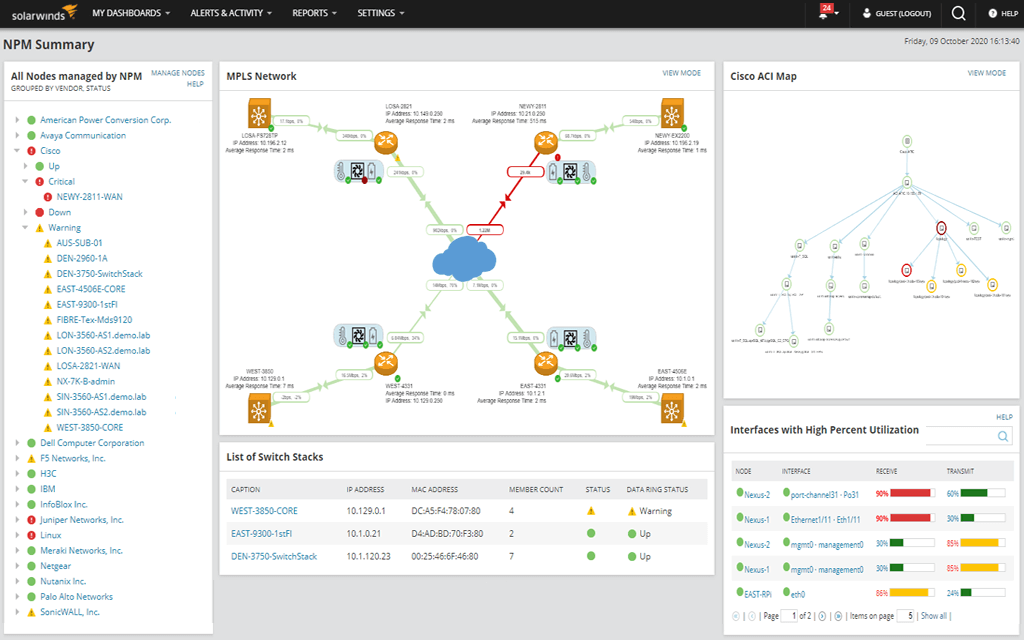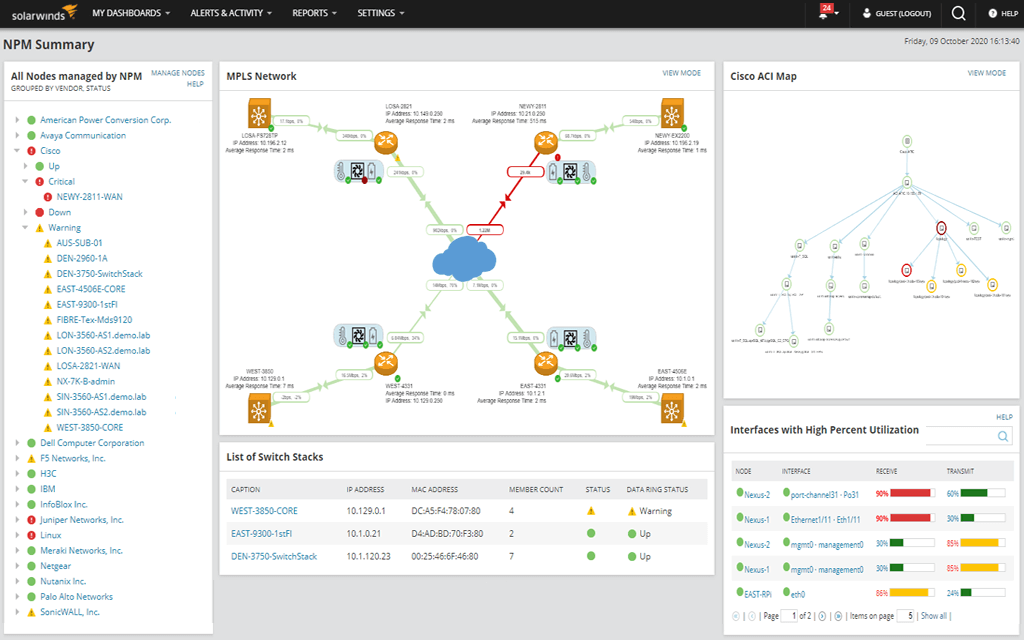 SolarWinds is another Datadog alternative with similar functionalities. It is quick and easy to set up. You can usually get it up and running in minutes once installed.
SolarWinds offers many different APIs allowing you to gather data from various destinations. You can create charts, graphs, and dashboards with the collected data.
In terms of payment, SolarWinds has a rather complex plan. Different functionalities come at different prices, but they all have a free trial option, allowing you to test the product before paying.
Pros:
Cons:
Complex payment plan.
Outdated user interface.
9. Instana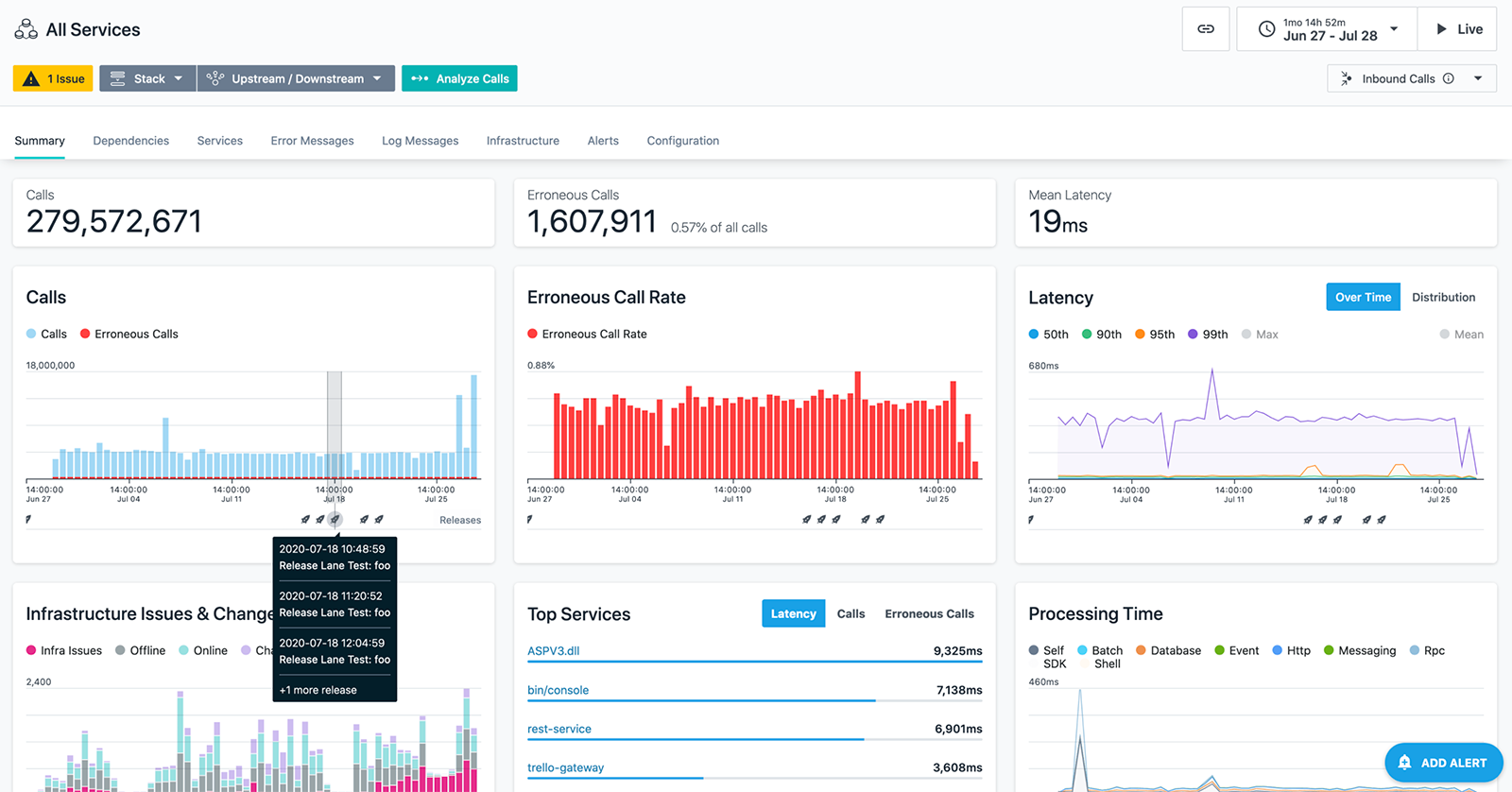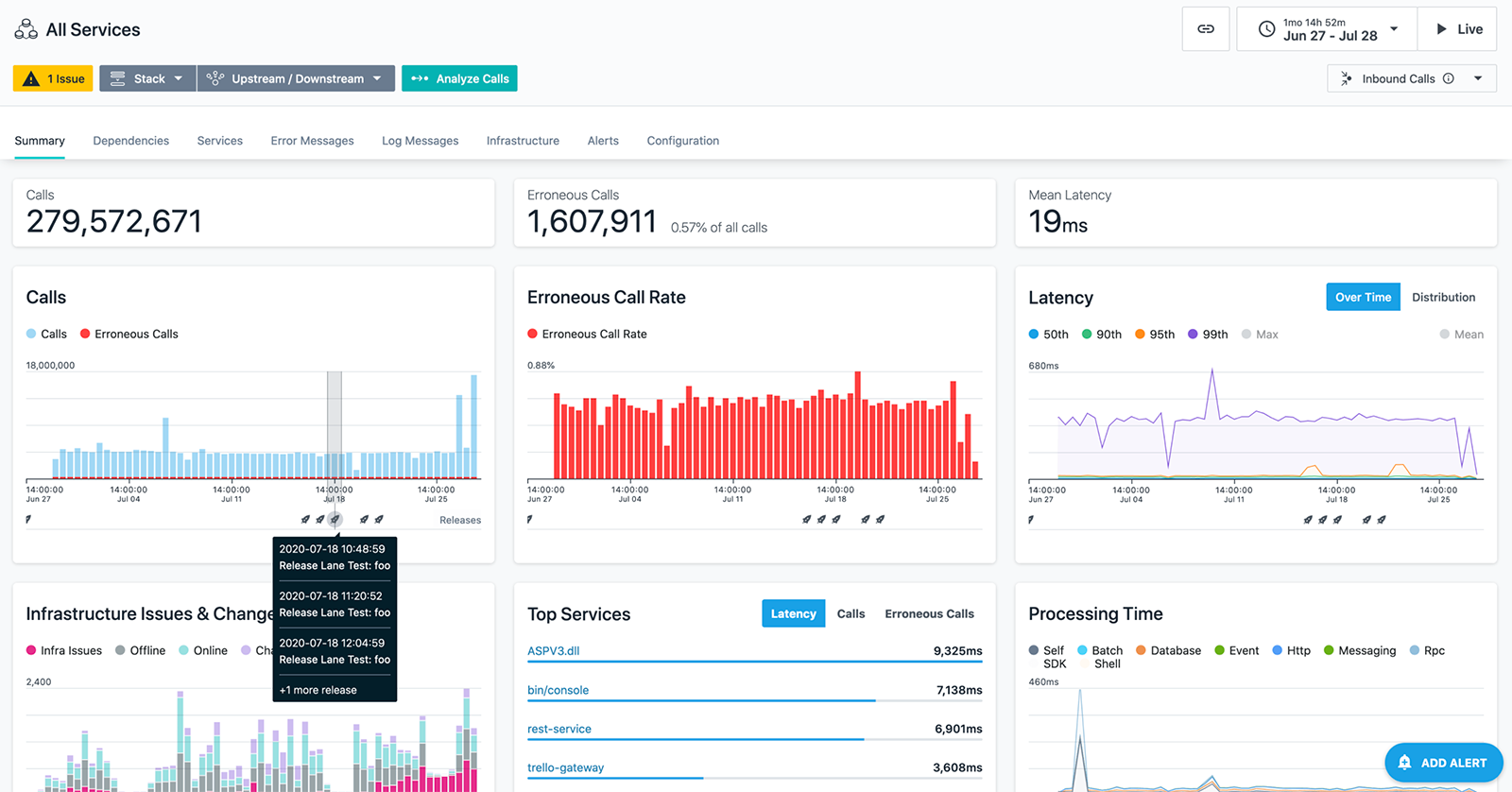 Instana is an observability and monitoring software tool that IBM has recently acquired. It is an enterprise-ready platform that is relatively easy to set up. You can usually get it up and running in less than 20 minutes.
Instana is also a full-stack monitoring platform. It collects data from multiple sources across the stack and analyzes them to give you an overview of your entire infrastructure. Instana also comes with automatic monitoring, which will automatically discover your applications and services without human configuration.
In terms of pricing, Instana provides two pricing plans. The SaaS plan is $75 per host per month, and the self-host plan is $93.80 per host per month.
Pros:
Automatic discovery.
Full-stack monitoring.
Cons:
More expensive than Datadog.
10. ManageEngine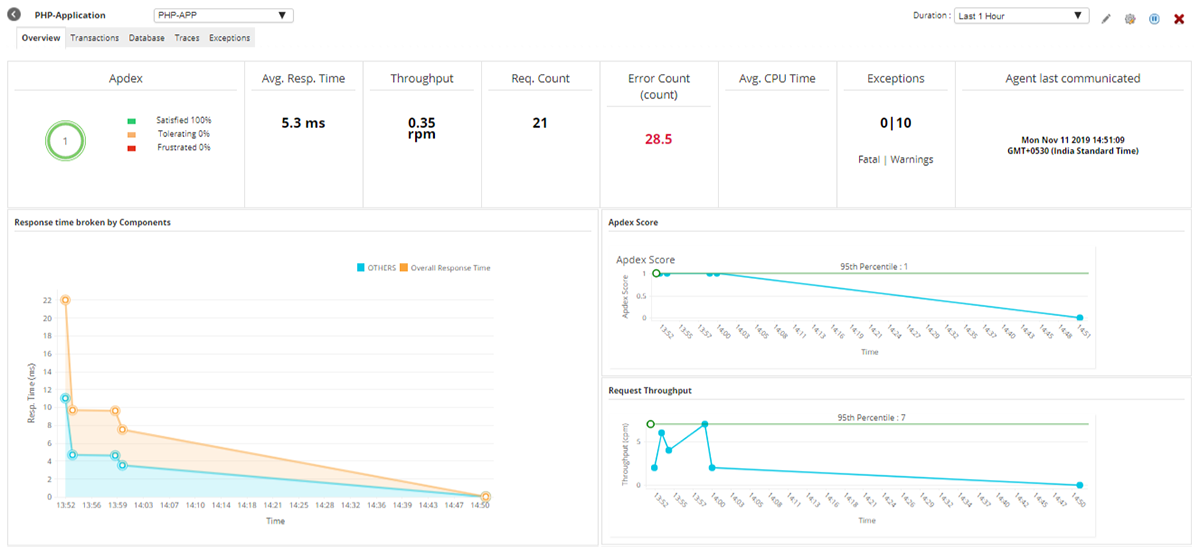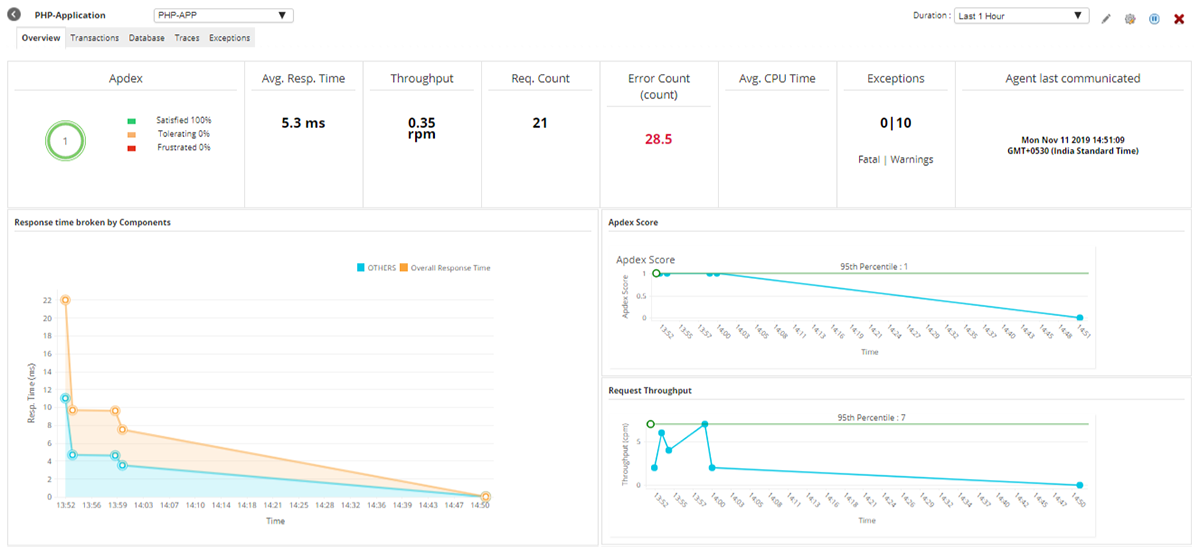 Lastly, the ManageEngine platform is a 20-year-old IT operations and management tool. It is said to be a complete suit for IT operations, and not just a monitoring tool. Its core features include user management, monitoring, log management, security, AI-powered analytics, and so on.
ManageEngine offers different payment plans for teams of various sizes. One benefit of ManageEngine is that it provides a perpetual plan starting at $1,987, which will be much more cost-effective in the long term.
Pros:
An all-in-one ITOM solution.
Lifetime payment plan.
Cons:
Conclusion
In this article, we've covered the best Datadog alternatives, the features they offer, and how they can help compensate for Splunk's weaknesses. The best solution for you will depend on your requirements and the specific problems you wish to solve. We believe Better Stack ticks most boxes with a user-friendly interface, a powerful range of features, and flexible pricing plans. You can either Better Uptime or Logtail for 14 days free.
Other useful resources to explore:
Eric is a technical writer with a passion for writing and coding, mainly in Python and PHP. He loves transforming complex technical concepts into accessible content, solidifying understanding while sharing his own perspective. He wishes his content can be of assistance to as many people as possible.
Explore more
This work is licensed under a Creative Commons Attribution-NonCommercial-ShareAlike 4.0 International License.
Make your mark
Join the writer's program
Are you a developer and love writing and sharing your knowledge with the world? Join our guest writing program and get paid for writing amazing technical guides. We'll get them to the right readers that will appreciate them.
Write for us
Writer of the month
Woo Jia Hao
Woo Jia Hao is a software developer from Singapore. He is an avid learner who...