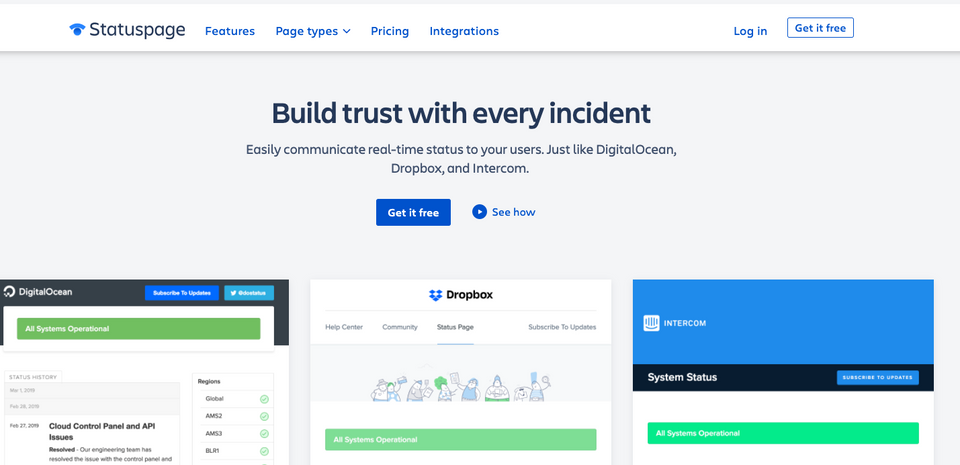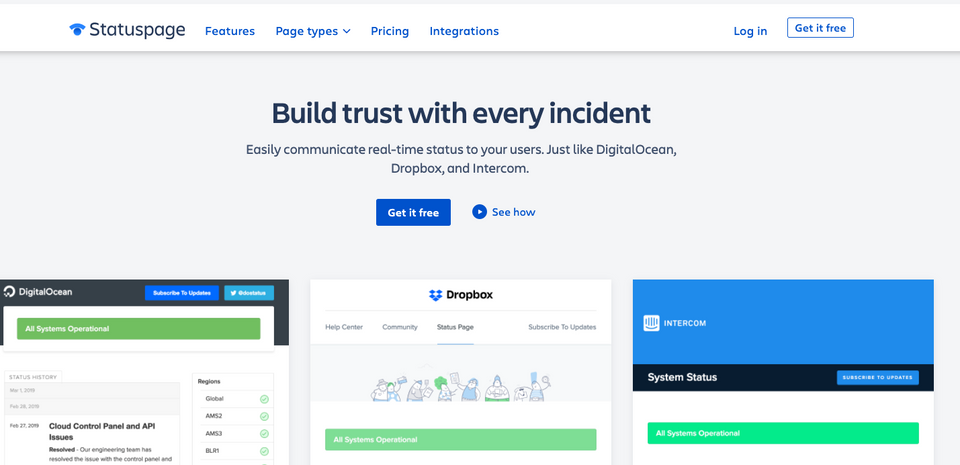 Statuspage by Atlasssian is one of the main status page providers. It is undoubtedly a great tool with great functionality. However, for many smaller teams and hobbyists, there are many alternatives that offer similar services at a much more affordable price point. While for enterprises and larger companies other tools provide specific functionalities that are underserved by Atlassian.
Because of that, we have compiled this list of Statuspage alternatives to give you the information you need to make an informed decision.
We have compiled this list of alternatives looking specifically at two things: features and pricing. Let's have a look at what are the best tools for DevOps teams to look at when they have had it with Statuspage and want a new status page tool.
1. Better Stack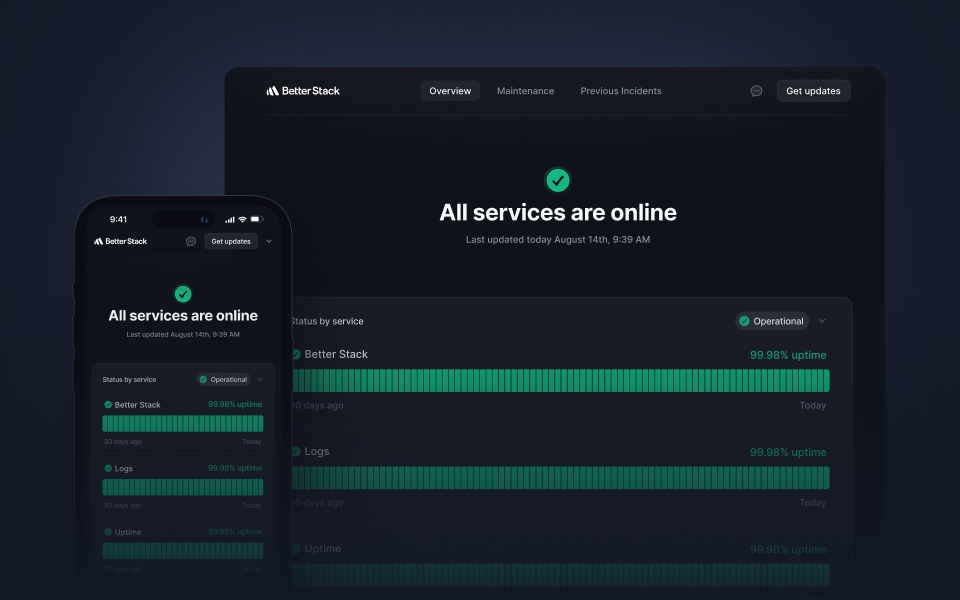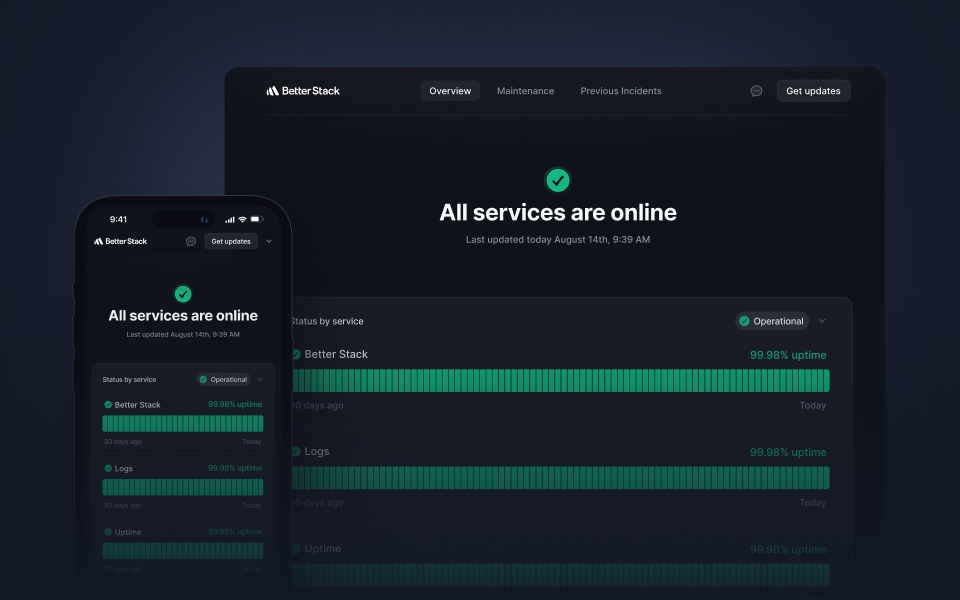 Better Stack combines incident management, uptime monitoring, and status pages into a single beautifully designed product.
Their incident management offers easy-to-use on-call calendar scheduling, which can be done in-app or easily integrated with google calendar. Similar to Pagerduty, there are advanced team management and access features.
When it comes to alerting, Better Stack offers unlimited phone call and SMS alerts on all paid plans. There are also Slack and Microsoft Teams integrations available. Embedding incident screenshots and debug information directly in alerts is very useful as well.
The main benefit of Better Stack is that it has built-in synthetic monitoring. They offer HTTP(s), ping, SSL&TLD expiration, cron job, and port monitoring. Those monitors can be integrated with the on-call alerting without the need to integrate any third-party monitoring tools like Pingdom or Uptime Robot.
When it comes to integrations, Better Stack offers a wide range of monitoring as well as analytical integrations that are ideal for more demanding users. The most interesting ones are probably Heroku, New Relic, Datadog, AWS, and Grafana.
A cherry on the top of Better Stack is their free status page. They have a beautifully designed status page, which is connected with all the existing monitors and can be edited in seconds. Their status pages can be fully customized and published on a custom domain. Paid plans also allow users to set up password-protected pages as well as e-mail and API status subscriptions.
Main benefits of Better Stack:
Free status page for all users on custom domain
Uptime monitoring built-in
Embeddable system status notice
2. Instatus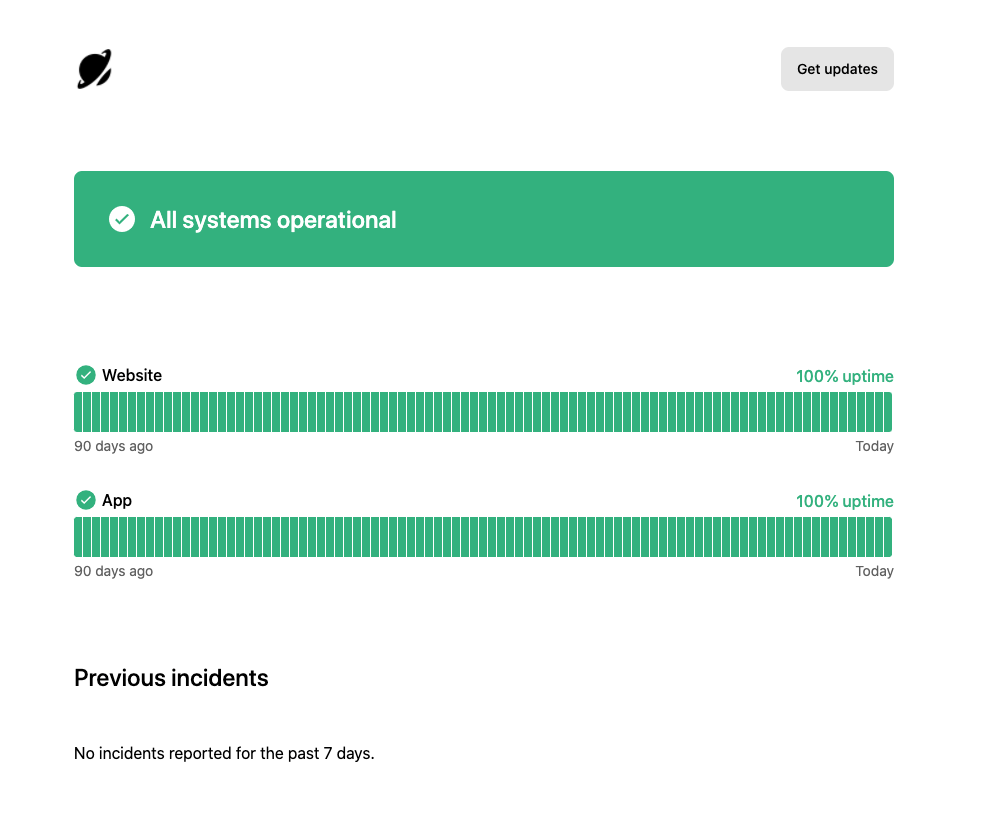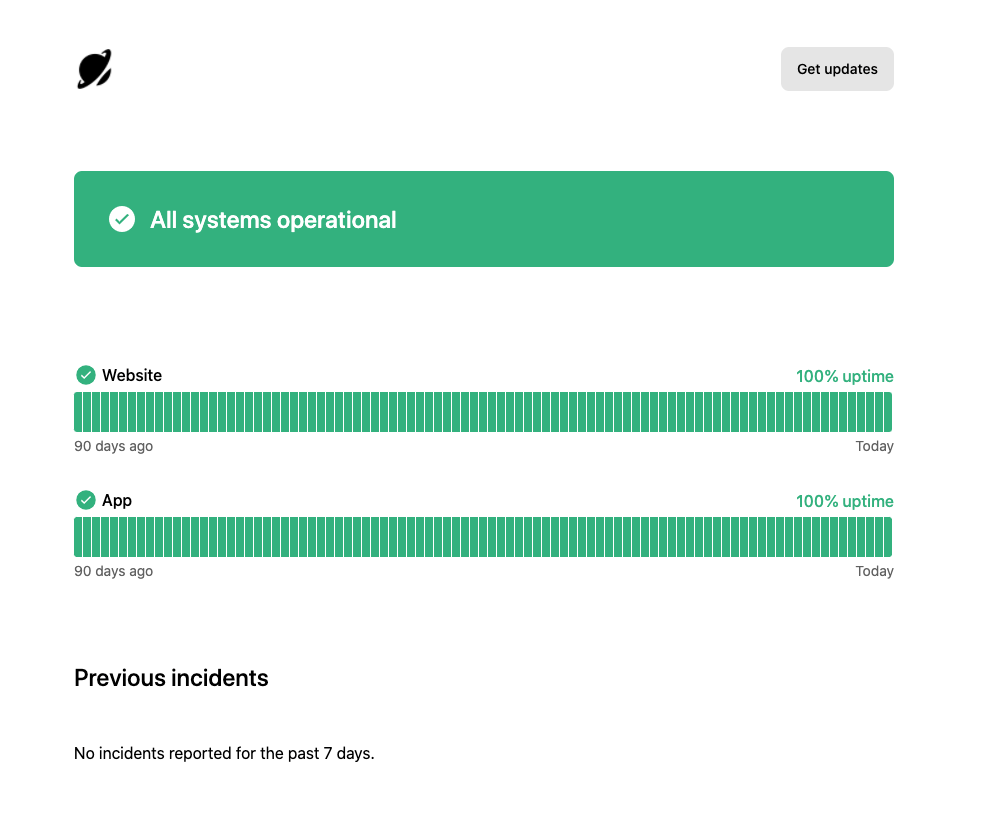 Instatus is a new alternative to Atlassian's Statuspage. They offer a free status page with unlimited subscribers and unlimited teams, but the catch is that it is not on a custom domain.
Their paid plan then starts at $20/month and offers the same product but with the option to get it on a custom domain.
Instatus is a very well designed tool that is quite similar to Status page and focuses on distinguishing itself mainly with reasonable pricing for smaller teams.
The feature list includes things you would expect like email subscriptions, scheduled maintenance, or incident templates. Instatus also has an API and integrates with incident management tools like Pagerduty.
Main benefits
Free status page with unlimited team members on instatus domain
Clean and simple design
3. Statuspal.io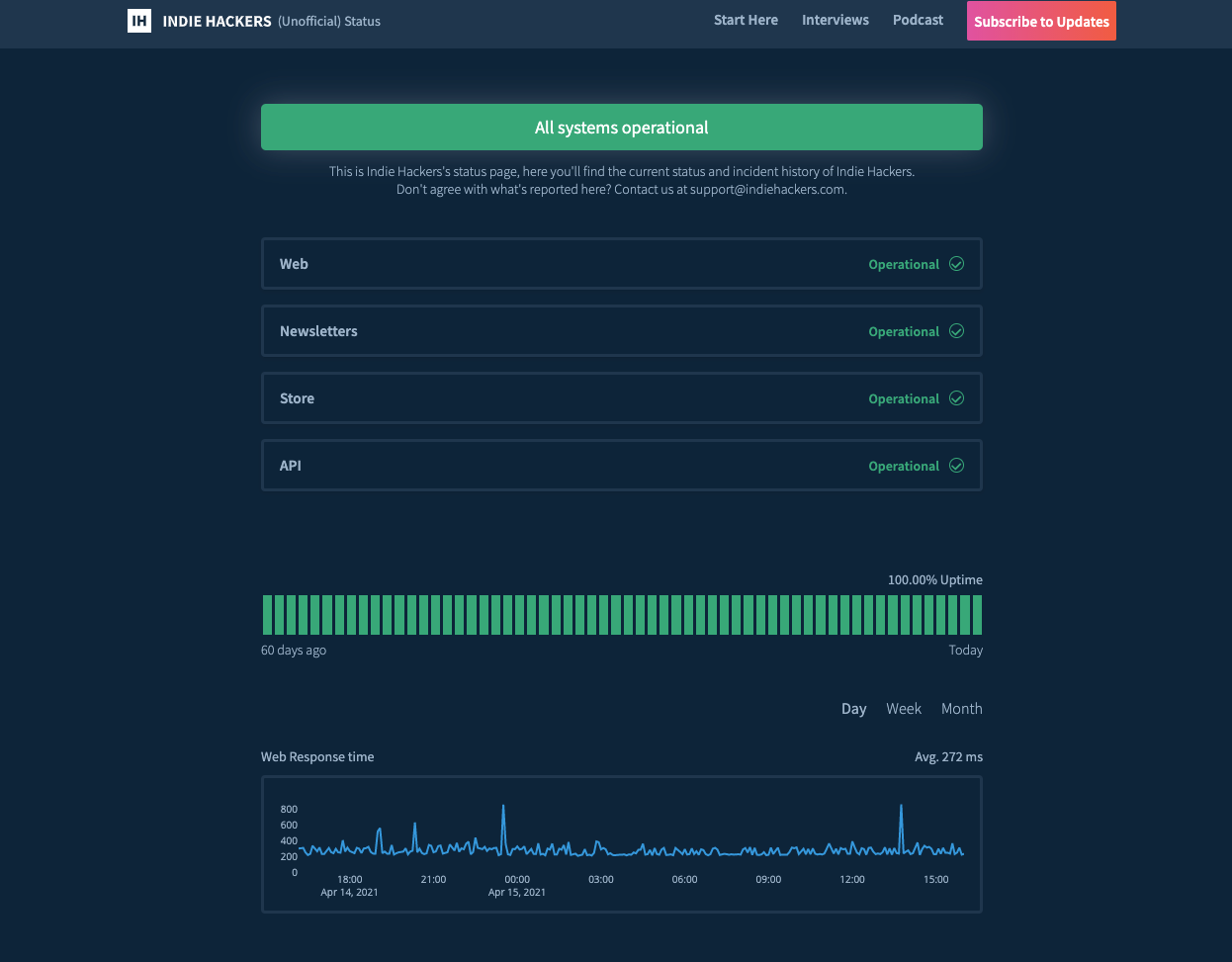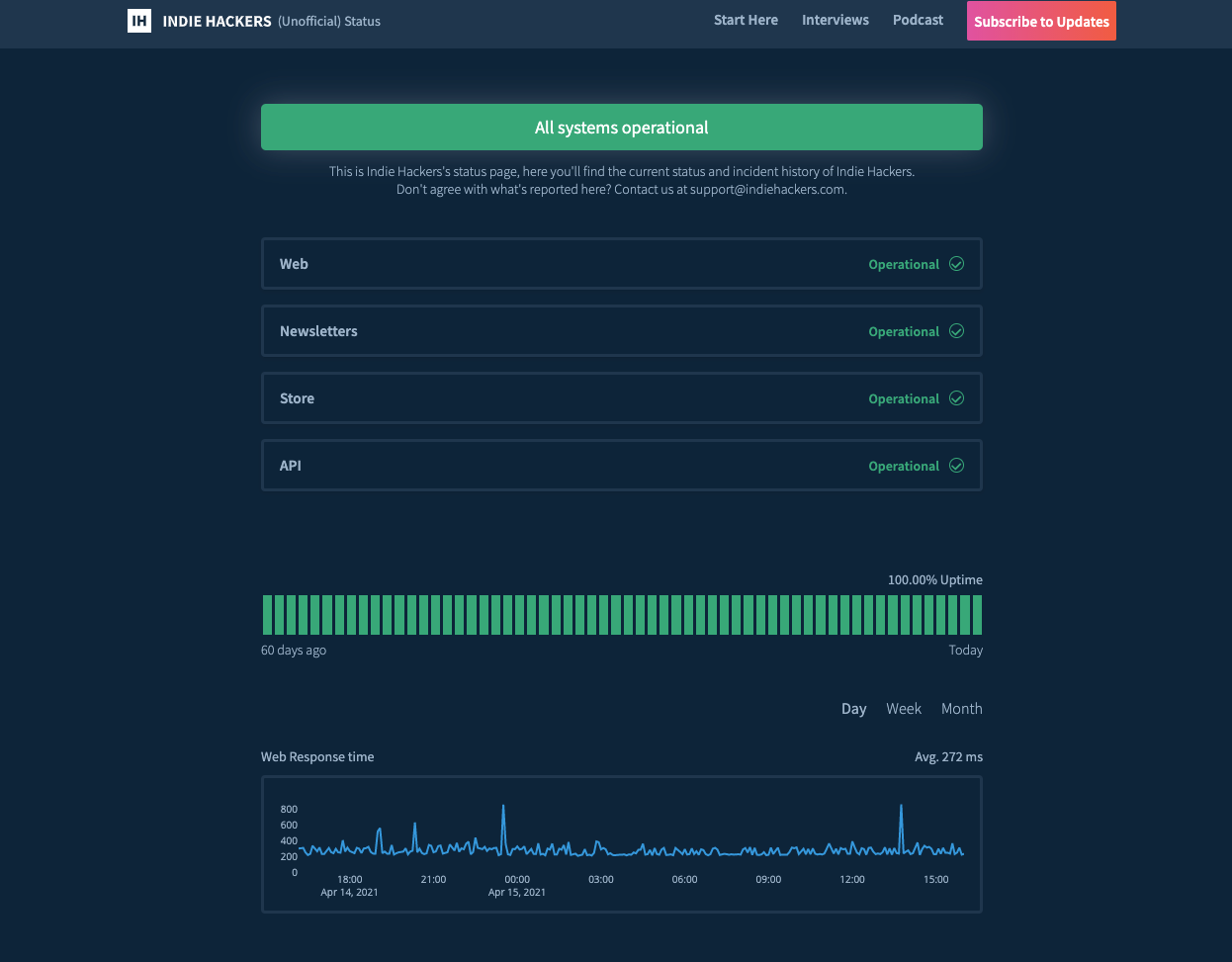 Statuspal offers very similar feature to Statuspage, but competes mainly on price. They offer public as well as private status pages, support custom CSS and HTML, are build for teams, and offer status page subscriptions.
When it comes to pricing they offer a very reasonable alternative to Statuspage with their business plan. This plan starts at $229/month and accommodates 30 team members. This plan also provides 5000 subscribers and over 100 monitored services.
On the other hand for smaller teams and hobbyists their plans are quite expensive. Their single status page plan costs $29/month and compared to other services it is hard to justify this price tag.
Statuspal offers broad range of integrations with monitoring tools, incident management tools, ChatOps tools (Slack and Microsoft teams), and other notification and communication tools like twilio or twitter.
Main benefits
Multiple language support
Cheaper than Statuspage alternative for enterprise
4. Upptime (open source)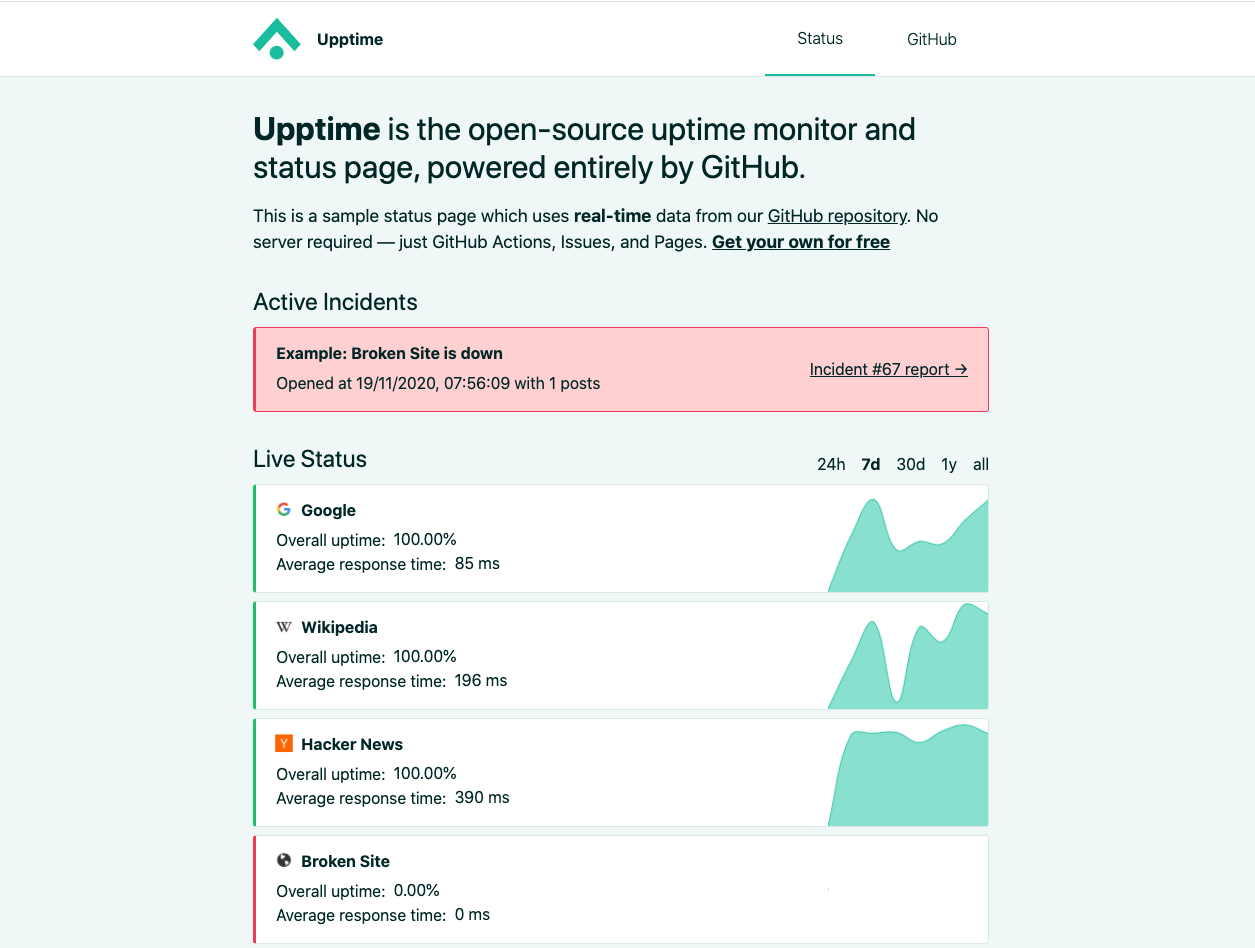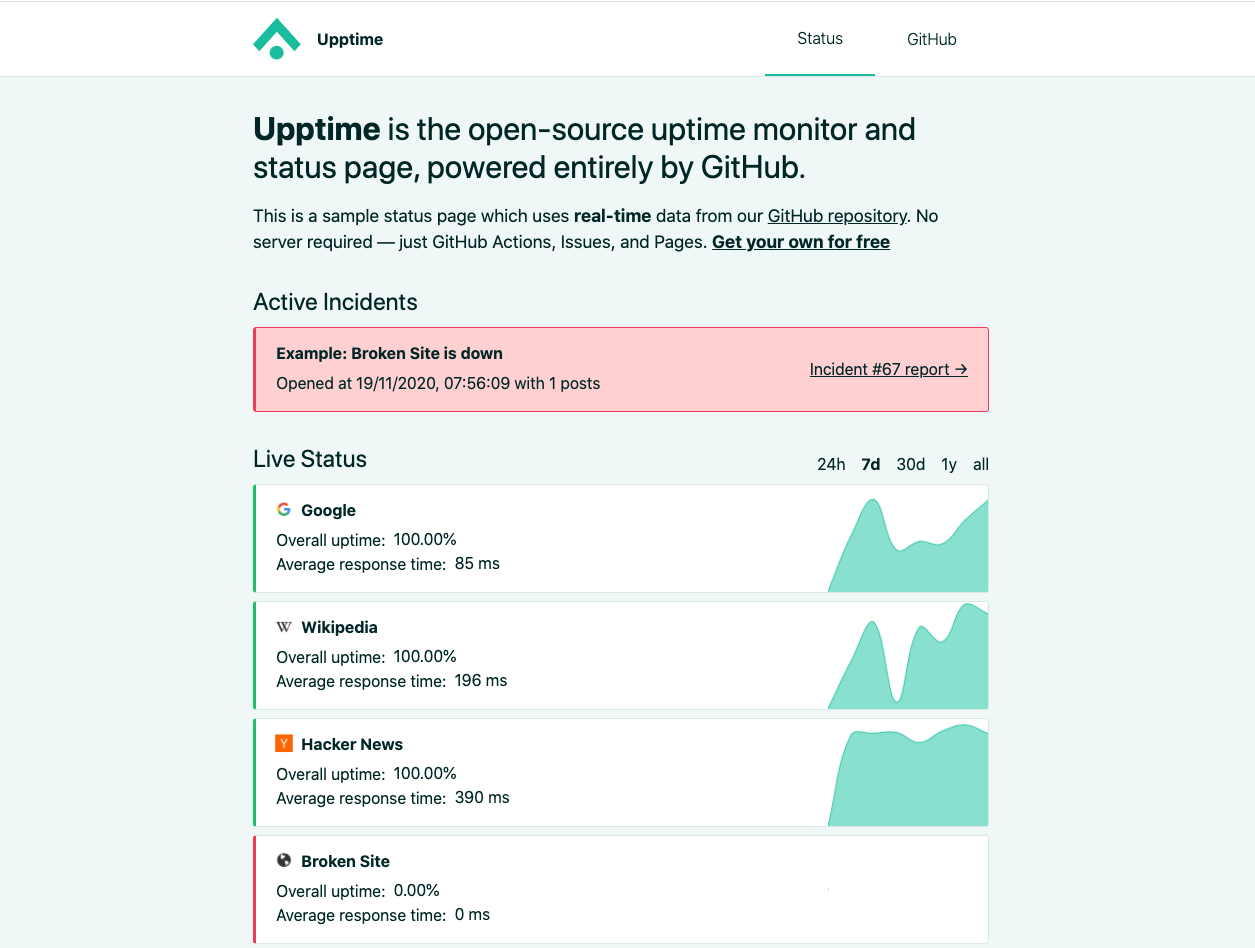 Upptime allows users to use GitHub Actions to schedule workflows to run automatically in pre-set time intervals. The shortest interval that is allowed is 5 minutes. This means that Upptime checks your website automatically every 5 minutes and reflects your website status on the status page.
Once in a day Upptime generates graphs of the site's response times. With this you can easily see and broadcast your long-term stats. Lastly Upptime website also offers some customization options. Those include option to change logo, copy, graphs, and more.
Overall Upptime is a very nicely designed open-source status page tool, with plenty of functionality, customization options, and well-maintained documentation.
Main benefits
Runs reliably with GitHub Actions
Neat design and loads of customisation options
5. Cachet (open source)
Cachet uses Bootstrap 3 to deliver responsive status pages that work well on any device. They offer basic uptime monitors and a great chart dashboard. With their API you can easily set up any metrics you want be it uptime, error rates, or response times.
There is also an option to schedule maintenance and communicate it easily to users or other stakeholders.
A great benefit to anyone looking for extra security is that Cachet offers two-factor authentication, which is compatible with the Google Authenticator app.
Main benefits
Ability to show any metric in a chart
Offers two-factor authentication
6. Statping (open source)
Statping has slightly more features included in their dashboard compared to Cachet and Upptime. The main benefit of Statping is that it offers status announcements, which come in different color schemes to quickly inform users of the current situation. The 3 main announcements are downtime, update, and resolved messages.
Visually is Statping also slightly better as it offers a dedicated chart for each monitored site. These charts include average response time, uptime, and a time picker to allow for detailed exploration of the historical data.
However the main benefit of Statping is the notifiers, which are built-in. Those include Slack, Discord, Telegram, Webhooks, and emailing.
For those that don't want to host and maintain your statuspage there is a hosted option as well, which costs $6/month.
Main benefits
Notification options integrated
Option to go for a hosted version as well
7. Statusfy (open source)
Statustify is another tool to consider, especially when looking for advanced announcement options. Compared to other tools on this list, Statustify offers tagging, timestamps, categorization, and timelines, of different incident and status update announcements. This comes in handy when you need to communicate with your users and want to use status page as the main way to do so.
On the other hand, Statustify doesn't have charts which is a significant downside for anyone looking to broadcast uptime or incident times data.
The notification options are also quite limited with only basic subscription options via Web Push, iCalendar, and Twitter available.
Main benefits
Advanced announcement options
What is the difference between open source and paid solutions?
There are two main differences between the open source and paid status pages. The first one is that open source pages are not hosted, while the paid are. The second one is that paid pages provide subscription abilities for both users as well as admins.
There are of course plenty of other differences like customisability, team access, or integration availability (especially with synthetic monitoring tools), which are usually provided by the paid solutions, but not by the open source once.
When considering what solution to pick, the hosting and update subscription questions should be answered first. The hosting vs not hosted question really depends on your technical capabilities and willingness to set it up.
When it comes to subscription capabilities it is slightly more complicated. As a rule of thumb if you have users and/or customers that rely heavily on your service with their day-to-day operations you should opt for subscriptions. The reason behind this is that once you set up the status page you can either subscribe or ask them to subscribe for status updates. When there is an incident they will all receive a notification about it and you don't have to worry about getting your support channels overwhelmed.
If you have a e-commerce site or a hobby project you can go with open source tool as subscriptions are probably not necessary for you. However please be careful. With hosted solution (especially when providing reasonable SLA uptime) you can stay calm that it will work all the time, but with open source one, all the responsibility lies on you.
What are the benefits of having a status page?
There are two main benefits of having a status page: Lower support cost and higher customer trust.
The lower support costs will come as a result of users and customers checking your status page and reading your system announcements instead of just directly going on your support page and submitting a ticket.
In order to achieve this you will firstly need to have a reachable and easily rememberable URL for your page. The best practise is to go for status.yourdomain.com format. Since it's used by major companies many people often try to check this URL by default.
For less tech-savvy people it's recommended to also include a link to your status page on your website or in your product to make sure they can easily reach it. Of course, in case of downtime, this won't be an option and because of that, it's recommended to have a subscription option for your status page users.
What status page subscription does is that it allows everyone to receive a notification (usually an email) whenever your website goes down.
Once a status page is setup and its existence communicated to users, one can start building trust by being transparent about incidents and communicating them before they are even noticed by users. When this becomes a standard, users will know that if something goes wrong you will be the first one to let them know, which marks a first step towards building trust with your users. Explore how major tech companies approach status pages.
We call you when your
website goes down
Get notified with a radically better
infrastructure monitoring platform.
Check Uptime, Ping, Ports, SSL and more.
Get Slack, SMS and phone incident alerts.
Easy on-call duty scheduling.
Create free status page on your domain.
Explore more
This work is licensed under a Creative Commons Attribution-NonCommercial-ShareAlike 4.0 International License.