In the fast-paced technology scene, staying updated is crucial, especially for Chief Technology Officers. As a CTO, navigating your company's tech trajectory requires constantly evolving knowledge.
Enter podcasts: the ideal medium for busy CTOs to stay informed. They offer insights from fellow CTOs, solutions to potential challenges, introductions to industry leaders, and updates on the latest trends.
This article presents ten top engineering podcasts for CTOs, curated based on relevance, content quality, update frequency, host expertise, and listener feedback.
Let's dive into the top selections.
1 — Modern CTO


The Modern CTO is a podcast hosted by Joel Beasley, a developer and CTO with a wealth of experience in founding and working with various companies. It has consistently delivered insightful discussions on building companies from the ground up, the strategic steps companies take for growth, and more.
These thought-provoking conversations have attracted guests like Kevin Scott (Microsoft CTO), Raghu Hiremagalur (LinkedIn CTO) and many technology executives from companies like IBM, Zoom, Nasa, and many more. They come aboard to share the unique approaches their respective companies have taken to achieve growth.
If you're looking for a podcast that offers in-depth technical insights and leadership tips, Modern CTO should be your go-to resource.
Key episodes from Modern CTO
With a whopping count of over 700 episodes, picking standout episodes from the list can indeed be challenging. Yet, here are three that certainly make the cut:
2 — The CTO Advisor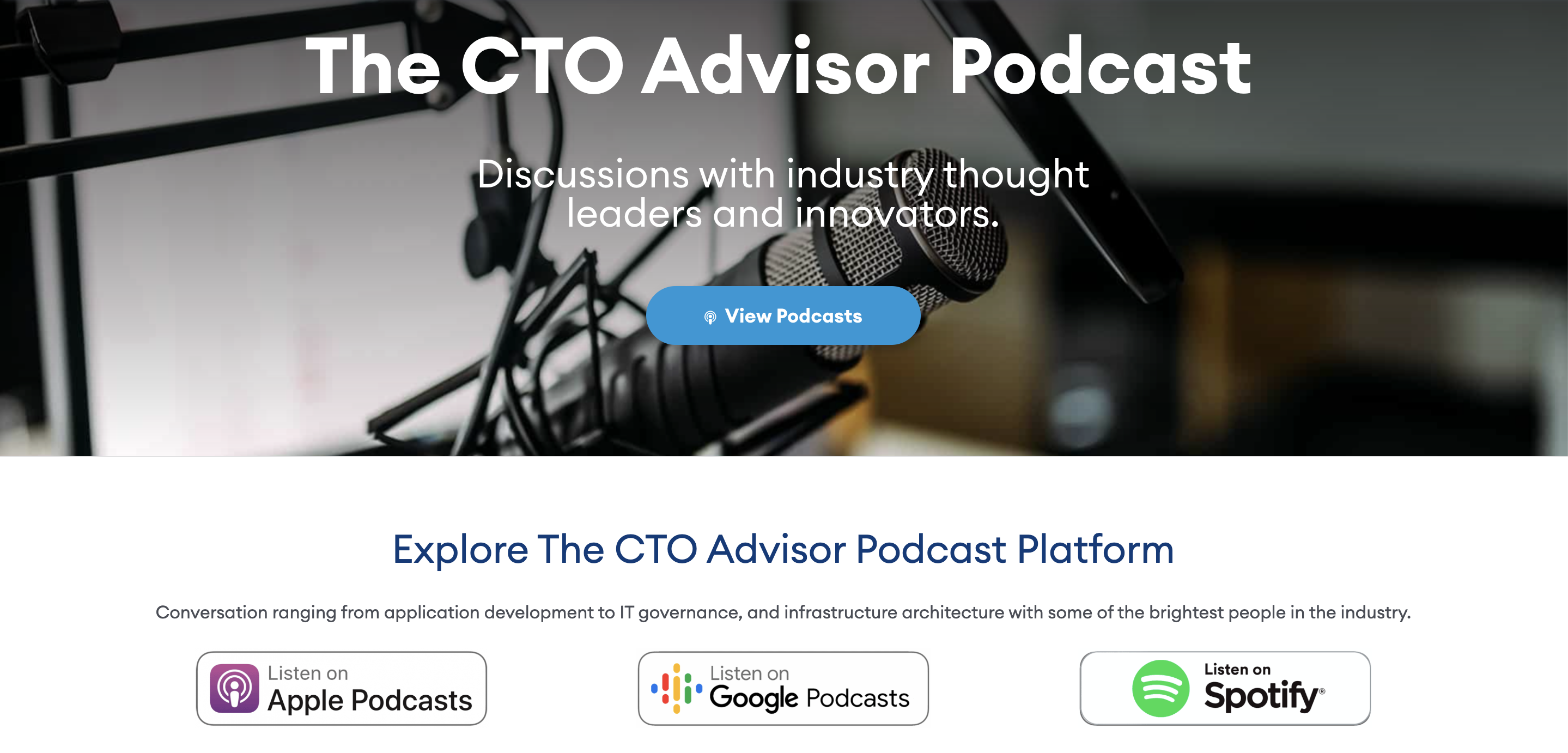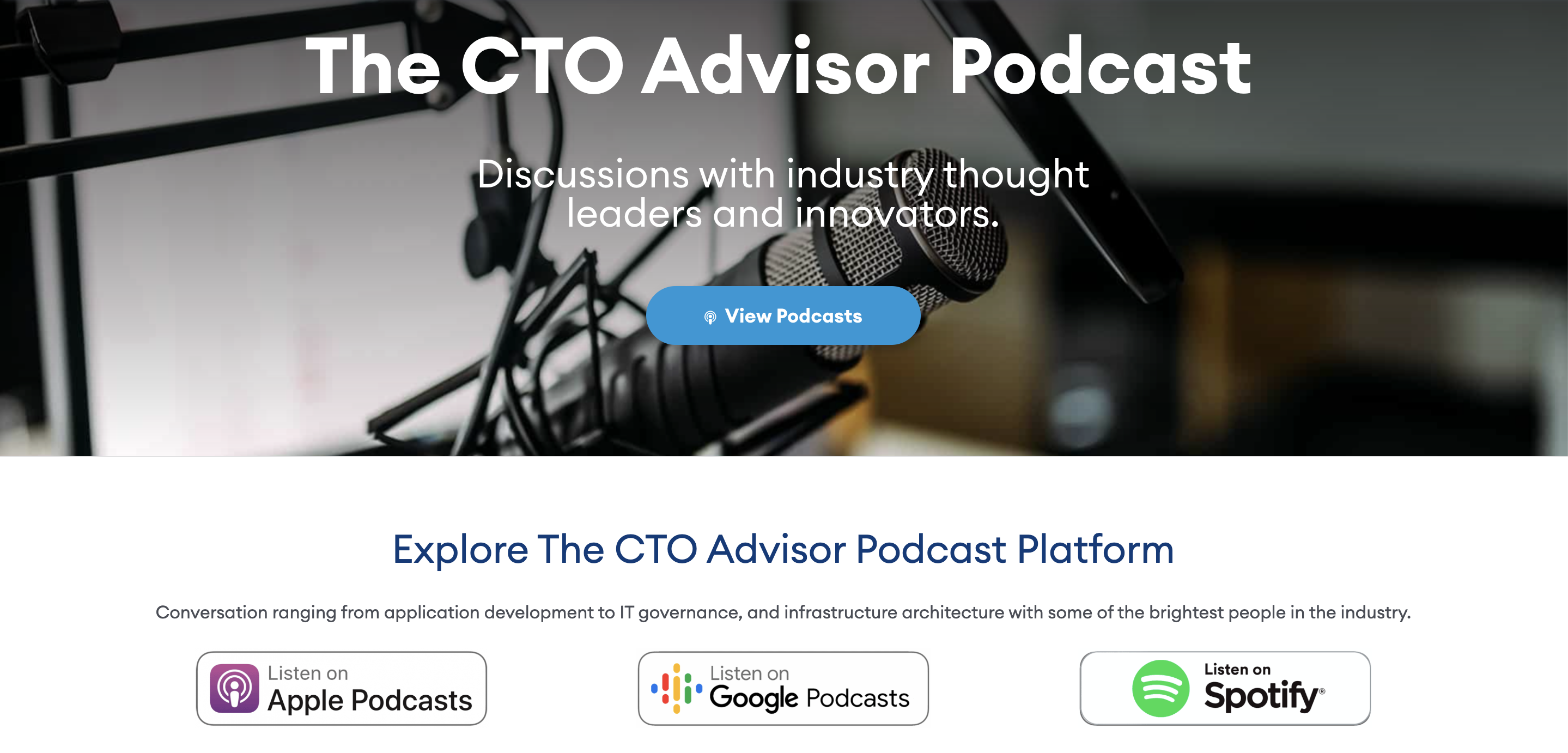 The CTO Advisor podcast was founded to deliver on Keith's unique view that honest, down-to-earth, and easy-to-consume content helps enterprise IT customers identify the best solutions and make better purchasing decisions.
It specializes in guiding organizations through the complexities of digital transformation. Their offerings encompass IT infrastructure assessments, the formulation of enterprise technology roadmaps, and hybrid IT strategy workshops.
Esteemed figures, such as representatives from Dell Marketing, Craig Connors from Velocloud by VMWare, and Kubernetes co-founder Joe Beda, have graced the podcast with their insights.
Key episodes from The CTO Advisor
Here's a glimpse into three recent episodes that have garnered significant attention:
3 — The CTO Podcast (7CTOs)


The CTO Podcast by 7CTOs focuses on topics crucial to CTOs, such as improving hiring practices, time management, and C-Suite leadership.
With a roster of seasoned professionals and experts from diverse spheres like cryptocurrency, AI, web innovations, and scaling IT entities, the podcast provides a balanced blend of real-life accounts, actionable advice, and discourses on the ascent of these emerging technologies.
Key episodes from The CTO Podcast
Here are three interesting recent episodes:
4 — The Changelog podcast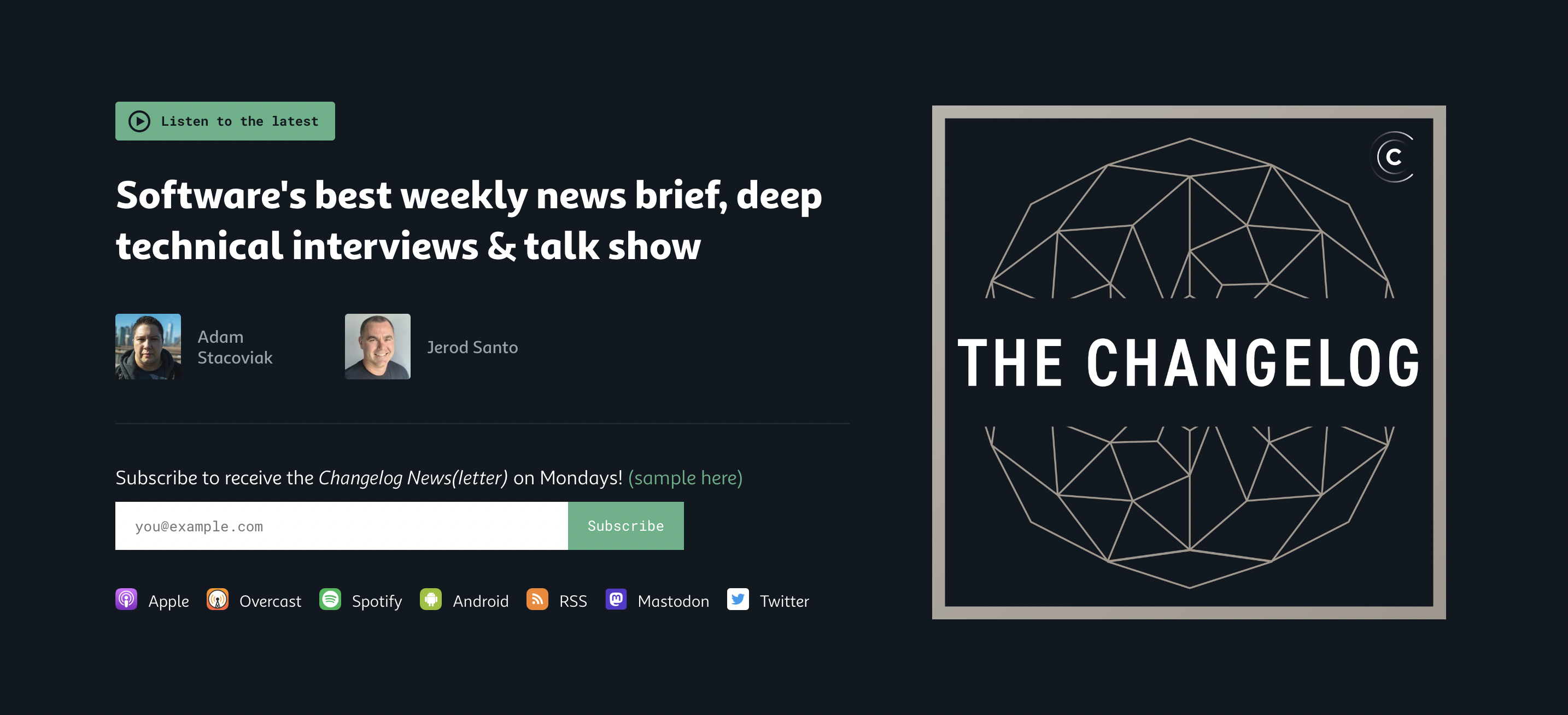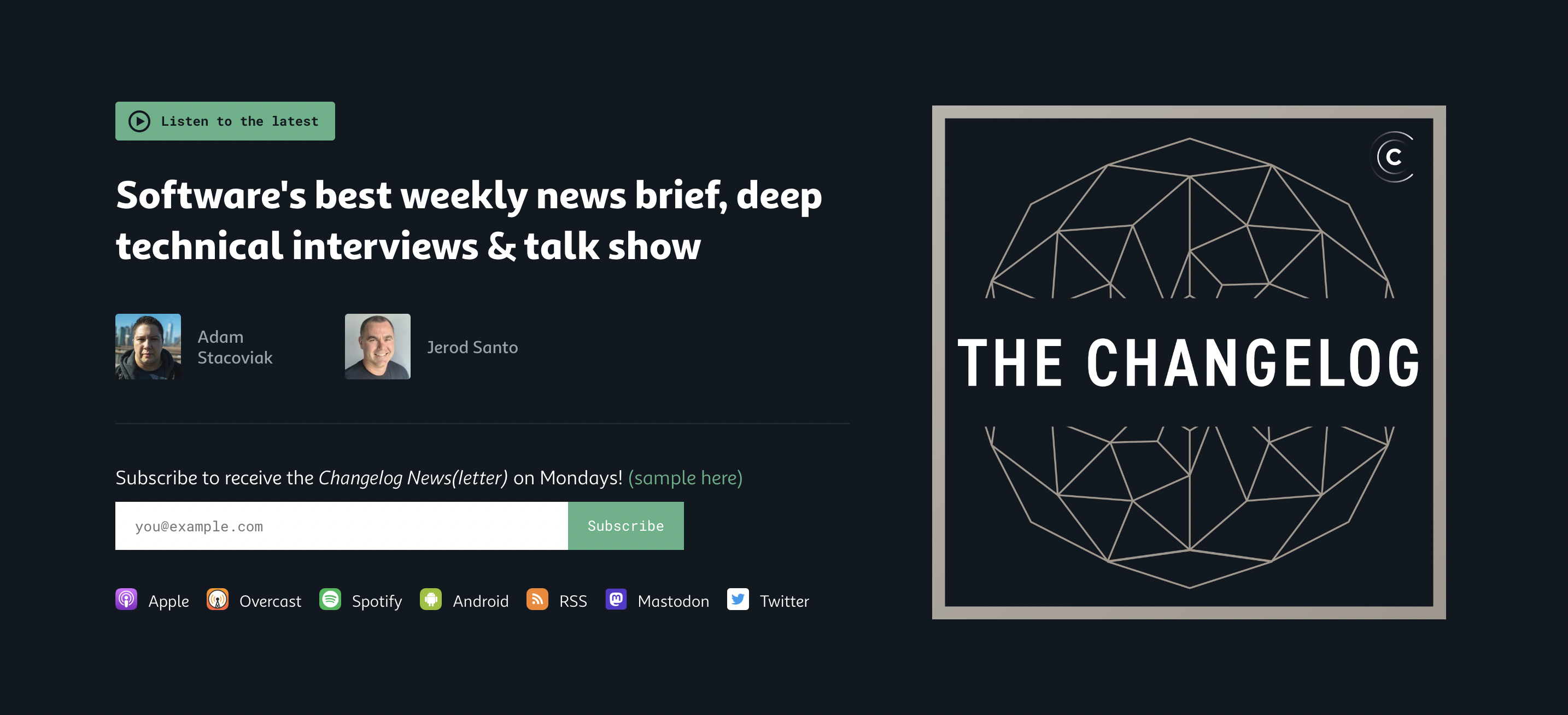 The Changelog podcast is an essential listen for both developers and CTOs alike. Every week, it offers varied content: concise software updates on Mondays, in-depth interviews on Wednesdays, and a fun talk show on Fridays.
Beyond its regular program, it features specialized podcasts like Founders Talk for CTOs, Practical AI , and some language-specific shows to serve diverse developer interests. Covering topics from engineering to artificial intelligence and the human mind, its wide range of discussions is driven by a stellar guest list.
Key episodes from The Changelog podcast
Here are four interesting episodes that may catch your attention:
5 — Alphalist CTO


The Alphalist CTO podcast offers valuable insights into the world's leading technology companies, notable personalities, and emerging trends. They cover a diverse range of topics including technical leadership, advancements in AI, cloud computing, databases, networking, and more.
The Podcast has recently featured interviews with CTOs of eminent companies such as GitHub, Cloudflare, Slack, and Nvidia.
Key episodes from Alphalist CTO
Here are three interesting episodes that may catch your attention:
6 — Behind the Tech
Behind the Tech is a podcast that goes behind-the-scenes with today's most innovative tech leaders to uncover the inspirations, challenges, and breakthroughs that have shaped their remarkable journeys. In each episode, guests are invited to share their unique stories and insights that have fuelled their rise in the ever-evolving world of technology.
Key episodes from Behind the Tech
Here are two featured episodes:
7 — CXO Talk


This podcast is perfect for anyone who is eager to engage in deep conversations with some of the most forward-thinking tech visionaries globally. It has over 400 episodes and features discussions with leaders hailing from diverse sectors such as technology, healthcare, government, and more.
Key episodes from CXO Talk
Here are three featured episodes you may love:
8 — Y Combinator podcast


Y Combinator, one of the most prominent startup accelerators and venture capital entities globally, offers listeners a front-row seat to the experiences, insights, and stories of some of the brightest minds in the world of startups and entrepreneurship.
Key episodes from Y Combinator podcast
Here are three recent episodes you may love:
9 — Technovation
Technovation is a podcast series that engages in discussions with prominent executives (CTOs, CIOs, CDOs) and visionaries who operate at the convergence of business, technology, and innovation.
Each episode discusses the technologies reshaping the business landscape and spotlights the individuals spearheading digital transformation within their respective organizations.
Key episodes from Technovation
Here are three recent episodes you may love:
10 — Software Engineering Daily
The Software Engineering Daily podcast is a dedicated source for all things related to software engineering. Hosted by Jeff Mayerson, this podcast features engaging interviews with a diverse array of software engineers who share their knowledge about key engineering concepts and insights into the future of the field.
As a listener, you can expect a wide range of topics, including artificial intelligence, databases, strategies for company growth, and various cutting-edge technologies, among others. The podcast also has an impressive guest list, featuring professionals from renowned companies like StackOverflow, AWS, PolyScale, and many more.
Key episodes from Software Engineering Daily
Here are three recent episodes you may love:
Two more podcasts for CTOs
Some other popular podcasts still have past content available but no longer release new episodes. These past episodes are so rich and still prove to be valuable to current and aspiring CTOs, engineering managers, and those in other leadership roles.
1 — CTO Think


CTO Think delves into the nuances of leadership, technology decision-making, and product development through the lens of veteran CTOs, Don Vandemark and Randy Burgess. Eschewing guest appearances, the duo offers listeners a more intimate and direct connection, recounting tales and sharing insights from their collective experiences.
Key episodes from CTO Think
Here are three episodes you may love:
2 — Cto.coffee


The Cto.coffee podcast is akin to an espresso shot of wisdom for technology enthusiasts. Hosted by freelance CTO, Benjamin Reitzammer, the show encapsulates deep and enriching conversations that underscore the pivotal human element in technology and software development. Although its run was brief, the 17-episode series features enlightening dialogues with industry mavens.
Key episodes from cto.coffee
Here are two episodes you may love:
Final thoughts
Listening to a podcast is a great way to stay tuned with the latest technology, news, and trends in the industry, as you can listen to inspiring stories on the go and gather crucial insights to benefit your organization.
We hope that our list of best tech podcasts has given you an idea of podcasts that might interest you.
Did I miss out on any cool CTO Podcasts? Let me know on X (Twitter) .
This work is licensed under a Creative Commons Attribution-NonCommercial-ShareAlike 4.0 International License.
Make your mark
Join the writer's program
Are you a developer and love writing and sharing your knowledge with the world? Join our guest writing program and get paid for writing amazing technical guides. We'll get them to the right readers that will appreciate them.
Write for us
Writer of the month
Woo Jia Hao
Woo Jia Hao is a software developer from Singapore. He is an avid learner who...