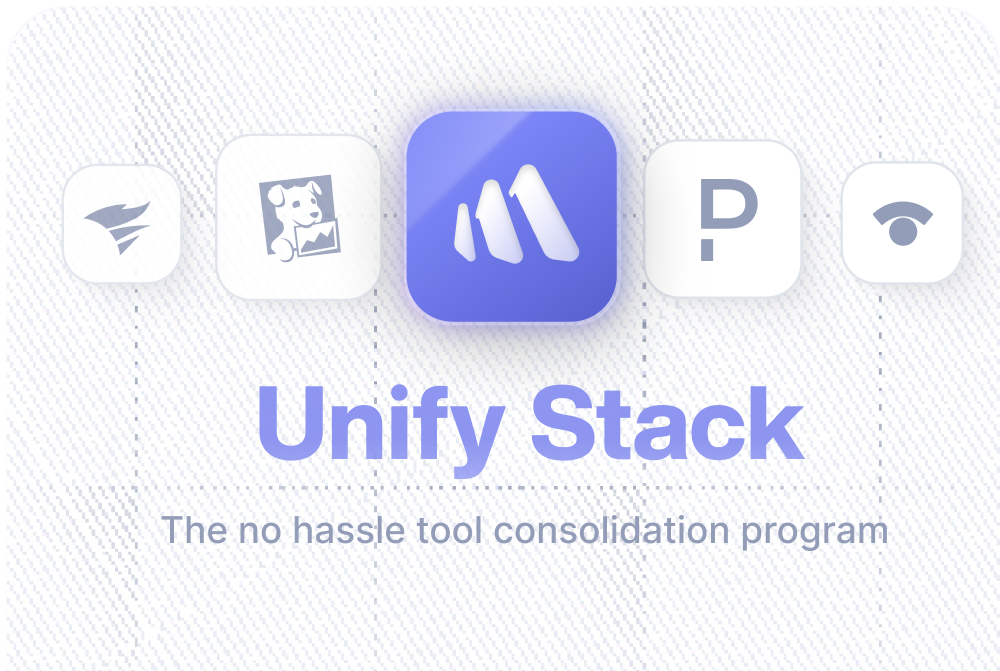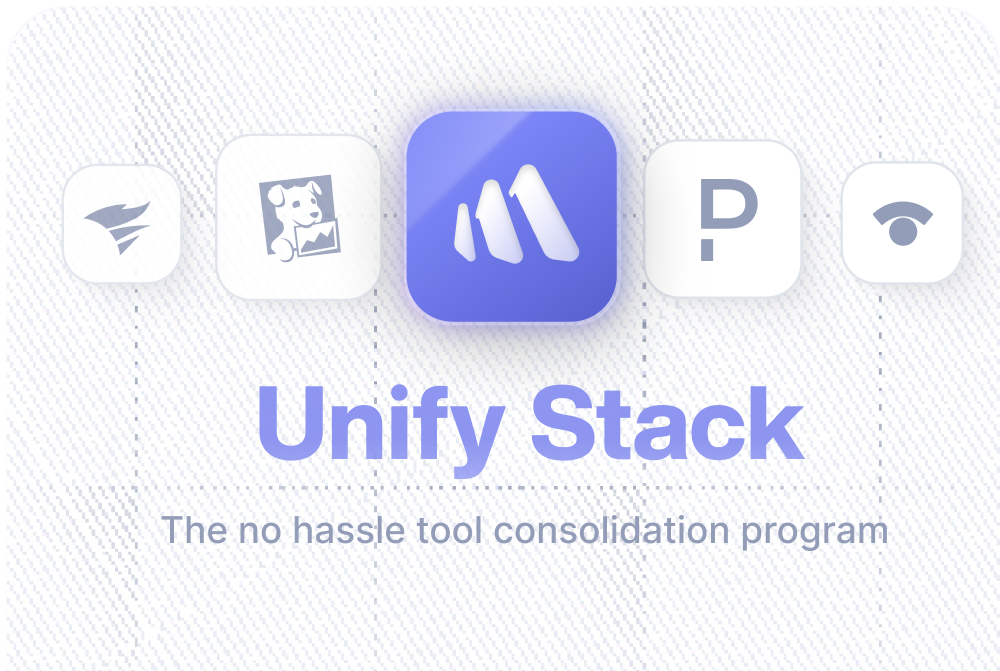 Published: 30th April 2023
No hassle tool consolidation to Better Stack with the Unify Stack Program
Today, we're excited to launch the Unify Stack Program. A frictionless path for Better Stack customers to centralize their stack and scrap unnecessary tools. With this announcement, we are making it even easier for business customers to switch more of their tools to a simpler, cheaper, and more unified platform.
Our customers are increasingly telling us of their need to centralize and simplify developer tools used across their companies. Better Stack offers a reliable platform as a 'single stack' solution which enables easier management and faster incident resolution.
At its core, the Unify Stack Program helps de-risks change. It's designed to be simple and straightforward, with technical resources to ensure a smooth transition and strategic consultation to ensure the consolidation achieves your goals. Customers can expect to move multiple tools to Better Stack in a matter of weeks without disruption to their business operations.
What makes up the Unify Stack Program?
Knowledgeable people. Clear process. Like-magic technology. Getting the people, process, and technology right is critical for any successful change. That's why we've brought together the best of each to help customers experience a frictionless consolidation to Better Stack.
Eligibility
All Better Stack customers who use competitive products and have 100 or more employees are eligible to participate. Here is the list of products eligible:
Incident management and on-call: Pagerduty, Opsgenie, Splunk on-call
Monitoring and observability: Pingdom, Datadog, New Relic, Status Cake, Site 24x7
Log management: Papertrail, Loggly, Mezmo, Logz.io, Splunk
Status page: Status page by Atlassian, Status.io
We might be able to include even tools not listed here. If a specific service is not listed here, please contact us at hello@betterstack.com, and we'll try to accommodate you as much as possible.
The Unify Stack Program builds in resources and touch points with Better Stack experts on two related paths – one focused on technical success, the other focused on business success.
Technology success
Simplicity for the administrators. The Unify Stack Program includes the tools, processes, and partners you need for a frictionless technical consolidation.
Architecture workshops: Our experts and yours will take a fresh look at where you are and where you need to go over the next year to enable tech unification. This interactive session with Better Stack experts will help us focus together on the most meaningful consolidation paths for your organization and dive into the supporting technologies available to make the transition even easier.

Technical migration tools and support: To streamline your consolidation, Better Stack can help you with exporting and importing critical data from other tools to Better Stack. These remove the majority of manual and tedious work from the consolidation and allow for clean and stress-free migration.

Product training workshops: Part of the consolidation is also the onboarding of new teams or team members onto the Better Stack platform. Our customizable and fully-remote online training workshops allow a smooth transition from other tools, even for less technical team members. Making new Better Stack users into power users within weeks.
Business success
For executives and team leads, it couldn't be more clear when it comes to showing tangible business value and cost savings that impact your business's bottom line.
Return On Investment (ROI) calculation: We value showing, not just telling you about the value from Better Stack. We want to make sure customers recognize the quantifiable business impacts that can be realized by unifying their tools into the Better Stack platform.

Escape your current contract: Don't let your existing contract be a stopper to your long-term software modernization. Better Stack is committed to making the consolidation process as cost-effective as possible – which means tools and flexible financial options for customers to reach escape velocity from other tools and land safely with Better Stack. You won't regret this interaction come renewal time.
Why consolidating tools with Better Stack just makes sense
More and more organizations are choosing Better Stack as their main incident management and observability platform. They typically cite our strengths across a few key evaluation criteria:
User experience: Engineers, administrators, and even non-technical teams cite ease of use as the main benefit. Better Stack offers a single, unified control plane that helps your organization to progress towards its development goals.

Simplicity and integration: Customers value the unification of capabilities into a single product. Better Stack removes obstacles posed by the administration, finance, and legal management of multiple tools and cuts those tasks to a minimum. The same goes for removing risk for maintaining technical integrations and ensuring they work correctly.

Increase developer velocity: Customers love the fact that cross-team collaboration is no longer a problem as teams across security, support, development, platform, and more are all working in the same place. Working on a project together or onboarding anyone is straightforward and allows for radically faster workflows.

Cost-savings: Customers appreciate significant tech spend optimization posed by this consolidation. This comes in the form of direct savings: having one tool fully utilized is cheaper than having multiple tools where the plans are not fully used. And also in the form of saving compliance, security, procurement, and legal team's time and hustle.
How to get started
Joining the Unify Stack Program is easy. Simply message us at hello@betterstack.com. From there, the Better Stack team will reach out to start the collaboration.
We're excited to offer a clear path to our customers to further improve their tech stack and centralize with Better Stack.