13 Best Kibana Alternatives in 2023
Better Stack Team
Updated on March 3, 2023
Kibana is an integral part of the Elastic stack and it's the frontend part of it. Often integrated into the ELK stack and its many mutations. When integrated with Elasticsearch it allows you to search, view and visualize indexed data. It allows you to create charts, tables, histograms, and maps. Its Dashboards combines multiple visualization methods in order to provide you with a processable view of large volumes of data.
Kibana performs well when visualizing data from:
Log management
Infrastructure monitoring
APM
SIEM
Business
It also allows you to monitor and manage your Elastic Stack instance and offers centralized access for solutions developed on the Elastic Stack.
If you are interested in data visualization, make sure to check out Harvard's article about data visualization techniques.
Pros:
Kibana doesn't require additional coding
Custom visualization options
Relation analysis
built-in anomaly detection system.
Cons:
Kibana has poor support for metrics analysis as its main focus is on log analysis and analysis of other log-dependent data.
Kibana is heavily affected by Elastic Stack's limitations, especially when it comes to scaling and pricing
Kibana works well only with Elastisearch data
Best Kibana Alternatives in 2023
Kibana is a really popular and performing tool, however, the competition is strong and one of the most performing rivals of Kibana is Grafana. If you want to learn more about the main differences between Kibana and Grafana, take a look at our Grafana vs Kibana differences article. Now, let's take a look at the best Kibana alternatives in 2023.
1. Logtail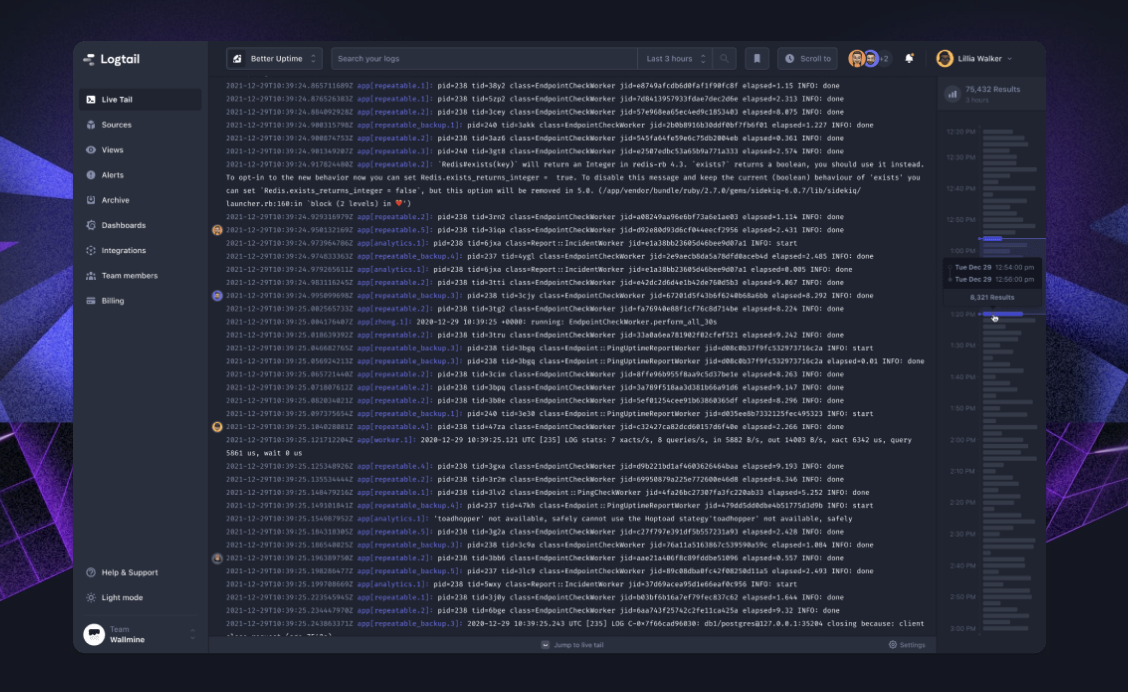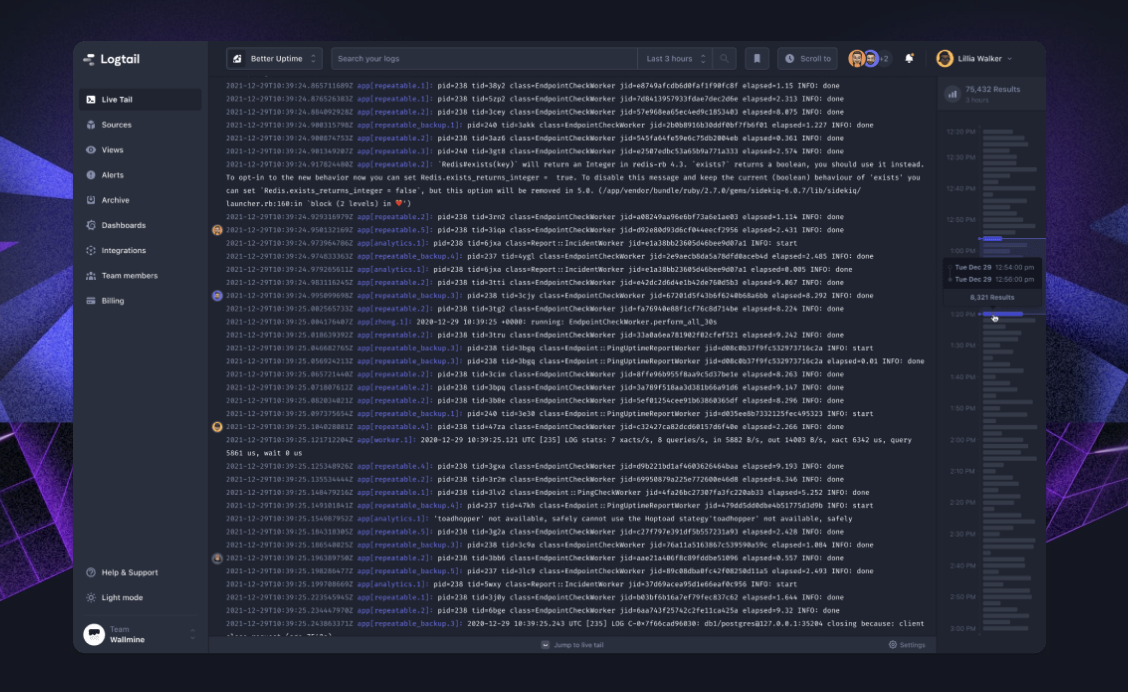 Logtail offers a
Log management
solution with Grafana built-in for visualizations, Real-time Log tracking thanks to Live Tail features, and advanced alerting features. You can also integrate it with Better Uptime and obtain complete log management, monitoring, and
Incident management
platform. Thanks to its custom data pipelines and
ClickHouse
-based storage, Logtail offers very competitive prices, starting at $0.25/GB, which is often more than 10 times less than Elastic stack-based solutions. Logtail allows you to query your logs the same way you'd query your database with SQL-compatible structured log management. Using Logtail, you can search petabytes of logs in a moment and set anomaly detection or custom presence/absence alerts to receive alerts when your logs become out of the ordinary.
One of the greatest benefits of Logtail is built-in collaboration features, where you can cooperate with your colleagues in a google docs-like environment, save, share, and archive parts of code, and collaborate with your colleagues. By offering integrations into stacks like Kubernetes, Heroku, Logstash, Rails, Docker, or AWS, and more, you get a broad array of options for monitoring.
Tighter security is one of the main benefits of log monitoring, and Logtail itself is one of the most secure tools available. Using industry-standard best practices and cooperating only with data centers compliant with DIN ISO/IEC27001 certifications, your data is safe during both transit and storage.
Main Benefits of Logtail:
Inexpensive and extremely efficient ClickHouse based tool
Integration with Better Uptime, enabling even better observability
Pricing starts at $0.25
2. Grafana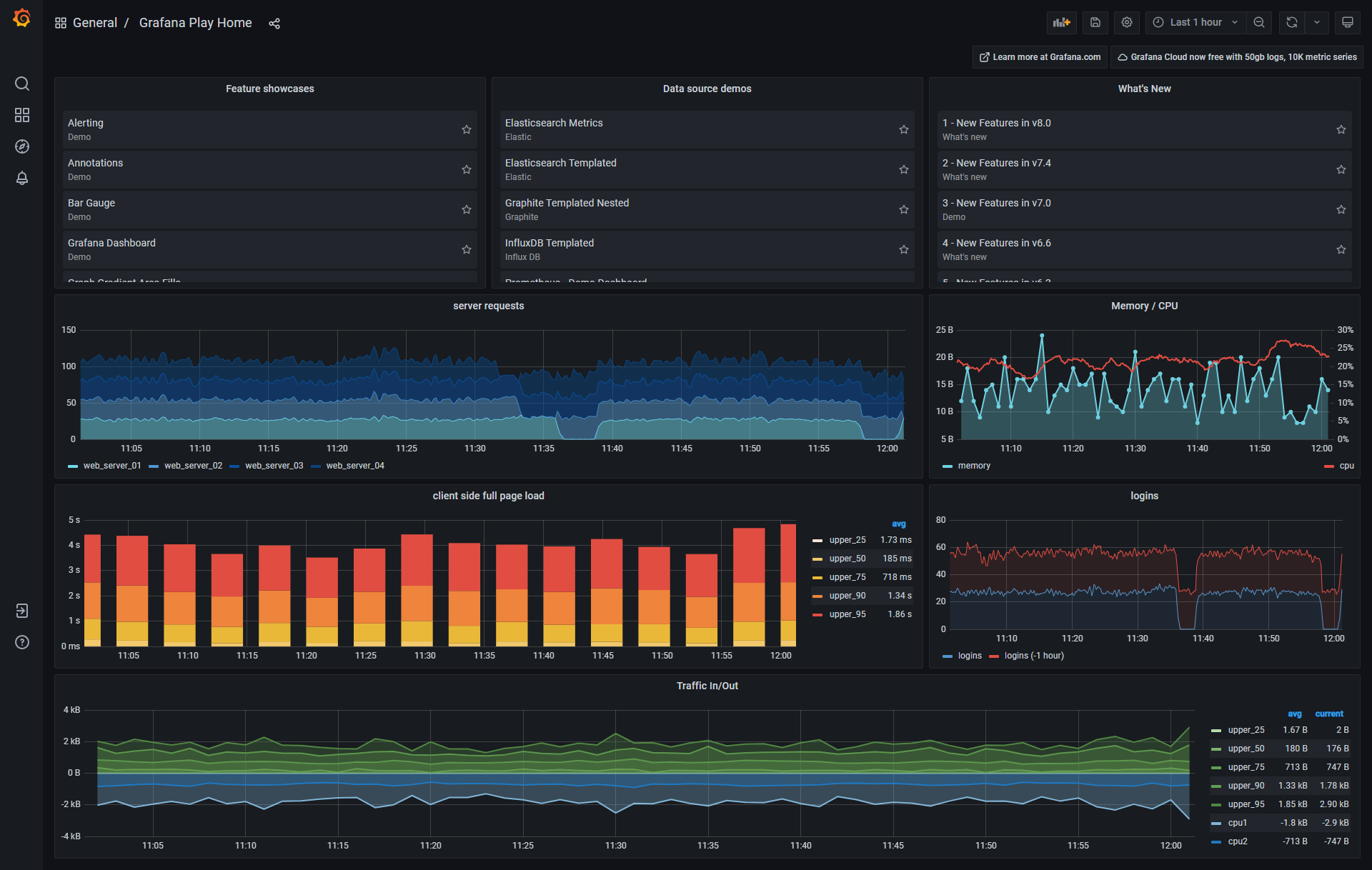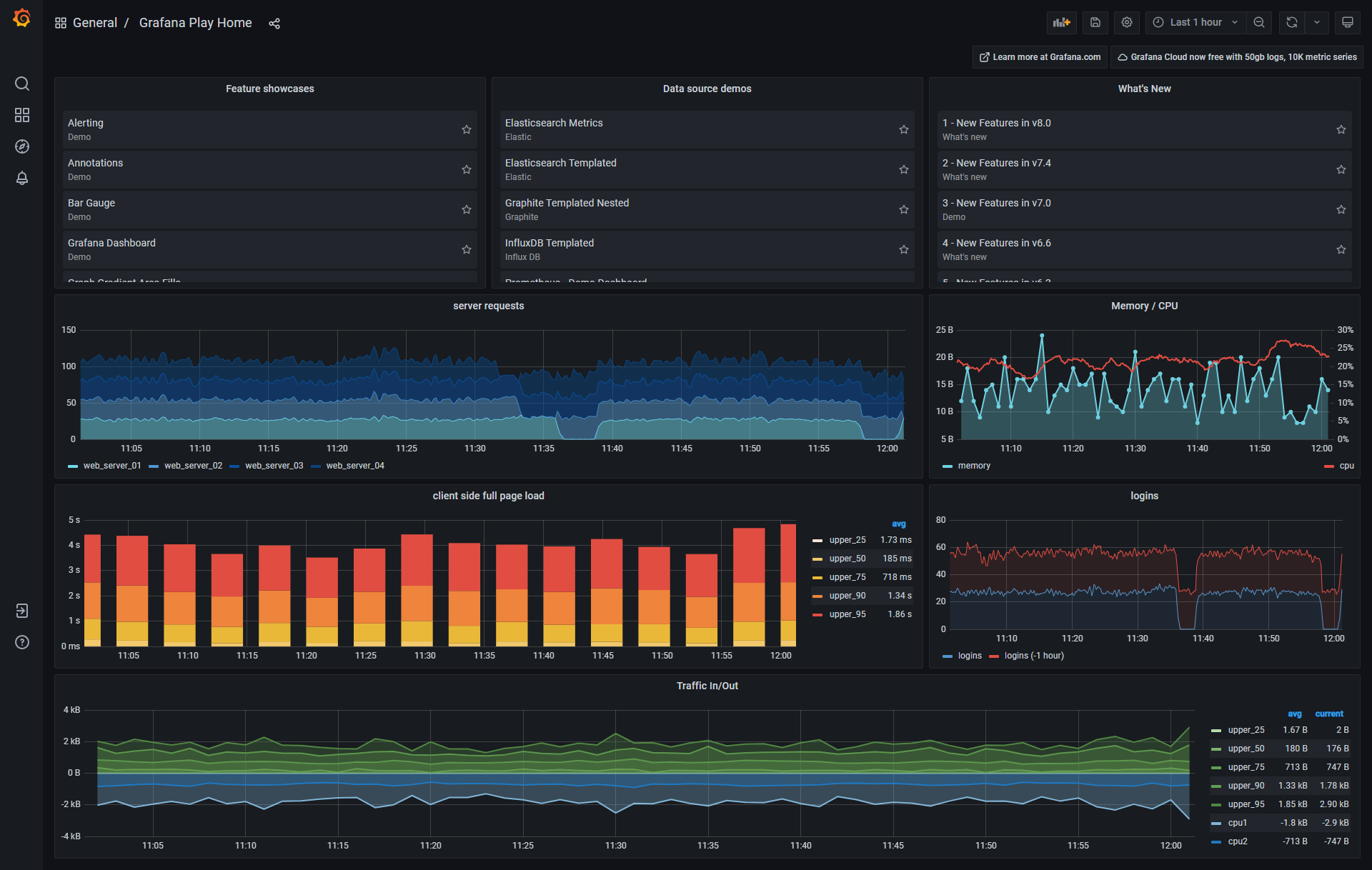 Grafana is a free open-source software for data visualization and monitoring. It is a powerful and feature-rich tool for exploring, creating, and sharing dashboards with your colleagues. It allows you to query, visualize, alert on and understand your metrics no matter where they are stored.
Grafana provides support for over 30 data sources such as Graphite, Prometheus, InfluxDB, MySQL, PostgreSQL, and Elasticsearch, with tools specially crafted for each one. You can choose from a vast amount of visualization options such as graphs, tables, and heatmaps and combine them in creating dashboards.
Every supported data source has its own configuration tools specially crafted and comes whit extensive documentation. Every data source has its query editor that is customized for the features and capabilities that are included in that data source. Other data sources can be added via plugins.
Grafana is available for free in their (actually useful) free forever plan.
Better Stack integrates Grafana with its log monitoring solution Logtail, and uptime monitor with incident management built-in - Better Uptime.
Main Benefits of Grafana:
A plethora of plugins and templates available
Wide data sources support
highly customizable dashboards with custom alerts and notifications
Built-in user authentication system and user management features
Additional features such as data annotations or snapshots
3. Looker


Google cloud's Looker offers a tool for Modern BI and analytics. It allows you to create dashboards allowing you to monitor data in real-time and receive consistent insights and reports about the state of your infrastructure.
Looker enables you to enhance your existing monitoring stack with relevant data, which helps you to make better decisions Looker supports hosting on platforms like AWS and GCP, and also multi-cloud and hybrid environments.
Looker is built for projects and companies that already partake in data analysis. It allows you to sort and clean up, manage, and interpret data without any additional coding.
Main Benefits of Looker
Part of the Google Cloud Platform
Great support for Mobile devices
4. Tableau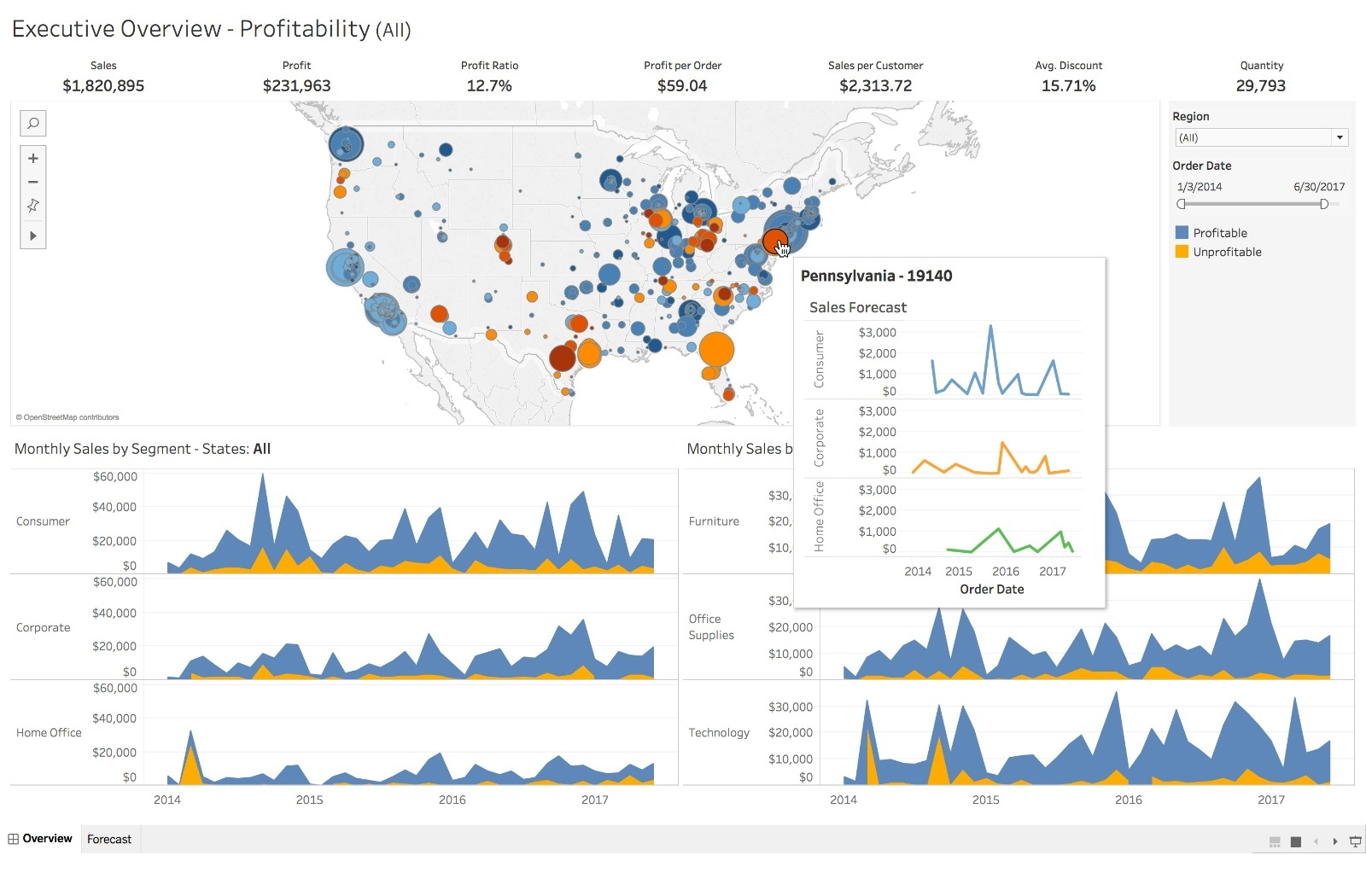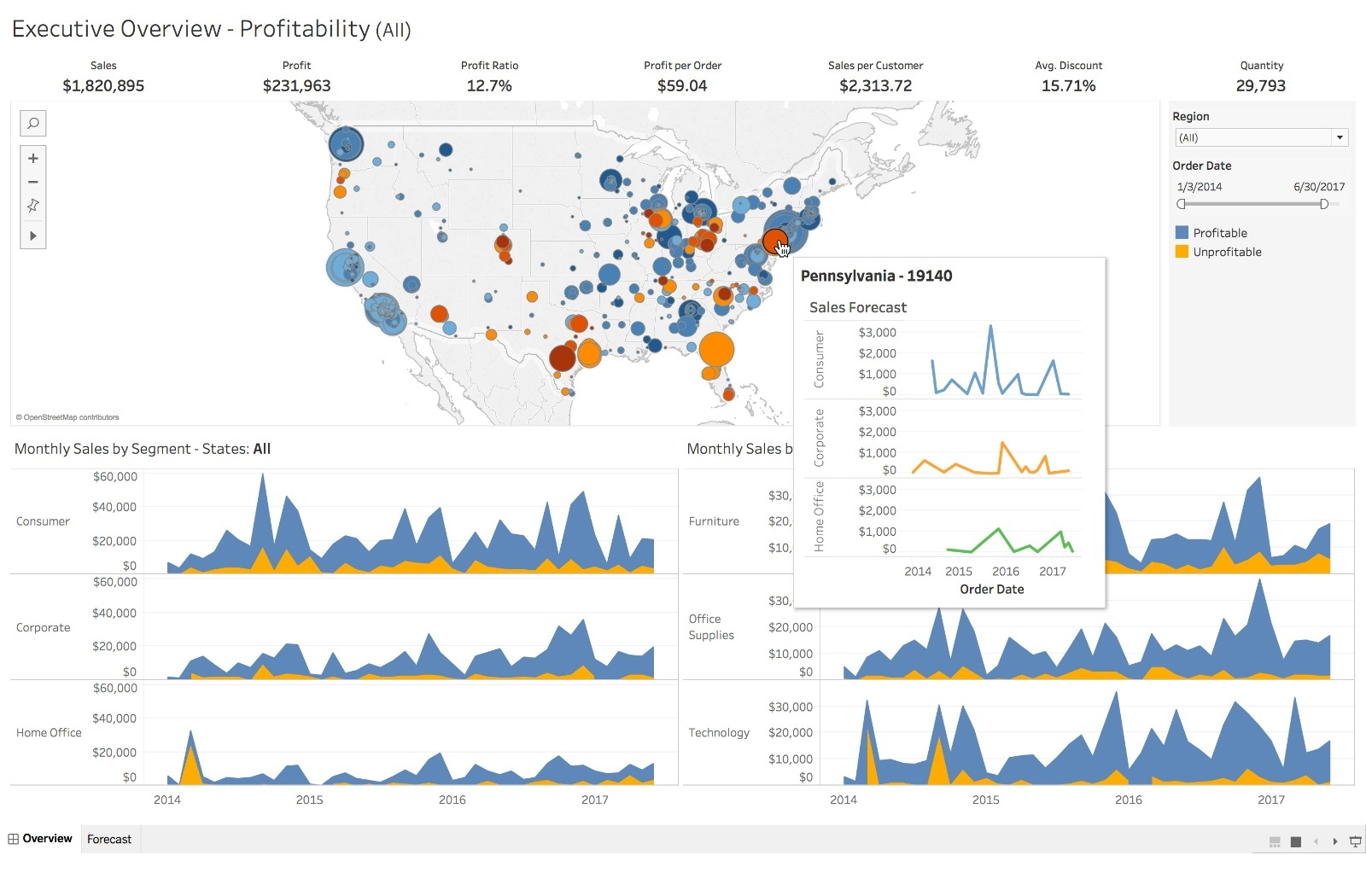 Tableau offers a powerful analytics and data visualization solution suitable for most uses ranging from data science to business. It allows you to discover trends using machine learning algorithms, statistics, natural language, and data prep.
Tableau is based on scientific research concerning how to make analysis more efficient. Tableau is flexible and scalable, offers enterprise-grade security, and offers an extensible platform.
Tableau offers VizQL, a visual query language for databases. It's a translator of sorts, translating SQL queries and the returns in numbers and tables into a visual analysis. Each drag-and-drop action you perform, VizQL interprets as a query and then renders as Tableau visual.
Tableau is a Salesforce product and offers multiple pricing plans. It depends whether you are a group, an individual, or want to have Tableau embedded. Individual Plans start at around $70.
Main Benefits of Tableau:
Science-based approach
VizQL
5. Knowi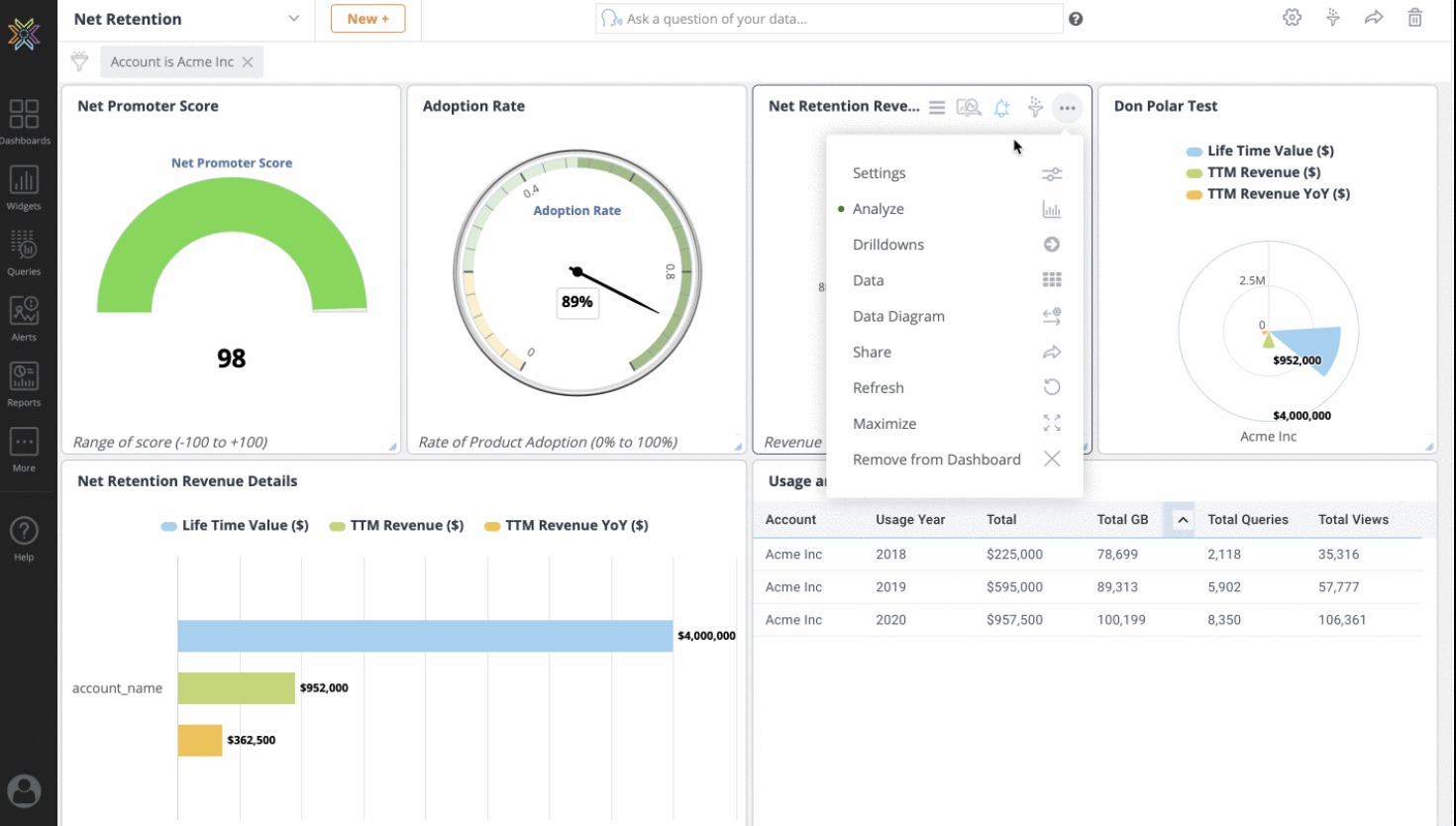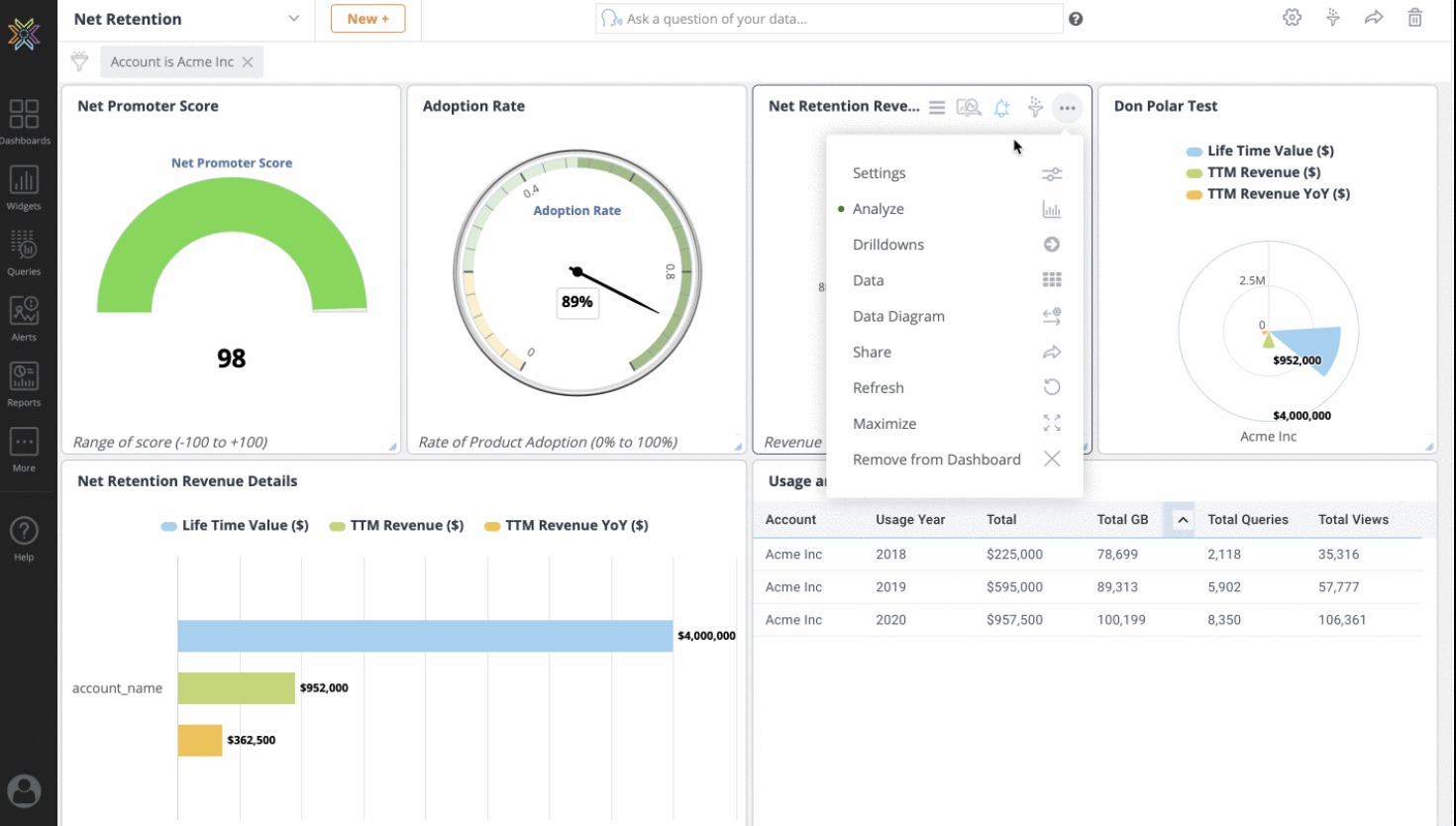 Knowi offers native support to Elasticsearch, and also support for other (No)SQL and REST API sources. Instead of the usual ETL (Extract, Transform, Load) Knowi virtualized data, which allows it to connect to any source in real-time and save resources.
Knowi also allows you to work with unstructured data. Since its funding in 2015, Knowi became one of the most powerful BI tools available. Knowi supports more than 30 visualizations and allows you to create your own, using JavaScript.
Knowi offers custom annual pricing plans, to obtain it, you need to contact their sales team.
Main Benefits of Knowi:
Custom data visualization options
Native Elastisearch support
Custom pricing plans
6. Charted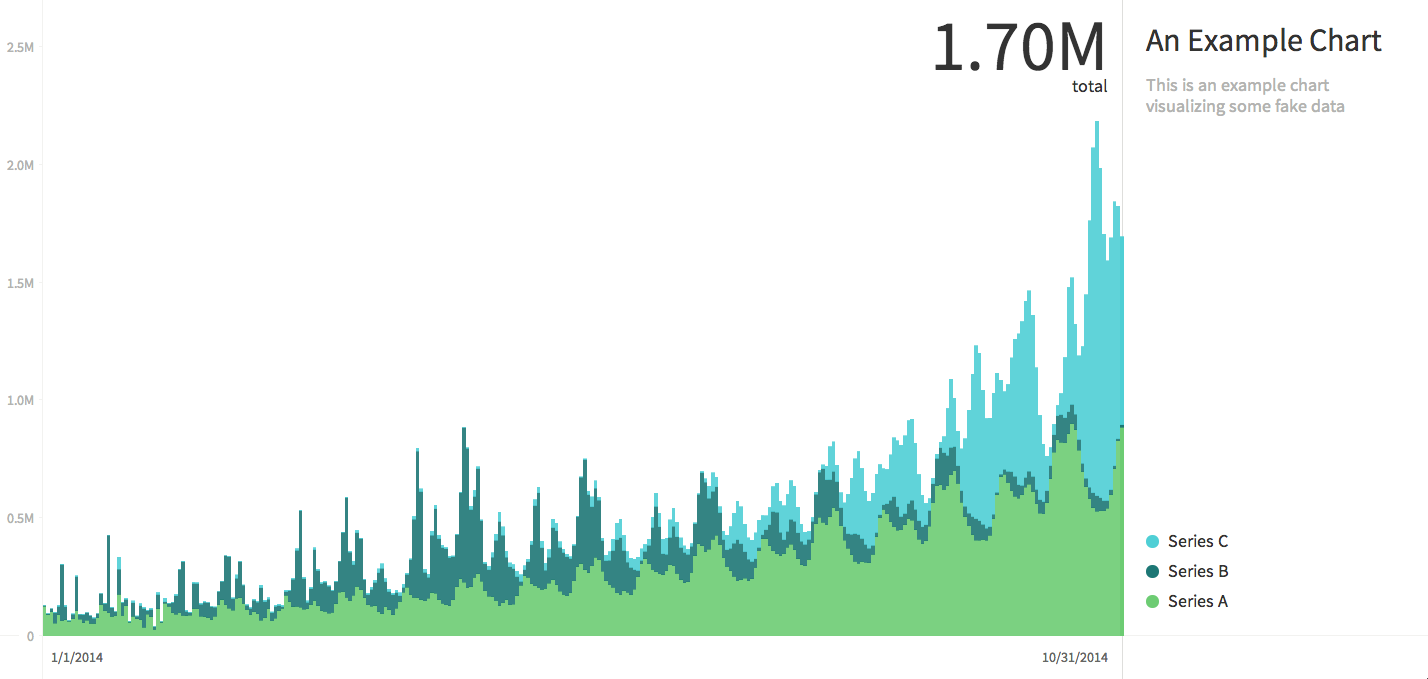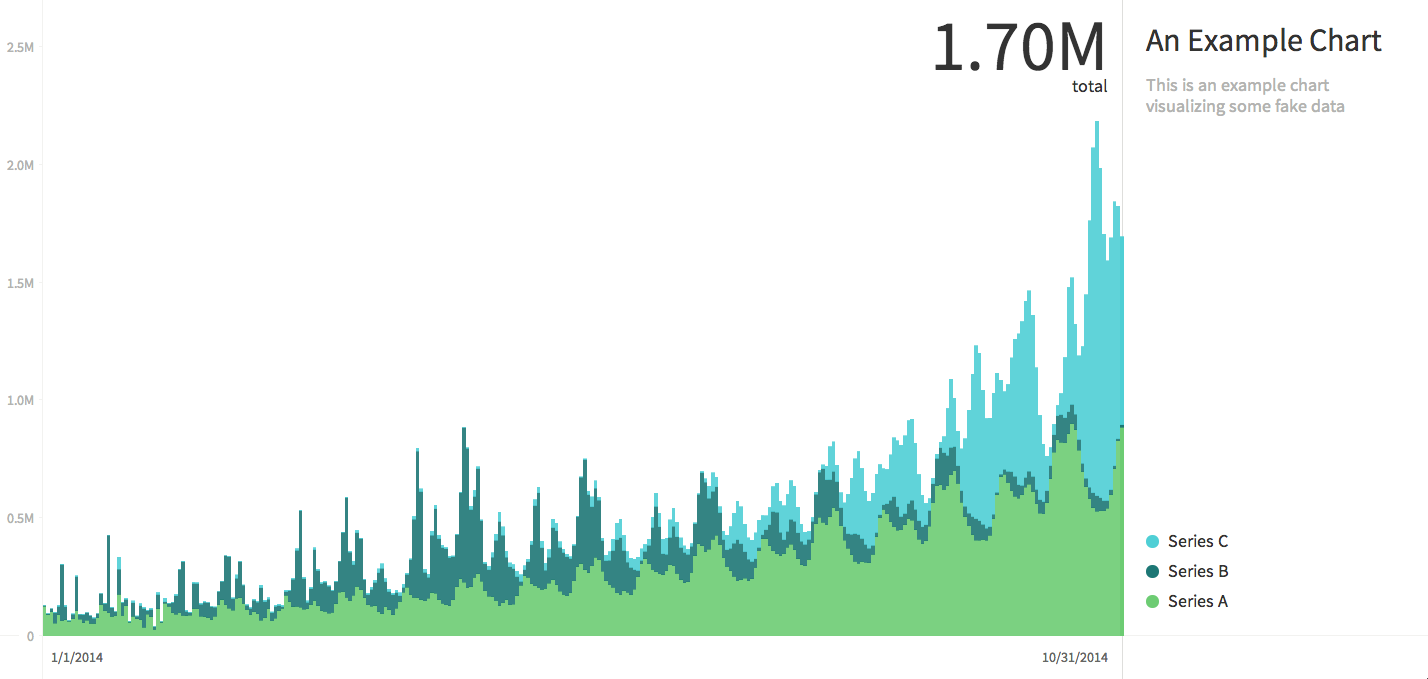 Charted is a visualization tool made by the Product Science team at Medium. All you need to do is provide a link to a data file and Charted will return an interactive, and shareable chart based on the data.
Charted is not as great when it comes to formatting and data transformation, but allows you to re-fetch the data and update your chart every 30 minutes, move data series into separate charts and modify chart type, labels, and background.
Charted supports files in .csv, .tsv, Google Spreadsheets and Dropbox.
Main Benefits of Charted:
It is an open-source tool available from Github
7. Highcharts
Highcharts is a charting library offering tools you need to create simple, yet reliable and secure data visualizations. Highcharts is built on top of JavaScript and Typescript and works will any back-end database, or server stack.
Highcharts offers wrappers for the most used platforms such as .NET, PHP, Python, R, Java, and mobile devices including iOS, Android. Angular, Vue and React are also supported.
Based on your needs, you can combine Highcarts with its many additional tools such as Highcarts Maps for information linked to geolocation, Highcarts Stock, allowing you to implement stock, or general timeline charts, or Highstock Gantt, allowing you to visualize interactive Gantt charts
Main Benefits of Highcharts
Easy to set-up
Integration with use-specific tools
Community
8. OpenSearch Dashboards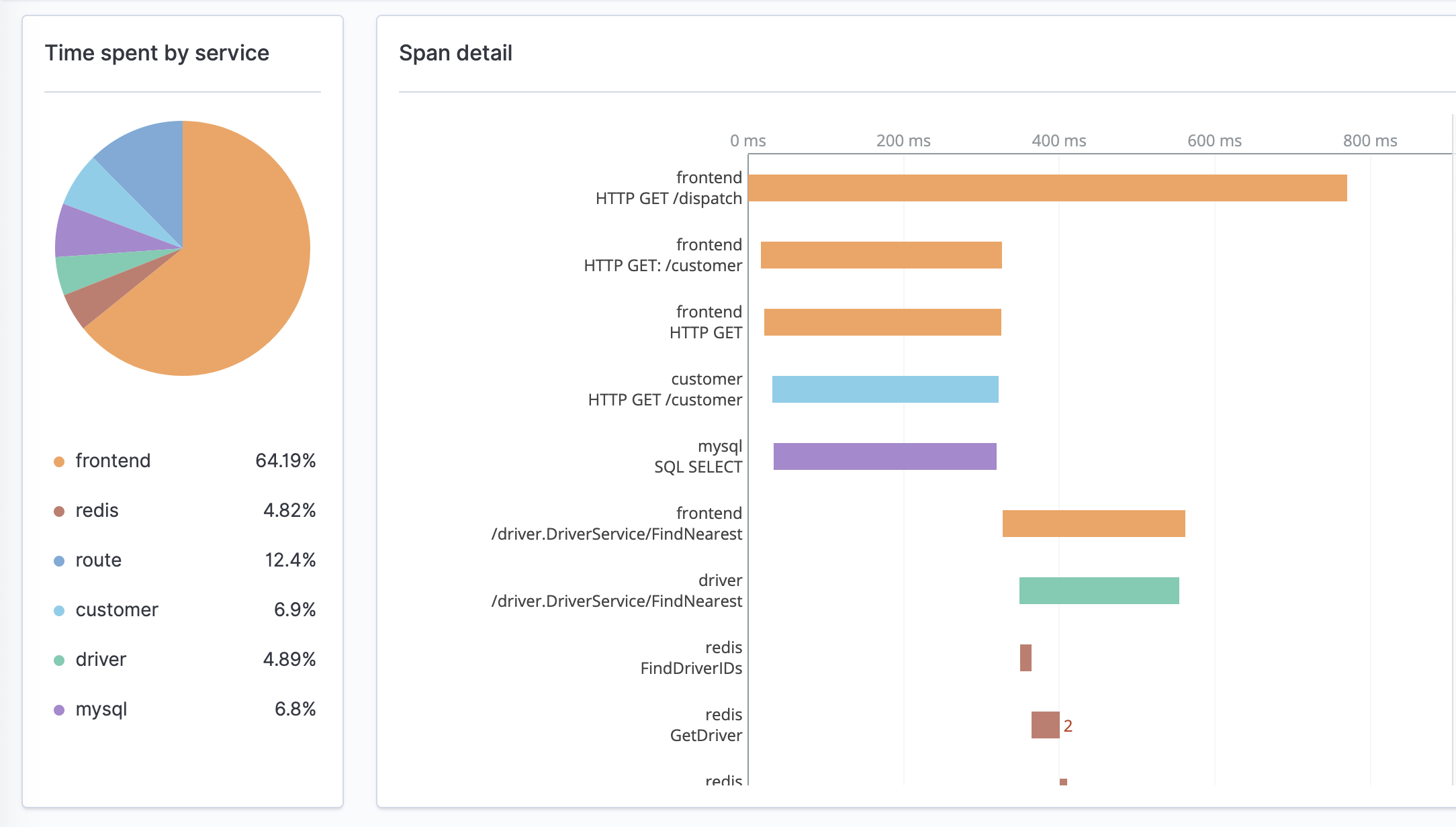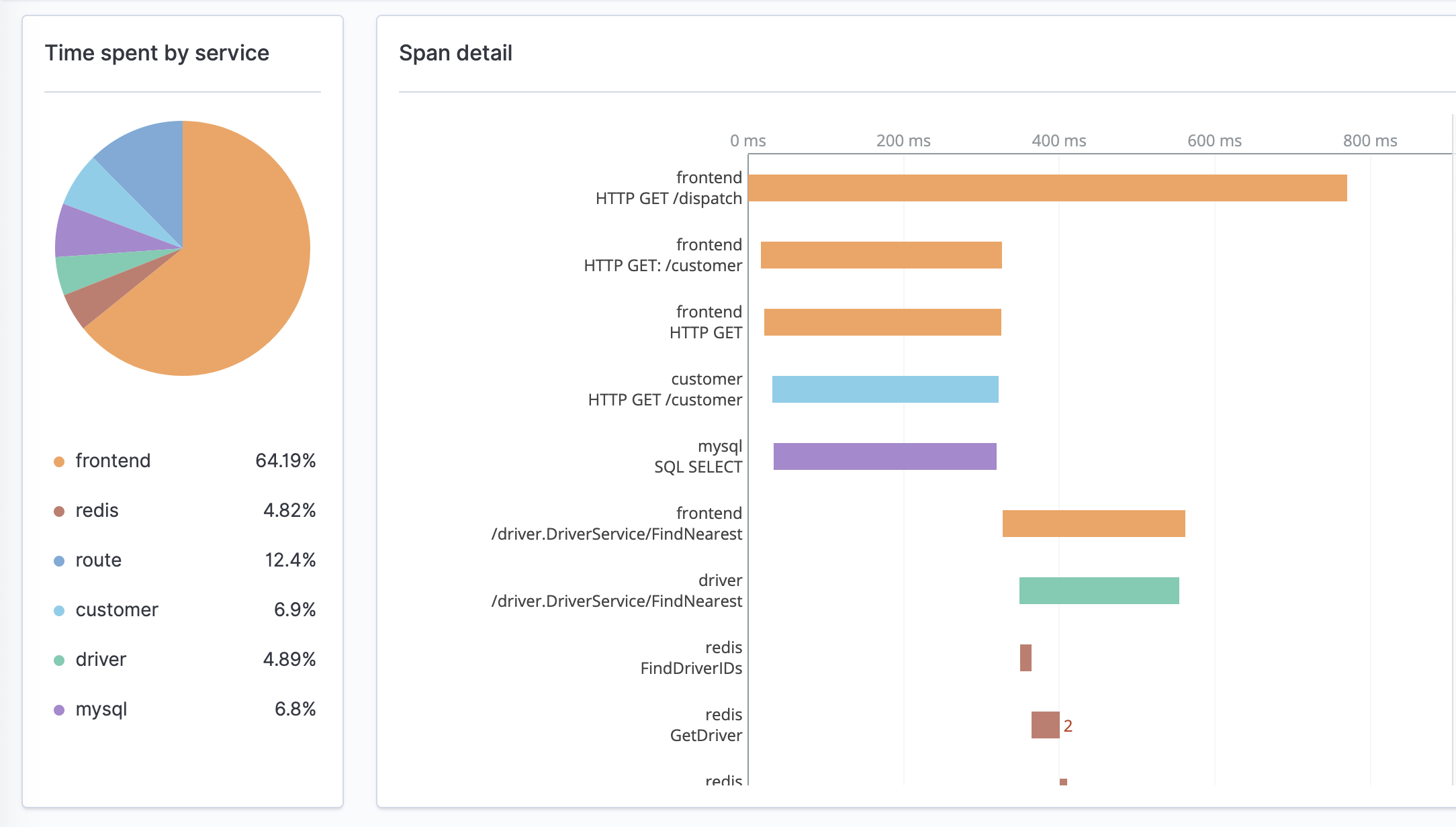 OpenSearch Dashboards is the default visualization tool in OpenSearch. OpenSearch is a community-built, open-source search and analytics suite derived from Elasticsearch and Kibana. OpenSearch allows you to ingest, search, aggregate, view, and analyze data for uses such as log analysis.
OpenSearch Dashboards is a user interface for OpenSearch plugins such as security, alerts, SQL, and more.
Basically, OpenSearch Dashboards offers a forked version of Kibana 7.10.2, enhanced by a variety of community-sourced add-ons and plugins. The best advantages over Kibana are compliances with SOC 2, CMMC, and NIST.
Main Benefits of OpenSearch Dashboards
It's a fork of Kibana
Compliance
9. Dygraphs


Dygraphs is an open-source JavaScript library for charting, allowing you to explore and visualize data using a simple set of commands.
It allows you to handle huge data sets and plots millions of points easily. Offers out-of-the-box interactivity, meaning that you can zoom, pan, and mouseover your charts by default. Since it's a library, it offers almost no restrictions, which makes it a highly customizable tool. Dygraphs are supported by all recent browsers and even support touchscreen functions such as pinch to zoom.
Main Benefits of Dygraphs:
A broad community of developers still develop and support this library
Customizability
10. Observable


Observable allows you to explore, analyze visualize data. Observable offers multiple means of visualization and a great platform for its community to develop custom templates. Observable was founded by the developers of D3.js in 2016 and leveraged their previous work and added much more.
Now, Observable allows you to create basically any visualization you want, depending on your coding skills and templates available. Observable has a huge community of contributors, creating their own data visualizations and their staff offers curated picks depending on what data they work with.
Main Benefits of Observable:
Built by D3.js developers
Community-sourced templates
11. Power BI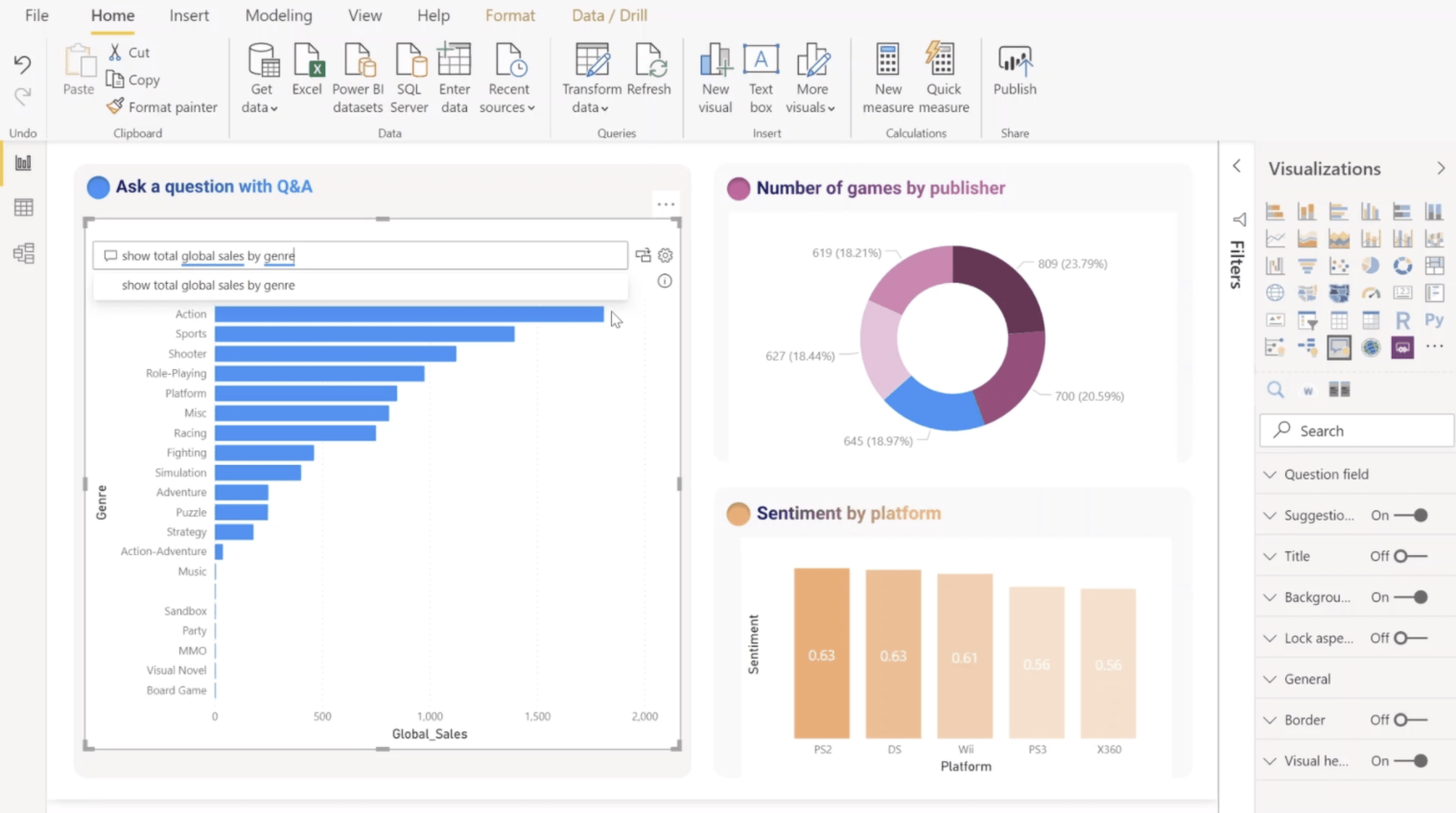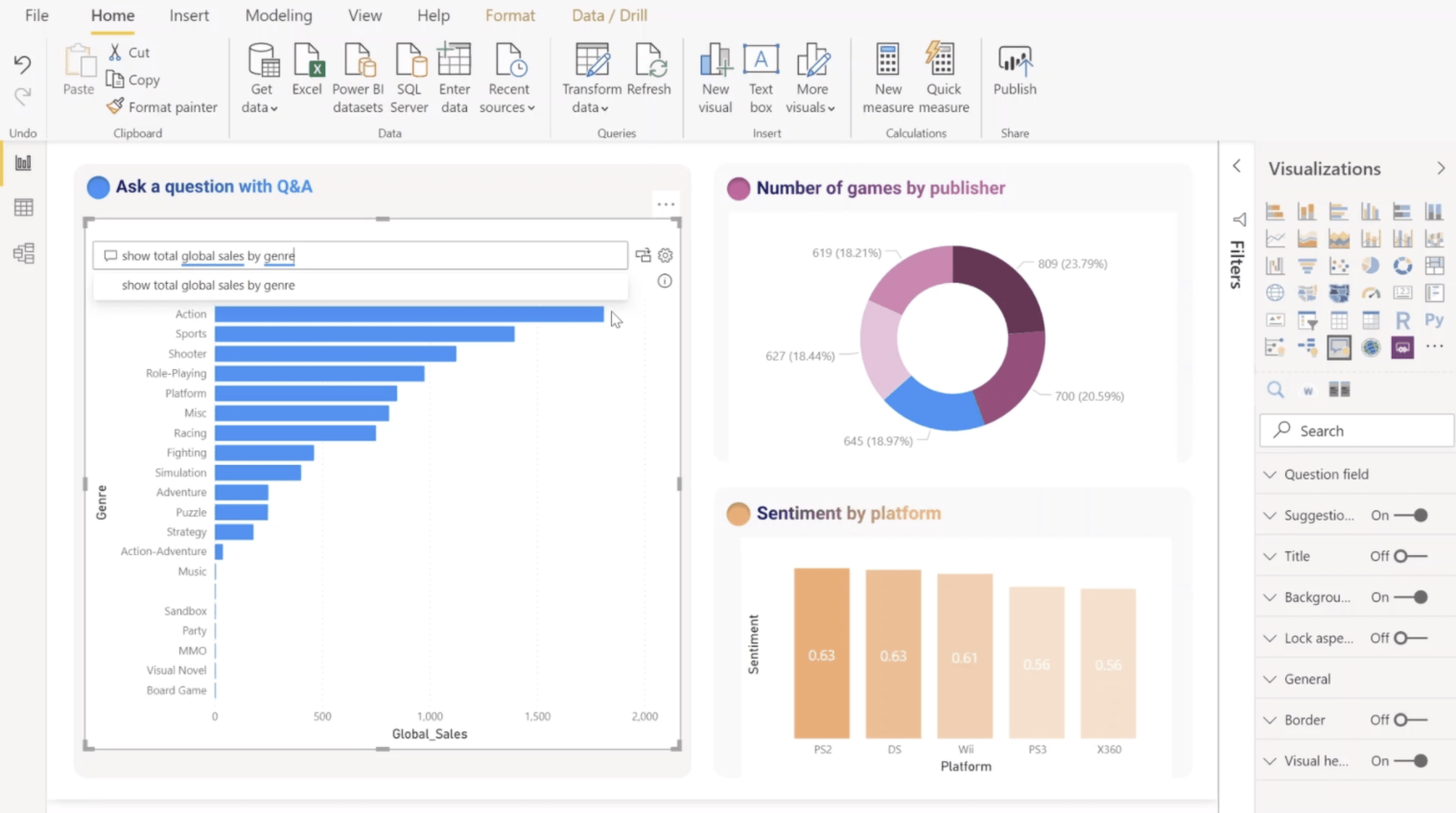 Power BI is a visualization and analysis platform allowing you to gain deeper data insight. It's has a familiar, Microsoft Office-ish UI and logically, works best as a part of Bundle alongside Azure and Office.
Power BI offers more than 500 free connections, allowing you to connect to data sources such as Dynamics 365, Azure SQL Database, Salesforce, Excel, or SharePoint.
It's made to visualize and analyze data, but you can also use it to embed data in your applications. Power BI starts with a PRO plan at $9.99/user/month and is a part of Microsoft 365 E5. Premium is priced either per-user or per capacity. Per-user pricing starts at $20, licenses at $4,995.
Main Benefits of Power BI:
Part of the Microsoft Stack and works well with Office and Azure
Data embedding
12. Datawrapper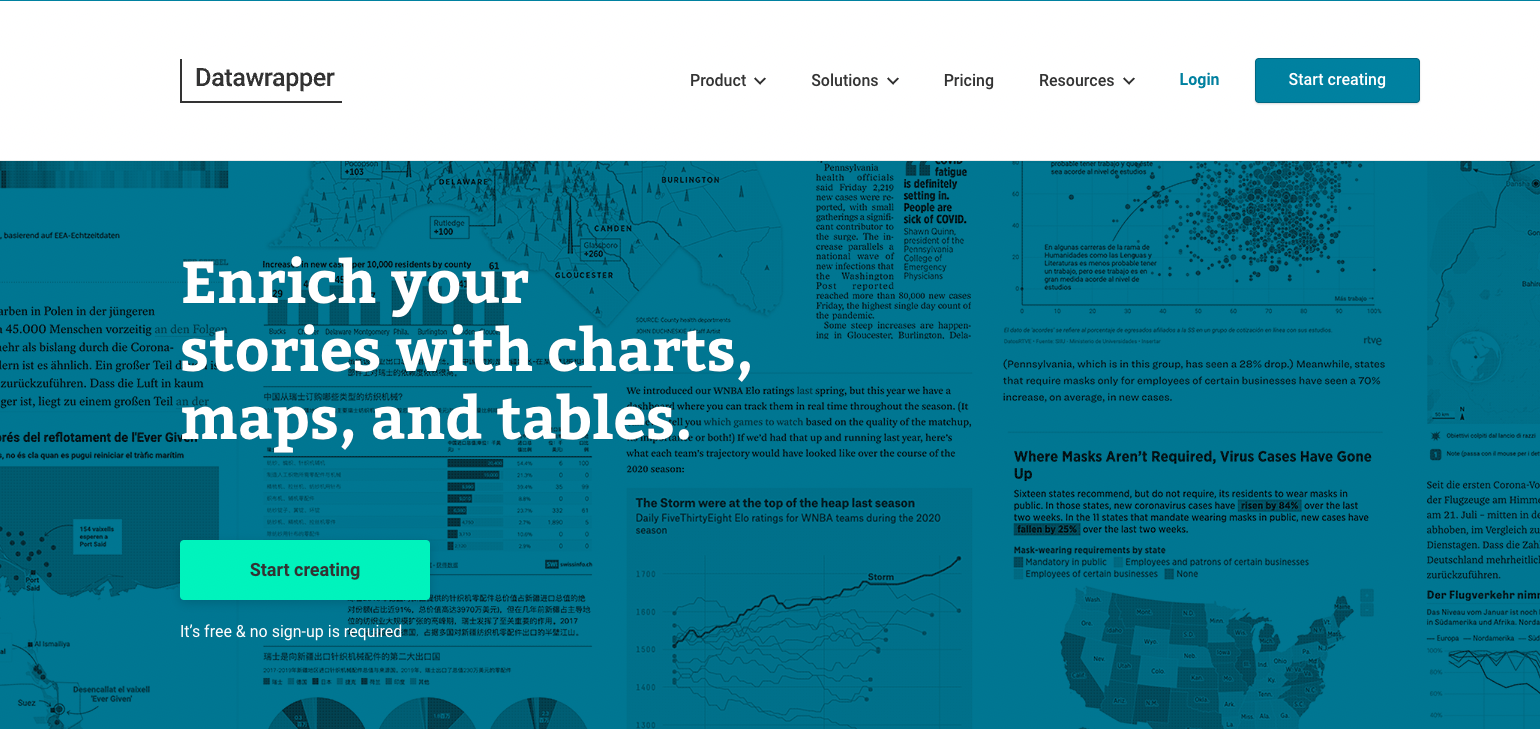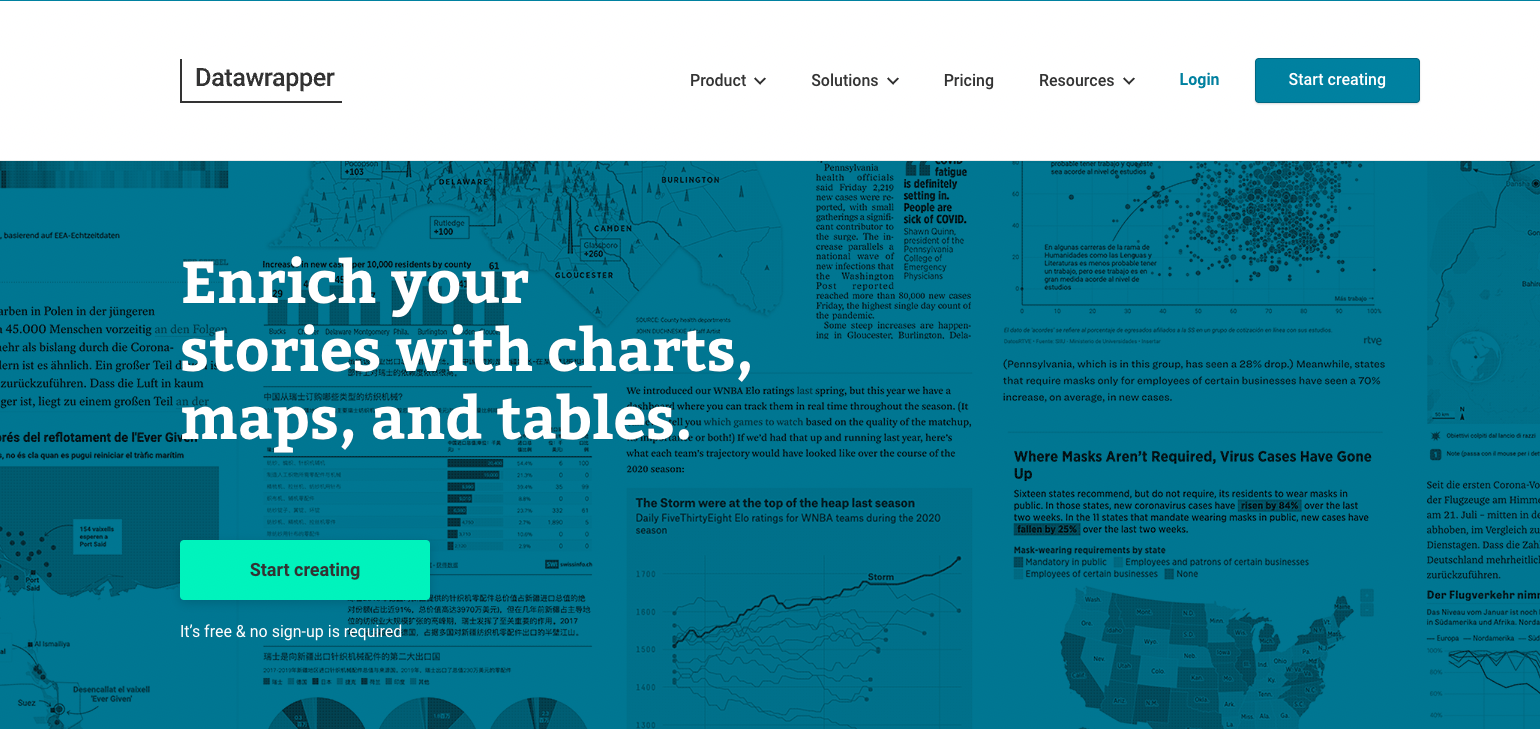 Datawrapper allows you to visualize data in Charts, Maps, and Tables. You can pick from 19 interactive and responsive chart types ranging from bars to scatter plots. There are three different maps available allowing you to display geospatial data in a logical manner and a plethora of Responsive data tables allowing you to create bar, column, and line charts or heatmaps.
Datawrapper requires no previous coding skills, all you need to do is paste data in a structured format and use their UI to customize your final visual.
Datawrapper offers unlimited visualizations, collaboration features, print-ready formats, multiple export formats, and support for mobile devices.
Main Benefits of Datawrapper:
Generous Free Plan
No coding needed
13. Knime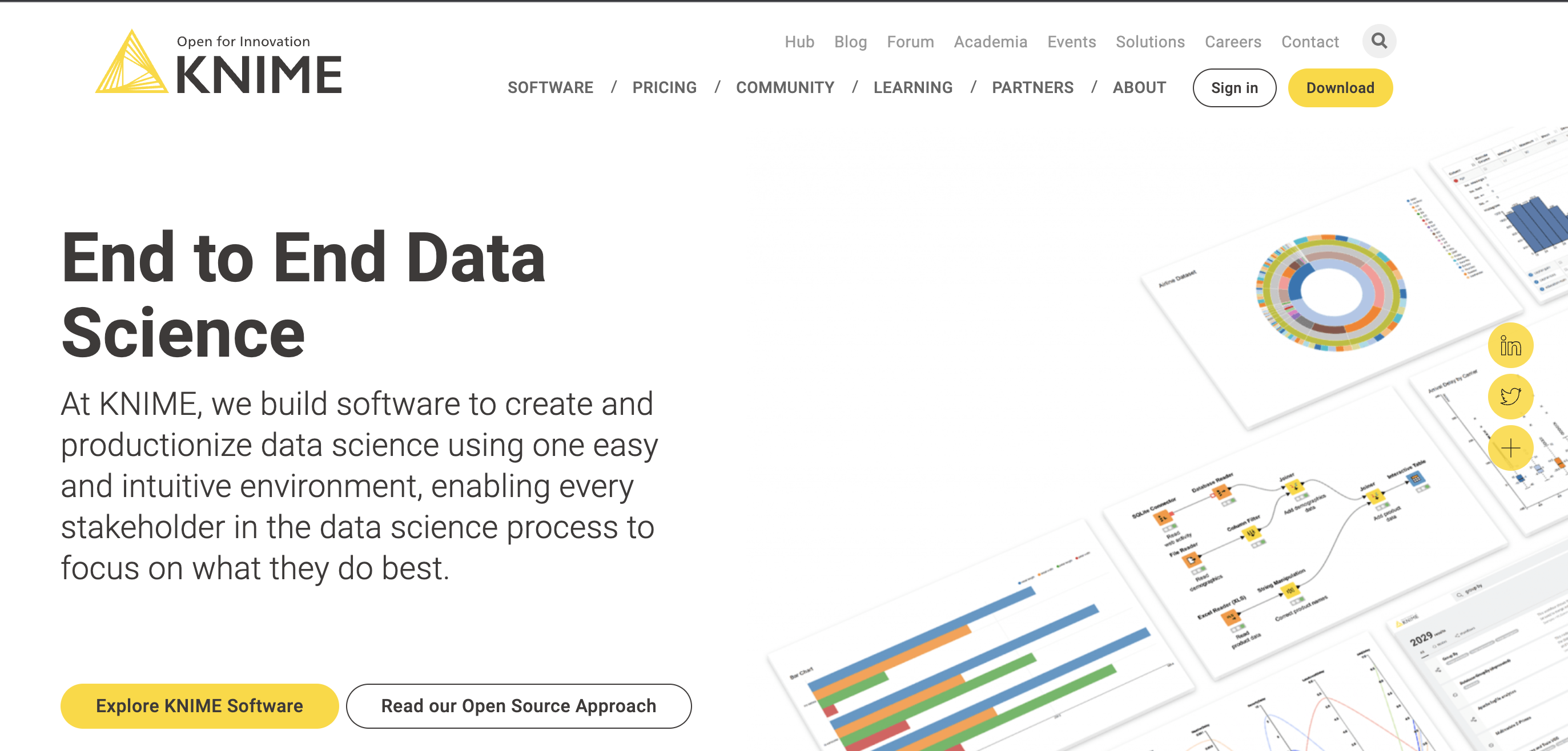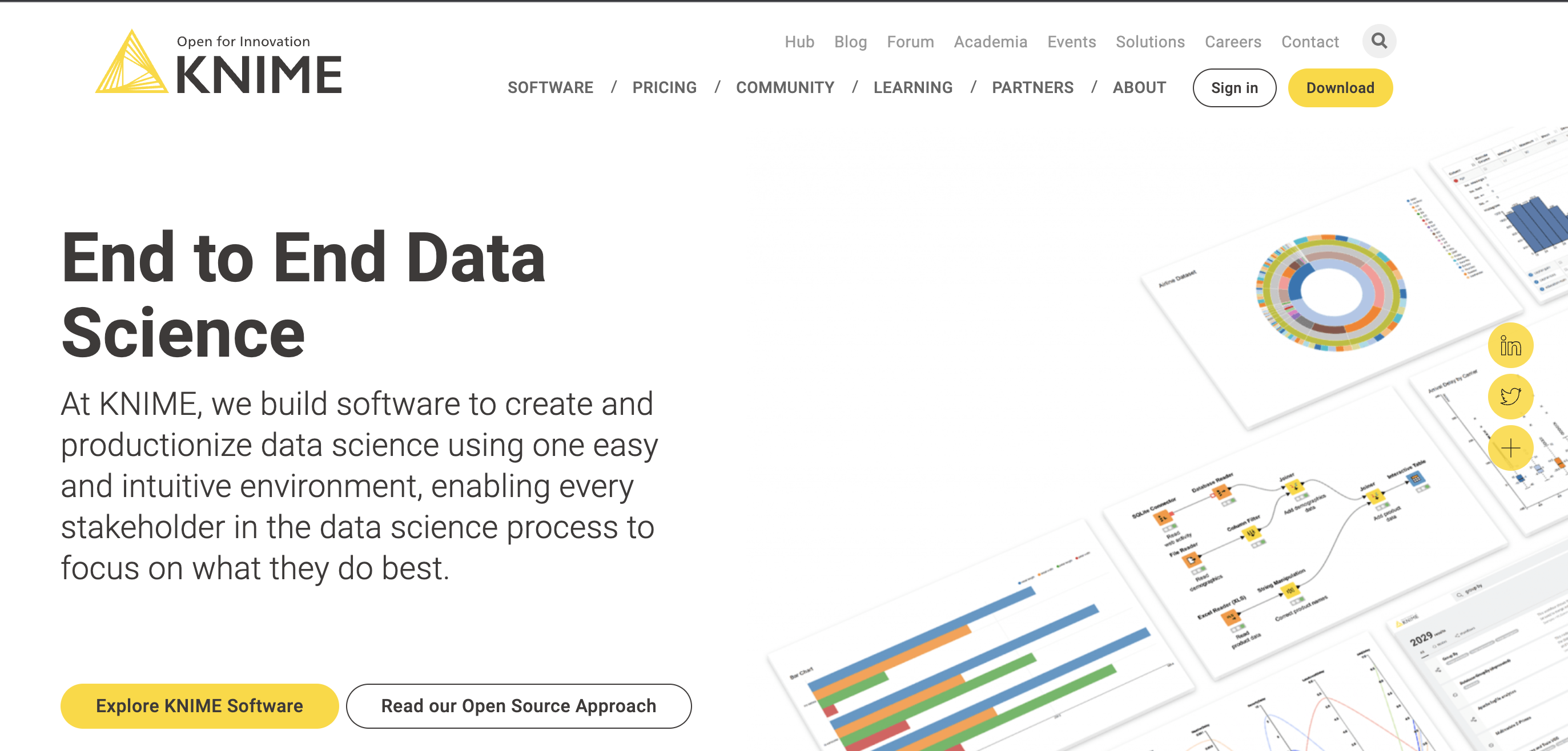 Knime allows you to analyze and visualize thanks to a modern approach to analytics by combining machine learning and artificial intelligence-based approaches with classic statistical analysis and data mining methods. By combining all of that, alongside R and Python integrations, Knime offers a powerful, open-source analytics platform.
Knime makes sure that your data is explainable in every step and state, meaning that you will always understand where it came from and how it was processed. This allows you to get consistent results over time.
Main Benefits of Knime:
Integration with a lot of other open-source platforms
Self-paced onboarding courses
Conclusion
In this article, we took a closer look at Data Visualization Tools and especially Kibana. We've considered its strengths and weaknesses and we can conclude, that it certainly belongs among the best visualization tools there are. It's worth mentioning that software, transforming data to a human-processable format is essential for the success of any data-driven operation. Some of the tools we proposed are purely for visualization, others serve as Analytics platforms and others offer complete BI and data science solutions. Hopefully, you should find at least one, which will fit into your stack perfectly.
Other useful resources to explore:
We call you when your
website goes down
Get notified with a radically better
infrastructure monitoring platform.
Check Uptime, Ping, Ports, SSL and more.
Get Slack, SMS and phone incident alerts.
Easy on-call duty scheduling.
Create free status page on your domain.
Explore more
This work is licensed under a Creative Commons Attribution-NonCommercial-ShareAlike 4.0 International License.